This keto strawberry shortcake is made with our homemade almond flour biscuits, fresh strawberries, and generous dollops of whipped cream!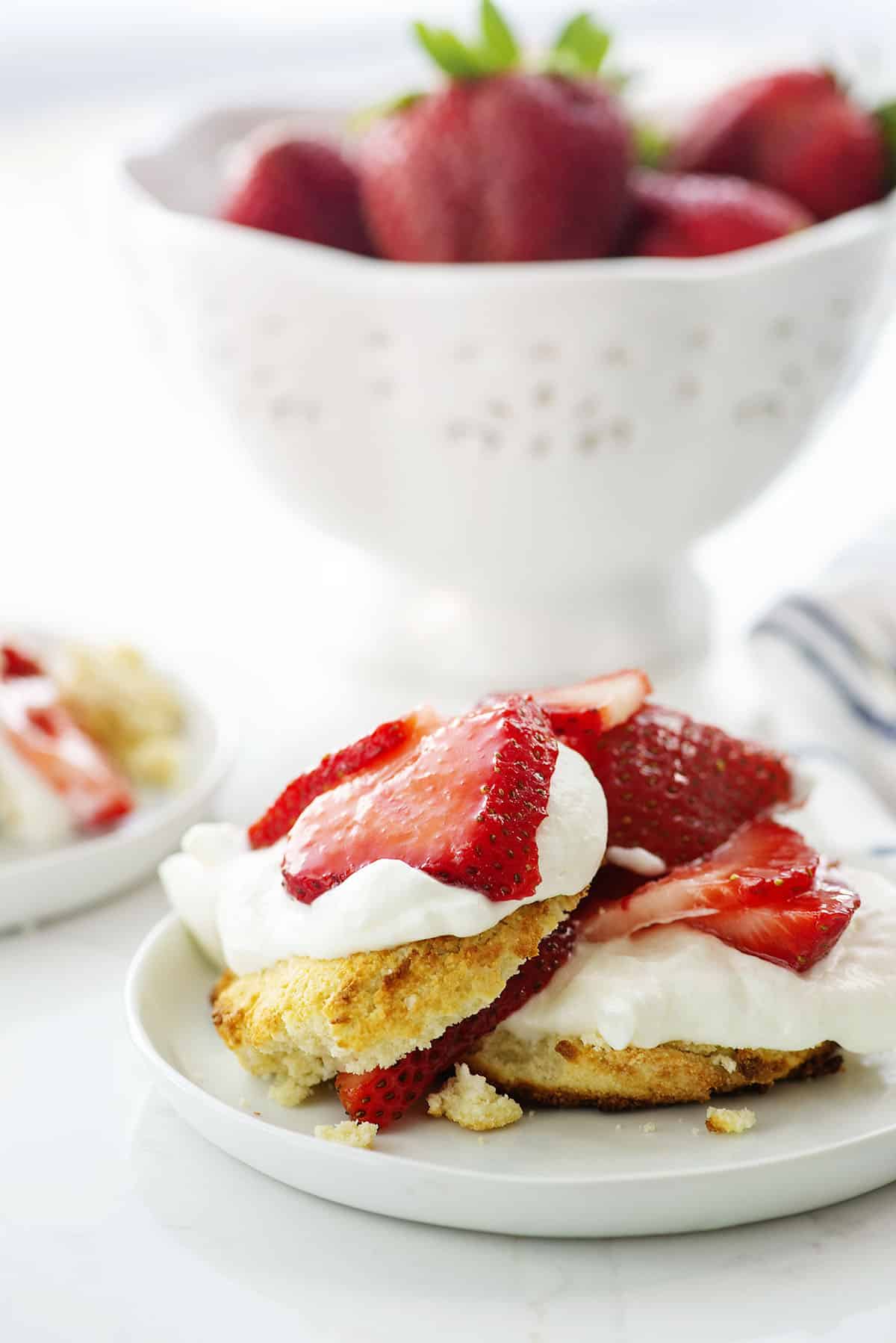 Not too long ago, a reader messaged me about our low carb biscuit recipe to let me know that she loved the biscuits and thought they'd be a good base for strawberry shortcake.
I LOVE when readers give me ideas like this, because I hadn't thought of it myself and it was a brilliant idea.
I had this keto strawberry shortcake whipped up that same week. Such a simple and tasty dessert!
We used our keto whipped cream here and it's just perfect. Light, fluffy, and just lightly sweetened.
Of course, when strawberries are in season they're so plump and juicy, naturally sweet, and hard to resist. I can't wait until local berries are available – I just know this low carb strawberry shortcake is going to be even tastier. Not that I'm complaining about the supermarket berries, totally delicious that way too!
Ingredient Notes:
This post contains affiliate links. As an Amazon associate and member of other affiliate programs, I earn from qualifying purchases.
Gluten Free Shortcake: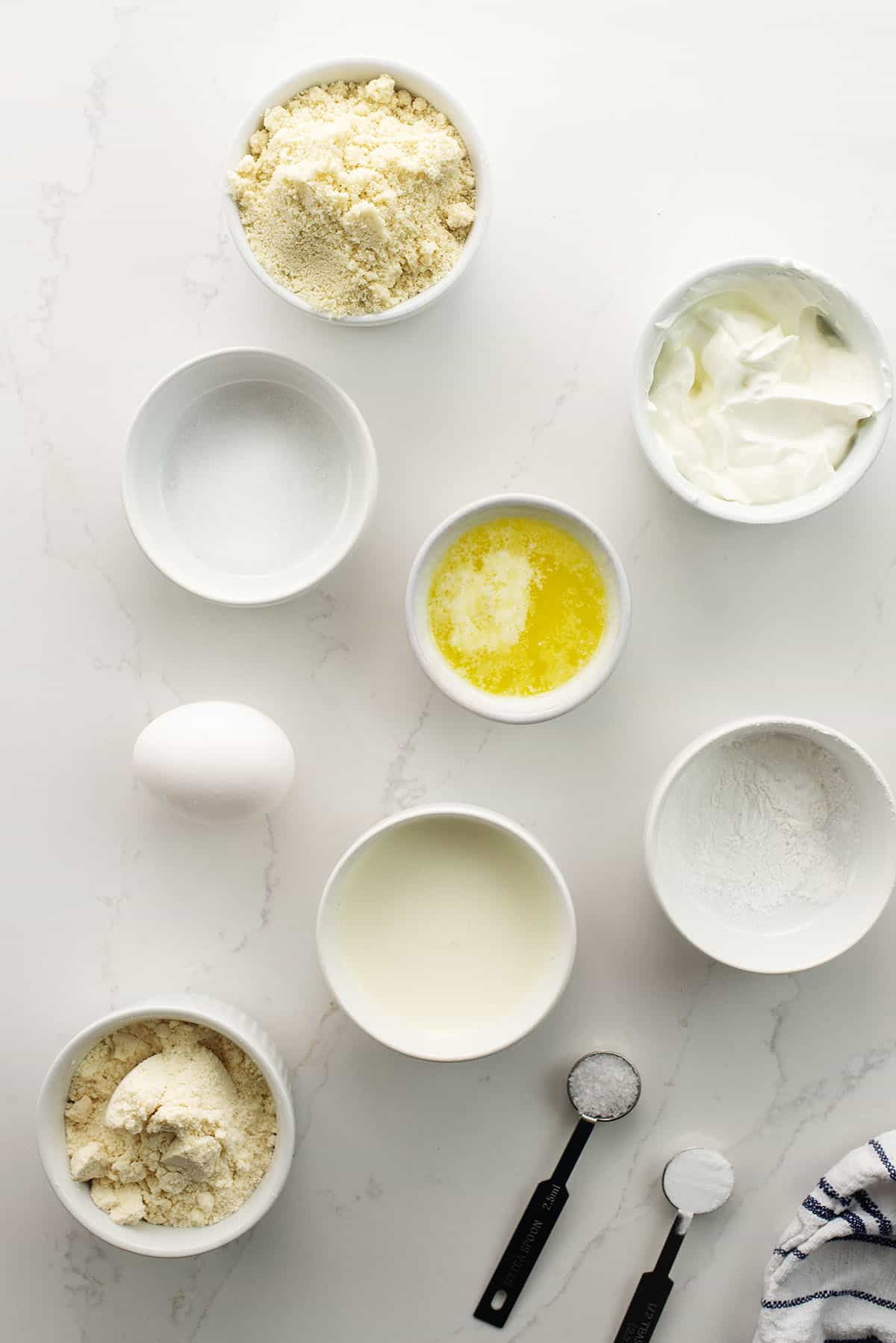 Almond & Coconut Flour – These low carb and gluten free flours will make up the base of the dough for our shortcakes. We like this coconut flour and this almond flour. Any brand will do, but make sure the almond flour is finely ground.
Sweetener – We use and love Lakanto products. We're using their original sweetener in this recipe. It bakes and tastes like real sugar with no impact on blood glucose, so it can be counted as ZERO net carbs! Use code THATLOWCARBLIFE for 20% off your order at Lakanto.
Sour Cream – It might sound like a strange addition but it's a great way to keep the keto shortcakes from drying out! It'll add moisture to the biscuits.
Egg – The egg helps act as a binder in the gluten free dough and it'll add moisture to help keep the biscuits from drying out.
Other – You'll also need some other pretty standard baking ingredients including heavy cream, melted butter, baking powder, baking soda, salt, and water.
Strawberries & Whipped Cream:
Fresh Strawberries – When picking out the perfect batch of fresh strawberries look for bright red colors with a shine, and fresh looking green leaves.
Sweetener – I'm using more of the original Lakanto monkfruit sweetener to mix up with the freshly sliced strawberries.
Keto Whipped Cream – This starts with some heavy whipping cream and then gets mixed up with powdered sweetener and vanilla extract to make an easy homemade whipped cream that's perfect for topping these keto strawberry shortcakes.
Shop Keto Ingredients
We use Thrive Market for a lot of our specialty ingredients and keto snacks or products. Their prices tend to be cheaper than the local stores and I love that you can so easily sort products by diet.
Like Costco, this is a membership site, but we find that it's more than worth it based on the amount we save over the regular grocery store.
They have monthly or yearly plans. Check it out here.
Why We Love This Recipe:
Fresh berries, piles of fluffy whipped cream, and tender biscuits are the perfect combo!
This is a dessert that you can easily serve to carb-lovers and they'll happily enjoy it. No funky flavors or textures here.
Strawberry shortcake is a classic dessert and we love being able to serve it up on hot summer nights.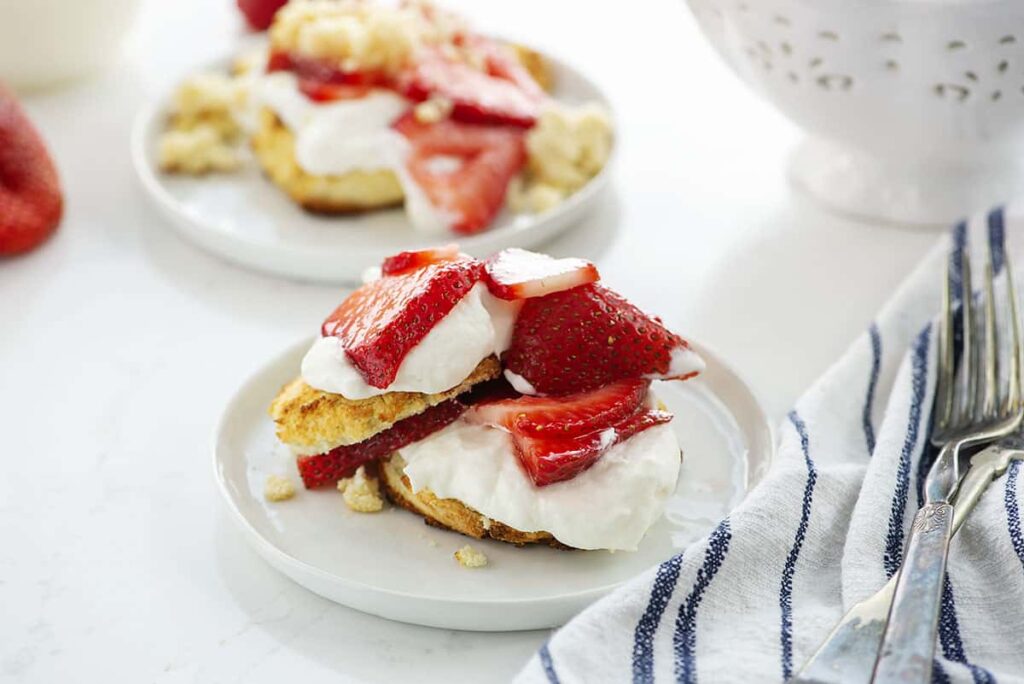 Helpful Tools:
Cookie Scoop – You'll want to use a large cookie scoop to get perfectly even portions for the shortcake! A cookie scoop is a useful tool for all sorts of recipes. An ice cream scoop works here as well.
Our Favorite Hand Mixer
It's so easy to whip up dinner or dessert with this cute hand mixer. It'll simplify just about any baking recipe by keeping all that mixing quick and easy. A good electric hand mixer like this one is a must for any kitchen, and they don't take up much space. I've used this hand mixer for years and it's my favorite! Get it on Amazon.
How To:
Shortcake – To get started you'll prepare the dough for the gluten free and low carb shortcake! Add all of the shortcake ingredients including the almond flour, coconut flour, sweetener, cream and butter to a mixing bowl and stir until it is well combined into a dough.
Scoop – Next up you'll need to scoop the dough out onto a prepared baking sheet. Use a large cookie scoop to keep the portions even. There should be enough for 8 shortcakes. After scooping onto the baking sheet you'll want to lightly flatten each of the biscuits with your fingers.
Bake – All that's left to finish up these gluten free shortcakes is to pop the baking sheet in the oven. They'll take about 10 minutes to bake, or until they've turned a golden brown. You can start preparing the strawberries and whipped cream while they bake.
Strawberries – First you'll want to rinse and dry your fresh strawberries and then start cutting them into slices. Add the slices strawberries to a mixing bowl and then sprinkle on the sweetener. We like to taste as we go – some berries are sweeter than others, so you may not want all of the sweetener called for in the recipe.
Whipped Cream – This keto whipped cream is easy to prepare! Start by adding the cold whipping cream to a mixing bowl. Use an electric mixer to beat until soft peaks form. Next add the sweetener and vanilla to the mix and continue mixing until it is soft and billowy. Be careful to not overmix!
Serve – These keto strawberry shortcakes are best served while the biscuits have cooled just enough to be sturdy enough to handle. Cut them in half and then pile on the sweetened sliced strawberries along with a dollop of the keto whipped cream and serve!
Helpful Tip!
It's best to start preparing the sliced strawberries with sweetener either while the shortcakes are baking or just before. This way you can let the strawberries sit for a little bit to release some of their juices. The juicy berries are the best part!
Crumbly Shortcakes:
The shortcakes are very delicate, so slicing them in half can be a bit of a challenge. They're easiest to slice once cooled, but who can wait that long?! If your biscuit crumbles, pile on the toppings and dig in. It all tastes the same and the crumbles on top actually look very pretty, as evidenced by our photo below. 😉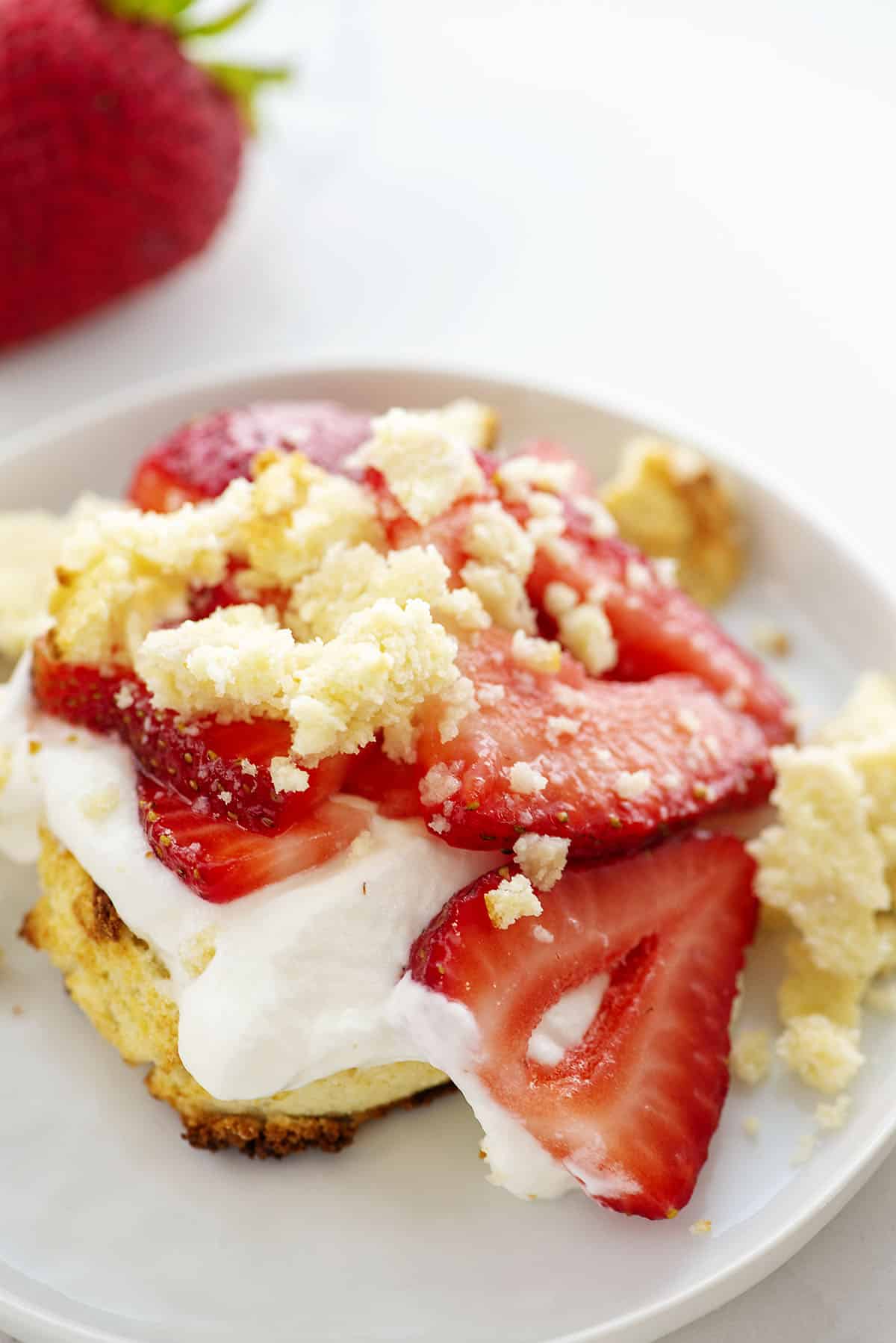 FAQ's:
How to store strawberry shortcake?
You can keep these keto shortcakes stored at room temperature in an airtight container for about 3 days. The sweetened sliced strawberries should last about as long in the refrigerator. The homemade keto whipped cream will only last about a day in the fridge so it may be best to just prepare that fresh before enjoying the strawberry shortcakes!
Is this shortcake gluten free?
These are gluten free strawberry shortcakes, and of course low carb, so you can enjoy them without worry!
More Low Carb Dessert Recipes: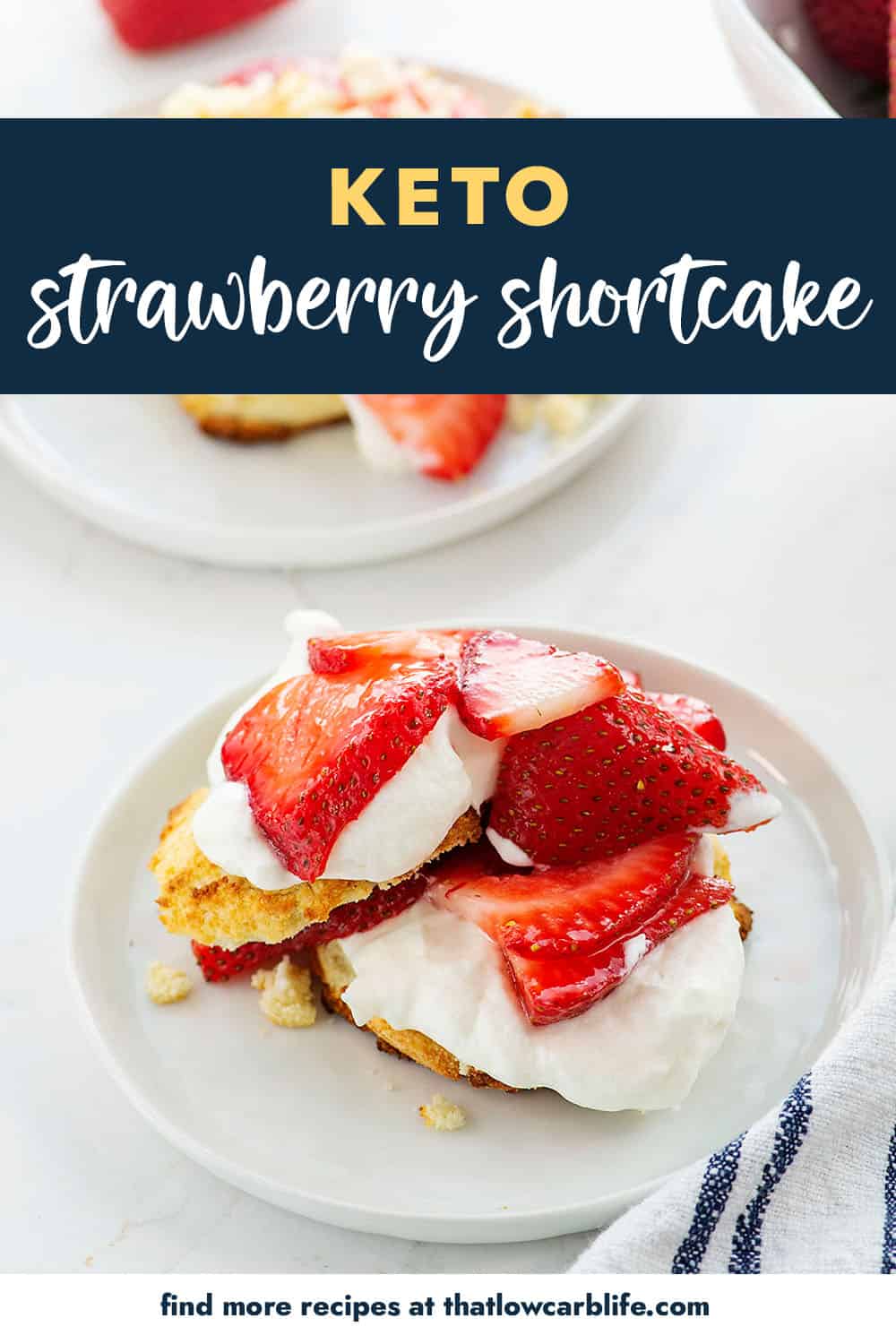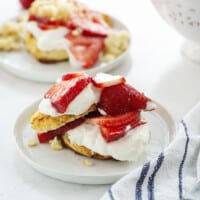 Keto Strawberry Shortcake
Strawberry shortcake is a must-make summer dessert and our version is keto-friendly, sugar-free, and gluten-free! The shortcake is simple to prepare using our low carb biscuit recipe and the fresh berries and cream are the perfect pairing.
Ingredients
For the shortcake:
½ cup sour cream
1 egg
¼ cup water
3 tablespoons heavy cream
2 tablespoons melted butter
2 teaspoons baking powder
½ teaspoon baking soda
½ teaspoon salt
For the strawberries:
1 pound strawberries, sliced
For the whipped cream:
1 cup whipping cream
1 teaspoon vanilla extract
Instructions
To make the shortcake:
Preheat oven to 450 degrees. Spray a baking sheet with non-stick spray.
Add all of the ingredients to a mixing bowl and stir well to combine.
Use a large cookie scoop to scoop out 8 biscuits.
Lightly flatten the biscuits with your fingers.
Bake for 10-12 minutes or until golden brown.
Cool biscuits before assembling.
To prepare the strawberries:
Rinse and dry the strawberries.
Slice the strawberries and add to a mixing bowl with the sweetener. You may want more or less sweetener, depending on how sweet the berries are. Taste and adjust as needed. Stir berries to coat them in the sweetener.
Let sit while the biscuits are baking to release some of their juices.
To make the whipped cream:
Add the cold whipping cream to a medium mixing bowl and beat with an electric mixer until soft peaks form.
Add the sweetener and vanilla to the cream and beat well until soft and billowy. Do not overmix.
To assemble:
Carefully split each biscuit in half. The biscuits can be delicate; if the top half of the biscuits crumble, just sprinkle them over the shortcakes.
Evenly divide the strawberries and whipped cream among the biscuits, layering them with a biscuit half on bottom, then whipped cream and strawberries. Repeat layers once per shortcake.
Notes
The shortcakes themselves aren't very sweet. Most of the sweetness will come from the berries. For a sweeter shortcake, you can try adding additional sweetener, but we would not add more than 1/4 cup.
You may need more or less sweetener on the berries, depending on how sweet they are. In-season berries tend to be sweetest and will need less of the sweetener.
We prefer Lakanto Monkfruit Sweetener. It bakes and tastes like real sugar with zero impact on blood glucose. Use code THATLOWCARLIFE for 20% off your order at Lakanto.com. Other sweeteners that swap 1:1 for sugar may be used, but we have not tested them.
Nutrition Information:
Yield: 8
Serving Size: 1
Amount Per Serving:
Calories: 306
Total Fat: 26g
Saturated Fat: 13g
Trans Fat: 1g
Unsaturated Fat: 11g
Cholesterol: 79mg
Sodium: 384mg
Carbohydrates: 13g
Net Carbohydrates: 8g
Fiber: 5g
Sugar: 6g
Protein: 6g
All information and tools presented and written within this site are intended for informational purposes only. This information is provided as a courtesy and there is no guarantee that the information is accurate.