Our Keto Crème Brûlée is rich and creamy, with a glorious custard and crackly crust. Our foolproof recipe couldn't be simpler and it's made with just 4 ingredients! No one will believe this decadent dessert is sugar-free!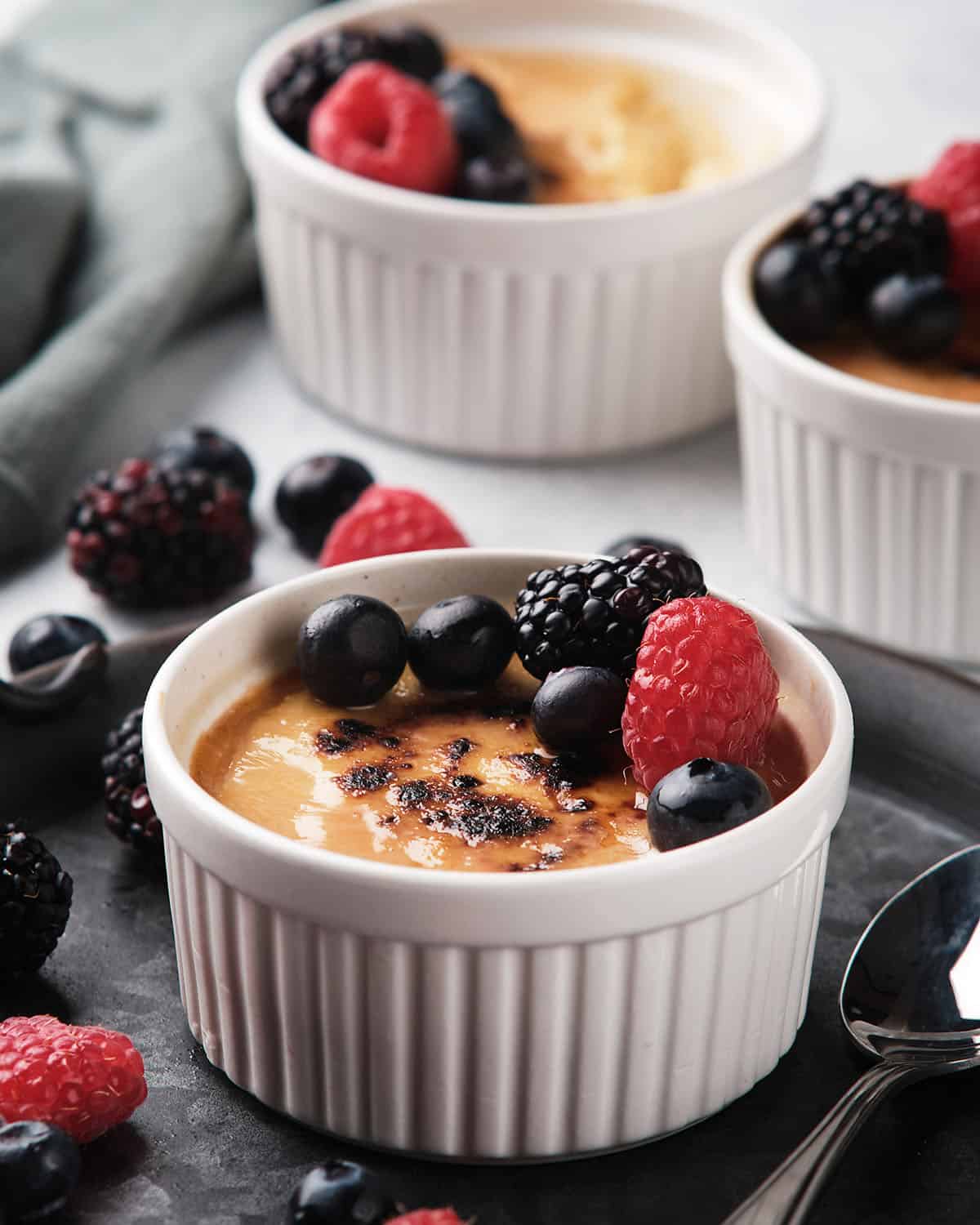 Crème brûlée is one of those desserts that look and sound oh so intimidating, but people are shocked when they find out just how simple it is!
This is why I usually just keep that bit of information to myself when serving up this Keto Crème Brûlée at dinner parties. Let them all think I'm a rock star who slaved away for hours. I mean, who am I to argue?! 😉
But, I'm here to let you in on the secret – our keto crème brûlée is quite simple to prepare and you'll end up with a gloriously creamy custard hiding underneath a layer of crisp caramelized 'sugar.'
Most people only enjoy this delicious treat at fancy restaurants, so it's always a special treat to serve it up at home. Not to mention, it's a whole lot cheaper at home too! 🙂
Ingredient Notes:
This post contains affiliate links. As an Amazon associate and member of other affiliate programs, I earn from qualifying purchases.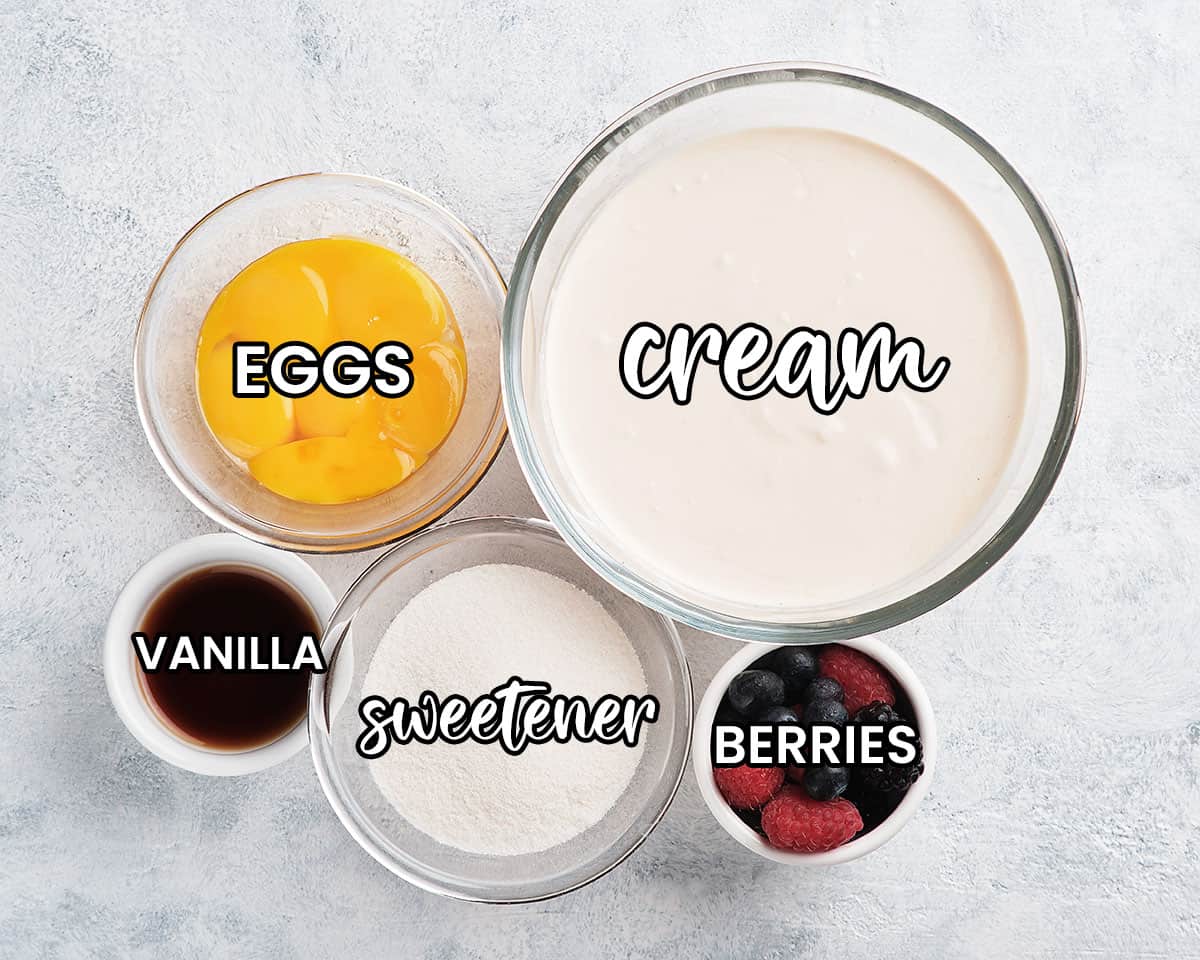 Egg Yolks – You will need to separate the yolks from the whites as you will only need the yolks for making the creamy smooth custard. Save the whites and use them in our chaffles in place of a whole egg!
Heavy Whipping Cream – Please be sure to use heavy cream and not light cream or half and half. There are no substitutes.
Vanilla Extract – A good quality vanilla is a must – do not use imitation vanilla. If you want to get extra fancy pick up some whole vanilla bean pods and scrape some of the seeds into the custard mix for ultimate vanilla flavor!
Sweetener – We use and love Lakanto products. We're using their original sweetener in this recipe. It bakes and tastes like real sugar with no impact on blood glucose, so it can be counted as ZERO net carbs! Use code THATLOWCARBLIFE for 20% off your order at Lakanto.
Topping – While crème brûlée is quite decadent and delicious on its own, we like to top ours off with fresh berries. This is completely optional.
Shop Keto Ingredients
We use Thrive Market for a lot of our specialty ingredients and keto snacks or products. Their prices tend to be cheaper than the local stores and I love that you can so easily sort products by diet.
Like Costco, this is a membership site, but we find that it's more than worth it based on the amount we save over the regular grocery store.
They have monthly or yearly plans. Check it out here.
Why We Love This Recipe:
This keto dessert has a lot of wow factor, especially considering how simple it is!
Just 4 ingredients and we usually have them all on hand!
The contrast of cool, creamy custard with the crisp, crackly exterior is just delightful.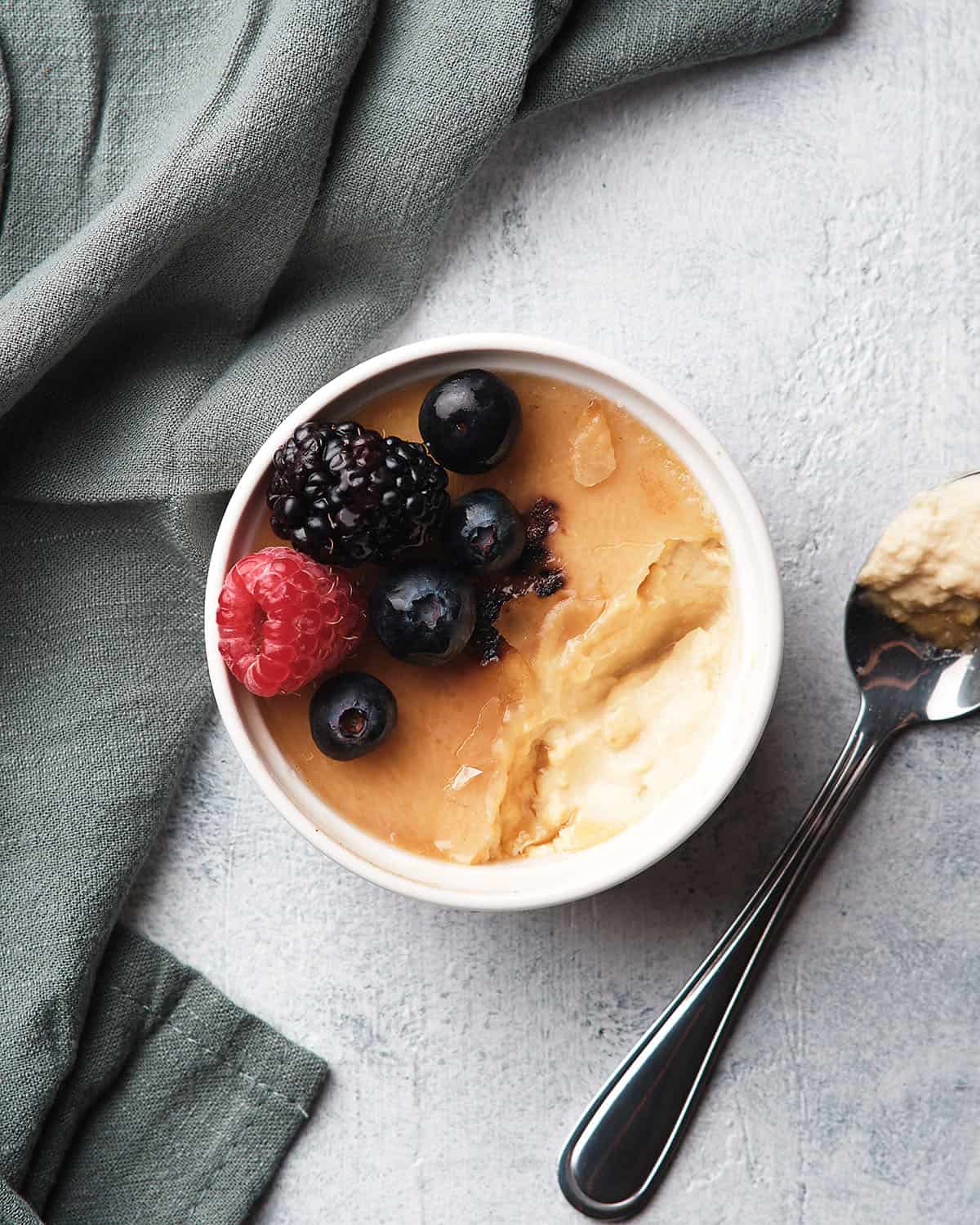 Helpful Tools:
Ramekins – These small white porcelain bowls are the perfect size and shape for making crème brûlée! We also use ramekins in our blueberry gratin recipe.
Culinary Torch – You know the best part about making crème brûlée (besides eating it) is the fun of getting to torch the sweetener until it's perfectly caramelized.
How To: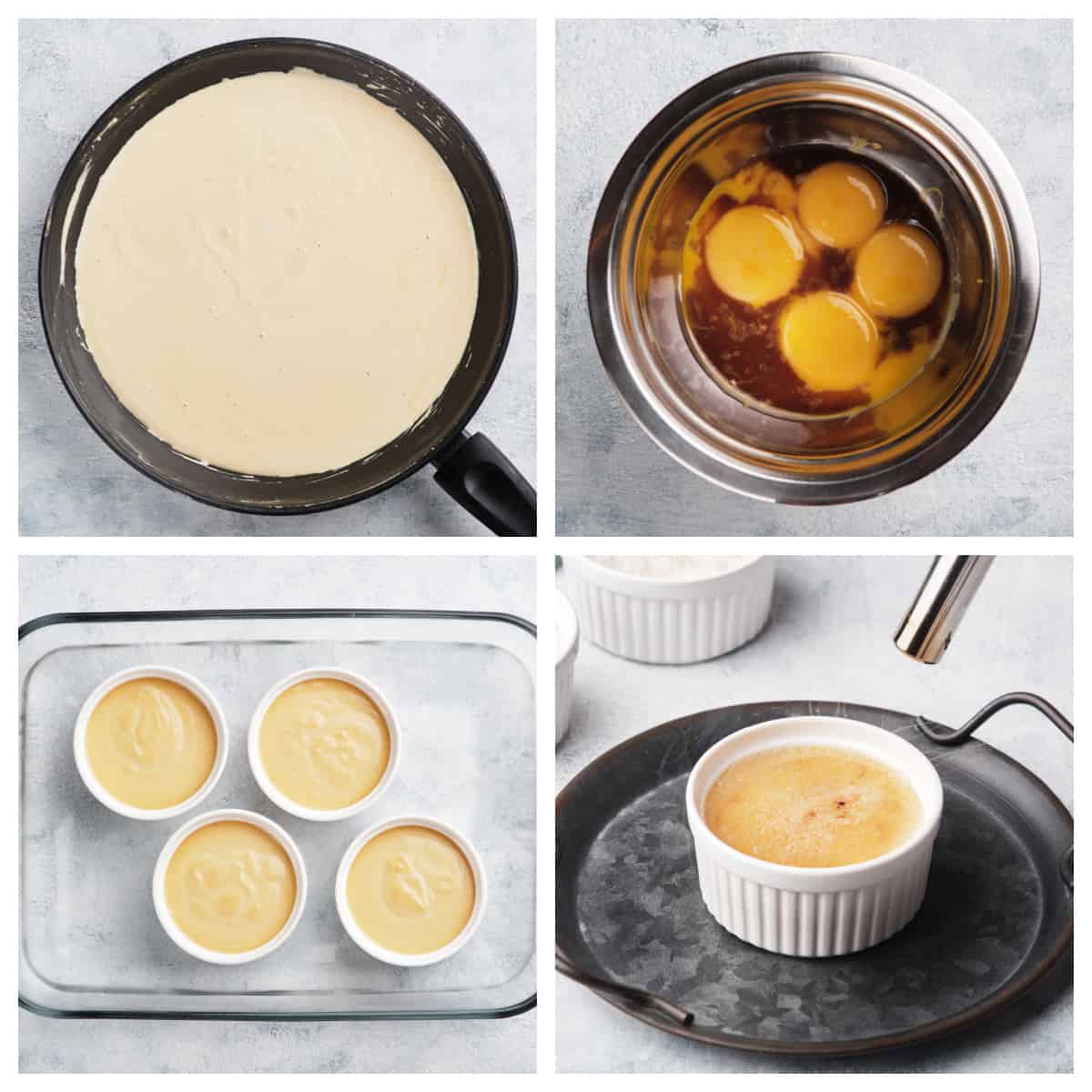 Mix – To begin making the rich and creamy, silky smooth vanilla custard you'll start by whisking together the egg yolks with the vanilla extract in a bowl until they are combined. You can start preheating your oven while you begin preparing the keto vanilla custard as well as bringing a pot of water to boil.
Heat – Set the vanilla egg yolk mixture aside for now and add the heavy whipping cream with 4 tablespoons of the sweetener to a sauce pan over medium heat. Whisk constantly as it heats until it begins to bubble around the edges.
Combine – Remove the sauce pan from the heat and then slowly (verrrrrry slowly) begin to drizzle hot cream in a thin stream into the egg yolks, whisking constantly. If you pour too fast, you'll scramble eggs. If this happens, dump the yolks and begin again – there is no saving it and you don't want scrambled eggs in your crème brûlée.
Fill – When the vanilla cream custard is combined, start filling each of the four ramekins with an equal amount of the custard. Next place each ramekin into a glass baking dish, and then pour boiling water into the dish until it comes up about 1″ on the sides of the ramekins.
Bake – Carefully place the dish with the ramekins and water into the preheated oven on the middle rack and bake for about 30 minutes or until the vanilla cream is just slightly jiggly. See notes below.
Cool – Remove the pan from the oven and let the ramekins cool in the water bath until cool enough to pick up by the rim with your fingers. This should take 20 minutes or so. Once cool enough to touch, remove from the water and place on a cooling rack to cool another 20 minutes. Cover with plastic wrap and chill for 4 hours before proceeding.
Torch – Sprinkle the remaining sweetener over the top of the cold custard, making sure to cover the custard well. Use your torch to burn the sugar, creating that crackly topping.
Serve – Top with fresh berries and dig in!
Tips & Tricks to the Perfect Keto Crème Brûlée:
Tempering the Eggs: It's important to slowly drizzle the hot custard into the egg yolk mixture while whisking constantly to temper the eggs. This will slowly raise the temperature of the eggs without cooking them. If you scramble the eggs (you'll know if it happens), start over as there is no saving the dish at that point.
Straining: Many recipes call for straining the custard through a fine-mesh sieve and we find it to be optional. If you notice any lumps in the custard, do go ahead and strain. If things look smooth and you're not serving the dish to Julia Child herself, you're probably fine to skip the strain.
Water Bath: You can either place the ramekins in a pan on the counter and fill it with boiling water or place the pan of ramekins in the oven and fill it with boiling water there. Whichever is easiest works fine.
Sweetener: We recommend erythritol for this recipe and have not tested this with other types of sweetener. We use Lakanto (linked above in the ingredient section), but Swerve will also work well.
When Is Custard Done Baking?
While we call for 30 minutes in the oven, you'll want to keep an eye on the custard and be careful not to overbake it. It should have a uniform jiggle to it, from side to side. If the edges slightly jiggle and the center is quite a bit more jiggly, it's not done yet. The color should be consistent as well.
You'll know you've overbaked your custard if they are quite set (no jiggle) or if they start to rise. If they're not jiggly, go ahead and serve them, but if they've begun to rise they'll have an eggy taste and are probably not salvageable.
Overbaking the custard is quite common at first, but you'll quickly get the hang of it!
Helpful Tip!
If you don't have a kitchen torch, you can still make these under your oven's broiler, however it will heat the custard a bit and you'll lose that tasty contrast of cold custard and crispy burnt sugar.
Make Ahead Crème Brûlée:
Our keto creme brulee is actually quite simple to make ahead!
Custard: The custard can be prepared up to baking and stored in the fridge for up to 4 days.
Baked Custard: After baking, but before adding the sweetener to the top, cool, cover with plastic wrap, and refrigerate for up to 4 days.
Finished Product: Once you've caramelized the sweetener on top, these are truly best served within 20 minutes or you'll lose that crackly crust. However, they will last for up to 4 days in the fridge – they just won't be quite as tasty or have that contrast of textures.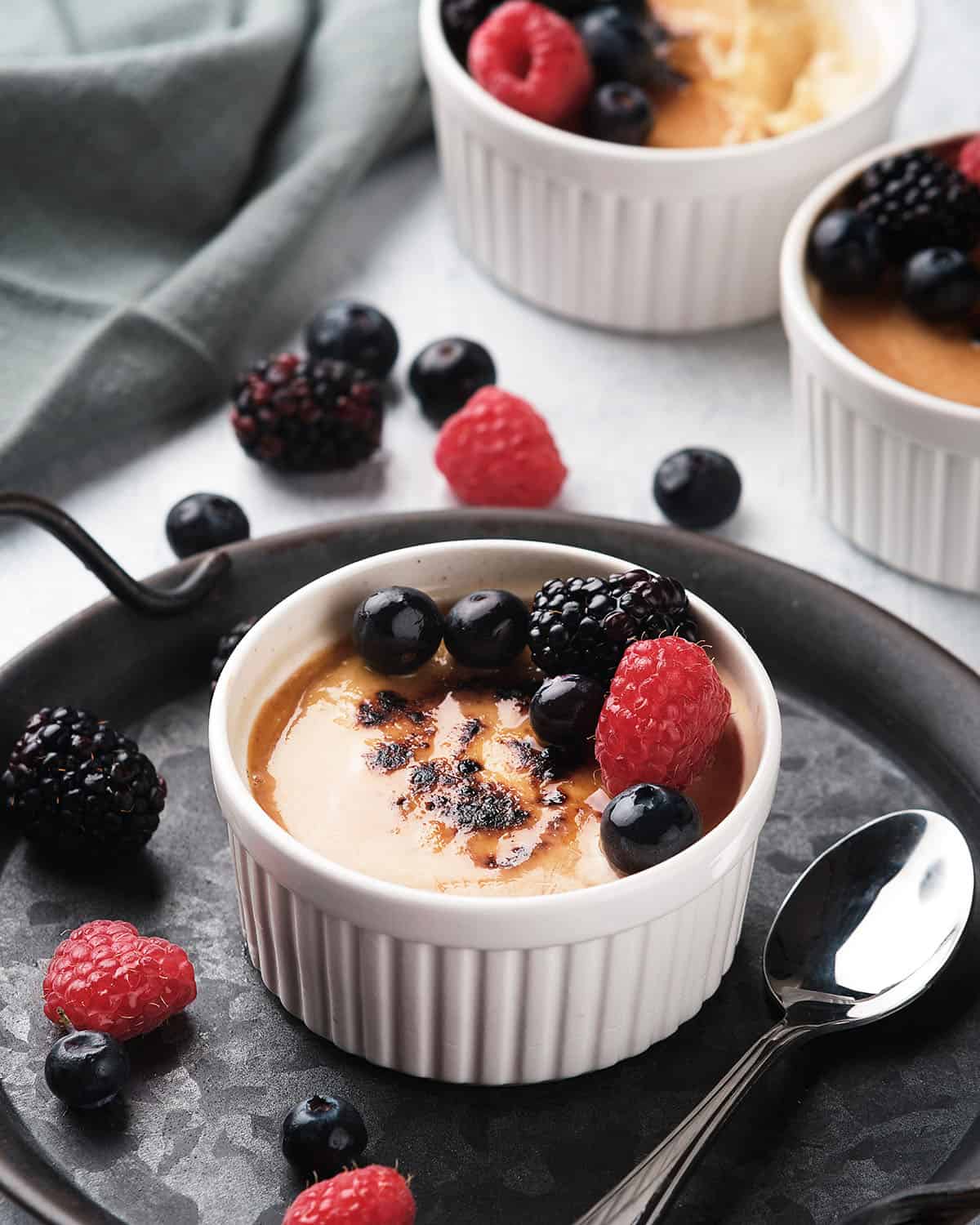 FAQ:
How to store creme brulee?
It's best to store the vanilla custard without the caramelized topping in the fridge for about 4 days and then torch it before serving, but you can also store it covered after adding the caramelized top.
Why does creme brulee need a water bath?
The water that you'll add to the baking dish is to help keep the custard silky smooth. You don't want the vanilla cream to curdle, which may happen if the egg yolk that's mixed in is heated too much. The hot water bath helps keep the custard from overheating as it bakes!
What is creme brulee?
It's pretty much just a simple but decadent dessert that is made from an easy custard and a sweet caramelized topping. It's also known as "burnt cream".
More Low Carb Dessert Recipes: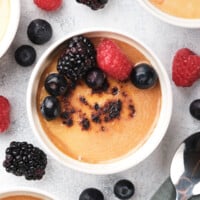 Keto Crème Brûlée
This sugar free creme brulee is packing loads of wow factor! What no one realizes is that this decadent dessert is pretty simple to make with just a handful of ingredients!
Ingredients
6 egg yolks
1 1/2 teaspoons vanilla extract
2 cups heavy whipping cream
8 tablespoons Lakanto monk fruit sweetener, divided
Fresh berries for topping
Instructions
Preheat the oven to 325 degrees. Bring a pot of water to boil.
Place the egg yolks and vanilla extract in a bowl and whisk well to combine. Egg yolks should be smooth and creamy.
Add 4 tablespoons sweetener and the heavy whipping cream to a saucepan over medium heat. Whisk constantly until it starts to simmer.
Remove the saucepan from the heat and very slowly drizzle into the yolk mixture, whisking constantly, until well combined. Adding the hot cream to the yolks too quickly will cause the eggs to scramble. If this happens, discard and begin again.
Divide the mixture evenly between 4 ramekins and place them in a glass baking dish. Pour in enough boiling water to come 1 inch up the sides of the ramekins.
Place the baking dish in the preheated oven on the middle rack until just slightly jiggly, about 30 minutes.
Remove from the oven and let cool in the water bath for 20 minutes. Remove from the water bath to a cooling rack and let cool for 20 minutes more. Cover with plastic wrap and chill in the fridge for at least 4 hours and up to 4 days.
When ready to serve, sprinkle 1 tablespoon sweetener over each crème brûlée. Use a culinary torch to heat sweetener until caramelized.
Top with fresh berries, if desired, and serve immediately.
Notes
It's easy to overbake these. Remove from the oven when they are still slightly jiggly, but not liquid in the center. They'll firm up as they cool. If they begin to rise, they are overbaked enough that they will likely taste eggy and you may as well start over.
We prefer Lakanto, but any erythritol-based sweetener should work fine. Swerve is quite popular.
To make ahead, the custard can be kept in the fridge before baking for 4 days. After baking, the custard can be kept for up to 4 days. Once you've burnt the sugar, you'll want to serve it within 20 minutes for the best texture.
Nutrition information does not include berries.
Nutrition Information:
Yield: 4
Serving Size: 1 creme brulee
Amount Per Serving:
Calories: 485
Total Fat: 50g
Saturated Fat: 30g
Trans Fat: 1g
Unsaturated Fat: 17g
Cholesterol: 411mg
Sodium: 45mg
Carbohydrates: 5g
Net Carbohydrates: 5g
Fiber: 0g
Sugar: 0g
Protein: 4g
All information and tools presented and written within this site are intended for informational purposes only. This information is provided as a courtesy and there is no guarantee that the information is accurate.