This Keto Cookie Dough recipe is the perfect sweet treat to grab and go! We all know that cookie dough is the best part of making cookies, so let's just skip baking and eat this edible cookie dough instead!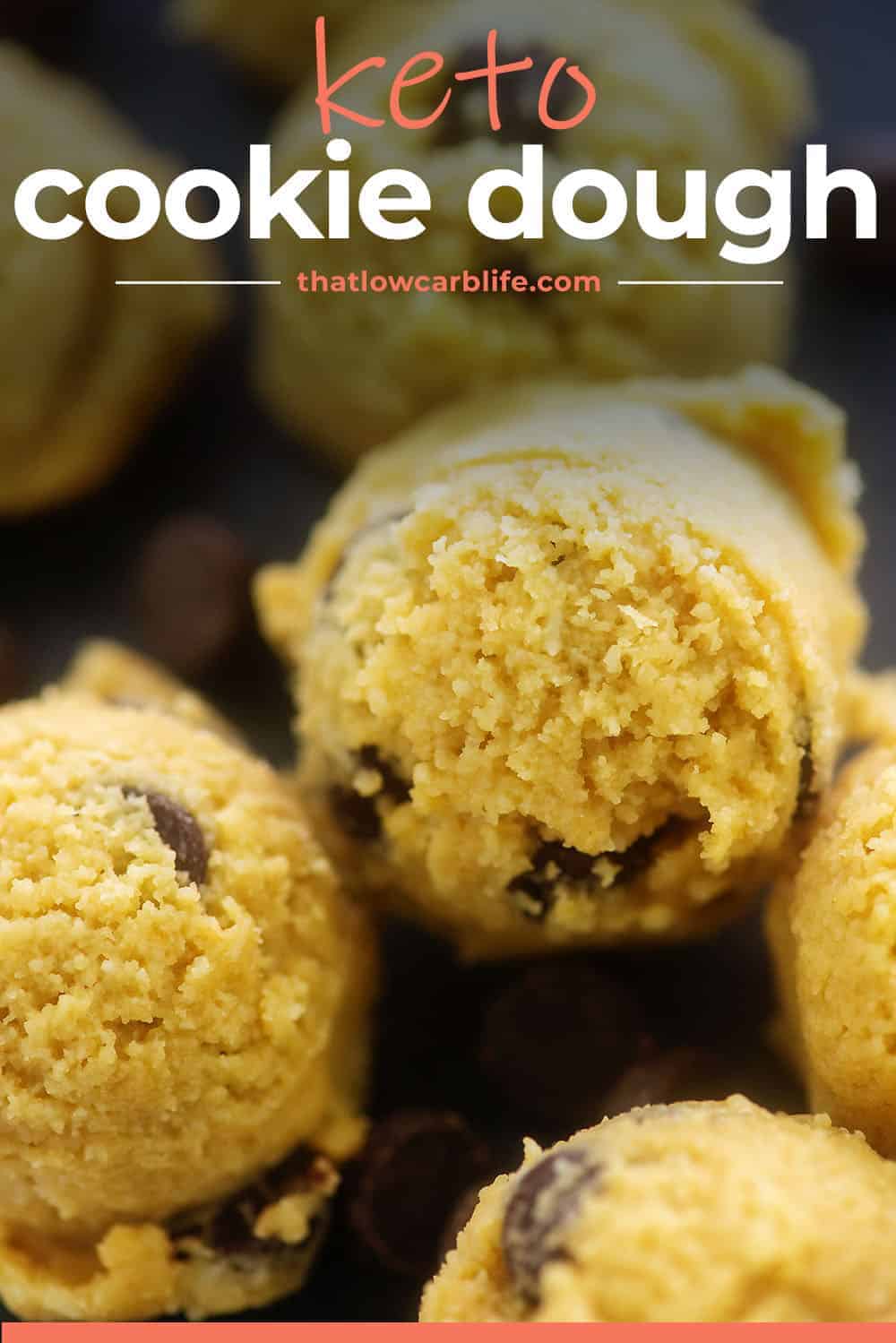 I absolutely love to bake cookies and I can even make traditional cookies for my kids and totally avoid eating one after it's baked…it's the dough that gets me.
I can not resist cookie dough! It's impossible!
Enter this edible keto cookie dough!
Please don't try to bake these – the dough will just melt all over the place. This keto cookie dough is meant to be eaten cold from the fridge, almost like a little cookie dough fudge ball. I seriously can't get enough!
Looking for a cookie you can bake? Our keto peanut butter cookies are rich, thick, chewy, and honestly just perfect!
What Is A Fat Bomb?
A fat bomb is just about exactly what you'd expect: high in fat, low in carbs. But this is good fat! The kind that fills you up and helps you consume fewer calories. It sounds unhealthy, but it's not!
These are basically keto cookie dough fat bombs! They're a sweet and filling snack that'll help you cut the cravings for less healthy treats.
If you like this low carb cookie dough recipe you'll definitely want to check out these Keto Maple Fudge Fat Bombs!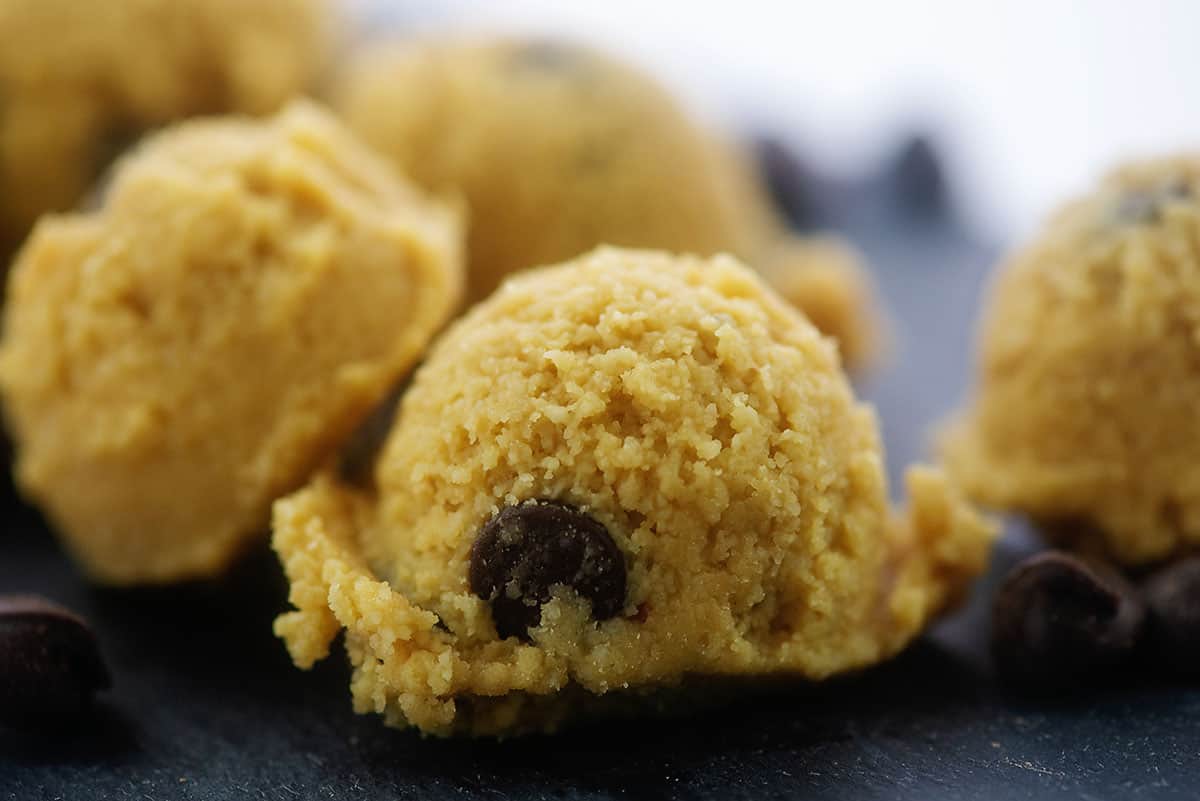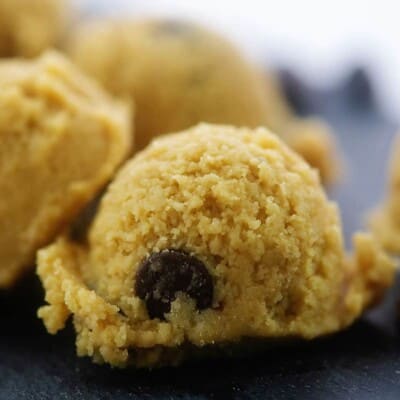 Keto Cookie Dough Balls
These cookie dough balls are the best of any cookie: the dough! Eat them cold right from the fridge or freezer anytime you need a sweet treat.
Prep10 minutes
Total10 minutes
Instructions
Add the butter, powdered sweetener, molasses, and vanilla to a mixing bowl and beat with an electric mixer until smooth and creamy.

Add the almond flour and salt and mix until combined.

Stir in the chocolate chips.

Use a small cookie scoop to scoop 24 balls of cookie dough on a baking sheet.

Place in the freezer to firm up for 1 hour and then transfer to a bowl, bag, or covered dish.

Store, tightly covered, in the refrigerator for up to 5 days or in the freezer for up to 1 month.
Tips & Notes:
Molasses is not technically keto – it's the byproduct from boiling sugarcane. You may leave it out entirely if you're following a strict keto diet with a focus on clean ingredients. Otherwise, please know that this is adding less than 1 carb to each cookie dough ball, but it does help to give these a bit of a brown sugar flavor like you'd find in a traditional cookie dough. Do NOT bake these. They're meant to be eaten cold and will not bake into cookies.
Nutrition Information:
Serving: 1cookie dough ball| Calories: 59kcal (3%)| Carbohydrates: 2g (1%)| Protein: 1g (2%)| Fat: 6g (9%)| Saturated Fat: 3g (19%)| Polyunsaturated Fat: 6g| Cholesterol: 10mg (3%)| Sodium: 52mg (2%)| Sugar: 1g (1%)| Net Carbs: 2g (4%)
Edible Cookie Dough Ingredient Notes:
This post contains affiliate links. As an Amazon associate and member of other affiliate programs, I earn from qualifying purchases.
Butter – The base of our cookie dough is butter. I use salted.
Powdered Sweetener – We use and recommend Lakanto Powdered Sweetener. It's all natural, keto friendly, and has zero impact on blood glucose.
Almond Flour – Be sure to use a finely ground almond flour, not almond meal, for the best texture. I have not tested this recipe with other flours.
Molasses – This one is optional, because it's not technically keto as it's made from sugar. That said, we're just using a tiny amount and it really does give these that brown sugar flavor that you need in a cookie dough. Highly recommend.
Sugar Free Chocolate Chips – My husband prefers his cookie dough to be without chunks of chocolate chips, so I usually only add them to half the batter. We love Lily's.
Vanilla – It's not a cookie without vanilla!
Shop Keto Ingredients
We use Thrive Market for a lot of our specialty ingredients and keto snacks or products. Their prices tend to be cheaper than the local stores and I love that you can so easily sort products by diet.
Like Costco, this is a membership site, but we find that it's more than worth it based on the amount we save over the regular grocery store.
They have monthly or yearly plans. Check it out here.
Why We Love This Recipe:
What is there to not to love about edible cookie dough? Okay, you can't bake it I guess. But why would you want to when you can just eat it as is?
No worries about food poisoning from raw egg!
These are super quick to whip up and the whole family will enjoy the cookie dough!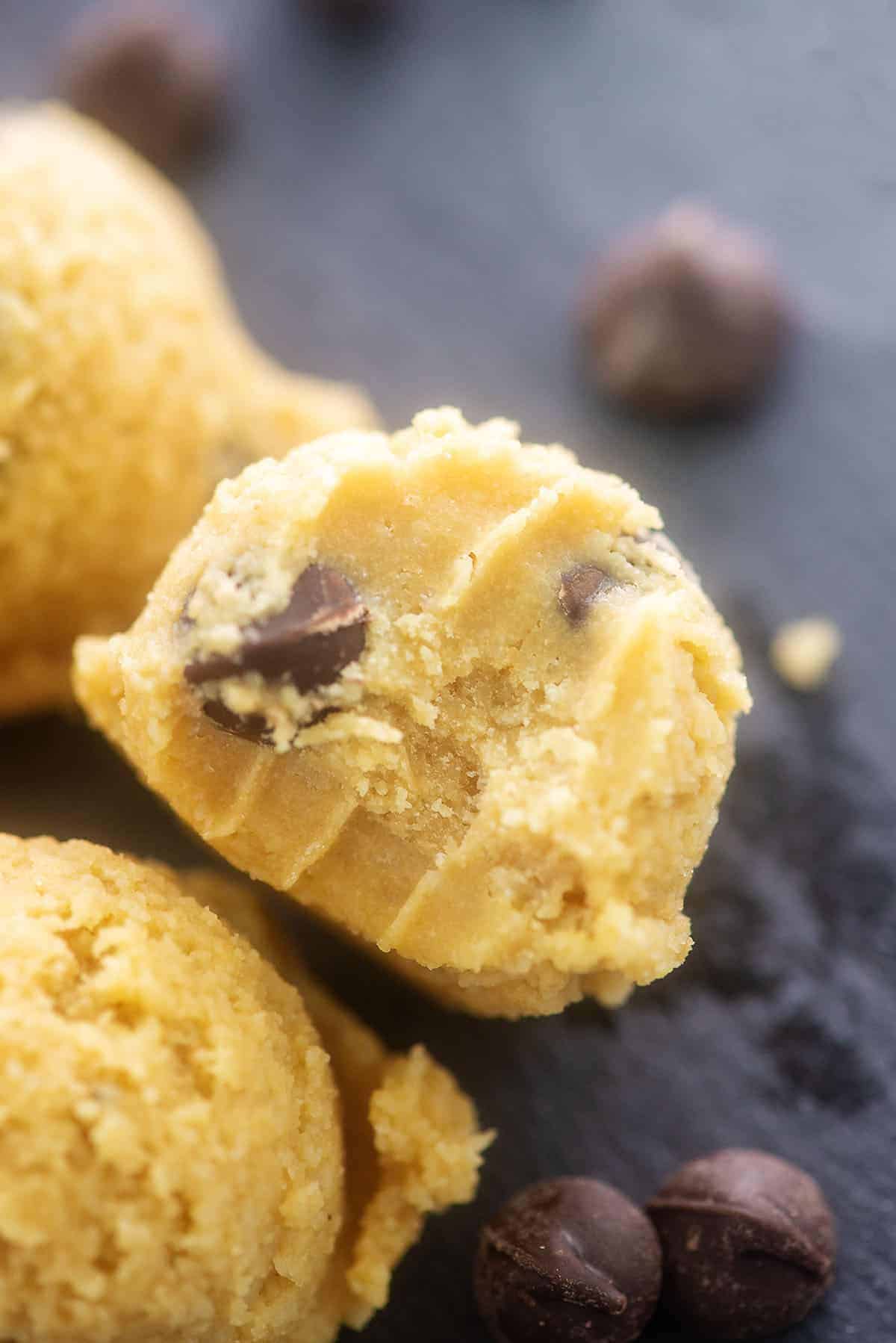 Our Favorite Hand Mixer
It's so easy to whip up dinner, dessert, or even snacks with this cute hand mixer. It'll simplify just about any baking recipe by keeping all that mixing quick and easy. A good electric hand mixer like this one is a must for any kitchen, and they don't take up much space. I've used this hand mixer for years and it's my favorite! Get it on Amazon.
How To Make Keto Cookie Dough:
Mix – Beat the butter, sweetener, molasses, and vanilla in a mixing bowl until light and fluffy. Beat in the almond flour and salt until well combined. It's a pretty simple, edible cookie dough recipe!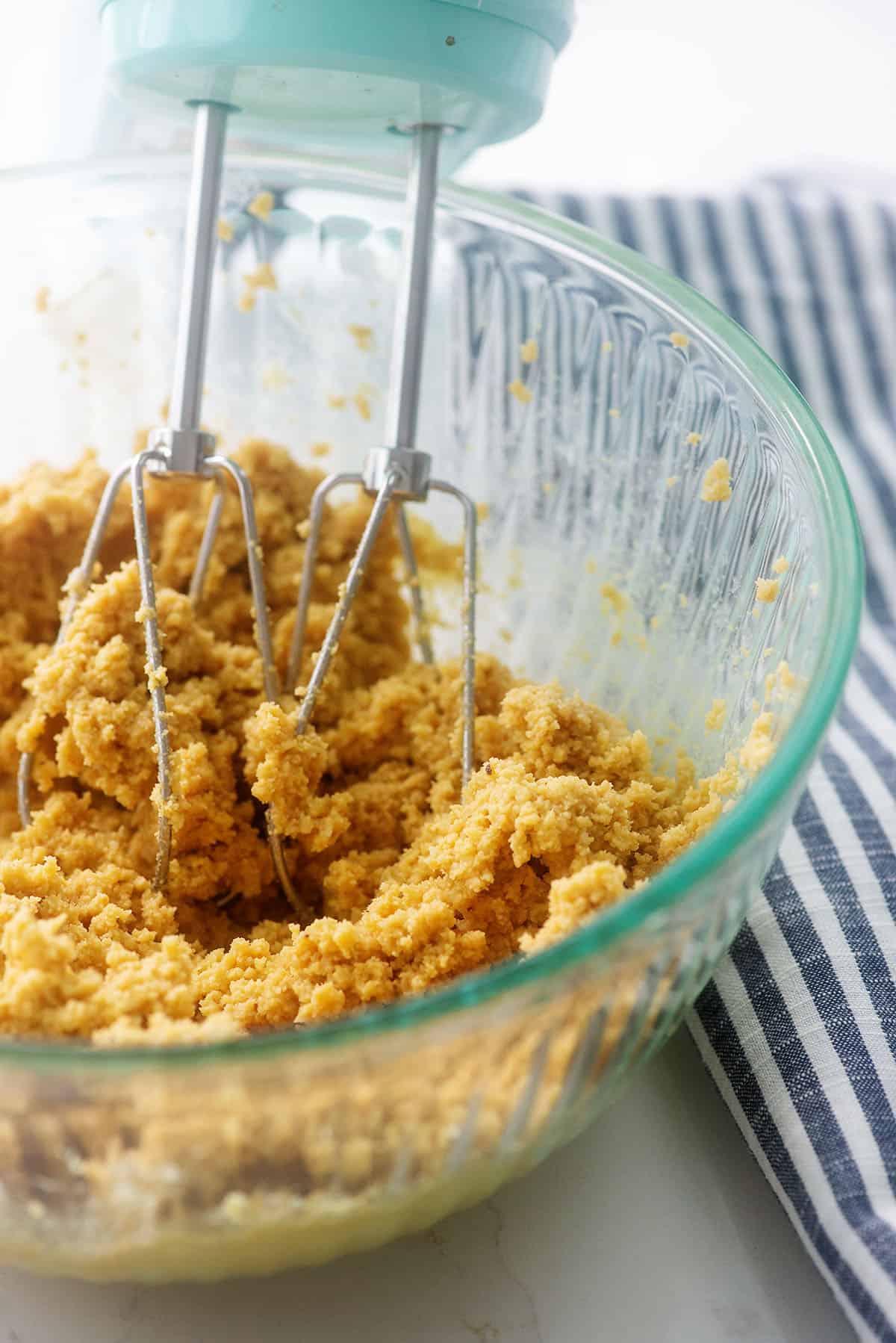 Chocolate – Stir in the chocolate chips by hand. You can use any variety you prefer. My family likes milk chocolate, but I prefer semi-sweet. There's no wrong answer here. 😉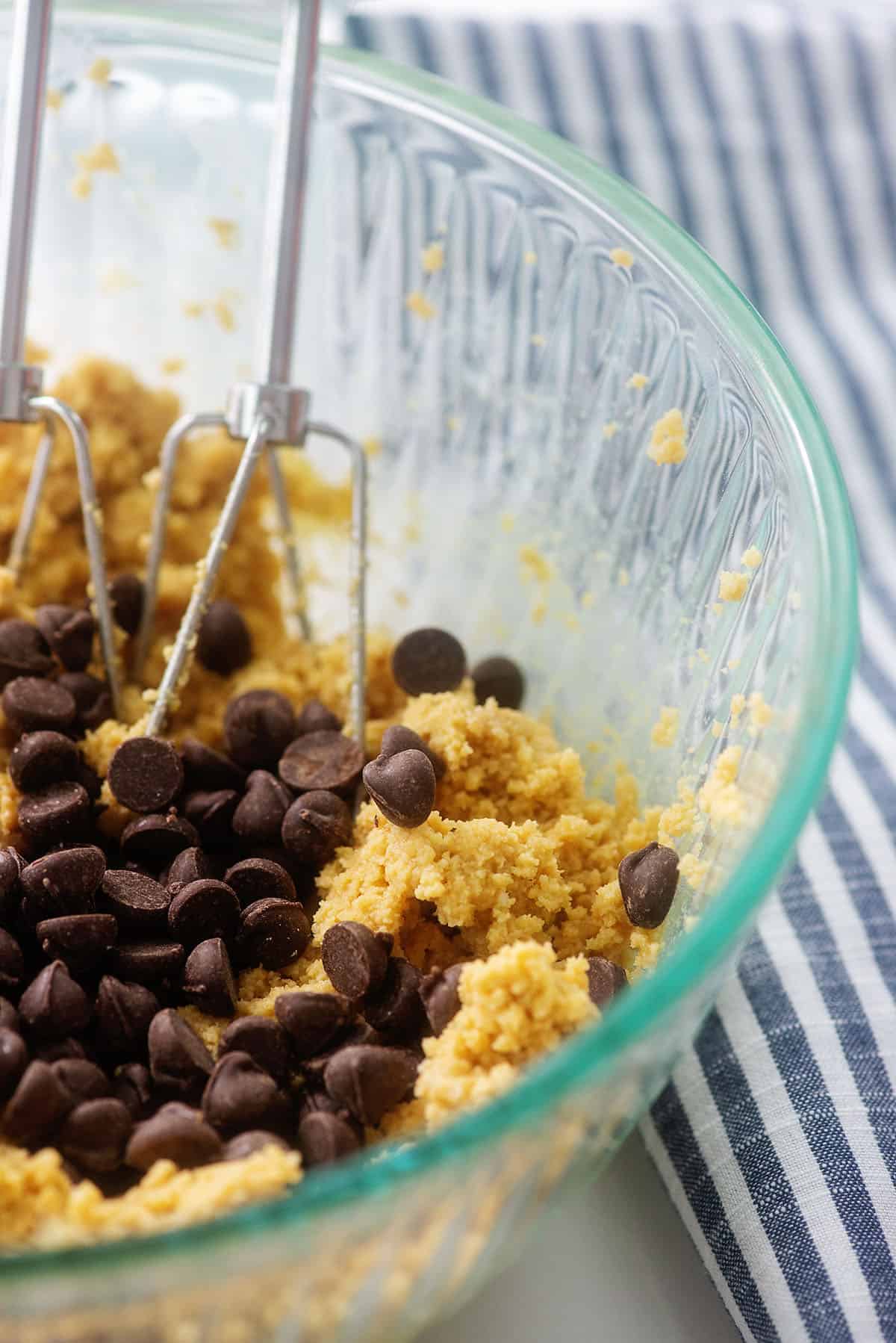 Scoop – Use a small cookie scoop to drop balls of the keto cookie dough onto a baking sheet.
Chill – Place the baking sheet in the freezer for one hour to firm up and then transfer to an air-tight container.
FAQs:
Can I bake this cookie dough?
Nope! This edible cookie dough is made for eating as is, not baking into actual cookies. They'll just melt if you try to bake them, so save yourself the trouble! If you want a homemade keto cookie, try my low carb snickerdoodles or these keto lemon blueberry cookies!
How to store cookie dough?
This keto cookie dough will last 5 days in the fridge if well covered, and up to 3 months in the freezer.
Is this cookie dough safe to eat raw?
Yes it is! This edible cookie dough recipe doesn't contain raw egg or flour which is what makes regular cookie dough unsafe to eat raw.
More Low Carb Dessert Recipes: