Our KETO COOKIE DOUGH CHEESECAKE BITES are loaded with all the flavors of cookie dough, like brown sugar, vanilla, and chocolate chips, baked into a creamy cheesecake on a buttery cookie crust! Big thanks to Lakanto for sponsoring this recipe.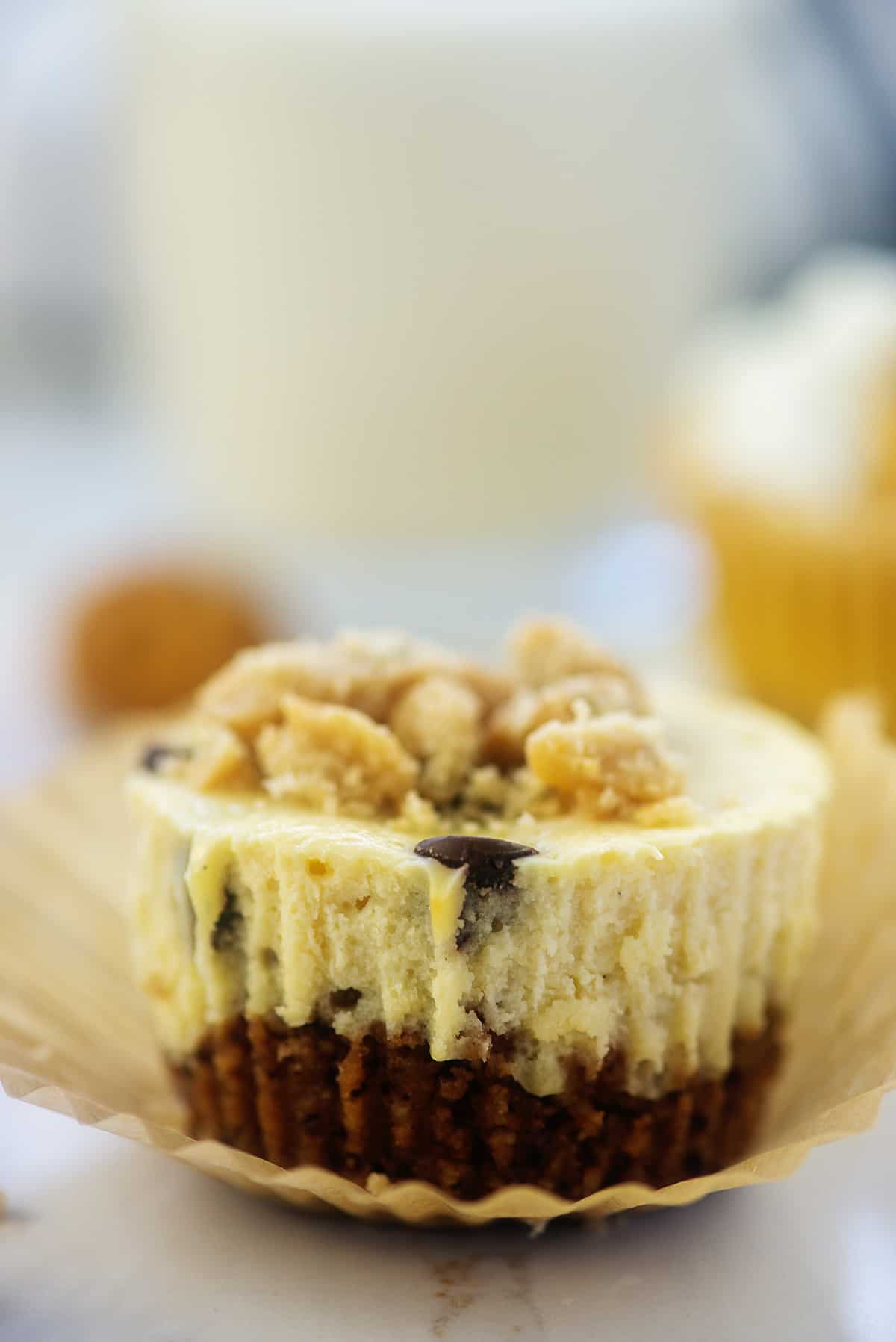 My two favorite desserts just collided into one delicious mash up and I hope you guys are as excited for it as I am!
Cookie Dough Cheesecakes <— Is this real life? Yes, it is!
You know I'm a sucker for mini cheesecakes. They're just about the easiest little dessert to bake and I LOVE them as a low carb baker, because no one ever realizes that I've swapped in monk fruit for sugar, making dessert a healthier treat for everyone. Yes, friends, life can be sweeter without sugar.
But then you go and involve buttery chocolate chip cookies? Absolute heaven!
I partnered with Lakanto to bring you this recipe. If you've read any of my other dessert recipes, you've seen that I ALWAYS use Lakanto products in baking. Their sweeteners are my go to! So, I'm super thankful to them for sponsoring this recipe. (Also, we worked together last year and this incredible snickerdoodle cheesecake happened. Yum.)
Let's do the whole run down here, so that you're sure to make these absolutely perfect on your first try…
Why We Love This Recipe:
Perfectly portioned and fun to eat with your hands! No forks needed.
These have the delicious brown sugar and vanilla flavors of cookie dough paired with cheesecake, all on a crisp cookie dough crust!
Cheesecake seems like a gourmet and decadent dessert, but it's actually super simple to make!
Cookie Crust Ingredient Notes: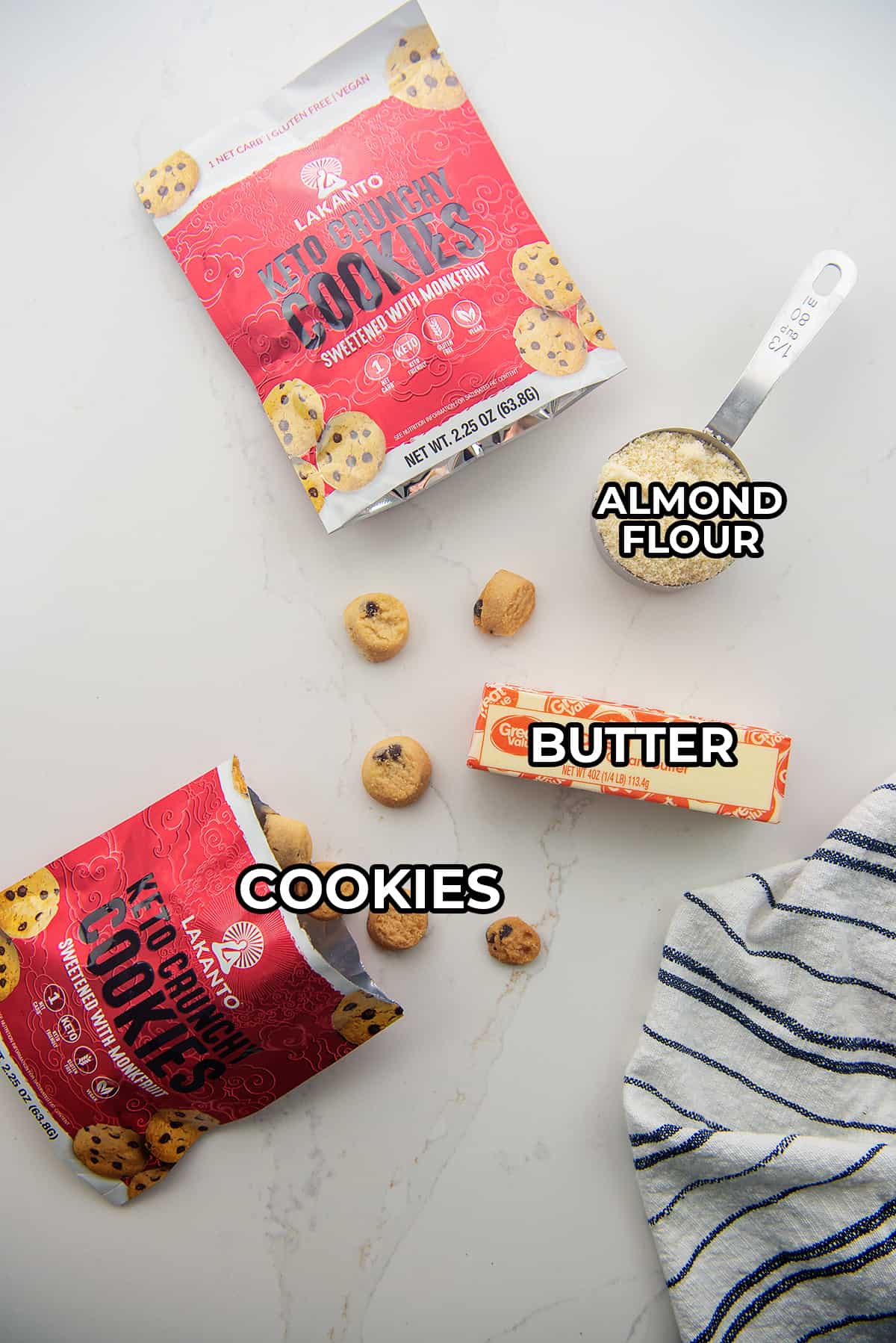 Lakanto Keto Crunchy Cookies– The star of the cookie crust is these mini, buttery, crispy Keto Crunchy Cookies from Lakanto. They're perfect to munch on as they are, but I'm loving them all ground up as the crust for cheesecake.
Almond Flour – The almond flour helps stretch the cookies a bit and helps with texture.
Butter – Just a bit of melted butter will help hold everything together.
How To Make the Crust:
Crush the Cookies – Add the cookies, almond flour, and melted butter to a food processor and process until you have coarse crumbs.
Fill the muffin wells – Line your muffin tin with paper liners and place a heaping tablespoon of the crust into each well. Use your fingers to press the crust down into the muffin tin to form the crust.
Helpful Tip!
Use paper muffin liners to make it super simple to pop these mini cheesecakes out of the pan. The recipe will work without liners, but be sure to grease the tin first and know that they'll be a bit trickier to remove from the pan.
Cookie Dough Cheesecake Ingredients: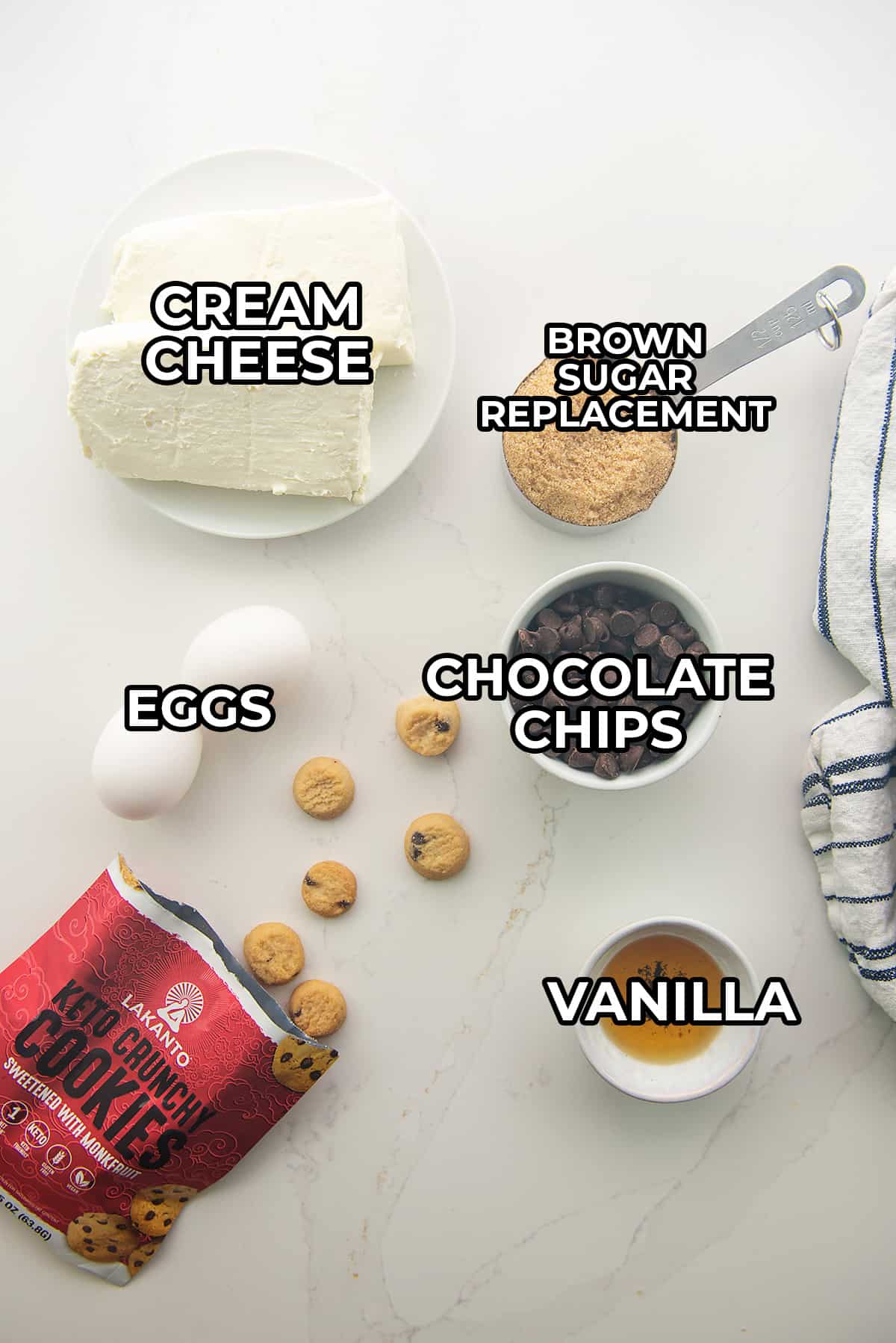 Cream Cheese – It's imperative that your cream cheese is fully at room temperature so that it mixes properly. Cold cream cheese will create lumpy cheesecake.
Lakanto Brown Sugar Replacement – Nothing screams cookie dough like brown sugar and Lakanto Brown Sugar Replacement tastes, measures, and bakes just like brown sugar.
Sugar Free Chocolate Chips – It's not a chocolate chip cookie without chocolate chips and these sugar free chocolate chips bake and taste like the classic, but they're sweetened with monkfruit to keep them lower in calories and carbs.
How To Make the Cheesecake Batter:
Mix – Beat together the cream cheese, brown sugar replacement, and vanilla until the mixture is smooth and creamy. Beat in the eggs, one at a time, until combined. Don't overmix the batter – just mix until it's fully combined.
Add the Chocolate – Stir in the chocolate chips by hand.
Fill the muffin tin – We use a large cookie scoop to scoop the batter into our prepared muffin tin. Just drop the batter right over the cookie crust.
Bake – Pop these in a 325 degree oven for 25 minutes. The centers should be just slightly jiggly.
Cool – Let these cool on the counter for 1 hour and then chill them in the fridge for 4 hours.
Garnish – Crumble more Keto Crunchy Cookies over the top of your mini cookie dough cheesecake bites just before serving or dollop on some of our keto whipped cream and stick a mini cookie right on top!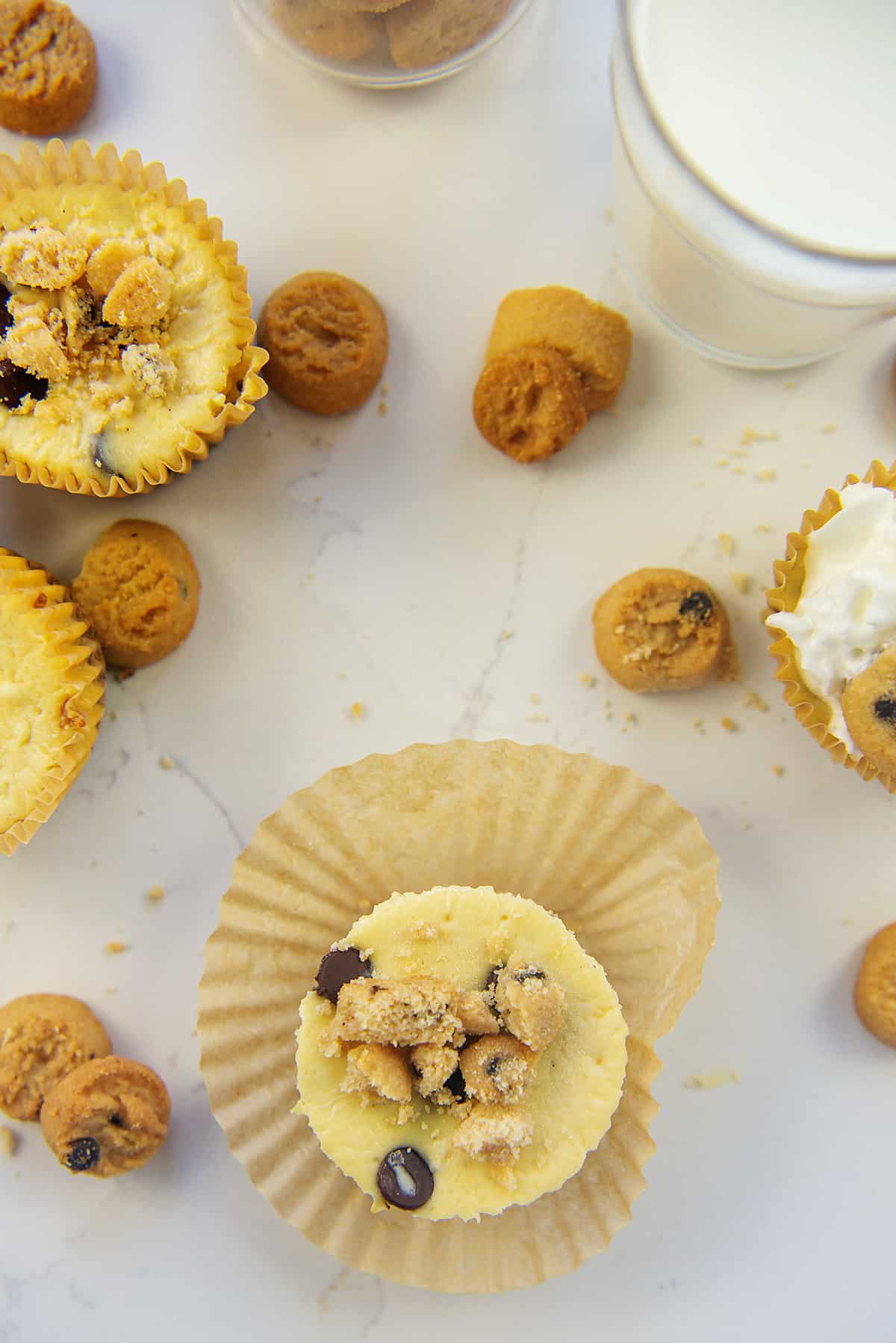 FAQ's:
Can you eat cheesecake on a keto diet?
Cheesecake is the PERFECT dessert to make low carb! Just use your favorite sugar substitute, like Lakanto, and swap out the carb filled crust for a low carb crust like this easy keto cookie crust!
My cheesecakes sunk/cracked. What happened?
This is likely a result of overmixing your cheesecake batter. When you beat too much air into your cheesecake batter it causes them to puff up in the oven and then sink and sometimes crack as they cool. They'll still taste delicious, even if they aren't quite as pretty.
Where can I find Lakanto products?
Lakanto products can be purchased at Lakanto.com as well as in many grocery stores. If purchasing online, use code THATLOWCARBLIFE for 20% off your order!
Why We Love Lakanto:
I've been using Lakanto products for years and have always loved that it tastes, measures, and bakes up just like regular sugar, but without the guilt.
Lakanto sweeteners do not raise blood sugar making them perfect for diabetics and those following a low carb or keto diet.
You can easily swap Lakanto sweeteners for sugar in any recipe and it actually tastes like sugar!
The brand has lots of convenience products like muffin mixes, cookie mixes, and more to help make keto baking a bit simpler.
More Keto Desserts: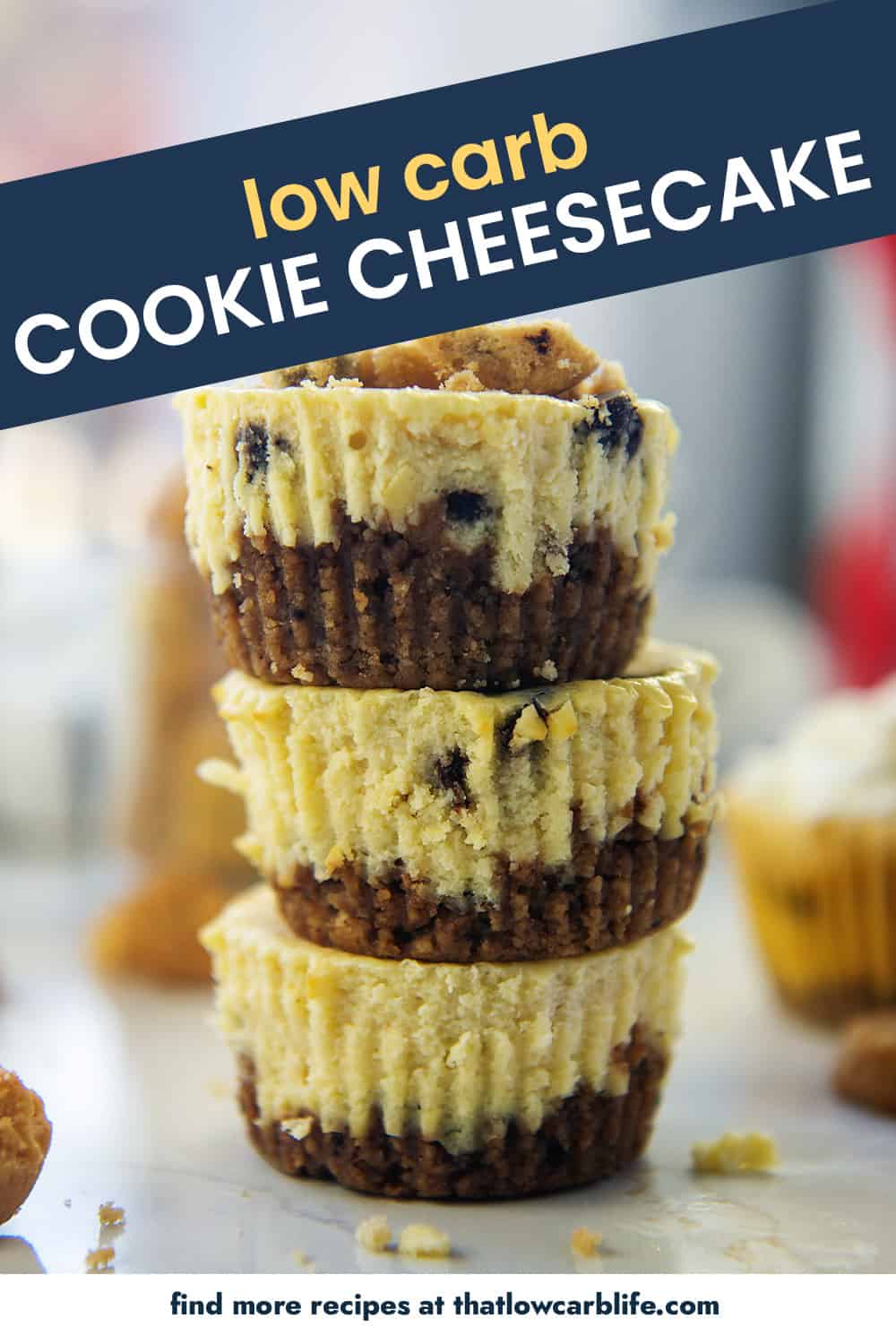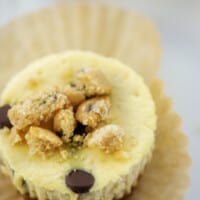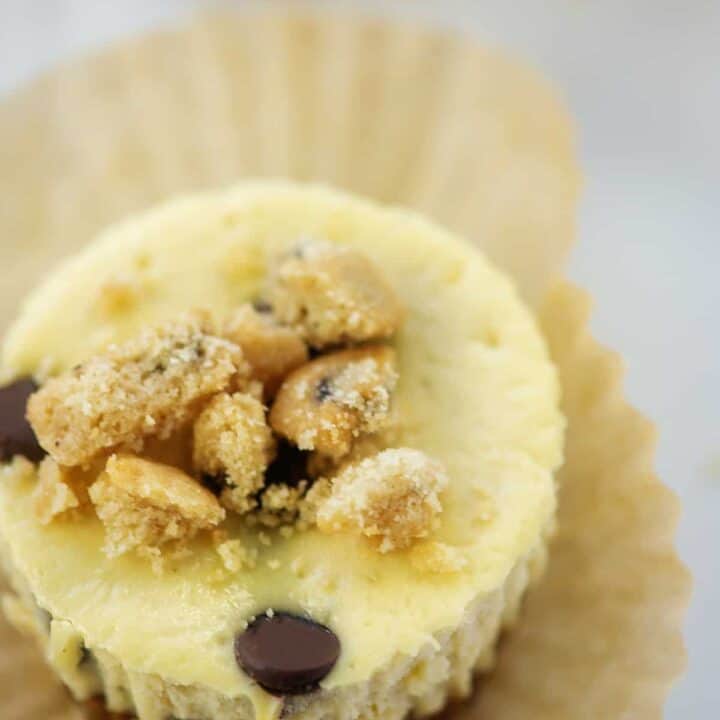 Keto Cookie Dough Cheesecake
With a buttery, crisp cookie crust and all the flavors of cookie dough, these mini cheesecake bites are a dream come true. We like to crumble extra cookies right over the top to add a little crunch!
Yield 14 cheesecake bites
Total Time 5 hours 40 minutes
Ingredients
For the crust:
3 (2.25 ounce) Lakanto Keto Crunchy Cookie Pouches (6.75 ounces total)
⅓ cup almond flour
⅓ cup melted butter
For the cheesecake:
16 ounces cream cheese, room temperature
½ cup Lakanto Brown Sugar Replacement
2 teaspoons vanilla extract
2 large eggs, room temperature
½ cup Lakanto chocolate chips
1 (2.25 ounce) Lakanto Keto Crunchy Cookie Pouch
Instructions
To make the crust:
Preheat oven to 325 degrees. Line a standard muffin tin with paper liners.
Add the cookies, almond flour, and butter to a food processor and process until you have coarse, moist crumbs.
Divide the crumbs evenly among 12 muffin wells, about 1 1/2 tablespoons of the mixture per well, and press flat to form a crust.
To make the cheesecake:
Add the cream cheese, brown sugar replacement, and vanilla to a mixing bowl and beat with an electric mixer until smooth and creamy.
Add in the eggs one at a time, beating until the mixture is just combined. Do not overmix.
Stir in the chocolate chips by hand.
Pour the batter evenly between the 14 muffin wells. Use a large cookie scoop to get evenly sized portions every time.
Bake for 25 minutes or until just slightly jiggly in the center.
Remove from the oven and cool for 1 hour on the counter. Cool in the refrigerator for 4 hours.
Before serving, crumble the cookies over the top of each cheesecake.
Notes
Make sure that your cream cheese is fully softened and at room temperature before you begin.
Do not overmix your cheesecake batter or the cheesecakes will rise in the oven and sink and/or crack as they cool.
We crumble extra cookies over the top of the finished cheesecake, but you can also top them with whipped cream and a mini cookie.
Nutrition Information:
Yield: 14
Serving Size: 1
Amount Per Serving:
Calories: 255
Total Fat: 20g
Saturated Fat: 11g
Trans Fat: 0g
Unsaturated Fat: 8g
Cholesterol: 71mg
Sodium: 162mg
Carbohydrates: 4g
Net Carbohydrates: 3g
Fiber: 1g
Sugar: 13g
Protein: 4g
All information and tools presented and written within this site are intended for informational purposes only. This information is provided as a courtesy and there is no guarantee that the information is accurate.