These SNICKERDOODLE CHEESECAKE BARS are made with a simple, buttery crust, a rich and creamy layer of cheesecake, and a generous sprinkle of cinnamon and monkfruit sweetener. Big thanks to Lakanto for sponsoring this post. As always, all opinions are my own.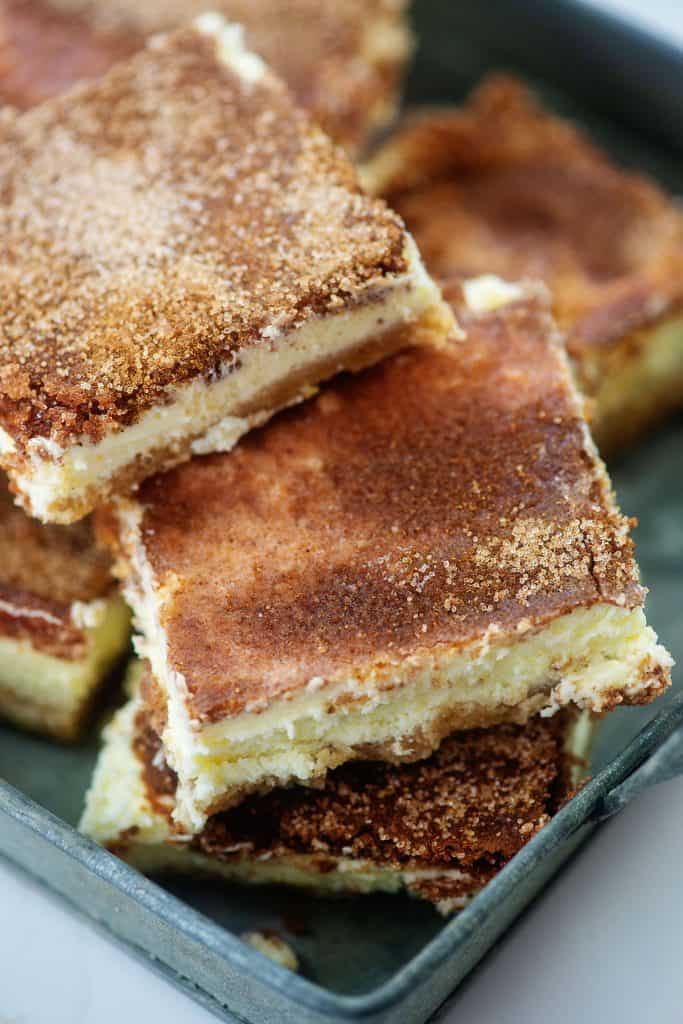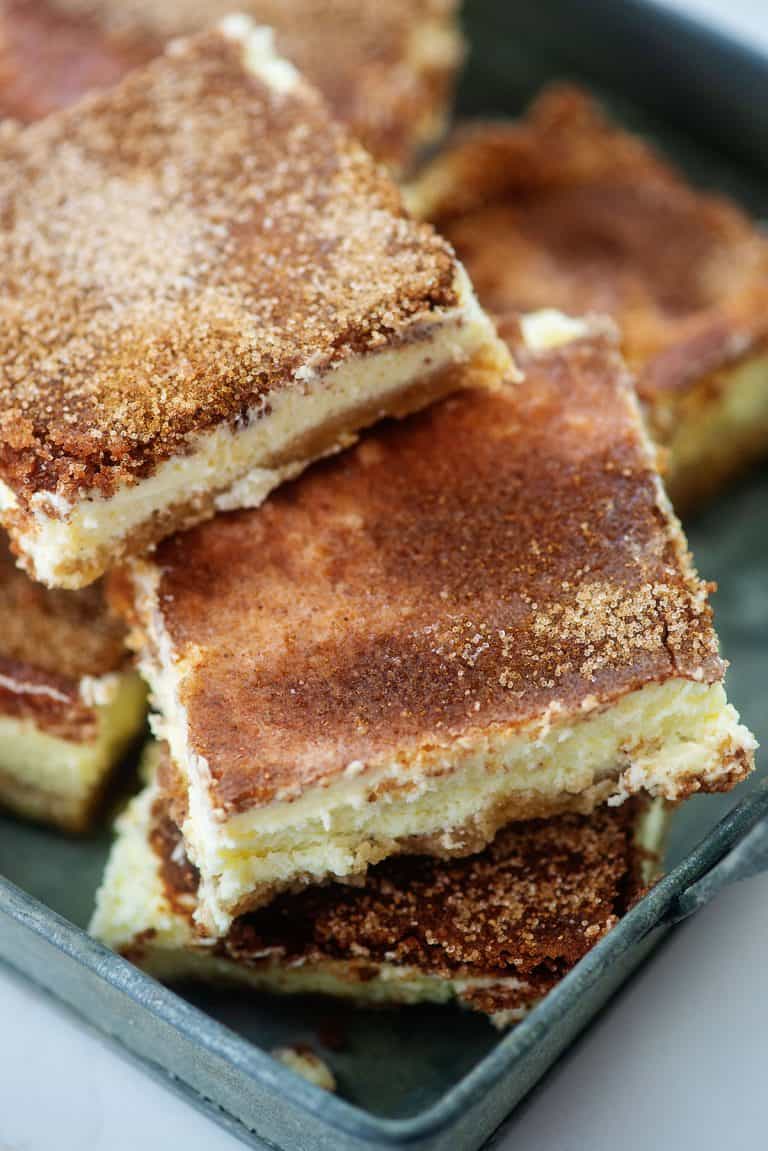 Alright, I've officially outdone myself in the cheesecake department.
I mean, I've shared quite a few little mini cheesecakes with you, but this is my first time sharing a cheesecake bar with the most perfect sweet cinnamon topping and buttery crust!
Whether you make this for the holidays or just because, you're going to flip for these keto cheesecake bars!
We teamed up with Lakanto to bring you this recipe and that's probably not much of a surprise if you've been around here for long. We LOVE Lakanto products and use them almost exclusively when baking.
Lakanto Organic Monkfruit Sweetener is the perfect sugar replacement. It measures cup for cup like sugar and we find it tastes the closest to real sugar. I'm telling you, no one is going to realize they're actually eating keto!
Even for my friends that aren't low carb and keto, Lakanto is perfect for baking. It allows you to make healthier treats all holiday season. Plus, it's vegan, sugar-free, and low carb!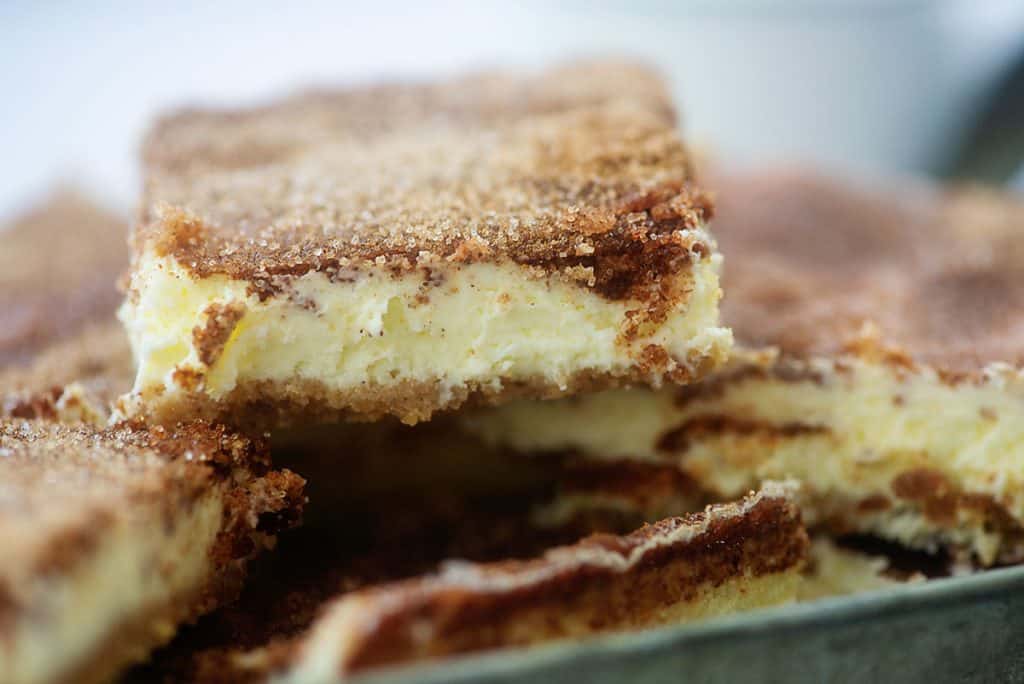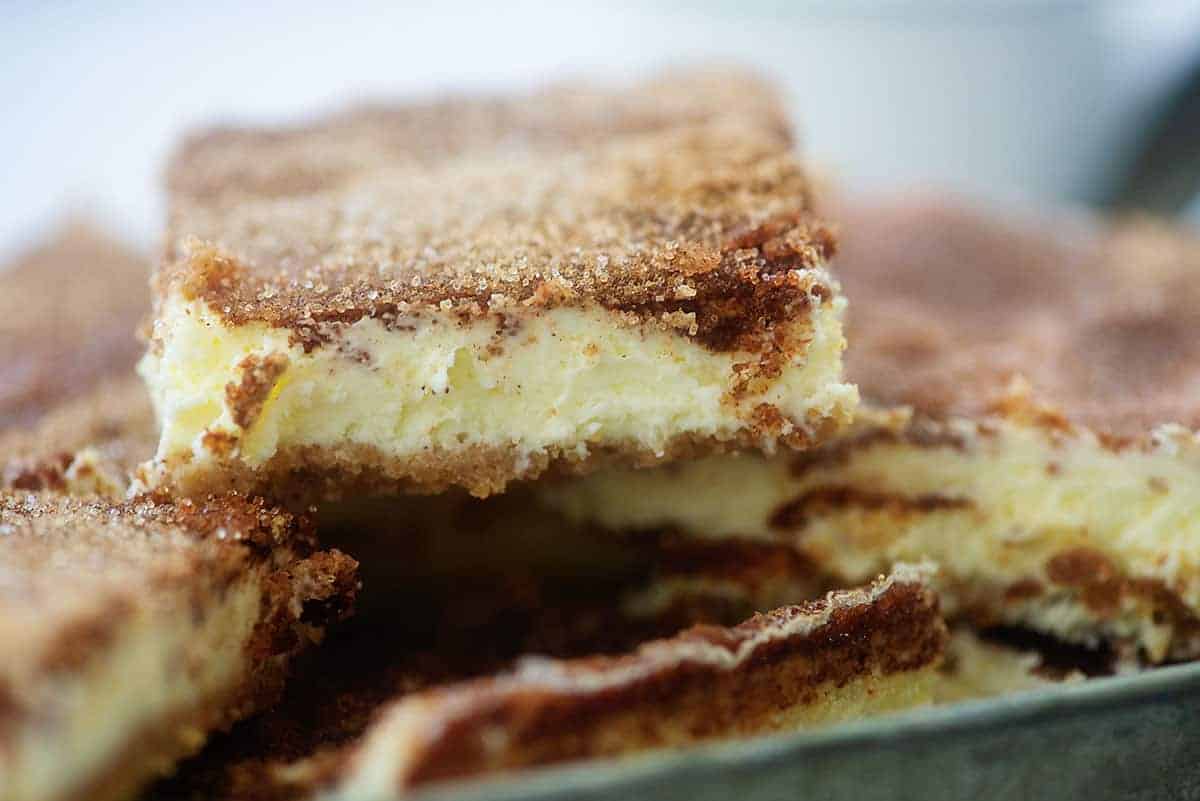 Keto Cheesecake Crust:
We're making a rich, buttery crust using almond flour, Lakanto Organic Sweetener, melted butter, and a dash of cinnamon.
This monkfruit sweetener is a blend of erythritol and monkfruit and it has a great taste (no funky aftertaste!!) with zero net carbs.
Just stir everything together and press firmly into a 9×9 baking dish.
Bake this for 10 minutes to let it firm up a bit.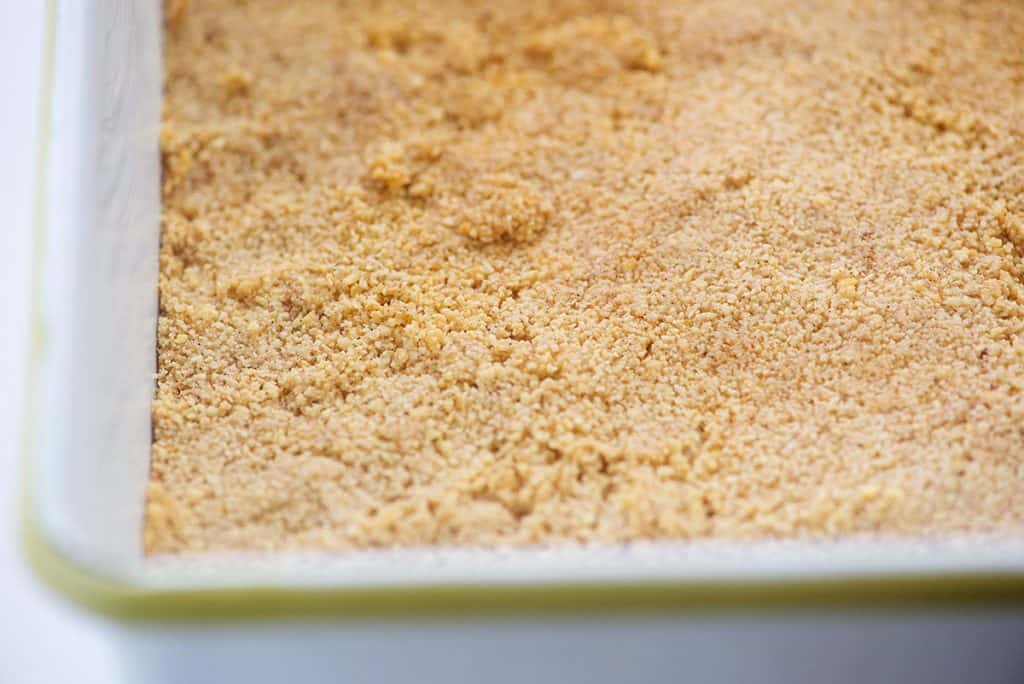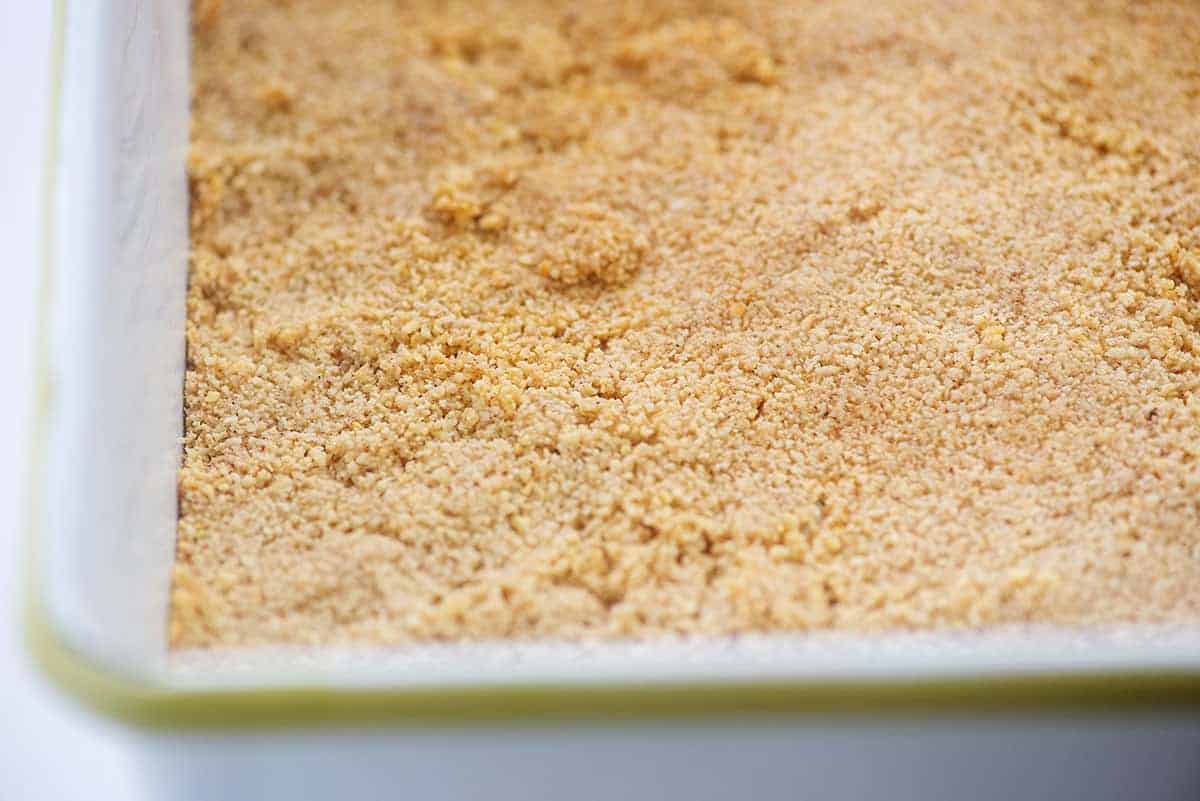 Keto cheesecake filling:
The filling calls for cream cheese, sweetener, eggs, sour cream, and vanilla.
You'll want to start with room temperature cream cheese. Cold cream cheese will create lumpy, bumpy cheesecakes and no one wants that.
Beat the cream cheese, sweetener, sour cream, and vanilla until smooth and creamy.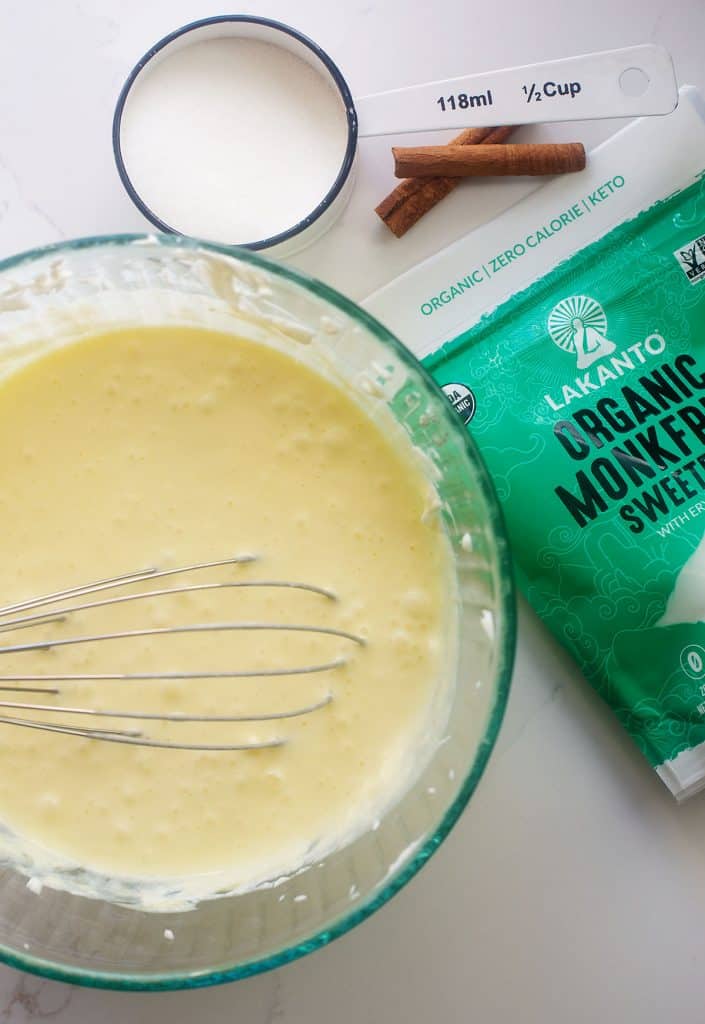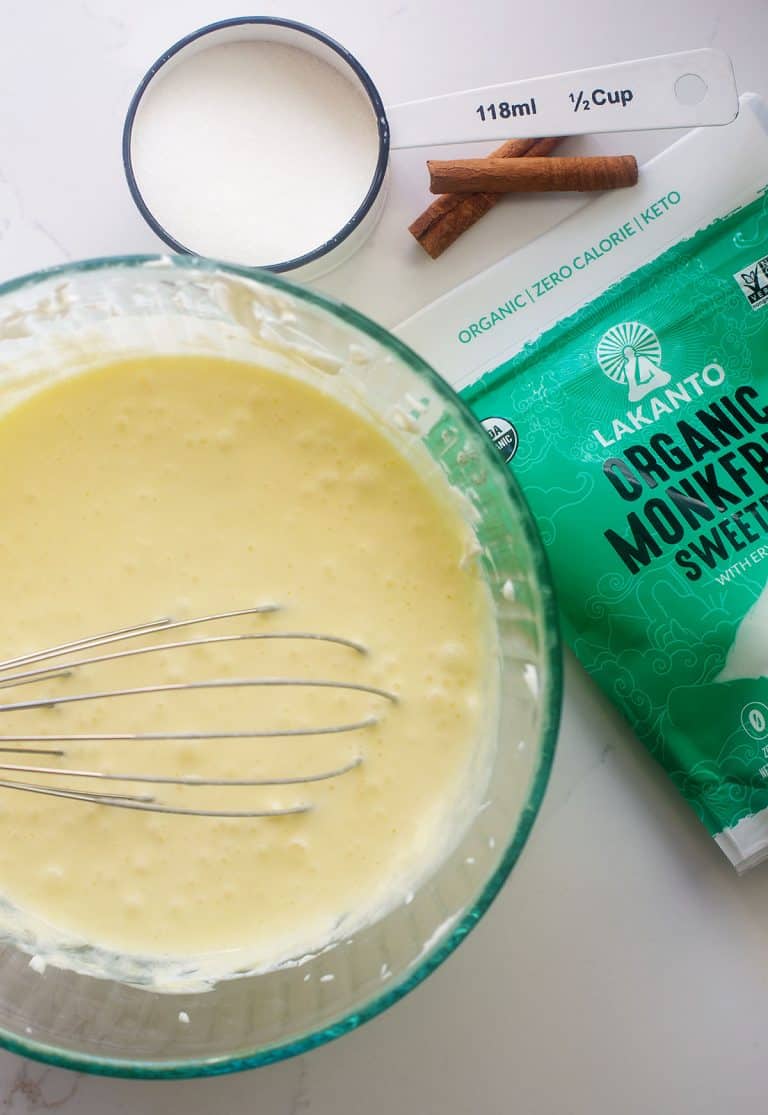 Beat in the eggs one at a time until the mixture is just combined.
Don't overmix your batter or you'll end up with cracks in your finished cheesecake.
Pour the batter over the crust.
Topping:
The topping consists of just Lakanto Organic Sweetener and ground cinnamon.
Mix together and sprinkle that right over the cheesecake.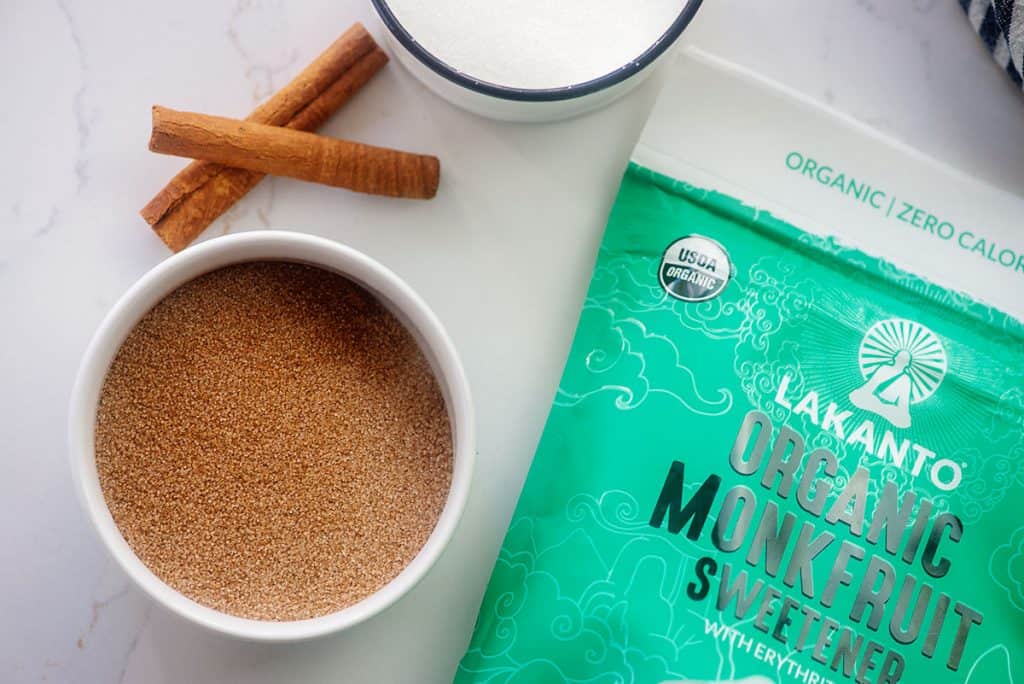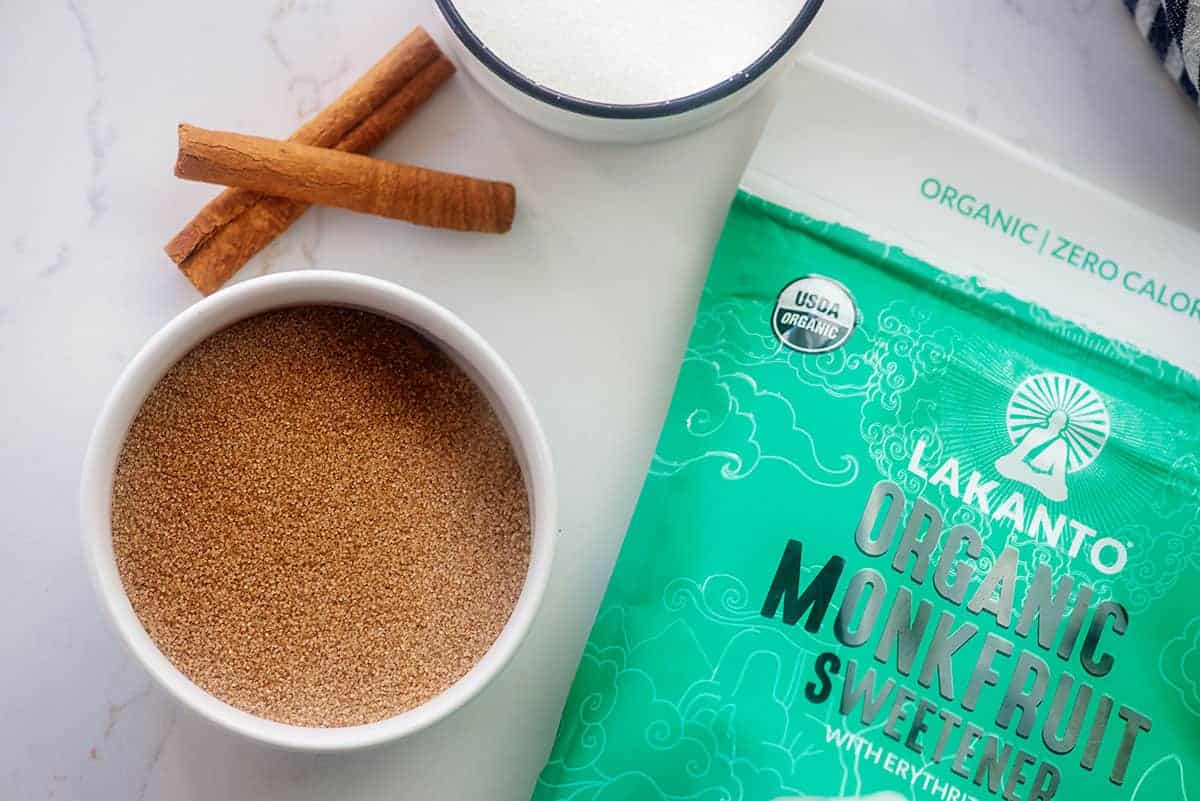 This all gets baked in about 20 minutes.
These Keto Snickerdoodle Cheesecake Bars are so rich and creamy and that cinnamon 'sugar' topping really makes them special. It has a little bit of crunch to it that adds the perfect texture.
Serve these up for a holiday dessert and your guests likely won't even notice they're low carb!
Or, be like me and hoard them all for yourself! Sharing is caring, but sometimes dessert is too good to share!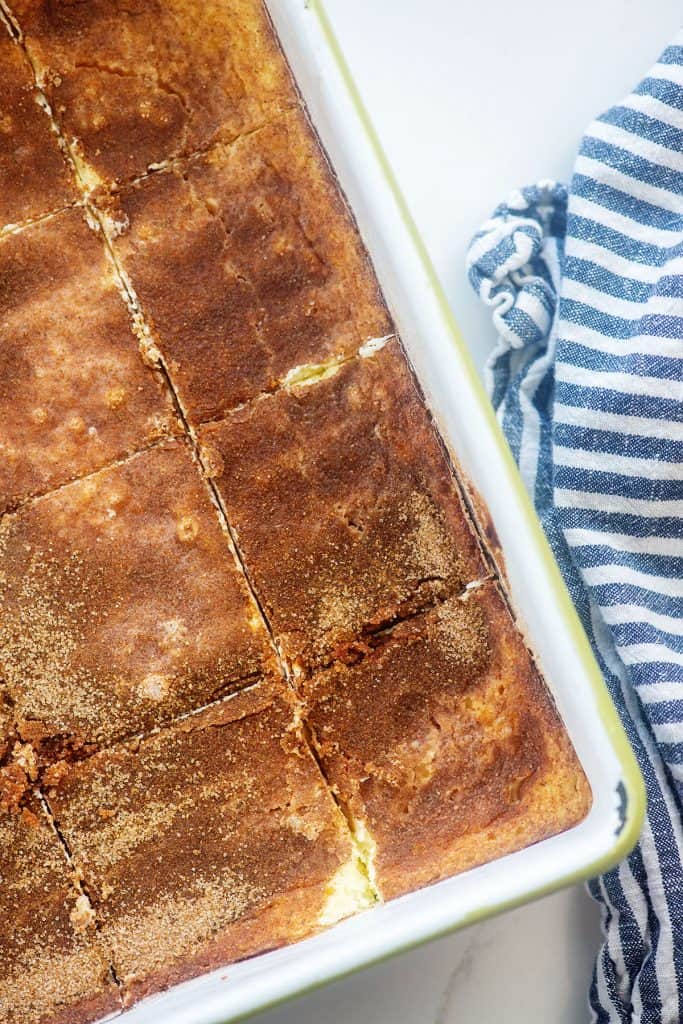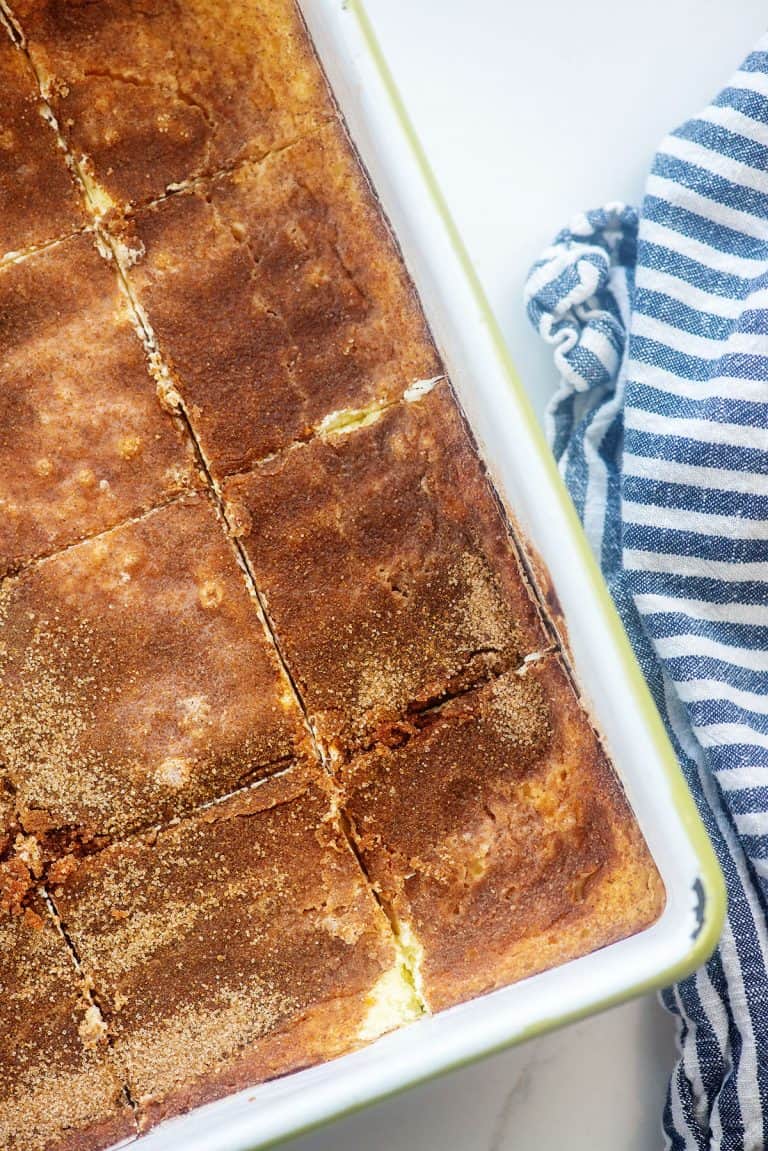 Is this recipe diabetic friendly?
Lakanto Sweetener is a zero on the glycemic index and has zero calories and zero carbs so it won't spike blood sugar! This recipe has just 3 net carbs per serving.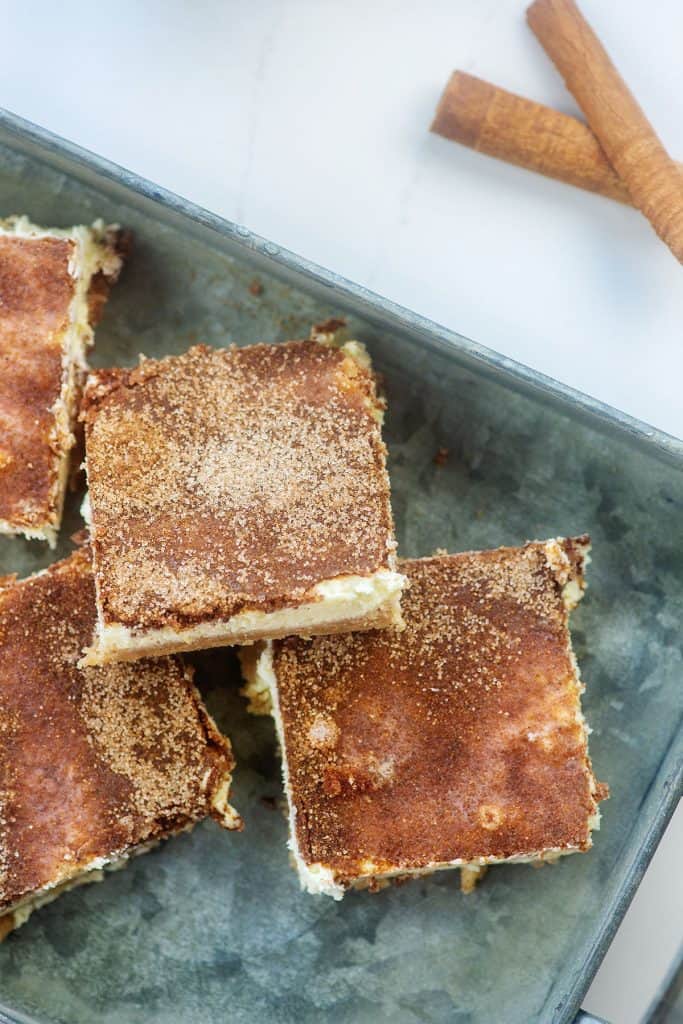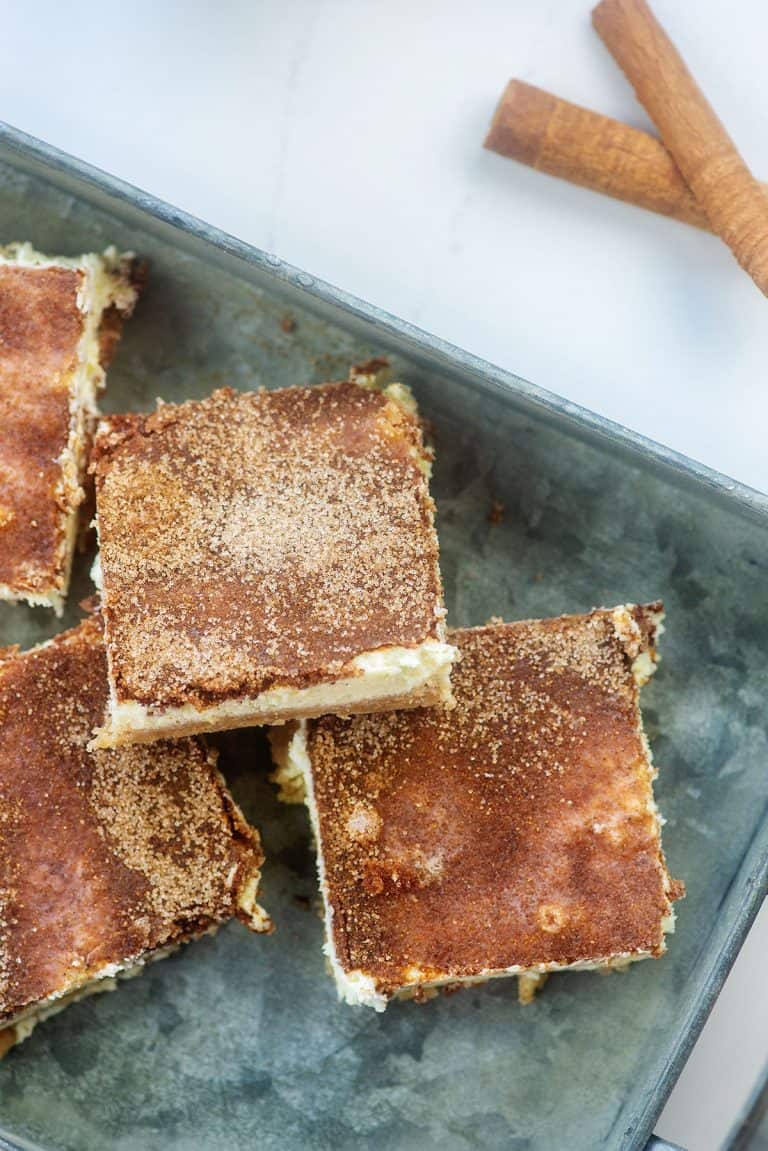 More keto desserts: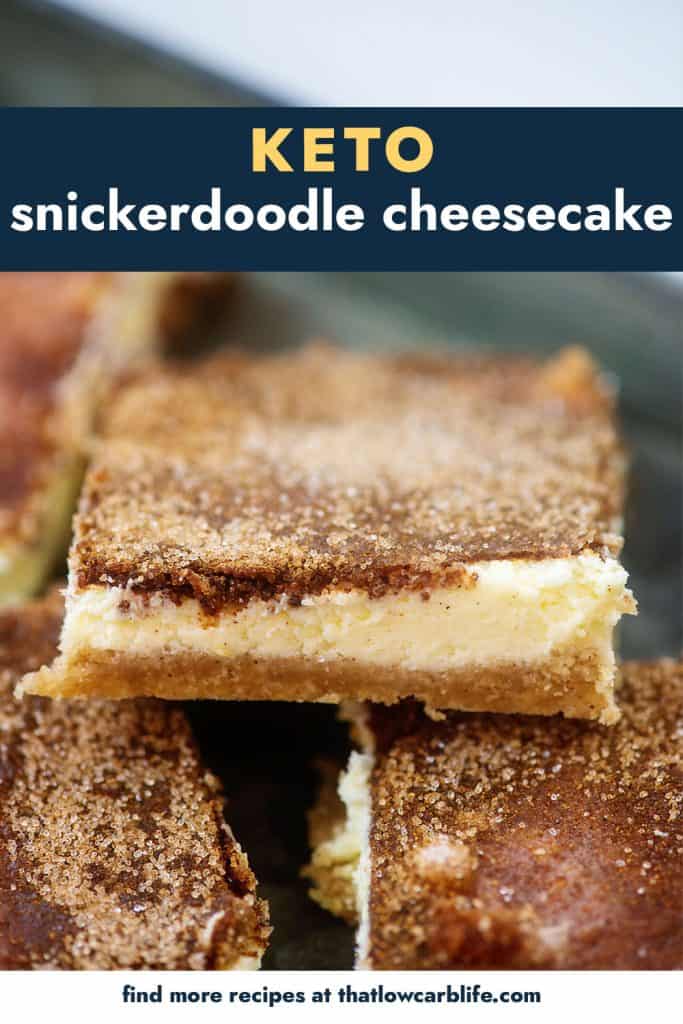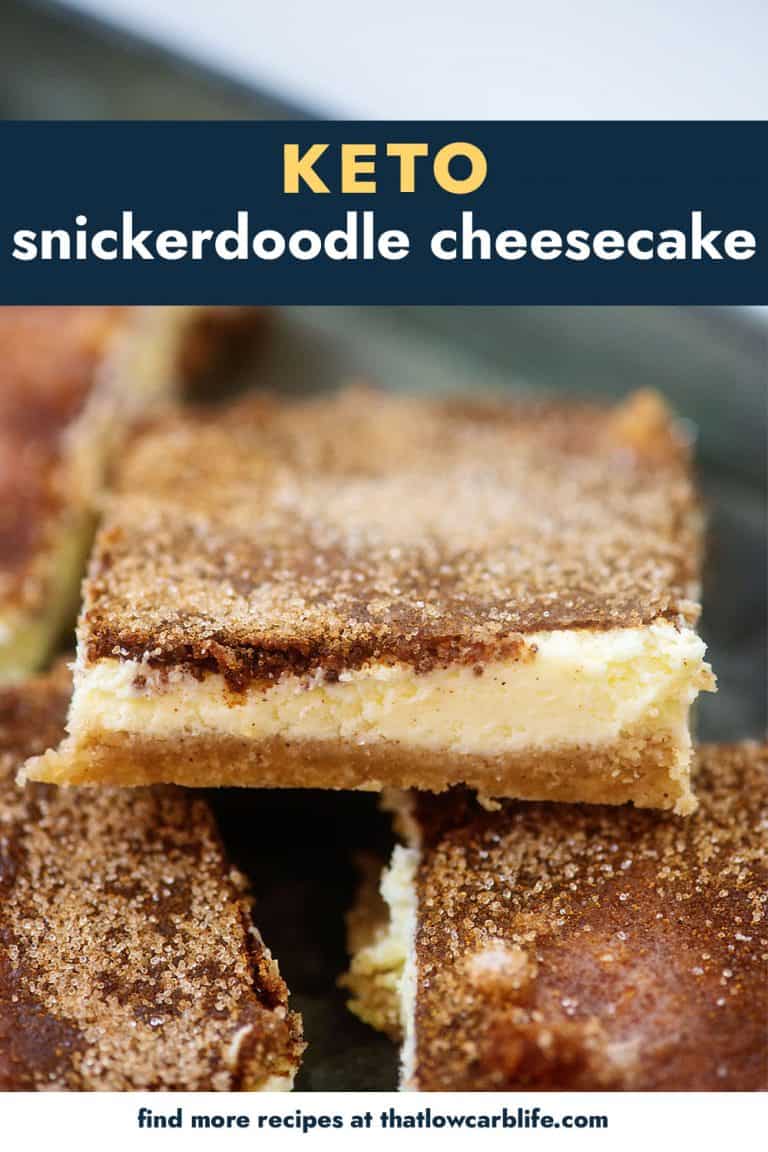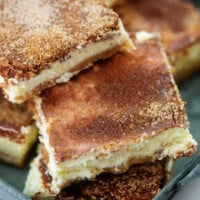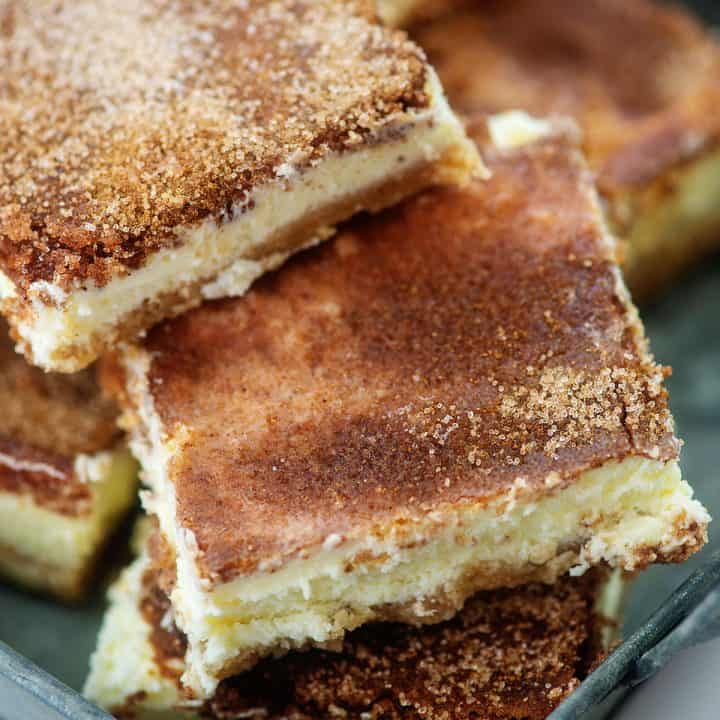 Snickerdoodle Cheesecake Bars
Rich, creamy cheesecake with a buttery crust and a cinnamon 'sugar' topping. These cheesecake bars are so simple to make!
Total Time 4 hours 45 minutes
Ingredients
For the crust:
1 ¼ cups almond flour
1 teaspoon cinnamon
¼ cup melted butter
For the filling:
16 ounces cream cheese, room temperature
3 tablespoons sour cream
2 teaspoons vanilla extract
2 large eggs, room temperature
For the topping:
Instructions
To make the crust:
Preheat oven to 350 degrees.
Add the almond flour, sweetener, and cinnamon to the bottom of a 9x9 baking dish. Stir to combine.
Pour the melted butter over mixture and stir to combine. Press the crust into the bottom of the baking dish.
Bake for 10 minutes.
To make the filling:
Reduce oven to 325 degrees.
Add the cream cheese to a large mixing bowl and beat with an electric mixer until smooth and creamy.
Add the sweetener, sour cream, and vanilla and mix until just combined.
Beat in the eggs, one at a time, until combined. Do not overmix.
Pour the cheesecake batter over the parbaked crust.
To make the topping:
Stir together the sweetener and cinnamon in a small bowl.
Sprinkle evenly over the top of the cheesecake batter.

To bake:
Bake for 18-20 minutes or until the center is just slightly jiggly.
Remove from the oven and let cool for 1 hour.
Refrigerate at least 4 hours before slicing and serving.
Notes
Use room temperature cream cheese for the best texture.
Overbeating the cheesecake mixture will cause it to sink and crack.
Use code THATLOWCARBLIFE for 20% off your order at Lakanto.com.
Nutrition Information:
Yield: 16
Serving Size: 1 bar
Amount Per Serving:
Calories: 197
Total Fat: 18g
Saturated Fat: 8g
Trans Fat: 0g
Unsaturated Fat: 8g
Cholesterol: 61mg
Sodium: 122mg
Carbohydrates: 4g
Net Carbohydrates: 3g
Fiber: 1g
Sugar: 2g
Protein: 4g
All information and tools presented and written within this site are intended for informational purposes only. This information is provided as a courtesy and there is no guarantee that the information is accurate.