These keto mini chocolate cheesecakes are total chocolate overload! A simple chocolate crust topped with a rich, velvety chocolate cheesecake!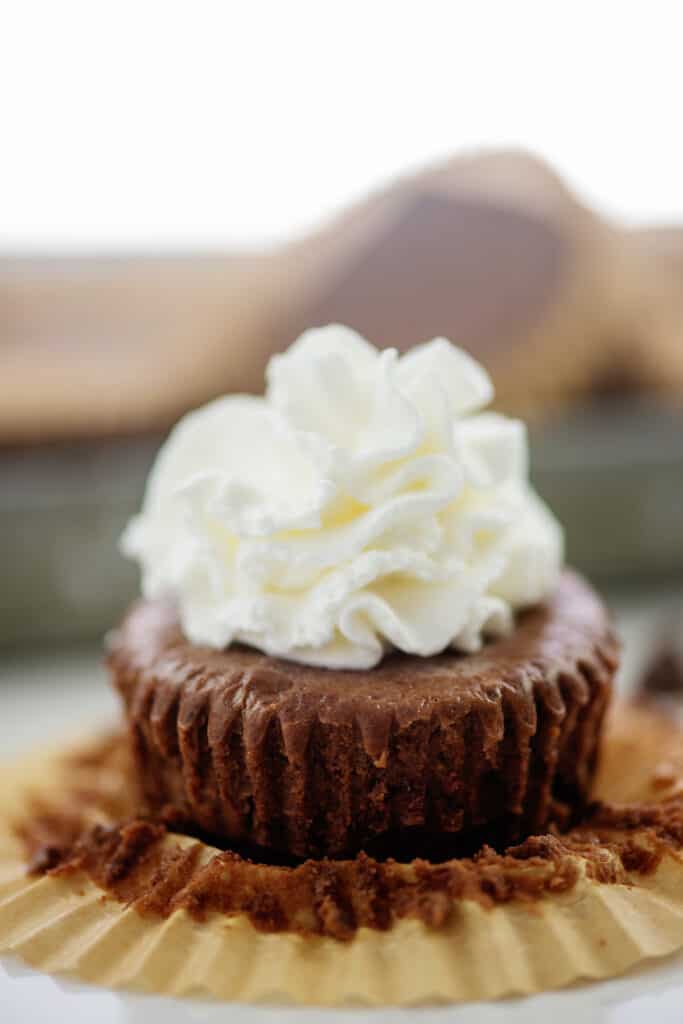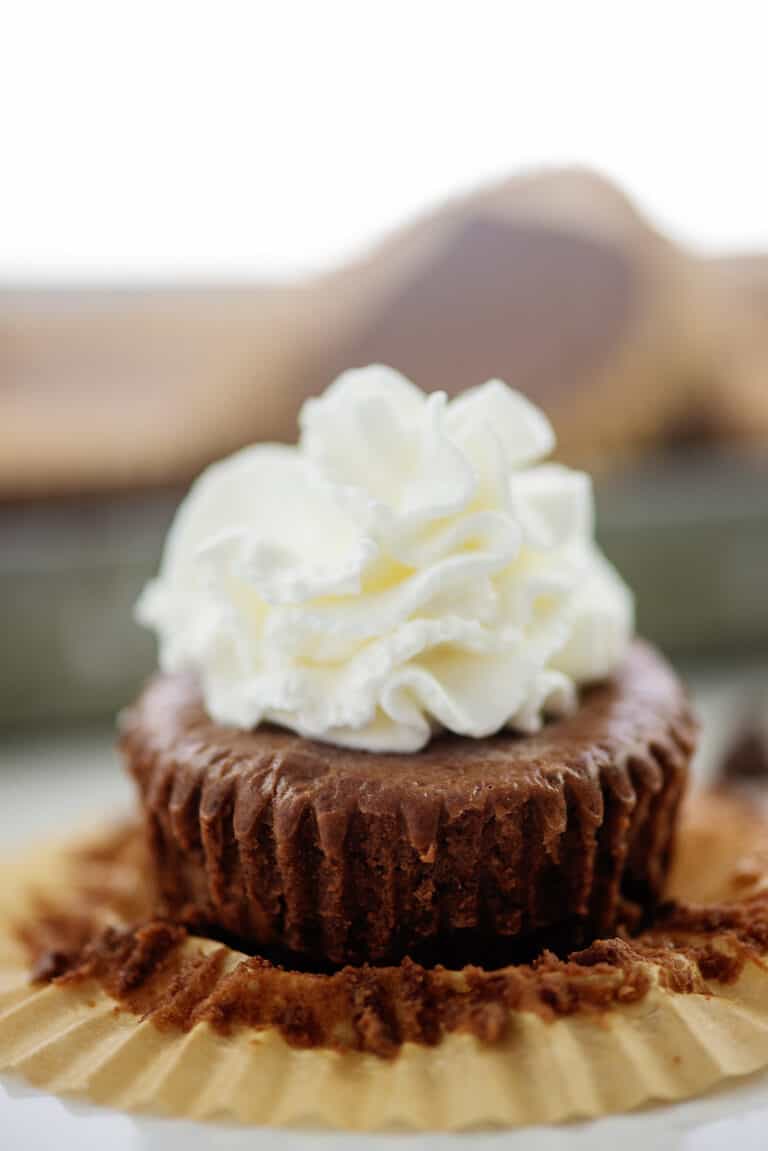 If there was one keto dessert that I wish everyone would try, it's cheesecake.
Any flavor, with crust or without, mini or regular…doesn't matter.
Keto cheesecake just tastes like regular cheesecake, at least when it's made with our recipe using our preferred sweetener.
My family eats these mini chocolate cheesecakes as fast as I can make them, which is honestly kind of annoying. Please save some for me, you know? 😉
These are rich and creamy and the crisp crust is the perfect contrast to it all.
If you're having a chocolate craving, this is the way to go!
Give my snickerdoodle cheesecake a try too!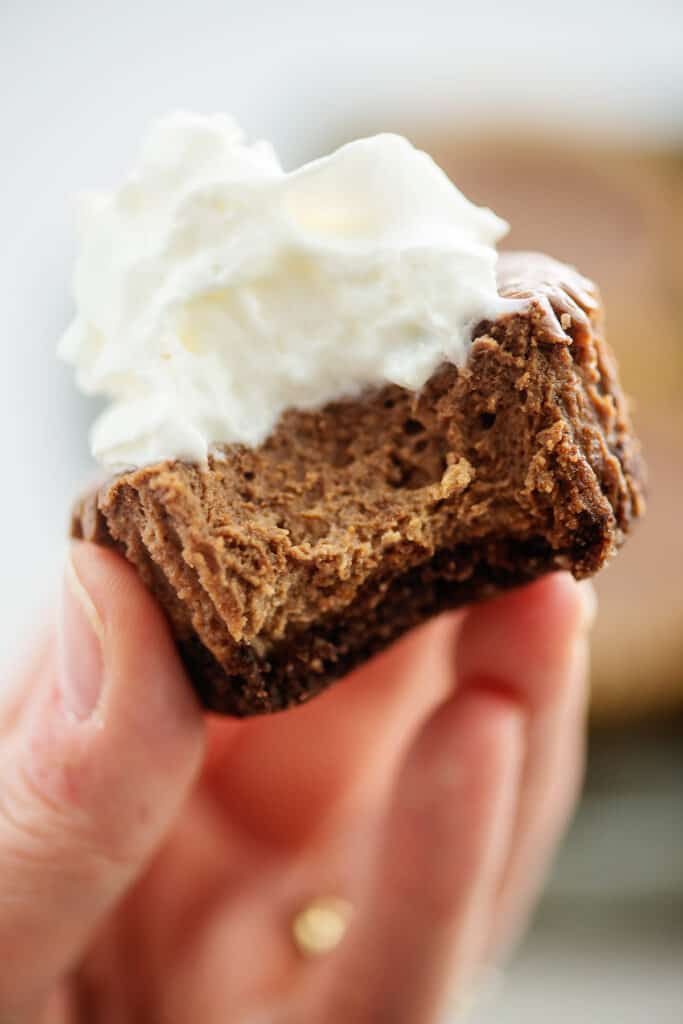 Keto Chocolate Crust Ingredients:
We absolutely love Oreo crusts for cheesecake. This isn't really an Oreo crust (less sweet, bit different texture), but it 100% satisfies the craving for me.
You'll need:
Almond Flour – Finely ground almond flour is preferred. We have not tested this recipe with coconut flour, but it would need some adjustments if you went that route.
Cocoa Powder – I like to use Hershey's Special Dark for a deep, rich flavor and color in the crust.
Sweetener – We use Lakanto granulated sweetener. It has zero net carbs and is our preferred brand of sweetener. Use code THATLOWCARBLIFE for 20% off your order at Lakanto.com!
Melted Butter – Coconut oil would likely work, if you prefer.
Chocolate Cheesecake Filling Ingredients:
Cream Cheese – Be sure to get the kind in the block, not the kind in the tub. It's also key to make sure your cream cheese is at room temperature.
Sweetener – Again, we prefer Lakanto.
Cocoa Powder – Natural cocoa powder works best for the filling.
Sour Cream
Vanilla
Eggs – Make sure your eggs are room temperature for the best results.
Sugar Free Chocolate – We absolutely love Lily's chocolates and this dark chocolate baking bar is perfect here.
How to:
1. Make the crust – Add all of the ingredients for the crust to a small bowl and stir to combine. The mixture will be fairly crumbly.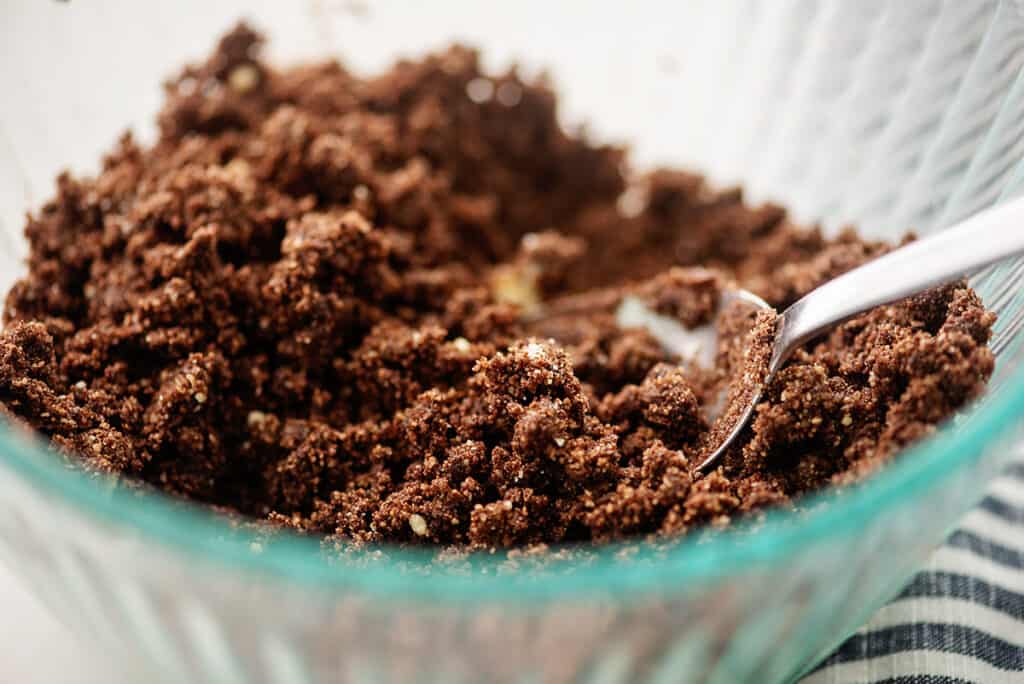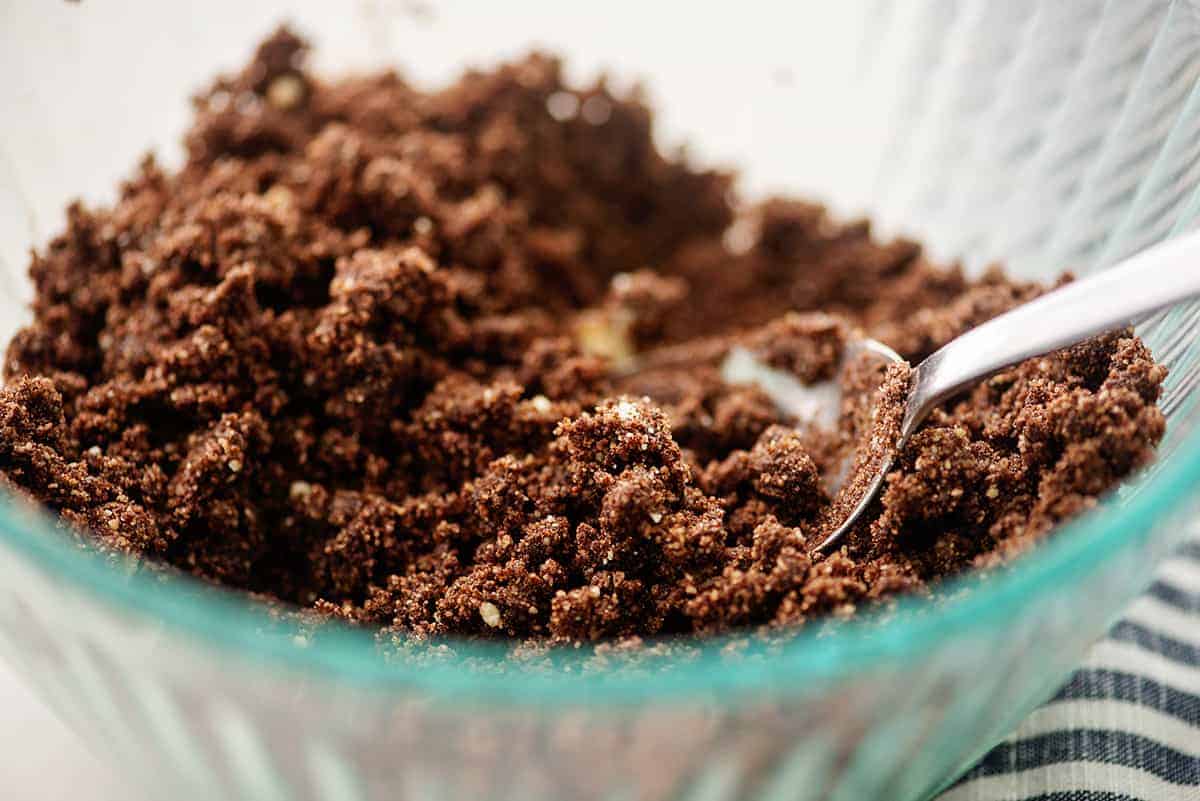 2. Make the filling – Add the cream cheese, sweetener, and cocoa to a mixing bowl and beat with an electric mixer until just combined.
Beat in the sour cream and eggs until it's smooth. Overbeating will cause your cheesecake to crack so just mix until smooth and then stop.
Next, melt the chocolate and add it to the cheesecake batter and give it a stir to combine.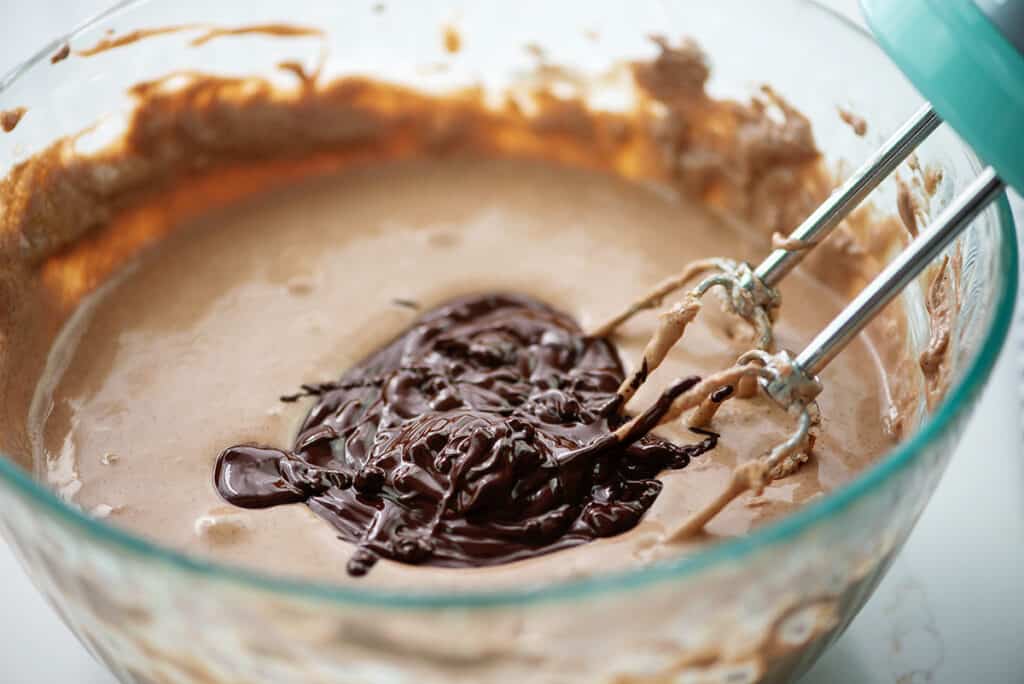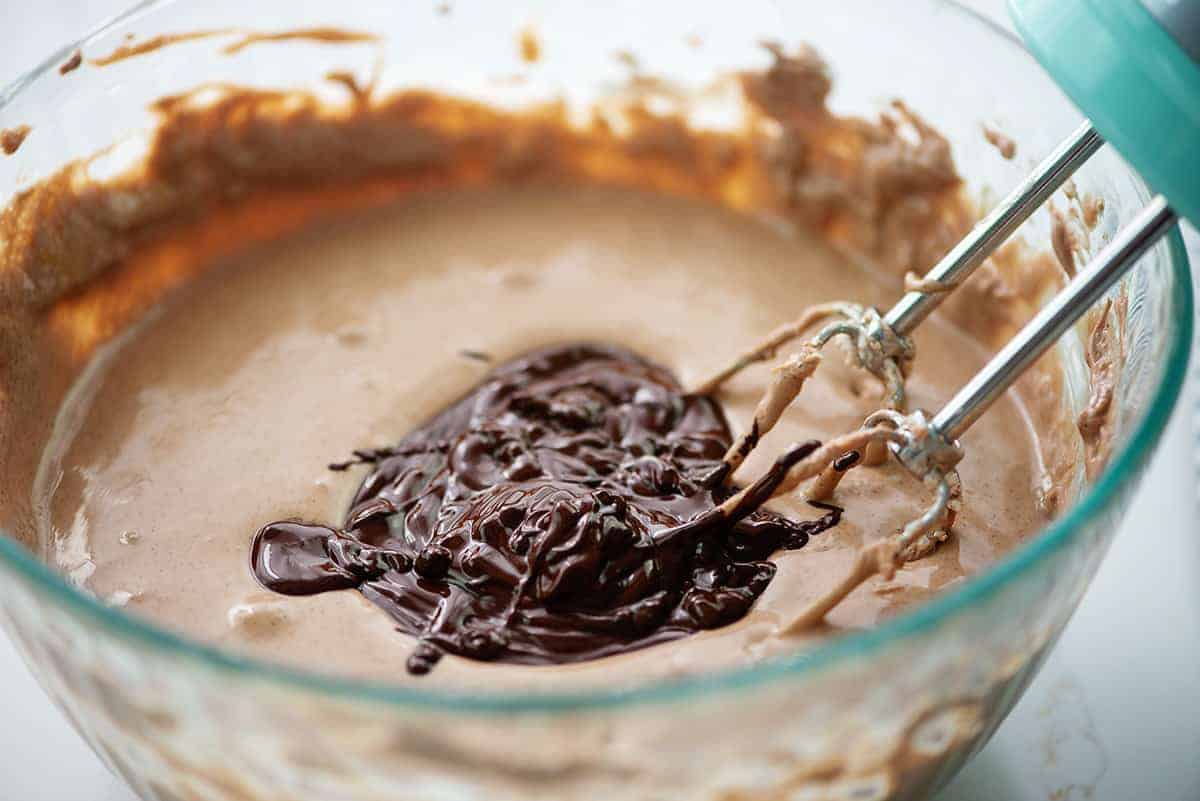 3. Assemble – Spoon the crust into a greased muffin tin and press it flat in each muffin well.
Use a cookie scoop to drop batter into muffin wells. This helps you have even portions so things bake properfly.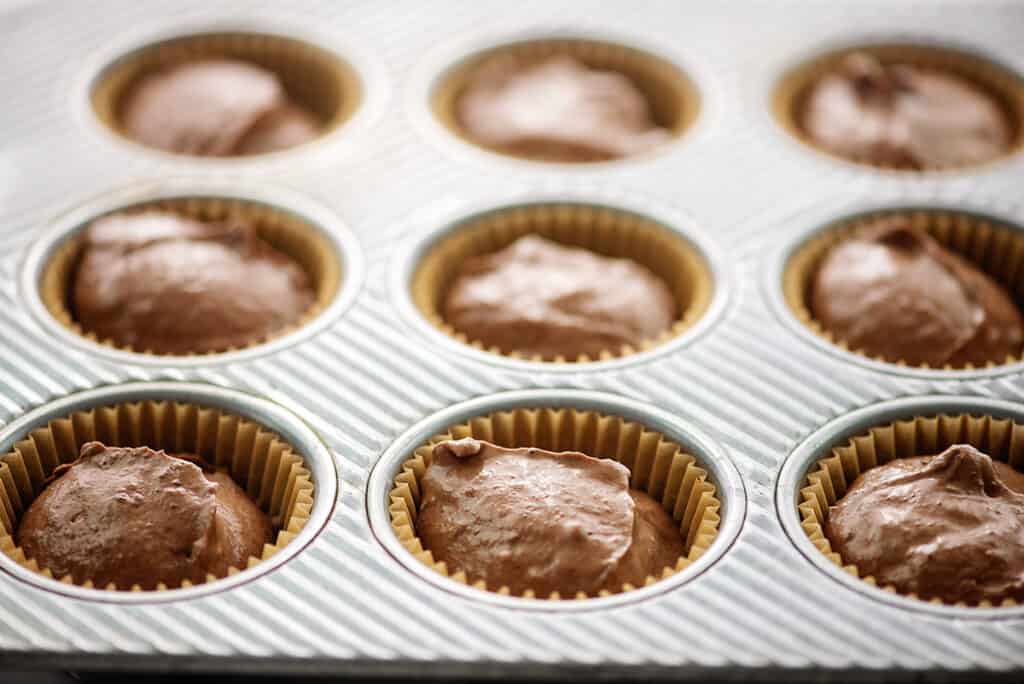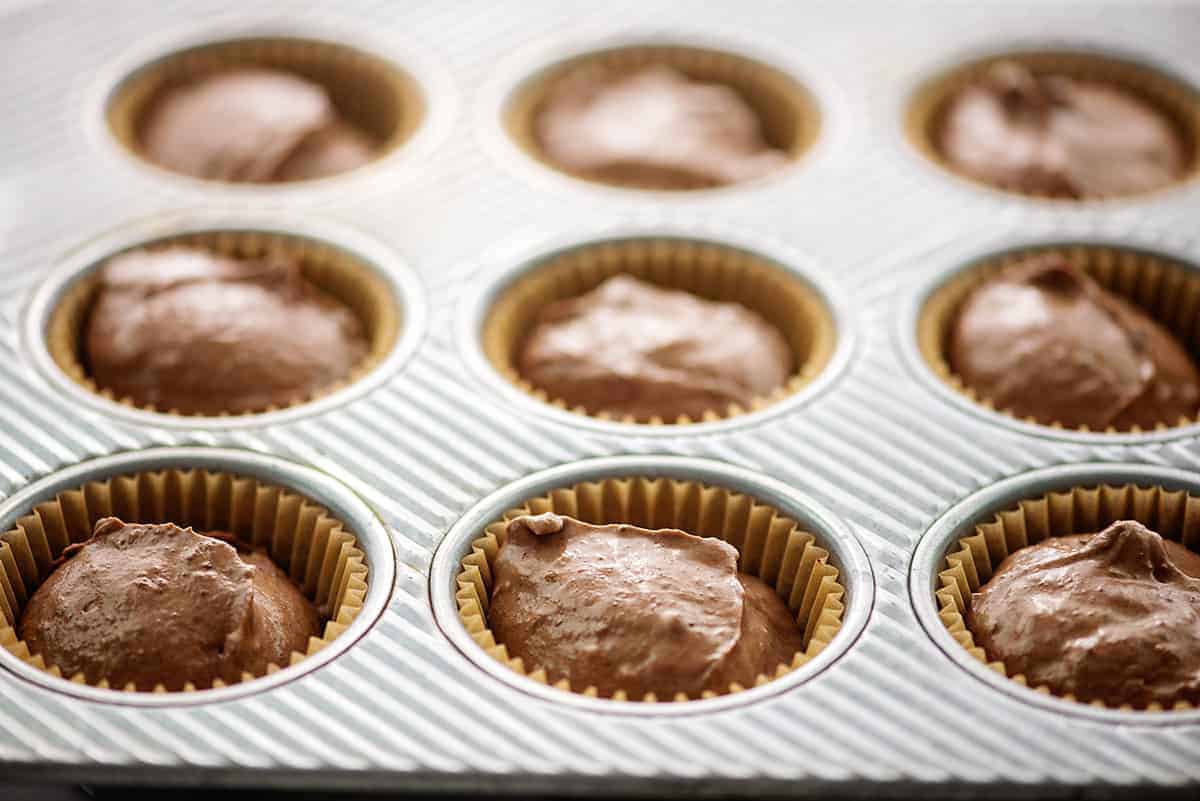 4. Bake – This recipe bakes in just 25 minutes. After baking, let these cool on the counter for about an hour and then transfer to the fridge to finish cooling.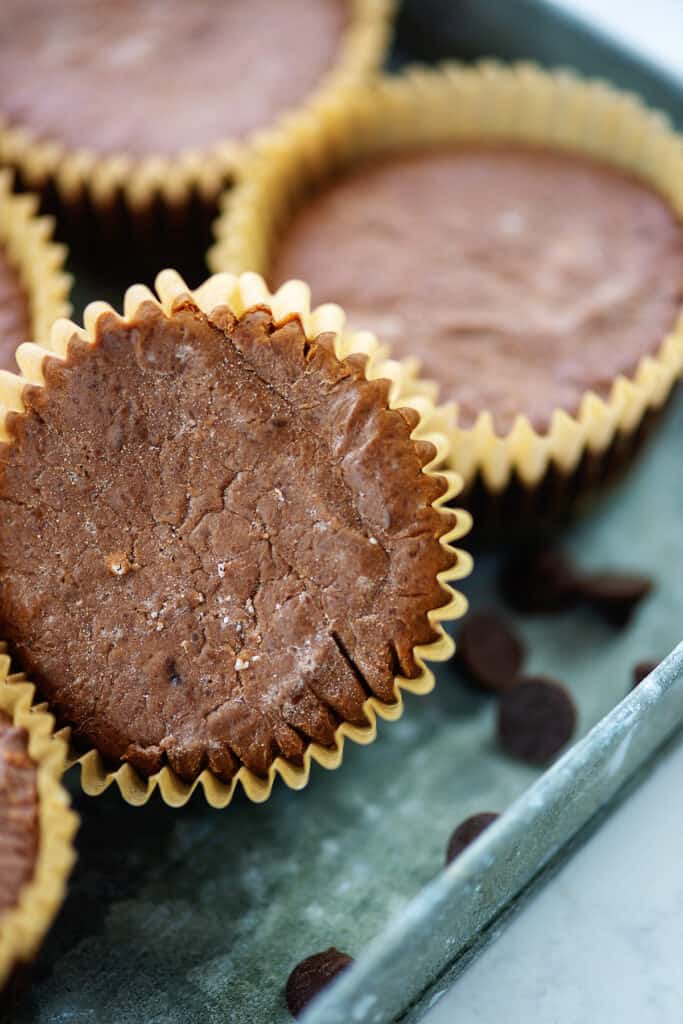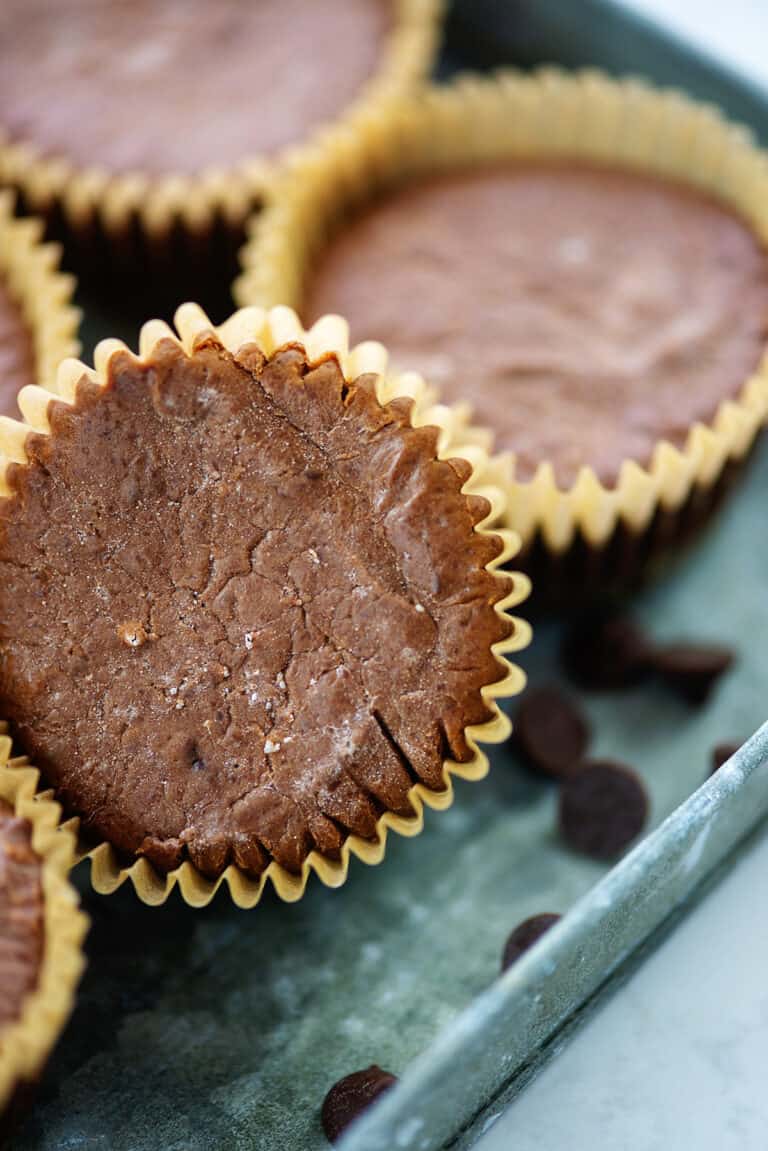 5. Garnish – We like to top our chocolate cheesecake off with a squirt of whipped cream in a can. You can certainly use homemade if you prefer. You could also top it with a drizzle of low carb chocolate syrup.
How long does cheesecake last?
We keep our cheesecake in the fridge, tightly covered, for up to 5 days.
Frozen cheesecake should keep for up to 6 months in the freezer.
How to tell when cheesecake is done:
Cheesecake can feel daunting, as you can't exactly stick a toothpick in to see if it's finished.
Instead, we wait until the cheesecake just barely jiggles when you gently shake the pan.
If there is no jiggle, your cheesecake is probably a bit overbaked. If it really wobbles, bake a bit longer. Just a slight jiggle is what we're looking for.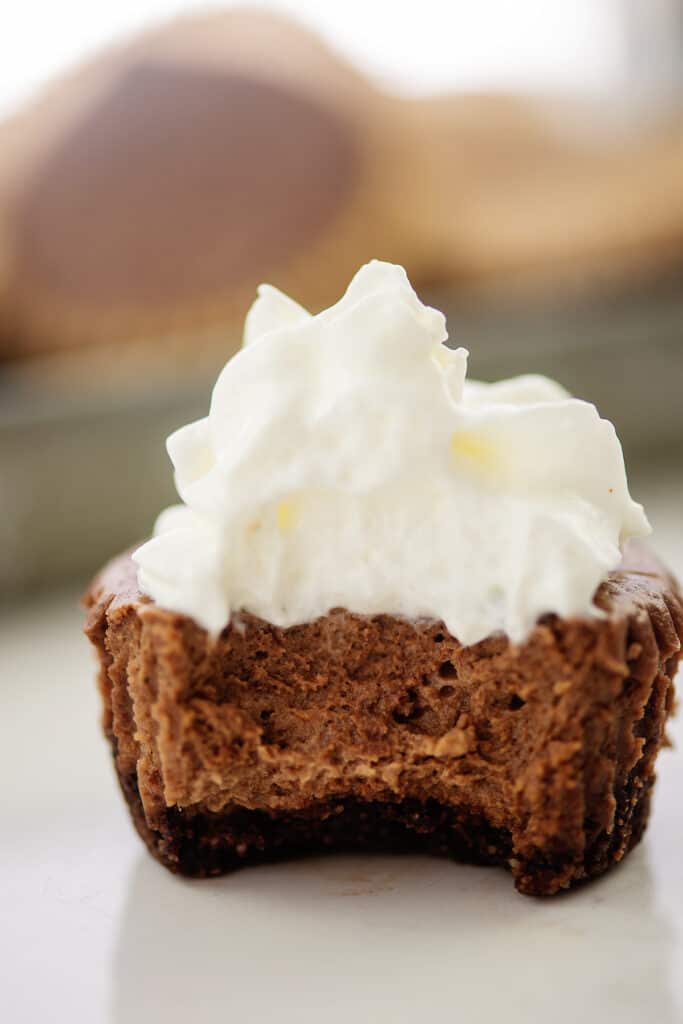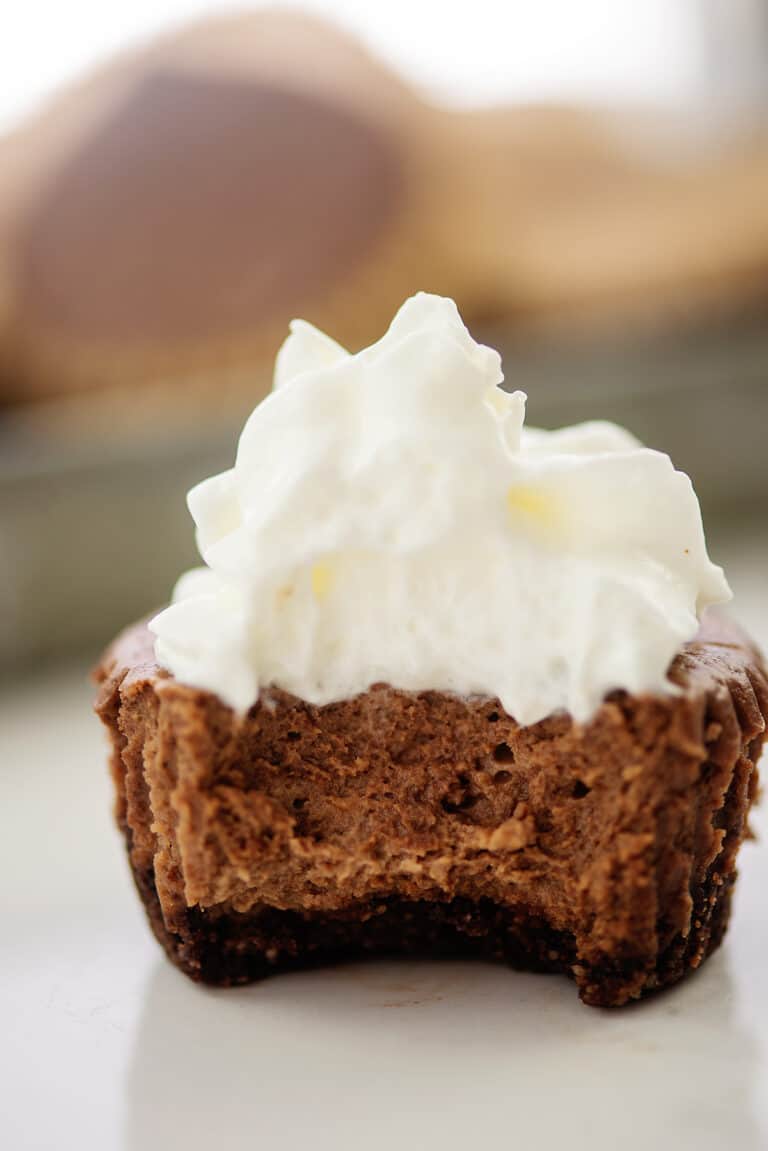 How can I prevent my cheesecake from cracking or sinking?
First, it's key to start with room temperature ingredients.
Don't overmix the batter, as that will add air into your cheesecake that will inevitably sink as it cools.
Don't open the oven during baking. The change in temperature can result in cracking.
Overbaking your cheesecakes can also cause cracking.
More low carb desserts: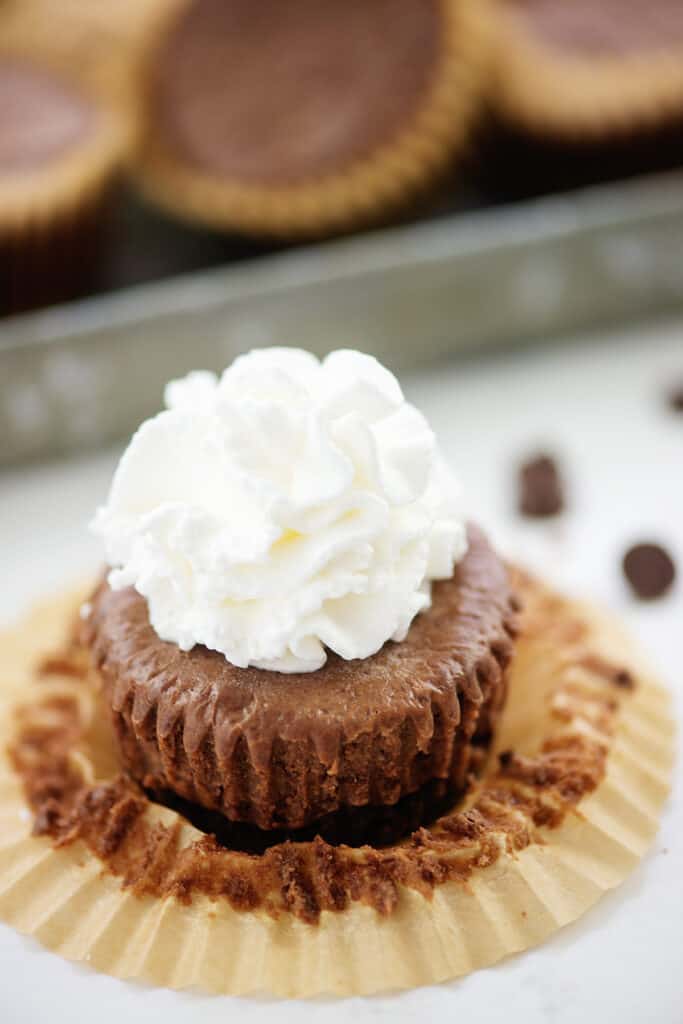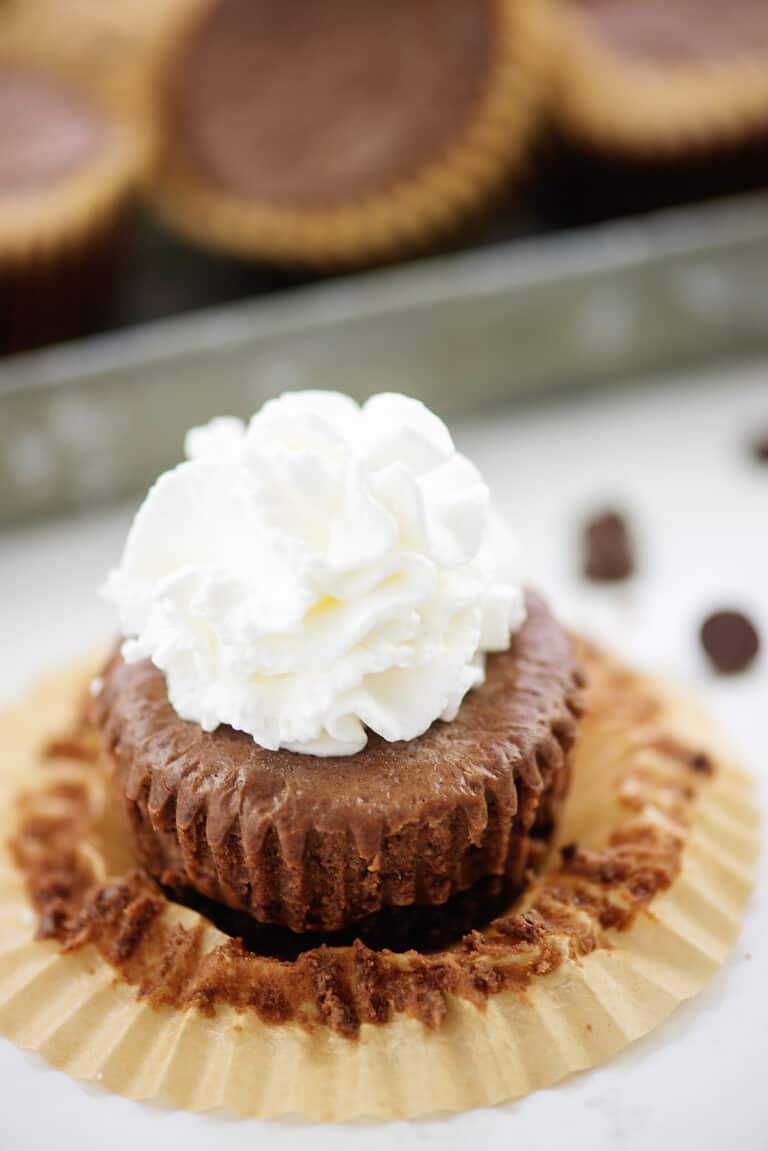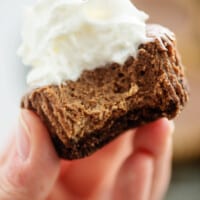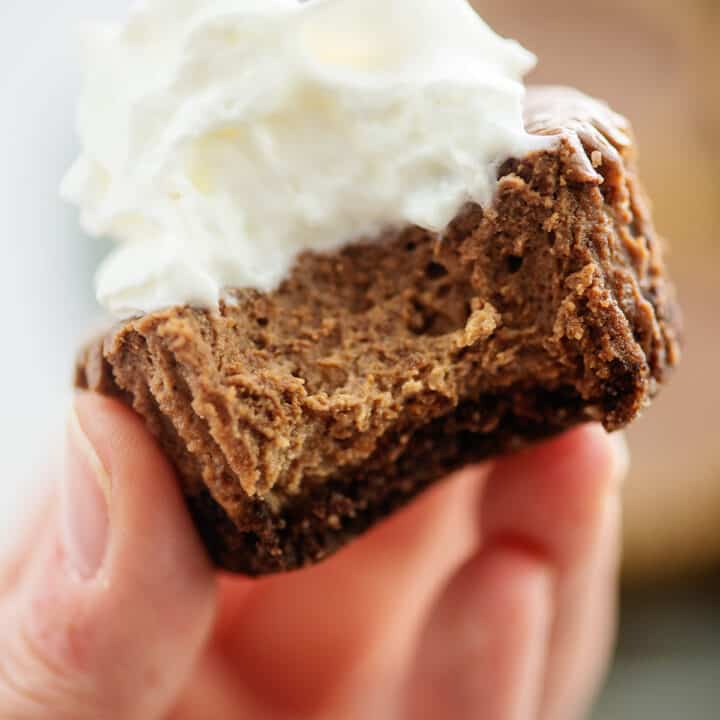 Keto Mini Chocolate Cheesecakes
These mini cheesecakes are creamy, velvety, and rich with a chocolate crust
Total Time 4 hours 35 minutes
Ingredients
For the crust:
1 cup almond flour
2 tablespoons cocoa powder, see note
3 tablespoons melted butter
For the filling:
16 ounces cream cheese, room temperature
2 tablespoons cocoa powder, see note
¼ cup sour cream
1 teaspoon vanilla
2 large eggs
Instructions
To make the crust:
Preheat oven to 325 degrees. Spray a standard size muffin tin with non-stick spray.
Add all of the ingredients for the crust into a glass mixing bowl and stir well with a fork until combined.
Spoon the mixture evenly between the muffin wells and press flat.

To make the cheesecake:
Beat together the cream cheese, sweetener, and cocoa powder until smooth and creamy.
Add sour cream and vanilla to the mixture and mix until just combined.
Beat in the eggs, one at a time, until just combined. Do not overmix.
Pour the melted chocolate into the batter and fold together with a rubber spatula.
Pour the batter evenly between the 12 muffin wells. Use a large cookie scoop to get evenly sized portions every time.
Bake for 25 minutes or until just slightly jiggly in the center.
Cool completely on the counter before transferring to the refrigerator to finish cooling.
Serve cold or at room temperature.
Notes
We used Hershey's Special Dark cocoa powder, which is a blend of natural and Dutch processed cocoa. You may use either natural or Dutch processed cocoa.
Top with whipped cream and chocolate shavings, if desired.
Nutrition Information:
Yield: 12
Serving Size: 1
Amount Per Serving:
Calories: 286
Total Fat: 23g
Saturated Fat: 11g
Trans Fat: 0g
Unsaturated Fat: 10g
Cholesterol: 80mg
Sodium: 156mg
Carbohydrates: 5g
Net Carbohydrates: 3g
Fiber: 2g
Sugar: 2g
Protein: 6g
All information and tools presented and written within this site are intended for informational purposes only. This information is provided as a courtesy and there is no guarantee that the information is accurate.