Peanut Butter Cup Chaffles are the low carb equivalent of a big, fat peanut butter cup that's just oozing with thick, sweet peanut butter! We slice these into quarters and serve them up for dessert!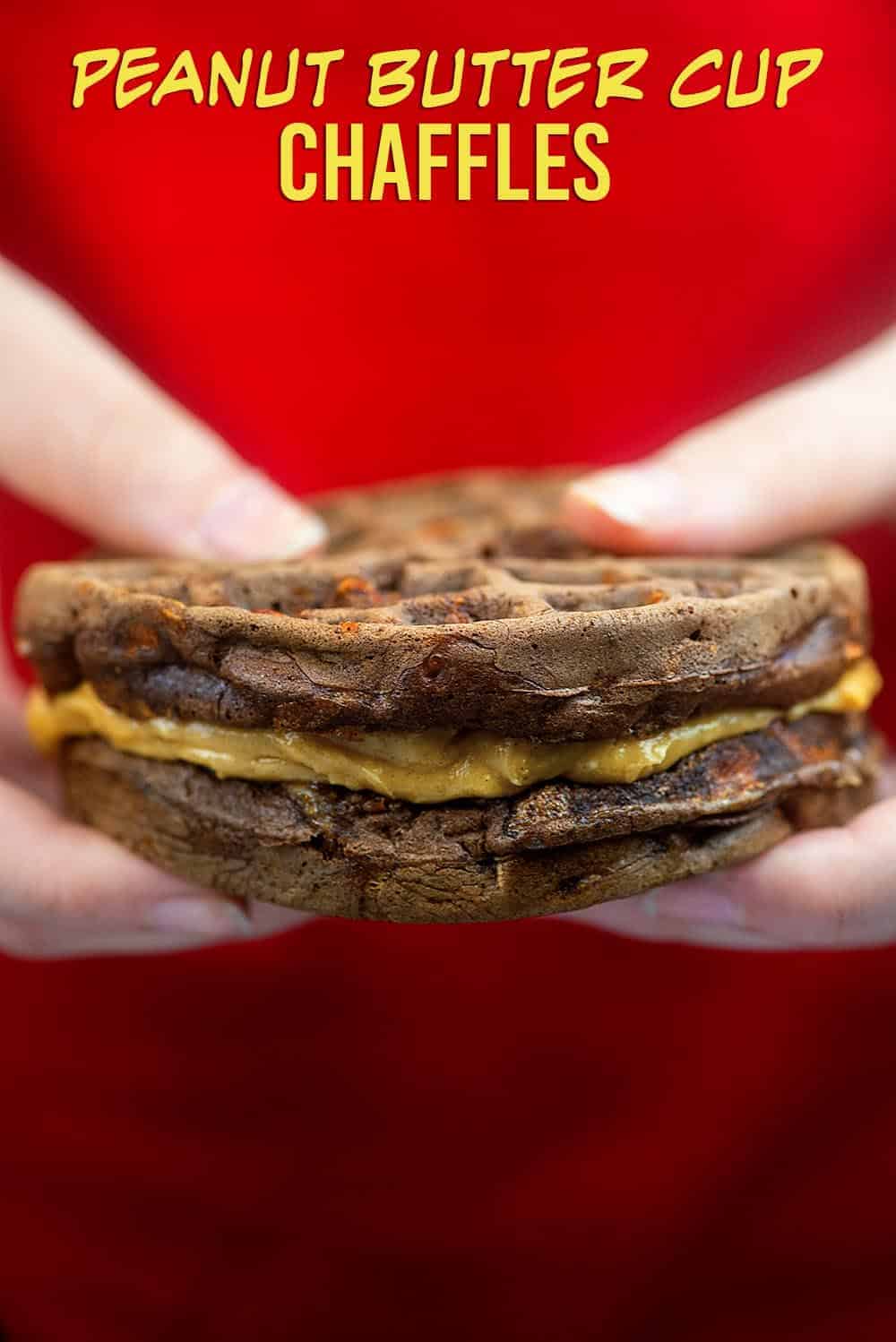 Peanut butter cups have been my favorite treat since I was a kid. I find them incredibly difficult to resist.
Actually, that's pretty much true of any food that features peanut butter. I'm addicted to the stuff and often just eat a small spoonful as a snack. It's so good!
These peanut butter cup chaffles are next level amazing.
Fluffy chocolate chaffles smeared with a ridiculously thick layer of sweetened peanut butter. If this doesn't satisfy your peanut butter cravings, I don't know what will!

Low carb peanut butter filling:
This post contains affiliate links.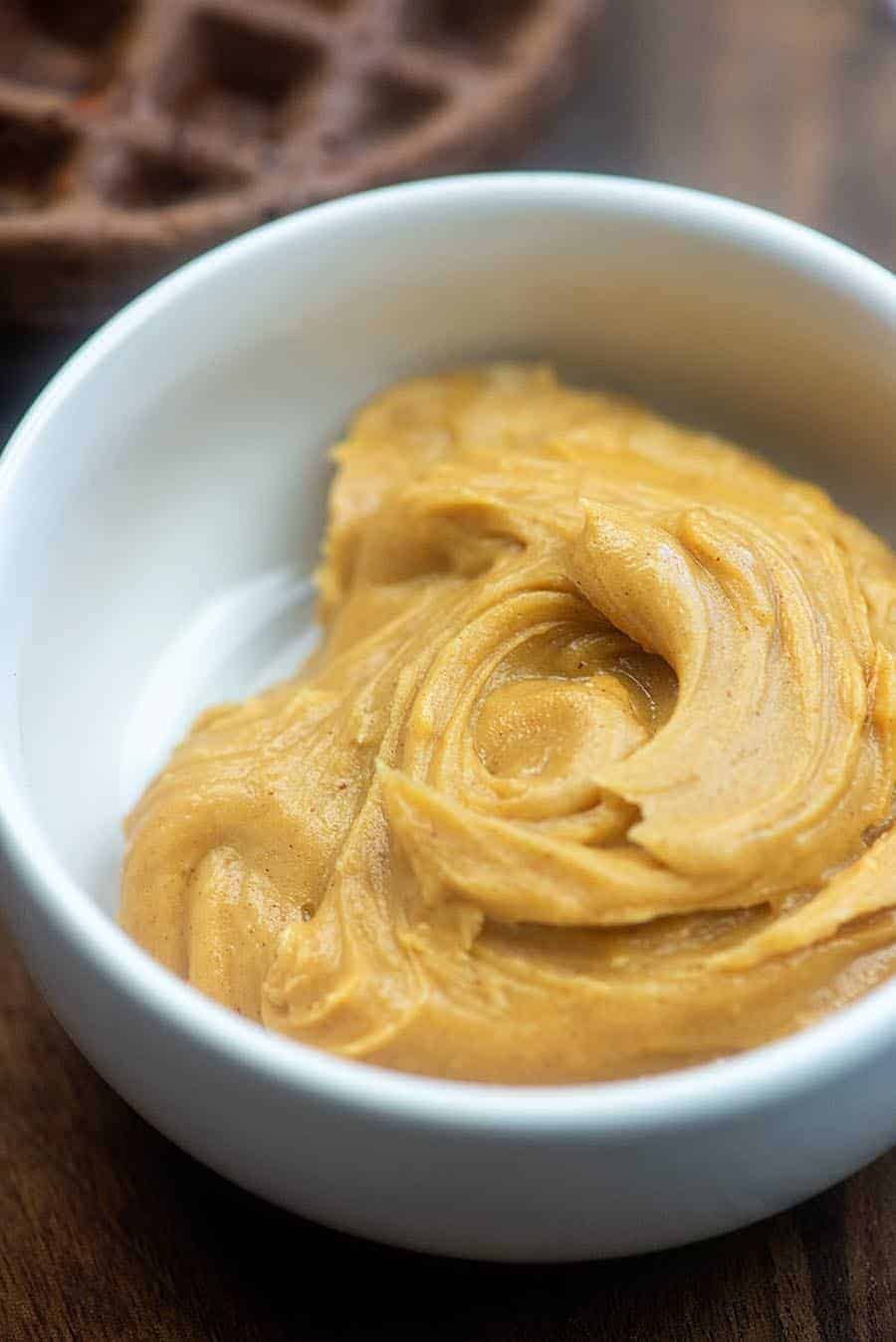 This filling is super simple and made with just three ingredients: peanut butter, butter, and powdered sweetener.
I'm sharing what products I use below because they work for me and I'm often asked what I use. Please feel free to use what you already have on hand, just know that the carb count will differ a bit depending on what ingredients you use.
I've been on a big Skippy Naturals peanut butter kick. It's 4 net carbs per 2 tablespoons and it tastes like regular peanut butter without the funky oil sitting on top. No need to stir, it's just nice and creamy!
For the sweetener, I use and recommend Lakanto Powdered Sweetener. It's made of monk fruit and erythritol, tastes very similar to regular powdered sugar, and is my favorite powdered sweetener to date. Highly recommend.
Use code THATLOWCARBLIFE to get 20% off your entire order at Lakanto!
Stir together all of the ingredients with a fork until smooth. Easy peasy and so creamy!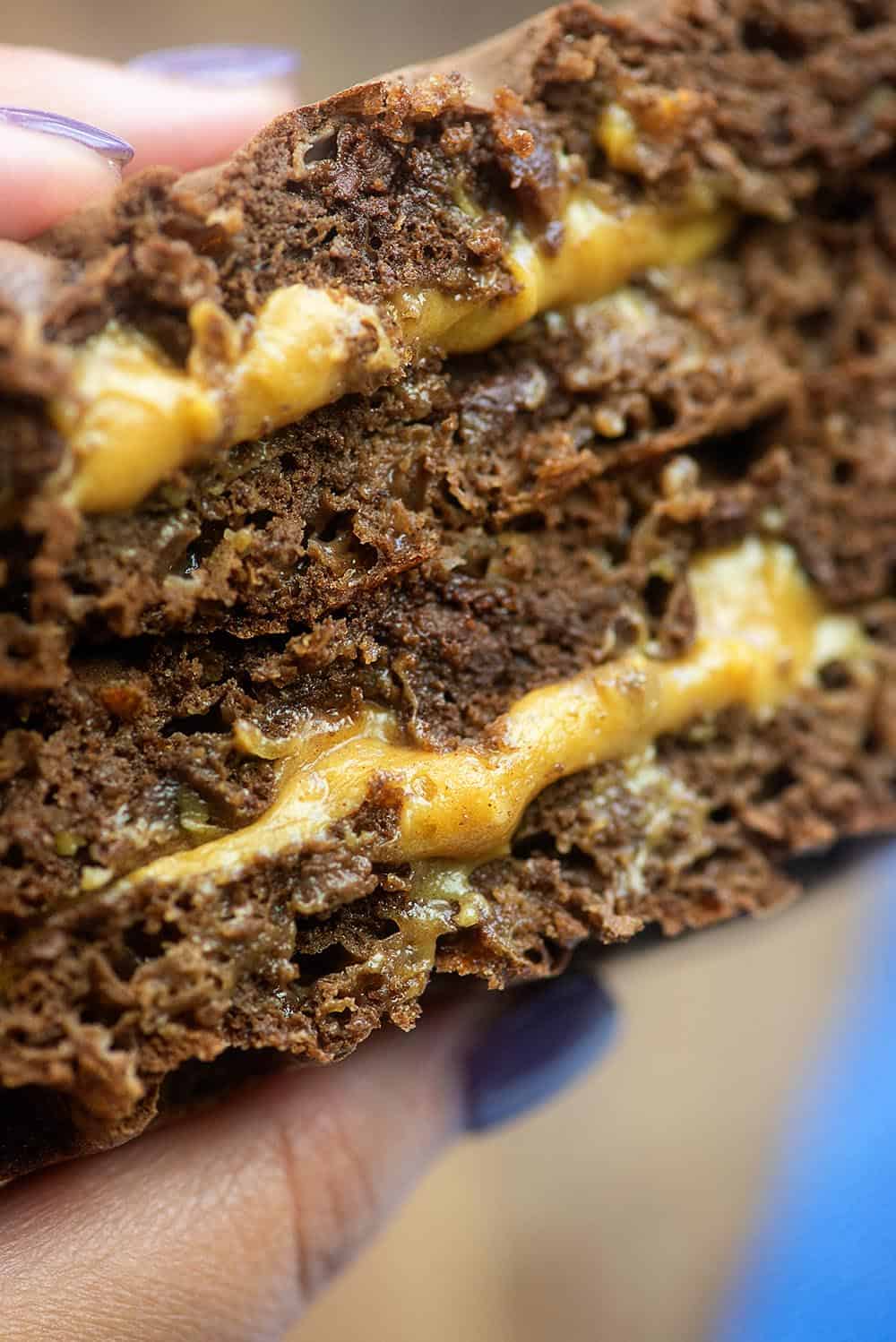 How to make chocolate chaffles:
To make chocolate chaffles, you'll need: egg, finely shredded mozzarella cheese, unsweetened cocoa powder, sweetener, chocolate chips, and espresso powder.
I recommend using Lakanto Monkfruit Sweetener. It's a mix of monkfruit and erythritol and has none of that cooling sensation that some sweeteners have. No aftertaste either! It's my favorite.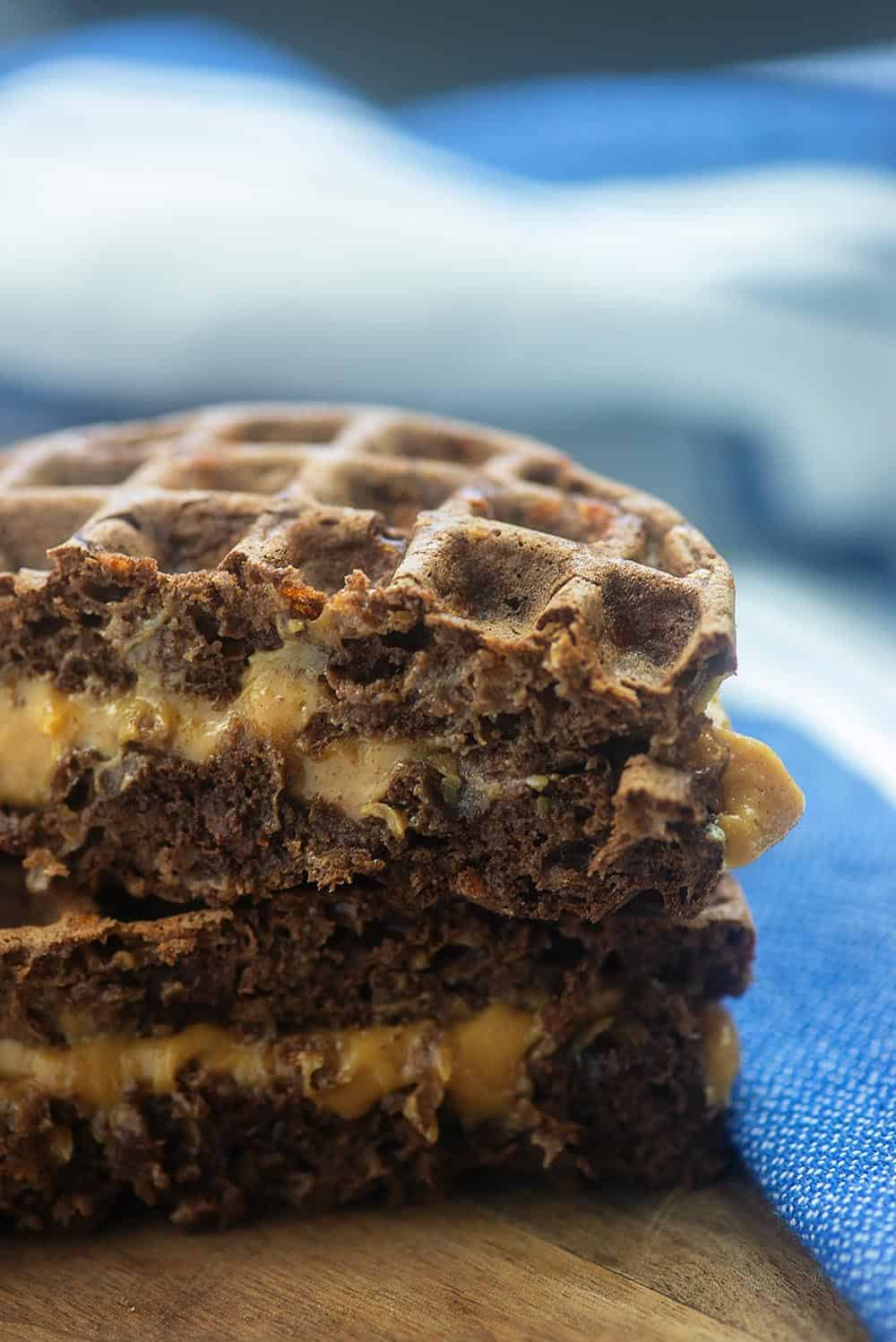 The espresso powder is optional, but recommended. It doesn't make the chocolate chaffles taste like coffee, it just deepens that chocolate flavor. Really good! I add espresso powder to everything that calls for cocoa powder.
For the chocolate chips, I've been loving Lily's chocolate chips and you can find them at Walmart now, which is a major win! Use whatever brand you prefer.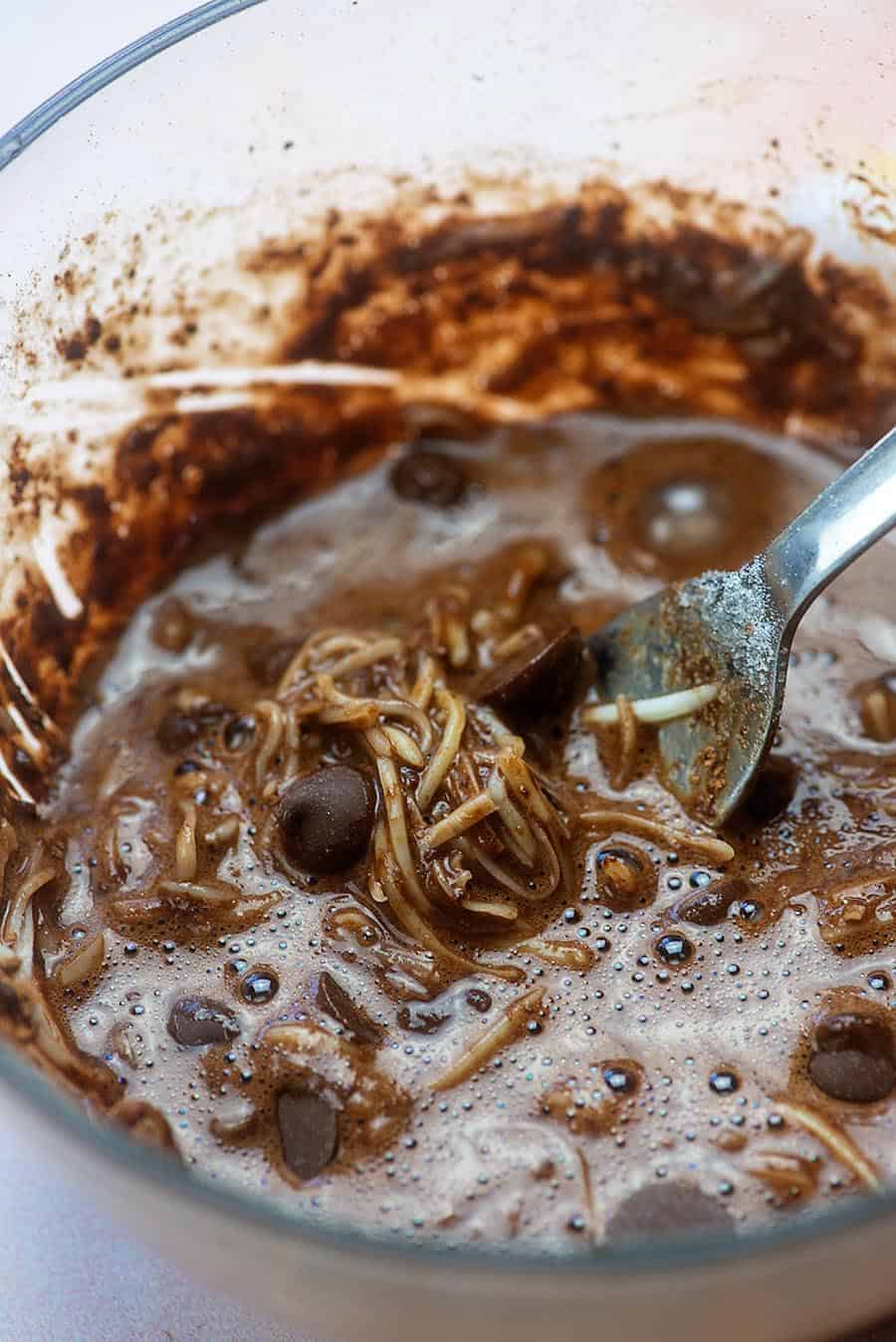 Whisk together your egg, cocoa powder, sweetener, chocolate chips, and espresso powder until well combined. Stir in the mozzarella and your chocolate chaffle batter is ready to cook!
It looks a little funky with that cheese in there, but I promise it just disappears as you cook it. As long as you use mozzarella, you'll never even taste the cheese.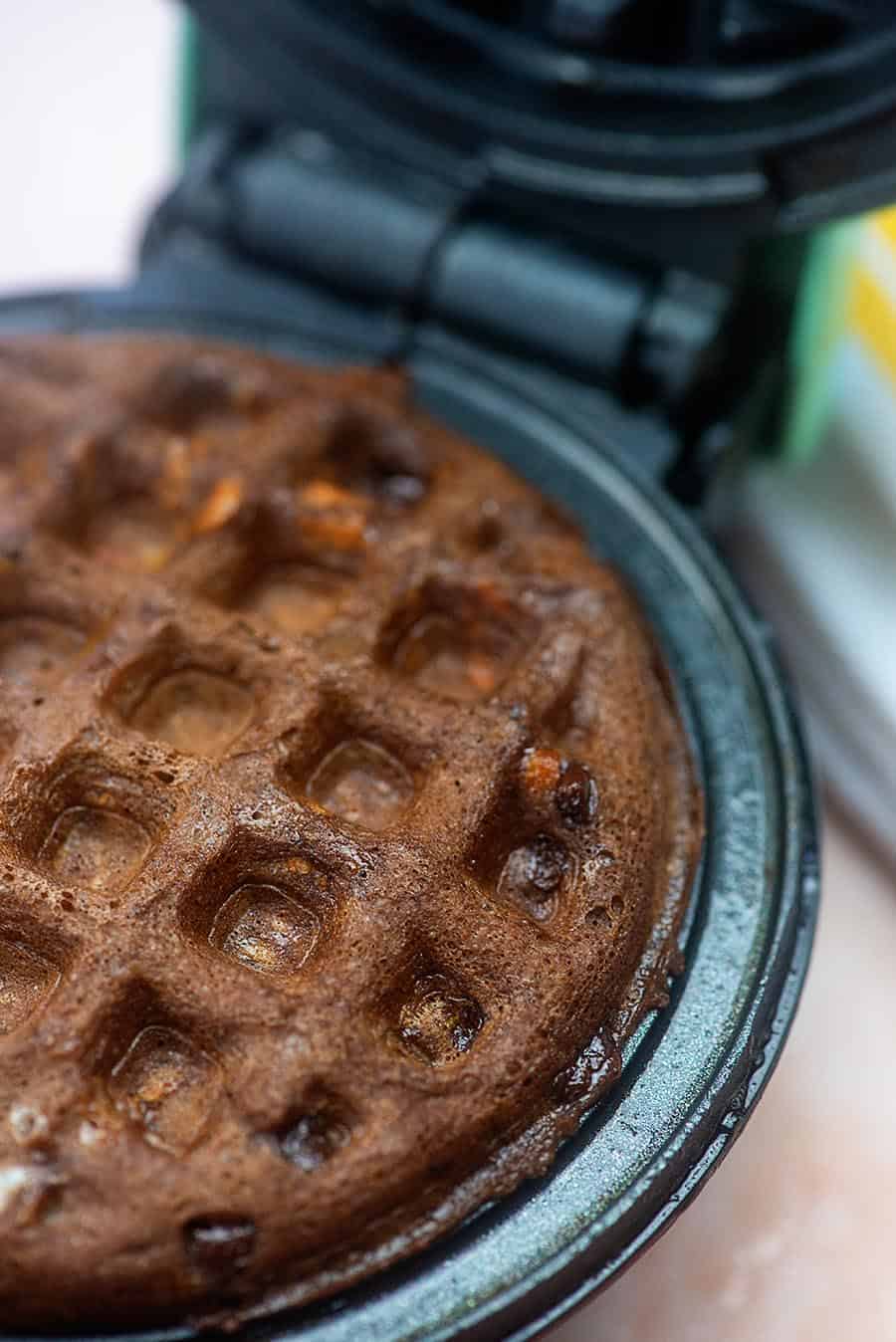 What kind of waffle maker do you need?
You are going to want a mini waffle maker for this recipe.
I use the Dash Mini Waffle Maker.
Don't worry – you can order from Amazon for around $10 and I almost guarantee you won't regret the purchase! They're currently showing as backordered, but I've heard from quite a few readers that they're shipping out much faster than the backorder date, so I say go ahead and order!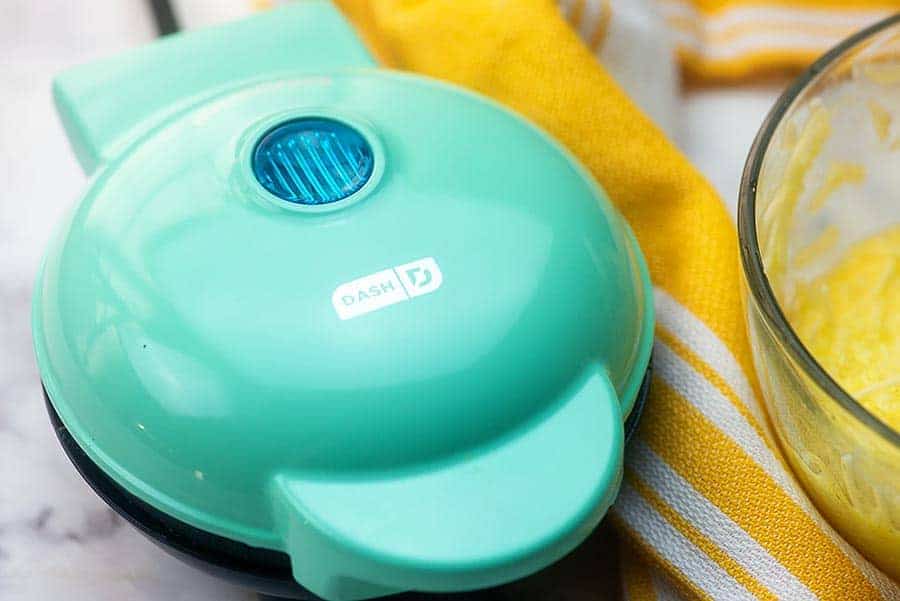 It heats quickly, cooks quickly, takes up barely any space, and it comes in a variety of cute colors. I have the aqua.
If you want to make more than 1 mini waffle at a time or just don't want to wait on the out of stock mini waffle maker, check out this one:
If you plan to make chaffles for a family, this should work great! I haven't tried it myself, but plan to order because my kids are obsessed with chaffles too.
Peanut Butter Cup Waffles:
Once your chocolate chaffles are cooked, let them cool a bit before adding the peanut butter filling. If you add the filling while the waffles are hot, it will melt and ooze out. This isn't necessarily a bad thing (in fact, melty peanut butter is delicious!), but it's pretty messy.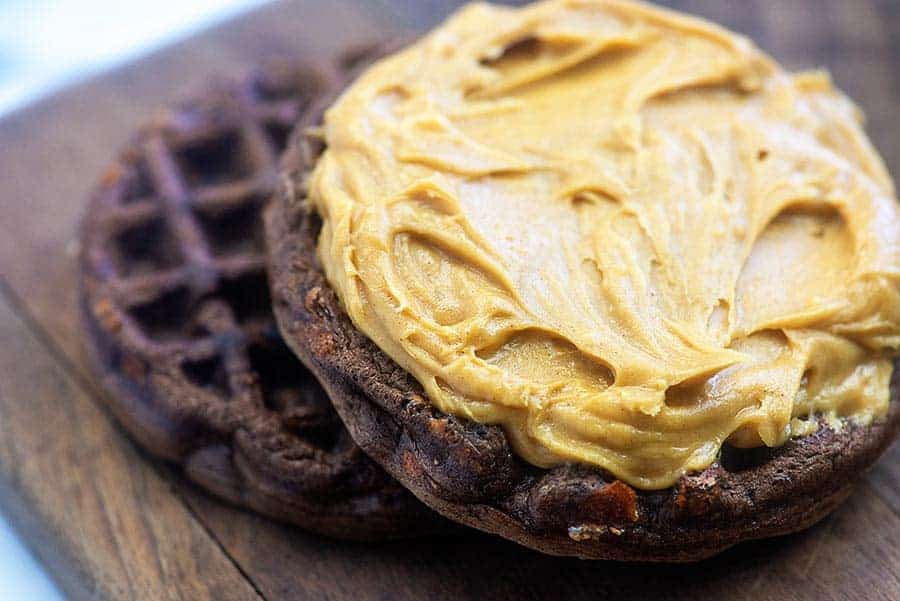 Spread the peanut butter over one of the waffles and then top it off with the second one.
These are rich and decadent and I recommend cutting them into fourths for a quick treat. If you're really feeling it, go ahead and have a half. With such low carb ingredients, you can probably fit a half of one into your carb count pretty easily.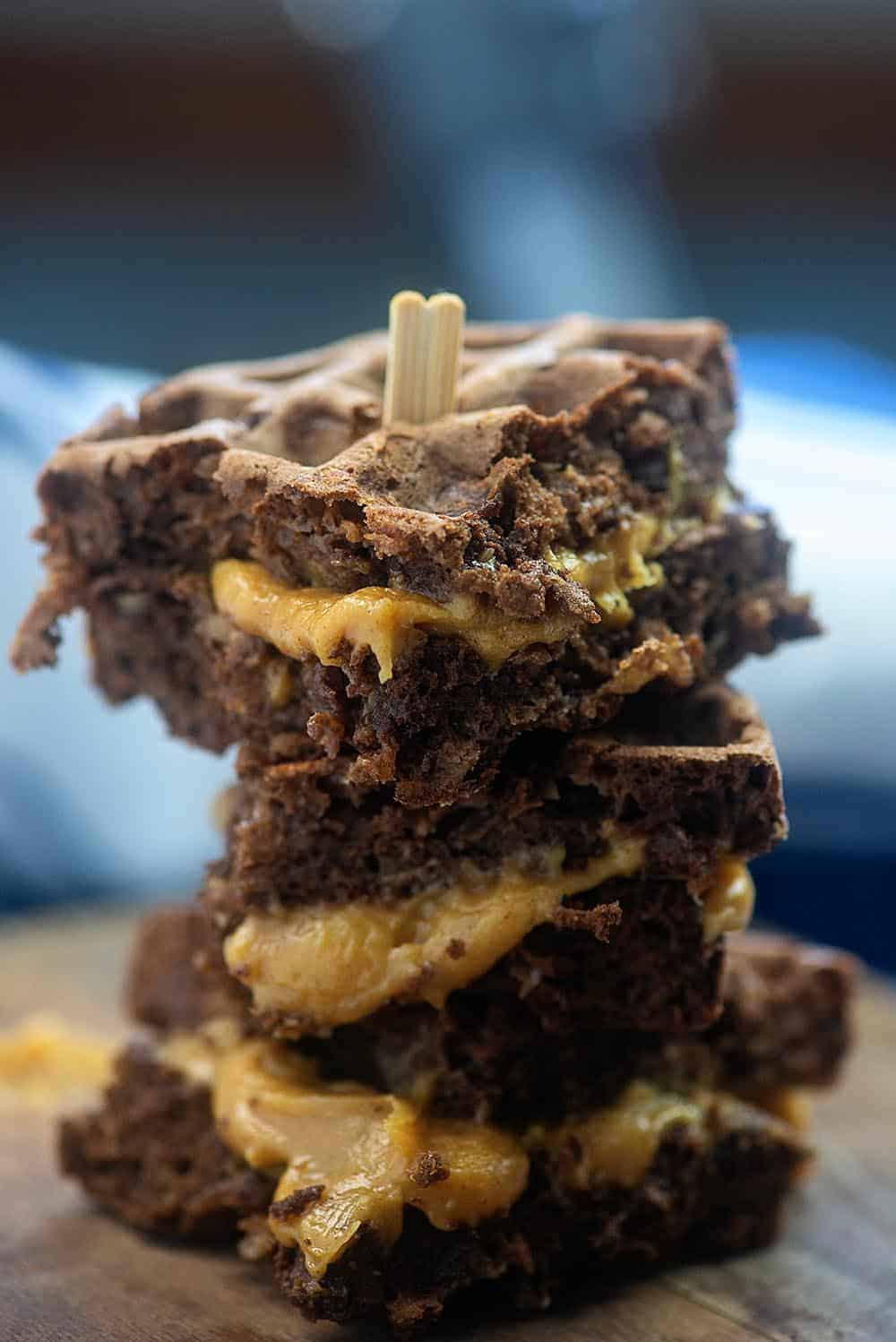 Be sure to check out my basic chaffle recipe, pumpkin chaffles, and Big Mac chaffles too!
I'm pretty obsessed with chaffles. So easy and there are infinite possibilities with them from sweet to savory!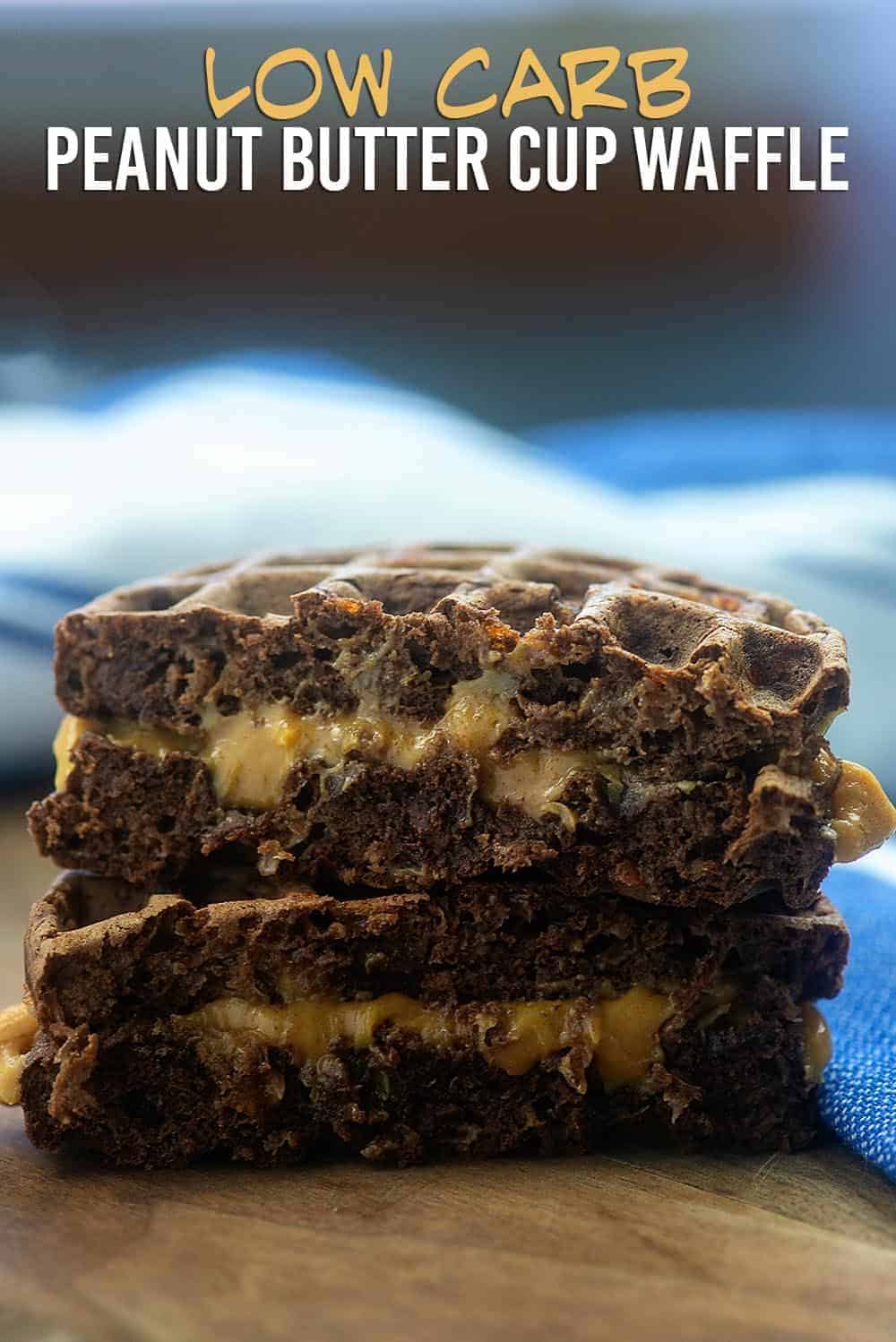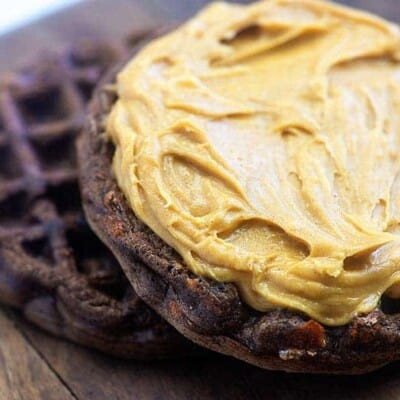 Peanut Butter Cup Chaffles
Thick chocolate chaffles smeared with a thick layer of creamy, sweet peanut butter!
Prep10 minutes
Cook6 minutes
Total16 minutes
Serves 1 peanut butter cup chaffle
Ingredients
For the chaffle:
1 large egg
2 tablespoons cocoa powder
1 tablespoon sweetener
1 tablespoon sugar free chocolate chips
1/4 teaspoon espresso powder
1/2 cup finely shredded mozzarella
For the peanut butter filling:
3 tablespoons creamy peanut butter
2 tablespoons powdered sweetener
1 tablespoon butter softened
Instructions
To make the chaffles:
Plug in the waffle iron to preheat.

Whisk together the egg, cocoa powder, sweetener, chocolate chops, and espresso powder. Stir in the mozzarella.

Add half of the batter to the waffle maker and cook for 3 minutes. Repeat with remaining batter.
To make the peanut butter filling:
Add all of the ingredients to small bowl and stir together with a fork until smooth and creamy.
To assemble:
Let waffles cool before spreading with the peanut butter and closing to form a sandwich.
Tips & Notes:
Please note that I've deducted sugar alcohols from this recipe as erythritol generally has no effect on blood sugar. If you count sugar alcohols in your carb count, you'll want to calculate this yourself. These are thick and rich. We count 1/4 of the sandwich as a serving.
Nutrition Information:
Serving: 0.25of waffle| Calories: 210kcal (11%)| Carbohydrates: 4g (1%)| Protein: 8g (16%)| Fat: 15g (23%)| Saturated Fat: 5g (31%)| Polyunsaturated Fat: 8g| Cholesterol: 61mg (20%)| Sodium: 208mg (9%)| Fiber: 1g (4%)| Sugar: 2g (2%)| Net Carbs: 3g (6%)