Big Macs were always a favorite of mine when we'd hit up the drive through and this low carb version on a soft, fluffy Chaffle is absolutely perfect! The Big Mac sauce takes these over the top delicious!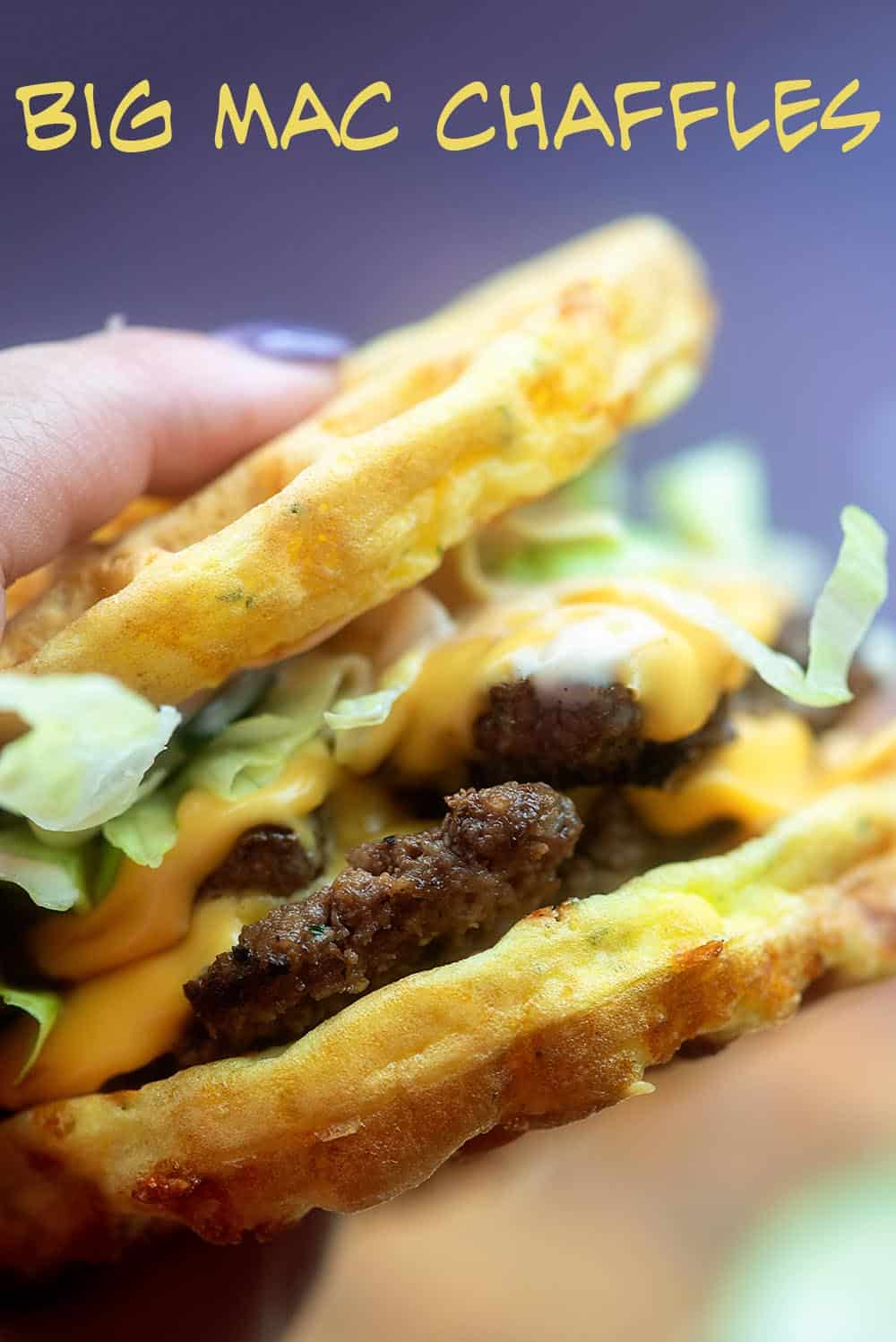 I know it's totally not popular to admit to loving fast food, but I can't help myself.
I just love a good fast food burger every now and then.
So, when I discovered the goodness of a chaffle, I knew I would be making cheeseburger chaffles until the day I died. But why stop at a plain old cheeseburger chaffle? Why not go big with a Big Mac Chaffle?
Wondering what exactly a chaffle is? Go check out my post and chaffle recipe! I've answered all the FAQ's and provided all the info you need to get started chaffling! You don't want to miss out on this amazing low carb recipe!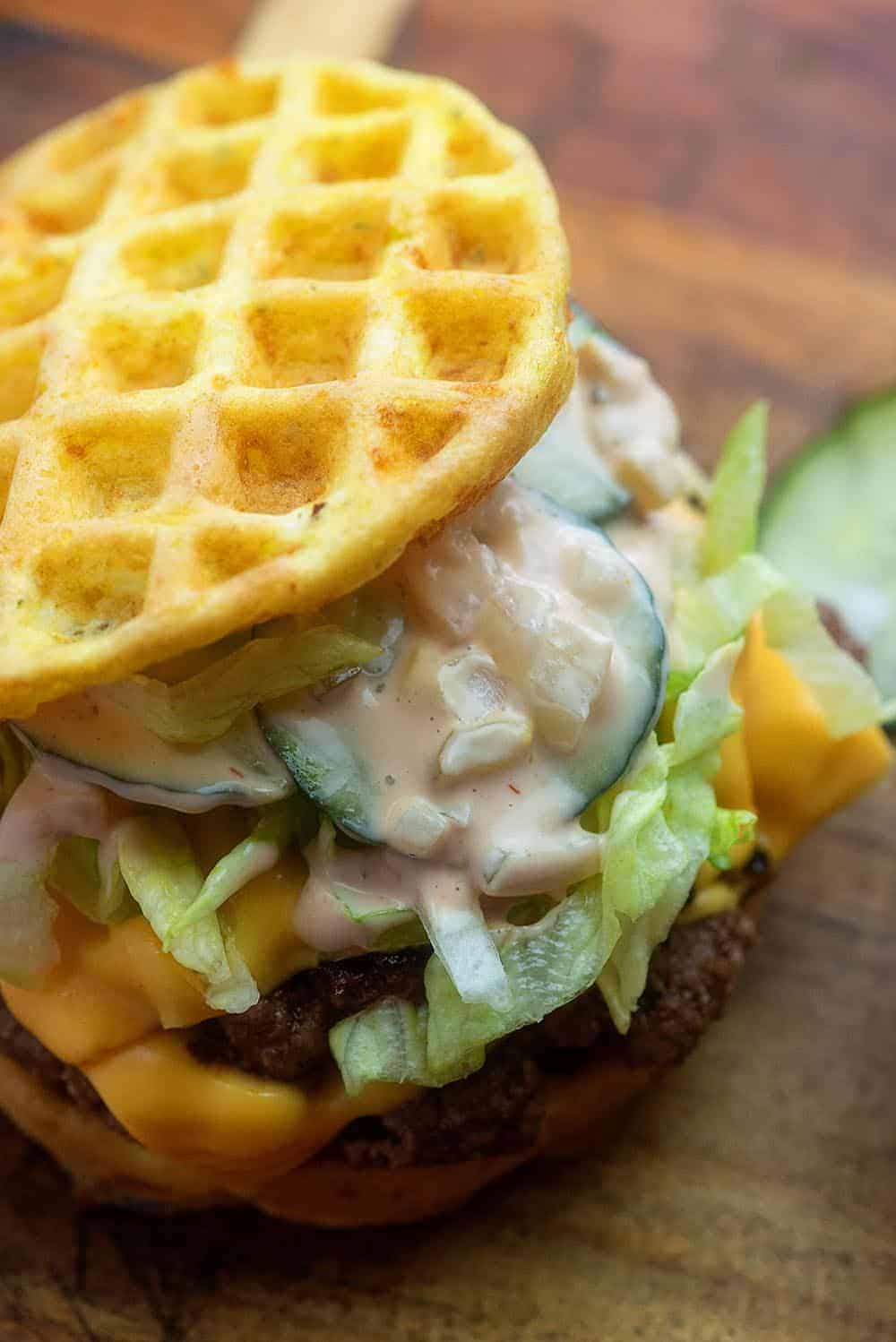 These are so good, you guys.
Best part? They were ready in less than 30 minutes and tasted like a total cheat meal. Obsessed.
How to make a cheeseburger chaffle:
To start, gather all your ingredients. This goes quick, so it's best to get everything ready to go.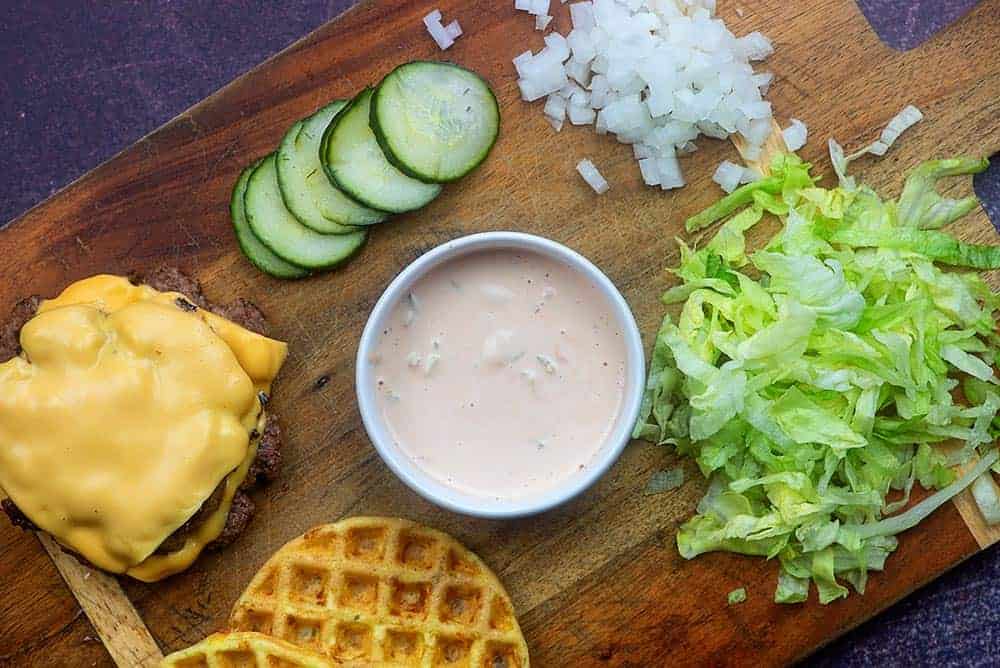 For ONE Big Mac chaffle, you'll need 1/3 pound of ground beef, 2 slices of cheese, a couple pickle slices, a small handful of shredded lettuce, and a sprinkling of minced onion. You're also going to want some Big Mac sauce ready to go…keep scrolling down and we'll get to that recipe.
The chaffle itself consists of 1 egg, 1/2 cup shredded mozzarella, and a dash of garlic salt.
I like to separate the ground beef into two balls and pop them on a griddle. Flatten them with a salad plate to get nice, uniform patties that are really thin and authentic. They cook in just about 2-3 minutes per side when they're thin like this.
I season my ground beef with garlic salt, but salt and pepper plus MSG is probably more authentic to McDonald's.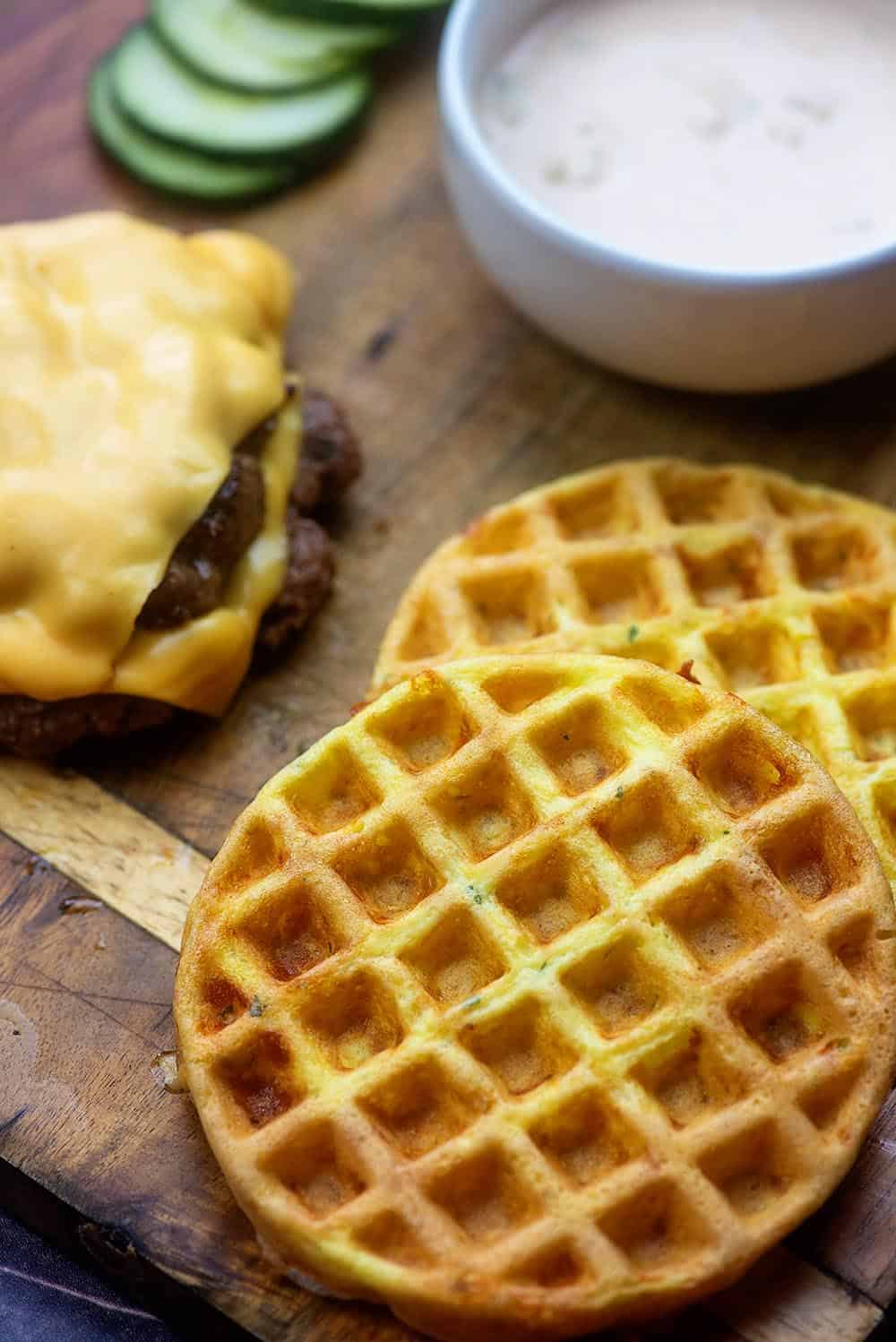 Add your cheese, stack your patties, and pop them on your chaffle.
The chaffle is just egg, cheese, and garlic salt whisked together and cooked in a mini waffle iron for 2-3 minutes per side. I do this while the burgers are cooking.
Big Mac Sauce:
The key to a Big Mac is most definitely the sauce!
Our version is a bit different than McDonald's, because we don't want all of the sugar they use, but the taste is very close and I think you'll love it!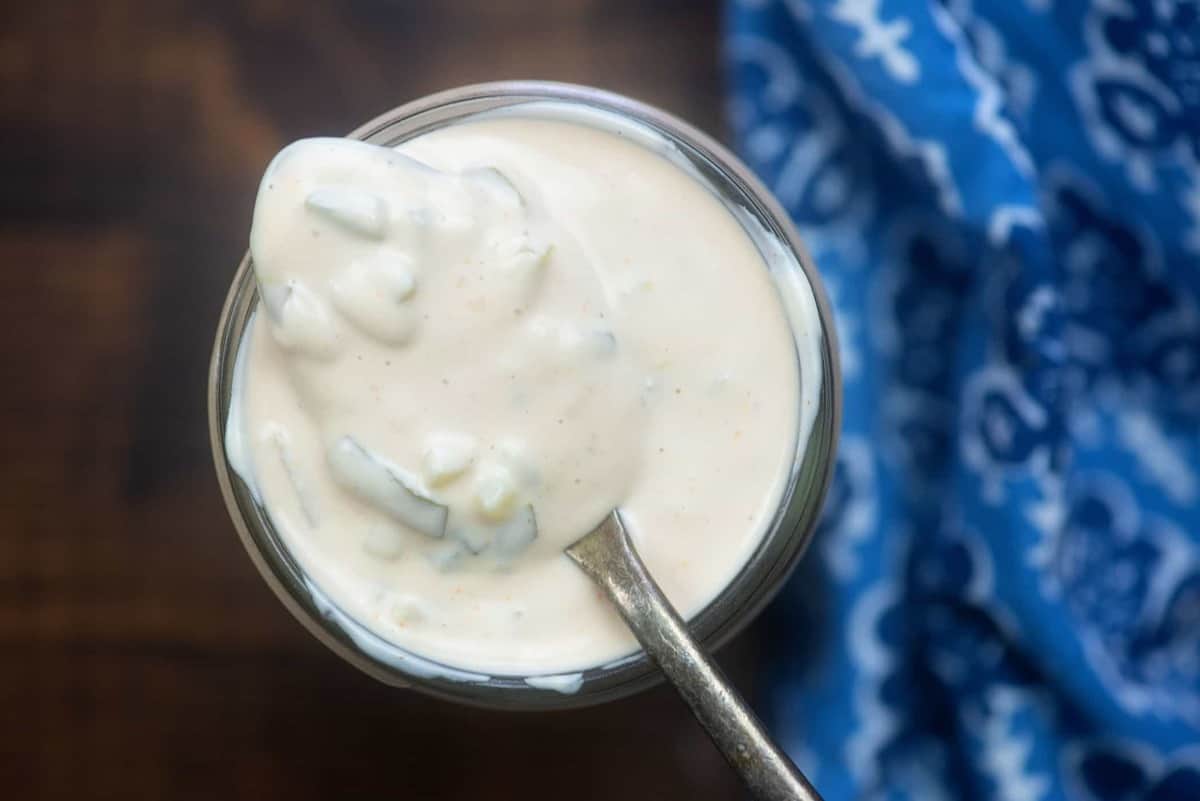 You'll need mayo, sugar-free ketchup, relish, vinegar, and salt!
This is basically my recipe for Thousand Island Dressing, but shrunk down quite a bit. Feel free to make the full batch of dressing for your salads and burgers!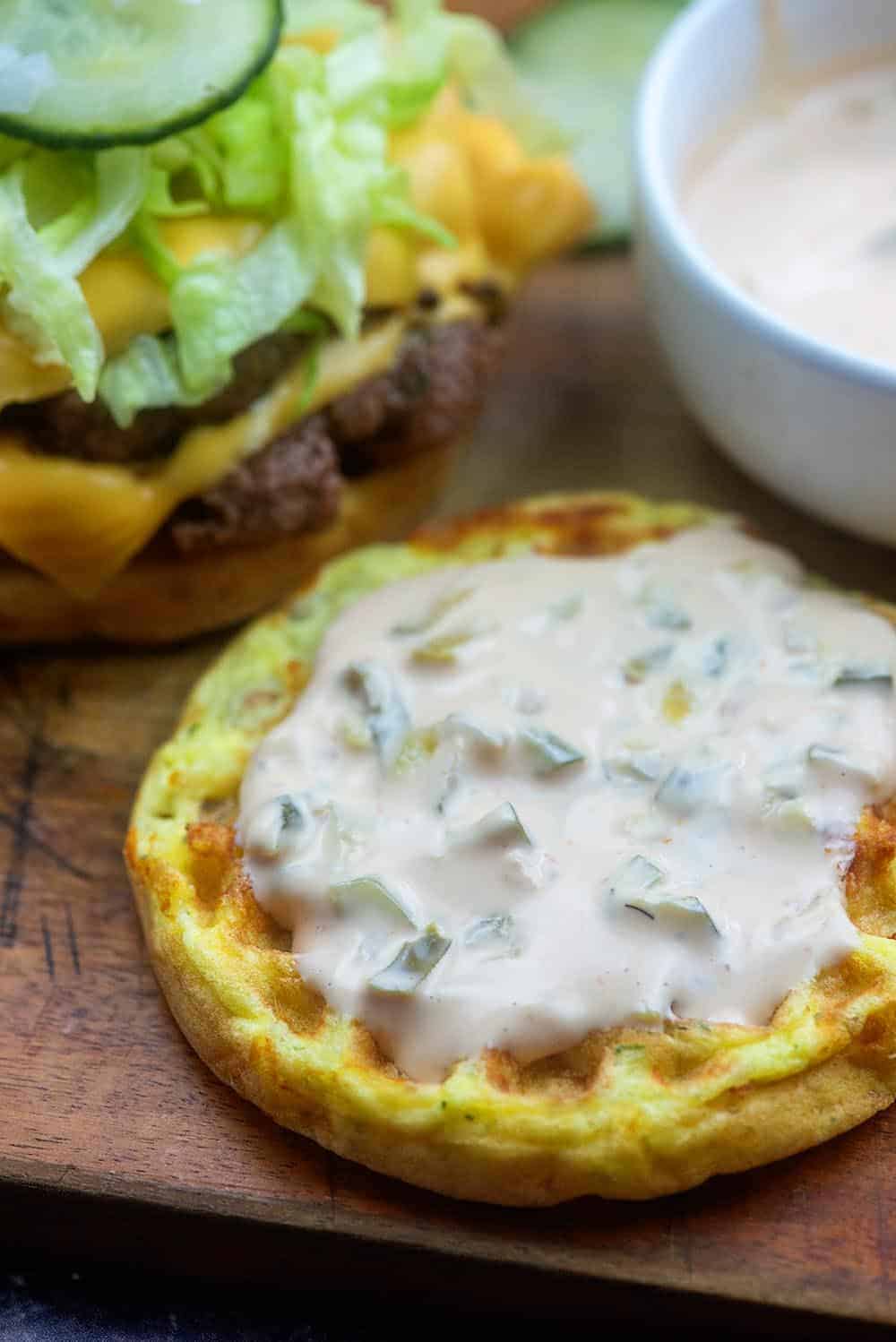 Special Tools Needed:
You are going to want a mini waffle maker for this recipe. It makes the perfect sized hamburger buns!
I use the Dash Mini Waffle Maker.
Don't worry – you can order from Amazon for around $10 and I almost guarantee you won't regret the purchase!
You'll see that they're most likely backordered. Everyone is obsessed with chaffles! I'd recommend ordering anyway as I'm hearing from readers that they are still shipping much sooner than anticipated!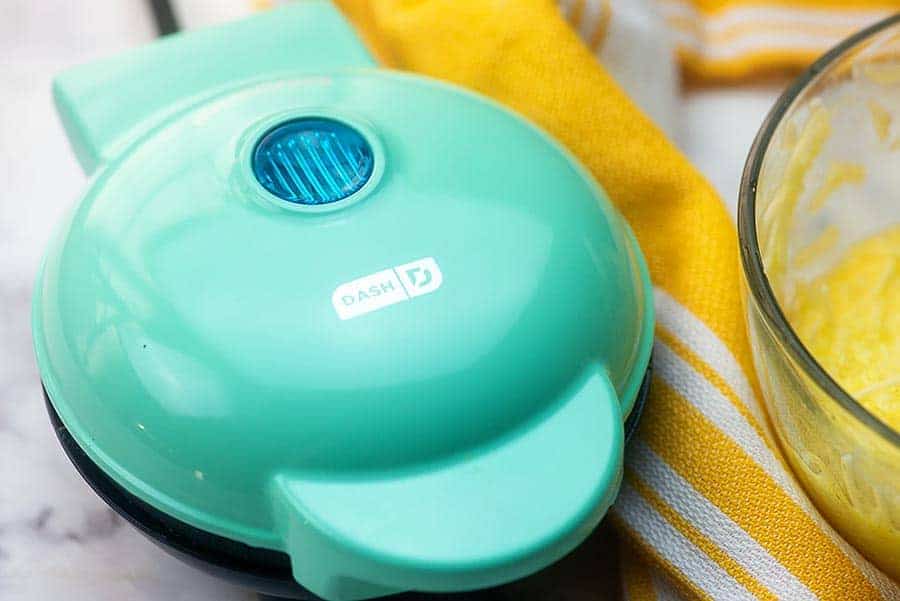 It heats quickly, cooks quickly, takes up barely any space, and it comes in a variety of cute colors. I have the aqua.
If you want to make more than 1 mini waffle at a time, check out this one:
If you plan to make chaffles for a family, this should work great! It would really help to have this one if you're making these cheeseburger chaffles for the whole family!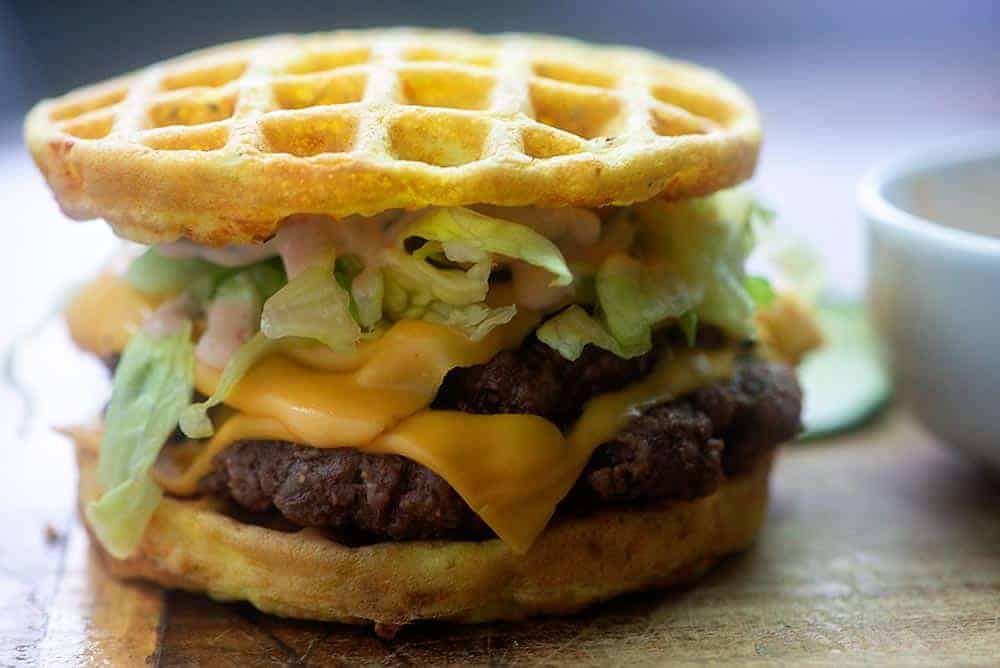 More chaffle recipes to try:
Pumpkin Chaffles: That's right, our favorite flavor has been chaffled!
Italian Cream Chaffle Cake: Decadent and somehow still low carb!
Blueberry Cinnamon Chaffle: Looks like the best breakfast!
Garlic Cheese Stick Chaffles: Serving this up tonight!
Join my Facebook Group – members are always sharing new chaffle recipes along with other low carb tips, tricks, and recipes.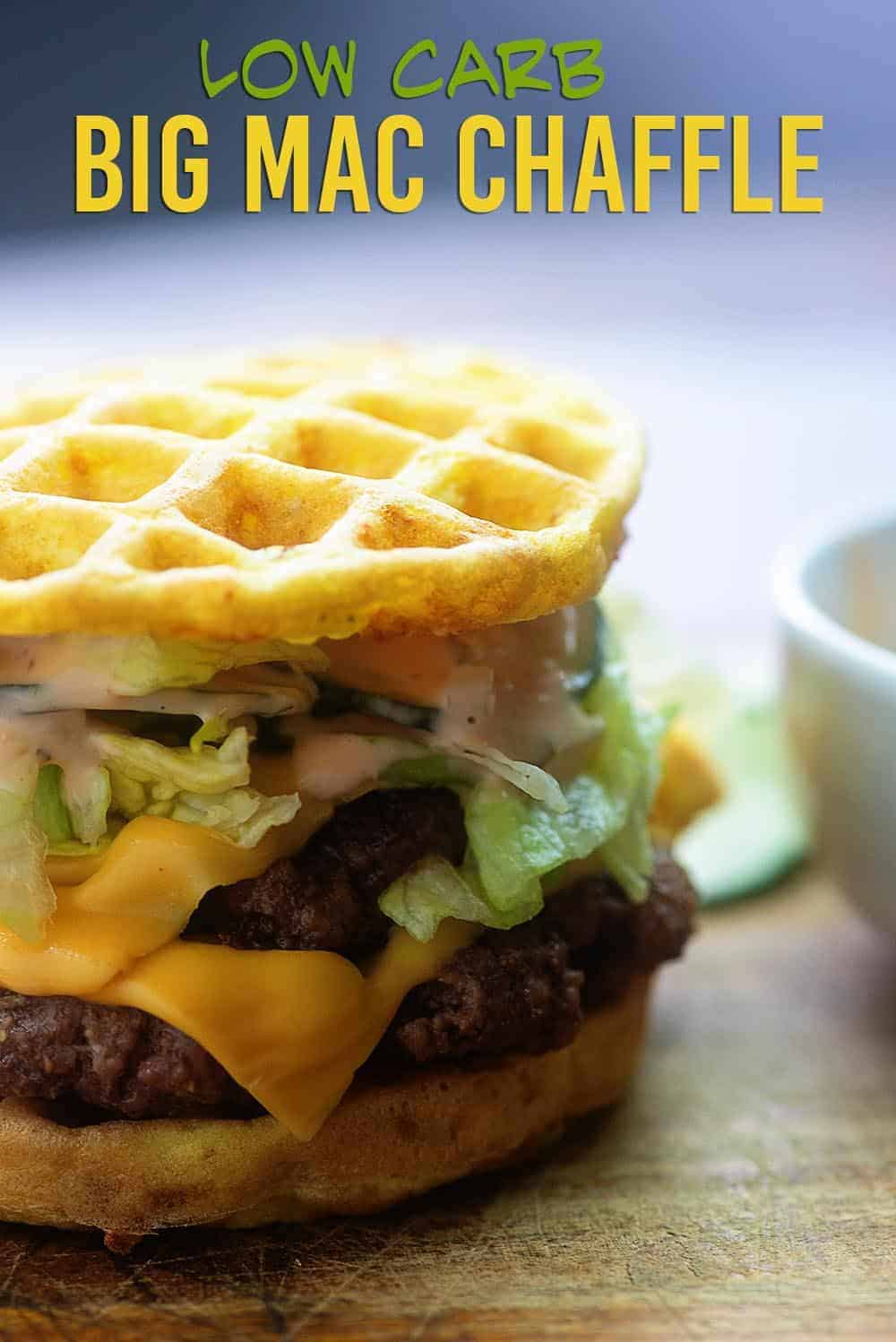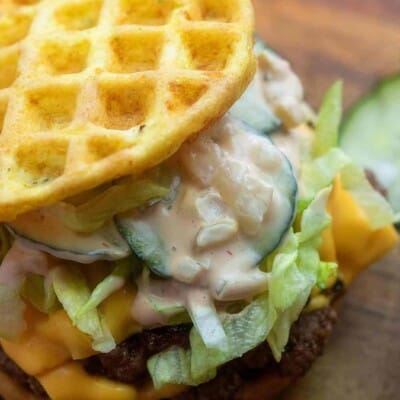 Big Mac Chaffle
These cheeseburger chaffles taste like my favorite fast food burger, right down to the secret sauce! Feel free to double or even quadruple this recipe if you're feeding more than one!
Prep10 minutes
Cook10 minutes
Total20 minutes
Ingredients
For the cheeseburgers:
1/3 pound ground beef
1/2 teaspoon garlic salt
2 slices American cheese
For the Chaffles:
1 large egg
1/2 cup finely shredded mozzarella
1/4 teaspoon garlic salt
For the Big Mac Sauce:
2 teaspoons mayonnaise
1 teaspoon ketchup
1 teaspoon dill pickle relish
splash vinegar to taste
To assemble:
2 tablespoons shredded lettuce
3-4 dill pickles
2 teaspoons minced onion
Instructions
To make the burgers:
Heat a griddle over medium high heat.

Divide the ground beef into 2 equal sized balls and place each on the griddle, at least 6 inches apart.

Let cook for 1 minute.

Use a small salad plate to firmly press straight down on the balls of beef to flatten. Sprinkle with garlic salt.

Cook 2 minutes or until halfway cooked through. Flip the burgers carefully and sprinkle with remaining garlic salt.

Continue cooking 2 minutes or until cooked through.

Place one slice of cheese over each patty and then stack the patties and set aside on a plate. Cover with foil.
To make the chaffles:
Heat the mini waffle iron and spray with non-stick spray.

Whisk together the egg, cheese, and garlic salt until well combined.

Add half of the egg mixture to the waffle iron and cook for 2-3 minutes. Set aside and repeat with remaining batter.
To make the Big Mac Sauce:
Whisk together all ingredients.
To assemble burgers:
Top one chaffle with the stacked burger patties, shredded lettuce, pickles, and onions.

Spread the Big Mac sauce over the other chaffle and place sauce side down over the sandwich.

Eat immediately.
Tips & Notes:
Feel free to double or quadruple this recipe. I find it easiest to make the Big Mac sauce in advance and then cook the chaffles while the burgers are cooking. This looks like a lot of steps, but all goes very quickly.
Nutrition Information:
Serving: 1| Calories: 831kcal (42%)| Carbohydrates: 8g (3%)| Protein: 65g (130%)| Fat: 56g (86%)| Saturated Fat: 23g (144%)| Polyunsaturated Fat: 26g| Trans Fat: 2g| Cholesterol: 382mg (127%)| Sodium: 3494mg (152%)| Fiber: 2g (8%)| Sugar: 2g (2%)| Net Carbs: 6g (12%)