This RASPBERRY SWIRL CHEESECAKE recipe is the perfect low carb treat! The cheesecake is dense and creamy with the perfect little raspberry swirl. Each mini cheesecake has 3 net carbs.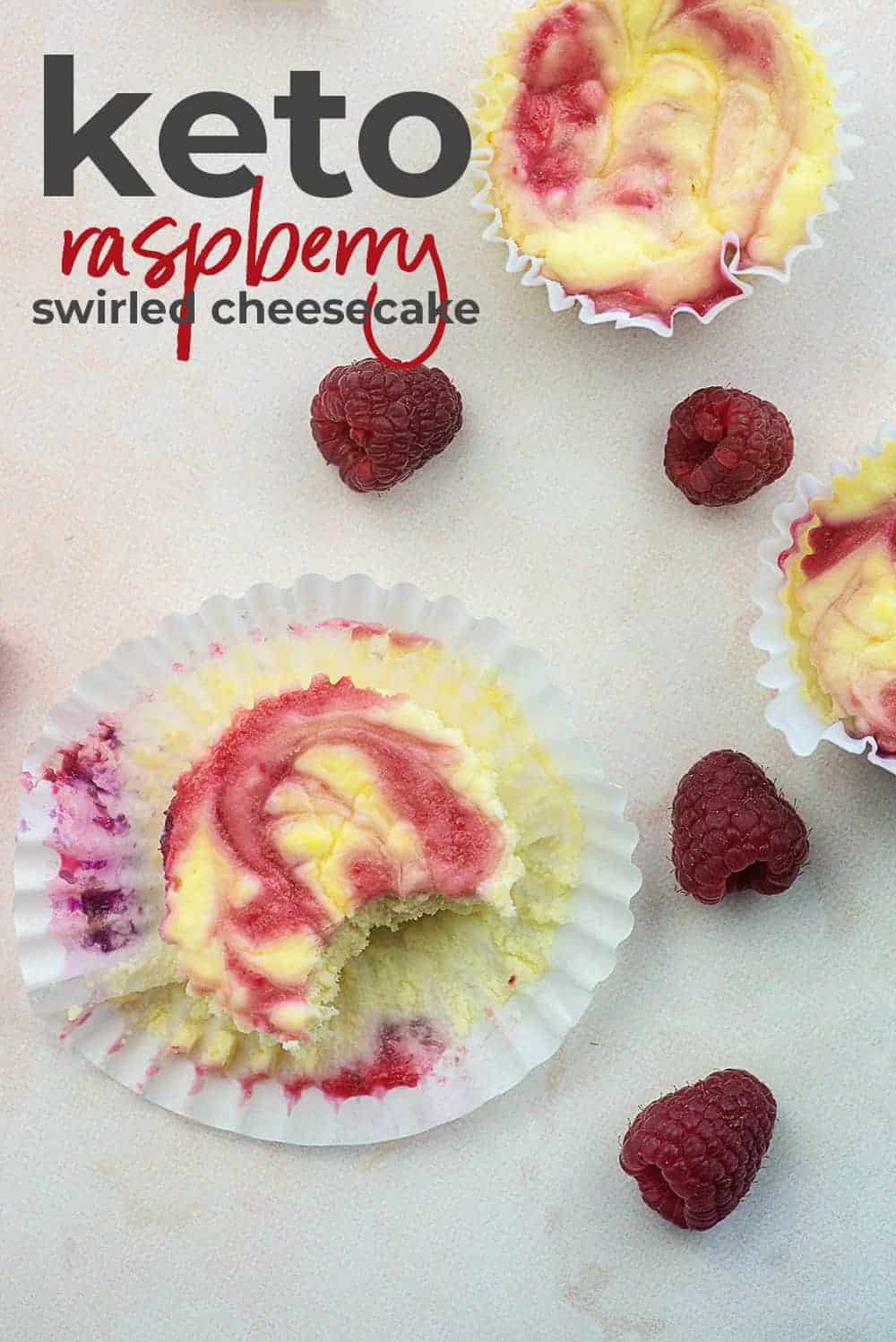 Hey, hey! I'm back with another cheesecake recipe.
I hope you're not getting tired of my mini cheesecake recipes yet, because I just can't stop myself.
Remember my
keto pumpkin cheesecake
? Still making those and it's not even fall!
We LOVE keeping a batch of mini cheesecake in the fridge to grab for a sweet treat after dinner and this raspberry version might be the best yet.

Everyone I've shared these with had no idea they were low carb. The cream cheese really masks any sweetener vibe you might normally detect and the texture of these is just perfect.
Raspberries are my favorite berry, so making a simple 2-ingredient raspberry sauce and swirling some into a creamy cheesecake was inevitable.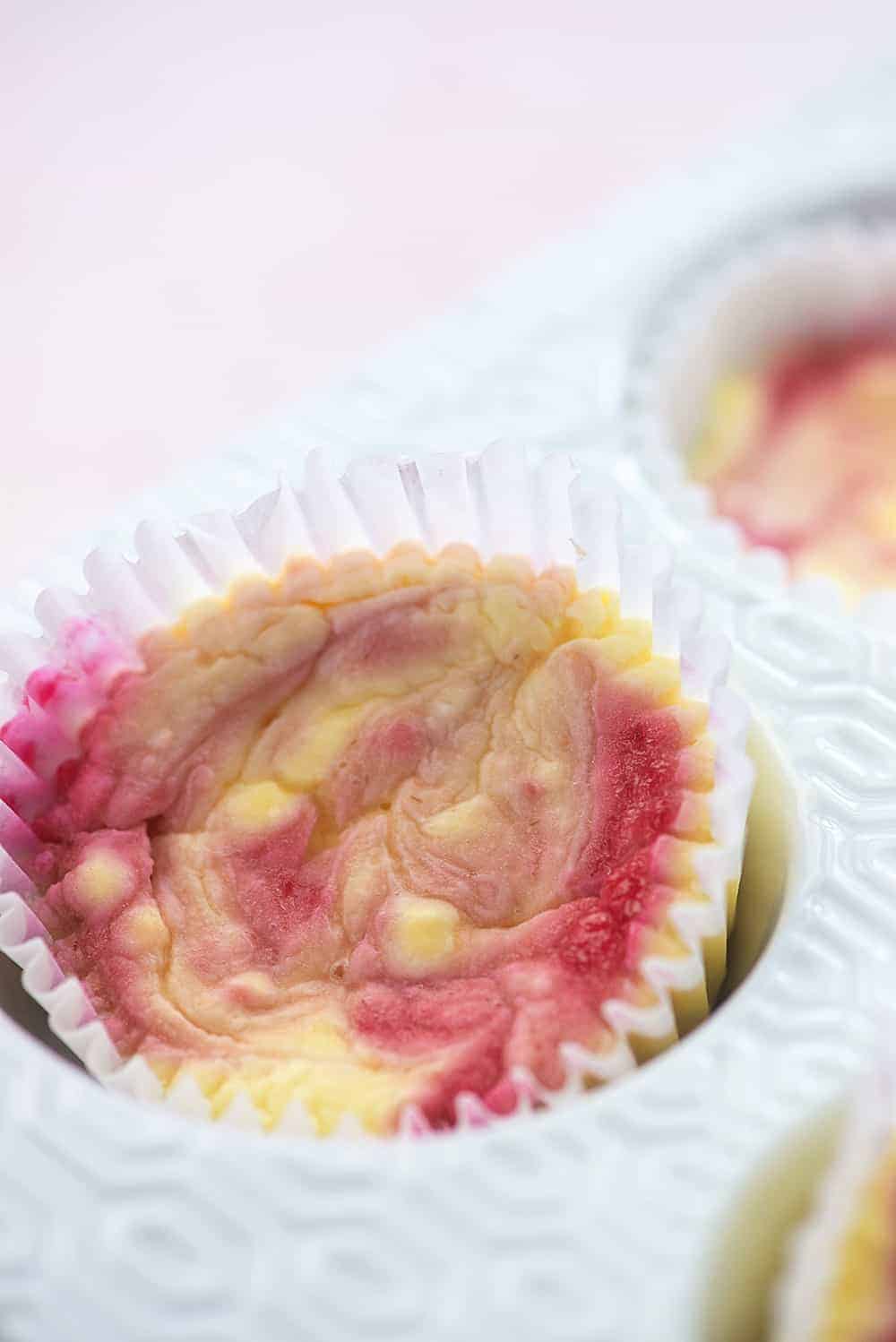 How to make the cheesecake:
This post contains affiliate links. As an Amazon Associate, I earn from qualifying purchases.
This keto raspberry cheesecake start with 16 ounces of cream cheese. It's very important that your cream cheese is at room temperature or it will be a bit clumpy. No amount of beating the mixture will get those lumps out and over-beating your cheesecake batter will lead to it sinking in the middle after baking.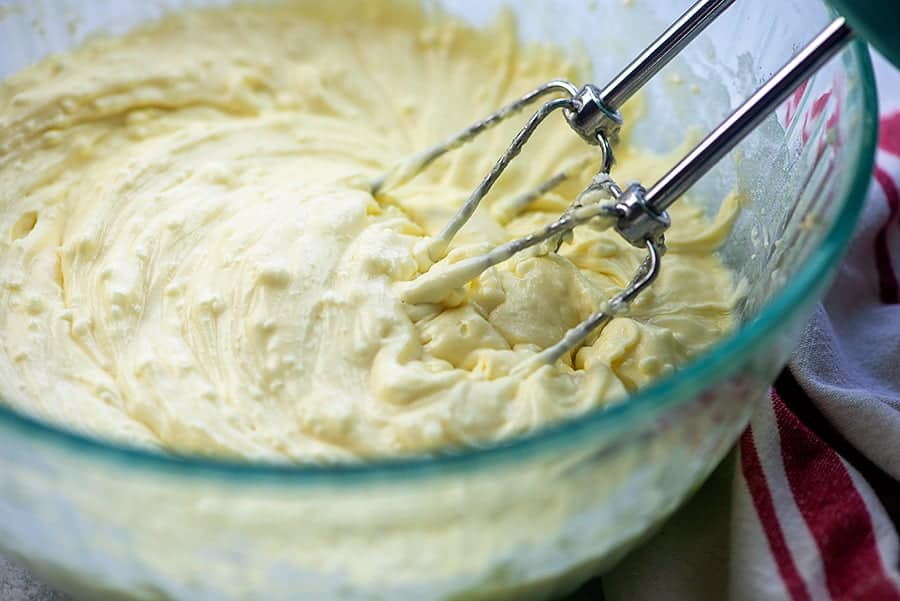 Let the cream cheese set out at room temperature for a few hours before getting started.
Add your cream cheese to a mixing bowl with 2 eggs, a dash of vanilla, and a 1/2 cup of your favorite sweetener.
I use and recommend Lakanto Monkfruit Sweetener for baking. It's a blend of erythritol and monkfruit, which helps cut any aftertaste you might normally get from plain erythritol. Plus, it's a ZERO on the glycemic index, so it shouldn't spike your insulin levels. It can be counted as zero net carbs.
I love Lakanto so much that I teamed up with them to bring you a coupon code. Use code THATLOWCARBLIFE for 20% off your order at Lakanto.com.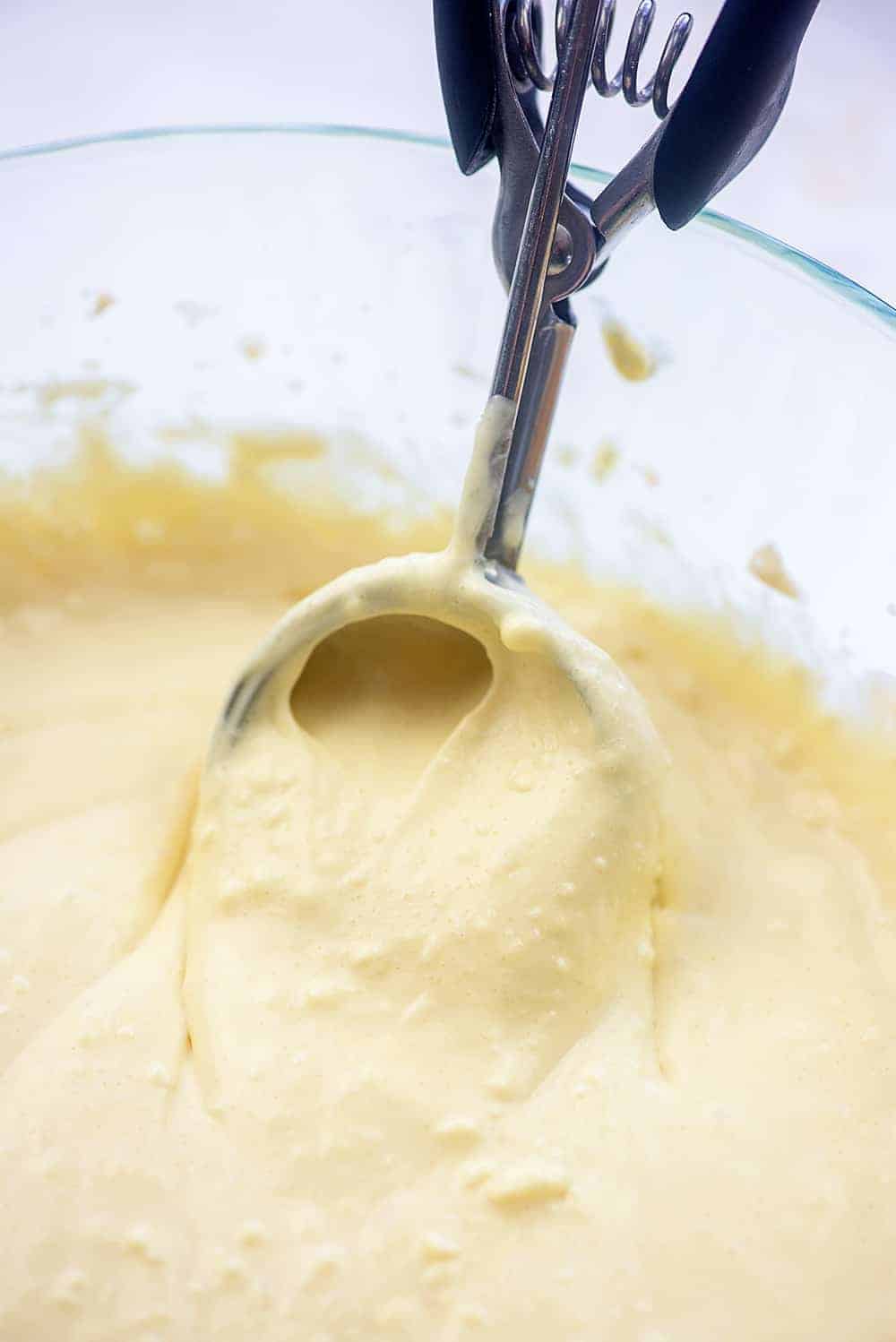 Once your cheesecake mixture is smooth and creamy, use a large cookie scoop to scoop it into 12 muffin wells. Of course, you don't have to use the cookie scoop, but I prefer to because it gives you the perfect size scoop and each muffin well will be filled evenly which helps with even baking.
Keto Raspberry Sauce:
The raspberry sauce is beyond simple with just 2 ingredients, but you will need either a food processor or blender.
I use and love my Breville Sous Chef. I grate cheese with it, slice vegetables, chop, puree, and more.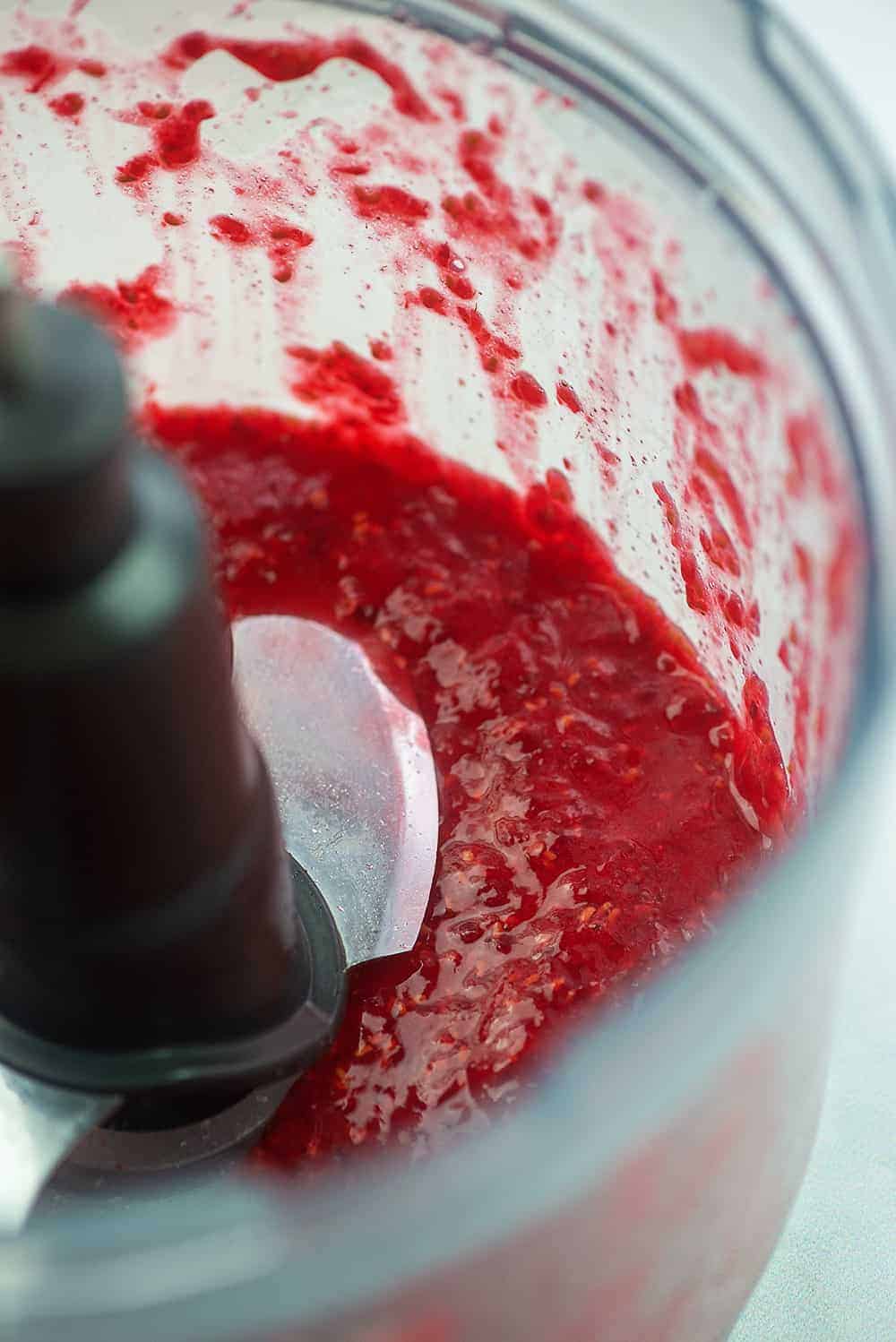 Add the raspberries and sweetener to the food processor and process until smooth.
Press the sauce through a fine mesh sieve to remove the seeds.
Baking:
Once your muffin wells are full of the cheesecake mixture, drop 3 dots of the raspberry sauce over the top of each cheesecake.
Use a toothpick to swirl the raspberry sauce throughout the cheesecakes.
Bake these for about 25 minutes at 325 degrees or until the centers are just slightly jiggly.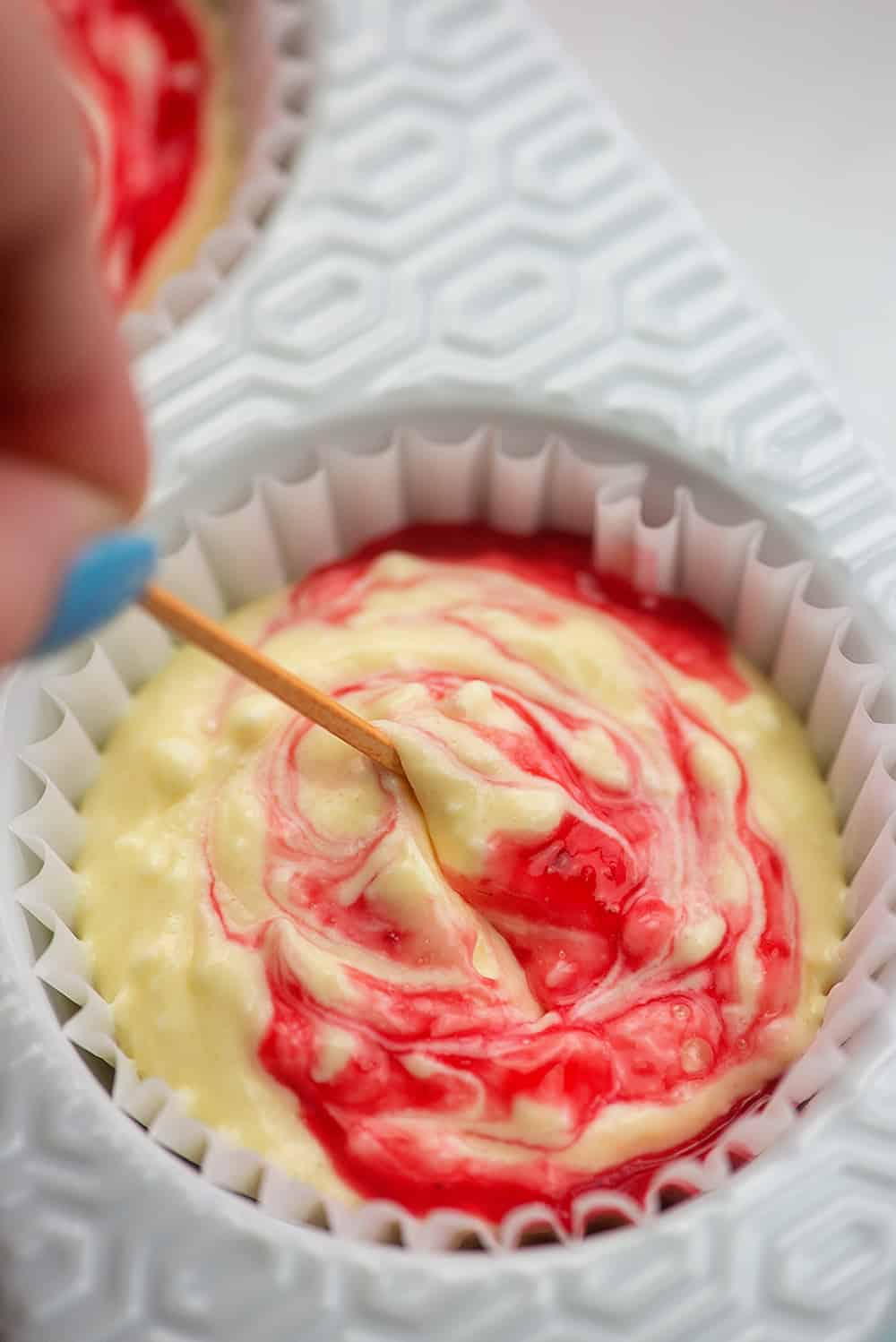 Tips & Tricks:
Use muffin liners to make it easy to remove the cheesecakes from the muffin tin. They'll stick otherwise.
Skip the swirl and just spoon the raspberry sauce over the tops of the cooled cheesecakes before serving, if you'd like to make it a little simpler.
A little bit of sinking is normal upon cooling, but if your cheesecake sinks a lot, it's likely that you've either under-baked the cheesecake or beat too much air into the batter when mixing.
More keto desserts: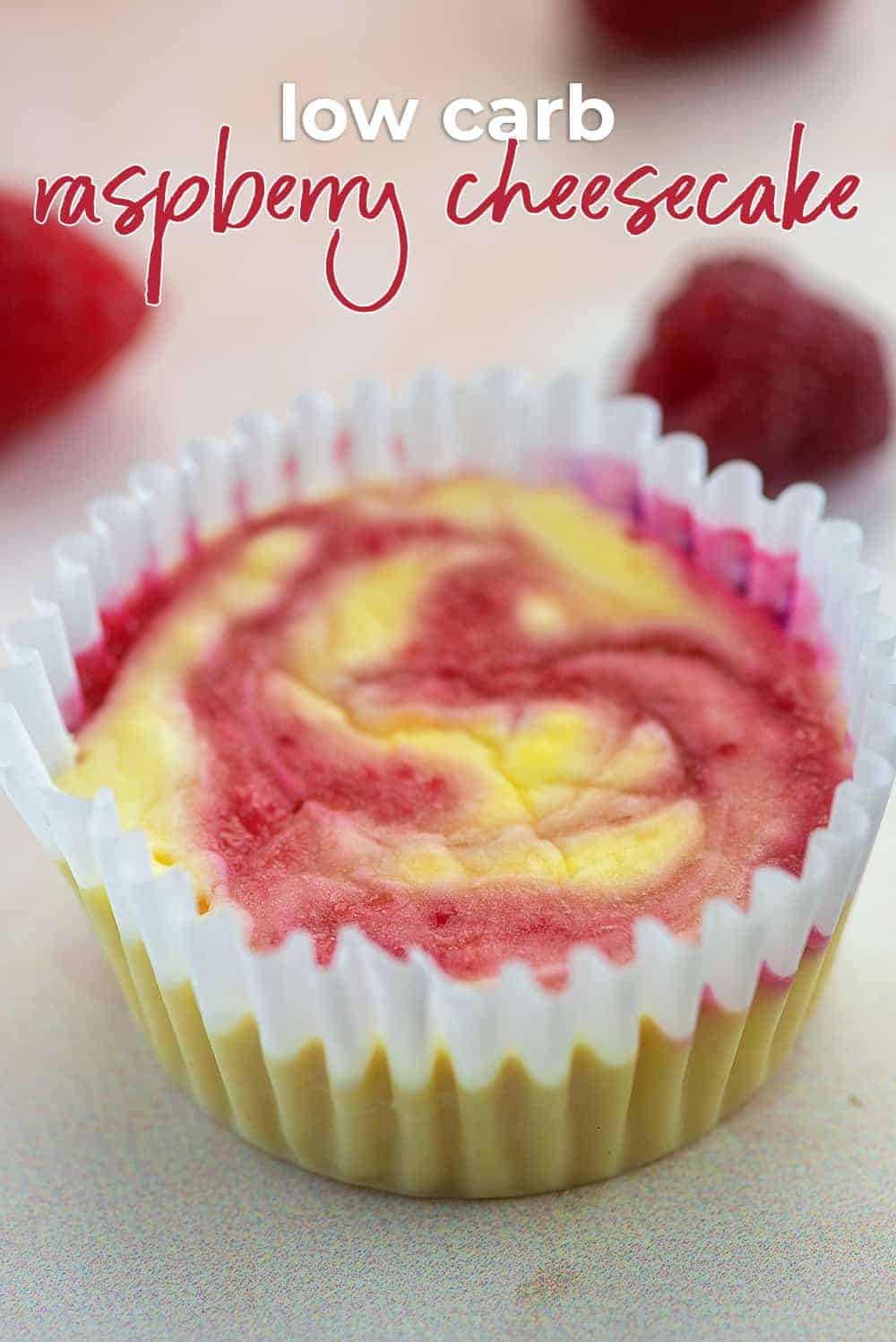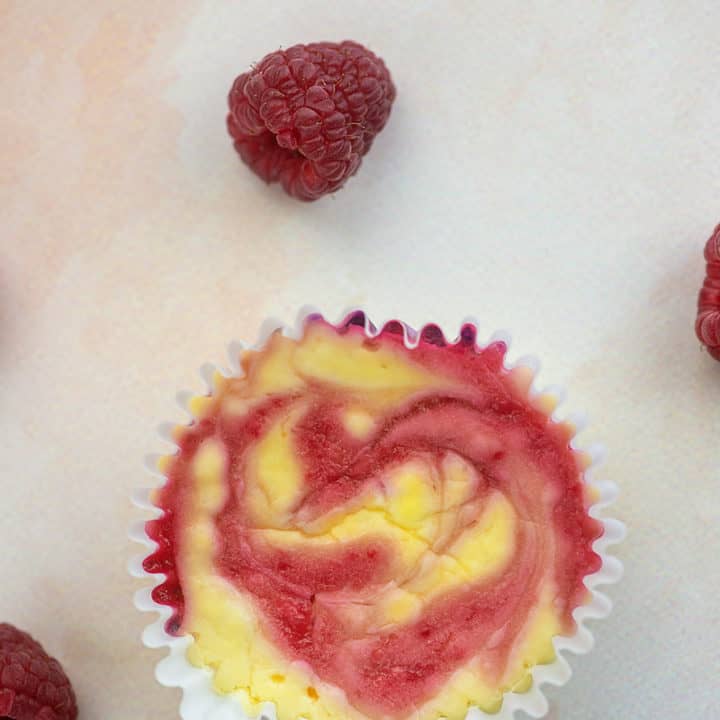 Raspberry Swirl Cheesecake
These mini cheesecakes are perfectly creamy and dense with a simple raspberry swirl baked in.
Total Time 4 hours 35 minutes
Ingredients
For the cheesecake:
16 ounces cream cheese, room temperature *see note
2 large eggs, room temperature
2 teaspoons vanilla extract
For the raspberry sauce:
3 ounces fresh raspberries
Instructions
Preheat oven to 325 degrees. Line a muffin tin with paper liners.
Beat together the cream cheese and eggs until smooth and creamy.
Add the sweetener and vanilla to the cream cheese mixture and mix until well combined. Do not overmix.
Pour the batter evenly between the 12 muffin wells. Use a large cookie scoop to get evenly sized portions every time.
Add the raspberries and sweetener to a food processor or blender and process until smooth.
Press the mixture through a fine mesh sieve to remove seeds.
Drop 3 dots of raspberry sauce over each cheesecake and swirl through the batter with a toothpick.
Bake for 25 minutes or until just slightly jiggly in the center.
Cool completely on the counter before transferring to the refrigerator to finish cooling.
Notes
Cream cheese should be completely room temperature or you'll have a lumpy cheesecake batter.
Recommended Products
As an Amazon Associate and member of other affiliate programs, I earn from qualifying purchases.
Nutrition Information:
Yield: 12
Serving Size: 1 cheesecake
Amount Per Serving:
Calories: 150
Total Fat: 14g
Saturated Fat: 8g
Trans Fat: 0g
Unsaturated Fat: 4g
Cholesterol: 69mg
Sodium: 131mg
Carbohydrates: 12g
Net Carbohydrates: 3g
Fiber: 0g
Sugar: 2g
Sugar Alcohols: 9g
Protein: 3g
All information and tools presented and written within this site are intended for informational purposes only. This information is provided as a courtesy and there is no guarantee that the information is accurate.