I'm all about easy meals and our recipe for sheet pan sausage and veggies doesn't disappoint! You'll start with smoked sausage and add in all kinds of colorful veggies for crunch and flavor. This dish is ready from start to finish in about 30 minutes!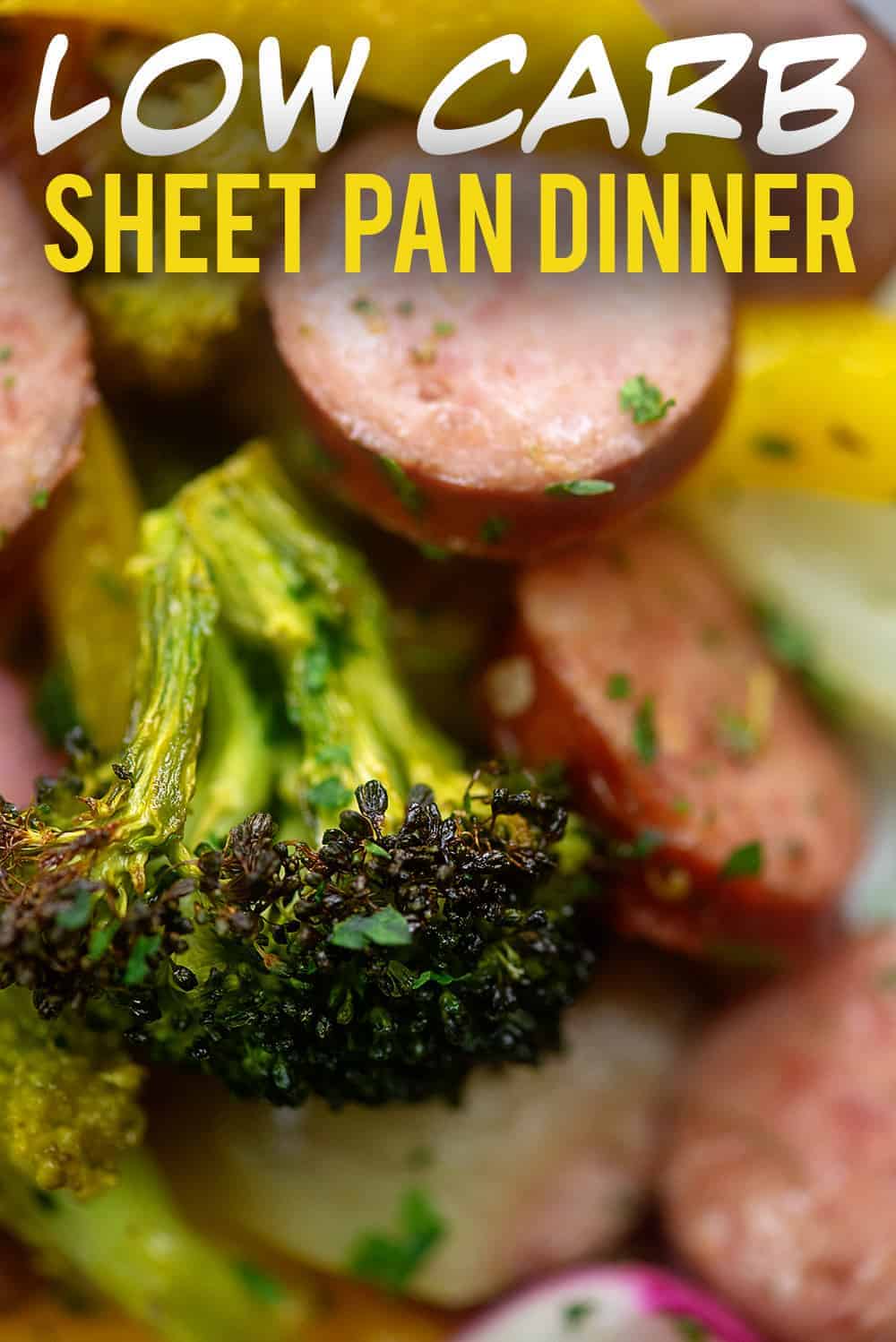 I believe I've mentioned my love of smoked sausage before a few times.
It's just so GOOD. And, bonus points, it's about the easiest dang protein you can make. It's pre-cooked, so you just brown it up to warm through. I like to let mine get really browned when I cook it on the stove – those crisp edges are divine. 🙂

This recipe feeds my family of four perfectly and I love that it doesn't feel like a low carb meal. I have no interested in cooking two meals for my family, so getting the kids to eat the same things as the adults is one of my top goals here.
What is a sheet pan dinner?
We all know and love a good one dish dinner on the stove and a sheet pan dinner is a very similar concept!
Instead of spending time slaving away over the stove, you'll put all of your dinner components on a sheet pan and pop it in a hot oven.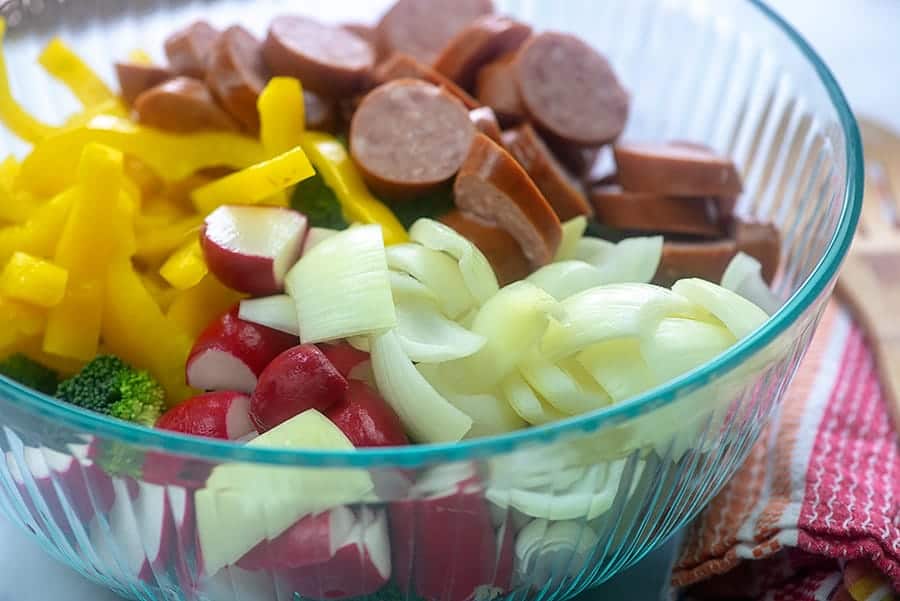 The options are really endless – you just want to cut things so that they'll cook in the same amount of time.
A tiny piece of bell pepper might cook a whole lot faster than a large chunk of radish, so when you're preparing your sheet pan dinner, just keep that in mind and you're good to go!
You can also add things in at different times so everything finishes up at the same time.
Ingredient Notes:
Smoked Sausage – It's so flavorful and goes great with veggies! Plus, it's just about the easiest protein to cook.
Veggies – You can really use whatever combo of veggies you like here. I'm using diced yellow bell pepper, broccoli florets, halved radishes, and chopped onion.
Avocado Oil – To keep everything from sticking to the sheet pan, plus it adds flavor!
Seasoning – Some salt, pepper, Italian seasoning, and minced parsley will go nicely with the sheet pan veggies.
What Readers Are Saying:
"So easy to make and so yummy! Thank you so much for sharing." – Theresa
How To Make A Sheet Pan Dinner:
Sausage & Veggies – This sheet pan dinner is starting off with smoked sausage. You'll slice it into 1/4 – 1/2 inch thick rounds and add that to a bowl along with some vegetables. You can adjust the vegetables a bit to fit your preferences, but today I'm using a mish mash of low carb goodies such as: broccoli, bell pepper, radishes, and onion.
Bell peppers and onion do have a higher carb content than some vegetables, so use them in moderation. I'm using 1 whole pepper and a half onion. If you've never had roasted radishes, please just trust me and give them a try! They completely mellow out and lose that spicy bite. They get a bit juicy in the oven. Really really good!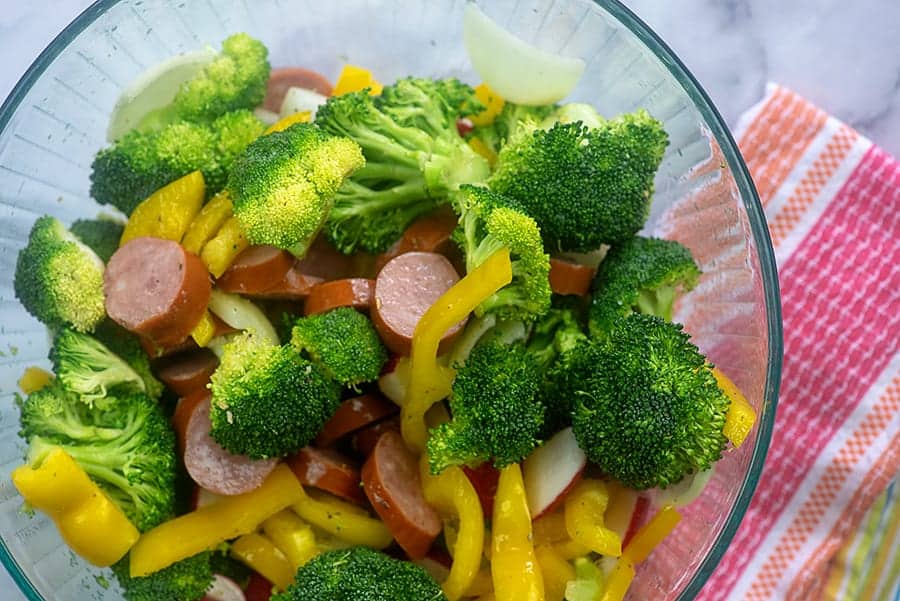 Seasoning – Once all of your ingredients are in a mixing bowl, drizzle on some avocado oil. Season with salt, pepper, and Italian seasoning and give it all a stir.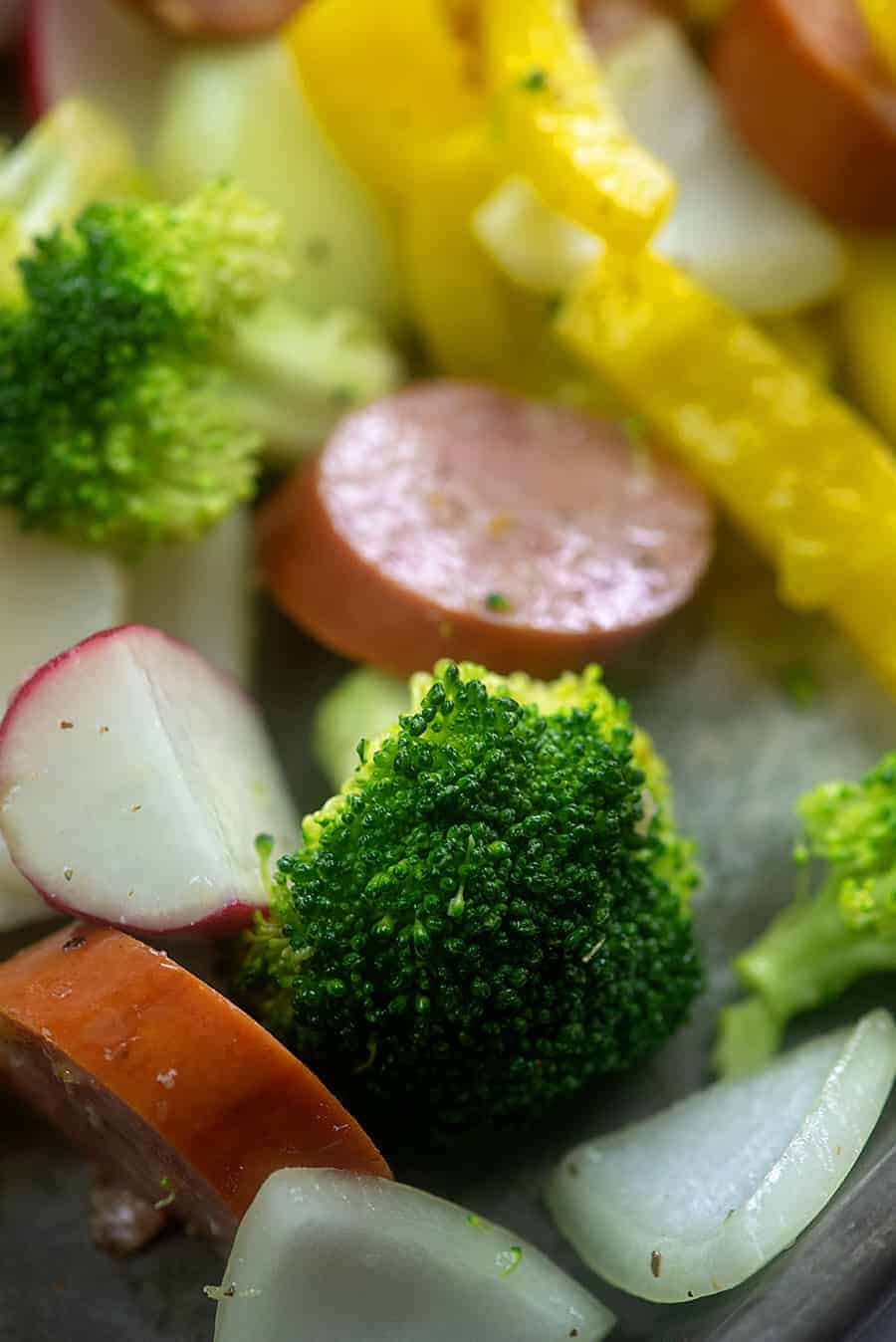 Roast – Pour your mixture onto a sheet pan and pop it in a hot oven for around 20 minutes. Stir halfway through and that's it! Dinner is served. The broccoli gets nice and roasted, which is outrageously good. The sausage gets a bit browned all around. The roasted veggies are nice and tender. It's just a total win.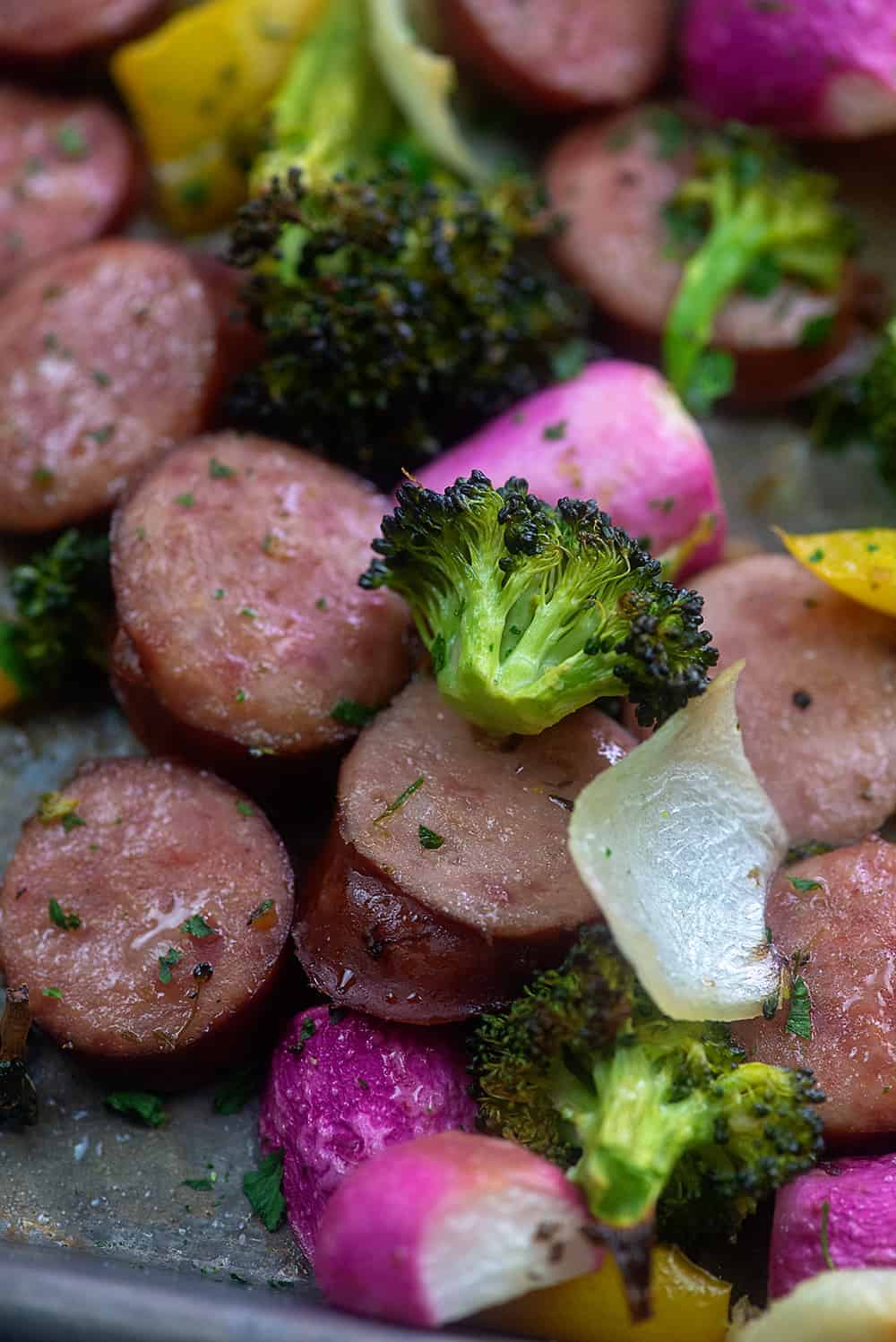 FAQs:
What brand of smoked sausage is low carb?
I've scoured the grocery store looking for the best tasting and lowest carb smoked sausage. So far, I believe that Hillshire Farms makes the best options. (This is not sponsored. Just sharing what I like in my house!) You can use their Hillshire Farms Naturals Smoked Sausage, which has 1g carbs per 2 ounces. This one is my favorite. Another option is the Hillshire Farms Lite Smoked Sausage. It's actually less than 1g carbs per 2 ounces and it's about half the fat of the original. It's main ingredient is turkey rather than pork. This one is good if you're watching calories and fat.
Can I use an air fryer?
I haven't tried it with this exact recipe but I don't see any reason why this wouldn't work just as easily in an air fryer. You may need to adjust the time and temp a bit but the seasoned sausage and veggies should air fry nicely.
How to store leftovers?
You can keep any leftovers in the fridge for 2 to 3 days as long as they are sealed in an airtight container. Reheat either in the microwave or in the oven.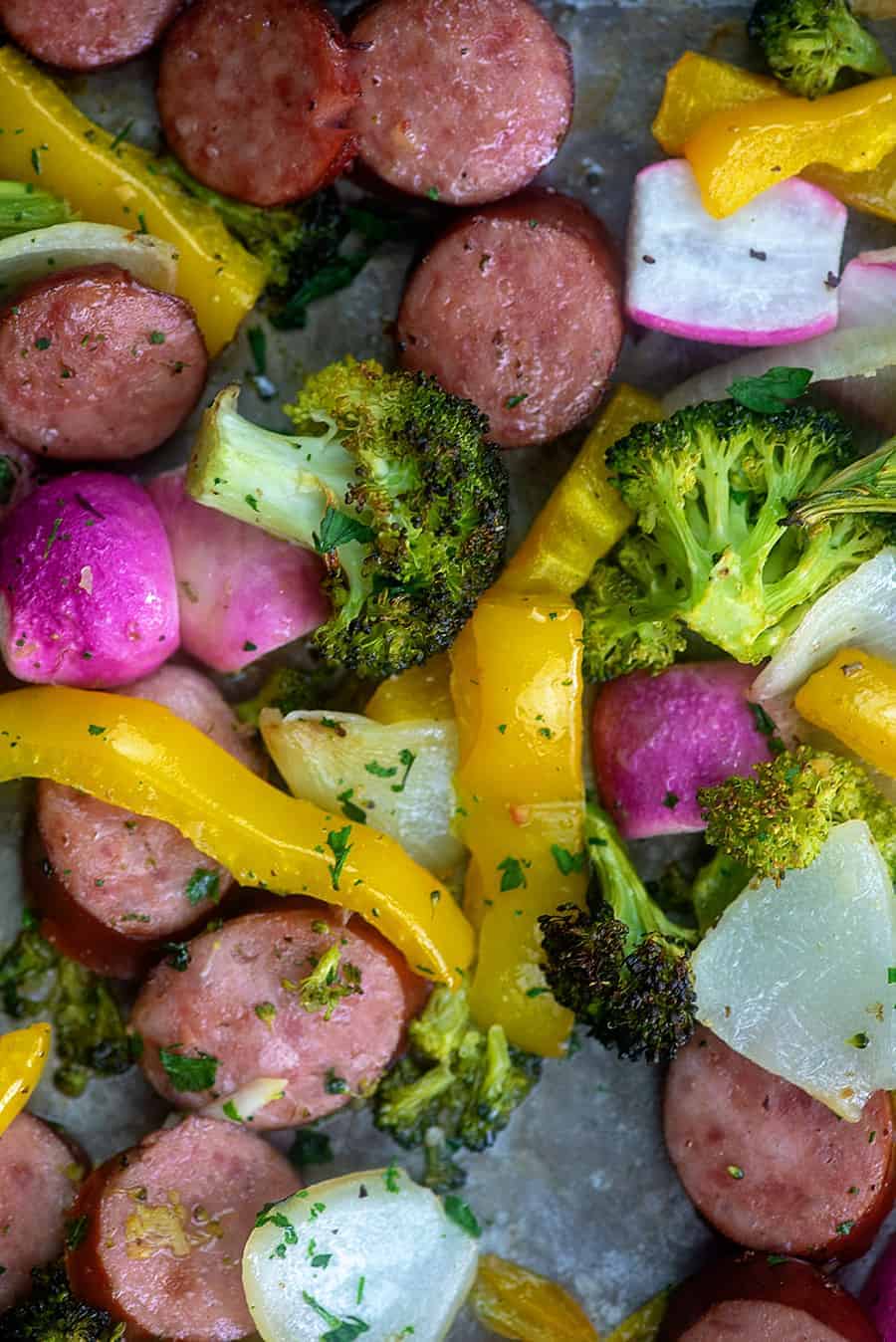 More Smoked Sausage Recipes: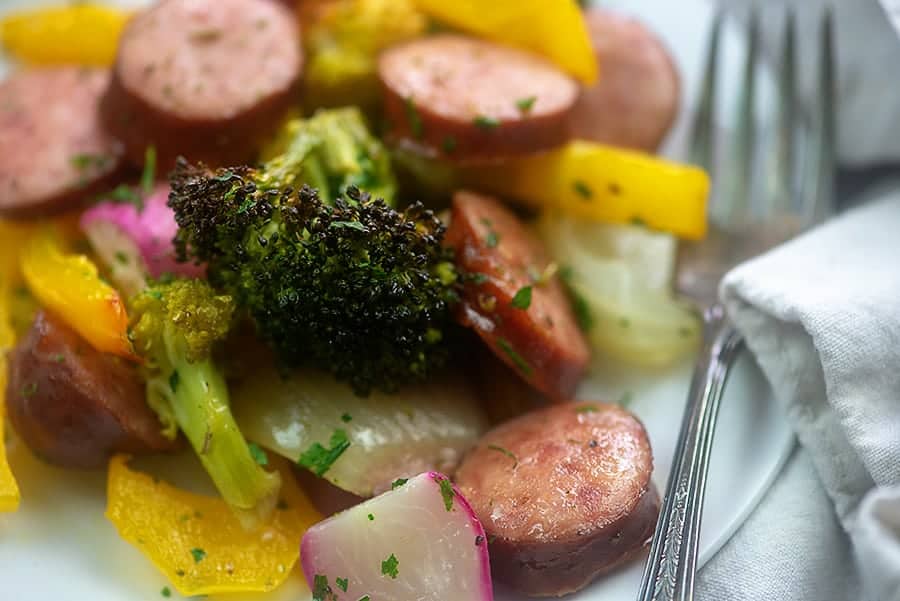 More Sheet Pan Recipes: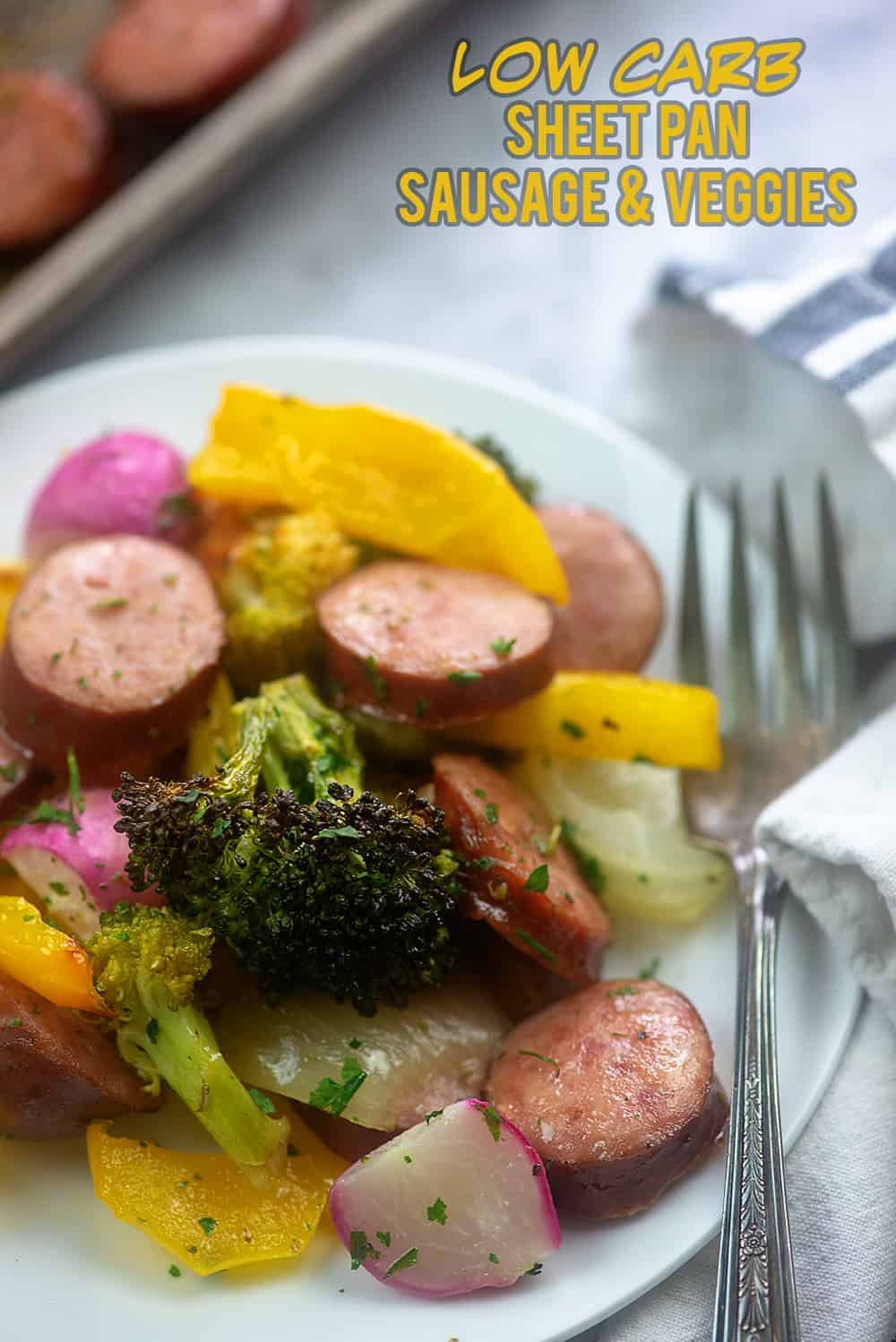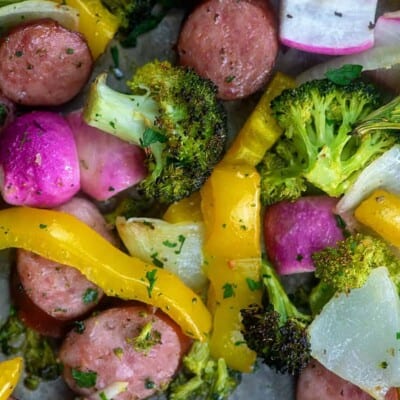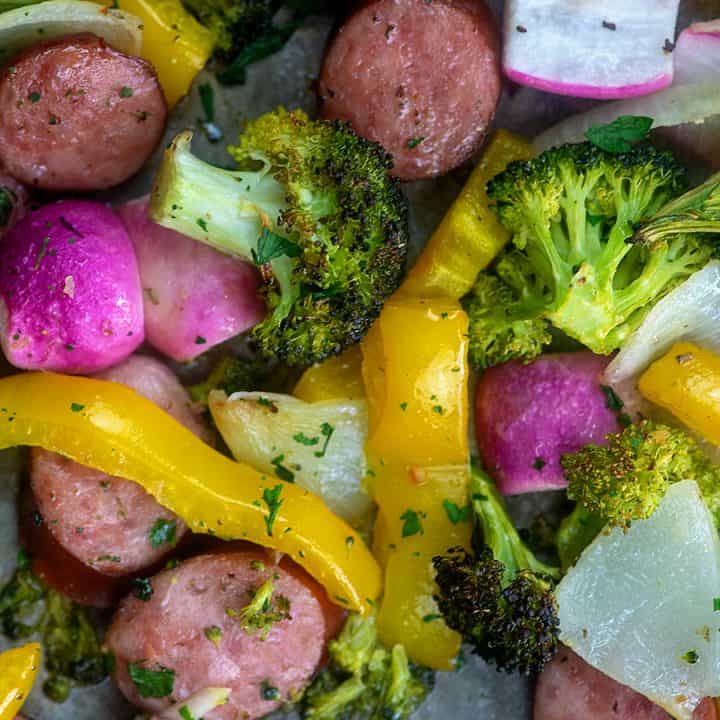 Sheet Pan Sausage and Veggies
This sheet pan dinner is ready in less than 30 minutes and it tastes amazing. We love the roasted broccoli and sweet onion paired with the smoked sausage.
Prep10 minutes
Cook20 minutes
Total30 minutes
Ingredients
16 ounces smoked sausage
1 yellow bell pepper diced
12 ounces broccoli florets
1 cup halved radishes
½ onion chopped
2 tablespoons avocado oil
1 teaspoon salt
1 teaspoon Italian seasoning
½ teaspoon cracked pepper
1 tablespoon minced fresh parsley
Instructions
Preheat oven to 400 degrees. Spray a sheet pan with non-stick spray.

Add all of the ingredients except for the parsley to a large mixing bowl and stir well to combine.

Spread the mixture onto the prepared sheet pan in a single layer and bake for 20 minutes, stirring once halfway through.

Remove from the oven and sprinkle with fresh parsley before serving.
Tips & Notes:
Be sure to look for a smoked sausage with just 2 carbs per ounce or your nutrition will vary.
Nutrition Information:
Serving: 1| Calories: 460kcal (23%)| Carbohydrates: 11g (4%)| Protein: 16g (32%)| Fat: 39g (60%)| Saturated Fat: 11g (69%)| Polyunsaturated Fat: 23g| Cholesterol: 69mg (23%)| Sodium: 1514mg (66%)| Fiber: 4g (17%)| Sugar: 5g (6%)| Net Carbs: 7g (14%)