Sheet Pan Chicken and Brussels Sprouts is a simple weeknight dinner that's made on one pan for easy clean up! The tangy dijon sauce is so good, you'll find yourself making it again and again. Read below on swaps if you're not a Brussels sprouts fan!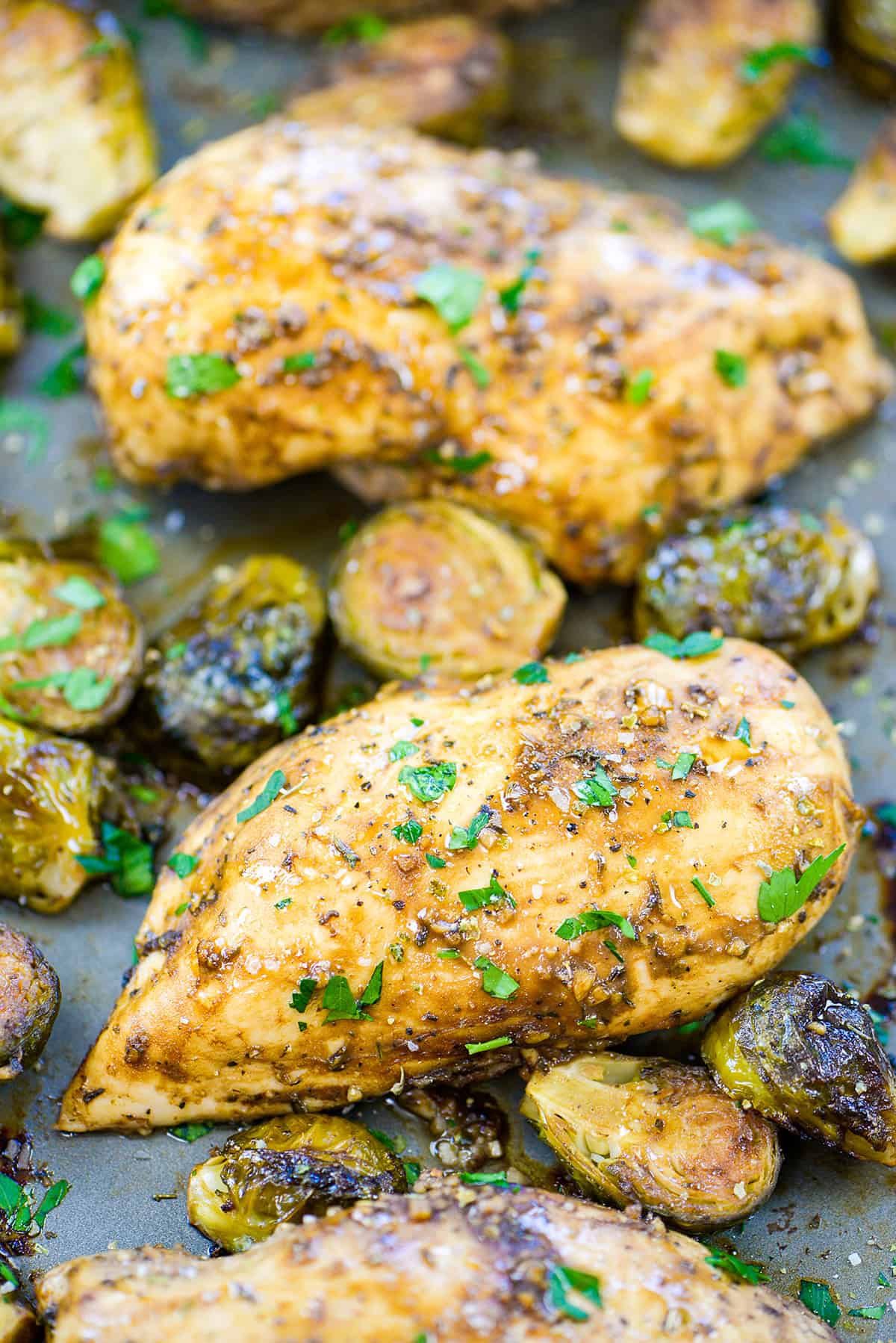 We love an easy weeknight meal – especially one that cooks all on one sheet pan with minimal prep and clean up, is packed with flavor, and includes veggies!
This sheet pan chicken recipe checks all the boxes!
We took the sauce we pour over our Bruschetta Chicken, doctored it up a bit, and made a super flavorful meal that my family has asked for twice since making it just a couple of weeks ago!
We used Brussels sprouts here, because we really love them after they're all roasted and toasty, but you could swap them out for asparagus or broccoli, too!
Ingredient Notes:
This post contains affiliate links. As an Amazon associate and member of other affiliate programs, I earn from qualifying purchases.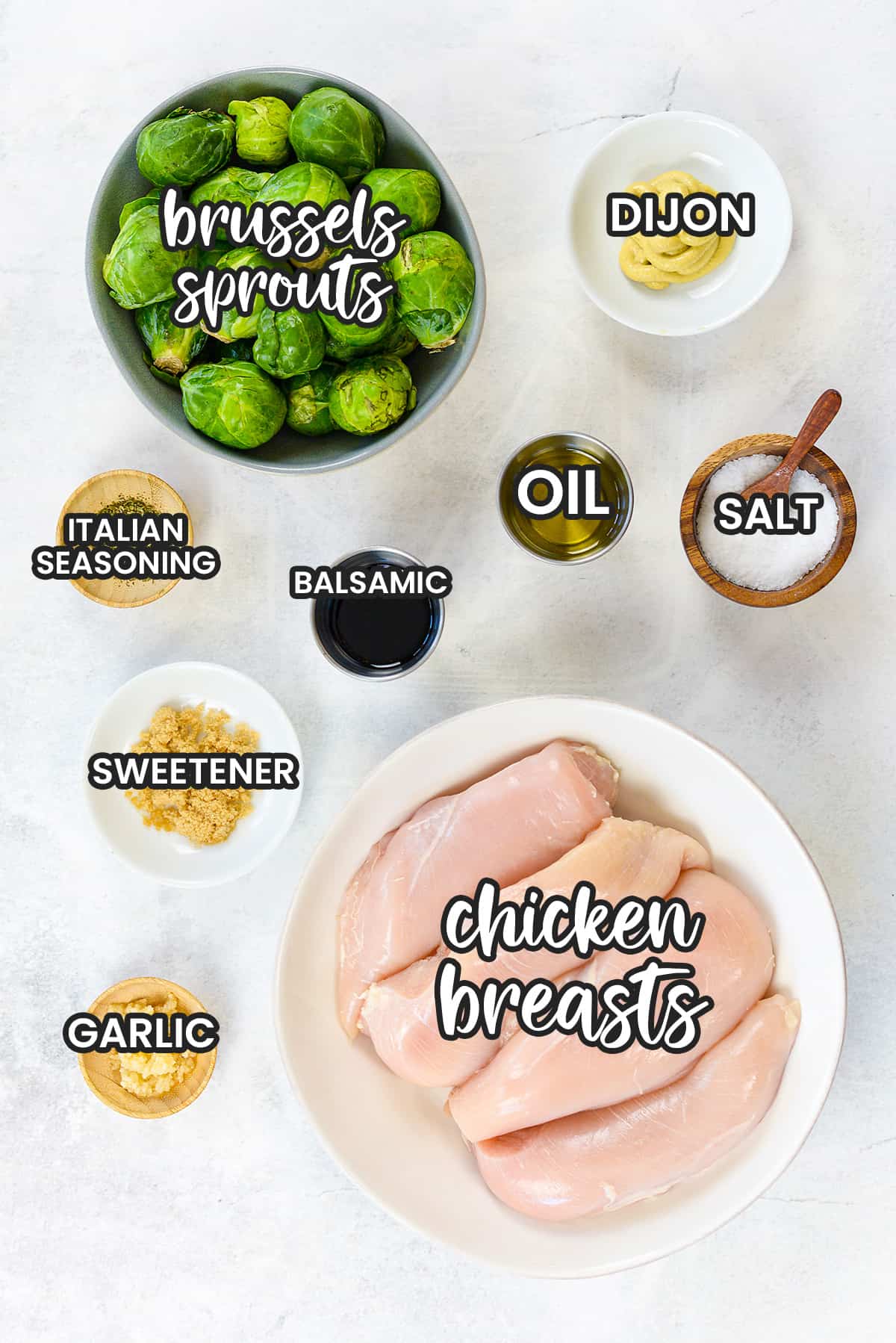 Chicken – I'm using boneless skinless chicken breasts but you could also use chicken thighs. The cook time may vary, especially depending on the size. Use a meat thermometer to make sure the chicken is cooked to an internal temperature of 165 degrees.
Brussels Sprouts – We prefer fresh Brussels sprouts for roasting and that's what we're recommending here.
Sauce – You'll prepare a tangy sauce to drizzle over the chicken and sprouts before baking! It's a mixture of olive oil, balsamic vinegar, and Dijon mustard with seasoning and sweetener. Make sure to use a balsamic vinegar with 2 carbs per tablespoon – many brands have a lot of sugar in them.
Garlic – Some minced garlic is a great way to add flavor! It'll get mixed in with the sauce and then baked up with the chicken and Brussels sprouts.
Brown Sweetener – We use either Lakanto or Swerve. Both have a delicious brown sugar replacement.
Italian Seasoning – This will get mixed into the sauce along with some salt and the brown sweetener. We love these pouches of seasoning so that we can add them to our cute spice jars and keep our spice cabinet looking nice and organized.
Shop Keto Ingredients
We use Thrive Market for a lot of our specialty ingredients and keto snacks or products. Their prices tend to be cheaper than the local stores and I love that you can so easily sort products by diet.
Like Costco, this is a membership site, but we find that it's more than worth it based on the amount we save over the regular grocery store.
They have monthly or yearly plans. Check it out here.
Why We Love This Recipe:
Sheet pan recipes are so simple! Just load everything onto one pan and let the oven roast it all to perfection.
The tangy Balsamic Dijon sauce will add loads of flavor to the chicken and sprouts and the sweetener will help to caramelize it while it roasts.
This is easy to customize – swap the sprouts for broccoli or green beans or swap the chicken breasts for thighs.
How To Make Sheet Pan Balsamic Chicken & Brussels Sprouts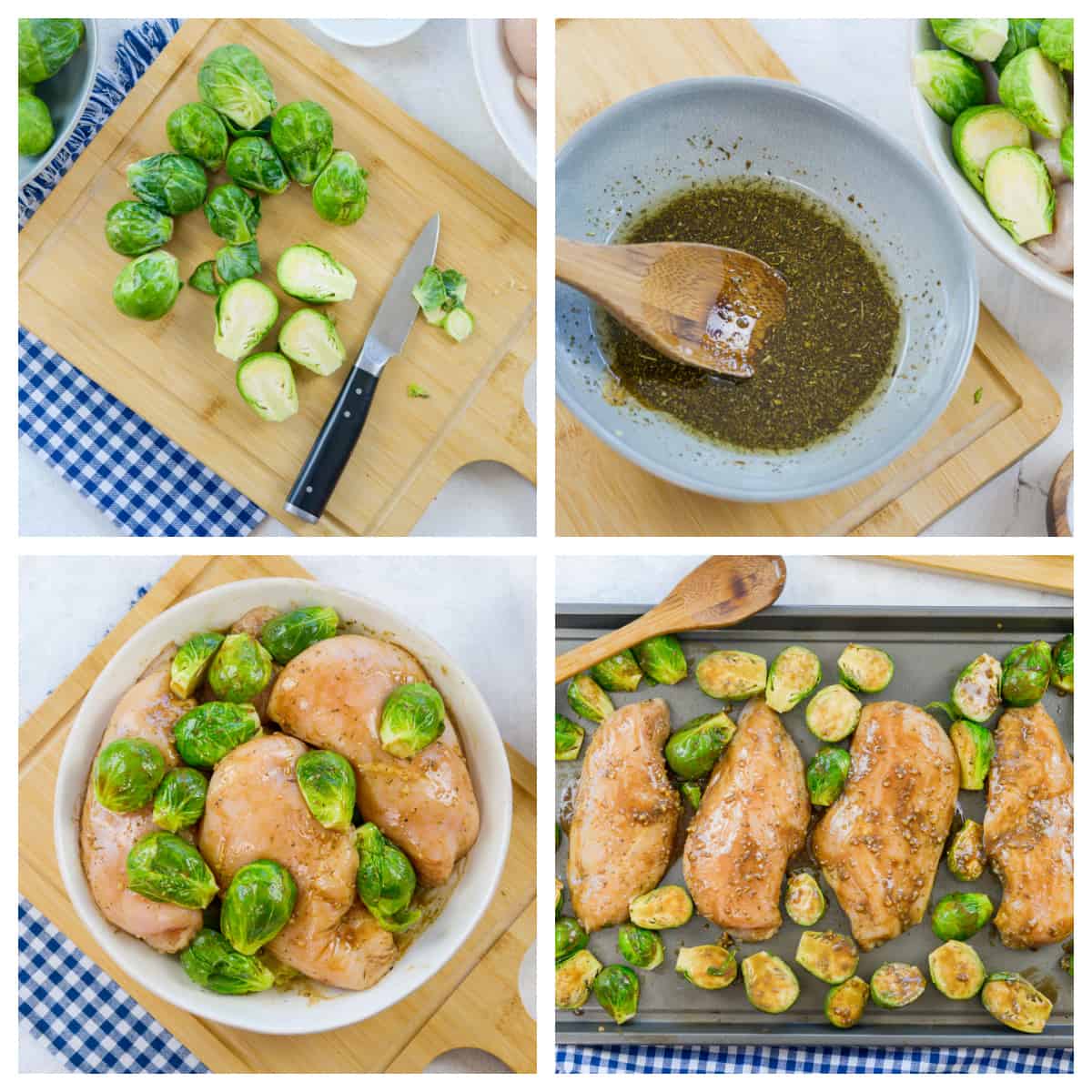 Prepare – Trim the woody ends off the Brussels sprouts and slice them in half. You'll peel off any damaged leaves and discard those.
Sauce – Add the sauce ingredients to a small bowl and whisk it together. You can give this a taste and adjust with more mustard, more Italian seasoning, or more salt, if you think it needs it.
Marinate – When the sauce is ready pour it over the chicken and Brussels sprouts in a shallow dish or zip top bag, and let it sit for 10 to 15 minutes to marinate while your oven preheats. This will help everything soak up those flavors. If you want to make this ahead, you can do so – up to 8 hours in advance.
Bake – Arrange the chicken and Brussels sprouts on a large rimmed sheet pan. You want to make sure there is a bit of space for air to flow between things so that everything cooks evenly and the edges can brown on the Brussels sprouts. You'll want to stir the sprouts gently about halfway through cooking. The sweetener in the sauce should help to caramelize the sprouts a bit. The chicken is finished when it reaches an internal temp of 165. Always check with a meat thermometer to be safe. I've linked to my favorite below!
Serve – Serve the chicken and Brussels sprouts while they're good and hot! We like to top ours with a bit of parsley. This easy sheet pan dinner would go great with a side of garlic butter mushrooms and some keto chocolate pie for dessert!
Our Favorite Meat Thermometer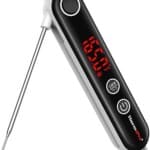 I love using this meat thermometer for making sure the meat is fully cooked! Easy for beginners & absolutely worth the low cost. Just stick it in the thickest part of the meat to check for doneness. This thermometer is also magnetic so it's easy to store right on the side of the fridge or oven for easy access! Get it on Amazon.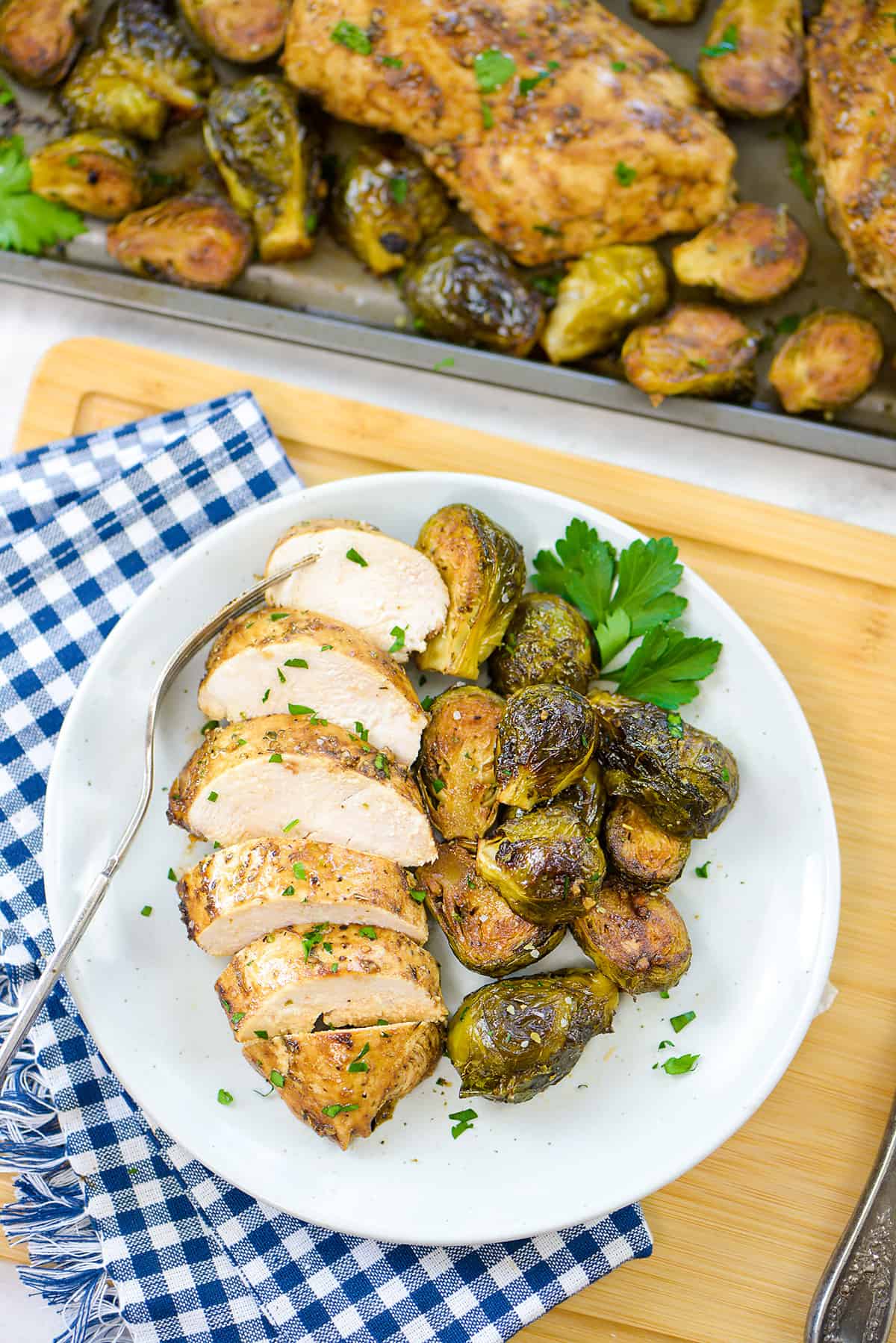 Swaps & Substitutions
Not a fan of Brussels sprouts? Try these veggies instead:
Radishes
Broccoli
Asparagus
Green Beans
Cauliflower
All of these veggies will cook in a similar amount of time to the chicken and will work well with the balsamic dijon sauce!
Not into chicken breast? Swap them for thighs or legs!
Serving Suggestions:
Believe it or not, my kids actually like Brussels sprouts (when they're cooked properly – like this!), but they're definitely not the favorite veggie. I usually serve them up with something else that I know will be a big hit, like our cauliflower mac and cheese or roasted radishes (they taste similar to potatoes and everyone loves them!).
Everyone loves to slather our Keto Cheddar Bay Biscuits in butter and enjoy those with dinner too.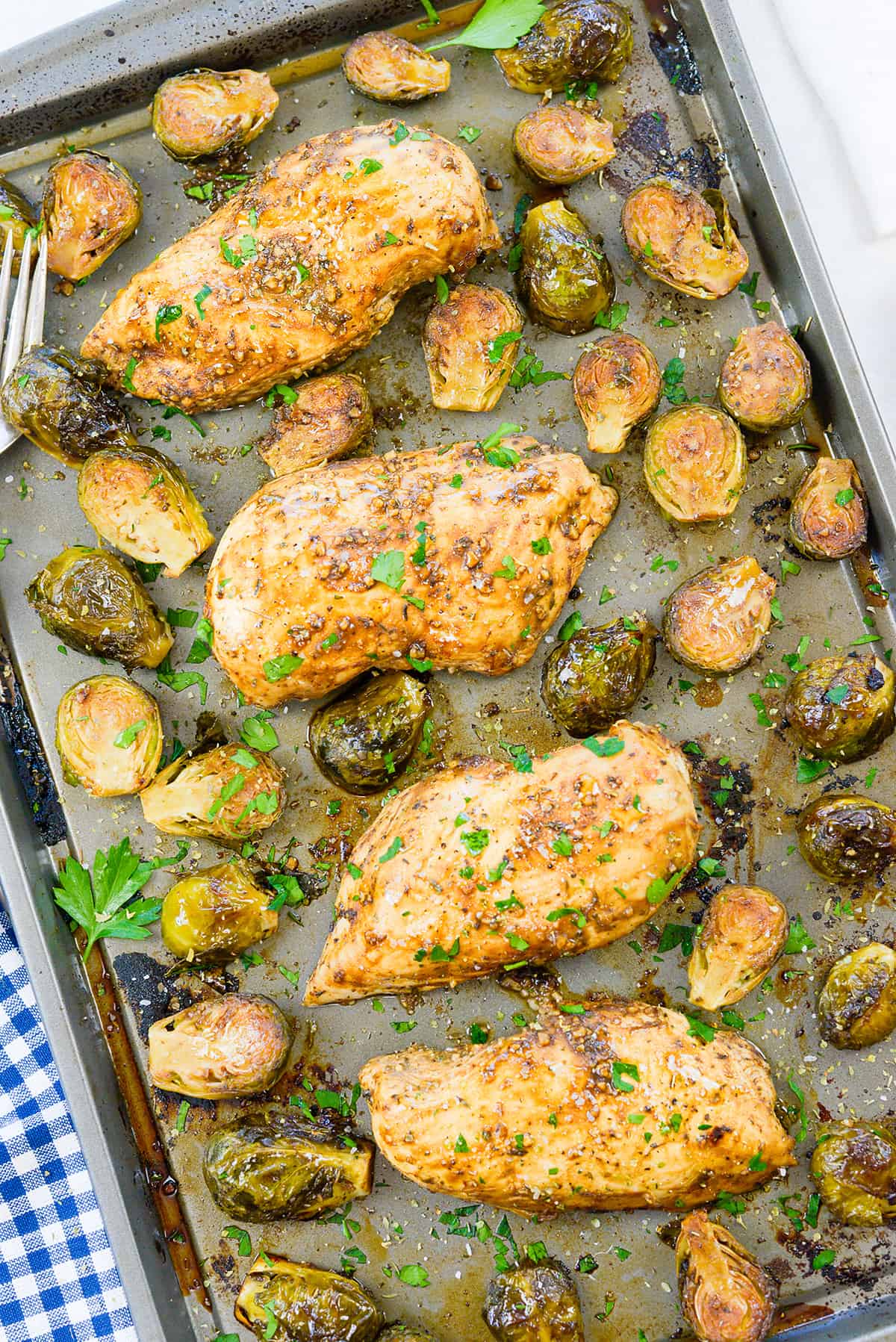 FAQ's:
How to store chicken and Brussels sprouts?
You can keep any leftover chicken and Brussels sprouts in an airtight container in the refrigerator for about 3 days.
Can I use frozen chicken?
You'll want to use fresh or frozen and thawed chicken in this recipe. Do not use frozen chicken.
Can I use chicken thighs?
Sure! They're a good substitute for chicken breast, but the time to bake may be a bit different depending on size and thickness. The best way to make sure they are safe to eat is to use a meat thermometer.
More Sheet Pan Recipes: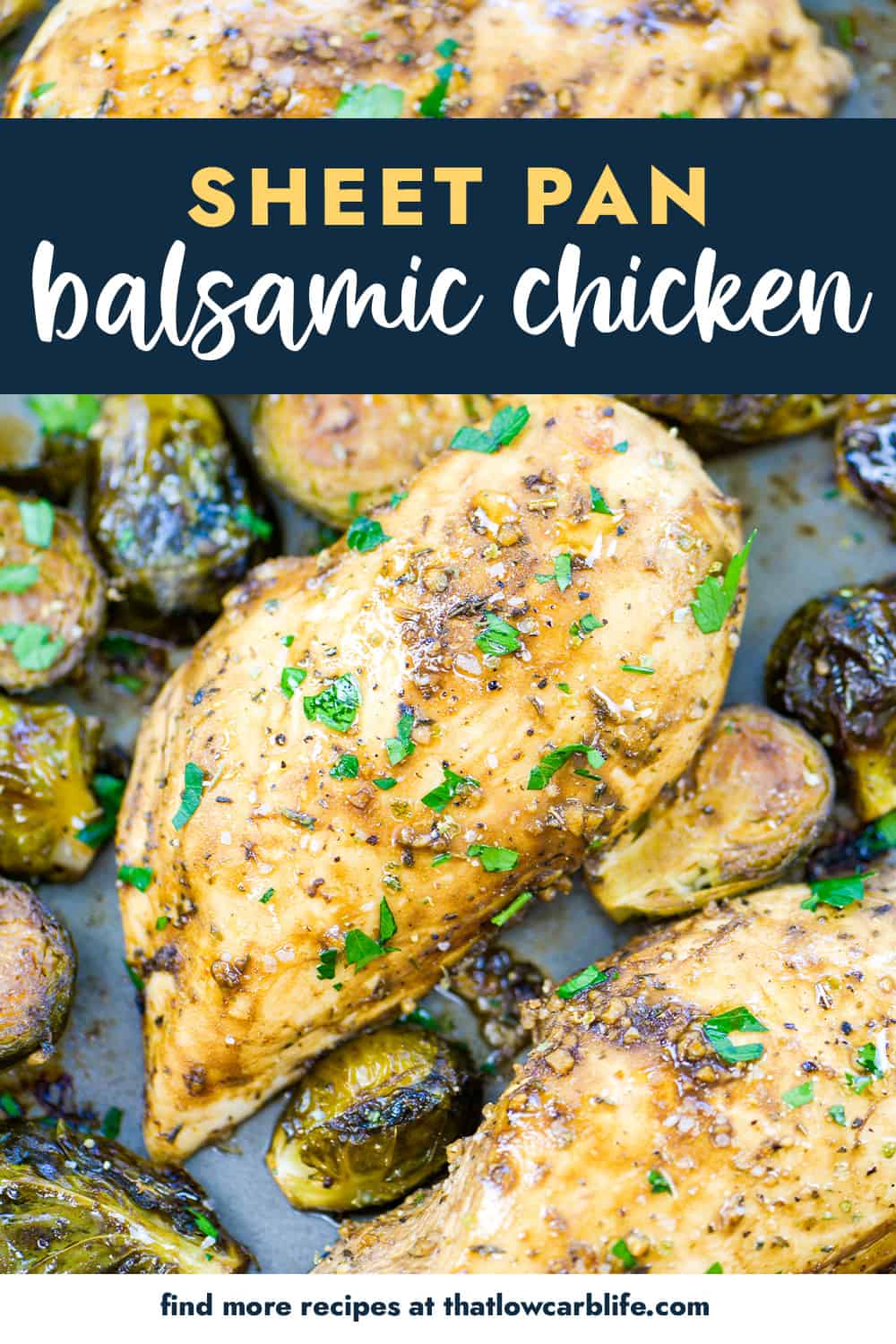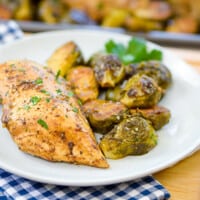 Sheet Pan Chicken and Brussels Sprouts
Sheet Pan Chicken and Brussels Sprouts is a simple weeknight dinner that's made one on pan for easy clean up! The tangy dijon sauce is so good, you'll find yourself making it again and again.
Ingredients
4 boneless, skinless chicken breasts, about 5 ounces each
1 pound fresh Brussels sprouts
3 tablespoons olive oil
2 tablespoons balsamic vinegar
1 tablespoon dijon mustard
1 tablespoon brown sugar replacement
2 cloves garlic, minced
1 teaspoon Italian seasoning
1 teaspoon salt
Instructions
Preheat oven to 400 degrees. Spray a rimmed half sheet pan with non-stick spray.
Add the chicken to a shallow dish or zip top bag.
Trim the ends from the end Brussels sprouts and cut in half, removing any damaged leaves from the outside. Add to the chicken.
Whisk together the remaining ingredients in a small bowl and pour the mixture over the chicken and Brussels sprouts. Let sit for 10-15 minutes while the oven preheats to marinate.
Arrange the chicken down the center of the prepared pan and spoon the Brussels sprouts around the chicken.
Bake for 25-30 minutes, stirring the Brussels sprouts gently halfway through cooking. Bake until chicken reaches an internal temperature of 165 degrees.
Serve hot.
Notes
Our nutrition information is based off a balsamic vinegar with 2 carbs per serving. We use Pompeian brand, easily found at most grocery stores.
You may swap chicken thighs for breasts, if preferred.
Nutrition Information:
Yield: 4
Serving Size: 1
Amount Per Serving:
Calories: 328
Total Fat: 16g
Saturated Fat: 3g
Trans Fat: 0g
Unsaturated Fat: 0g
Cholesterol: 81mg
Sodium: 739mg
Carbohydrates: 13g
Net Carbohydrates: 9g
Fiber: 4g
Sugar: 3g
Protein: 35g
All information and tools presented and written within this site are intended for informational purposes only. This information is provided as a courtesy and there is no guarantee that the information is accurate.