Sheet pan chicken fajitas are an easy way to get Mexican flavor on the table. These keto fajitas can be served over cauliflower rice for a tasty twist on a burrito bowl.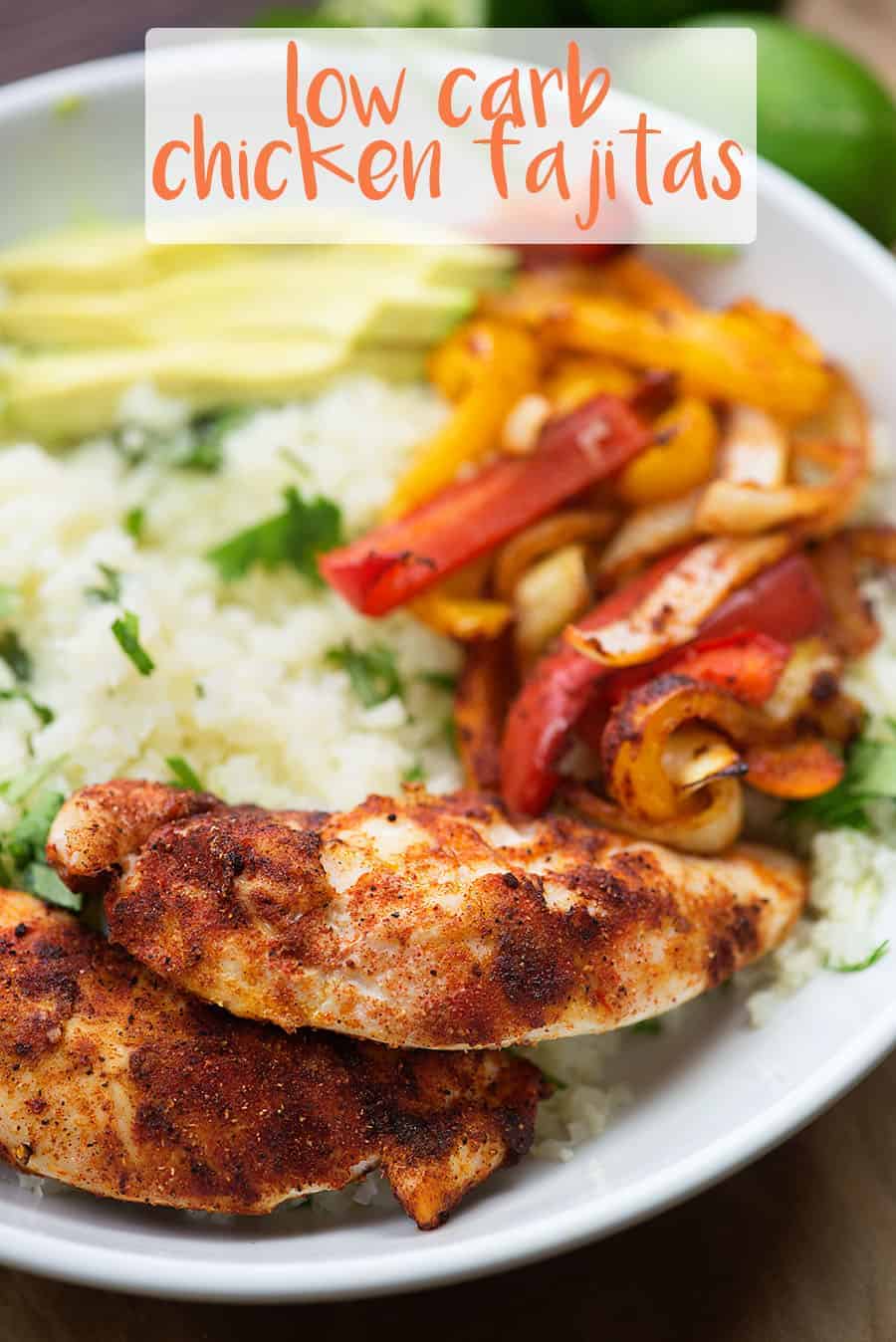 I am generally not one of those girls who says, "I don't know, what you do you want?" when asked where to go for dinner.
My reply is nearly always, "Oh, there's this great Mexican place down the road."
My husband likes Mexican food, but I might have burnt him out a bit. He's more or less stopped asking for my opinion on restaurants. 😉
Low carb Mexican food can be pretty easy to find when eating out, so it's always a good choice for me and I usually go for fajitas. These sheet pan chicken fajitas aren't quite the same as what they serve in the Mexican joints, but they're GOOD.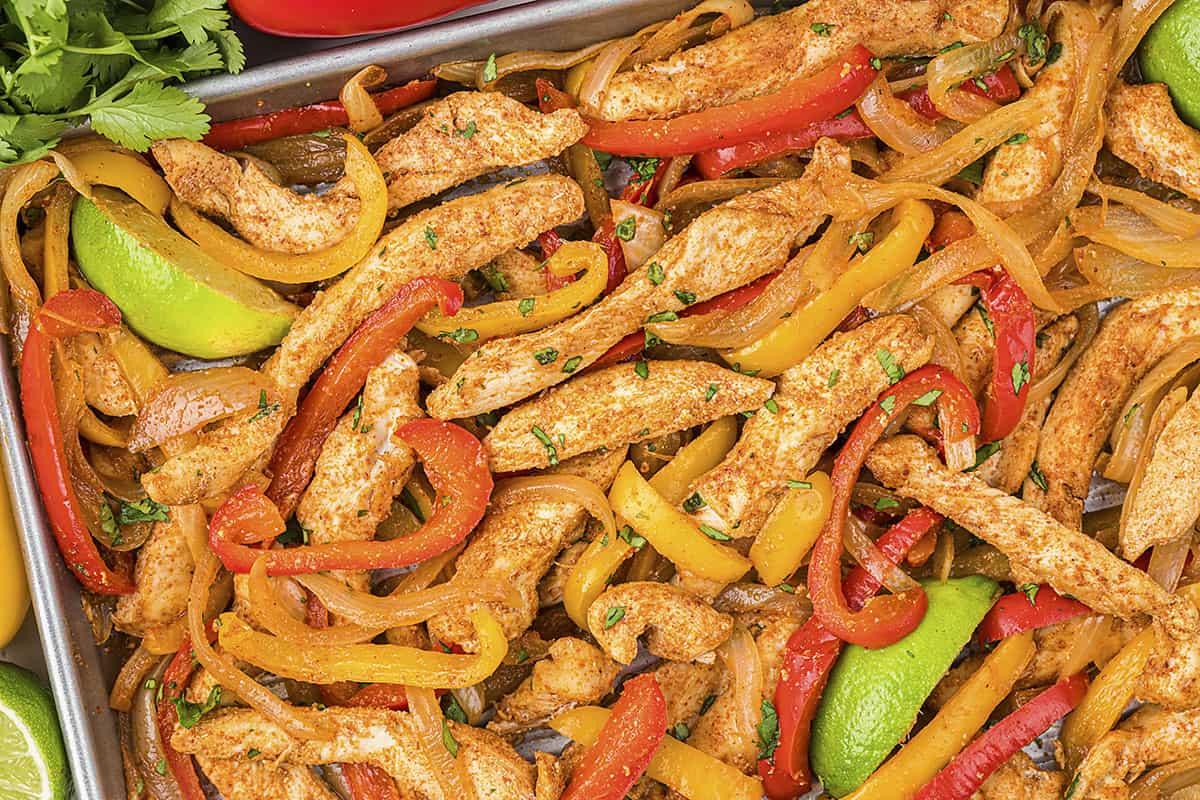 Keto Mexican food:
First, let's just get this out of the way: Guac is low carb. Order it and put it on your entire meal.
Pollo Asada is a good choice – it's just grilled chicken, but it's good grilled chicken. Might not hurt to ask if there is sugar in the marinade though. Top it with queso and guac.
Taco salads are always a win, just skip any beans or tortilla that might come along with it.
And, obviously, steak or chicken fajitas are my favorite choice. Smother them in queso, guac, and sour cream. So good!
What keto Mexican food do you order when you go out to eat?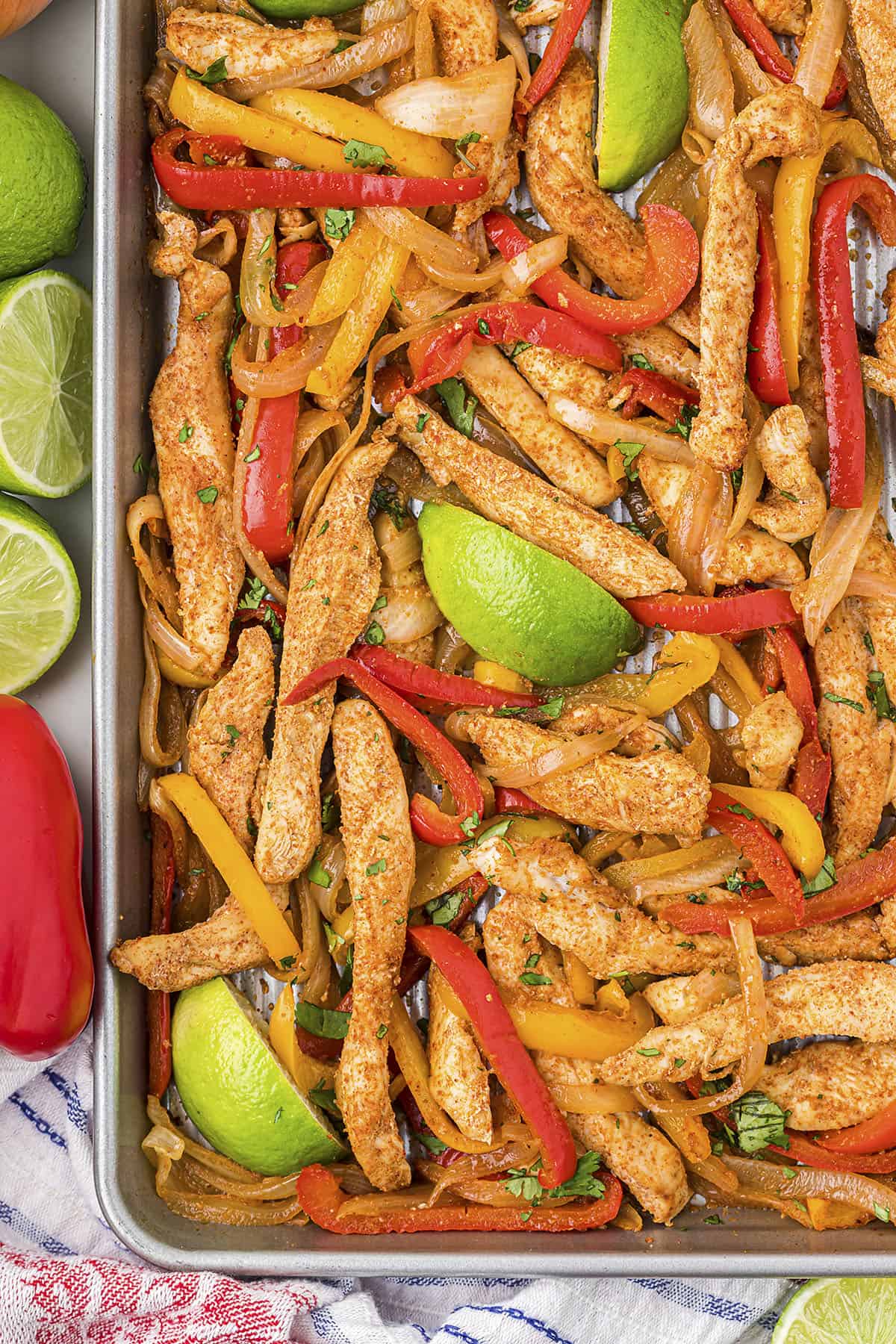 Keto chicken fajitas:
For my sheet pan fajitas, we're going to keep things super simple with a homemade fajita seasoning, some chicken tenderloins, and sliced onions and peppers.
You can use any color of pepper that you prefer, but do note that red peppers are bit higher in carbs that green. I still nearly always go for the red peppers, because I prefer the taste. You do you.
To start, you'll prepare the fajita seasoning. Recipe below!
Then, you'll add your chicken and vegetables to a sheet pan, drizzle with olive oil, and sprinkle on that seasoning.
Pop the sheet pan in a 400 degree oven and roast until the veggies are tender and the chicken is cooked through – about 25 minutes.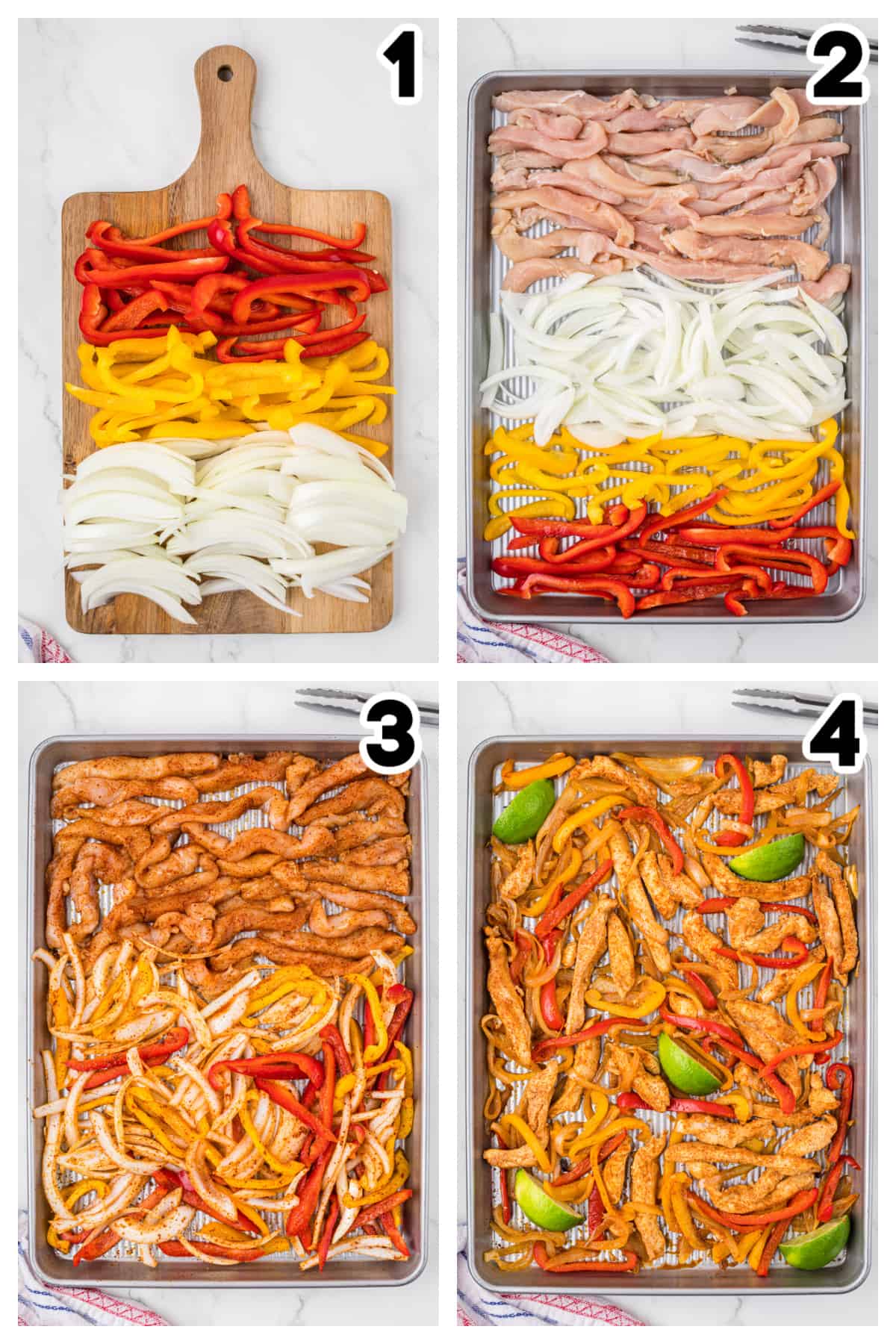 Homemade fajita seasoning:
Those packaged seasoning mixes are often full of fillers and thickening agents like cornstarch. Skip that whole thing and whip up your own.
I just mix together some chili powder, cumin, paprika, garlic powder, onion powder, and salt. You can add in a little chipotle powder if you like your sheet pan chicken fajitas a little on the spicy side.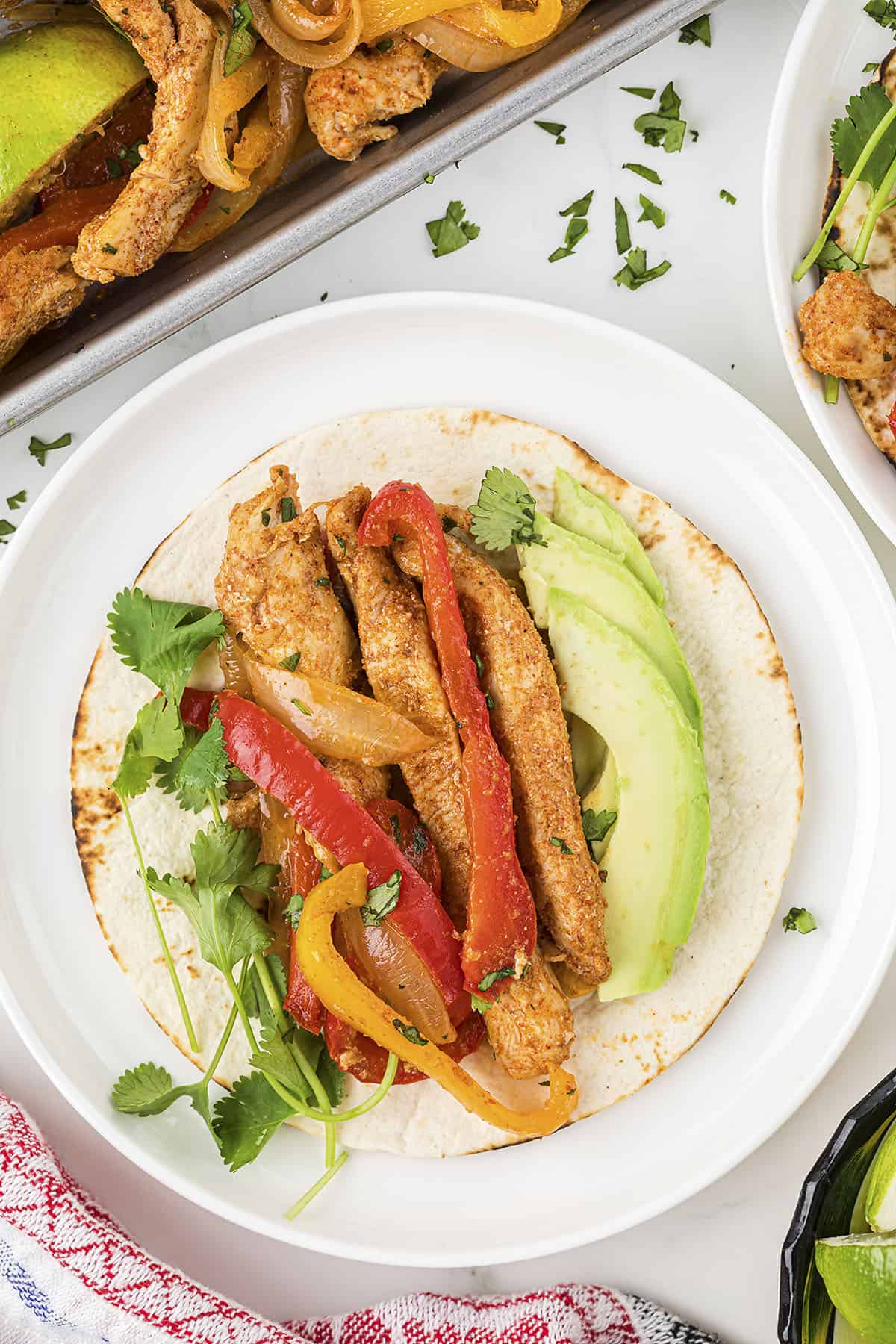 Serve these fajitas in a bowl atop my cilantro lime cauliflower rice, add a side of guac or sliced avocado, a little cheese, and some sour cream. This is some good low carb Mexican food right here. 🙂
If you love Mexican flavors, try my avocado deviled eggs and Mexican meatballs too!
Sheet Pan Chicken Fajitas
Sheet pan chicken fajitas are one of my favorite low carb Mexican foods! Nutrition information is based on the fajitas only and does not include values for any toppings or cauliflower rice.
Prep10 minutes
Cook25 minutes
Total35 minutes
Ingredients
1 pound chicken tenderloins
2 bell peppers sliced
1 onion sliced
2 tablespoon avocado oil
2 teaspoons chili powder
2 teaspoons ground cumin
1 teaspoon paprika
1 teaspoon garlic powder
1 teaspoon onion powder
1 teaspoon kosher salt
Instructions
Preheat oven to 400 degrees.

Add the chicken and vegetables to a sheet pan and drizzle liberally with avocado oil.

Mix together the spices and sprinkle evenly over the chicken and vegetables. Toss to coat.

Bake for 25 minutes or until chicken is cooked through and vegetables are tender.

Serve hot.
Tips & Notes:
Serve over cilantro lime cauliflower rice and top with your favorite low carb taco toppings, such as guacamole, sliced avocado, sour cream, and cheese.
Nutrition Information:
Serving: 1| Calories: 289kcal (14%)| Carbohydrates: 8g (3%)| Protein: 37g (74%)| Fat: 12g (18%)| Saturated Fat: 2g (13%)| Polyunsaturated Fat: 9g| Cholesterol: 96mg (32%)| Sodium: 709mg (31%)| Fiber: 2g (8%)| Sugar: 3g (3%)| Net Carbs: 6g (12%)
Want To Save This Recipe?