This low carb breakast is beyond simple to toss together! You'll just roast some smoked sausage and seasoned radishes (they're very similar to roasted potatoes!) in the oven before cracking on some eggs! Easy peasy and always a hit!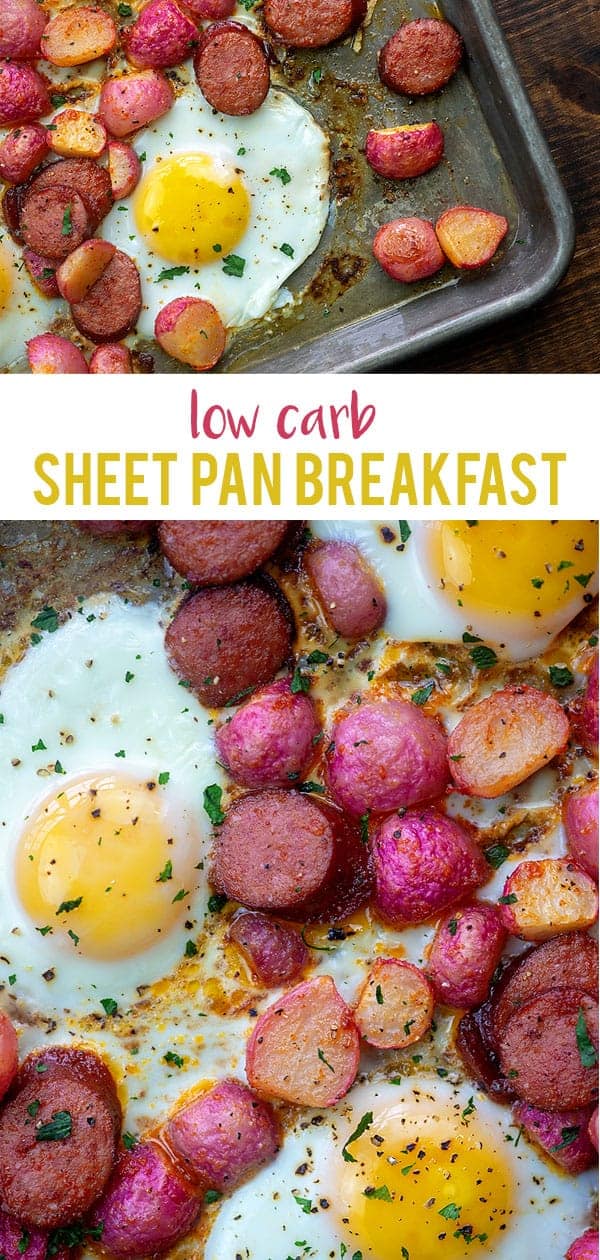 Breakfast seems to be the hardest meal for people that have been low carbing for any length of time.
It's pretty easy to get into that sausage and egg rut, but this easy breakfast recipe puts a little twist on the classic.
We'll start with smoked sausage, since it's something a little different and way super easy.
Then we'll season up some diced radishes and add those to the sheet pan as well.
Before you freak out about the radishes, let me assure you – they mellow out quite nicely and do not have that 'bite' that raw radishes do. They're similar to roasted potatoes.
Next comes some eggs. You just crack them right on the baking sheet.
You ready for the step by step?
How to make this easy low carb breakfast recipe:
You'll want to get your oven good and hot and brush or spray your baking sheet with oil.
Slice the smoked sausage into 1/2 inch coins and scatter them on the baking sheet.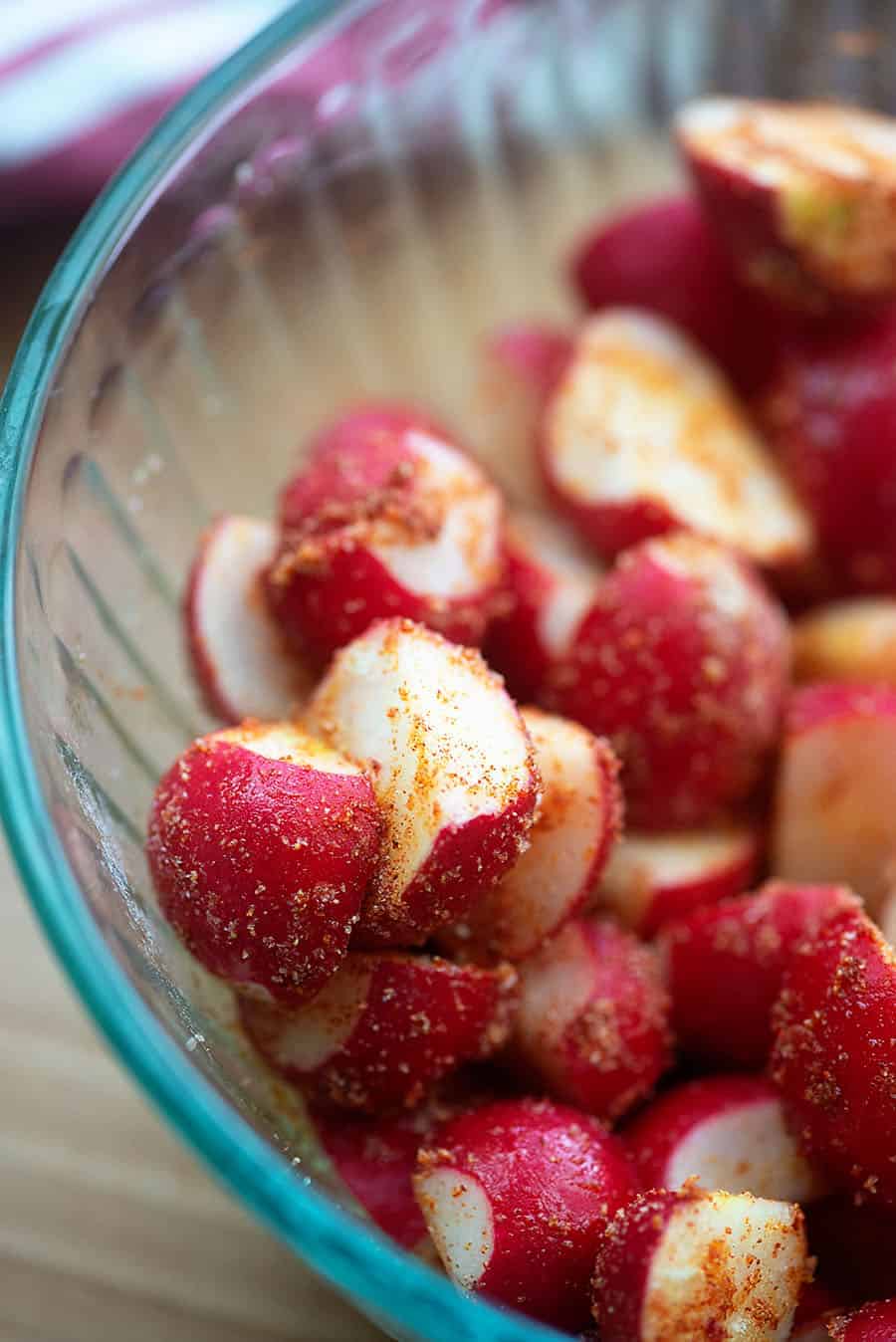 Wash and chop the radishes. If your radishes are small, just cut them in half, if they're a bit larger, cut them into quarters.
Season the radishes with some paprika, garlic powder, onion powder, salt, and pepper. Drizzle with oil and toss well.
Add the radishes to the sheet pan and stir everything together before popping into a hot oven for 15 minutes.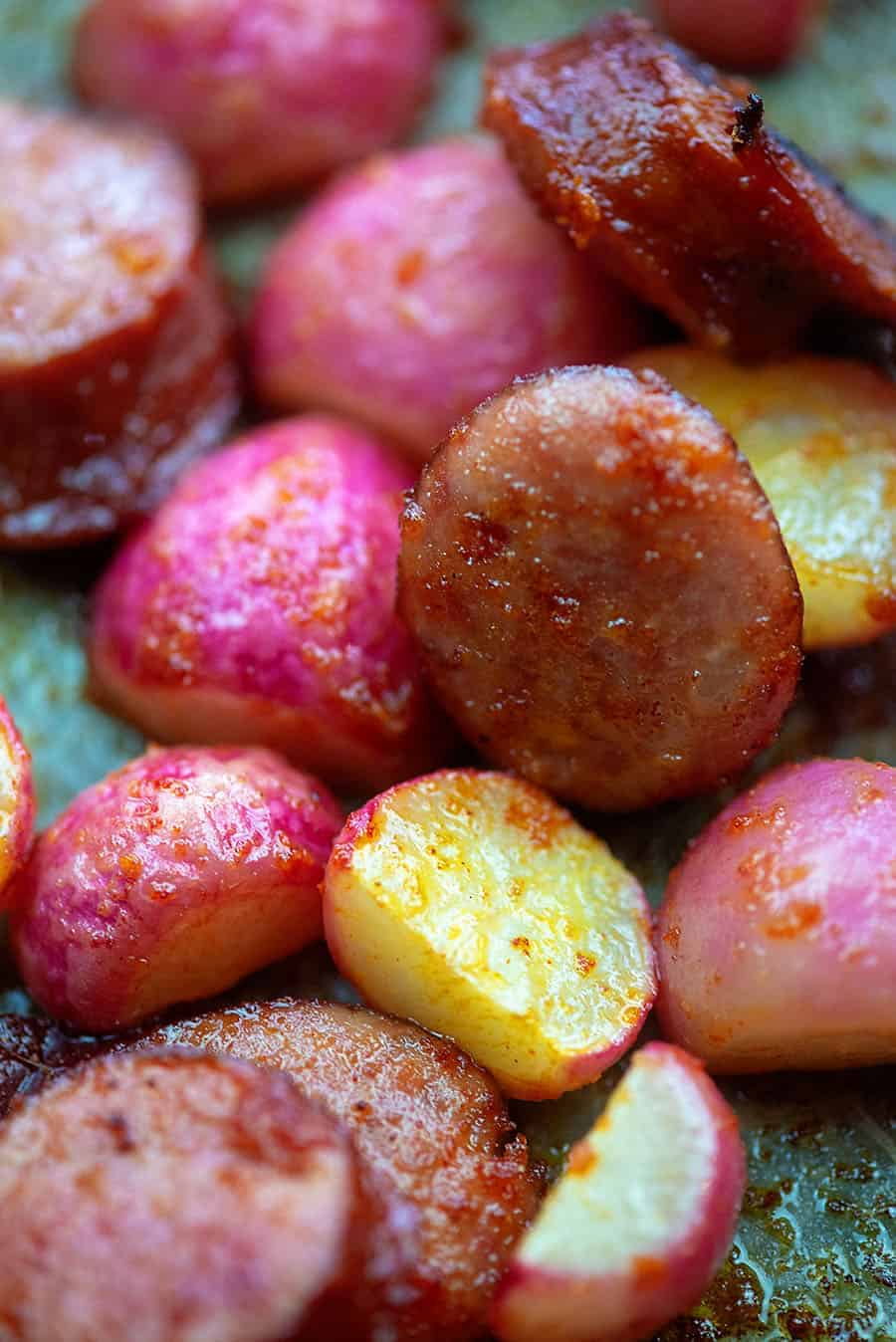 Remove the pan from the oven and give everything a good stir.
Use a spatula to scoot the sausage and radishes around to form 6 little sections for you to crack your eggs into.
Crack on the eggs, sprinkle with salt and pepper, and immediately return to the oven.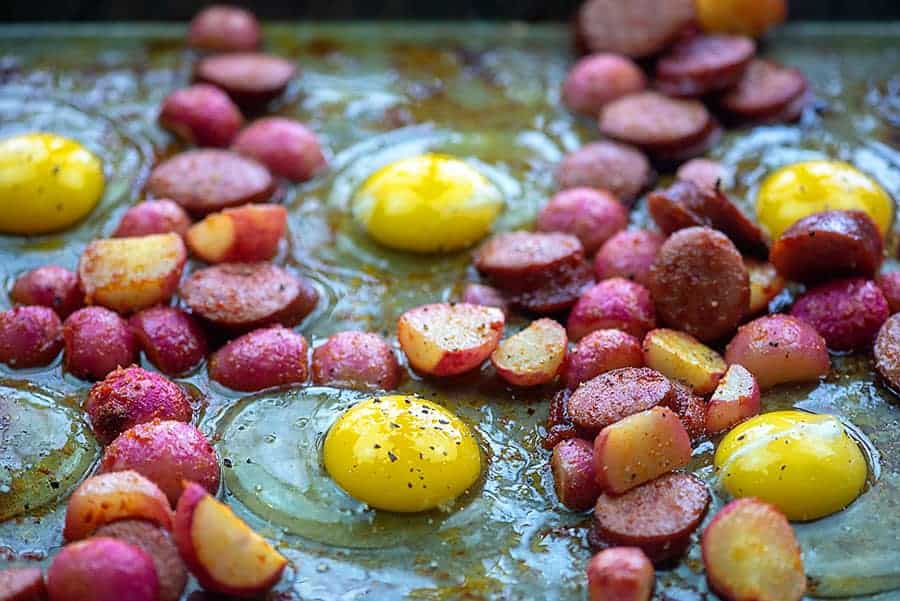 Let this bake for another 5-10 minutes depending on how hard or soft you like your eggs.
Sprinkle on some fresh parsley and get ready to devour!
Isn't this just the easiest?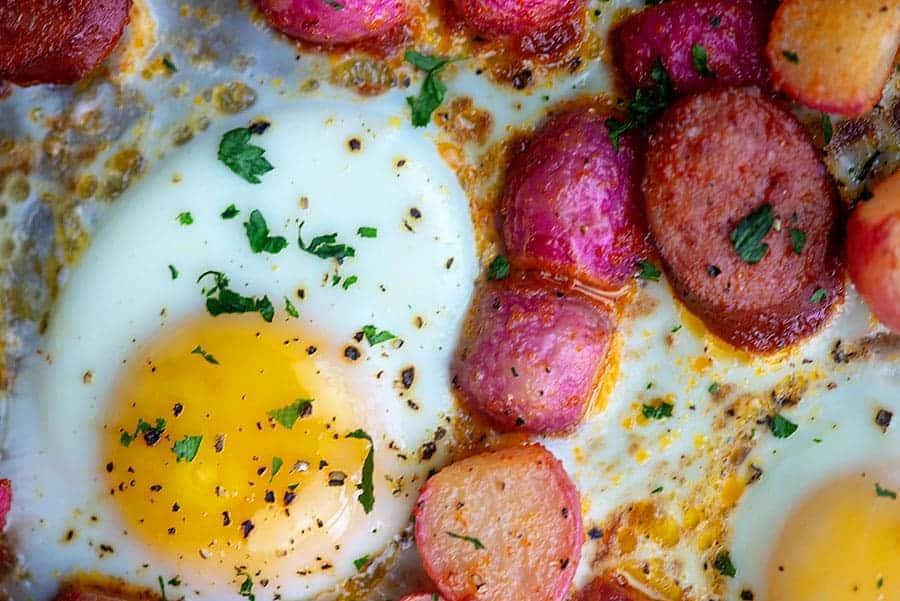 Products used in this recipe:
The below links are affiliate links.
Avocado Oil: I love using avocado oil because it's a neutral tasting oil with a high smoke point. It works in just about anything!
Sheet Pan: I keep tons of sheet pans on hand – you never know when you'll need them.
Smoked Paprika: You can use any old paprika you like, but we love this smoked paprika.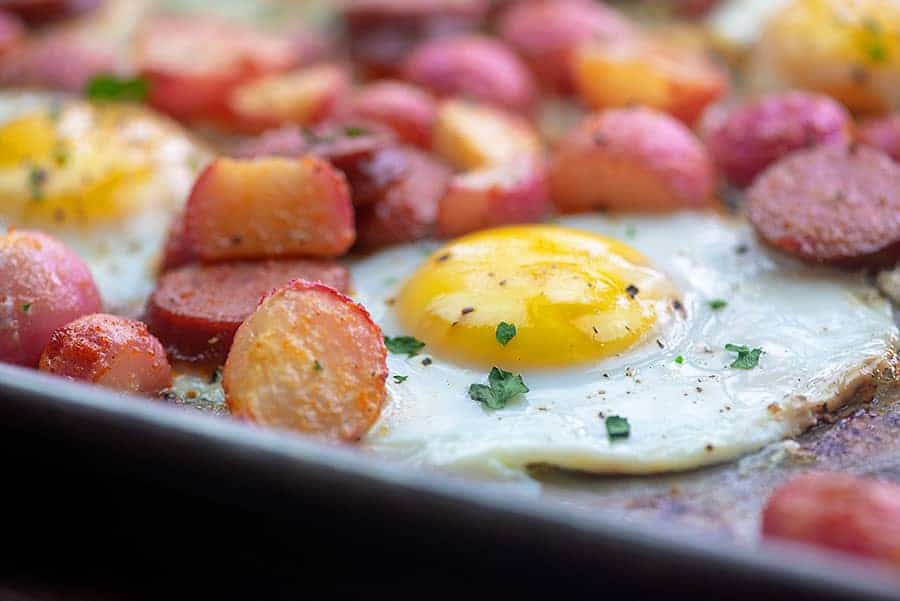 More low carb breakfast recipes to try:
Low Carb Cinnamon Crunch Cereal: How could you resist a bowl of this in the morning?
Breakfast Casserole with Ham: Feeds a crowd!
Frittata Muffins: Stuffed with bacon and broccoli!
Breakfast Burrito: I love a good burrito!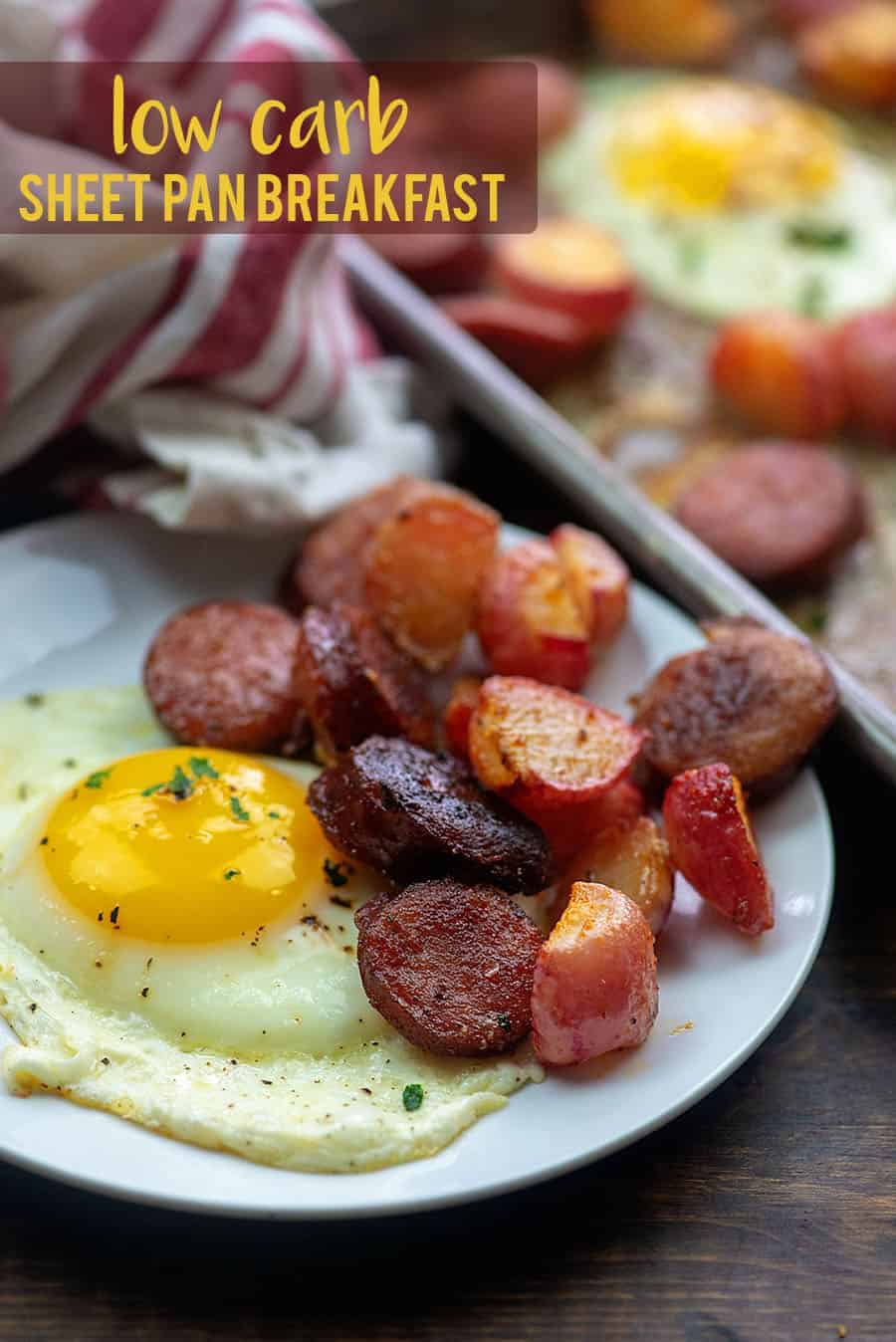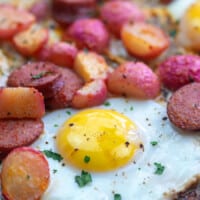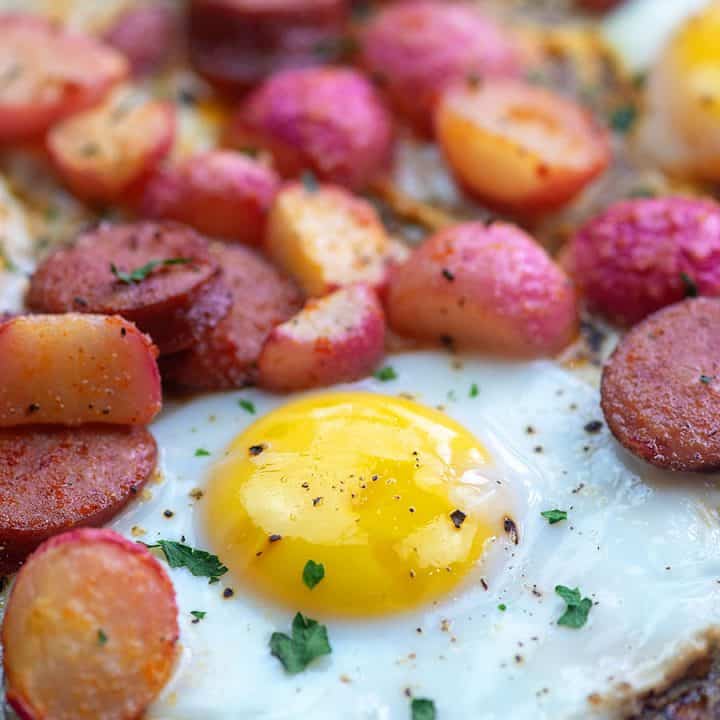 Sheet Pan Breakfast Bake
This sheet pan recipe makes a full breakfast and it's all low carb!
Ingredients
1 pound radishes
2 teaspoons avocado oil
1 teaspoon garlic powder
1 teaspoon onion powder
1 teaspoon salt
½ teaspoon cracked pepper
1/2 pound smoked sausage
6 large eggs
salt and pepper, to taste
fresh parsley, for garnish
Instructions
Preheat oven to 425 degrees. Liberally spray a half sheet pan with non-stick spray or brush liberally with oil.
Chop the radishes into quarters and place in a mixing bowl. Drizzle with oil and toss to coat.
Add the paprika, garlic powder, onion powder, salt, and pepper to the radishes and stir well.
Spread radishes onto the prepared baking sheet.
Slice the sausage in 1/2 inch thick rounds and add to the baking sheet in a single layer amongst the radishes.
Bake for 15 minutes, stirring once halfway through.
Remove the sheet pan from the oven and use a spatula to spread the radishes and sausage to form 6 pockets for the eggs.
Spray the empty spaces liberally with cooking spray.
Crack the eggs into the empty spaces you've created on the pan and return to the oven.
Sprinkle the eggs with salt and pepper, if desired.
Bake for 5-10 minutes or until the eggs are cooked as you prefer.
Sprinkle with chopped parsley before serving, if desired.
Notes
Be sure to oil the pan well to prevent the eggs from sticking.
The nutrition information was calculated based on a smoked sausage with 1 carb per 2 ounce serving.
Recommended Products
As an Amazon Associate and member of other affiliate programs, I earn from qualifying purchases.
Nutrition Information:
Yield: 3
Serving Size: 1
Amount Per Serving:
Calories: 437
Total Fat: 34g
Saturated Fat: 11g
Trans Fat: 0g
Unsaturated Fat: 20g
Cholesterol: 418mg
Sodium: 1533mg
Carbohydrates: 9g
Net Carbohydrates: 6g
Fiber: 3g
Sugar: 4g
Protein: 23g
All information and tools presented and written within this site are intended for informational purposes only. This information is provided as a courtesy and there is no guarantee that the information is accurate.