Chicken fajitas that you can toss in the crockpot! I make these extra cheesy and creamy and serve them over cauliflower rice. My family loves these crockpot chicken fajitas and they couldn't be simpler.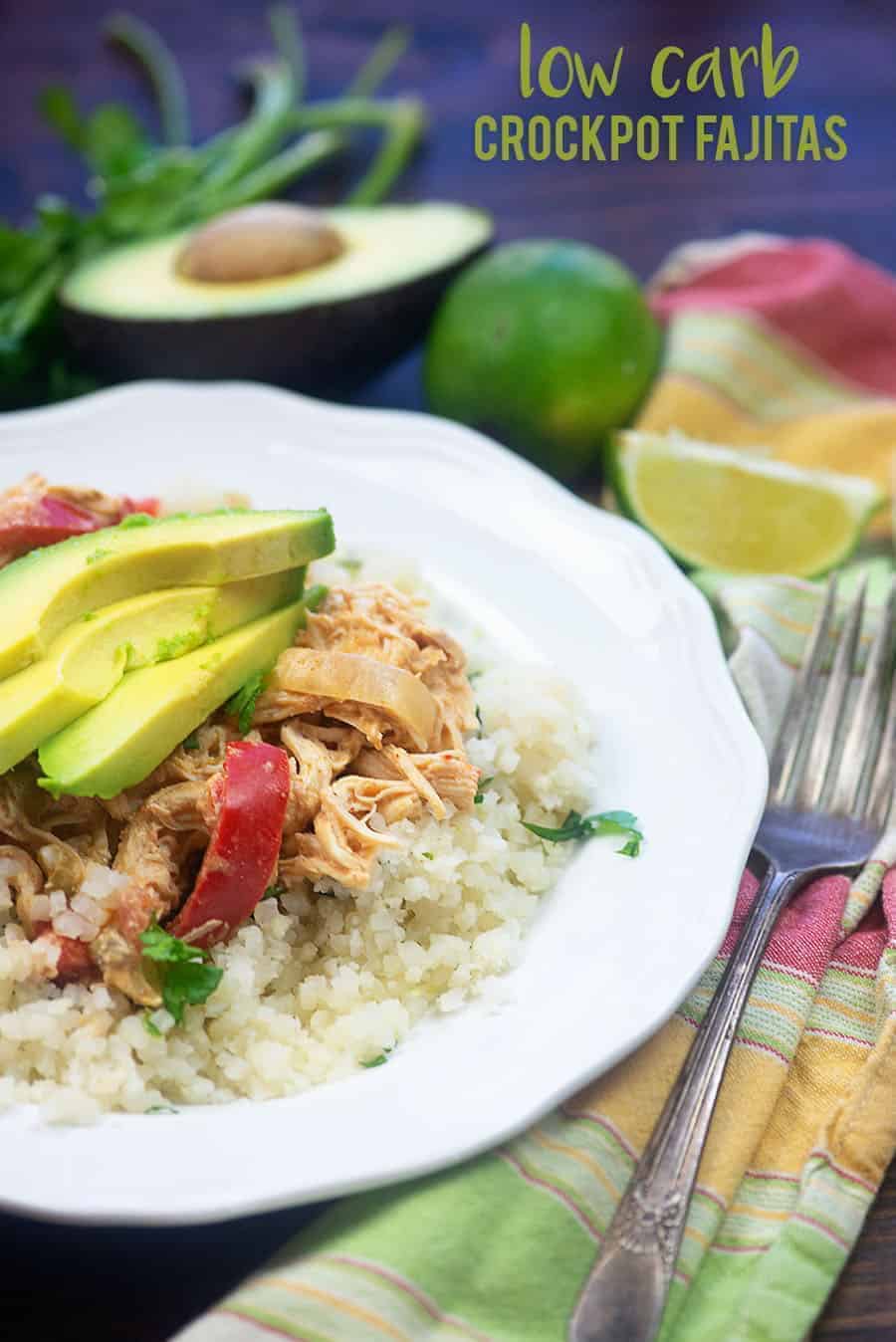 I feel like I've been so exhausted lately and I've finally narrowed it down to why…
Our dang dog.
We adopted a big goofy guy towards the end of summer and he is insanely playful and a little weird. Our other dog is 7 now so she's mellowed out so much. This guy is 2 and he's very much still a puppy.

He wakes me up just about every night with random barking. For 2 months now.
Someone make it stop.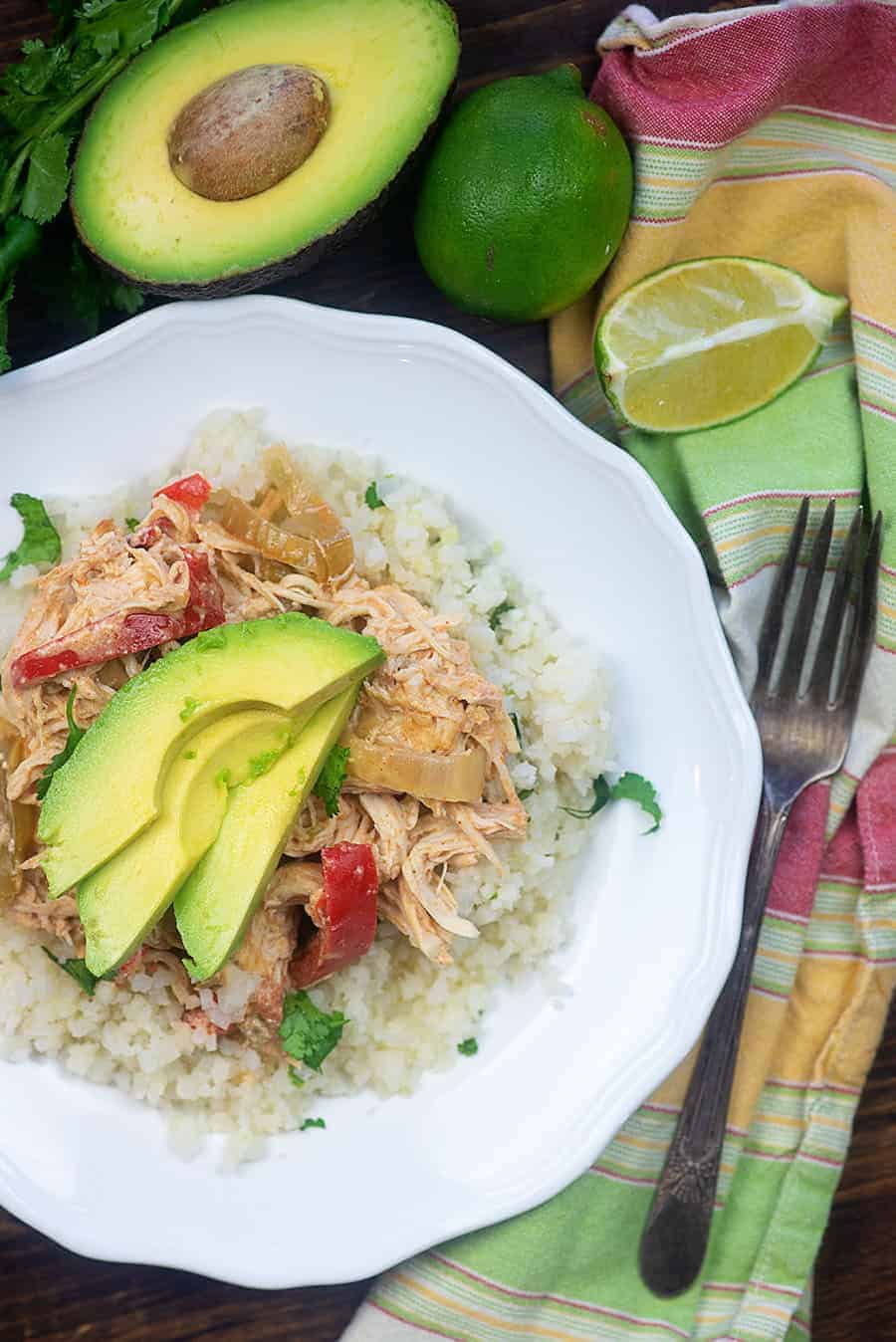 Anyway, I'm exhausted all the time, probably from the barking, the playing, and the constant clean up of destroyed dog toys. I swear, he's worse than a toddler.
All this exhaustion has led to me being on a big slow cooker kick lately. I'm honestly not sure why I haven't used the slow cooker more often. Is there anything more convenient than tossing a bunch of ingredients in a pot and walking away?
These crock pot chicken fajitas are beyond easy and so flavorful. I add in a brick of cream cheese to make them a bit creamier and more decadent.
You're going to love these, especially over our cilantro lime cauliflower rice.
Ingredient Notes: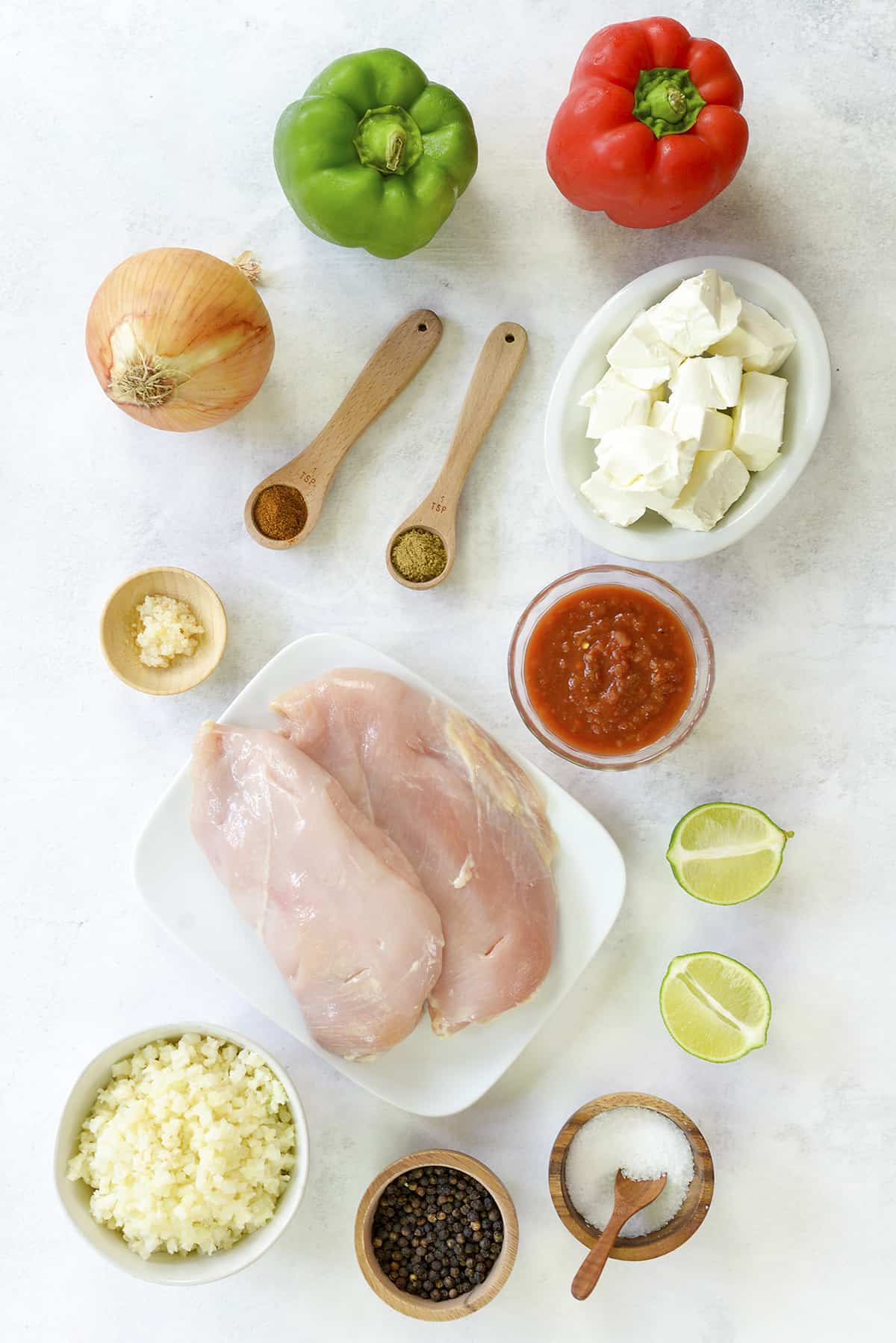 Chicken – You'll need some fresh or frozen and thawed chicken breasts for these crockpot chicken fajitas. Boneless chicken thighs would also work in this recipe.
Cream Cheese – This is not a traditional ingredient in fajitas, but we were going for a creamy vibe. Besides, when is cream cheese a bad idea?
Restaurant Style Salsa – Follow the link to try out my favorite homemade salsa recipe, or grab a jar from the store!
Peppers & Onions – Some fresh bell peppers, any color, and a sweet onion! These are classic fajita veggies! Cut them into strips..
Lime Juice – I'd recommend using some freshly squeezed lime juice as it'll add the best flavor. You can use the bottled kind from the store too if that's all you've got!
Why We Love This Recipe:
Slow cooker chicken fajitas are easy to prepare and the crockpot does most of the work for you!
These fajitas are great when served over some cauliflower rice with all your favorite fajita toppings like avocado and cheese.
Traditional fajitas are always a hit, but we really love the addition of cream cheese in this crockpot version. It makes them just a bit decadent!
Helpful Tools: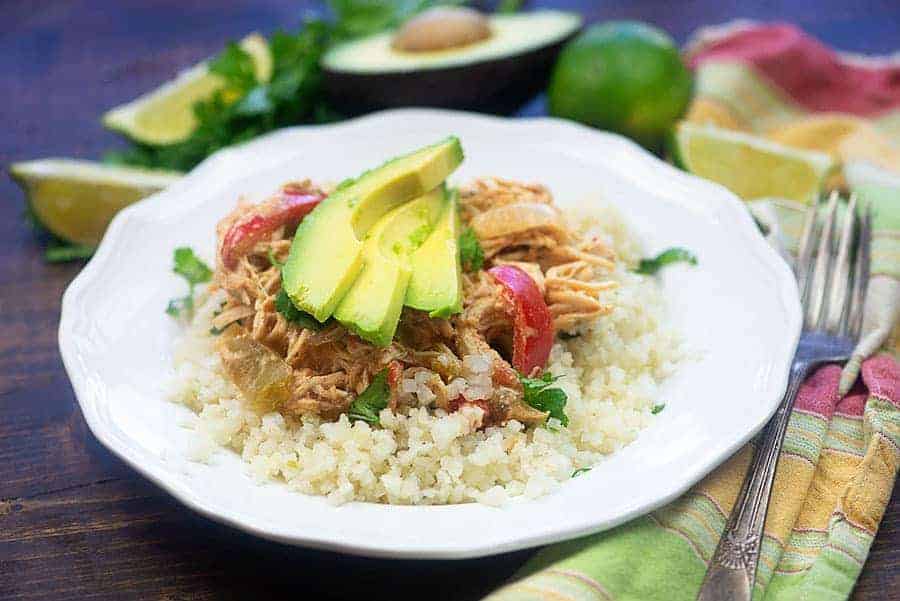 Crockpot – You'll need a good slow cooker to make these chicken fajitas, and lots of other great recipes! A 6-quart slow cooker is a good size and will work for most recipes.
Citrus Squeezer – This handy tool is made for squeezing lemons and limes! It cuts down on mess and you can be sure you'll get every last drop of citrus out of the fresh fruit.
How To Make Chicken Fajitas:
Prepare – You're going to need chicken breasts, bell peppers, onion, garlic, salsa, cream cheese, and a couple of spices for these crockpot chicken fajitas. Nothing too difficult! Slice the bell pepper and onion into thin strips, like you would for traditional fajitas. Toss everything right into the slow cooker and cover.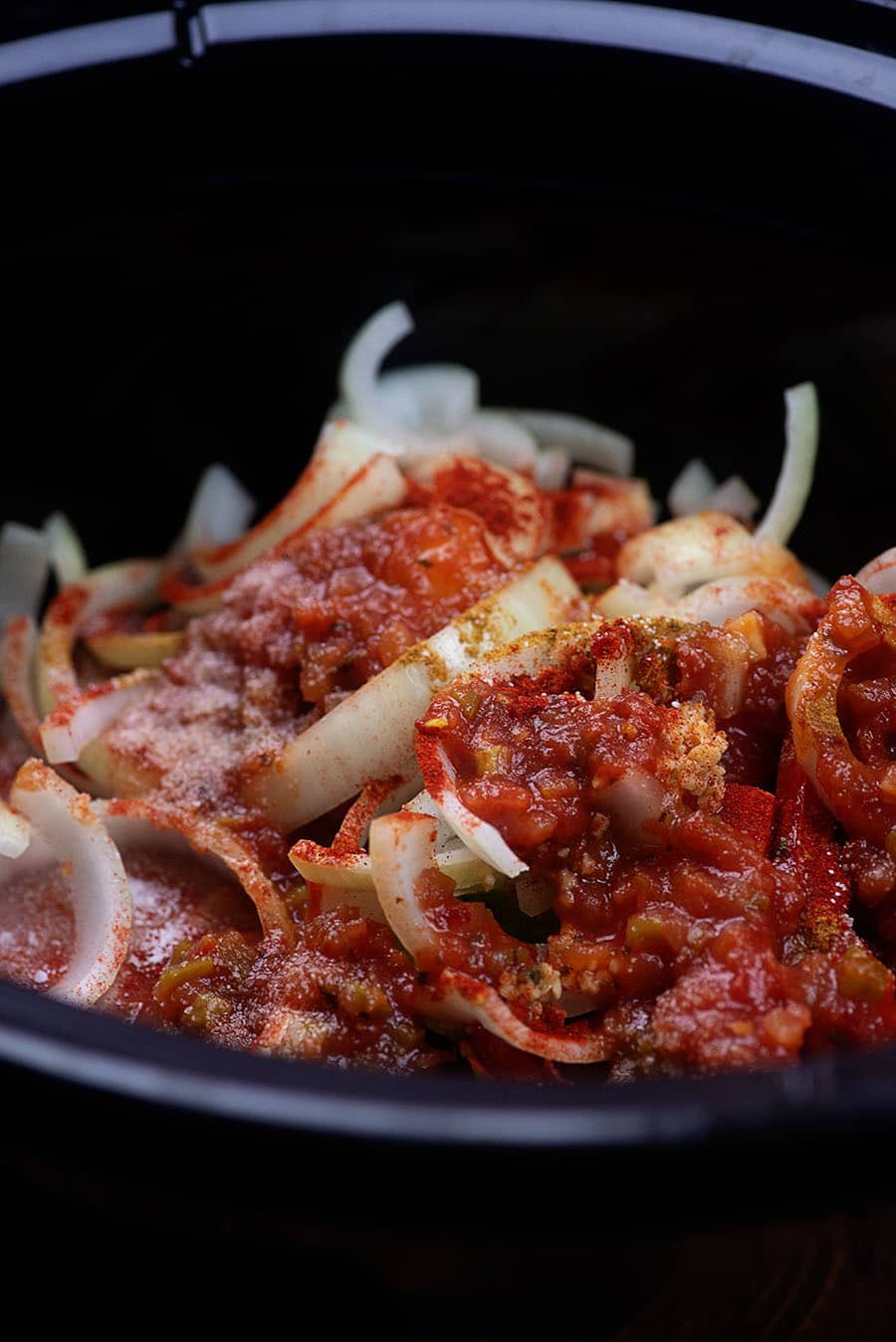 Slow Cook – Let the chicken fajitas slow cook on low for 6 hours or high for 3 hours, depending on your slow cooker. Every crockpot cooks a bit different, so be sure to just keep an eye on these. When the chicken shreds easily with a fork, it's done! Squeeze some lime juice over the chicken after shredding.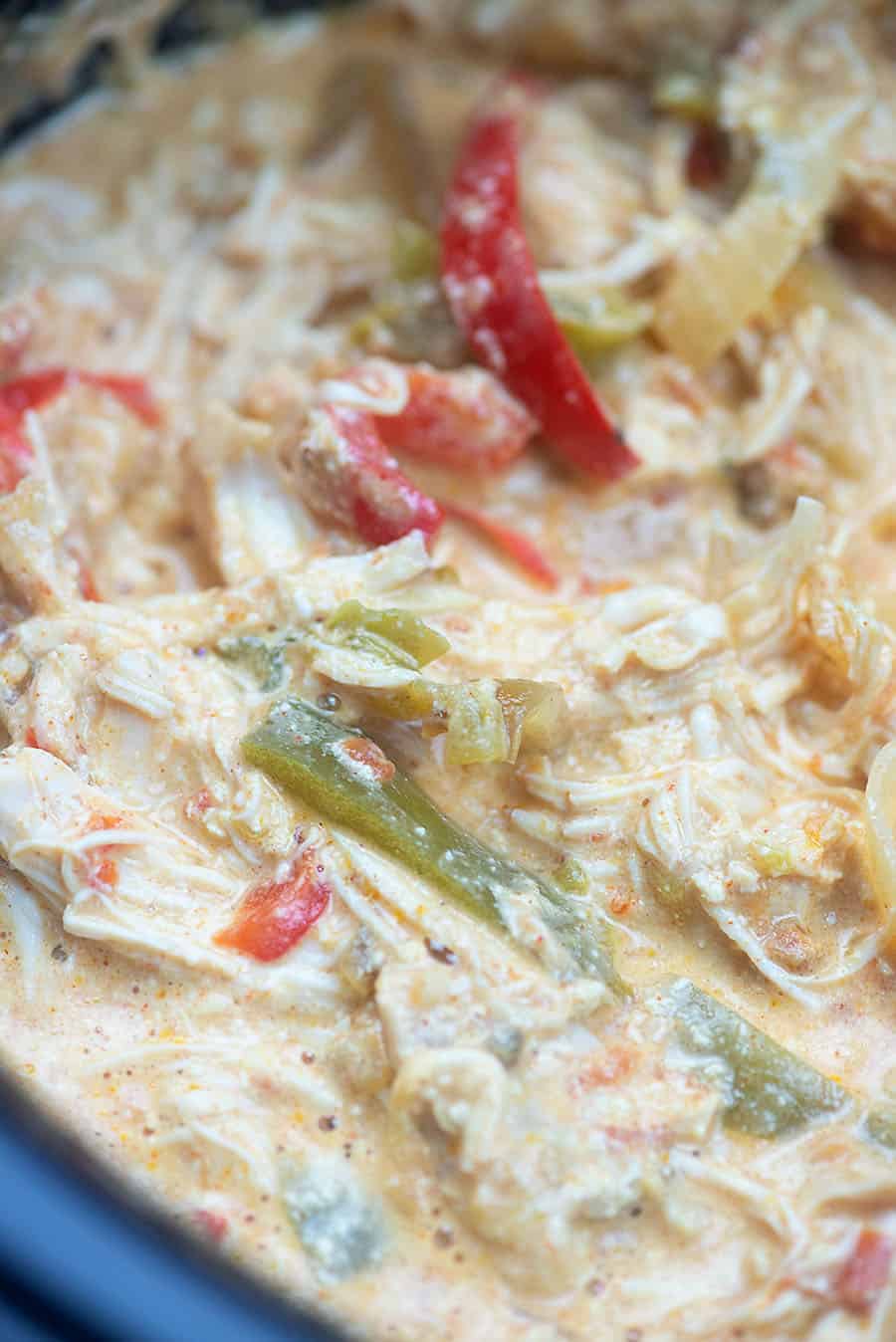 Serve – I like to serve these crockpot chicken fajitas over my cilantro lime cauliflower rice to create a low carb burrito bowl. You could also pop them in a lettuce wrap or low carb tortilla, if you prefer. We like to top them with some avocado, cheese, and sour cream.
FAQs:
How to store chicken fajitas?
You can keep these slow cooker chicken fajitas stored in an airtight container in the refrigerator for 3 to 4 days.
More Low Carb Chicken Recipes:
Stuffed Chicken Breast: The most popular recipe on my blog and it gets rave reviews!
Chicken Taco Soup: I could eat this every day!
Air Fryer Boneless Chicken Breast: This chicken gets brined in pickle juice and then air fried!
Lemon Chicken: I could drink the creamy sauce that coats this chicken!
Asian Chicken Lettuce Wraps: These wraps are filled with cauliflower and seasoned chicken with an Asian dipping sauce!
Chicken Casserole: A healthy casserole? You bet!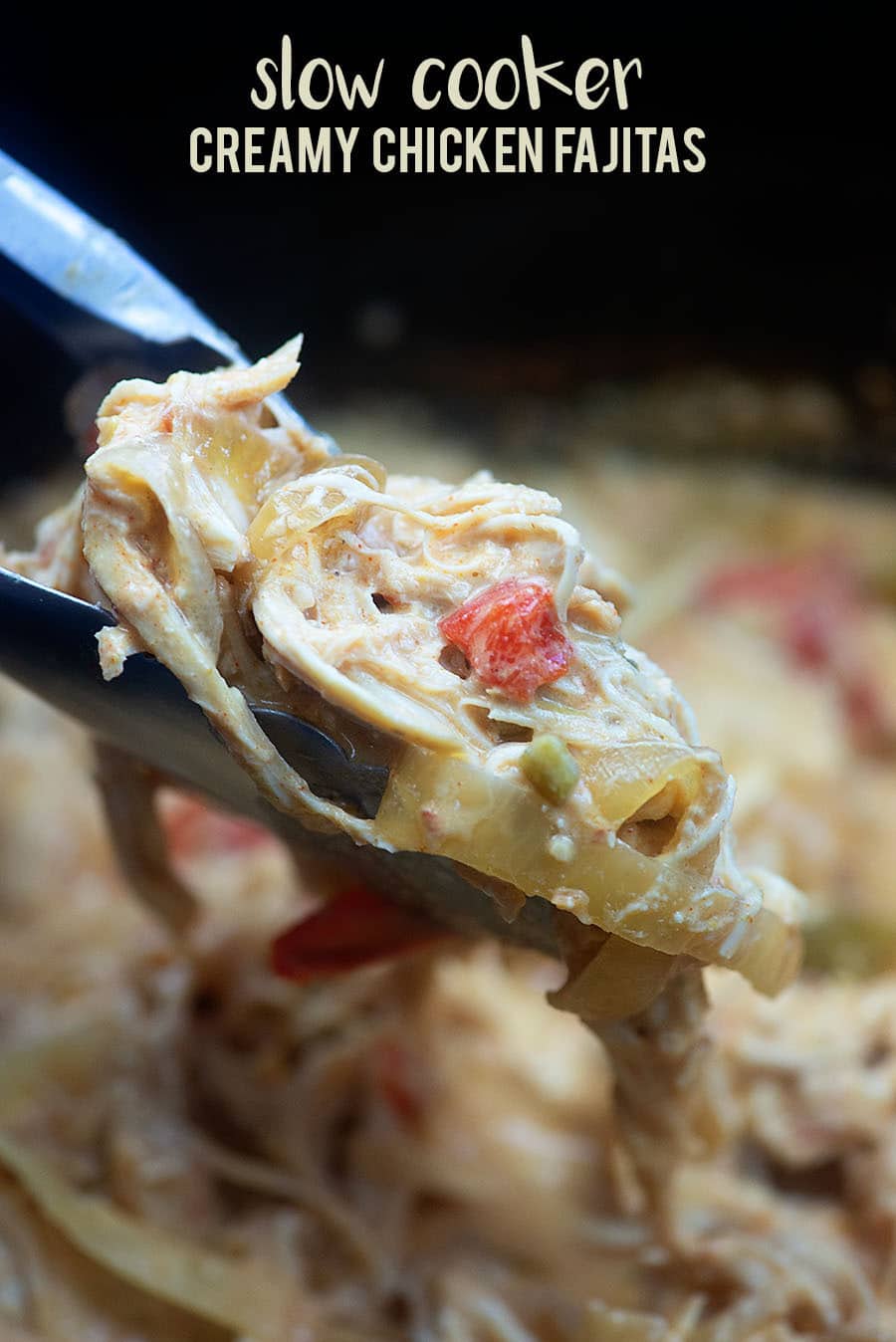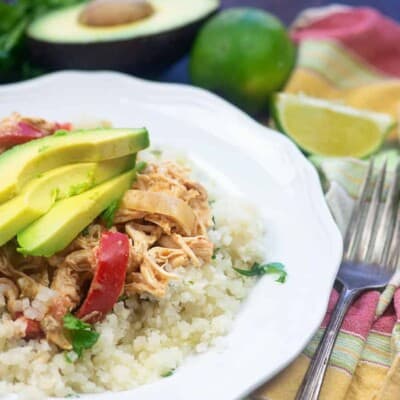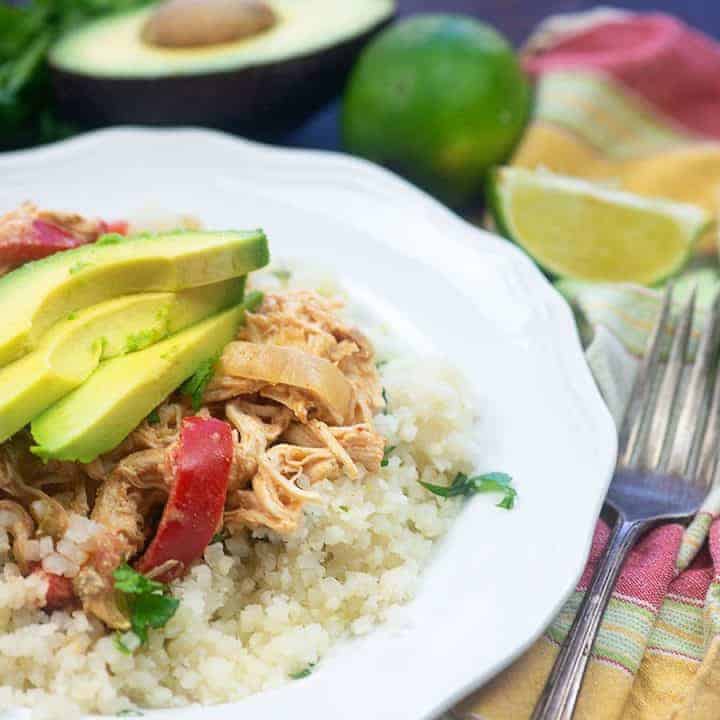 Crockpot Chicken Fajitas
Creamy crockpot chicken fajitas! Serve over cauliflower rice for easy low carb burrito bowls!
Prep10 minutes
Cook3 hours
Total3 hours 10 minutes
Ingredients
1 1/2 pounds boneless skinless chicken breasts
8 ounces cream cheese cubed
1/2 cup salsa jarred or homemade
1 clove garlic minced
1 teaspoon paprika
1 teaspoon cumin
1 teaspoon salt
1/2 teaspoon ground black pepper
2 bell peppers any color
1 onion
1 lime cut into wedges
Cilantro Lime Cauliflower Rice for serving
Instructions
Add the chicken breasts, cream cheese, salsa, garlic, paprika, cumin, salt, and pepper to a 5-6 quart slow cooker.

Slice the bell peppers and onion into strips and add to the slow cooker.

Cover and cook on high for 3 hours or low for 6 hours, or until chicken is cooked through and shreds easily.

Shred the chicken with 2 forks and and squeeze the lime over the fajitas.

Stir well to combine the mixture.

Spoon the fajitas over prepared cauliflower rice and top with any additional toppings you like, such as avocado, cheese, and sour cream.

Serve hot.
Tips & Notes:
Every slow cooker cooks differently and yours might run hotter or colder than mine. Adjust the cooking time as needed and cook chicken until it easily shreds with a fork. Nutrition information does not include cauliflower rice.
Nutrition Information:
Calories: 276kcal (14%)| Carbohydrates: 8g (3%)| Protein: 25g (50%)| Fat: 17g (26%)| Sodium: 827mg (36%)| Fiber: 3g (13%)| Net Carbs: 5g (10%)