Cilantro lime cauliflower rice is just about the simplest little side dish to serve on taco night or as a base for your low carb burrito bowls!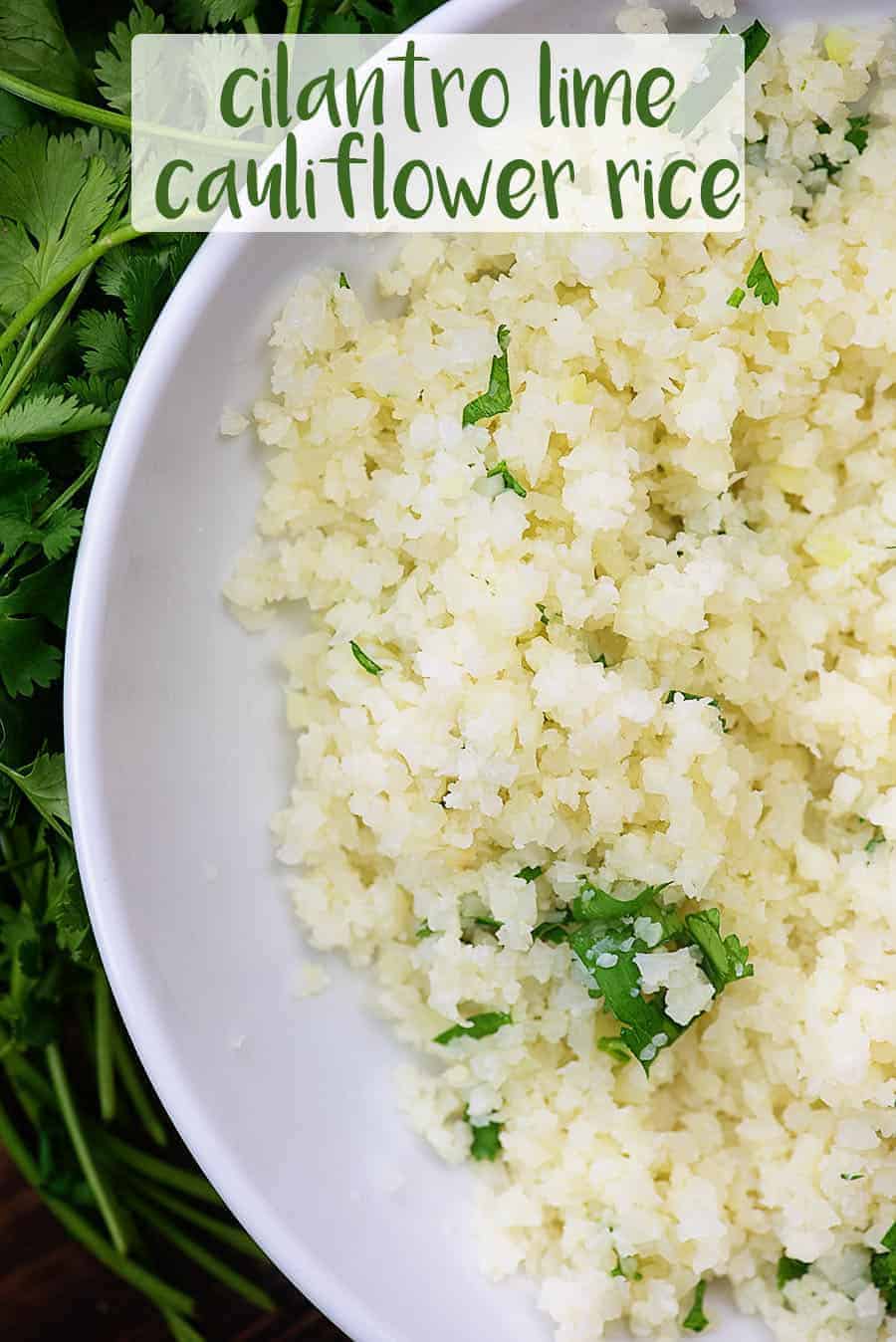 Is anyone else just completely and utterly in love with Mexican food?
I'm going to go ahead and guess all of you are, because I can't imagine a world in which people aren't daydreaming about that goodness all day long.
While I love our keto taco soup and eat my keto taco salad at least once a week, sometimes I just get a major craving for a burrito bowl like the ones from Chipotle or Qdoba!
This cilantro lime cauliflower rice recipe does the trick for any burrito bowl cravings you might have. It's also an easy little side dish!
How do you make cauliflower into rice?
This post contains affiliate links. As an Amazon associate and member of other affiliate programs, I earn from qualifying purchases.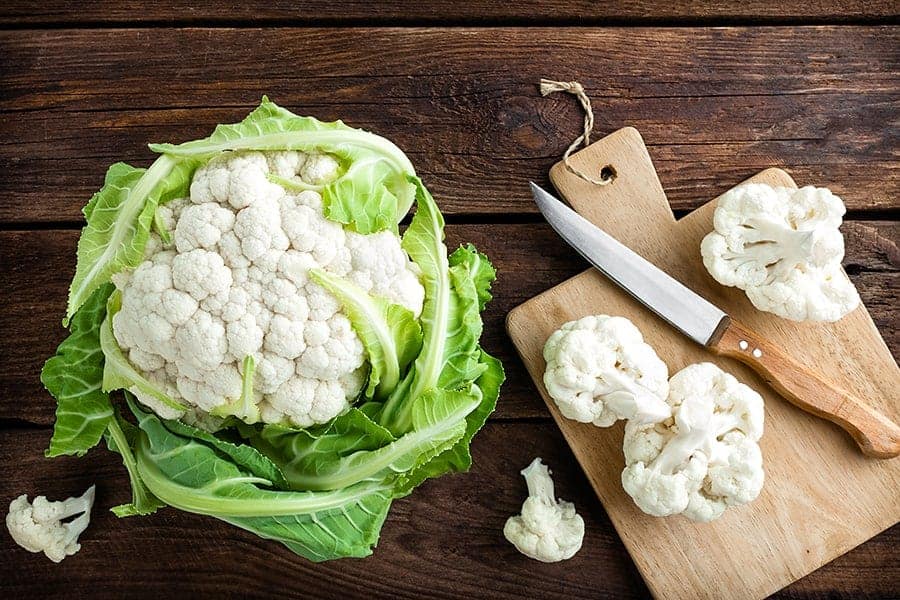 You can either start with a whole head of fresh cauliflower or a bag of the fresh cauliflower florets. Frozen cauliflower florets aren't a good option for cauliflower rice.
If you're starting with a head of cauliflower, chop it into florets and then add it to your food processor.
This is the food processor I use and it's one of my favorite tools in the kitchen. I use it for grating cheese and slicing veggies all day long.
If you don't have a food processor, get your knife out and start chopping. And chopping and chopping and chopping until you have tiny little rice like pieces.
I've heard that you can also use a box grater to grate the cauliflower, but I haven't tried this myself and can't speak to how easy it is.
Ingredient Notes:
Cauliflower – See the section above on how to make your own cauliflower rice, or buy a bag of riced cauliflower from the produce section or freezer section. Easy peasy.
Lime Juice – Freshly squeezed lime juice is what you want here, but you can use the bottled kind if you have to.
Cilantro – Some freshly chopped cilantro is pretty popular in just about every Mexican dish and it goes great with the lime!
Seasoning – Along with the flavors from the cilantro and lime juice you'll also mix in some garlic powder, onion powder, salt, and ground pepper.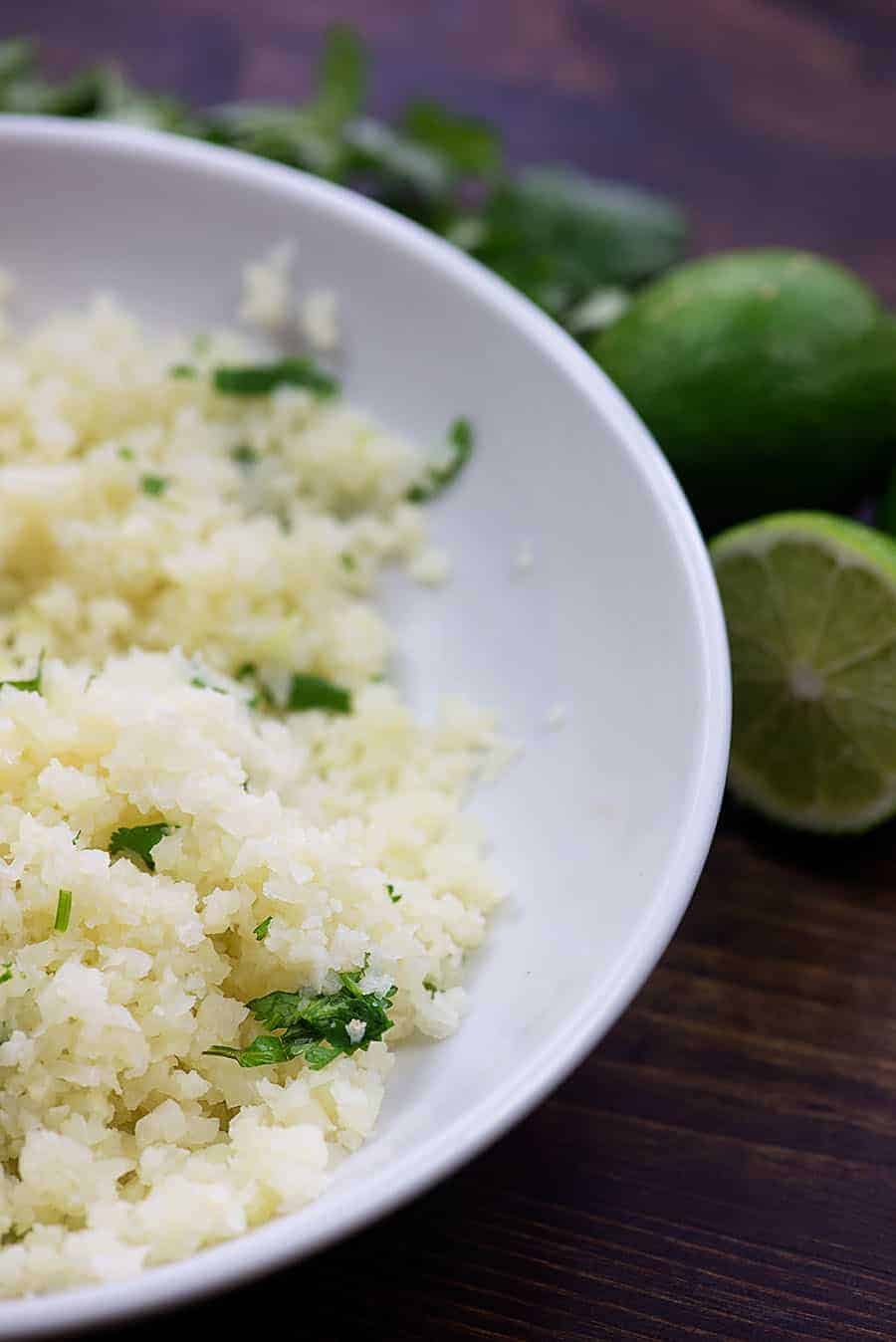 What Readers Are Saying:
u0022I made this tonight to go with sheet pan shrimp fajitas. So delicious! This is a perfect Whole30 compliant recipe to accompany ANY Mexican-style dish.u0022u003cstrongu003e – Dianeu003c/strongu003ernu003cdiv class=u0022ast-comment-edit-reply-wrapu0022u003eu003c/divu003e
How To Cook Riced Cauliflower:
u003culu003ern tu003cliu003eu003cstrongu003eCauliflower Rice – u003c/strongu003eAdd your cauliflower rice to a skillet with a bit of olive oil and cook for a couple of minutes while stirring. Cover and cook for another 5-10 minutes to get the rice to the texture you prefer.u003c/liu003ern tu003cliu003eu003cstrongu003eSeason – u003c/strongu003eWhen the rice is done cooking, sprinkle chopped cilantro and top and squeeze in the lime juice. Sprinkle in onion powder, garlic powder, and salt, and give it all a stir.u003c/liu003ern tu003cliu003eu003cstrongu003eTaste – u003c/strongu003eGive your cilantro lime cauliflower rice a taste and see if it needs anything. I sometimes add an extra sprinkle of salt or squeeze of lime juice to brighten it up.u003c/liu003ernu003c/ulu003ernu003cp style=u0022text-align: center;u0022u003eu003c/pu003e
How To Season Riced Cauliflower:
While we're making a cilantro lime cauliflower rice today, there are a million ways to season cauliflower rice.rnrnWe love to make a more traditional u003ca href=u0022https://thatlowcarblife.com/mexican-cauliflower-rice/u0022u003eMexican cauliflower riceu003c/au003e by seasoning with cumin, garlic, tomato paste, and cilantro.rnrnRoasting the cauliflower rice with minced garlic makes for a wonderful garlic rice. Keep it simple, but feel free to experiment!rnrnOur u003ca href=u0022https://thatlowcarblife.com/cauliflower-risotto/u0022u003ecauliflower risottou003c/au003e is another delicious way to prepare cauliflower rice.
FAQs:
Why eat cauliflower rice?
It's a vegetable that tricks you into thinking you're eating a starch! That's a good enough reason for me. 😉 Honestly, though, cauliflower rice is a great way to get more veggies in your diet and cut back on those carbs. It's healthy, flavorful, and, in my opinion, is easier than cooking traditional rice. It takes less time as well. If you're tired of taco salads, swap out the lettuce for this cilantro lime recipe and it feels like a whole new meal.
How to store cauliflower rice?
You can keep this cilantro lime cauliflower rice stored in an airtight container in the refrigerator for 3 to 4 days. You can also freeze it for up to a few months.
What to Serve with Cauliflower Rice:
This cilantro lime cauliflower rice will go great as a side with pretty much any Mexican inspired dish. Here are a few tasty options: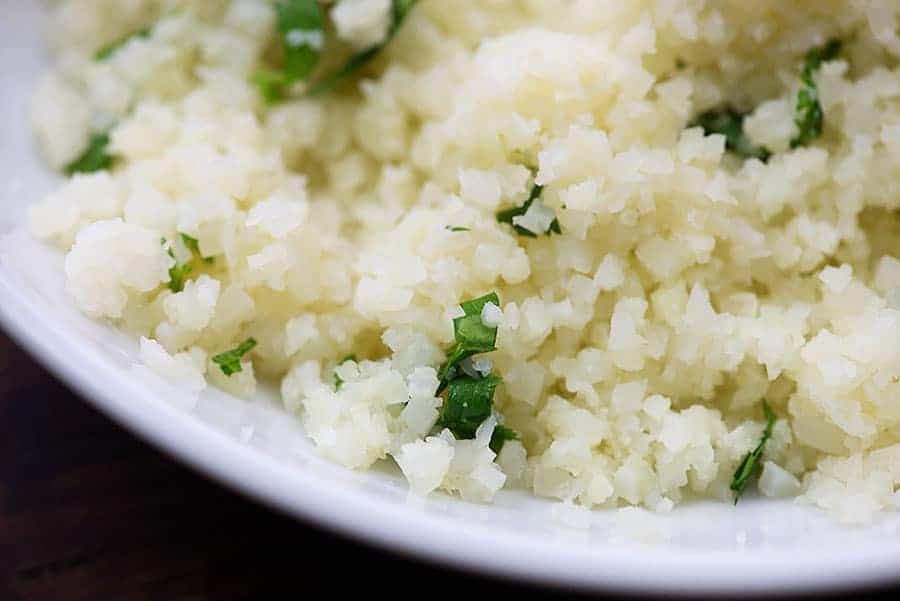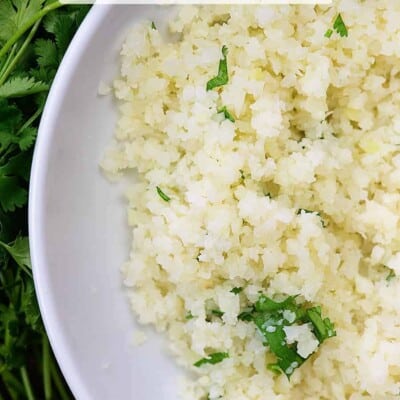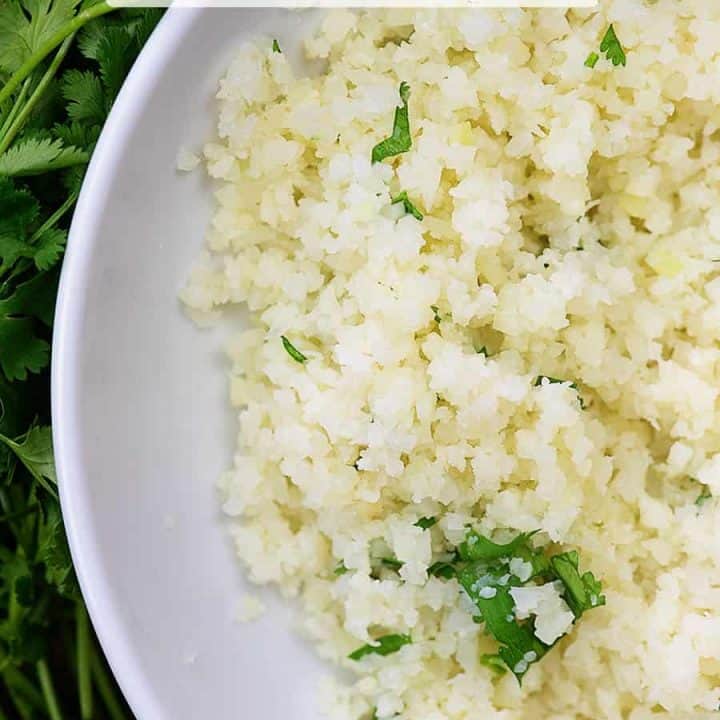 Cilantro Lime Cauliflower Rice
This cilantro lime cauliflower rice recipe is the perfect base to your next burrito bowl.
Prep10 minutes
Cook10 minutes
Total20 minutes
Ingredients
1 head cauliflower about 4 cups riced
1 tablespoon olive oil
1/3 cup chopped cilantro
2 tablespoons lime juice
1 teaspoon garlic powder
1/2 teaspoon onion powder
1/2 teaspoon salt
1/4 teaspoon ground pepper
Instructions
Chop the cauliflower into florets and add to a food processor fitted with the blade attachment. Pulse until you have small rice-sized pieces. Alternately, finely chop the cauliflower into rice-sized pieces with a sharp knife.

Heat a large skillet over medium heat and add the olive oil. When the oil is hot, add the cauliflower to the skillet and cook for 3 minutes, stirring often.

Cover the skillet with a lid and continue cooking for 5 minutes, stirring occasionally, or until the cauliflower is as soft as you'd like.

Remove cauliflower from the heat and stir in the cilantro, lime juice, garlic powder, onion powder, salt, and pepper.

Serve immediately.
Tips & Notes:
Many grocery stores sell riced cauliflower or 'cauliflower crumbles' in the produce department. Those work great here if you're trying to save time.
Nutrition Information:
Serving: 1| Calories: 68kcal (3%)| Carbohydrates: 7g (2%)| Protein: 3g (6%)| Fat: 4g (6%)| Saturated Fat: 1g (6%)| Polyunsaturated Fat: 3g| Sodium: 287mg (12%)| Fiber: 3g (13%)| Sugar: 3g (3%)| Net Carbs: 4g (8%)