Our Keto Margarita recipe has that refreshing lime cocktail flavor that everyone loves, without all the sugar and carbs! This simple cocktail comes together with just 4 ingredients, is perfect on a hot day or with a side of tacos, and best of all, it's guilt free!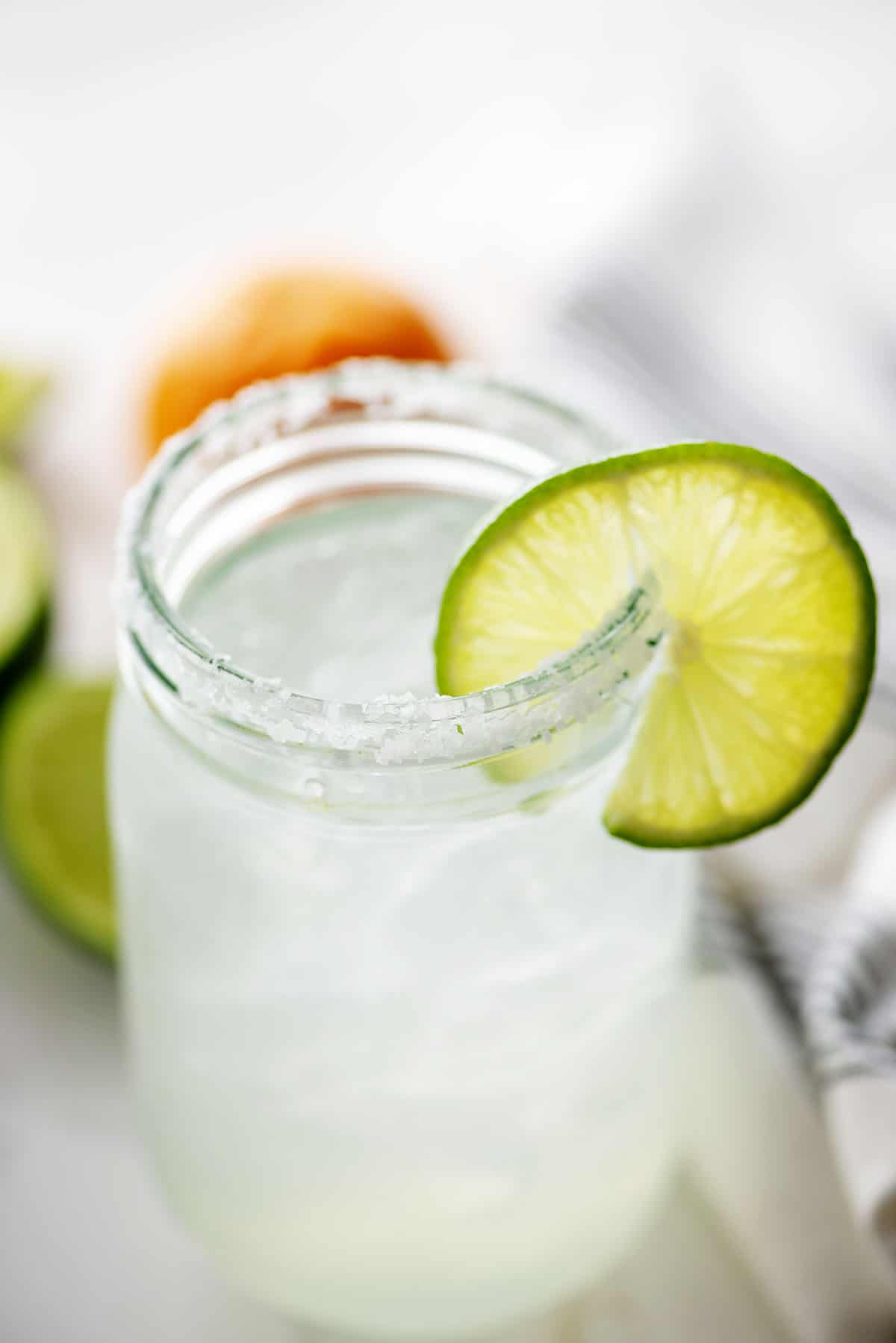 While I'm not a huge drinker, I do love a nice cocktail every now and then and a good margarita is my go to drink!
It can be hard to find the good ones at a bar though. They're often loaded with sweet and sour mix, which is absolutely loaded with sugar. The sugar free sour mix is usually made with artificial sweeteners and has a terrible aftertaste that I just can't get past. So what's a girl to do?
Make a skinny margarita at home using all natural ingredients, of course!
We love this recipe and the classic lime flavor with just a hint of orange. I've seen variations of this skinny margarita all over the web. I'm not sure who first created this version, but you can find it on loads of low carb sites, as well as sites like All Recipes. I'm just happy to have found it, because it's now my go to keto margarita!
Grab your margarita, whip up a batch of my keto salsa and keto guacamole, serve with some pork rinds or fresh veggies, and enjoy!
Ingredient Notes:
Tequila – We prefer a good quality silver tequila in our margaritas, such as Hornitos. Of course, the big bottle of tequila from Costco is quite good too.
Lime Juice – Please use freshly squeezed lime. You'll need 2 limes.
Sweetener – We add a touch of powdered sweetener to our margarita. You could skip it altogether or add more, depending on your preferences. As written, this drink is not very sweet, but is quite refreshing. We use Lakanto Powdered Sweetener. Use code THATLOWCARBLIFE for 20% off your order!
Orange Sparkling Water – To get that bit of orange flavor, we use orange sparkling water in our skinny margarita. Just a splash! La Croix works well.
Why We Love This Recipe:
Just 4 ingredients and sugar free!
This has the classic taste of a true margarita – not overly sweet or syrupy.
Refreshing on a hot summer day and delicious with your Mexican meal!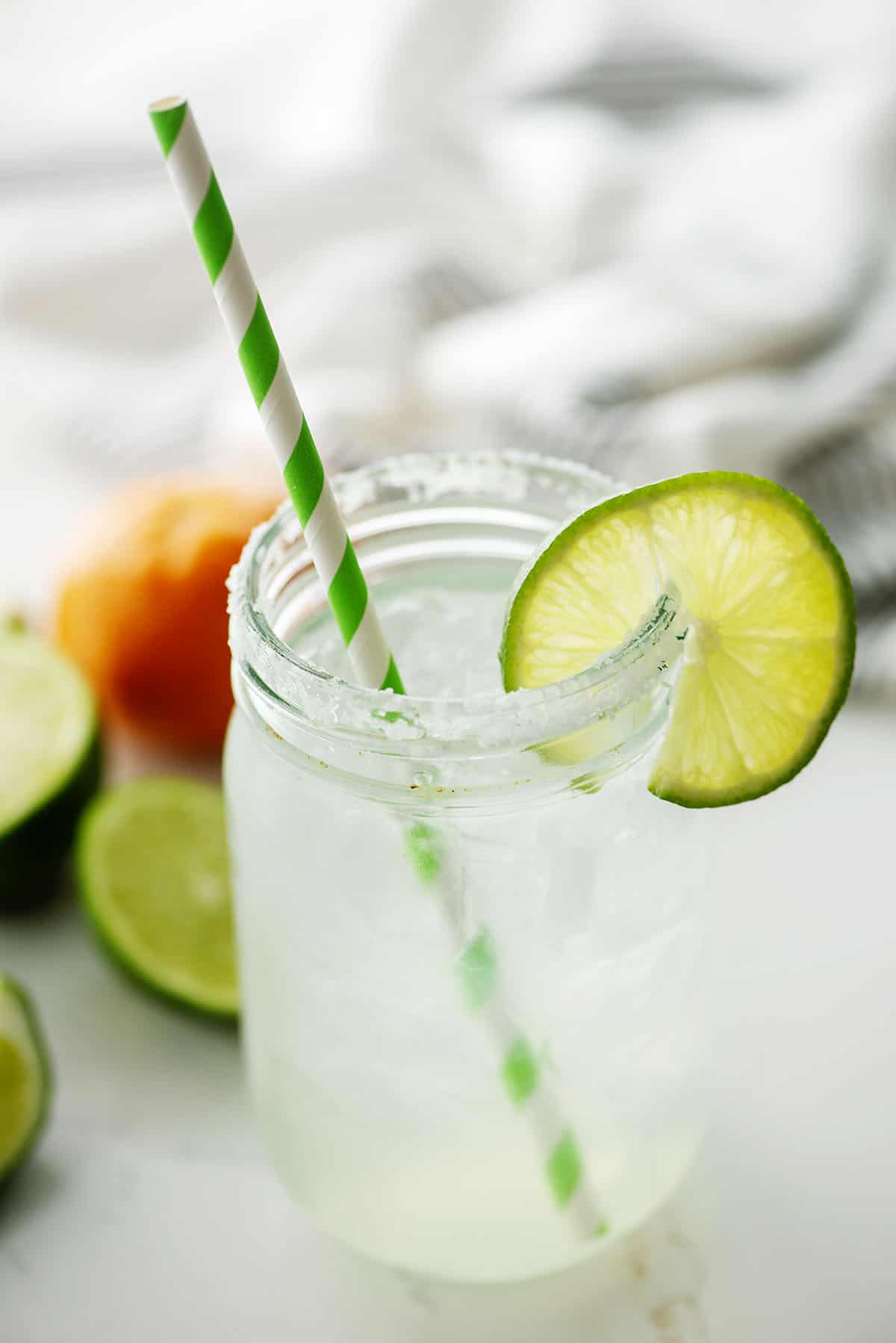 How To:
Rim: Run a lime wedge around the edge of your glass and then run the rim of the glass through salt. Fill the glass with ice.
Shake: Add ice, tequila, fresh squeezed lime juice, and powdered sweetener to a cocktail shaker. Shake for 30 seconds.
Pour: Strain the margarita into the prepared glass and top with a splash of orange sparking water.
Serve: Garnish with a lime wedge and serve it up!
Cocktail Shaker!

A simple cocktail shaker is a must in our house! Shaking your cocktail blends the ingredients thoroughly and quickly, lowers the temperature of the liquids quickly, and properly dilutes your cocktail. This budget-friendly accessory is a must if you enjoy a cocktail at home.
FAQ's:
Are margaritas keto?
Traditionally, margaritas are not keto friendly as they're often made with orange liqueur and/or sweet and sour mix, both of which contain sugar. Our keto margarita skips out on the orange liqueur for a sugar free alternative.
What type of sweetener works best?
We use powdered erythritol in our skinny margarita. It dissolves easily and tastes great. Liquid sweetener will also work, but you'll want to experiment with the amount needed as they're usually quite sweet.
What to serve with your keto margarita: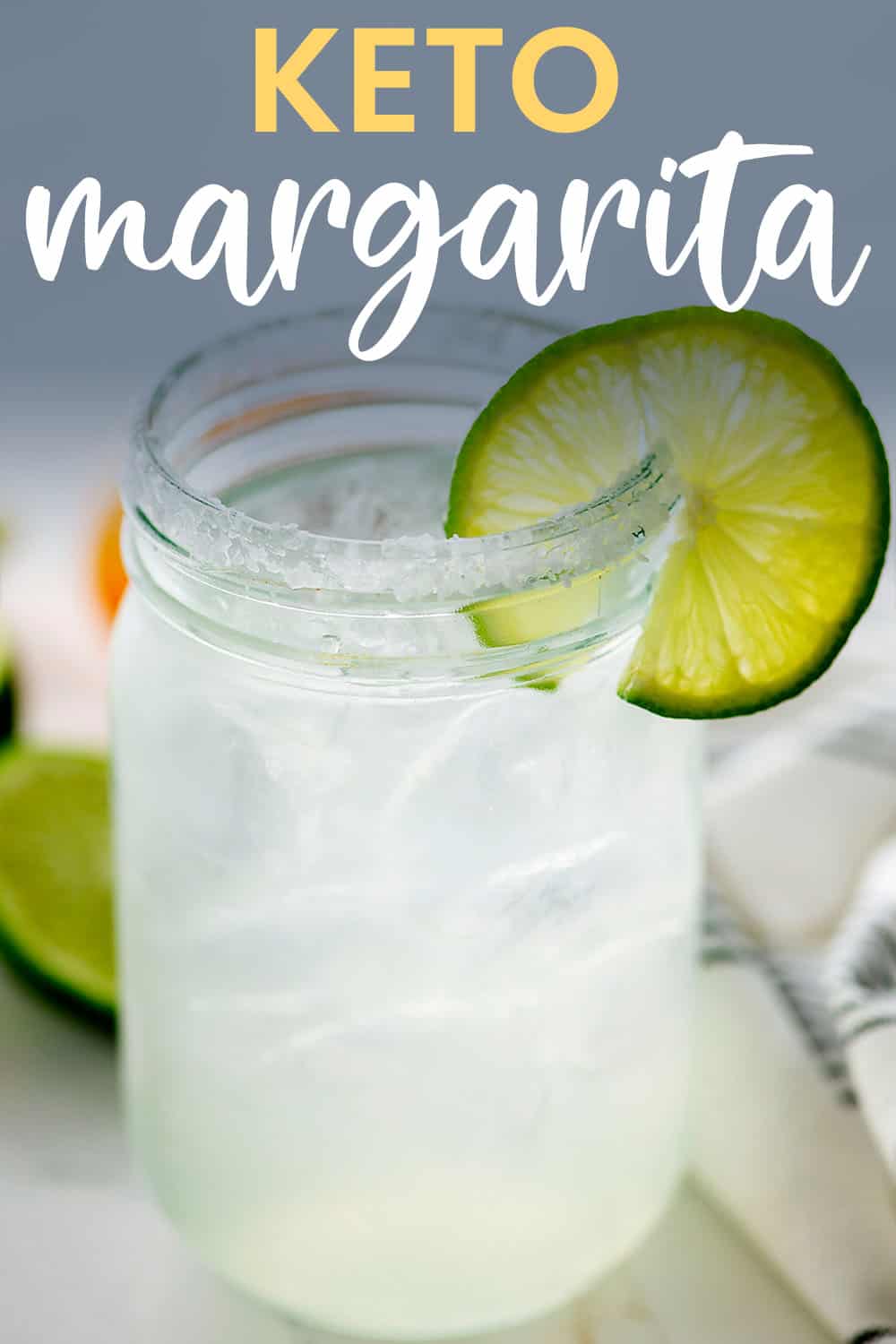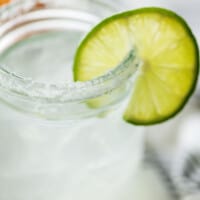 Keto Margarita
Our sugar-free skinny margarita is so refreshing on a hot summer night! Simple to make with just 4 ingredients, no funky aftertaste or weirdness - just a classic margarita without the guilt!
Ingredients
2 ounces silver tequila
1 1/2 ounces lime juice, freshly squeezed
2 teaspoons powdered sweetener, more to taste
2 ounces orange sparkling water, such as La Croix
1 lime wedge
1 teaspoon coarse salt
Instructions
Run the lime wedge around the edge of a margarita glass. Place the salt on the plate and run the rim of the glass through the salt to coat.
Fill a cocktail shaker with ice. Add the tequila, lime juice, and sweetener. Shake vigorously for 30 seconds.
Fill the rimmed glass with ice and strain the margarita into the glass.
Pour the sparking water over the top and serve.
Notes
For extra orange flavor, add a 1/2 teaspoon of orange extract.
Nutrition Information:
Yield: 1
Serving Size: 1 margarita
Amount Per Serving:
Calories: 142
Total Fat: 1g
Carbohydrates: 4g
Net Carbohydrates: 3g
Fiber: 1g
Protein: 1g