These low carb fish taco bowls are made with seasoned pan-fried fish and homemade slaw served over cauliflower rice with veggies and a creamy fish taco sauce! These taco bowls have a few different components to them, but everything comes together easily and this meal packs in loads of big, bold flavor!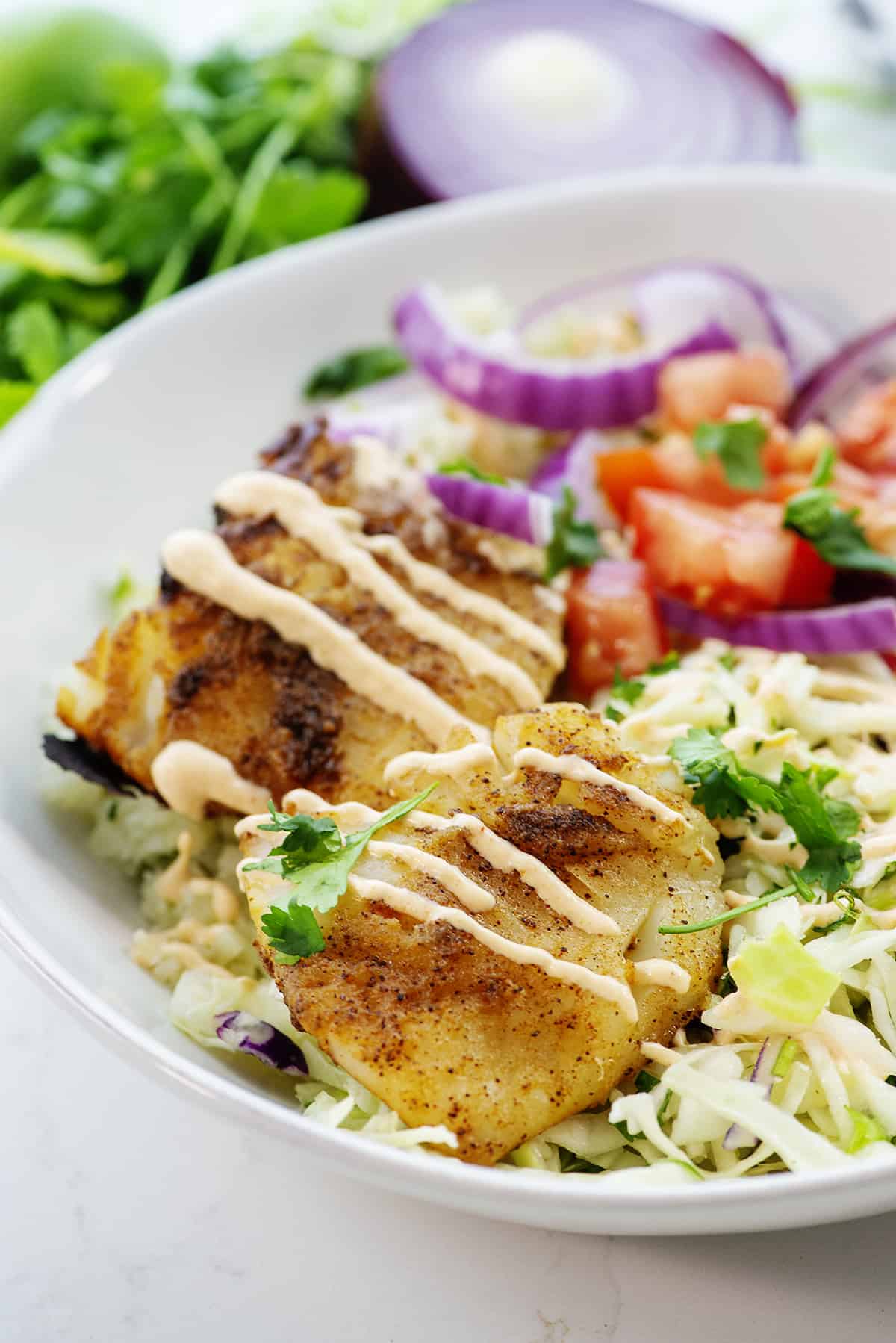 Tacos are one of my favorite foods, there's no doubt about that! And fish tacos? Yeah, buddy! They're definitely high on this taco favorites list.
We try to avoid tortillas these days, so we do a lot of twists on tacos, like our keto taco salad or a keto burrito bowl. Today, I'm sharing our favorite way to make fish taco bowls!
There are a few components to this dish – the fish taco slaw, the cilantro lime cauliflower rice, the fish taco sauce, and of course the star of the show – the fish! But don't worry – nothing here is difficult or time consuming and you probably have a lot of the ingredients already in your fridge or pantry.
Can't wait for you to try these. I think they're going to be a big hit!
Fish Taco Seasoning Ingredients:
This post contains affiliate links. As an Amazon associate and member of other affiliate programs, I earn from qualifying purchases.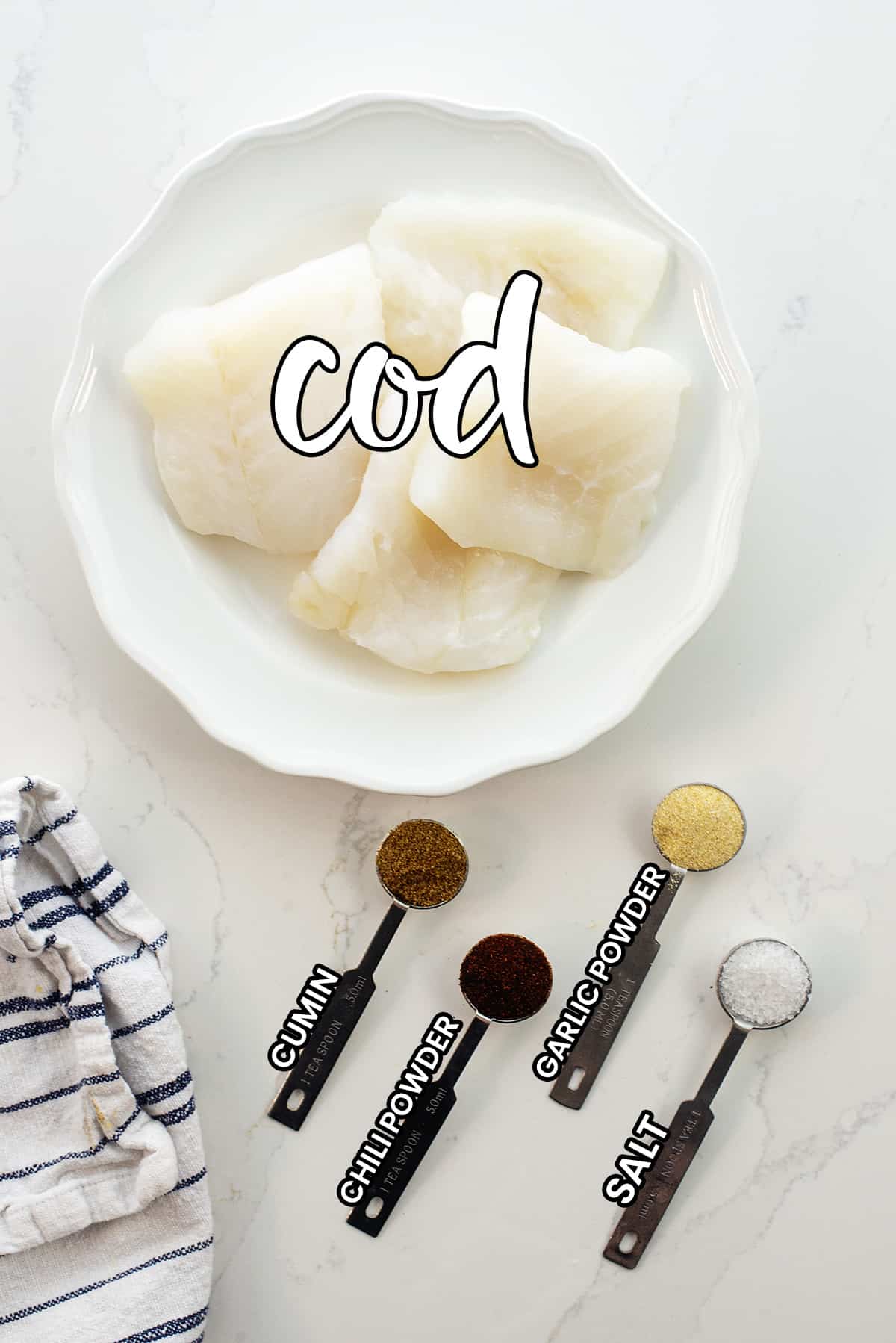 Cod – You can use either fresh cod filets if you can find them or frozen and thawed cod filets. No cod? You can use any other flaky, mild tasting white fish like mahi mahi or tilapia.
Olive Oil – We'll cook the fish in a skillet with a bit of olive oil. Avocado oil also works great.
Seasoning – A mix of cumin, chili powder, salt, and garlic powder makes for a quick and easy seasoning that'll add some taco flavor to the cod filets.
Fish Taco Sauce Ingredients: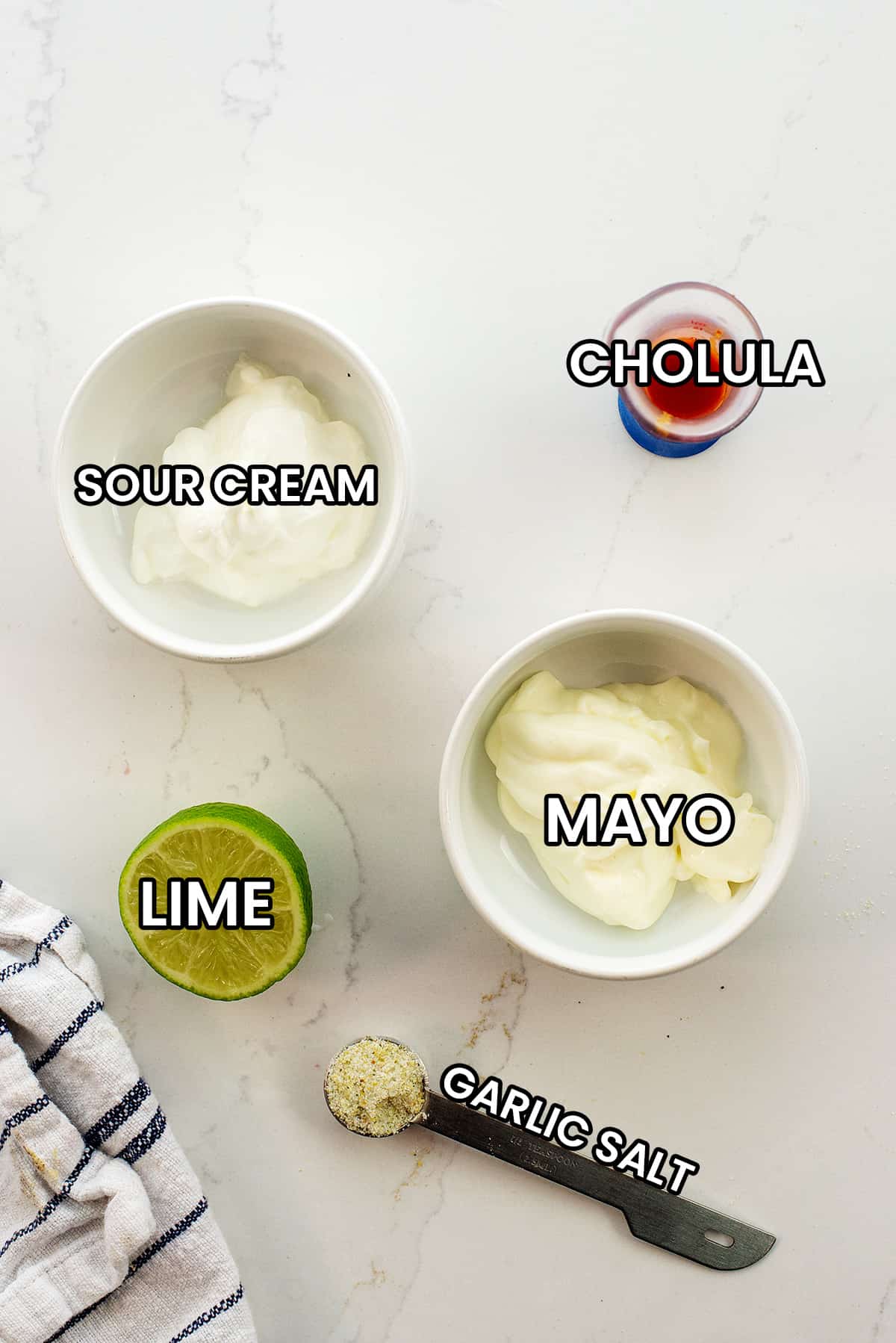 Sour Cream & Mayo – This creamy fish taco sauce starts with some sour cream and mayonnaise. It makes up the creamy base of the sauce that you'll drizzle over the fish taco bowls.
Cholula Hot Sauce – This is my all time favorite hot sauce! It'll add loads of flavor and just the right amount of spicy heat. I'd recommend trying the Cholula sauce if you haven't already, otherwise you can use a different brand of hot sauce.
Lime Juice – Some fresh squeezed lime juice will add lots of bright flavor to the sauce. You can use bottled if that's all you've got!
Garlic Salt – A bit of garlic salt will add just the right amount of flavor.
Fish Taco Slaw Ingredients: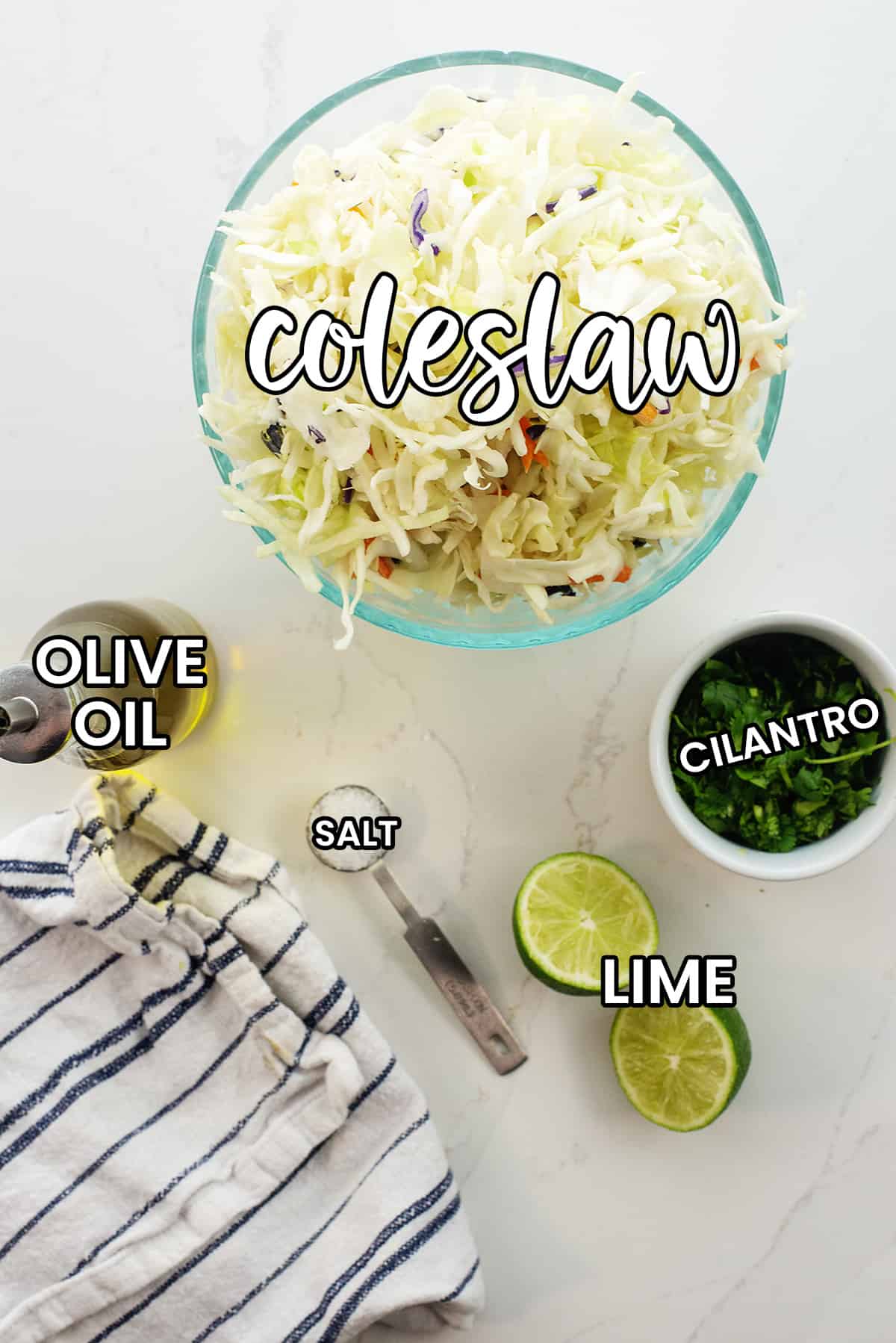 Coleslaw Mix – You can pick up a bag of coleslaw mix from the store for this recipe to keep things nice and simple. Alternately, finely chop a head of cabbage.
Cilantro – Some chopped cilantro will add lots of flavor to the fish taco slaw. If you're allergic to cilantro, try parsley instead but it won't pack quite the same punch of flavor.
Lime Juice – We prefer fresh squeezed.
For Serving: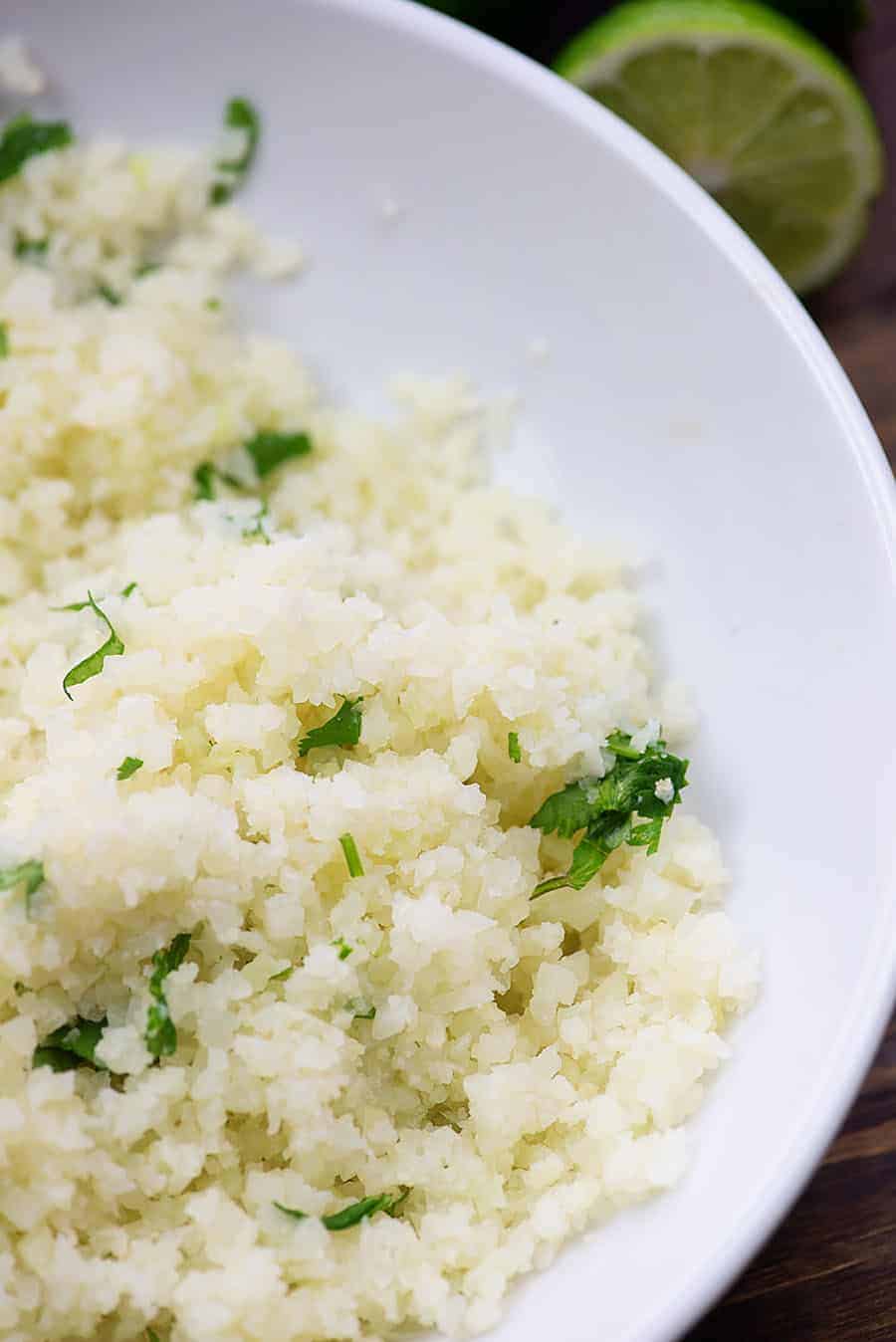 Cilantro Lime Cauliflower Rice – Cauliflower rice makes the perfect base for these fish taco bowls and my cilantro lime cauliflower rice works especially well. Check out the recipe and prepare some in advance for the low carb fish taco bowls!
Toppings – Feel free to get creative with your taco toppings! We usually go for siced avocado, diced tomato, and sliced red onion. Other options include our keto guacamole or keto salsa, as well as sliced jalapenos or a sprinkle of cotija cheese.
Why We Love This Recipe:
While this dish does have a lot of components, they all come together really easily and quickly. You can have these fish taco bowls on the table in about 30 minutes!
Big, bold, bright flavors thanks to all the lime and cilantro!
These are easy to customize by using whatever toppings you like.
Great for meal prep!
How To Make Fish Taco Bowls:
To make the fish: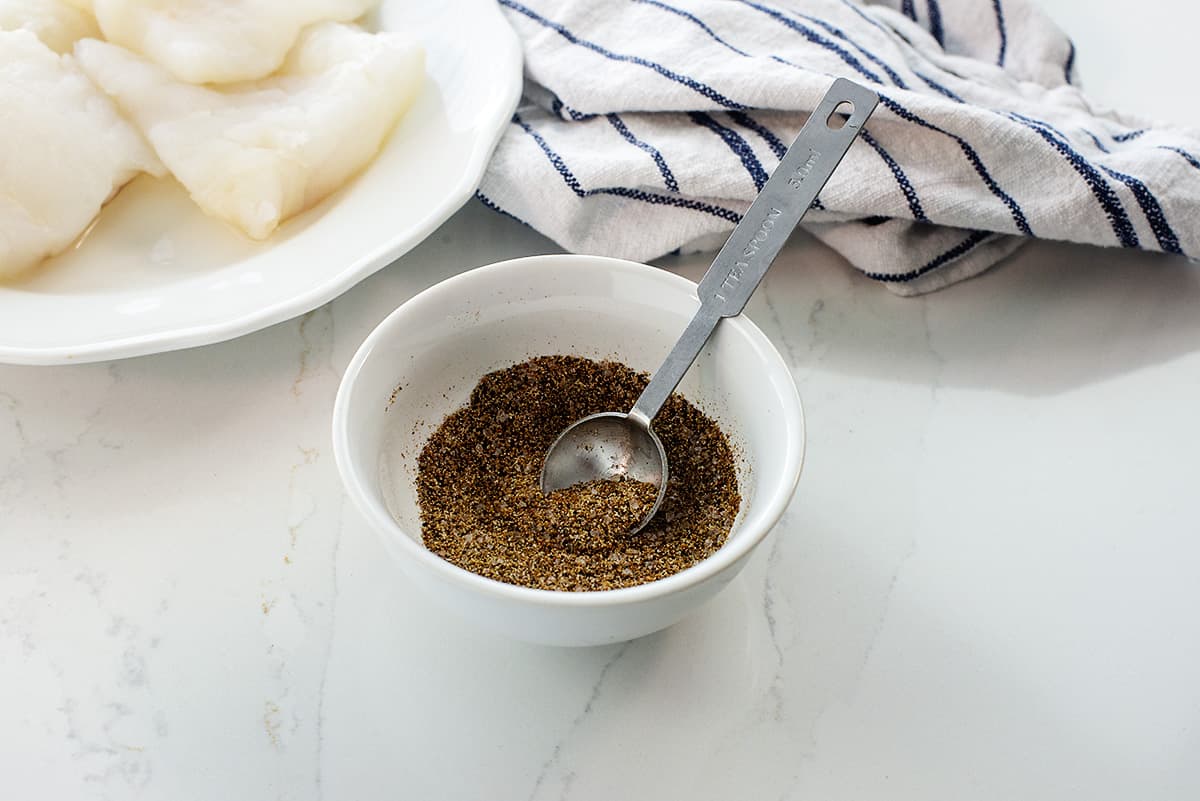 Season – To get started you'll want to pat the cod filets dry with paper towels. Mix together the chili powder, cumin, salt, and garlic powder and then sprinkle it onto both sides of the filets until they are well seasoned.
Cook – Heat the olive oil up in a non-stick skillet over medium heat and then add in the cod filets to start cooking them. The fish should take about 3 minutes per side depending on the thickness of the filets. Cook until the fish easily flakes with a fork, and then set it aside for now.
To make the sauce: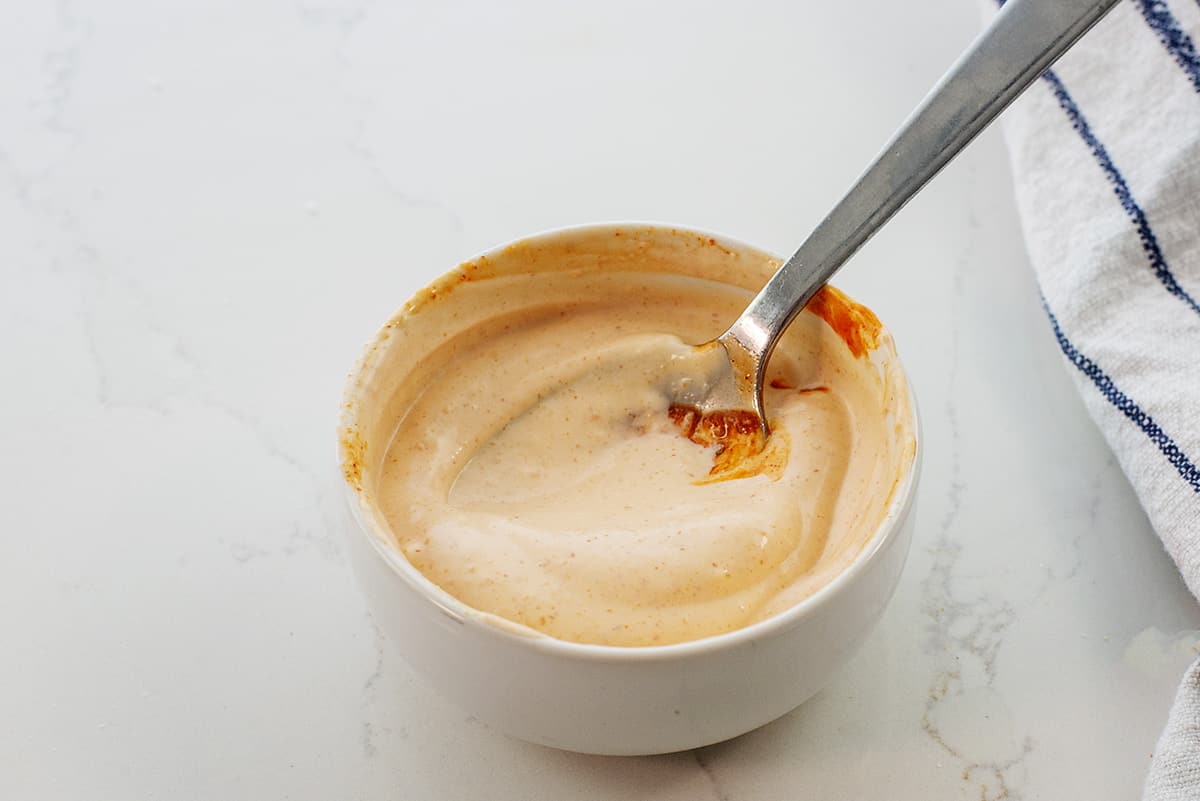 Combine – Make the fish taco sauce while the fish is cooking. Just whisk together all of the sauce ingredients until smooth.
To make the slaw: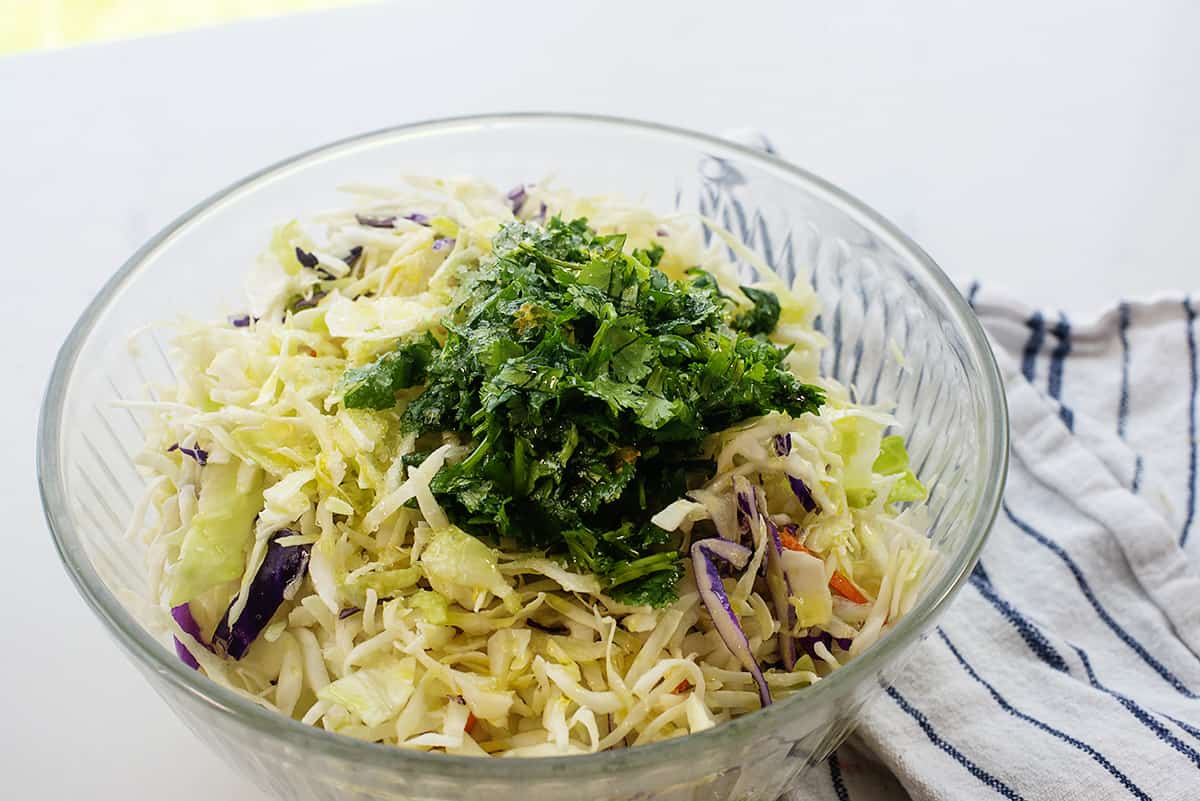 Mix – Add all of the fish taco slaw ingredients to a bowl and stir to combine. Give it a taste and add more salt or lime juice to taste.
To serve:
Assemble – To start building the fish taco bowls you'll begin with the cilantro lime cauliflower rice. Divide it evenly between the four bowls. Top with the fish taco slaw, the cooked fish, and then whatever toppings you like. Drizzle the fish taco sauce over the bowl and sprinkle with a bit of cilantro before serving.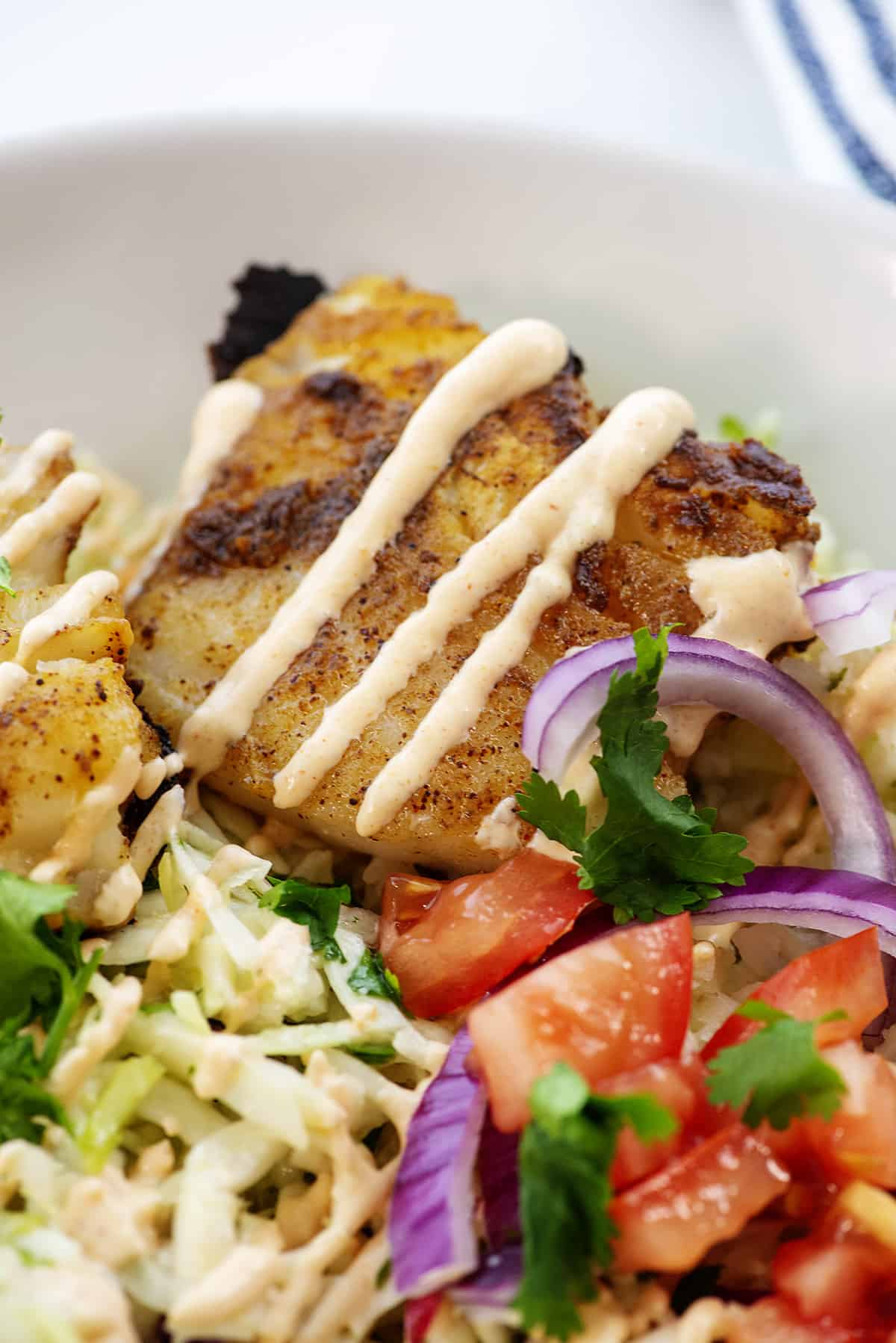 Helpful Tip!
To meal prep this dish, we recommend storing the cauliflower rice and fish separately from the slaw and toppings. When ready to eat, heat the fish and rice in the microwave and then top with the slaw and fish taco toppings. Drizzle with sauce and dig in!
FAQs:
What kind of fish is best for tacos?
You'll want to use a mild flavored white fish for tacos. We prefer cod, mahi mahi, halibut, flounder, or tilapia.
More Low Carb Taco Recipes: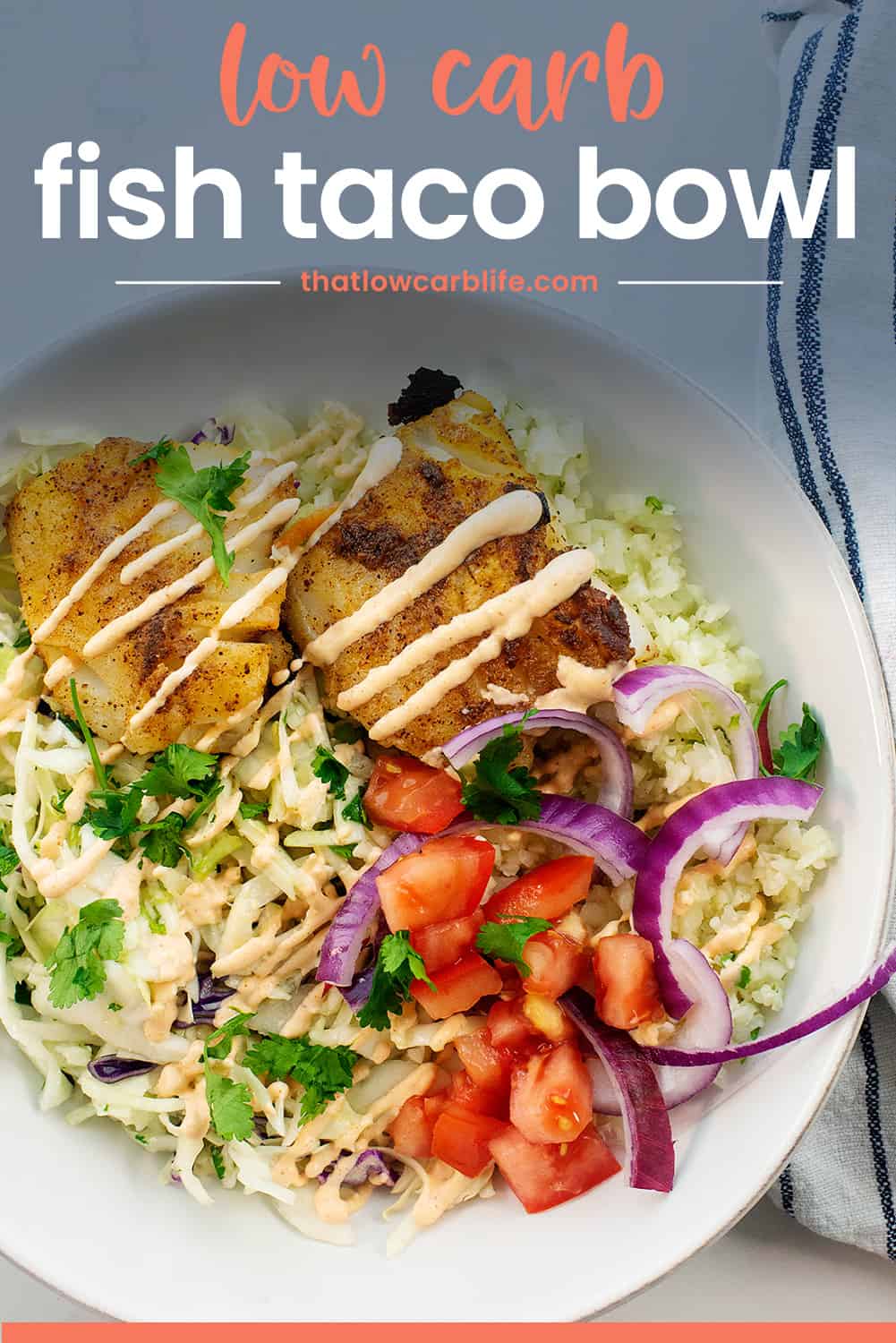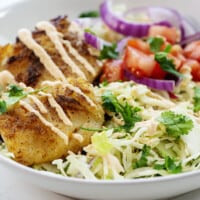 Fish Taco Bowls
Don't be scared by the long ingredient list! These fish taco bowls actually come together pretty quickly and are simple enough to prepare! This fish turns out so flavorful and that fish taco slaw and fish taco sauce really make for a tasty dish.
Ingredients
For fish:
4 cod filets, 4-6 ounces each
1 teaspoon cumin
1 teaspoon chili powder
1 teaspoon salt
1 teaspoon garlic powder
Olive oil
For fish taco sauce:
2 tablespoons sour cream
2 tablespoons mayonnaise
2 teaspoons Cholula hot sauce
1 teaspoon lime juice
½ teaspoon garlic salt
For fish taco slaw:
16 ounces coleslaw mix
½ cup cilantro, chopped
3 tablespoons olive oil
2 tablespoons lime juice
1 teaspoon salt
For serving:
½ cup diced tomatoes
1/2 red onion, sliced into thin strips
Cilantro, for garnish
Instructions
To make the fish:
Pat the fish dry with paper towels and then season both sides with the cumin, chili powder, salt, and garlic powder.
Heat a non-stick skillet over medium heat and swirl in a bit of olive oil to coat the pan.
Once the oil is hot, add the fish to the skillet and cook for 3 minutes. Carefully flip the fish over and cook for an additional 2-3 minutes or until fish easily flakes with a fork.
Set fish aside.
To make the sauce:
While the fish is cooking, whisk together all ingredients for the sauce until smooth.
To make the slaw:
Add all of the ingredients to a large bowl and stir to combine.
Taste and add additional lime juice or salt, as desired.
To serve:
Divide the cauliflower rice between 4 bowls. Arrange the fish, coleslaw, red onion, and tomatoes over the cauliflower rice.
Drizzle the sauce evenly over the bowls. Sprinkle with red onion and cilantro.
Serve immediately.
Notes
Don't be intimidated by the long list of ingredients and steps. The sauce and slaw just get stirred together, as easy as can be. Both can also be made ahead to make it even easier at dinner time.
We linked to our recipe for cilantro lime cauliflower rice, but you can sometimes find it pre-made in the freezer section of the grocery store. Super simple!
Tomatoes, red onion, avocado, guacamole, jalapeno, and cilantro all make great toppings. Feel free to get creative.
Nutrition Information:
Yield: 4
Serving Size: 1 bowl
Amount Per Serving:
Calories: 365
Total Fat: 21g
Saturated Fat: 6g
Trans Fat: 0g
Cholesterol: 6mg
Sodium: 1838mg
Carbohydrates: 18g
Net Carbohydrates: 10g
Fiber: 8g
Sugar: 8g
Protein: 25g
All information and tools presented and written within this site are intended for informational purposes only. This information is provided as a courtesy and there is no guarantee that the information is accurate.