Our Taco Stuffed Avocado is an easy way to enjoy taco night – no tortillas needed! Seasoned beef, plenty of cheese, and whatever other taco toppings you like made these a fun dinner!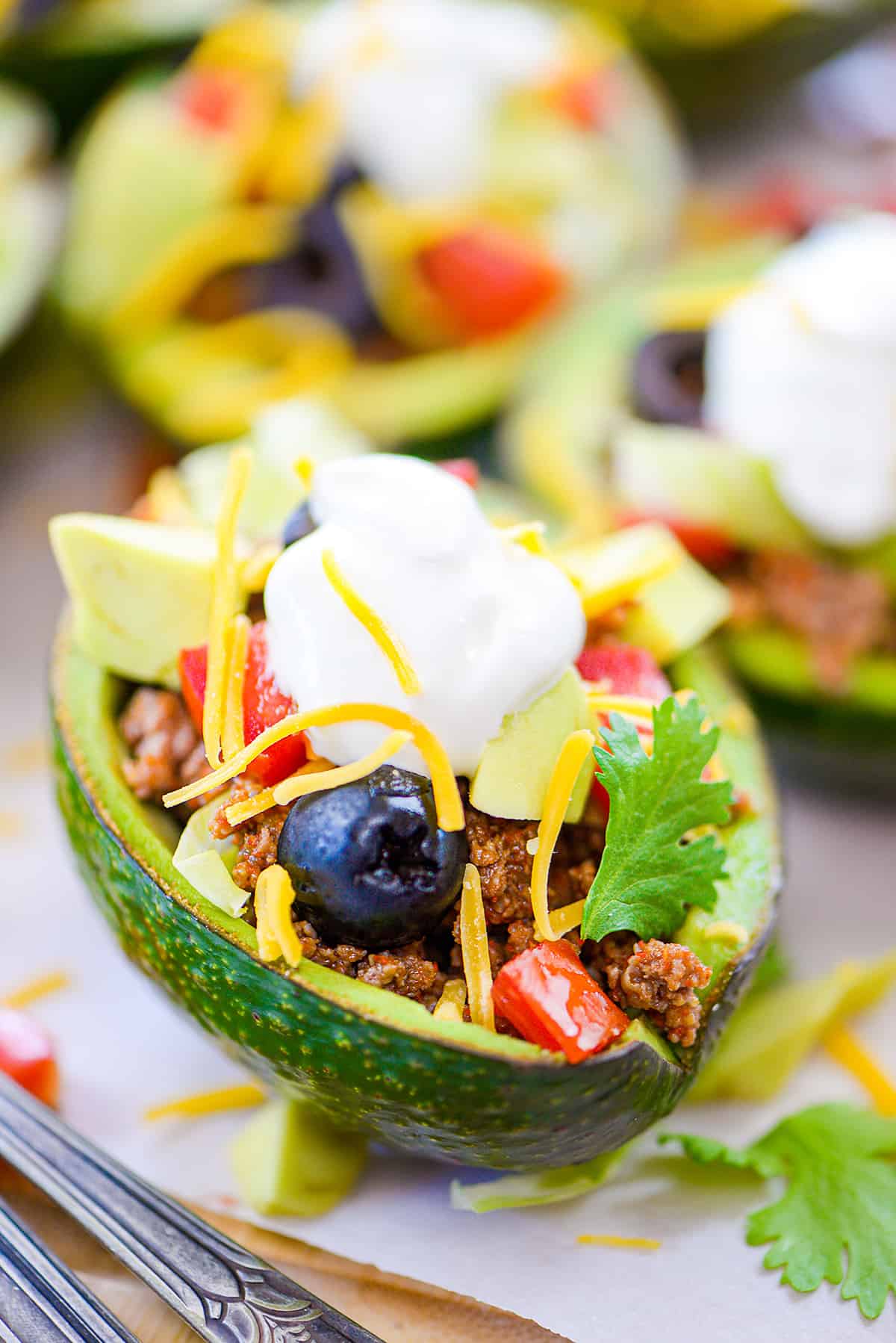 It's no surprise that we love tacos around here!
After all, we've already shared recipes for our keto taco soup, taco stuffed peppers, and our famous taco pizza recipe!
This time around we're keeping it simple! All of the usual taco ingredients, but we're skipping the tortilla and using a hollowed out avocado instead!
You'll definitely want to use that scooped out avocado to make our keto guacamole!
I love these because I can also heat up some tortillas for the family so they can enjoy taco night their way and I don't feel like I'm missing out! Plus, I'm all about any recipe that gives me permission to eat avocados with a fork. I love those things!
Ingredient Notes:
Avocado – You'll need four large, ripe avocados. See tip below for more info on avocados and ripeness!
Ground Beef – We love tacos with lots of seasoned ground beef so that's what we're using. You could also use a different type of ground meat like chicken or turkey or even our Mexican shredded beef.
Keto Taco Seasoning – Follow the link to see my homemade Keto taco seasoning recipe! It's just what you need to season up all your taco recipes, including this one!
Toppings – We like shredded cheddar, lettuce, diced tomato, black olives, and sour cream with these taco stuffed avocados but you can use whatever you'd like.
Why We Love This Recipe:
The avocado that you scoop out can be sprinkled on top or you can mash it up and make guac! We're happy anytime there's the opportunity for guac!
This recipe is perfect for feeding non-low carb people too! Just set out some tortillas and let them choose how they want to build their taco.
Trying to feed a crowd? Stuff as many avocados as you like and set them out for people to dig in! Almost like a low carb version of walking tacos!
How To Make Stuffed Avocado: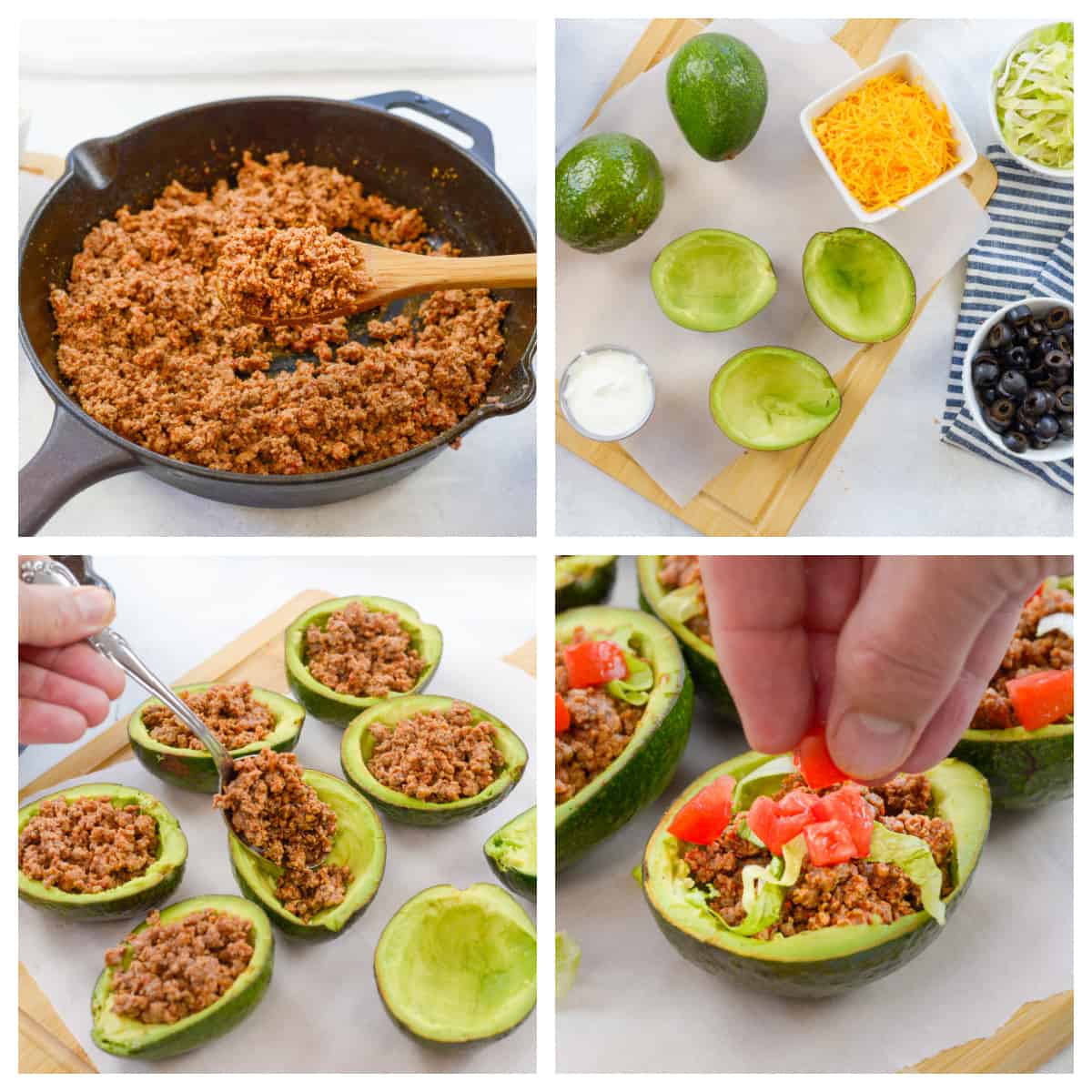 Beef – Brown the ground beef, drain off any excess fat, and then season it with taco seasoning.
Avocado – To prepare the avocado slice them in half and remove the pit. Hollow out the avocado halves with a spoon leaving a small amount over the skin. Take the avocado you scraped out and dice it into small pieces to top your tacos or use it to make guacamole!
Fill – Spoon the beef mixture into each avocado shell.
Top – Sprinkle on your favorite taco toppings, like cheese, lettuce, tomato, and olives.
Helpful Tip!
Avocados can be tricky in terms of their ripeness. You don't want them overly ripe and too soft so make sure they're stored in the fridge if they start softening before you have a chance to make this recipe. If they're too hard, a neat trick is to store them next to some bananas! They'll help ripen the avocado faster.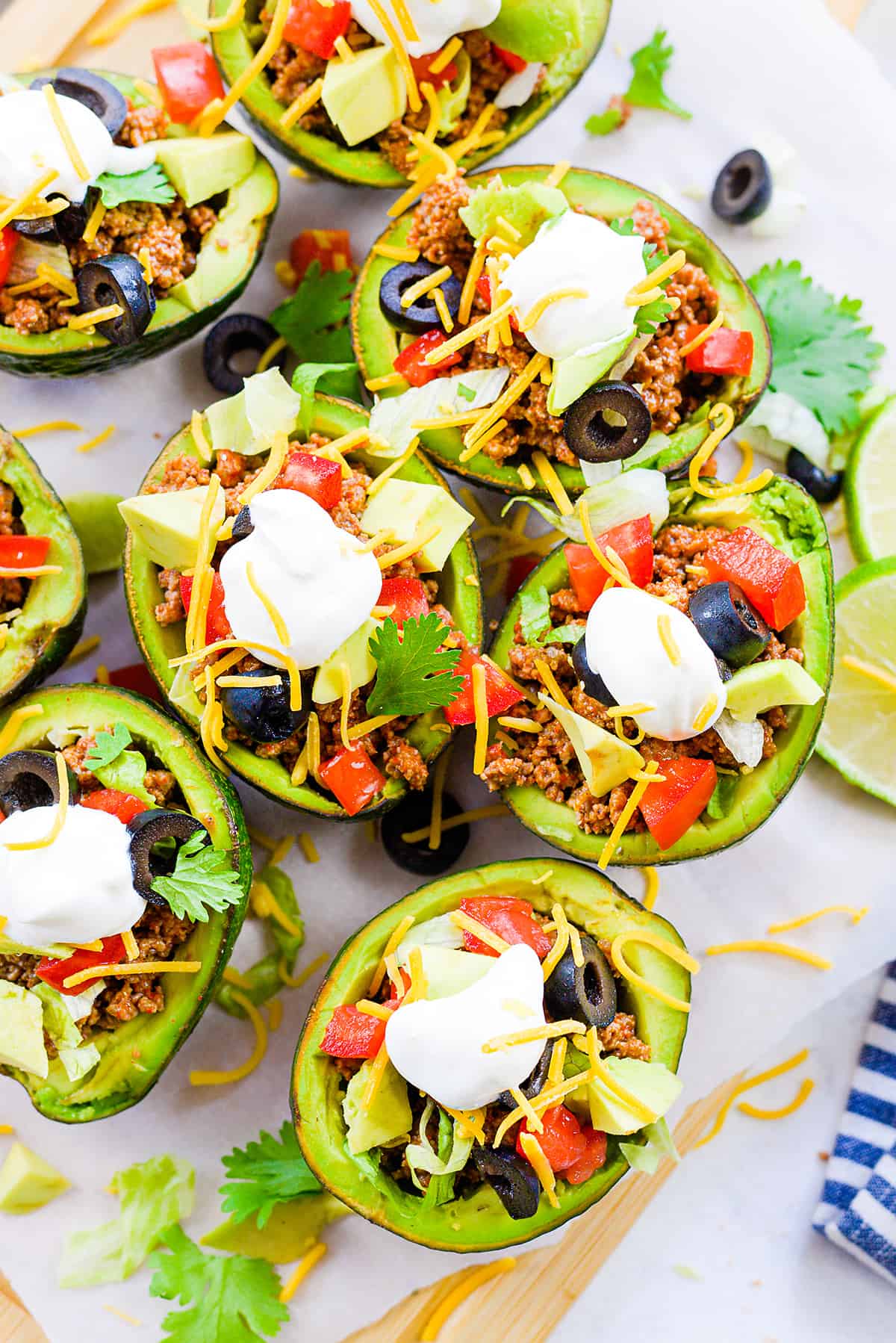 Feed a Crowd!
These Taco Stuffed Avocados are perfect for game day! Whip up a big batch and set them out on a tray for hungry fans to grab and go. This is basically a low carb, healthy version of the walking taco!
More Low Carb Avocado Recipes: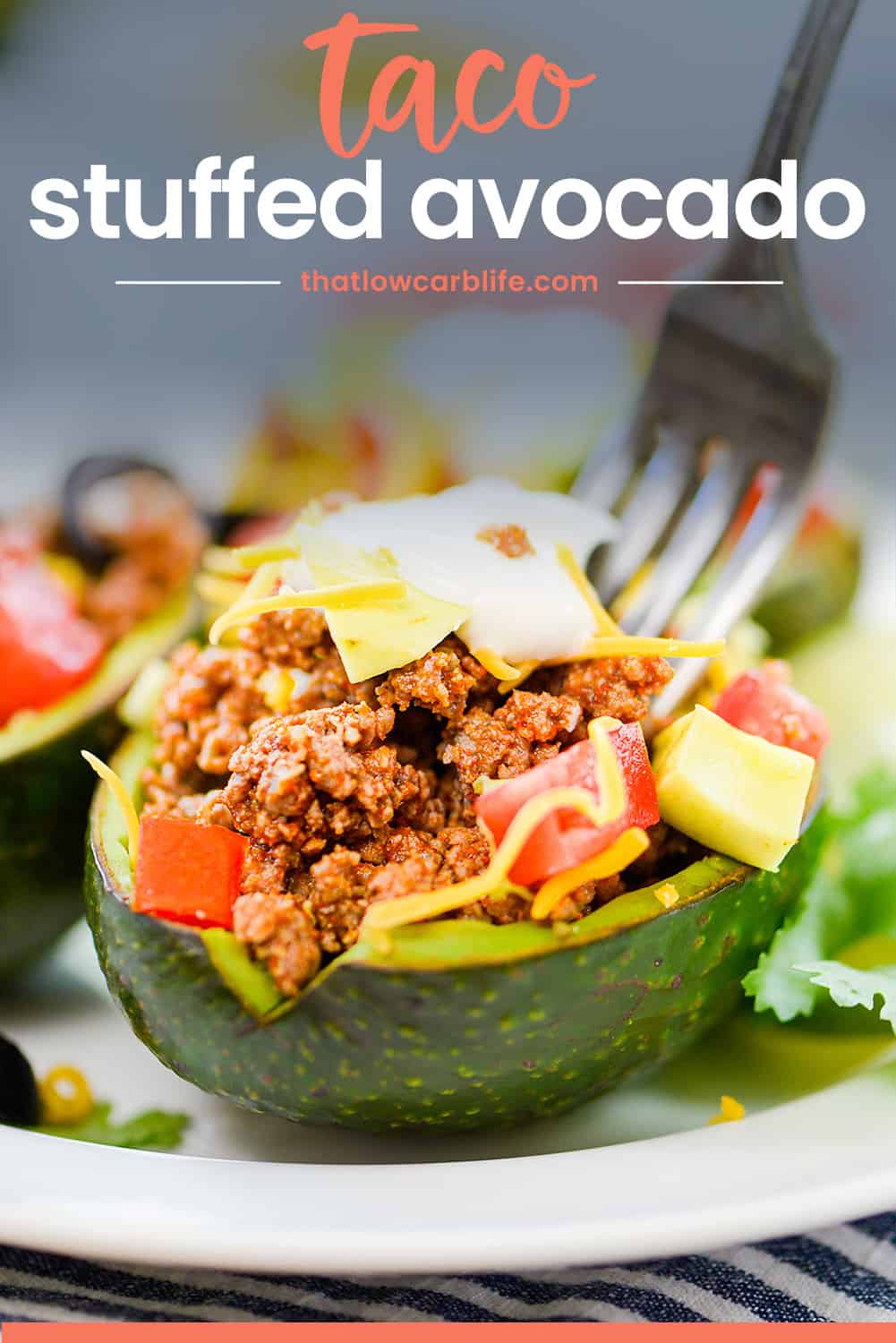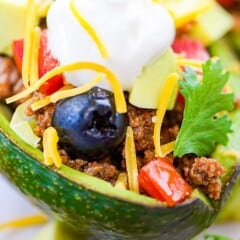 Taco Stuffed Avocado
We love taco night and this is a low carb way to get your taco fix! Set out all of your favorite taco toppings and let everyone build their own avocado.
Ingredients
1 pound ground beef
¼ cup water
4 large ripe avocados
4 tablespoons shredded cheddar
Shredded lettuce, diced tomato, sliced black olives, sour cream, for topping
Instructions
Add the ground beef to a skillet and cook, crumbling the beef as it cooks.
Drain grease from beef and sprinkle on the taco seasoning. Add the water and stir to coat the meat in the seasoning. Cook for 5 minutes, stirring occasionally, until water has evaporated.
Slice the avocado in half and remove the pit. Use a spoon to hollow out the avocado leaving a border of avocado around the skin for structure.
Spoon the beef into the avocado shell.
Dice the removed avocado and sprinkle over the top of the filled avocados along with the other toppings as desired.
Serve immediately.
Notes
Nutrition information does not include any toppings you may add.
Nutrition Information:
Yield: 8
Serving Size: 1 stuffed avocado
Amount Per Serving:
Calories: 340
Total Fat: 26g
Saturated Fat: 7g
Trans Fat: 0g
Unsaturated Fat: 17g
Cholesterol: 54mg
Sodium: 313mg
Carbohydrates: 11g
Net Carbohydrates: 4g
Fiber: 7g
Sugar: 1g
Protein: 18g
All information and tools presented and written within this site are intended for informational purposes only. This information is provided as a courtesy and there is no guarantee that the information is accurate.