Tacos are a staple in our house and this keto taco seasoning is the perfect way to season them. This recipe is perfect for ground beef, turkey, or chicken.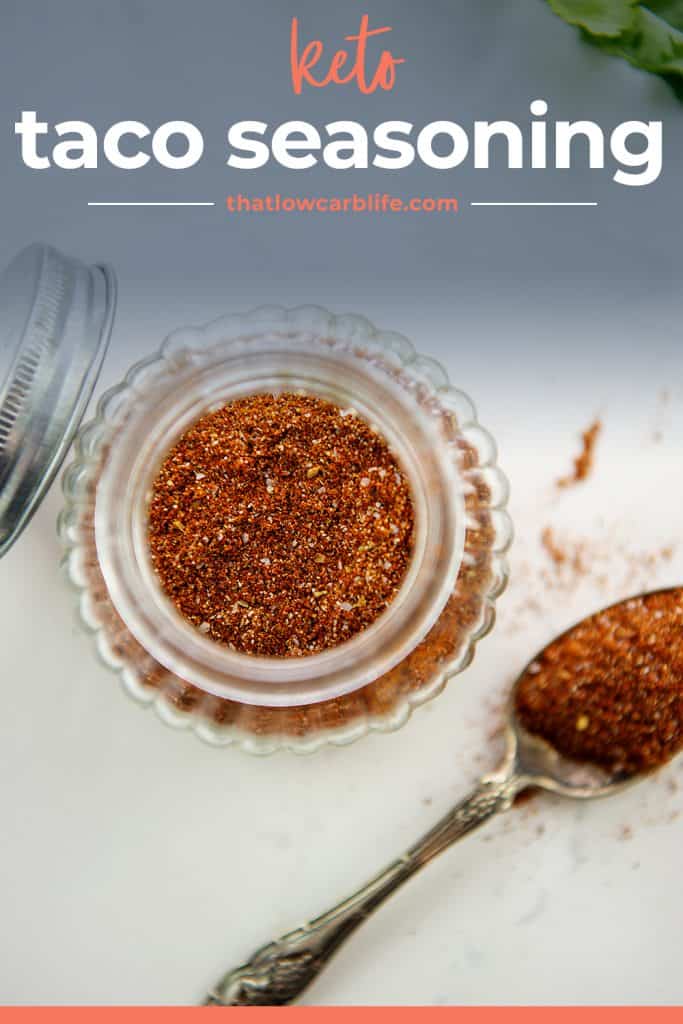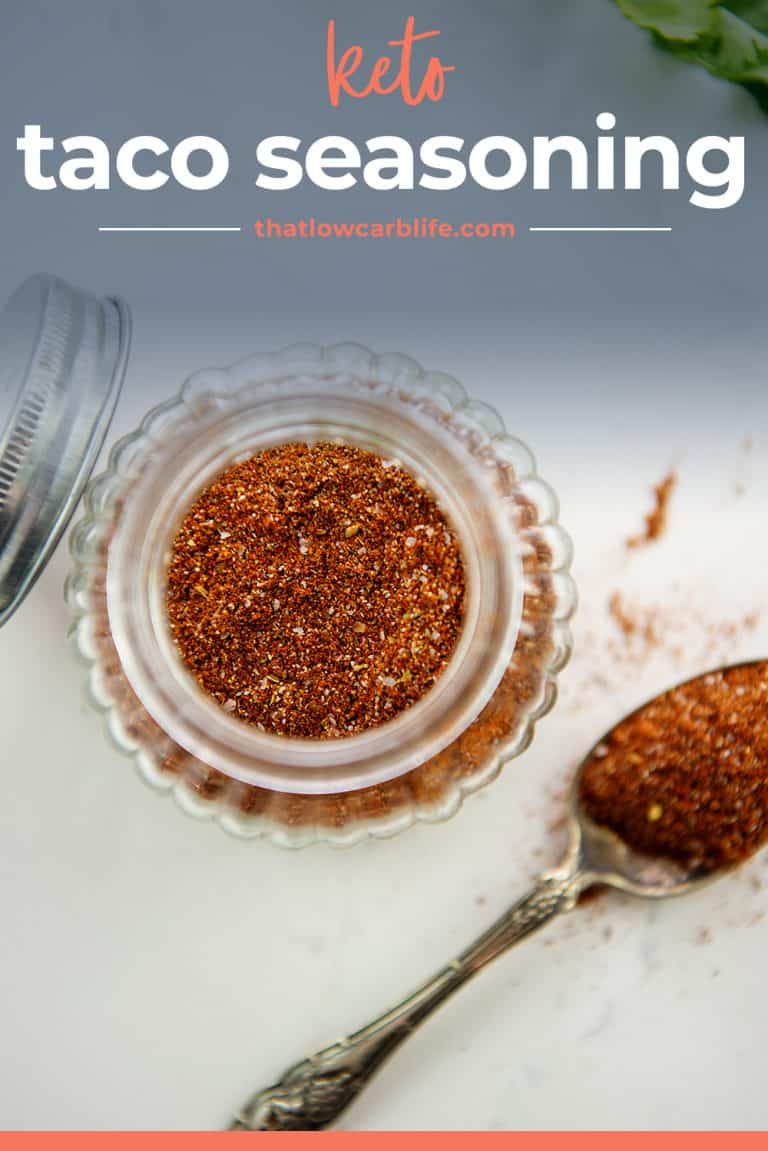 Surely I'm not the only one out there that would be happy to eat some form of Mexican food every day of the week?
I mean, what's not to love about those bold flavors?
I've always just used a packet of taco seasoning when making taco meat, but in the last year or two I've switched over to homemade and oh my gosh, you guys. It is so much better. (We've even started making our own keto enchilada sauce!)
Fresher, more flavorful, and no maltodextrin, corn starch, sugar, or other crazy ingredients. <— Yes, the packets have some weird stuff in them!
Ingredients: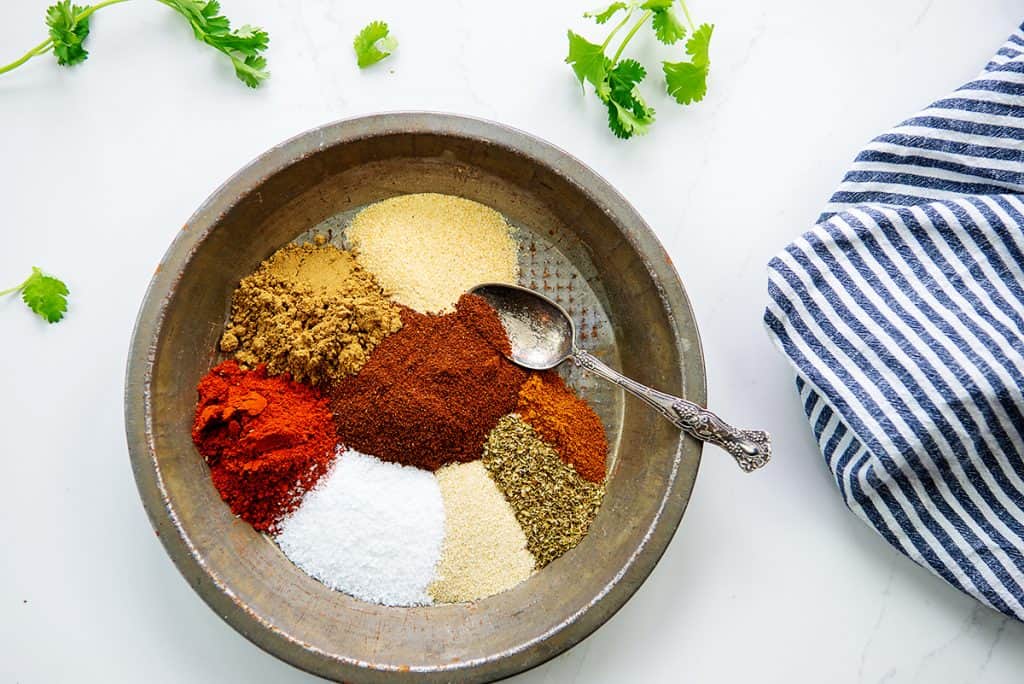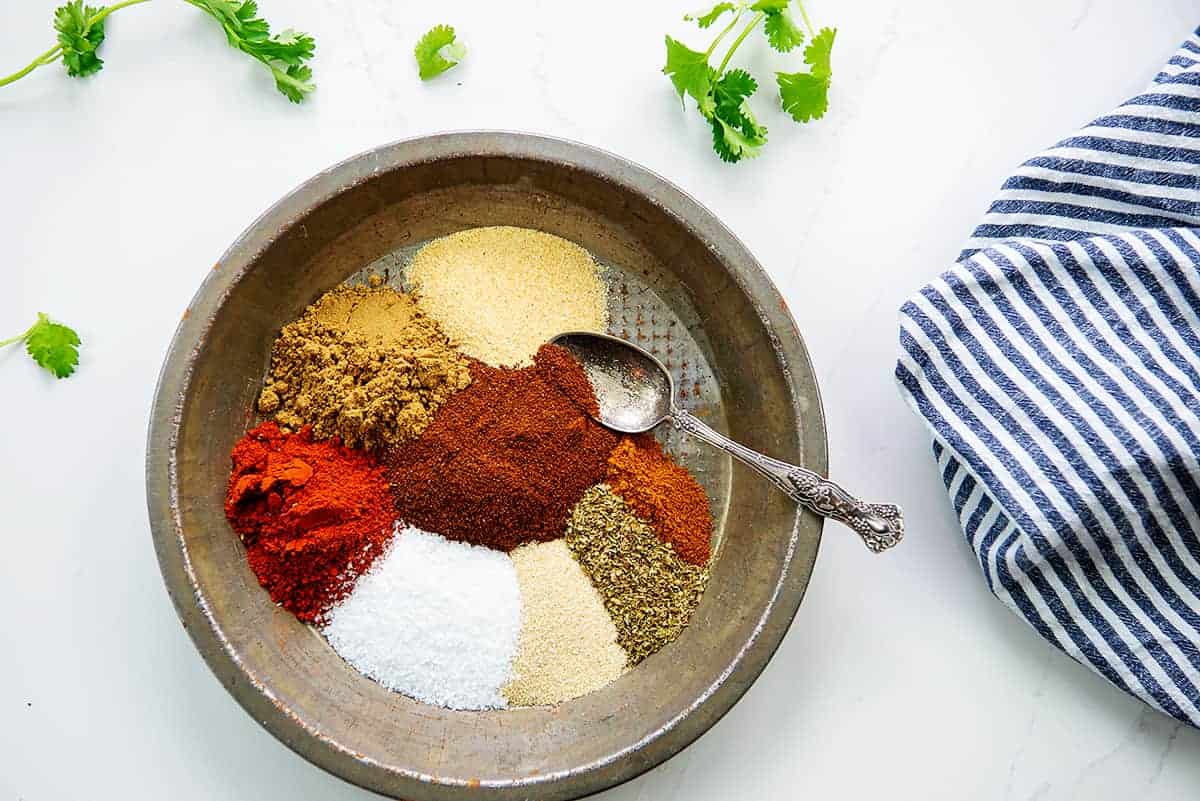 We use Thrive Market for a lot of our specialty ingredients, keto snacks, spices, and snacks for the kids. Their prices tend to be cheaper than the local stores and I love that you can so easily sort products by diet.
Like Costco, this is a membership site, but we find that it's more than worth it based on the amount we save over the regular grocery store.
They have monthly or yearly plans. Check it out here.
Uses for homemade taco seasoning:
This keto taco seasoning recipe makes enough spice mix for 4 pounds of ground meat. Brown your beef, chicken, or turkey and drain the grease. Season with 3 tablespoons of this spice mix along with 2 tablespoons of water. Stir to coat the meat, simmer away excess liquid, and serve it up!
There are so many ways to use this homemade taco seasoning, beyond just seasoning a pound of ground beef though.
Swap the taco seasoning packet in my taco stuffed mini peppers with this mix instead.
Skip the spice mix on these keto chicken fajitas, taco skillet, and Mexican meatballs and use 2-3 tablespoons of this mix instead.
Season chicken with this spice mix (a tablespoon per pound, or to taste) for our baked salsa chicken, enchilada pizza, and hasselback chicken fajitas.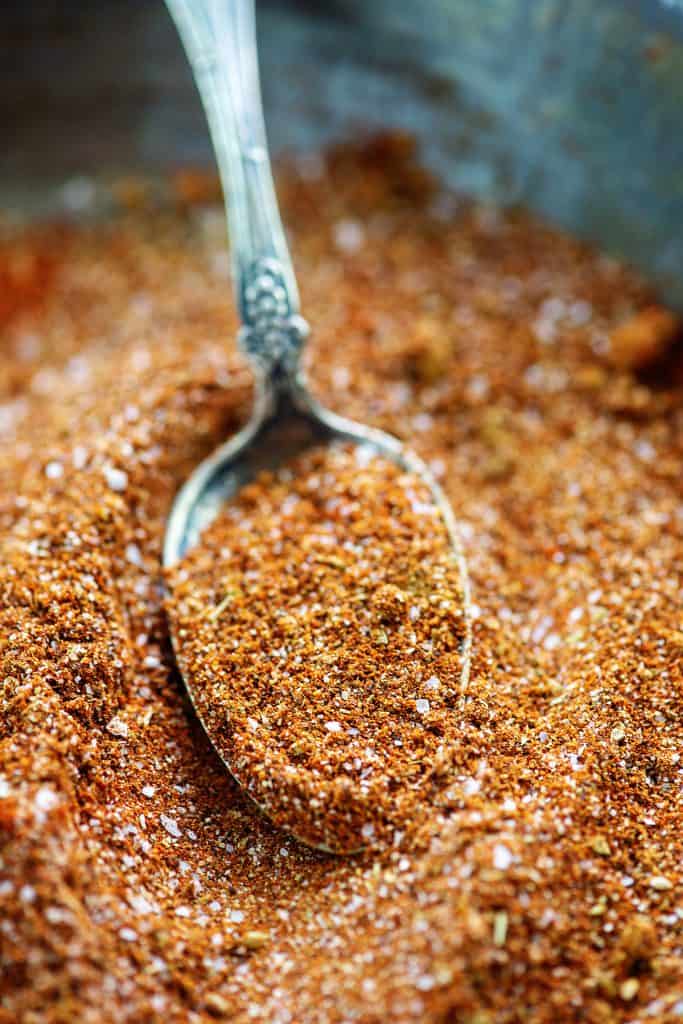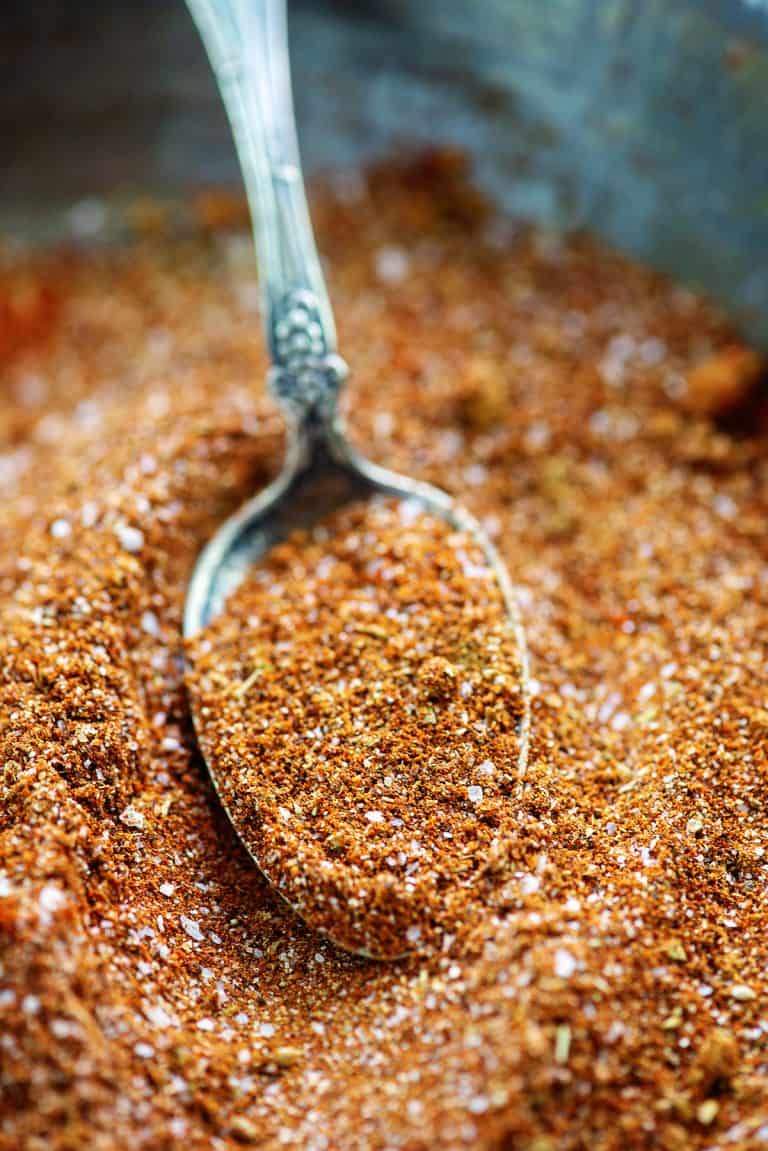 Storage:
We store this spice mixture in a 4 or 8 ounce mason jar, tightly covered, in our spice cabinet. Feel free to double (or more) the batch and store in larger jars.
It will be good for 6 months and beyond, depending on the freshness of your spices.
The mix should be safe to eat for a year or longer, but the flavor will start to fade after time.
More spices & condiments to make at home: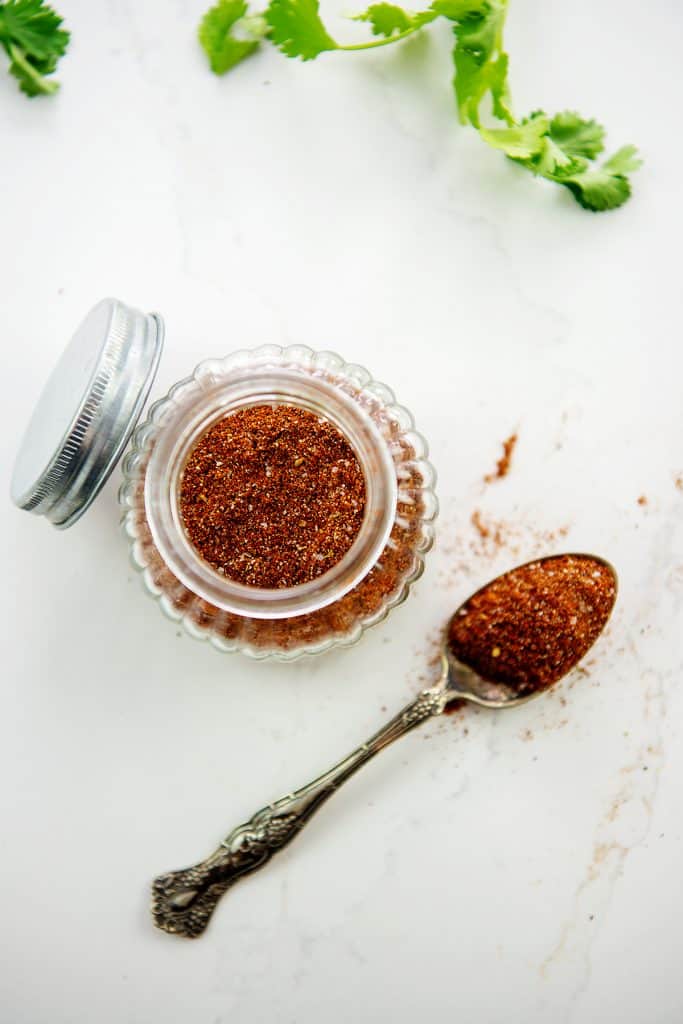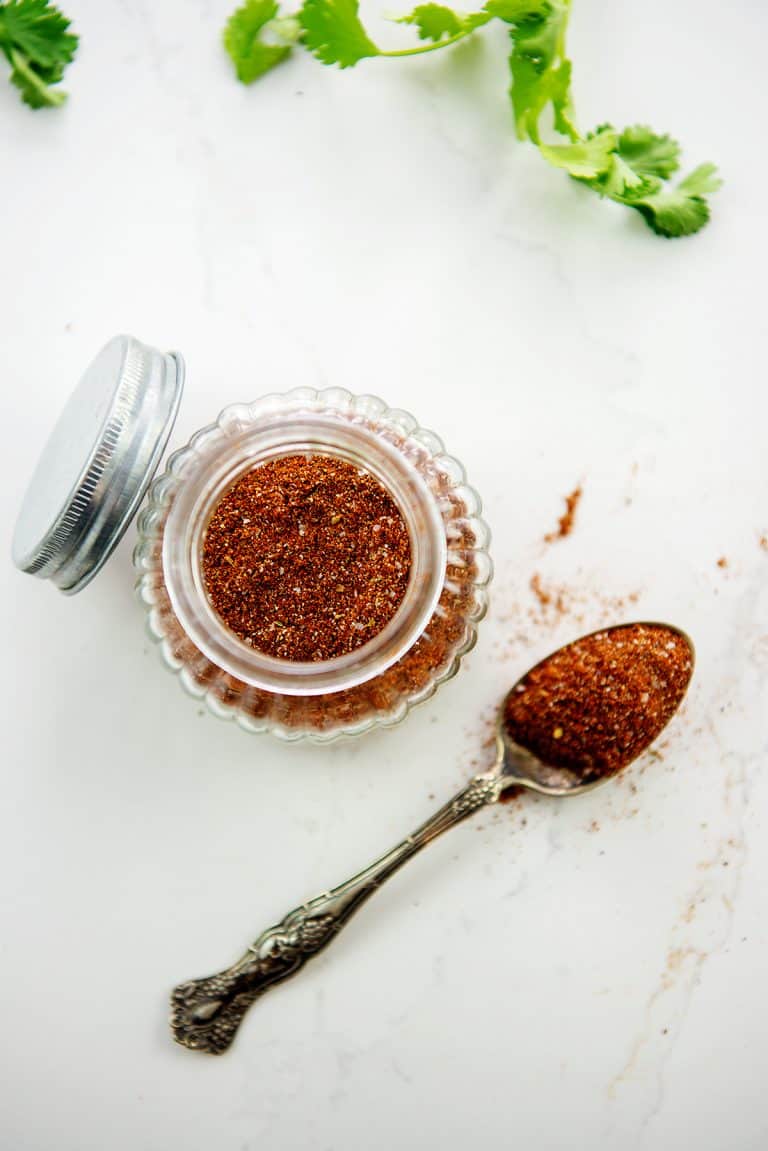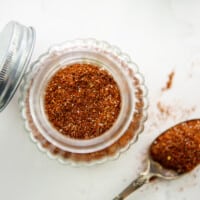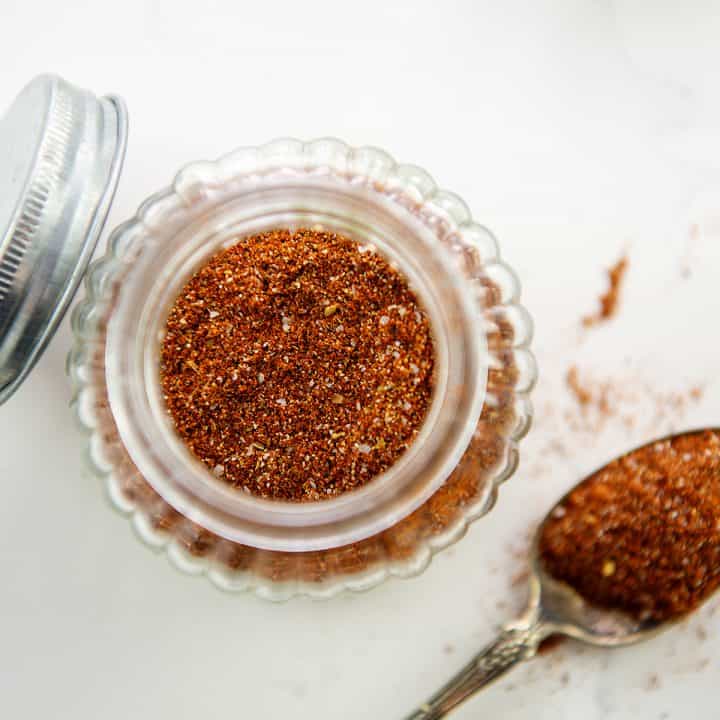 Keto Taco Seasoning
Homemade taco seasoning is so much more flavorful, fresh, and healthier than the packets of mix. This recipe yields enough for 4 pounds of taco meat. You'll want to 3 tablespoons of the spice mix per pound of ground beef, chicken, or turkey.
Ingredients
¼ cup chili powder
2 tablespoons cumin
2 tablespoons smoked paprika
2 tablespoons salt
1 tablespoon garlic powder
1 tablespoon onion powder
2 teaspoons oregano
1/2 teaspoons cayenne, to taste
Instructions
Add all of the spices to a small jar and shake well to combine.
Store tightly covered in your spice cabinet.
Use 3 tablespoons per 1 pound of ground + 2 tablespoons of water to make taco meat.
Notes
Feel free to adjust the spices to your tastes. We use closer to 1 teaspoon of cayenne for spicier tacos. Chipotle powder is a nice swap from cayenne as it adds a little heat with a bit of a smoky flavor.
Regular paprika may be swapped for smoked paprika.
Mexican oregano is preferred to regular, but both work.
Nutrition Information: We calculated this based on using 3 tablespoons of seasoning per 1 pound of beef. We then divided that into 4 servings. Each serving is about 2 1/4 teaspoons of seasoning.
Recommended Products
As an Amazon Associate and member of other affiliate programs, I earn from qualifying purchases.
Nutrition Information:
Yield: 16
Serving Size: 2 1/4 teaspoons
Amount Per Serving:
Calories: 15
Total Fat: 1g
Saturated Fat: 0g
Trans Fat: 0g
Unsaturated Fat: 0g
Cholesterol: 0mg
Sodium: 853mg
Carbohydrates: 3g
Net Carbohydrates: 2g
Fiber: 1g
Sugar: 0g
Protein: 1g
All information and tools presented and written within this site are intended for informational purposes only. This information is provided as a courtesy and there is no guarantee that the information is accurate.