This LOW CARB CHICKEN CASSEROLE is a family favorite. It starts with cauliflower rice and then gets fresh broccoli, chicken, cheese, and bacon added to the mix. Total comfort food!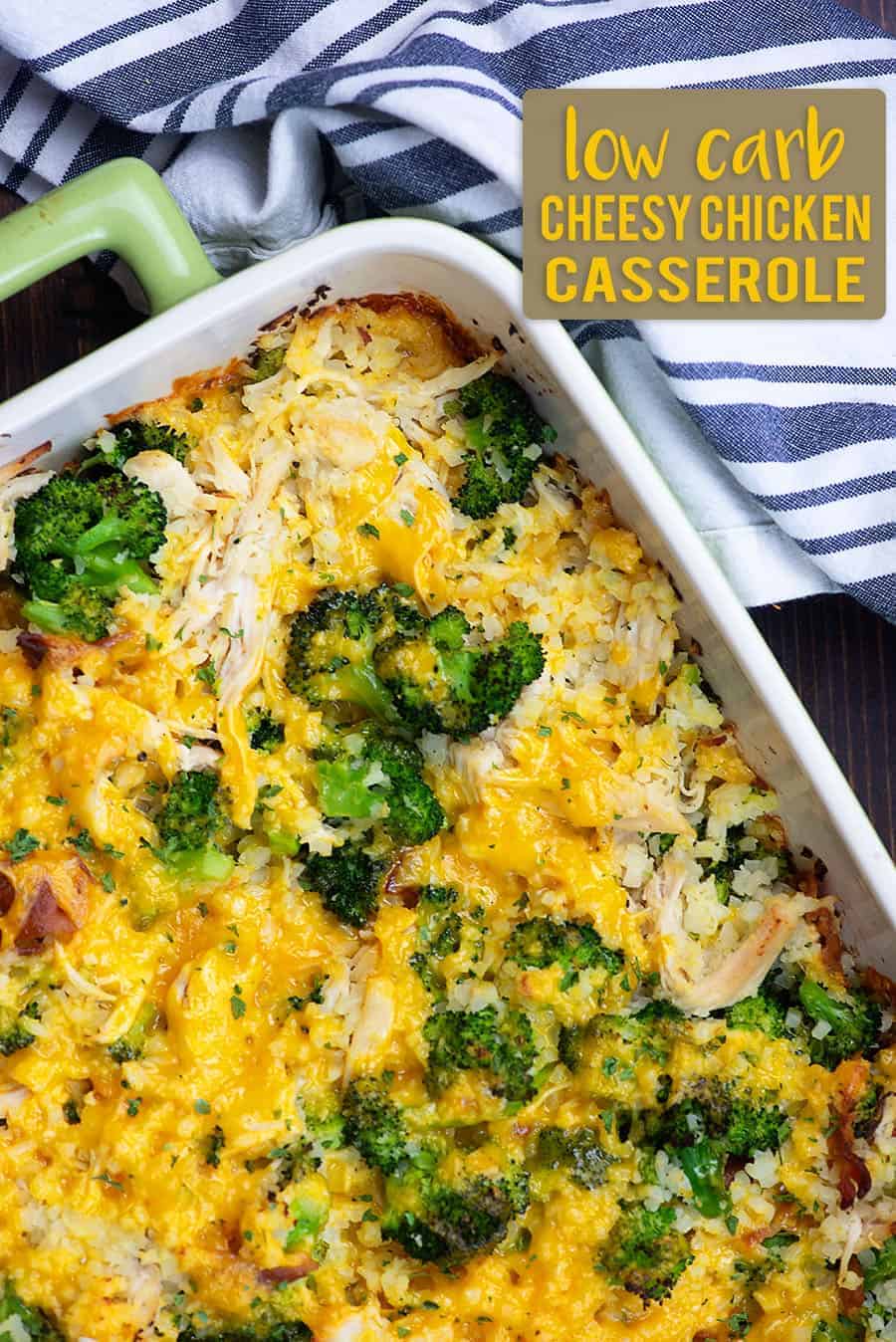 I'm a Midwestern girl through and through.
What does this mean?
Well, it means that I put ranch dressing on ev.ery.thing. Like, EVERYTHING.
It also means that, back before I was all low carb, I ate a whole heck of a lot of corn on the cob.
And, most importantly, it means that casseroles are my life.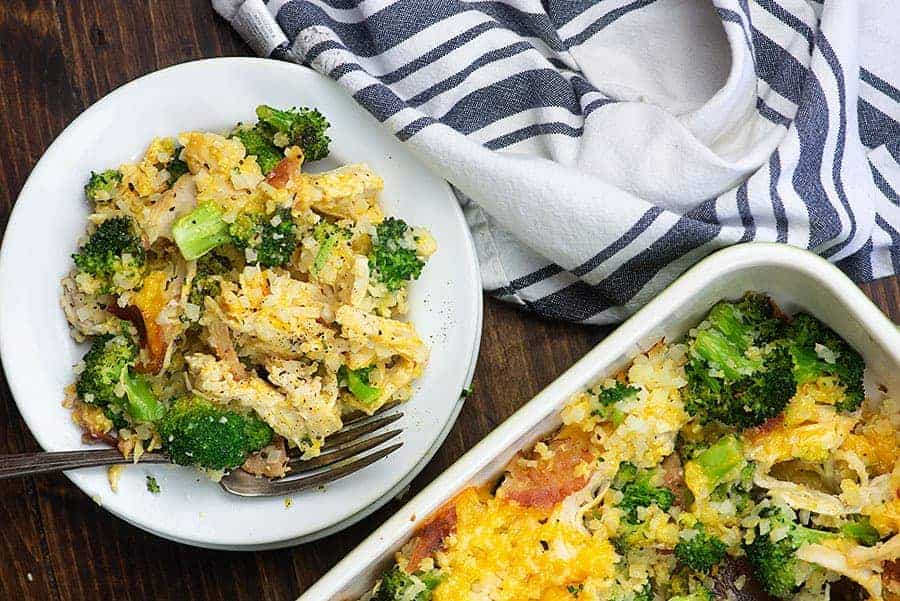 I'm sorry, but there is just something comforting and homey about a 9×13 dish full of cheesy goodness.
This low carb chicken casserole surprised me. I knew I was going to like it when I was throwing it together the first time, but I was surprised by just how perfect it was.
A low carb casserole that makes the whole family happy? Yes, please.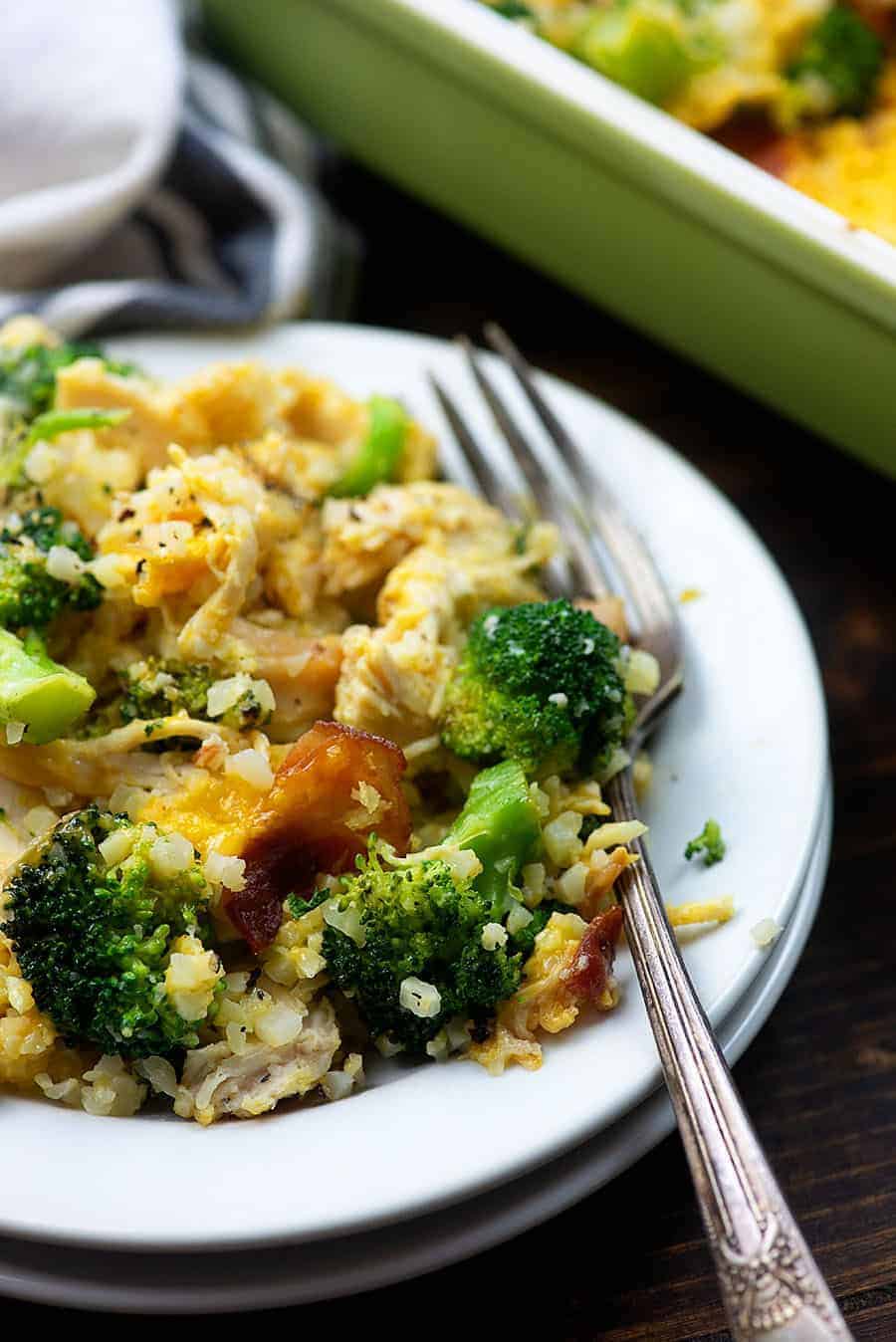 How to:
You can use fresh cauliflower and rice it yourself for this recipe or you can use a bag of frozen cauliflower rice. Either will work fine!
We're going to start by cooking the cauliflower rice. Follow the directions on the bag or steam your fresh cauliflower.
Cooking the rice first means we'll avoid the casserole getting too much liquid from the veggies.
While the cauliflower is cooking, you'll also want to steam some broccoli and fry some bacon.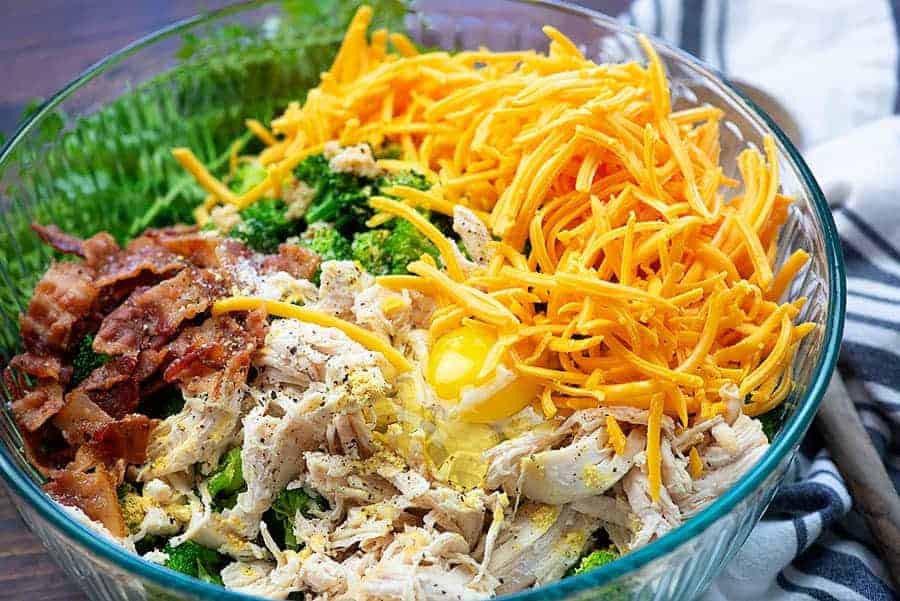 Add the steamed cauliflower rice and broccoli to a mixing bowl along with some cooked, shredded chicken, crumbled bacon, eggs, cheddar, and your seasonings.
Mix it all up and toss it in a 9×13 baking dish.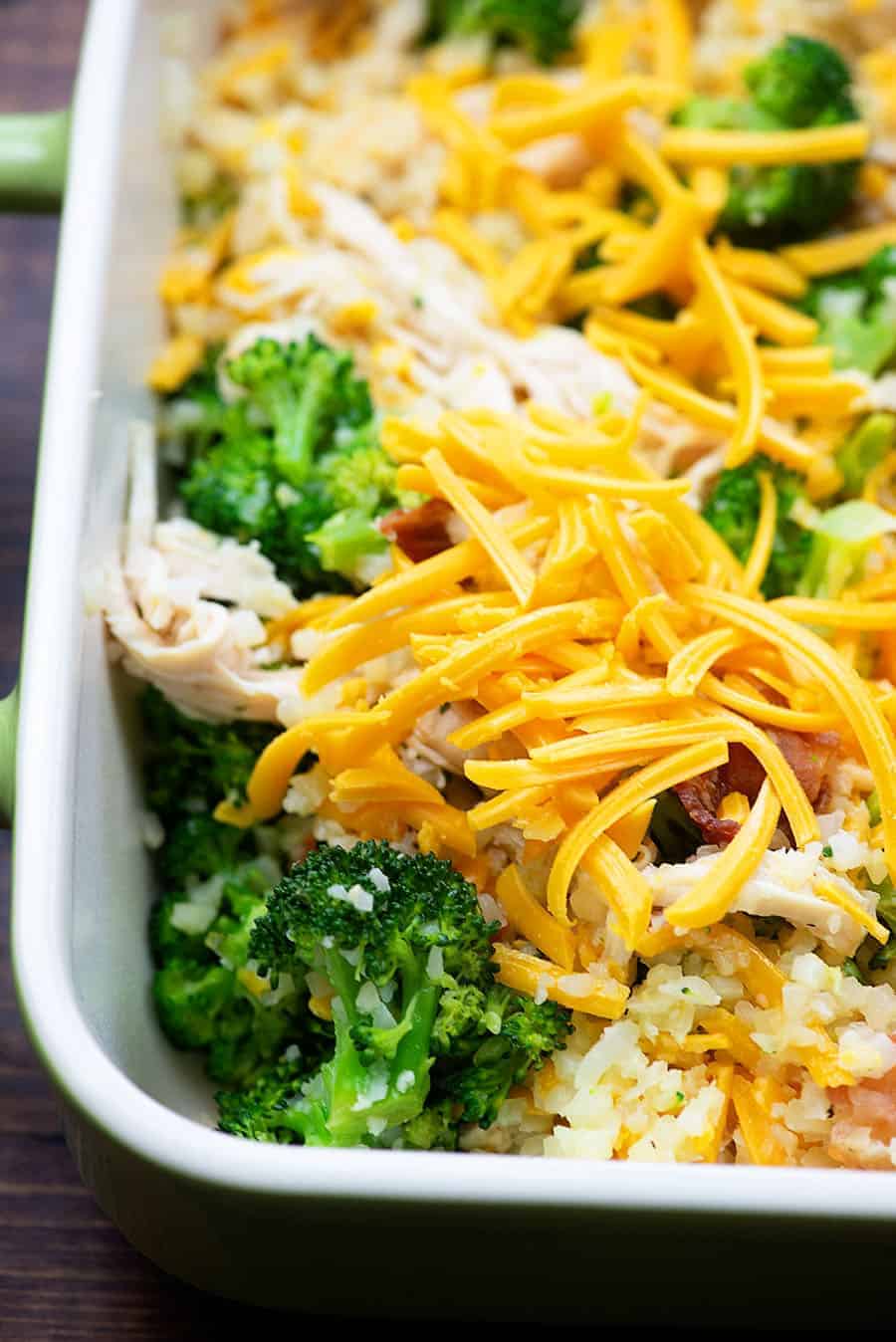 I usually sprinkle a little extra cheese on top for good measure. 😉
This keto chicken casserole will bake for 30 minutes at 350 degrees.
What comes out of your oven is pure comfort food!
This low carb casserole is a total keeper!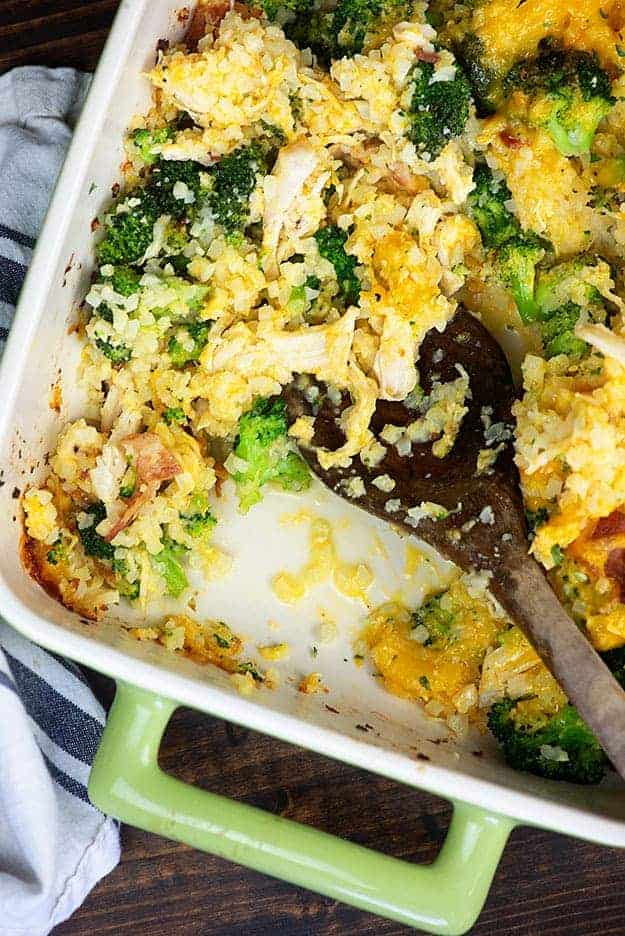 If you like low carb casseroles, you might also like:
Low Carb Cheeseburger Casserole: I make this almost every week – it's so filling and reheats like a dream!
Unstuffed Cabbage Rolls: This casserole is beyond simple!
Lasagna Stuffed Chicken: If you love the traditional lasagna, I bet you'll love this version too!
Philly Cheese Steak Casserole: I love a good cheese steak and this one doesn't disappoint!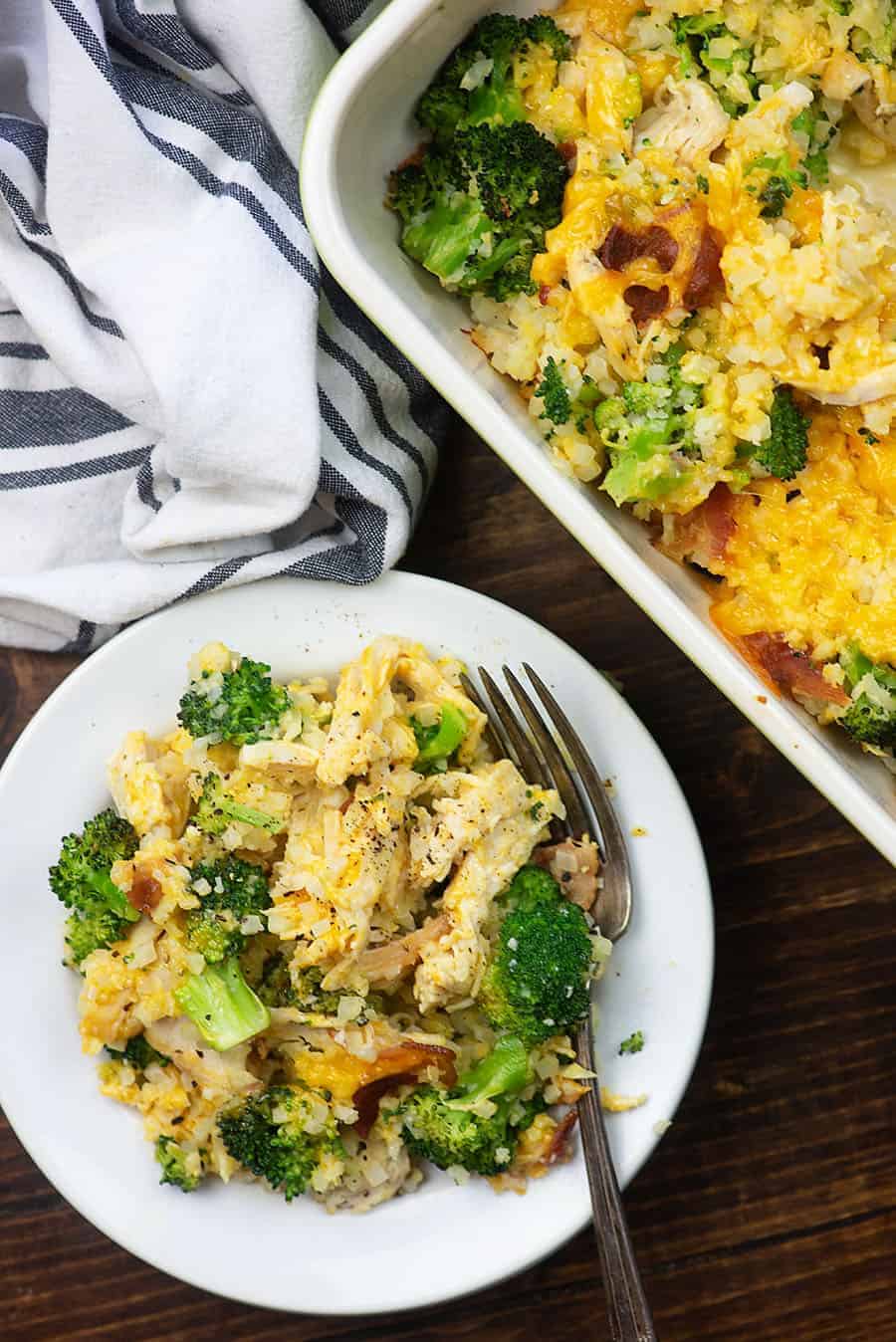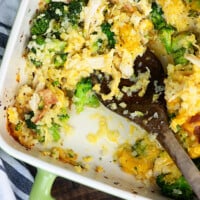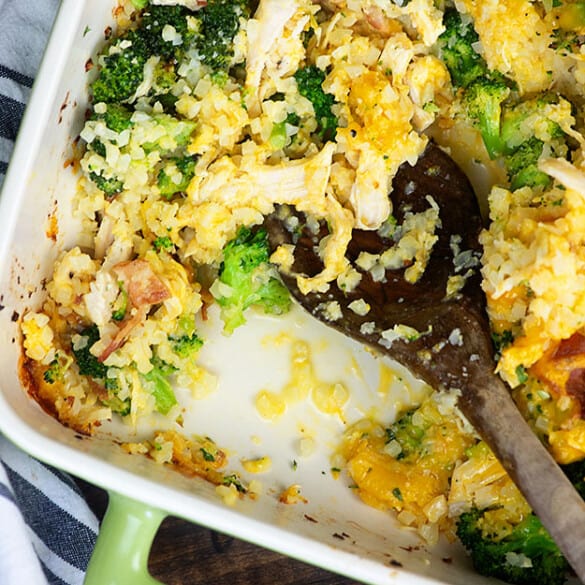 Low Carb Chicken Casserole
This cheesy chicken casserole is full of cauliflower rice, broccoli, and shredded chicken. Such a simple weeknight meal.
Ingredients
16 ounces riced cauliflower
12 ounces broccoli florets
2 cups cooked, shredded chicken
4 slices bacon
3 cups grated cheddar, divided
2 large eggs
1 teaspoon salt
1 teaspoon garlic powder
1/2 teaspoon mustard powder
1/2 teaspoon cracked pepper
Instructions
Preheat oven to 350 degrees.
Steam the cauliflower and broccoli until cooked through and tender.
Fry the bacon until crisp and crumble it into small pieces.
Add the steamed cauliflower rice and broccoli to a large bowl with the chicken, bacon, eggs, 2 1/2 cups cheddar, and spices. Stir well to combine.
Spread mixture into 9x13 baking dish and sprinkle the top with remaining 1/2 cup cheese.
Bake uncovered for 30 minutes.
Serve immediately.
Nutrition Information:
Yield: 6
Amount Per Serving:
Calories: 457
Total Fat: 27g
Saturated Fat: 13g
Trans Fat: 1g
Unsaturated Fat: 11g
Cholesterol: 159mg
Sodium: 954mg
Carbohydrates: 6g
Net Carbohydrates: 4g
Fiber: 2g
Sugar: 3g
Protein: 45g
All information and tools presented and written within this site are intended for informational purposes only. This information is provided as a courtesy and there is no guarantee that the information is accurate.