Low carb taco casserole makes Taco Tuesday healthy and delicious. Serve this taco bake with all your favorite taco toppings and I promise you won't miss the tortillas.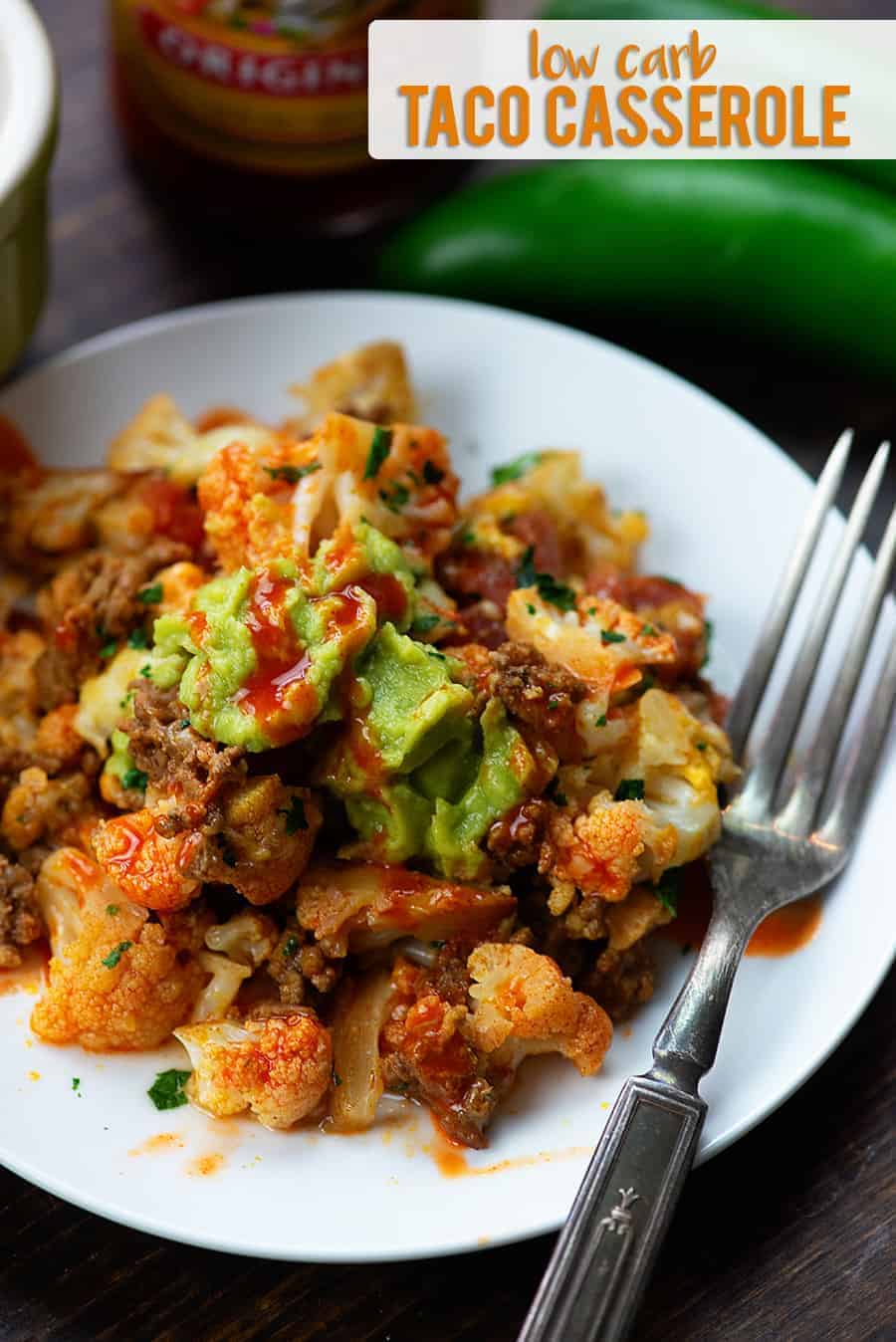 There are two things in this world that I love most of all.
Tacos and casseroles.
I could literally eat Mexican food every night of the week and I'm pretty sure I'd never get tired of it.
Same goes for casseroles!
I'm a Midwestern girl and casseroles are in our blood. It's how we do.
I've churned out a bazillion ground beef casseroles in my day, because 1) I always have ground beef in my fridge and 2) did I mention my love of casseroles?
I figured it was high time we got around to making some low carb ground beef casseroles, though. I mean. Casseroles don't have to be full of grains and starch. They can be full of keto goodies, too!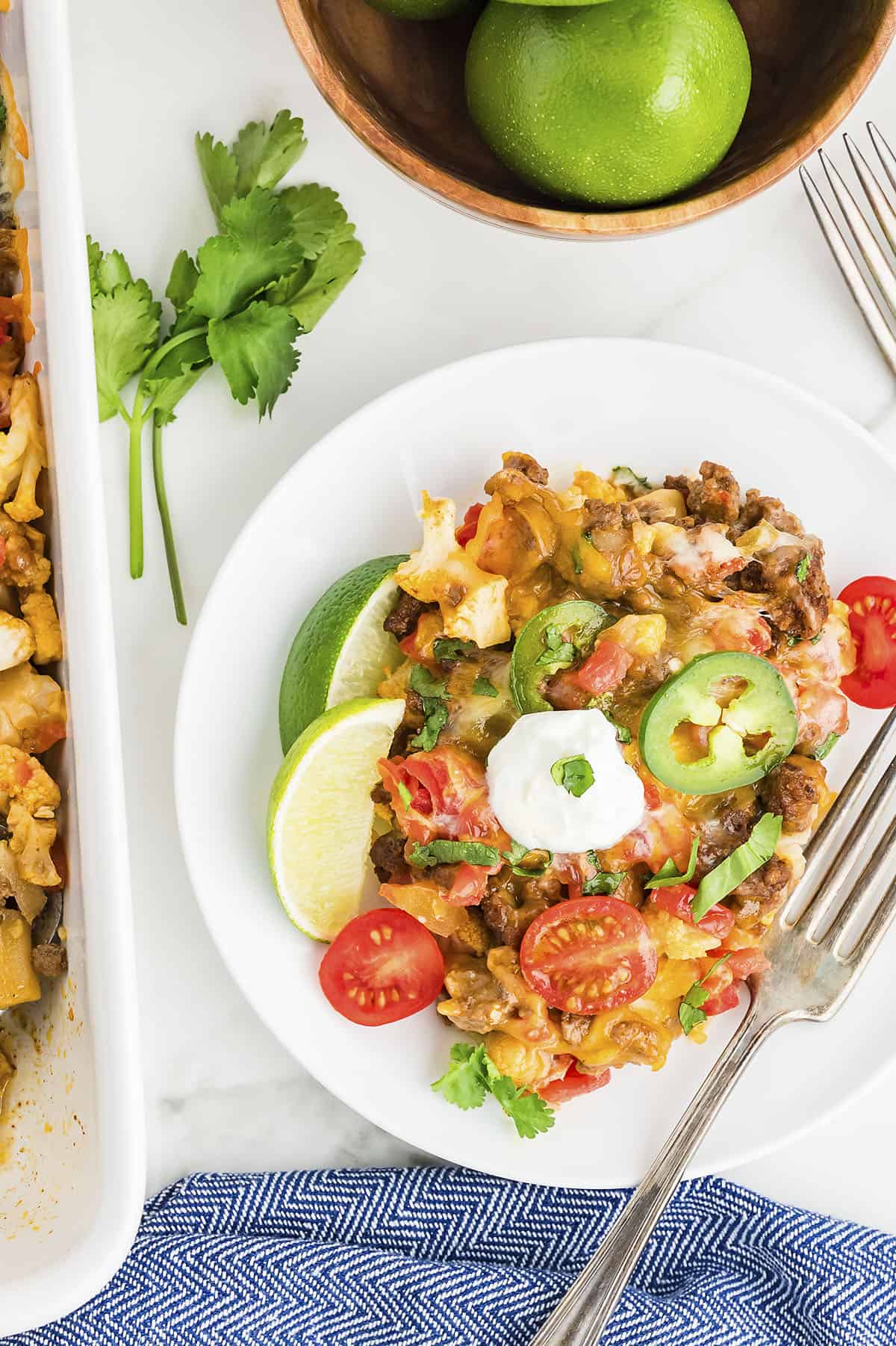 How to make this low carb taco bake:
The base of our casserole is everyone's favorite low carb vegetable – cauliflower.
I'm sorry, it's just so versatile and it works well with just about any flavor or ingredient you throw at it.
We're going to roast the cauliflower with a little olive oil, paprika, cumin, and salt.
While the cauliflower is in the oven roasting up to deliciousness, get started on your taco meat.
You'll need ground beef and taco seasoning. Easy stuff here, friends.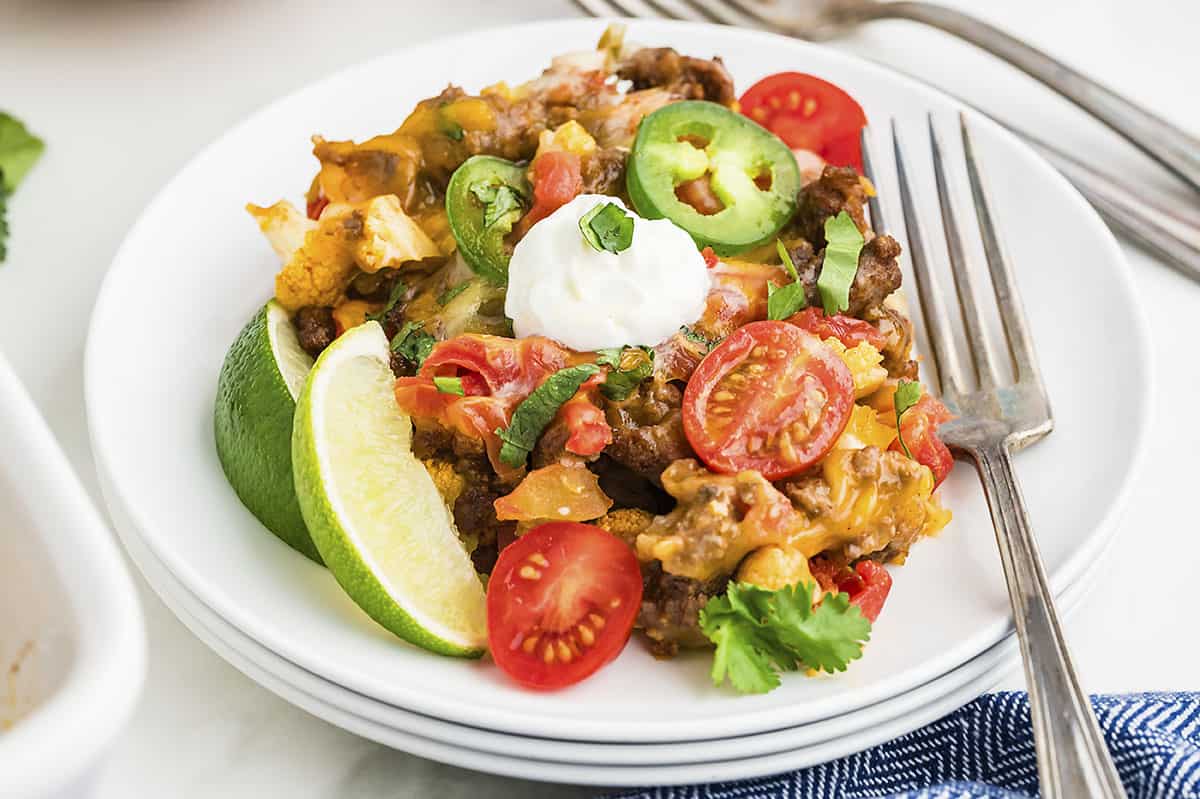 Make your own taco seasoning to keep it lower in carbs using cumin, chili powder, paprika, garlic powder, onion powder, and salt. Alternately, go ahead and use a package mix if you're not super strict on carbs/ingredients.
Whip up your taco meat and then spoon it over the roasted cauliflower.
Top that with some Ro*Tel or a little salsa and lots of cheese. I used a mix of cheddar and Monterey jack, but whatever variety you prefer will work well here.
Cover this with foil and pop it in the oven for about 10 more minutes.
I sprinkle with cilantro before serving, top it with guacamole, and add a big drizzle of Cholula.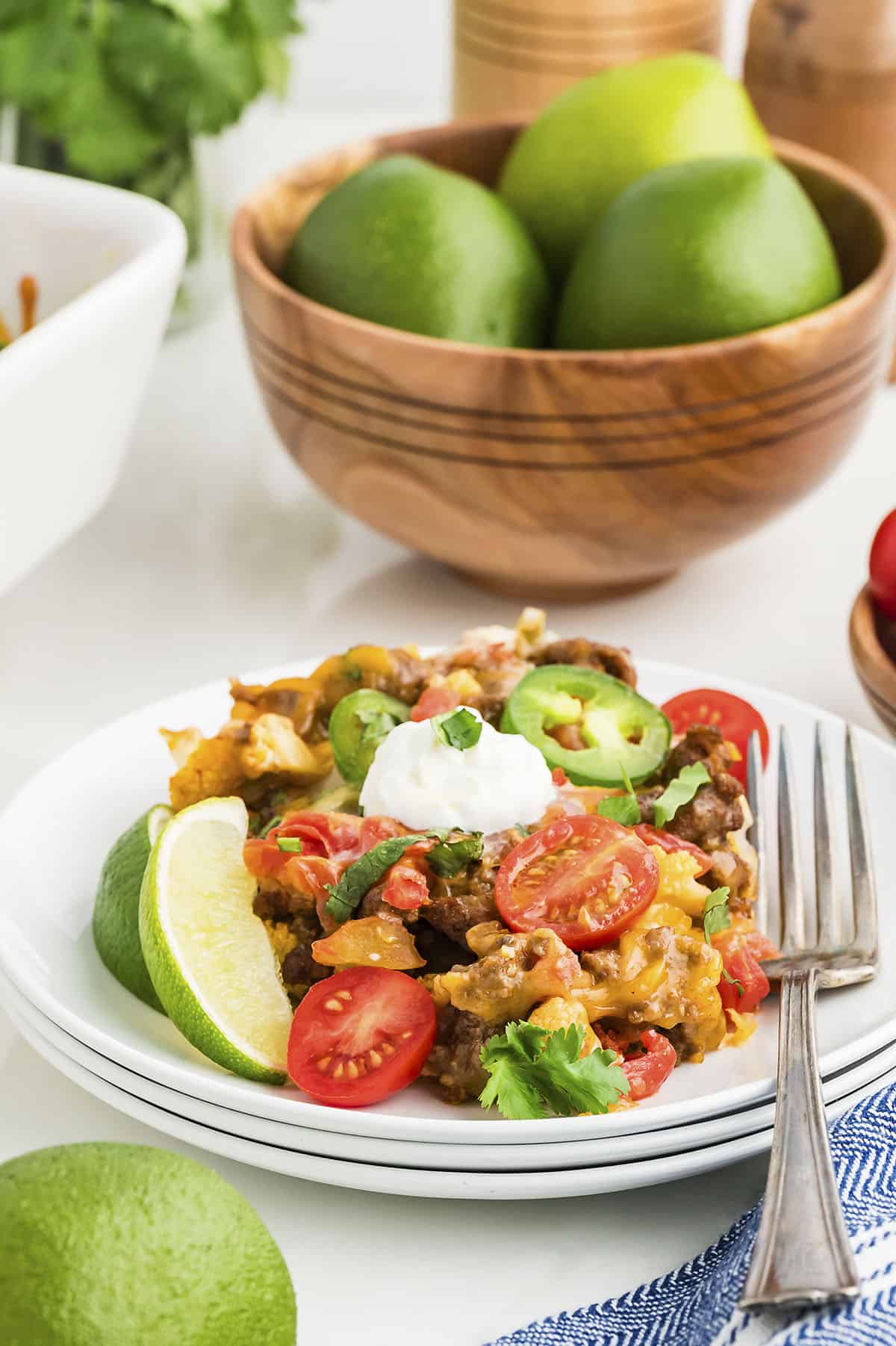 This taco bake is such an easy weeknight dinner and it makes a great twist on taco night.
I don't know about you, but I love finding new low carb ground beef recipes. I feel like I always have ground beef in the fridge!
Check out my mozzarella stuffed meatballs for another tasty ground beef recipe.
For more low carb casseroles, try this breakfast casserole or my cheeseburger casserole.
Low Carb Taco Casserole
This low carb taco casserole will keep any Mexican food lover happy!
Per serving: 328 calories, 22g fat, 27g protein, 8g carbs, 3g fiber = 5 net carbs
Ingredients
1 large head cauliflower
1 tablespoon olive oil
1 teaspoon paprika
2 teaspoons cumin, divided
1/2 teaspoon salt
1 pound ground beef
1 teaspoon paprika
1 teaspoon garlic powder
1 teaspoon onion powder
1 teaspoon chili powder
1 teaspoon salt
1/4 cup water
10 ounces Ro*Tel, drained
1 cup grated cheddar
1/4 cup chopped cilantro
1 cup grated Monterey jack
Instructions
Preheat oven to 400 degrees.
Chop cauliflower into small florets and place in a 9x13 baking dish.
Drizzle the cauliflower with olive oil and sprinkle with paprika, 1 teaspoon of cumin, and salt. Toss to coat.
Bake for 10 minutes.
While cauliflower is cooking, add the ground beef to a skillet and brown. When cooked through, drain the grease and return to the skillet.
Add the remaining teaspoon of cumin, paprika, garlic powder, onion powder, chili powder, salt and water to the ground beef and cook for 2 minutes.
Remove cauliflower from oven and spoon the ground beef over the top.
Top with Ro*Tel, grated cheddar, and Monterey jack.
Cover tightly with foil and return to the oven for 15 minutes.
Remove foil and sprinkle with cilantro. Serve with your favorite taco toppings.
Notes
Nutrition information does not include any toppings aside from what's listed in the ingredients list.
Nutrition Information:
Yield: 6
Serving Size: 6 Servings
Amount Per Serving:
Calories: 328
Total Fat: 22g
Carbohydrates: 8g
Net Carbohydrates: 5g
Fiber: 3g
Protein: 27g