These Garlic Butter Mushrooms call for just 4 ingredients and they're done in 10 minutes! Savory, loaded with garlic, and a favorite in our home!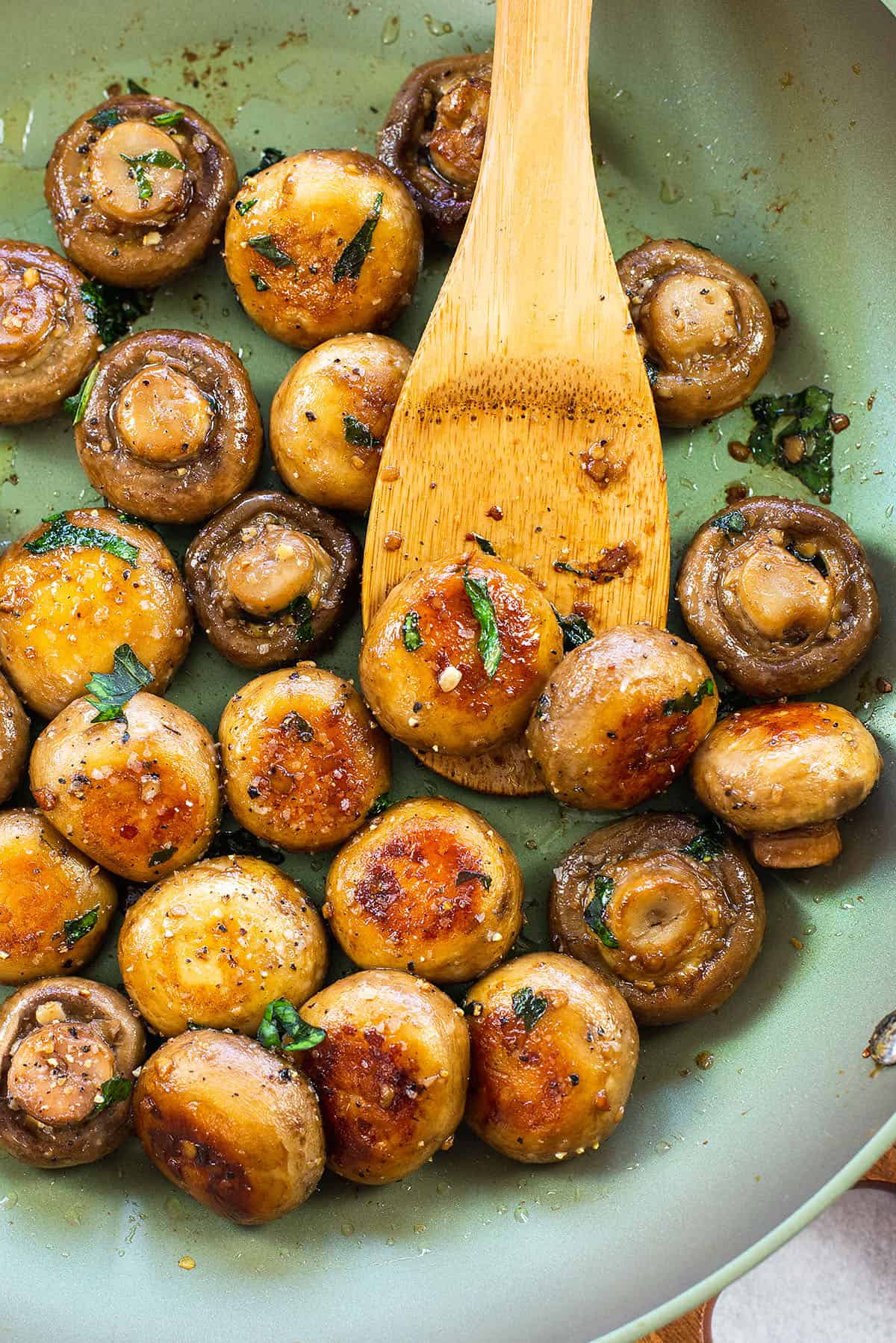 Want to know the secret to making any dinner better? It's these Garlic Butter Mushrooms!
Whether you're serving them as a side dish or you're topping off a juicy steak with the mushrooms, these are a 5 star dish that my family goes nuts over!
These garlic butter mushrooms are melt in your mouth delicious and they're low carb and keto friendly!
Plus, you look like a total rock star when you serve these up on a busy night, because no one would guess they're this easy! I mean, 4 ingredients and 10 minutes? Yes, please!
Keep on reading – we're going to give you our secret tip for getting the most flavor out of this simple side dish!
Just imagine a pile of these mushrooms next to our spinach stuffed chicken or baked chicken drumsticks! Heavenly!
Ingredient Notes: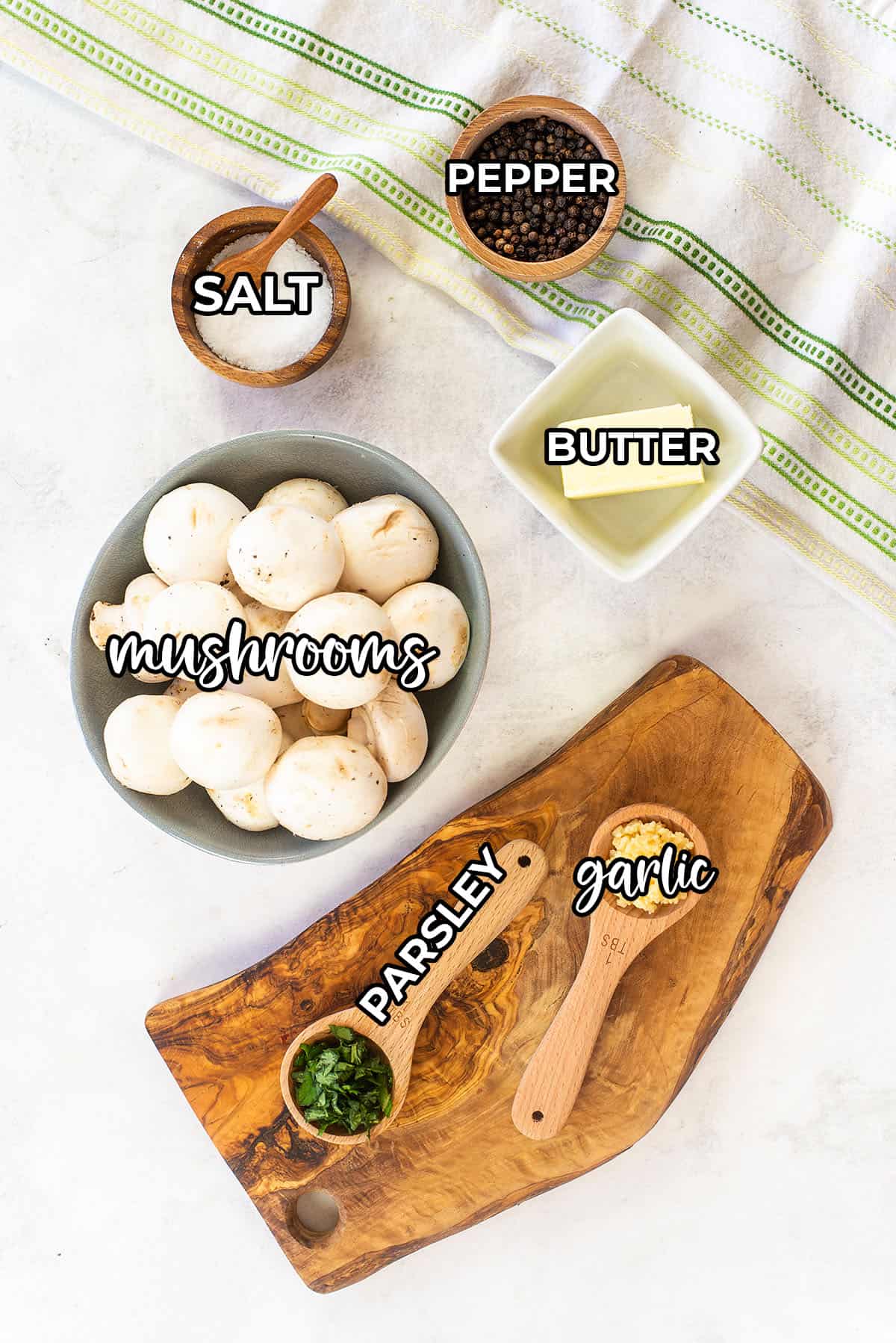 Mushrooms – I'm using button mushrooms in this recipe! They cook up quickly and brown really well in the butter, plus they taste great with garlic! You could also use Cremini mushrooms.
Garlic Butter – You'll cook the mushrooms in some butter to which you will also add some freshly minced garlic and parsley to make an easy buttery garlic sauce.
Why We Love This Recipe:
4 ingredients, 10 minutes, and big flavor!
These make a great side dish for breakfast, lunch, or dinner!
Serve these over a steak for the ultimate dinner!
How To:
Prepare – First up you'll want to rinse the mushrooms well and remove any debris. Pat them until they are dry and then start heating up some butter in a large, heavy bottomed skillet.
Sauté – When the butter has melted you can add in all the button mushrooms. Cook for about 5 to 8 minutes, stirring occasionally, until they start crisping up around the edges and turn a golden brown color.
Finish – When the mushrooms are nearly done you can add in the minced garlic and stir, cooking for another minute until the garlic is fragrant. Finally, stir in the parsley and season it up with salt and pepper to taste. Serve these savory garlic butter mushrooms good and hot! They'd go great with these steak bites, which also come with a garlic butter sauce for dipping!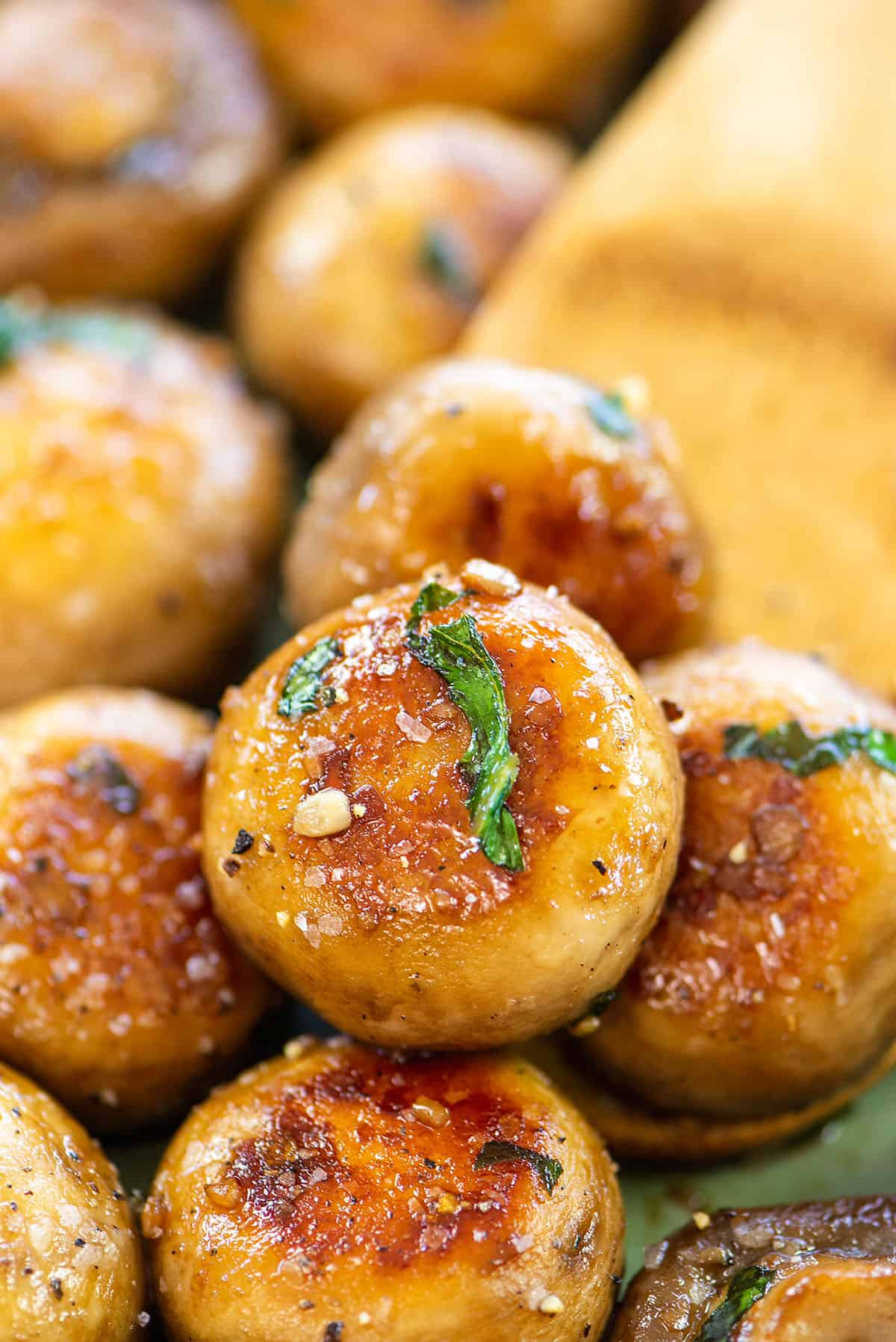 Pro Tip!
For the best flavor, leave your mushrooms alone in the pan to caramelize! Resist the urge to stir until the bottoms have gotten nice and browned and then stir once and let them sit for a few more minutes. That caramelization equals flavor!
Are mushrooms good for you?
Mushrooms are a low carb, low calorie source of protein, fiber, and antioxidants!
How To Clean Mushrooms:
Rinse mushrooms briefly under cool water in a colander.
Rub any debris or dirt away with a paper towel while drying the mushrooms.
Avoid soaking the mushrooms in water or they will soak up the water and won't brown during cooking.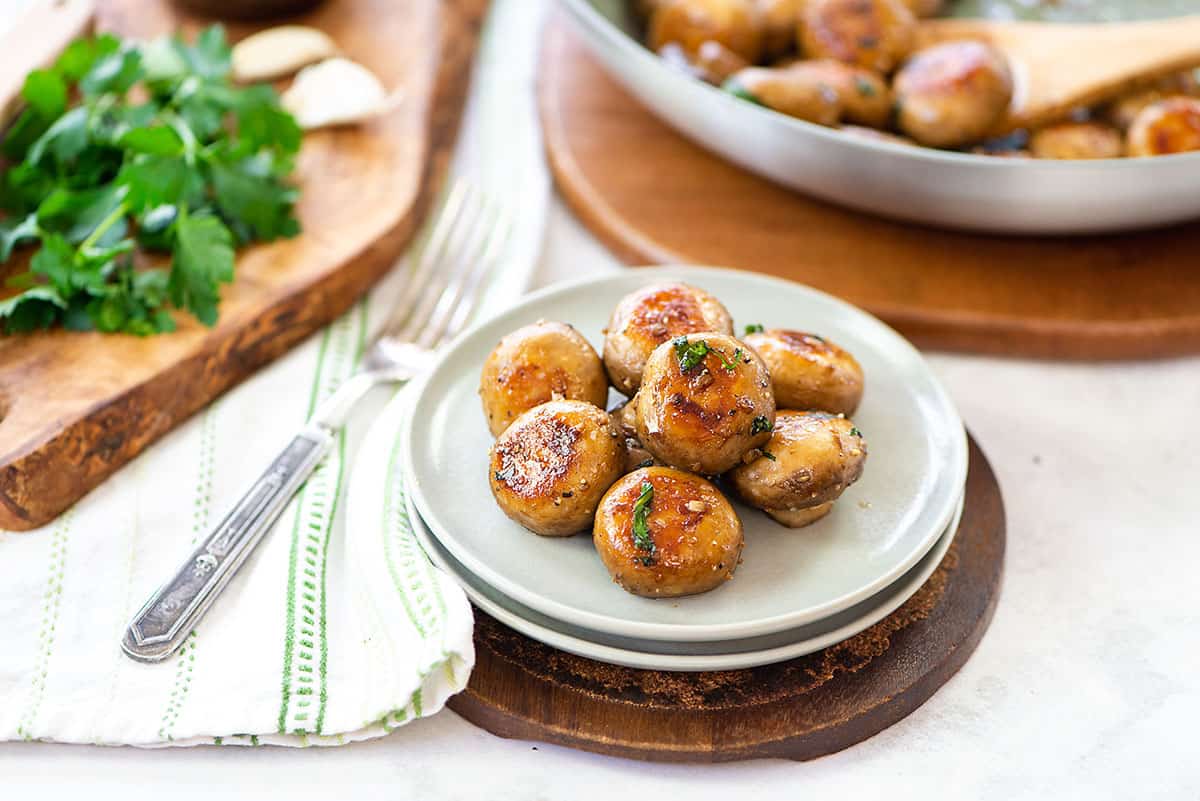 FAQ's:
How to store mushrooms?
You can store the cooked garlic butter mushrooms in the refrigerator for about 3 to 4 days if they are well sealed.
How to reheat mushrooms:
Reheat your cooked mushrooms in a hot skillet with a bit of butter over medium heat for 2-3 minutes.
More Low Carb Mushroom Recipes: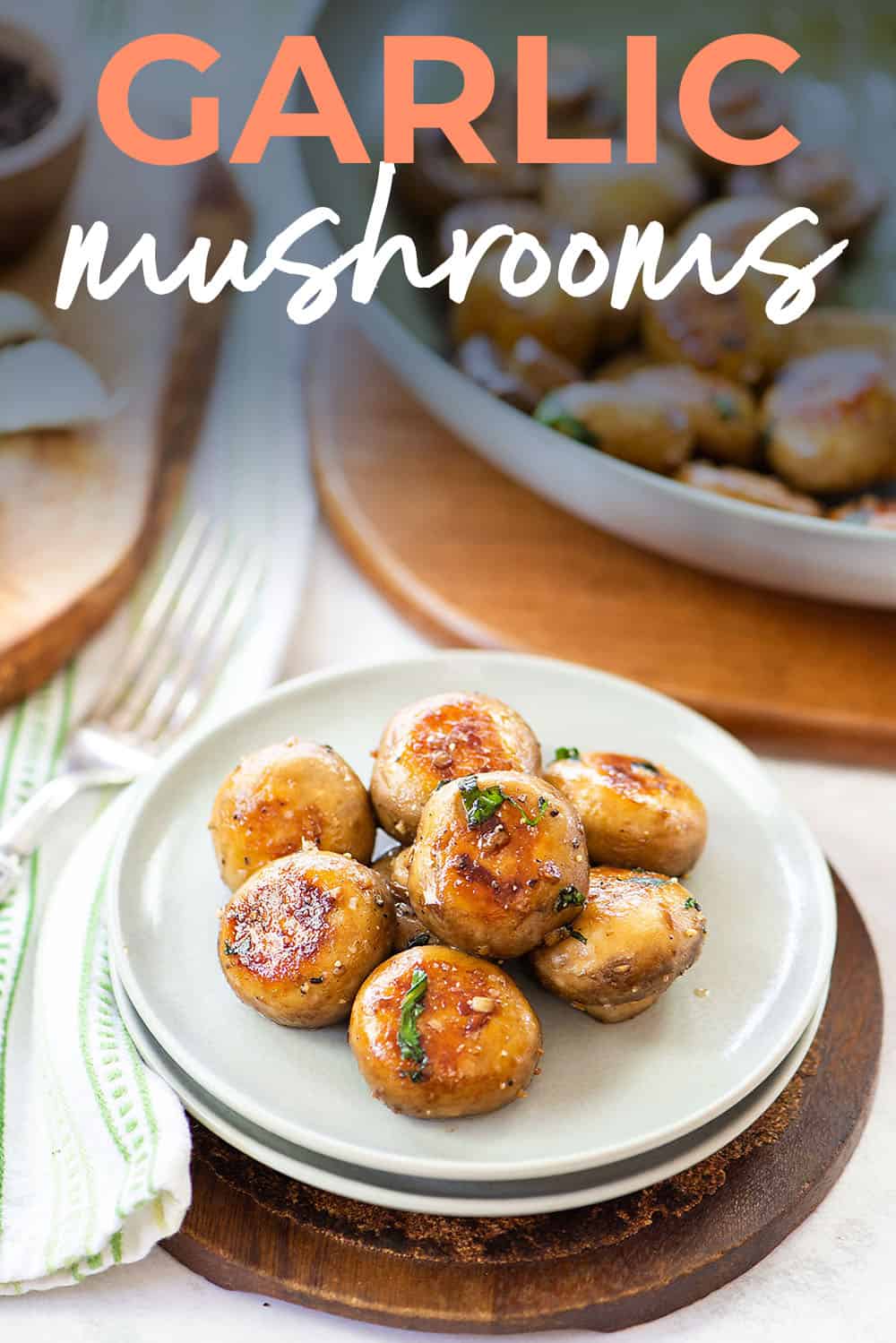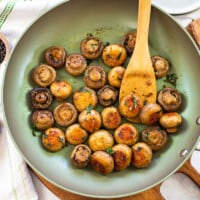 Garlic Butter Mushrooms
These garlic butter mushrooms make an easy low carb side dish or a quick way to level up that steak! Ready in 10 minutes with just a handful of ingredients and packed with savory flavor!
Ingredients
1 pound button mushrooms
4 tablespoons butter
4 cloves garlic, minced
1 teaspoon fresh minced parsley
Salt and pepper, to taste
Instructions
Rinse the mushrooms and pat dry.
Heat the butter in a large, heavy bottomed skillet over medium heat.
Once melted, add the mushrooms to the butter and cook for 5-8 minutes or until mushrooms are golden brown and crisp around the edges. Do not stir often or the mushrooms won't brown as nicely.
Add the garlic to the mushrooms and cook for 1 minute more.
Stir in the parsley and season with salt and pepper to taste.
Serve hot.
Notes
These are great as a quick side dish or served over steak or chicken.
The less you stir, the more the mushrooms will brown and caramelize, which will make for better flavor.
Nutrition Information:
Yield: 4
Serving Size: 1
Amount Per Serving:
Calories: 138
Total Fat: 12g
Saturated Fat: 7g
Trans Fat: 0g
Unsaturated Fat: 4g
Cholesterol: 31mg
Sodium: 168mg
Carbohydrates: 7g
Net Carbohydrates: 4g
Fiber: 3g
Sugar: 3g
Protein: 3g
All information and tools presented and written within this site are intended for informational purposes only. This information is provided as a courtesy and there is no guarantee that the information is accurate.