These Caprese Stuffed Mushrooms are brushed with garlic butter, loaded with cherry tomatoes and fresh mozzarella, and drizzled with balsamic for a low carb appetizer, snack, or light lunch!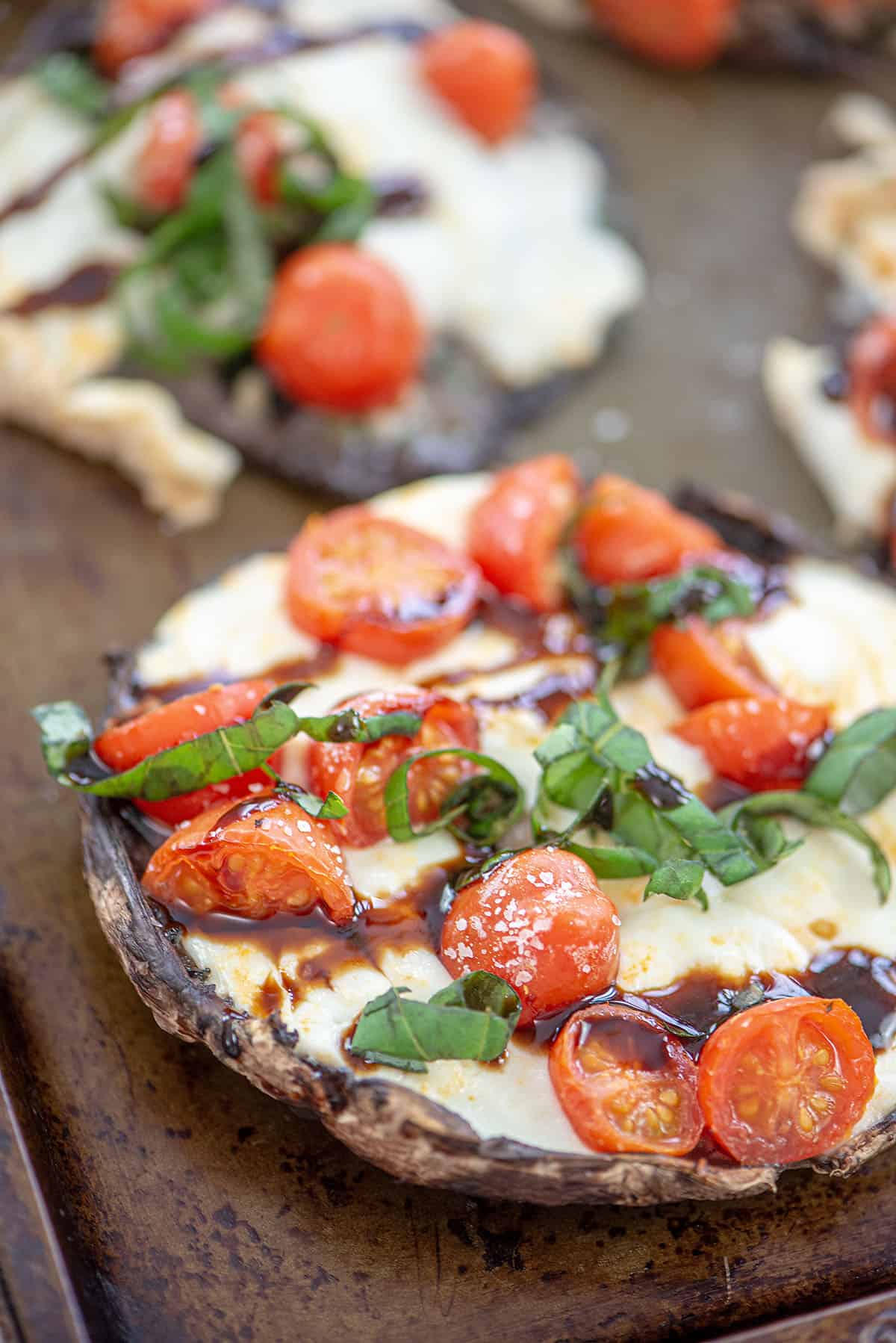 Caprese salad – a mixture made of cherry tomatoes, mozzarella, and basil – is a favorite around here. Honestly, anything with fresh mozzarella and juicy tomatoes is a win!
We took Caprese salad to the next level, by making these Caprese Stuffed Mushrooms – everything you'd expect from a Caprese salad, but stuffed inside a garlicky, buttery portabella mushroom cap!
We drizzled a teensy bit of balsamic glaze over the top of each stuffed mushroom, and while it's not sugar free, it IS low carb in moderation! You can absolutely skip the balsamic glaze if you're very strict about sugar – these will still be delicious!
If you love the flavors going on here, you'll want to try our bruschetta chicken too! Same idea, but with chicken breasts! We also have a tasty salmon bruschetta recipe!
Ingredient Notes: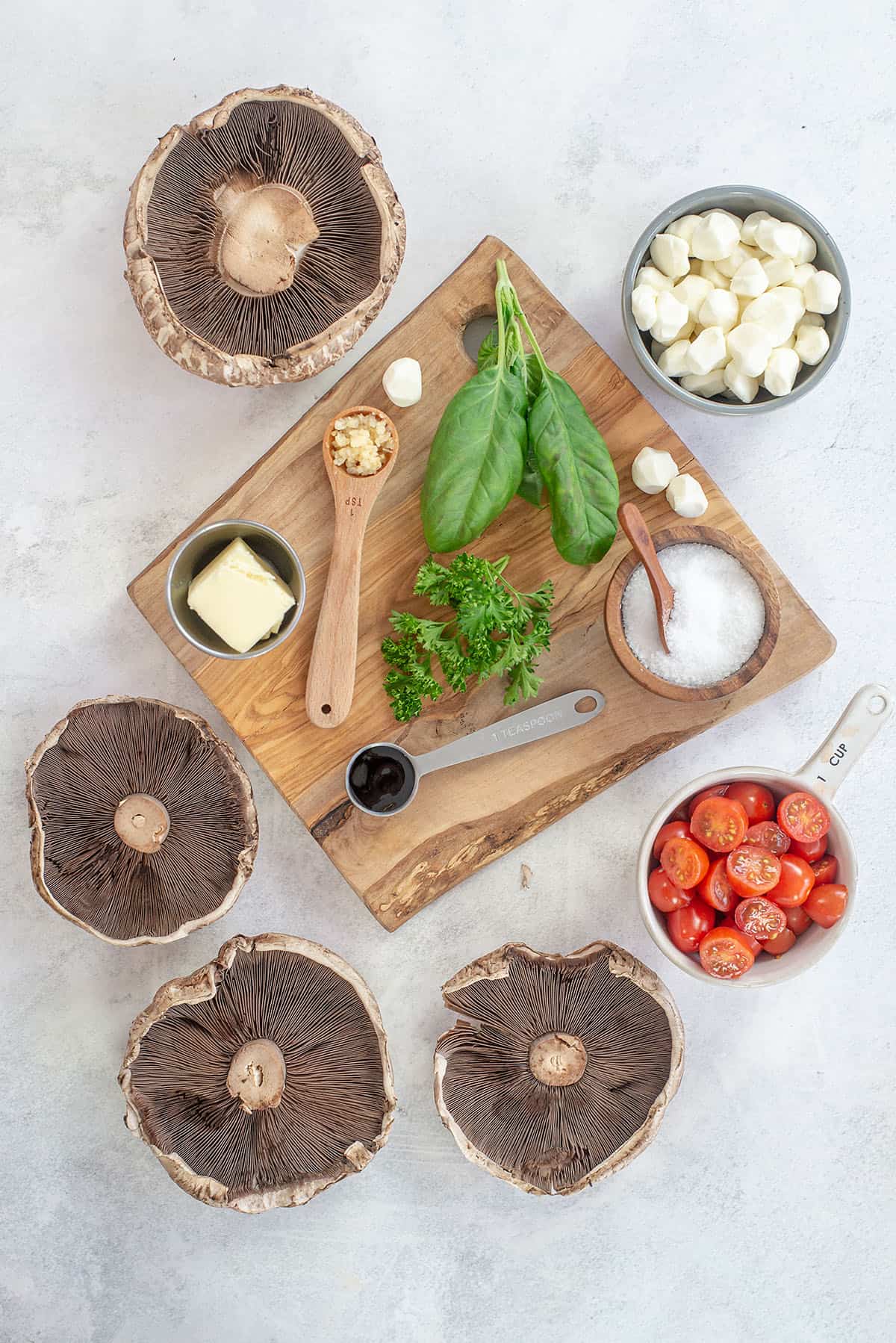 Mushrooms – For this recipe I am using some portobello mushrooms! They're large and perfectly shaped for holding the Caprese stuffing that'll go in them. You'll remove the stems and gills before stuffing.
Garlic Butter – A little butter, garlic, and parsley go a long way towards adding flavor to the mushroom caps.
Stuffing – These stuffed mushrooms are made with a simple Caprese recipe. It's just cherry tomato halves, fresh mozzarella (drained and dried), and some thin sliced fresh basil! There's nothing but good, fresh, wholesome flavors in this recipe!
Glaze – The final touch to these Caprese stuffed mushrooms is a bit of Balsamic glaze! It adds just the right amount of slightly sweet and tangy flavor to help balance it all out! This is NOT sugar free, so feel free to skip if you're concerned or make your own!
Why We Love This Recipe:
Light and refreshing, thanks to the fresh tomatoes and basil!
Simple to prepare and bakes quickly!
Perfect for an appetizer or as a side to a hearty salad for lunch.
How To Make Stuffed Mushrooms:
Prepare – First up you'll want to prepare the portobello mushrooms by removing and discarding the stems and gills. Rinse the mushroom caps well and then dry them thoroughly. They'll release some moisture while baking so be sure to dry as best as you can.
Garlic Butter – Melt the butter with the garlic in the microwave and then stir in the fresh minced parsley with a little salt. Start brushing the garlic butter all over the mushrooms, inside and out, and then place the garlic butter mushroom caps.
Bake – You'll bake the mushroom caps for 8 minutes. While they bake you can move on to the next step to prepare the stuffing!
Caprese Stuffing – This mushroom stuffing is pretty simple to prepare but it's made with wonderful, fresh ingredients that pair perfectly with the portobello mushrooms! In a small bowl mix together the cherry tomato halves, fresh mozzarella pearls, and some salt. Basil is a key ingredient in a Caprese recipe, and it will go on after baking!
Stuffed Mushrooms – Spoon the Caprese mixture into the mushroom caps and return to the oven for for 12-15 minutes or until the cheese is all melty!
Finish – After the final bake you can remove the Caprese stuffed mushrooms from the oven and finish them off by sprinkling some thinly sliced fresh basil over the top, and then drizzling on the Balsamic glaze. That's all there is to making this incredibly fresh tasting and healthy low carb stuffed mushroom recipe! Serve them while they're still good and hot.
Helpful Tip!
The mushrooms will release moisture while baking, so it's best to make sure you dry them really well after rinsing! You won't be able to keep all the liquid from releasing while they bake, but it will help!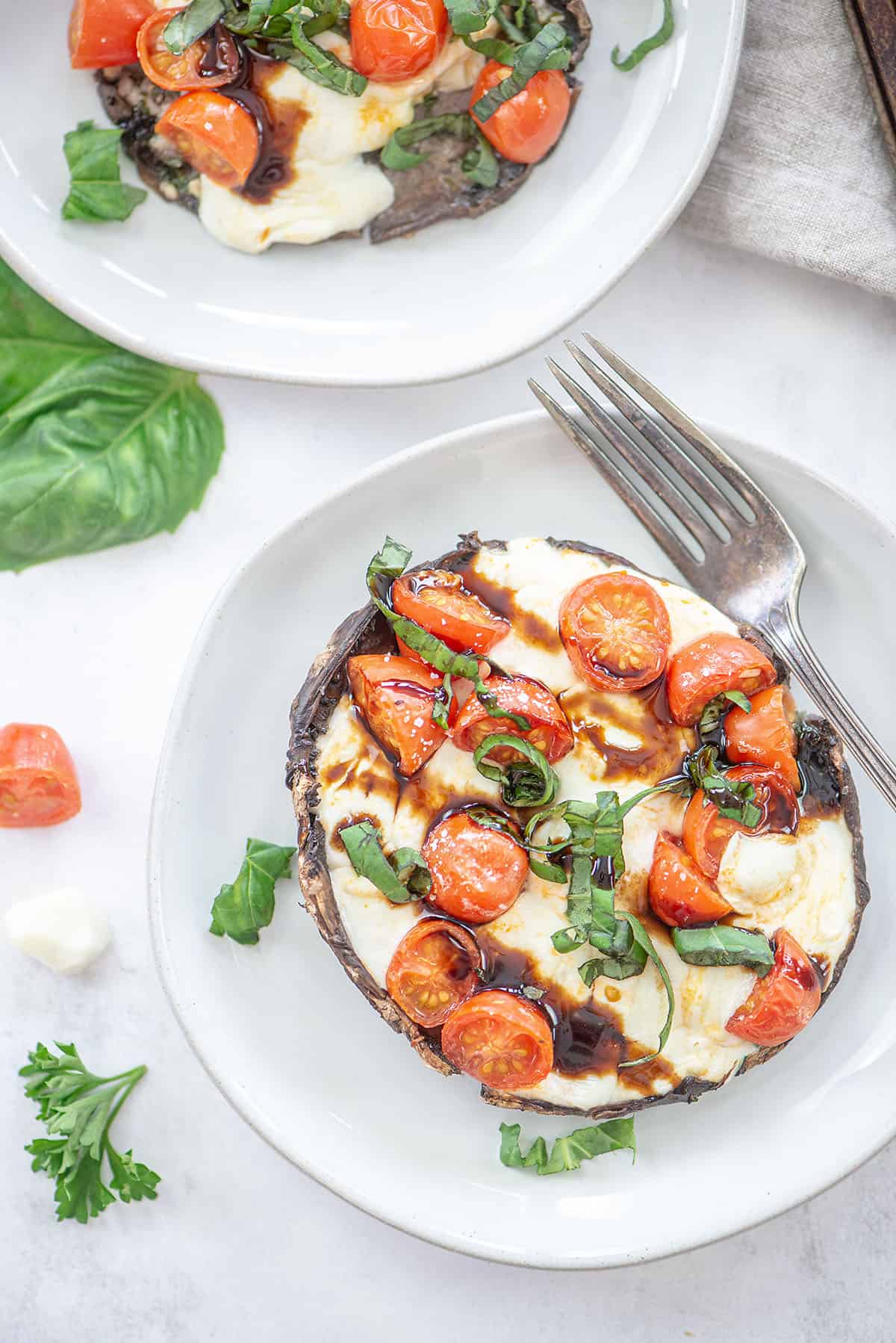 FAQ's:
What is Caprese?
Caprese is a mixture of tomato, fresh mozzarella, and basil! It can be used in numerous recipes such as a Caprese salad or Caprese pizza! Caprese is named after the island of Capri, where it is believed to have originated.
What is balsamic glaze?
Balsamic glaze is balsamic vinegar that has been sweetened with syrup, honey, or another sweetener and cooked down until thickened and syrupy.
Can I have balsamic glaze on keto?
If you're following a strict keto diet that completely excludes sugar, you'll want to avoid balsamic glaze or make your own with an approved sweetener. If you're following a 'dirty' keto diet with a focus on carbs, a small amount of balsamic glaze can fit into your day.
More Low Carb Stuffed Recipes: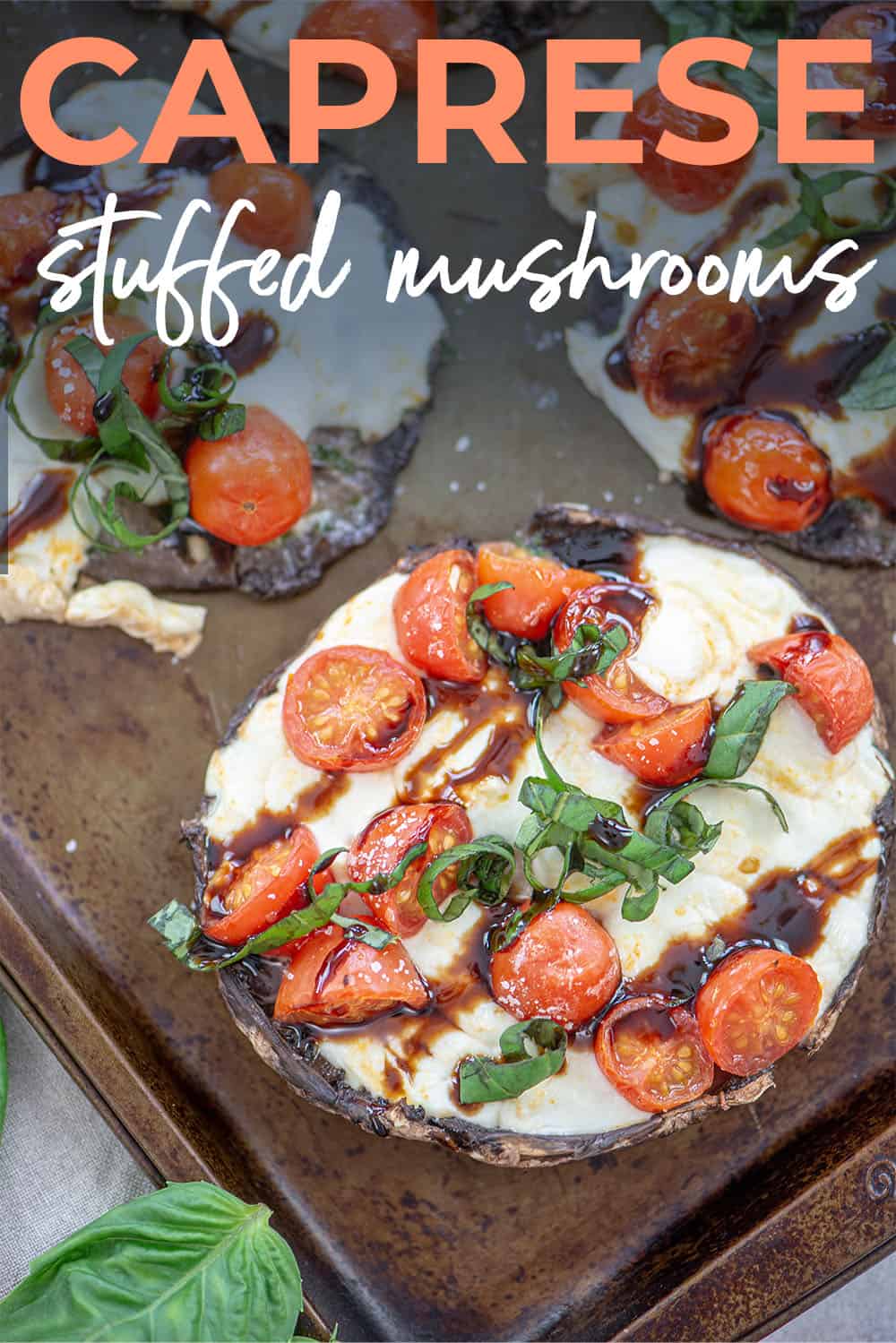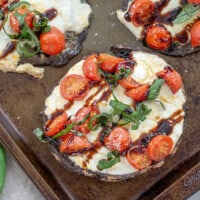 Caprese Stuffed Mushrooms
These stuffed mushrooms make a delicious appetizer or light lunch. We brush the mushrooms caps with garlic butter and then stuff them with mozzarella and tomatoes. The balsamic glaze is a delicious touch, but you'll want to use just a small drizzle to keep the carb count low.
Yield 4 stuffed mushrooms
Ingredients
4 portobello mushrooms, about 1 pound
2 tablespoons butter
2 cloves garlic, minced
1 tablespoon fresh parsley, minced
1 teaspoon salt, divided
1 cup halved cherry tomatoes
3/4 cup fresh mozzarella pearls, drained and patted dry
2 tablespoons thinly sliced fresh basil
4 teaspoons balsamic glaze, see notes
Instructions
Preheat oven to 400 degrees.
Remove the stems and gills from the mushrooms and discard. Wash and dry the mushroom caps thoroughly.
Add the butter and garlic to a small bowl and microwave to melt the butter. Stir in the parsley and ½ teaspoon salt to combine.
Brush the garlic butter over the insides and outsides of the mushroom caps and place mushrooms on a rimmed baking sheet.
Bake for 8 minutes.
While the mushrooms are baking, stir together the cherry tomatoes, mozzarella pearls, and remaining ½ teaspoon of salt.
Remove the mushrooms from the oven and evenly divide the tomato mixture between each mushroom cap.
Return to the oven for 12-15 minutes or until the cheese is fully melted.
Remove from the oven and sprinkle with the basil and drizzle evenly with the balsamic glaze.
Serve hot.
Notes
The balsamic glaze does have sugar in it. You can make a homemade version with your favorite sweetener or skip the glaze entirely. The carb count drops to 6g carbs and 2g fiber without the glaze.
The mushrooms will release moisture in the pan as they bake. Make sure to dry them really well before baking to help, but know that some liquid will release either way.
These are quite cheesy and flavorful, which makes them satisfying and filling. We serve one with a side salad for lunch or serve them as a side with a lighter dinner.
Nutrition Information:
Yield: 4
Serving Size: 1
Amount Per Serving:
Calories: 199
Total Fat: 14g
Saturated Fat: 8g
Trans Fat: 0g
Unsaturated Fat: 4g
Cholesterol: 43mg
Sodium: 628mg
Carbohydrates: 9g
Net Carbohydrates: 7g
Fiber: 2g
Sugar: 7g
Protein: 10g
All information and tools presented and written within this site are intended for informational purposes only. This information is provided as a courtesy and there is no guarantee that the information is accurate.