These Philly Cheesesteak Mushrooms are a great way to enjoy your favorite cheesesteak ingredients without all the carbs from the bread! Perfect as an appetizer or snack at your next gathering or for a tasty lunch!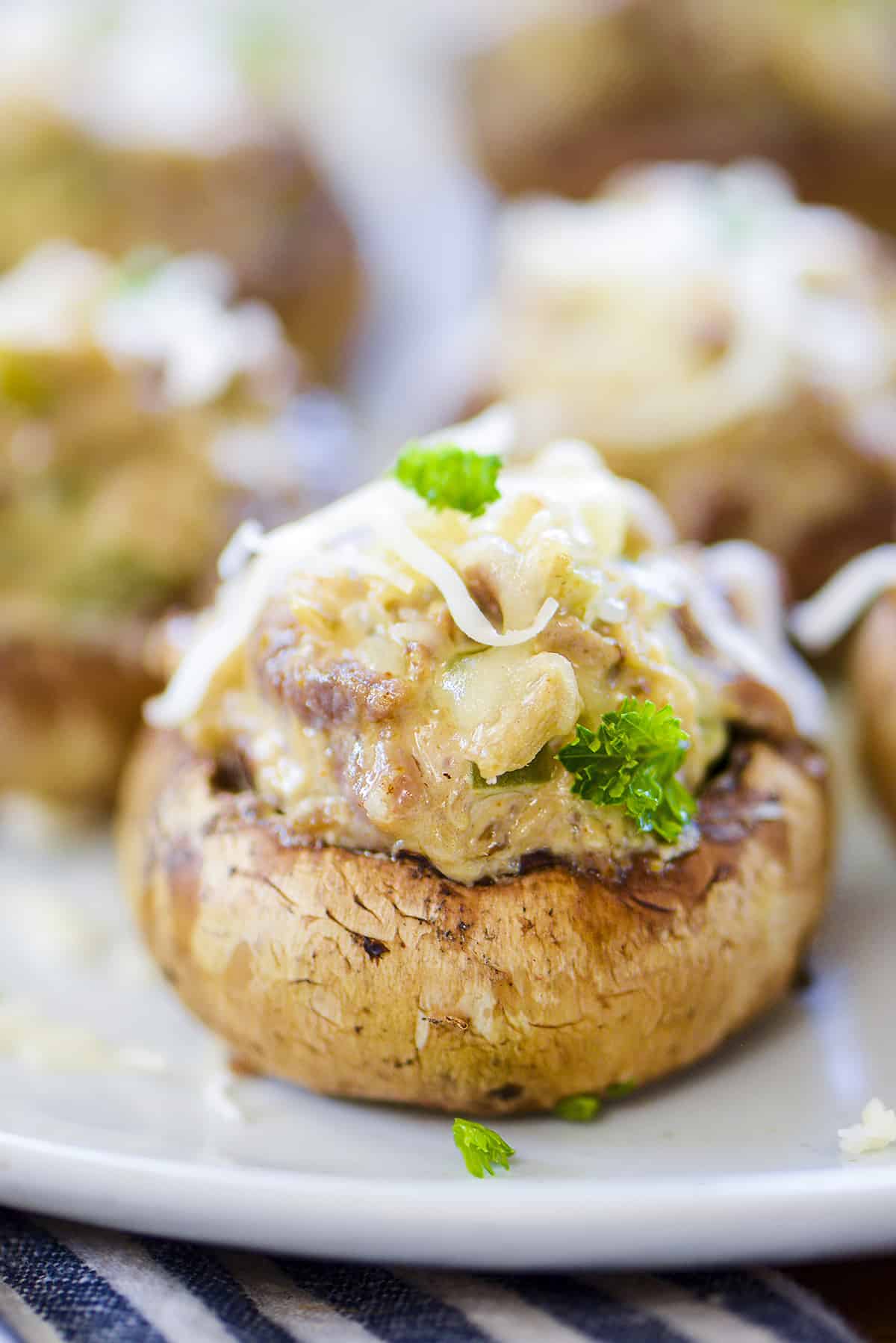 We've been having fun stuffing mushrooms full of tasty ingredients and serving them up either as a tasty lunch or as an appetizer/snack at parties, family dinners, or even while watching the game!
We've shared our recipe for keto stuffed mushrooms, filled with savory Italian sausage and cheese, along with our spinach stuffed mushrooms. Both are wildly popular.
But Philly Cheesesteak? Now we're talking!
It's no surprise we love a good cheesesteak! Have you seen our Philly Cheesesteak Casserole? It consistently gets 5 star reviews and is loved by a lot of readers.
Why not chop up some steak, add plenty of cheese, veggies, and seasoning, and stuff it into a mushroom? <— There's no reason not to. 😁
Ingredient Notes: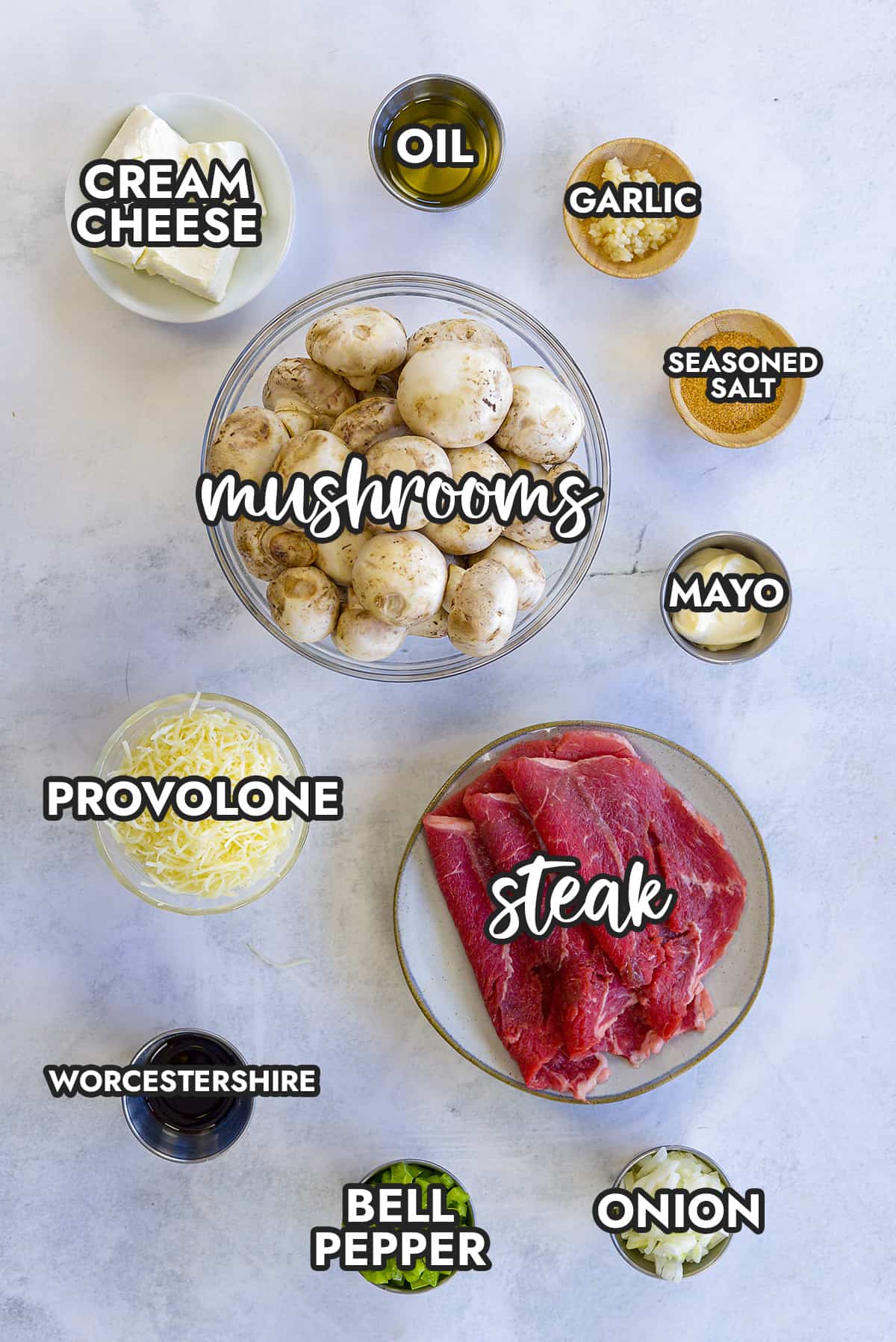 Mushrooms – I'm using white mushrooms with the stems removed. Don't throw away the stems though, you'll dice those up and add them back in to the filling! Cremini mushrooms will also work well.
Sirloin Steak – You'll want to finely chop the steak into small pieces. Pop it in the freezer for 20 minutes before slicing and it'll be so much easier to work with. We use sirloin, but any cut of steak will do.
Veggies – I'm adding minced onion, green pepper, and garlic to these stuffed mushrooms. Feel free to leave the onions and/or peppers out if you're not a fan.
Seasoning – You'll prepare a creamy, savory mix of mayonnaise, cream cheese, Worcestershire sauce, and seasoned salt to combine with the steak and veggies.
Provolone Cheese – Some shredded provolone is perfect for topping the stuffed mushrooms just before serving! If you prefer a different cheese like swiss or mozzarella those will work too.
Why We Love This Recipe:
We love Philly cheese steaks and using mushrooms is a great way to enjoy them without the bread!
These stuffed mushrooms have all the classic cheese steak ingredients.
You can switch things up and use different ingredients in this like different cheese, veggies, or even meat. Chicken would work well too!
How To Make Stuffed Mushrooms: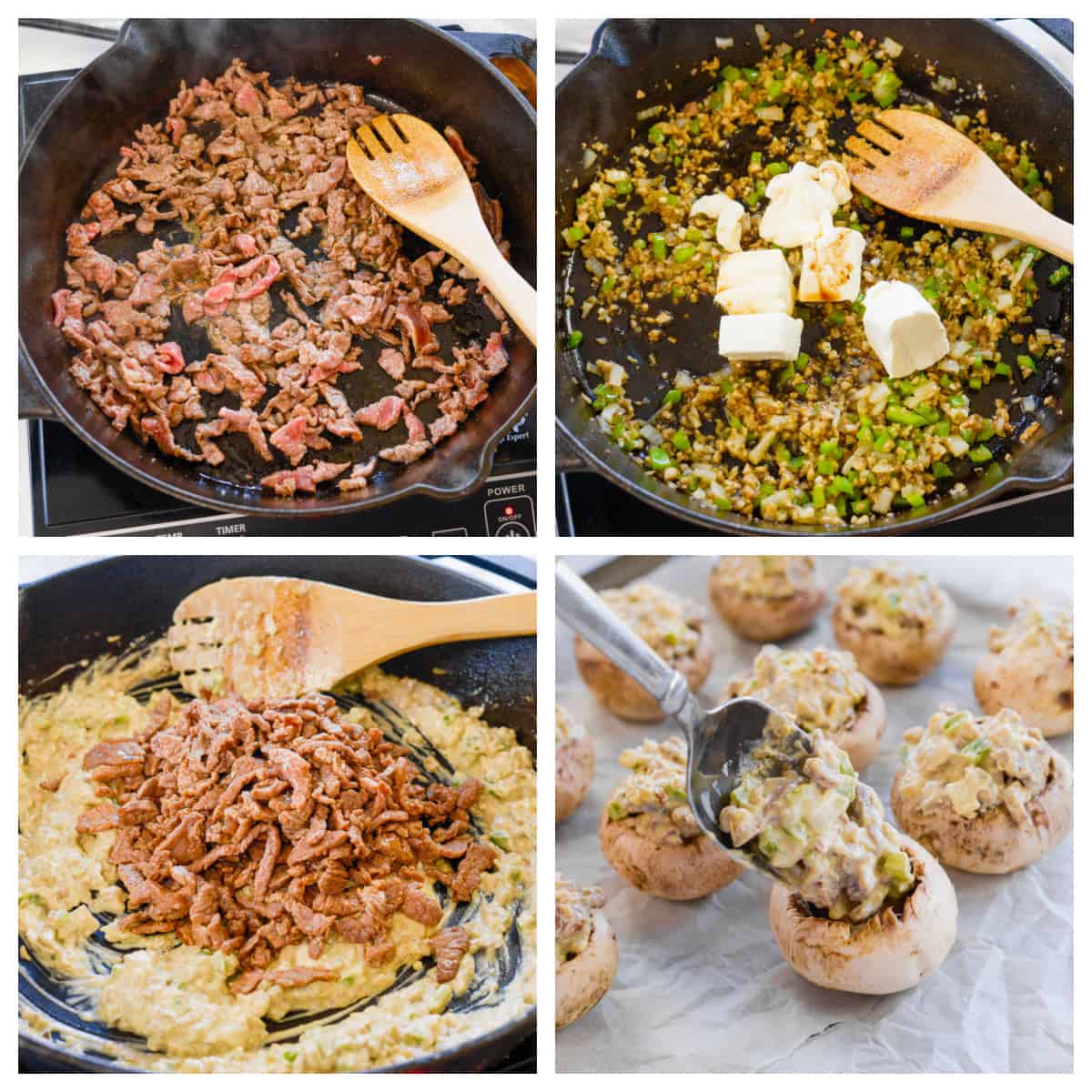 Steak – The steak should be chopped up finely into small pieces, and then seasoned with the seasoned salt. Heat some oil in a skillet over high heat and start cooking the steak until it has browned. When finished, set it aside for now.
Veggies – Add more oil to the skillet with the diced onions, peppers, and chopped mushroom stems. Sprinkle on the remaining seasoned salt. Cook the veggies, stirring often, for about 5 minutes or until softened. Add the garlic and cook for 30 more seconds.
Creamy Mix – When the veggies are ready turn the heat to low and add in the cream cheese, mayonnaise, and Worcestershire sauce. Continue cooking, stirring constantly, until the cream cheese has melted and then return the steak to the skillet. Stir it all up to coat the steak and veggies in the cream sauce.
Stuff – Start spooning the mixture evenly into each of the mushroom caps and then place them on a baking sheet. Finally, sprinkle on some shredded provolone cheese!
Bake – Place the baking sheet in the oven and bake for 20 minutes or until the mushrooms are tender. Serve them up while they are good and hot! If you enjoyed this low carb Philly cheese steak recipe, try my Philly cheese steak pizza!
Helpful Tip!
To make it easier to slice the steak into thin pieces, pop the steak in the freezer for 20 minutes first. The steak will firm up and be easier to slice.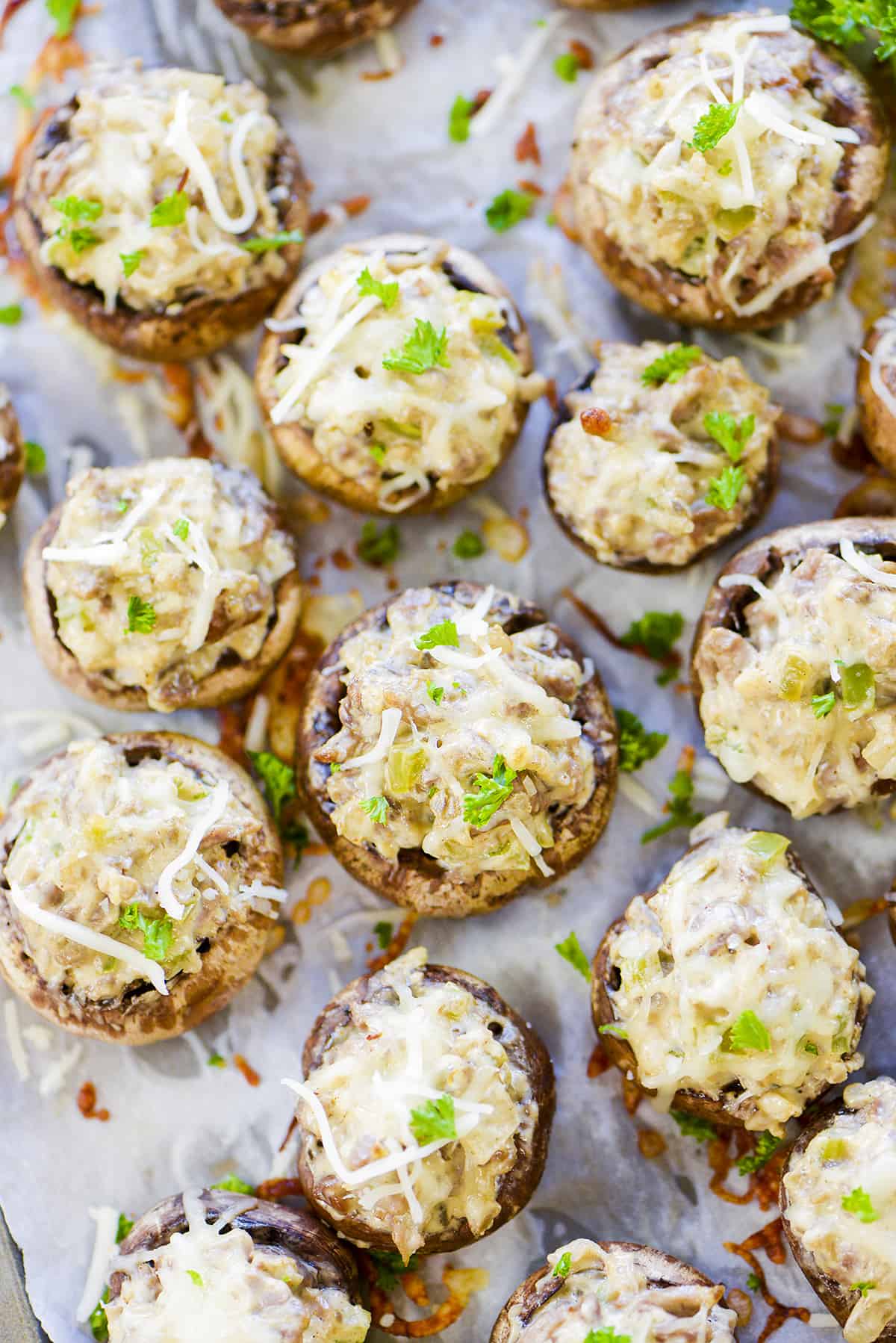 FAQ's:
How to store stuffed mushrooms?
We prefer to enjoy these Philly cheese steak stuffed mushrooms while they are fresh and hot, but you can store them in an airtight container in the fridge for up to a few days. Reheat them in the oven.
Are mushrooms low carb?
Yes! Mushrooms are naturally very low in carbs, which makes them perfect for low carb recipes like this one.
More Keto Mushroom Recipes: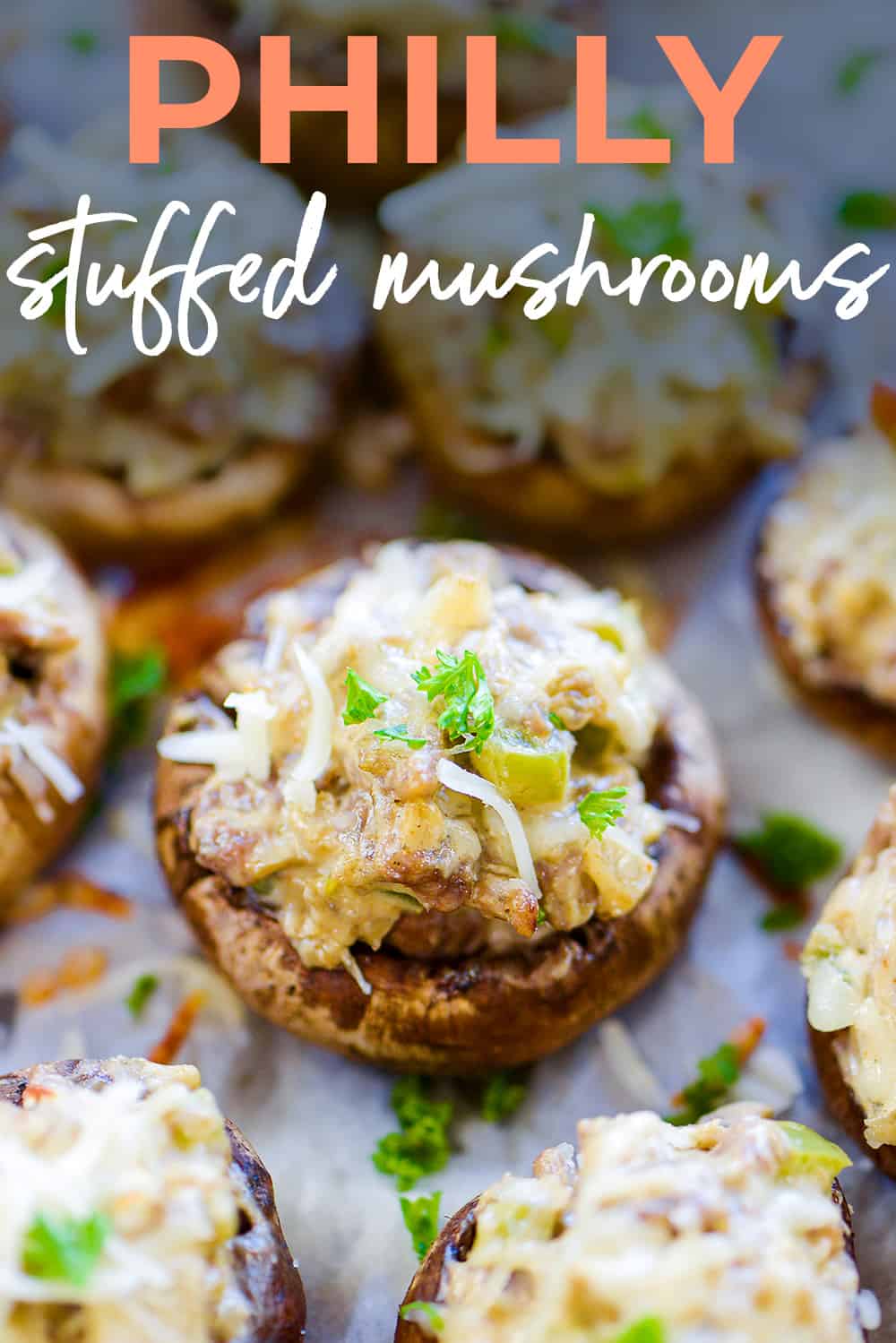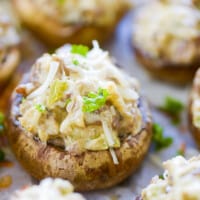 Philly Cheesesteak Stuffed Mushrooms
We love a Philly cheesesteak, so we stuffed all the good parts inside of a mushroom cap! These make a great snack, appetizer, or quick lunch.
Ingredients
16 ounces white mushrooms
6 ounces sirloin steak
2 teaspoons seasoned salt, divided
2 tablespoons olive oil, divided
¼ cup diced onion
¼ cup diced green peppers
1 clove garlic, minced
3 ounces cream cheese
2 tablespoons mayonnaise
1 tablespoon Worcestershire sauce
½ cup shredded provolone cheese
Instructions
Preheat the oven to 375 degrees.
Wash the mushrooms and remove the stems. Finely dice the stems and set aside.
Finely chop the steak and season with 1 teaspoon of seasoned salt.
Add 1 tablespoon of oil to a large skillet over high heat. Once hot, add the steak and cook, stirring as needed, until browned. Remove the steak to a plate and set aside.
Add the remaining oil to the skillet over medium heat. Once hot, add the onions, peppers, and chopped mushroom stems. Season with the remaining seasoned salt.
Cook, stirring often, for about 5 minutes or until softened. Add the garlic and cook 30 seconds more.
Turn the heat to low and add the cream cheese, mayonnaise, and Worcestershire sauce to the pan. Cook, stirring constantly, until the cream cheese has melted.
Return the steak to the skillet and stir to coat.
Spoon the mixture evenly between the mushroom caps and place on a baking sheet.
Sprinkle the mushrooms with the shredded provolone.
Bake for 20 minutes or until mushrooms are tender.
Notes
We prefer white button mushrooms, but cremini will work as well.
You may use any cut of steak you like, just be sure to chop it up finely. The steak is easier to chop when partially frozen. Place in the freezer for 15-20 minutes before slicing.
Nutrition Information:
Yield: 6
Serving Size: 4 mushrooms
Amount Per Serving:
Calories: 256
Total Fat: 20g
Saturated Fat: 7g
Trans Fat: 0g
Unsaturated Fat: 11g
Cholesterol: 49mg
Sodium: 716mg
Carbohydrates: 7g
Net Carbohydrates: 4g
Fiber: 3g
Sugar: 3g
Protein: 13g
All information and tools presented and written within this site are intended for informational purposes only. This information is provided as a courtesy and there is no guarantee that the information is accurate.