PHILLY CHEESE STEAK PIZZA is packed with steak, peppers, onions, and loads of cheese. This low carb pizza helps keep pizza night fun and flavorful without resorting to delivery!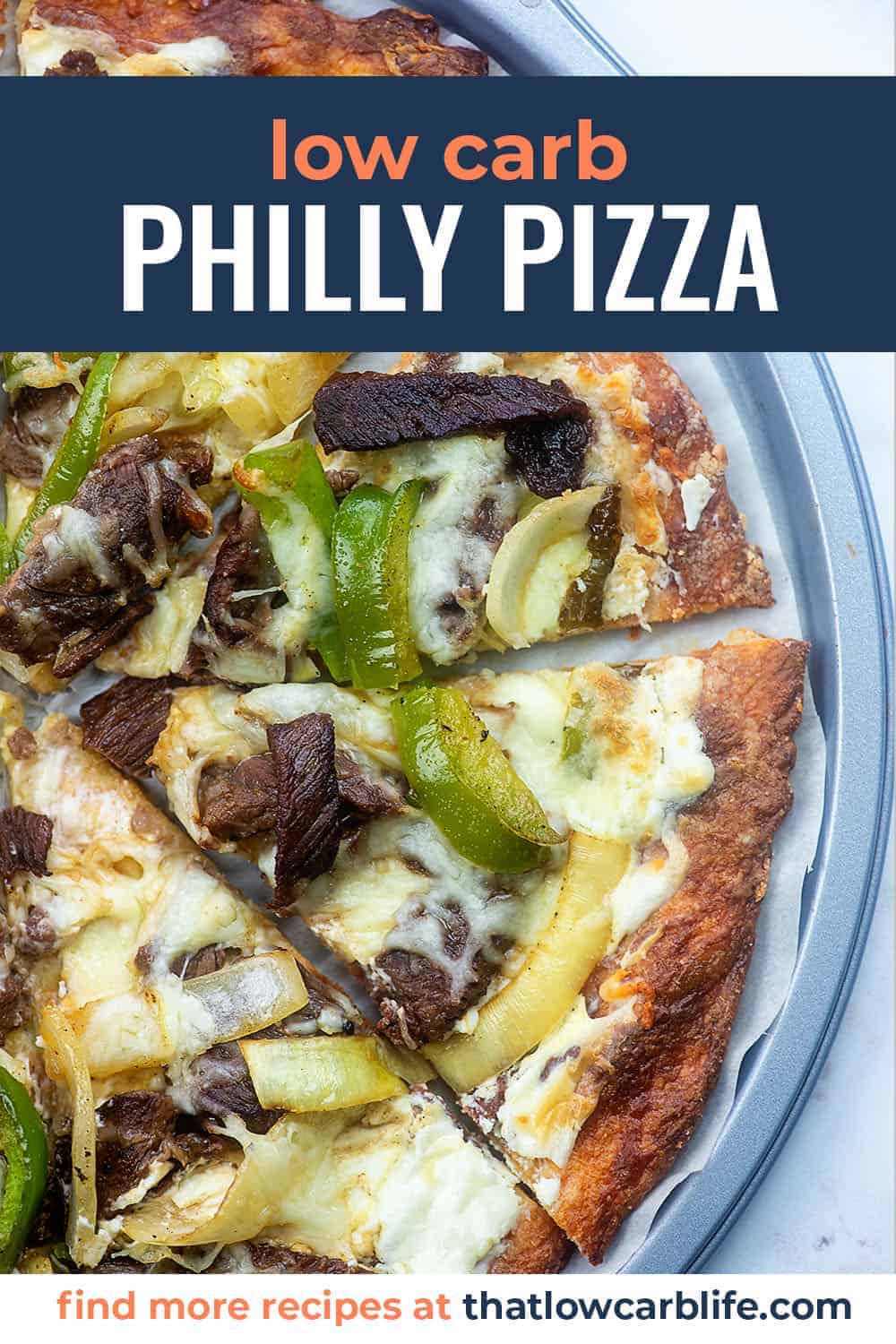 I'm back with another pizza recipe for you!
As you might have noticed, my family has a thing for pizza. We eat it at least once a week, usually on Friday nights.
While the classic
fathead pizza
topped off with cheese and pepperoni is a regular in our house, we like to liven things up and get creative too.
My buffalo chicken pizza is a huge hit here and now this Philly cheese steak pizza is too!
It's hard to go wrong with pizza!

We're using fathead dough for the base. You've probably seen it around before if you frequent low carb sites. It was made popular a few years ago and now there are versions of it alllll over the internet. It's popular for a reason and that reason is that it's DANG GOOD. 🙂
How to make Philly cheese steak pizza:
The dough for this pizza comes together fairly quickly with a mix of cream cheese, mozzarella, egg, and almond flour.
Roll it out between some parchment paper and bake it for about 10 minutes to let the crust firm up a bit.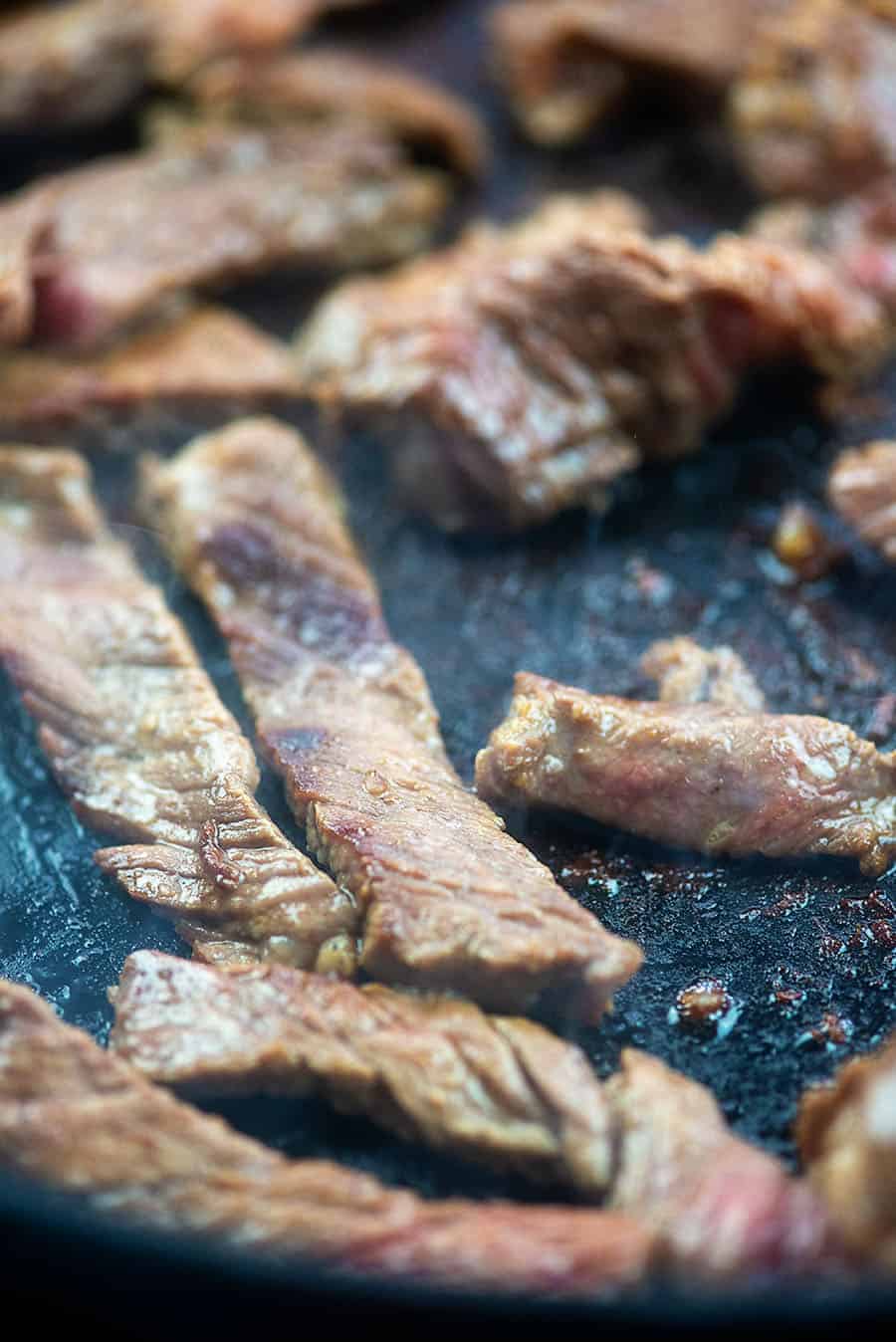 When it's time to top the pizza, you'll want to cook up some thinly sliced steak. I used ribeye, but you can use a cheaper cut if you prefer.
Cook the steak until it's just browned on the outside. It's going in the oven too, so you don't want to turn it into leather. 😉
After the steak is browned, toss some onions and peppers in the hot skillet and let those soften and brown a bit.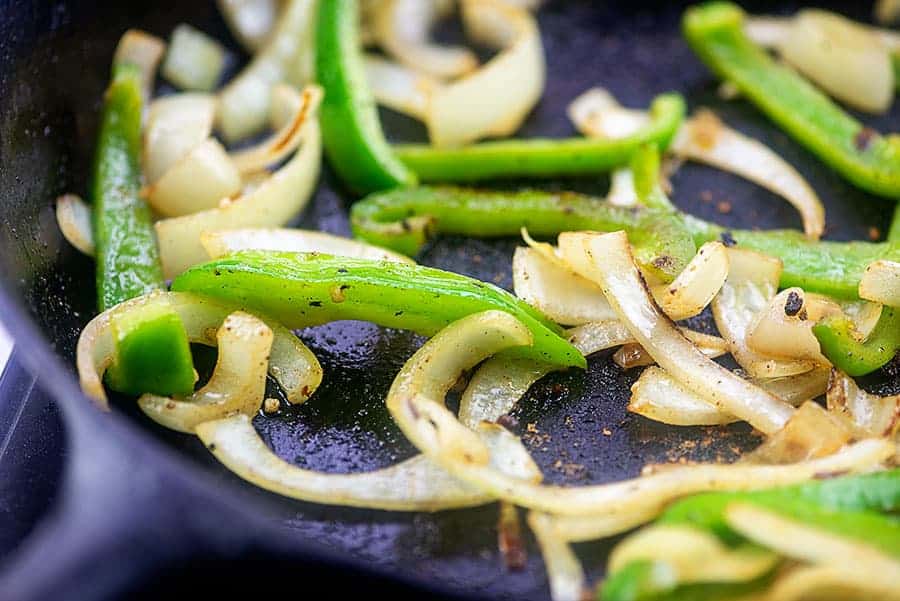 For the sauce, I'm using cream cheese. Just plain old cream cheese. It's creamy, rich, and perfect for this!! Have faith.
Pile on the steak, veggies, and a little more cheese. Shredded provolone is good, if you can find it. Mozzarella works well too.
Pop this back in the oven for another 10 minutes or so to melt the cheese and finish off the crust and then it's time to dig in!
Love Philly cheese steaks? Give my Philly cheesesteak casserole a try next!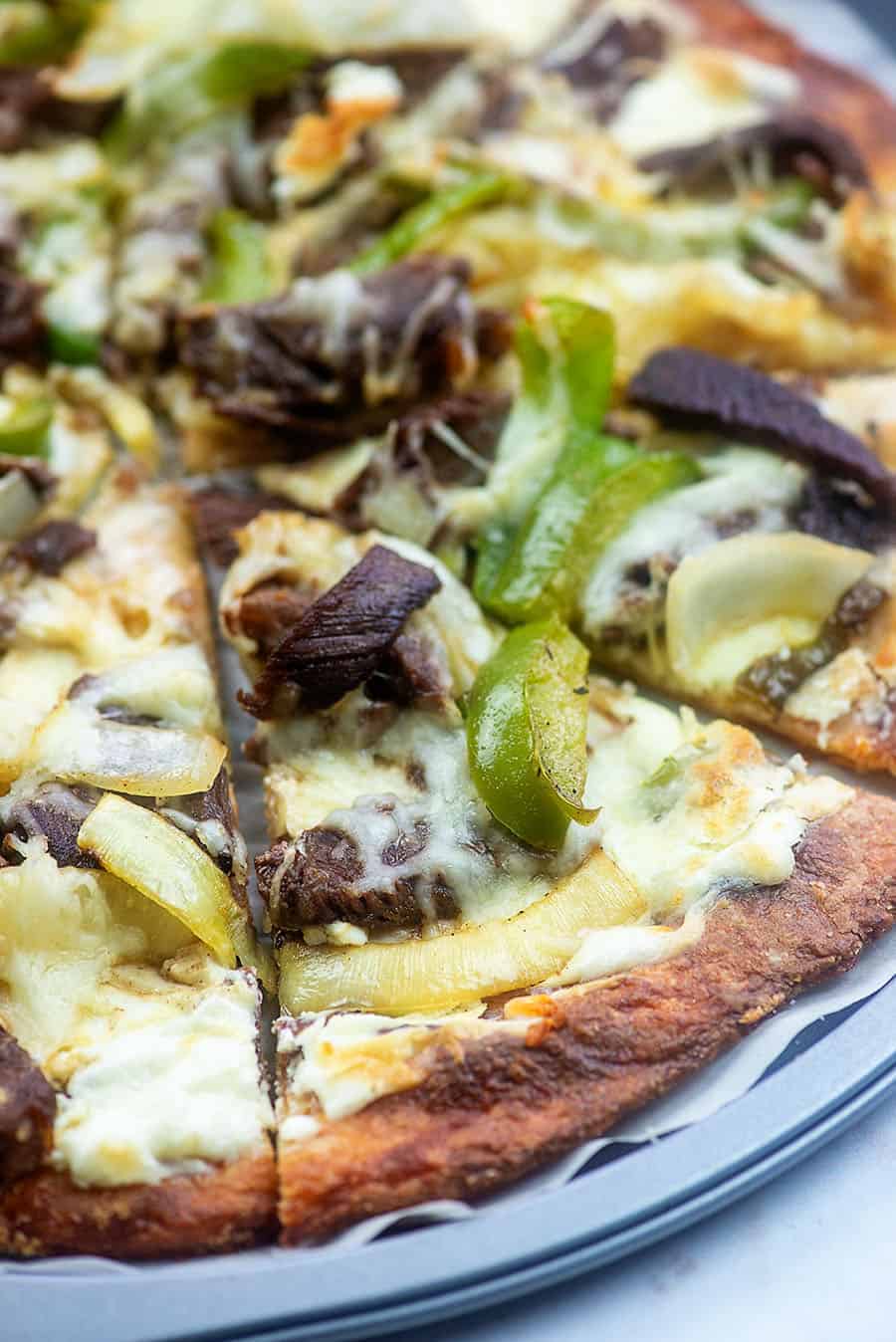 More family favorite recipes:
Pizza is a sure win in my house, but a few other family hits include this pork tenderloin (it's topped with garlic butter!), creamy lemon chicken, and my famous keto chili.
When we're craving comfort food, my low carb meatloaf and cauliflower mac and cheese are go-to recipes for us. Same goes for my keto beef stew.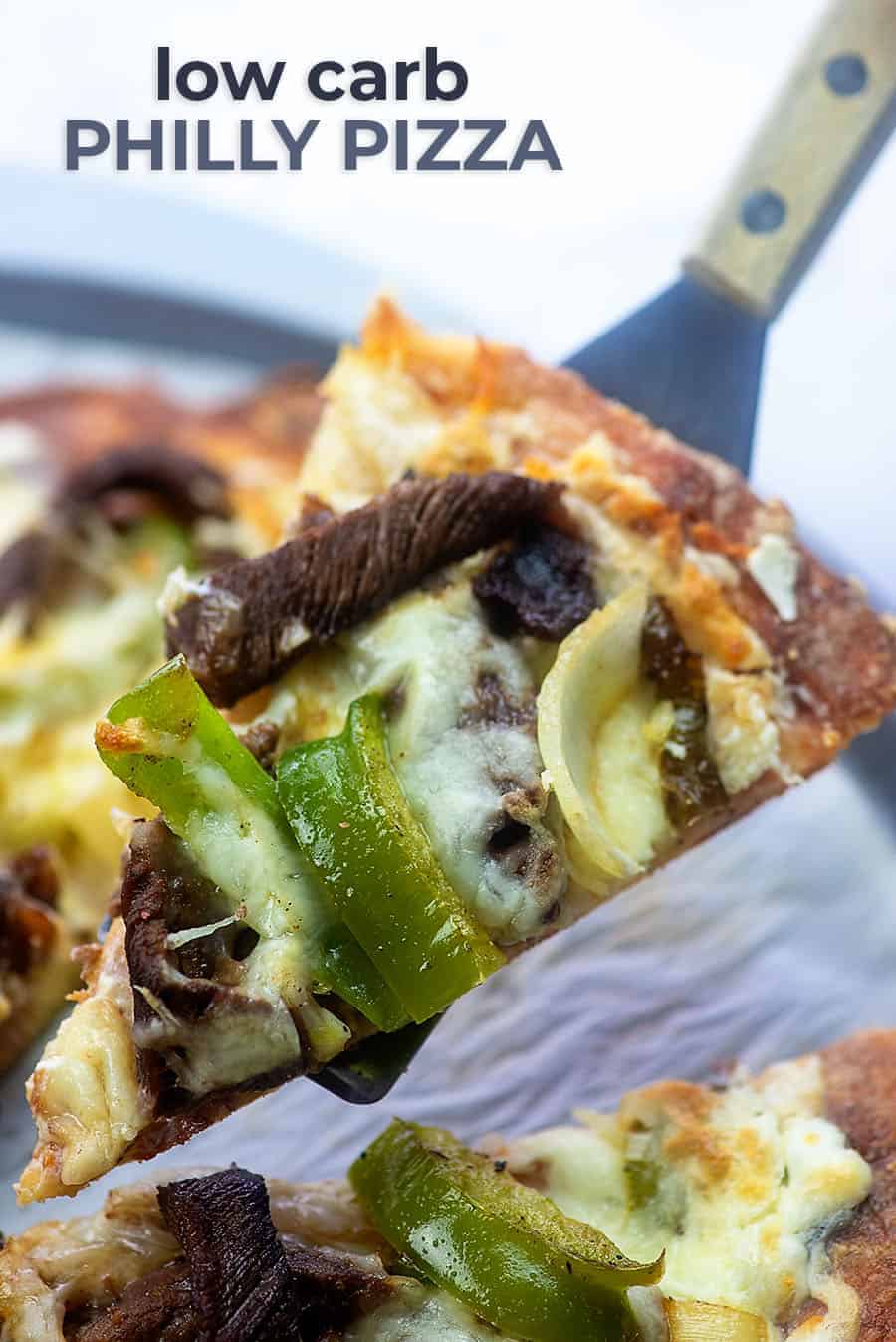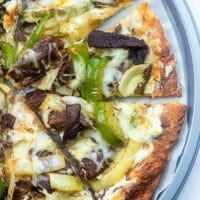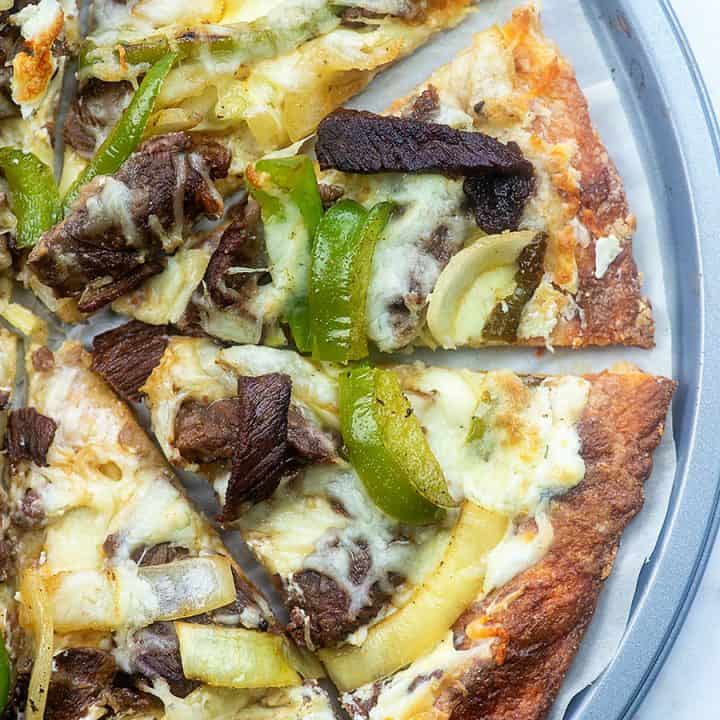 Philly Cheese Steak Pizza
All of the flavors of my favorite sandwich topping my favorite low carb pizza crust. This is a hit with my family on pizza night.
Ingredients
For the crust:
2 cups shredded mozzarella
2 tablespoons cream cheese
1 egg
¾ cup almond flour
For the topping:
6 ounces ribeye steak, thinly sliced
1 tablespoon Worcestershire sauce
2 teaspoons seasoned salt, divided
2 teaspoons oil, divided
½ medium onion, thinly sliced
½ bell pepper, thinly sliced
1 clove garlic, minced
4 ounces cream cheese
1 cup shredded provolone cheese
Instructions
Preheat oven to 425 degrees.
Add mozzarella and cream cheese to a microwave safe bowl and microwave for 1 minute. Stir to combine and return to microwave until cheese has melted, about 30 more seconds.
Stir in the almond flour and egg to combine.
Place the dough on a large sheet of parchment paper. Top with a second sheet of parchment.
Roll the dough out into a 12 inch diameter circle.
Remove the top piece of parchment and transfer the bottom sheet with the dough on it to a pizza pan.
Bake for 8 minutes or until crust is lightly golden.
For an extra sturdy crust that holds up well, carefully flip the crust over and bake for 3 more minutes.
While the crust is baking, season the steak with 1 teaspoon of seasoned salt.
Heat 1 teaspoon of oil in a large, heavy-bottomed skillet, such as a cast iron skillet. When oil is shimmering, add the steak and cook until browned on the outside, about 4 minutes.
Remove the steak and set aside.
Season the onion and peppers with the remaining teaspoon of seasoned salt. Add the remaining teaspoon of oil to the skillet.
Add the onion and pepper to the skillet and cook, stirring often, until softened, about 5 minutes. Add the garlic and cook 1 minute more.
Return the steak to the skillet with the vegetables and add the Worcestershire sauce. Stir to combine.
Add the cream cheese to a microwave safe bowl and microwave to melt, about 30 seconds.
When the crust is ready, remove from the oven and spread with the cream cheese.
Place the meat and vegetables over the top and sprinkle with the provolone.
Return to the oven and bake for 10 minutes.
Notes
Be sure to use parchment paper when baking the crust or the crust will stick to the pan.
Recommended Products
As an Amazon Associate and member of other affiliate programs, I earn from qualifying purchases.
Nutrition Information:
Yield: 8
Serving Size: 1 slice
Amount Per Serving:
Calories: 325
Total Fat: 25g
Saturated Fat: 11g
Trans Fat: 0g
Unsaturated Fat: 13g
Cholesterol: 82mg
Sodium: 758mg
Carbohydrates: 7g
Net Carbohydrates: 5g
Fiber: 2g
Sugar: 2g
Sugar Alcohols: 0g
Protein: 19g
All information and tools presented and written within this site are intended for informational purposes only. This information is provided as a courtesy and there is no guarantee that the information is accurate.