KETO BEEF STEW is exactly the type of comfort food I want to eat all winter long! It's rich, thick, and full of amazing flavor. The best part is…no one will even realize it's low carb. Keep reading for all my secrets or hit the jump button to go straight to the recipe.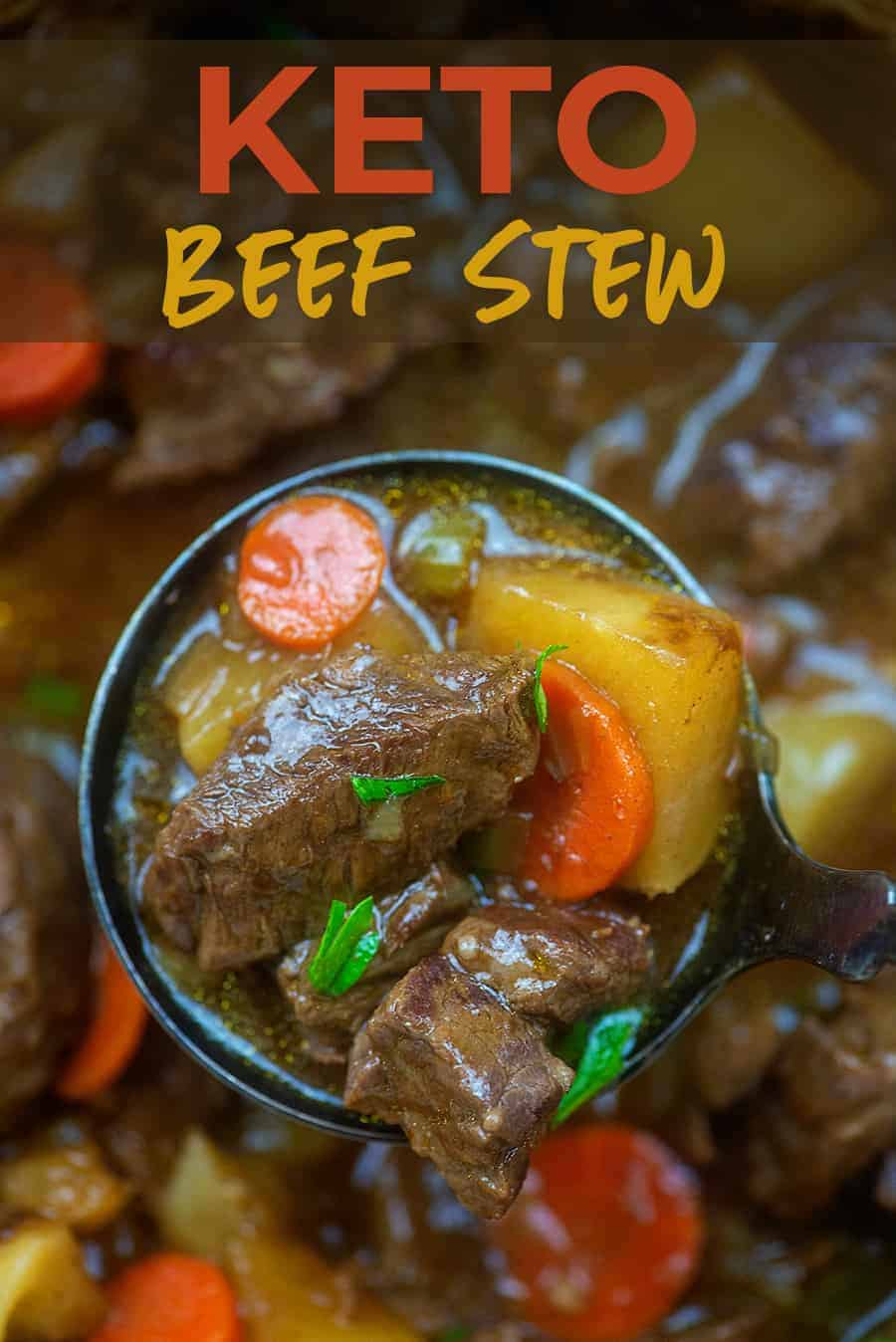 I've always been more of a soup girl than a stew girl, but wow, I think I've changed my mind!
This low carb beef stew is so rich and hearty and it's just bursting with all those classic flavors that you think of when you think of stew.
Secret confession:
There are ZERO potatoes in this recipe and my kids honestly had no idea. They thought I cooked them a meal full of carbs and they seriously didn't notice a bit that I actually used
turnips instead of potatoes
.
In some instances, you'll know when a turnip is a turnip. Take my turnips au gratin or mashed turnips…both are delicious, if you like turnips. They're just not going to fool someone into think it's a potato.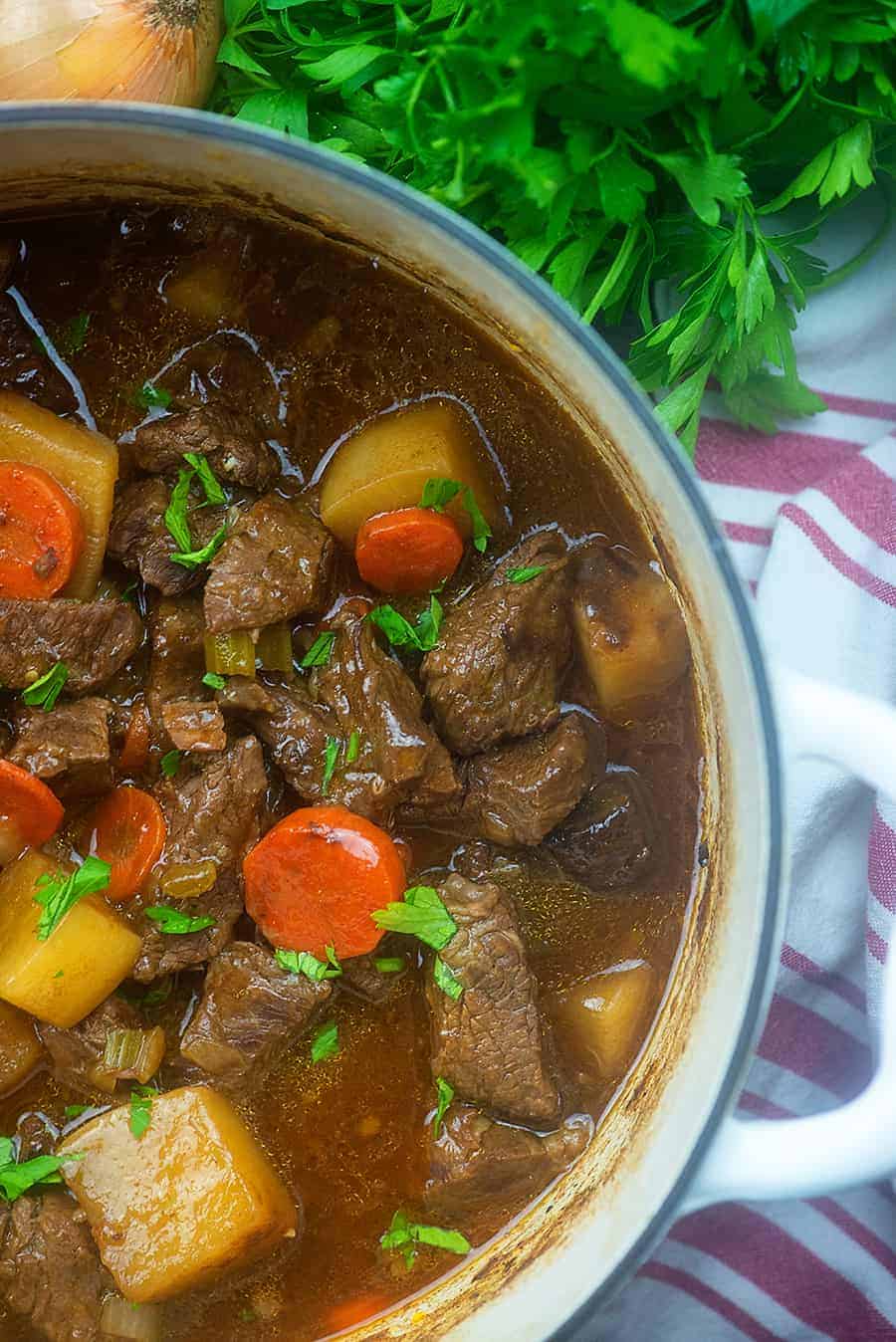 This beef stew with turnips though? Oh yeah. The turnips soak up all that lovely beef flavor and get this silky texture and man…it's just heaven. People likely won't even realize this isn't a classic stew recipe.
How to make low carb beef stew:
This post contains affiliate links.
You'll need beef for beef stew and I personally prefer to start with a chuck roast instead of the already chunked up packs of 'beef stew meat.' I think a chuck roast just has better texture and flavor.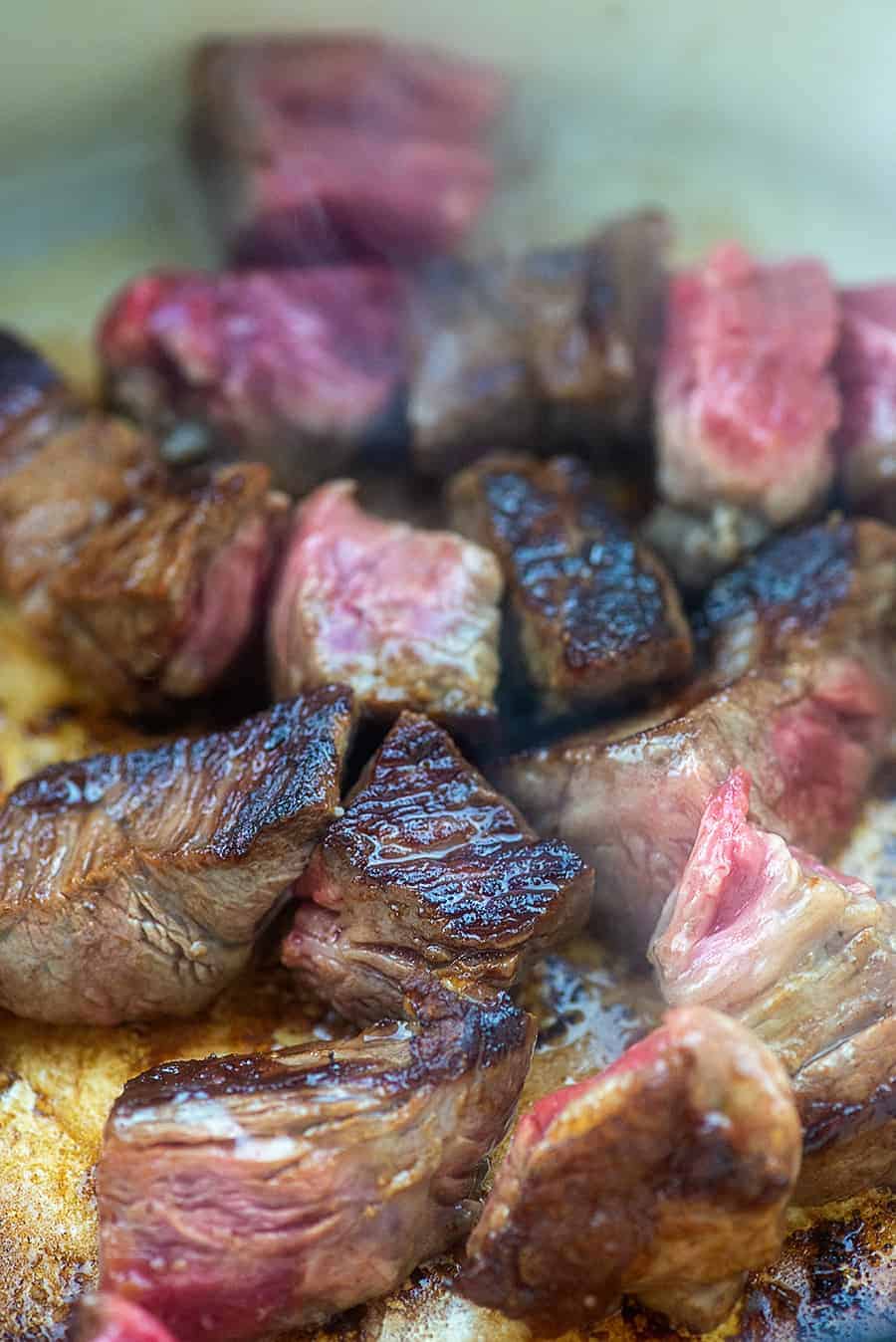 Sear up the beef, working in batches if necessary. You want gorgeous browned beef…it'll add so much flavor!
I like to use a heavy-bottomed dutch oven for this. Here is the one I use…it's lasted well and it's priced great compared to many others.
Next, you'll deglaze the pot with a bit of beef broth and vinegar. You could also use dry red wine in place of that bit of broth, if you wanted. Yum!! (Deglazing just means adding liquid to the hot pan and scraping up the browned bits on the bottom. Those browned bits equal LOADS of flavor! Don't skip this step.)
You'll add your beef, beef broth, tomato paste, and seasoning back to the pot and let it simmer away until the beef is nice and tender.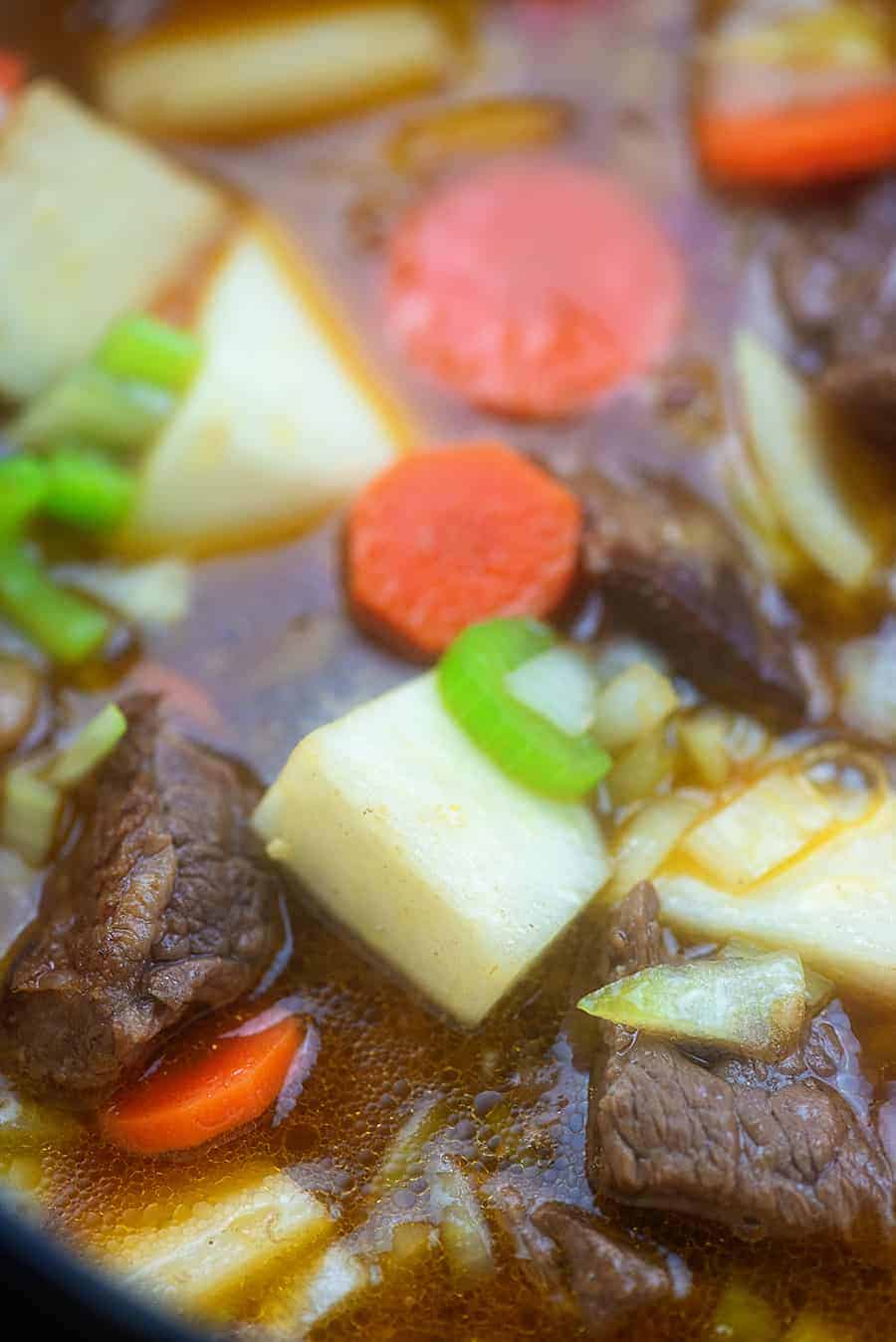 Drop in your turnips, onions, carrots, celery, garlic, and salt and give it a big stir.
Thickening low carb stew:
We're going to use xanthan gum to thicken the stew. It's easily found at most well-stocked grocery stores or you can order it from my Amazon link. Xanthan gum sounds a little weird, but it's a totally natural product that's added to more foods than you realize. You probably already eat it, you just likely don't cook with it at home unless you're well versed in this low carb life.
Remove 1/2 cup of liquid from your stew and sprinkle just a 1/2 teaspoon of xanthan gum over the top and then immediately whisk it all together. A little goes a really long way with xanthan gum!
Pour that mixture back into the stew and continue cooking for about 45 minutes.
The vegetables will be tender, the stew will have this glorious richness to it, and you'll basically never want to go a week without this keto beef stew again.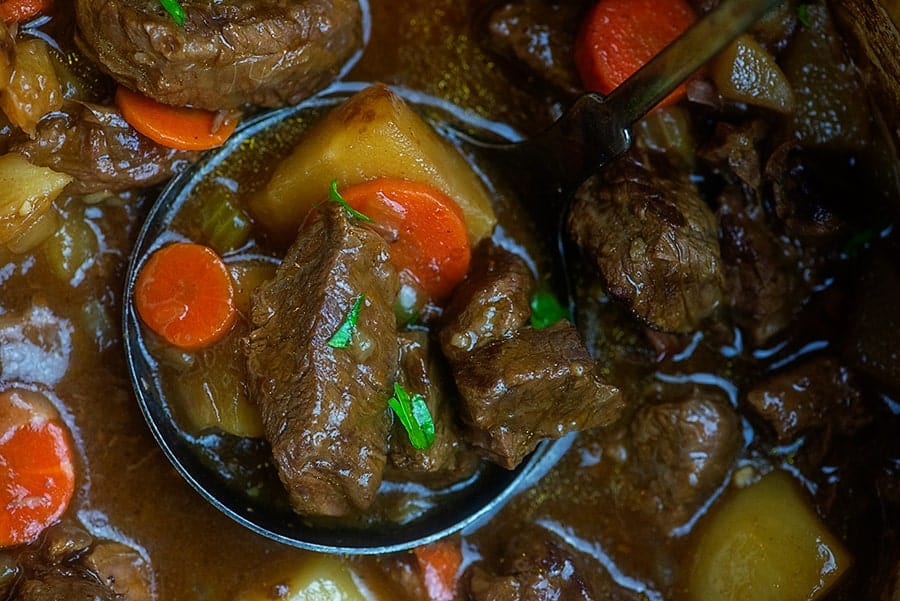 A note about the carrots:
Yep, I totally added carrots to this AND called it a keto recipe. Let me explain…
I added TWO carrots to this entire recipe that serves 6 people.
Those two carrots do a whole lot more than just add carbs…they add a sweet pop of flavor here and there, they add color and brightness, and most importantly: they make this keto beef stew feel like the beef stew your mama used to make.
Of course, you can leave them out if you wish, but I vote that you keep 'em in there. 😉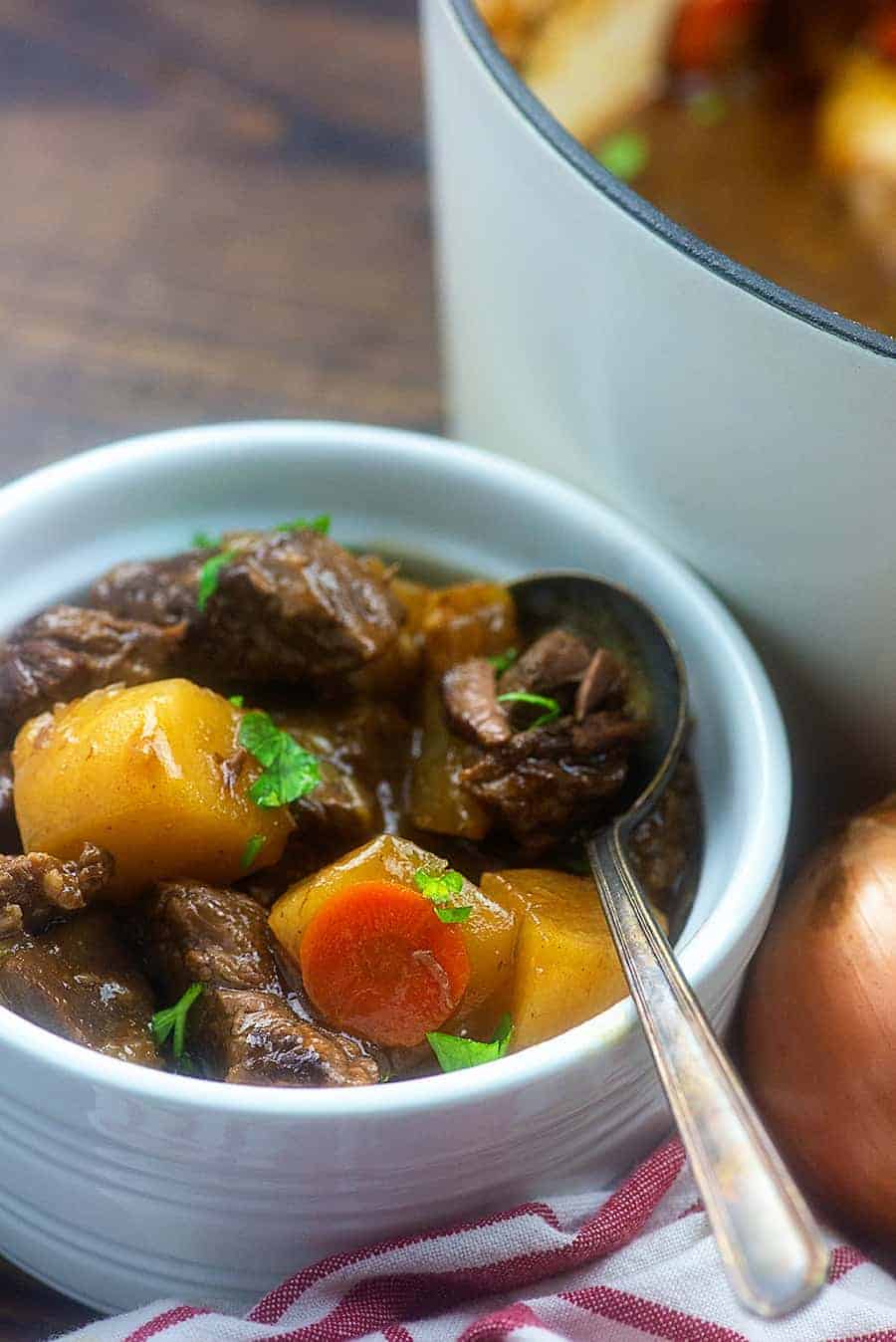 More low carb soup recipes:
If you're craving warm bowls of hearty soup this season, I've got ya covered. This keto soup is packed with Mexican flavors and it's a favorite for us. This keto cheeseburger soup also packs a ton of flavor.
Craving chili? My keto chili and keto white chicken chili both get rave reviews!
For a lighter soup, try my beef cabbage soup or broccoli cauliflower soup.
As you can see…there are lots of options!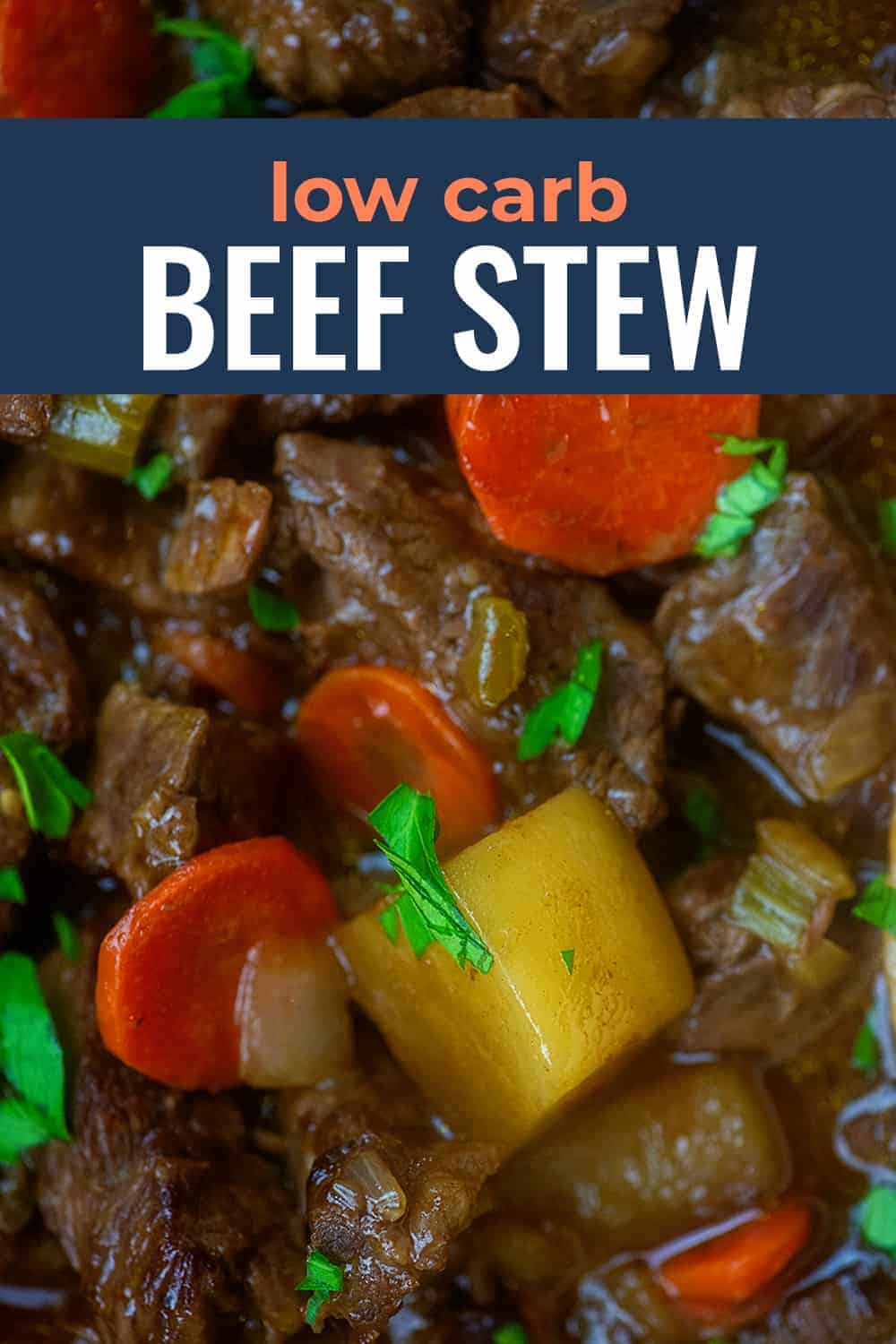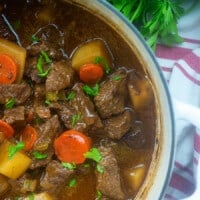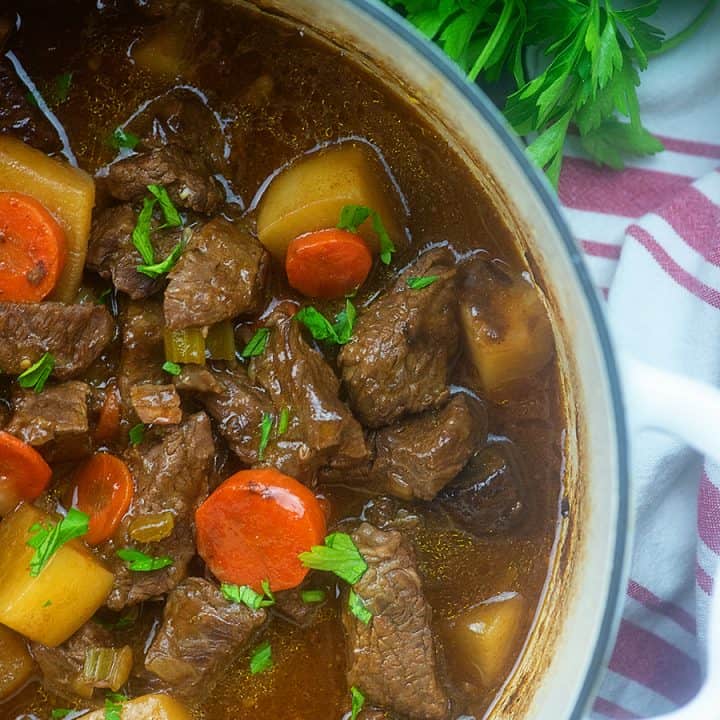 Keto Beef Stew
This rich, thick beef stew is packed with beef and veggies making it a hearty dinner on chilly nights.
Cook Time 2 hours 30 minutes
Total Time 2 hours 50 minutes
Ingredients
1 ½ pound chuck roast, cut into cubes
3 teaspoons salt, divided
4 1/2 cups beef broth, divided
2 tablespoons red wine vinegar
2 tablespoons tomato paste
1 tablespoon Worcestershire sauce
1 large bay leaf
1 pound turnips, peeled and cut into bite-sized chunks
2 medium carrots, peeled and cut into coins
1 medium onion, diced
1 celery stalk, chopped
2 cloves garlic, minced
1 tablespoon fresh parsley, minced
Instructions
Heat a large dutch oven over medium-high heat. Add the oil and heat until shimmering.
Sprinkle the beef with 1 teaspoon of salt. Add the beef to the pot in a single layer (you'll likely need to work in batches) and cook until browned on all sides, about 5 minutes per batch. Add additional oil as needed between batches. Remove all beef to a bowl and set aside.
Add ½ cup beef broth and vinegar to the dutch oven and scrape up the browned bits on the bottom of the pan over medium-high heat.
Add the beef back to the skillet along with the beef broth, tomato paste, Worcestershire sauce, and bay leaf. Bring to a boil, reduce to a simmer, and cover. Cook over low heat for 1 ½ hours or until beef is tender.
Add the turnips, carrots, onion, celery, garlic, and remaining 2 teaspoons salt. Stir to combine.
Remove ½ cup of liquid from the pot to a small bowl or measuring cup. Sprinkle with the xanthan gum and whisk well to incorporate. Return mixture to the pot and simmer uncovered for 45 minutes or until vegetables are tender, stirring occasionally.
Remove bay leaf and sprinkle with parsley before serving.
Notes
Smaller turnips tend to be sweeter than larger turnips and have less of a bitter taste.
You may use 1/2 cup of dry red wine in place of the beef broth to deglaze the pan.
I did not measure the servings by volume. Just divide evenly among six bowls.
Recommended Products
As an Amazon Associate and member of other affiliate programs, I earn from qualifying purchases.
Nutrition Information:
Yield: 6
Serving Size: 1
Amount Per Serving:
Calories: 341
Total Fat: 20g
Saturated Fat: 8g
Trans Fat: 1g
Unsaturated Fat: 11g
Cholesterol: 94mg
Sodium: 1872mg
Carbohydrates: 9g
Net Carbohydrates: 6g
Fiber: 3g
Sugar: 5g
Sugar Alcohols: 0g
Protein: 31g
All information and tools presented and written within this site are intended for informational purposes only. This information is provided as a courtesy and there is no guarantee that the information is accurate.