This keto crockpot beef stew is loaded with chunks of tender beef and fresh veggies, all swimming in a thick, savory broth. Perfect for a chilly night and so easy to make in the crockpot!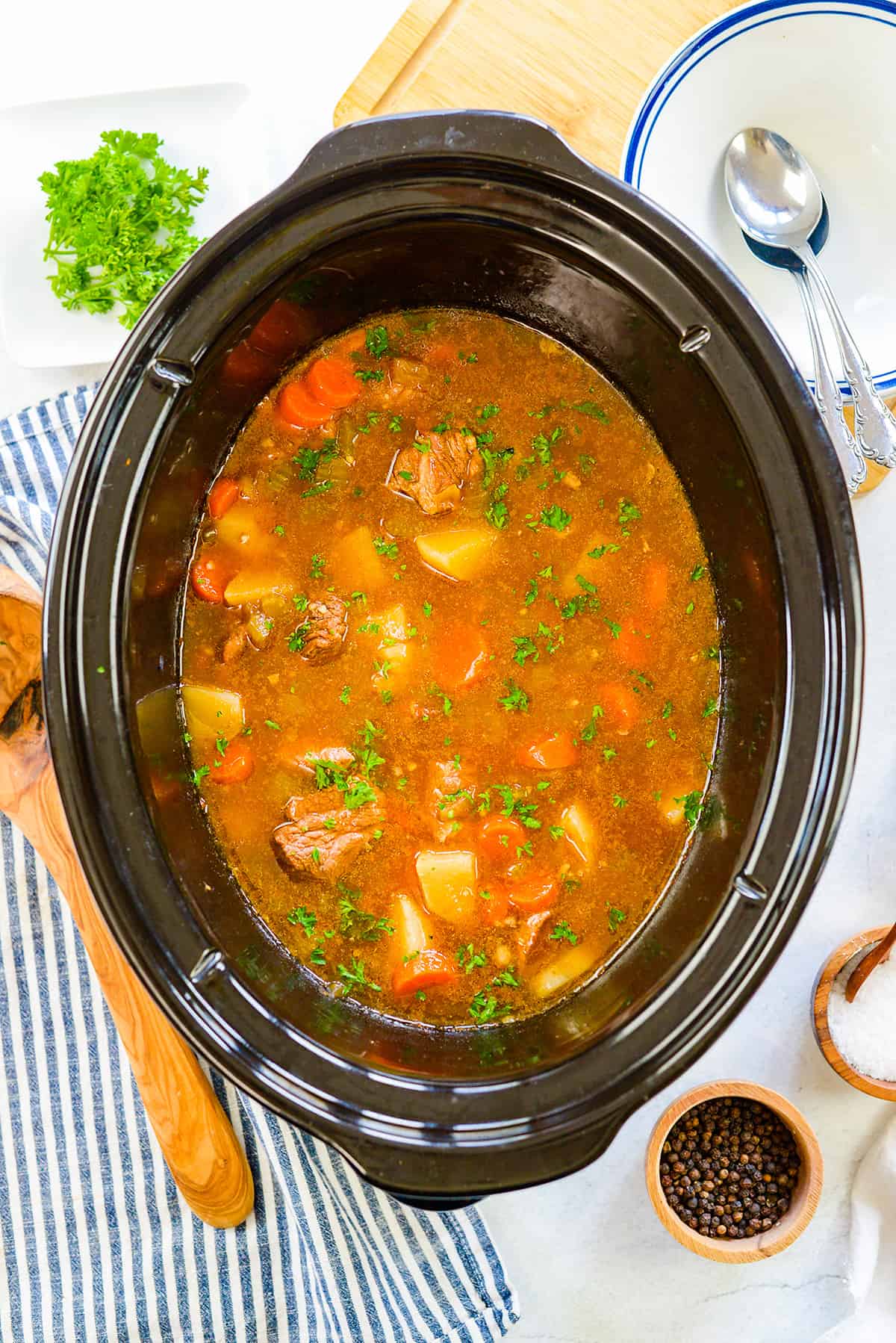 Our Keto Beef Stew is one of my favorite dishes to make on a cold day, but I'm not always around all afternoon to keep an eye on a pot simmering on the stove.
Our crockpot version means that you can start in the morning, dump things in the crockpot, and then go about your day! Such a simple way to get this hearty, flavorful stew on the table!
You might have noticed the carrots in the photo or the chunks of what looks like potatoes and you're probably wondering how the heck this recipe is low carb! Well, there are only 2 carrots in the whole pot which adds a fun pop of color and a little bite of sweetness here and there without adding much in the way of carbs.
And those 'potatoes?' No way! They're turnips and let me tell you, if you've never had turnips cooked in soup or stew, you're about to have your mind blown. My family generally doesn't even realize they aren't potatoes once they've soaked up the broth and cooked until tender. They are a fabulous potato replacement in soups and stews!
Ingredient Notes:
This post contains affiliate links. As an Amazon associate and member of other affiliate programs, I earn from qualifying purchases.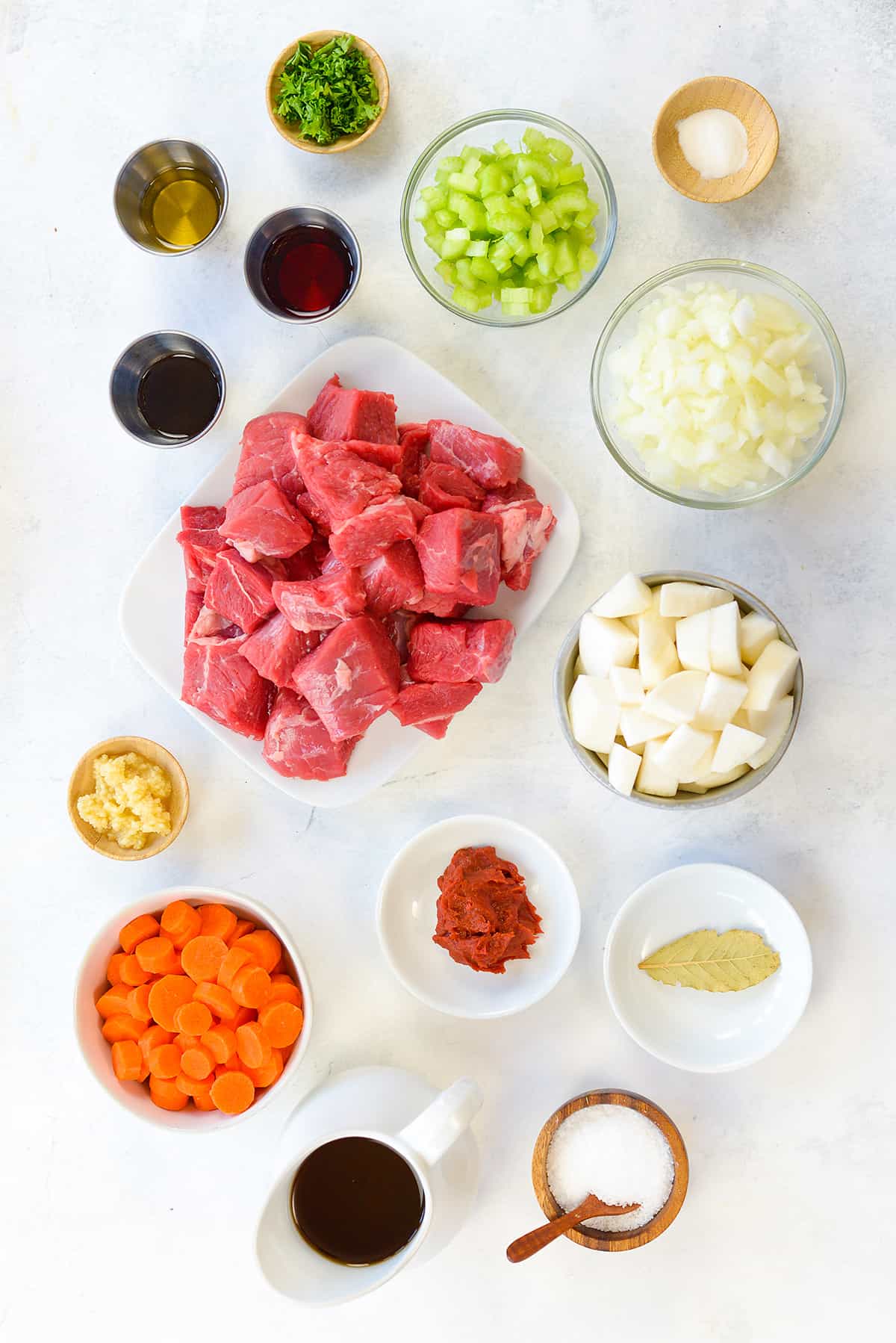 Chuck Roast – We prefer to chop a chuck roast into cubes for this crockpot beef stew, but you could also purchase stew meat if you prefer.
Beef Broth – I like to use a good quality beef broth! The chuck roast and other ingredients are going to absorb all that flavor from the broth so it makes sense to use the good stuff.
Red Wine Vinegar – This will go into the stew mostly to add flavor and balance things out a bit.
Tomato Paste – This is pretty much concentrated tomato flavor. It doesn't take a lot either, just a couple of tablespoons will add plenty of good tomato flavor to this Crockpot beef stew.
Worcestershire Sauce – A must for adding a kick of deep, savory flavor!
Veggies – No potatoes in this keto beef stew, so instead we'll be using turnips and carrots along with some onion, celery, and minced garlic. Carrots add less than 2 carbs per serving, so we're okay with using them but you can omit if you're concerned! When buying turnips, look for the smaller kind. The larger turnips are more bitter while the smaller tend to be sweeter.
Herbs – Just a single large bay leaf and some fresh minced parsley.
Xanthan Gum – This low carb thickener is a great way to thicken up this beef stew without requiring any starch. It won't add any weird flavors either!
Shop Keto Ingredients
We use Thrive Market for a lot of our specialty ingredients and keto snacks or products. Their prices tend to be cheaper than the local stores and I love that you can so easily sort products by diet.
Like Costco, this is a membership site, but we find that it's more than worth it based on the amount we save over the regular grocery store.
They have monthly or yearly plans. Check it out here.
Tools Needed:
Slow Cooker – We're loving the GreenPan Slow Cooker. It can slow cook, roast, saute, and steam foods all in one. My favorite part is that it doesn't contain PFAS, PFOA, lead, or cadmium for clean cooking.
Sharp Knife – Chopping veggies is a breeze with this knife. I have quite a collection of good knives, but this is the one I grab most often – a true favorite.
Why We Love This Recipe:
Cozy comfort food that practically cooks itself in the crockpot? Sign me up.
The savory broth, tender beef, and mix of veggies keep us coming back for more!
On busy days, nothing beats coming home to dinner that is practically done.
How To: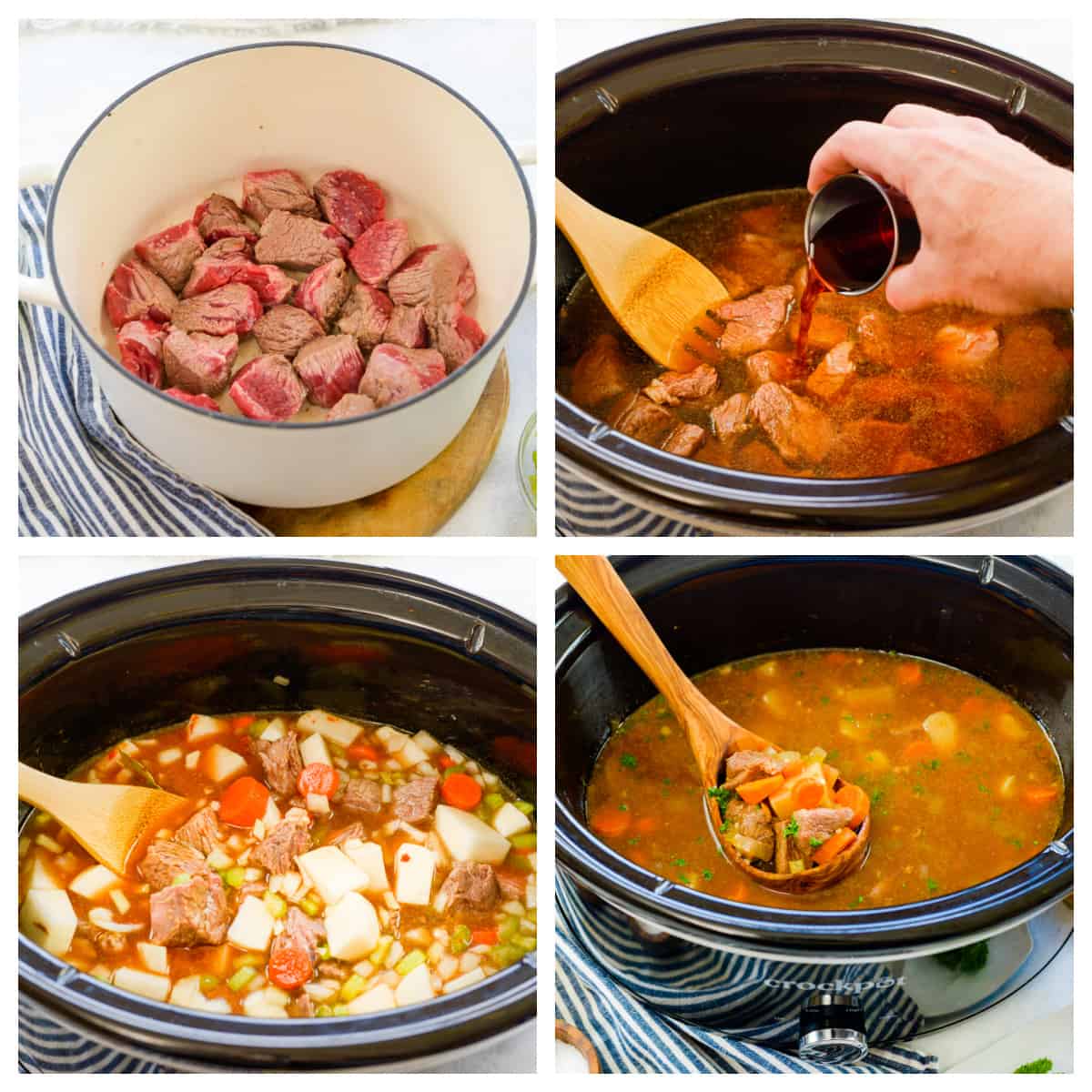 Brown the Beef – We'll add flavor to the beef by searing it before adding it to the crockpot. Not strictly necessary, but highly recommended! Season with salt and sear on all sides for about 5 minutes in a hot skillet. Work in batches if needed – overcrowding the pan will make it difficult to get a good sear.
Combine – When the beef is browned (but not cooked through completely) transfer it to a crockpot. Next, pour in the beef broth, vinegar, and Worcestershire sauce. Add in the tomato paste along with all the veggies, the bay leaf, and some salt. Give it a good stir and then cover it up.
Slow Cook – I would recommend cooking this low and slow for 8 to 9 hours to get the most flavor and extra tender beef, but you can definitely cook this on high for 4 to 5 hours and still get great results. Almost done, just a few more steps!
Thicken – There will probably be a lot of liquid in the Crockpot. We want more of a thicker stew than a thin soup, so remove half a cup of liquid from the pot to a bowl or measuring cup. Sprinkle the xanthan gum in and whisk it until it is well combined. Return the broth to the pot, set it to high heat, and cook uncovered for 45 minutes. The stew will thicken up a bit while it's uncovered!
Serve – You'll want to remove the bay leaf and discard it before serving. You can add any additional salt as needed, and we like to finish this off by sprinkling on some freshly minced parsley! This keto crockpot beef stew is perfect for cold weather months and I know it'd go pretty great served alongside some keto biscuits or my low carb cornbread!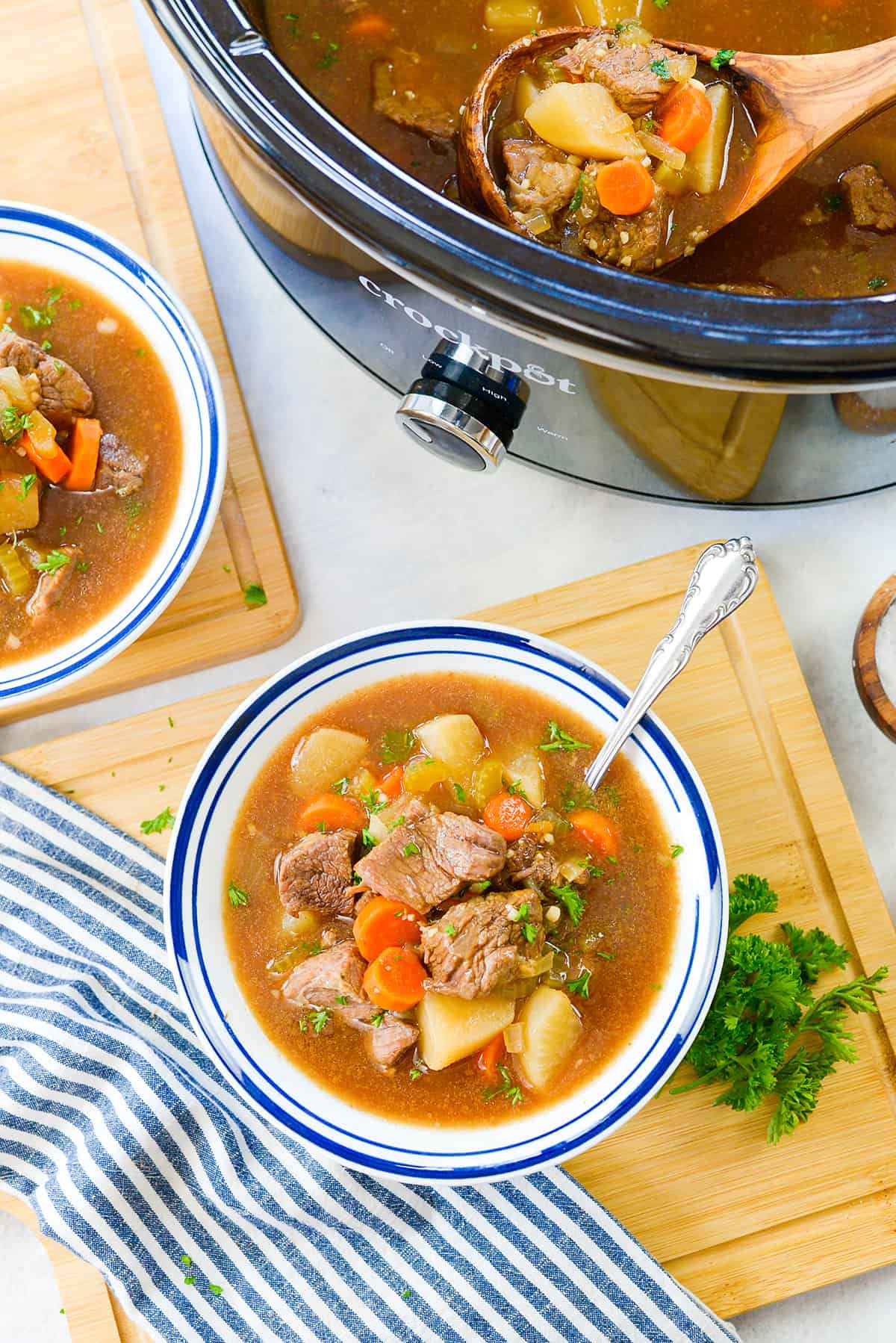 Helpful Tip!
You won't typically see carrots in keto recipes, but in this case we think they're a must! There are only 2 carrots divided amongst six servings of stew, which means they only add a total of 1.3 net carbs per serving. Absolutely worth it for that pop of color and sweetness.
Turnips:
I'm not going to tell you that turnips are the same thing as potatoes, but I will tell you that when they're cooked in soup they are hard to tell apart!
Our roasted turnips are a great sub for potatoes (but you'll know the difference) and our turnips au gratin are tasty (but not potatoes). But the turnips in this stew or in our keto zuppa toscana may as well just be potatoes…no one is likely to notice the swap.
It must be magic, but simmering turnips in soup gives them major potato vibes. 🙂
FAQ's:
How to store beef stew?
You can keep any leftover stew covered in an airtight container in the fridge for about 3 to 4 days. It should thicken up a bit as it cools and it might even taste better on the second day!
Can I make this on the stove instead?
You can! I'd recommend checking out this keto beef stew recipe, which is pretty much the same but it's made in a Dutch oven on the stovetop.
More Keto Crockpot Recipes: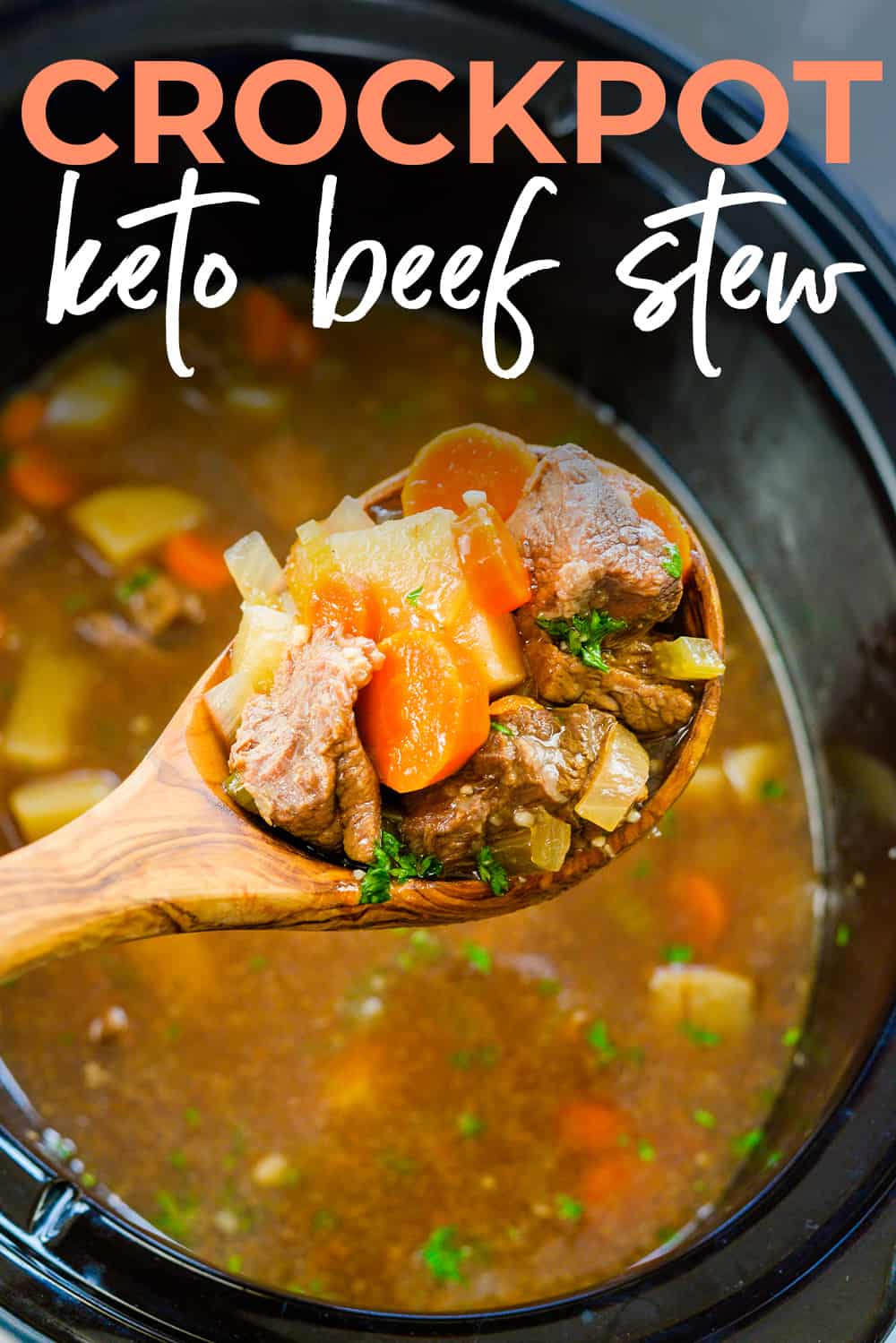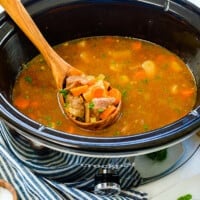 Keto Crockpot Beef Stew
Our Crockpot Keto Beef Stew is rich and hearty, loaded with tender veggies and chunks of beef, and perfect for a busy day!
Total Time 9 hours 20 minutes
Ingredients
1 ½ pound chuck roast, cut into cubes, see notes
1 tablespoon avocado oil, more as needed
2 teaspoons salt, divided
4 1/2 cups beef broth
2 tablespoons red wine vinegar
2 tablespoons tomato paste
1 tablespoon Worcestershire sauce
1 large bay leaf
1 pound turnips, peeled and cut into bite-sized chunks
2 medium carrots, peeled and cut into coins
1 medium onion, diced
1 celery stalk, chopped
2 cloves garlic, minced
1 teaspoon cracked pepper
½ teaspoon xanthan gum
1 tablespoon fresh parsley, minced
Instructions
Heat a large dutch oven over medium high heat. Add the oil and heat until it shimmers.
Sprinkle the beef with 1 teaspoon of salt. Add the beef to the pot in a single layer (you'll likely need to work in batches) and cook until browned on all sides, about 5 minutes per batch. Add additional oil as needed between batches. Transfer the beef to a 6 quart crockpot.
Add the beef broth, vinegar, tomato paste, Worcestershire sauce, bay leaf, turnips, carrots, onion, celery, garlic, pepper, and remaining teaspoon of salt to the crockpot with the beef. Cover and cook on low for 8 hours or high for 4 hours, until beef is tender.
Remove ½ cup of liquid from the pot to a small bowl or measuring cup. Sprinkle with the xanthan gum and whisk well to incorporate. Return mixture to the pot and cook on high heat with the lid off for 45 minutes. Remove the bay leaf from the pot and discard.
Taste and add additional salt and pepper as needed. Sprinkle with parsley before serving.
Notes
Smaller turnips tend to be sweeter and better tasting than larger turnips, which can be a bit bitter.
The carrots aren't strictly necessary if you're concerned about the carbs, but they add just 1.3 net carbs per serving and we think it's more than worth it.
Nutrition Information:
Yield: 6
Serving Size: 1
Amount Per Serving:
Calories: 342
Total Fat: 20g
Saturated Fat: 8g
Trans Fat: 1g
Unsaturated Fat: 11g
Cholesterol: 94mg
Sodium: 1520mg
Carbohydrates: 9g
Net Carbohydrates: 6g
Fiber: 3g
Sugar: 5g
Protein: 31g
All information and tools presented and written within this site are intended for informational purposes only. This information is provided as a courtesy and there is no guarantee that the information is accurate.