This SALMON BRUSCHETTA RECIPE is fresh, flavorful, and just 5 net carbs! A simple mixture of tomato, mozzarella, and basil make for a delicious topping for baked salmon.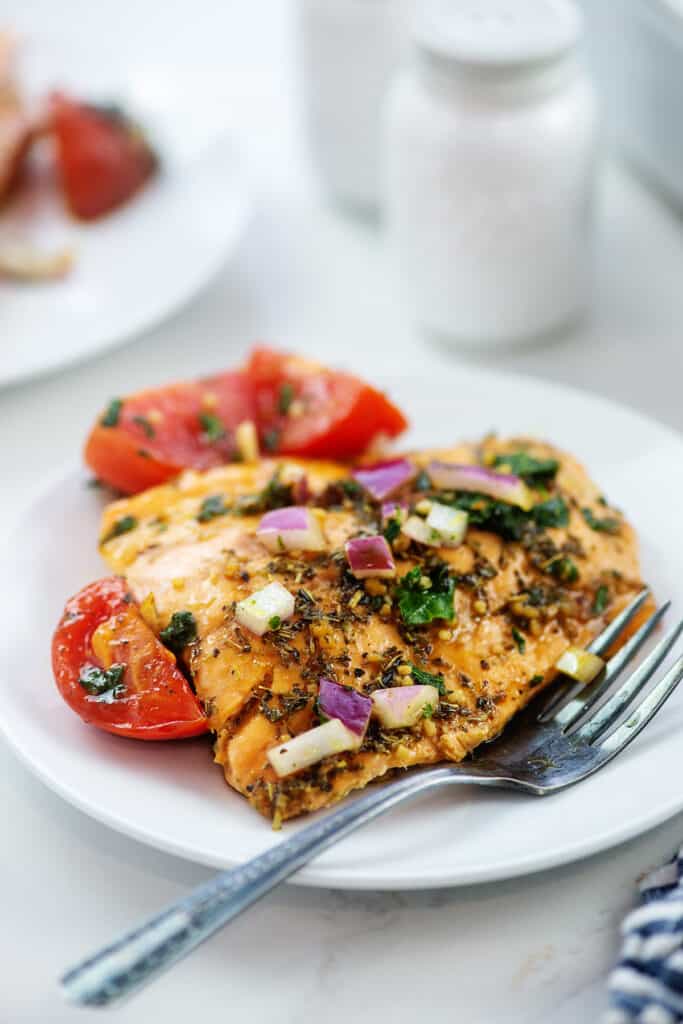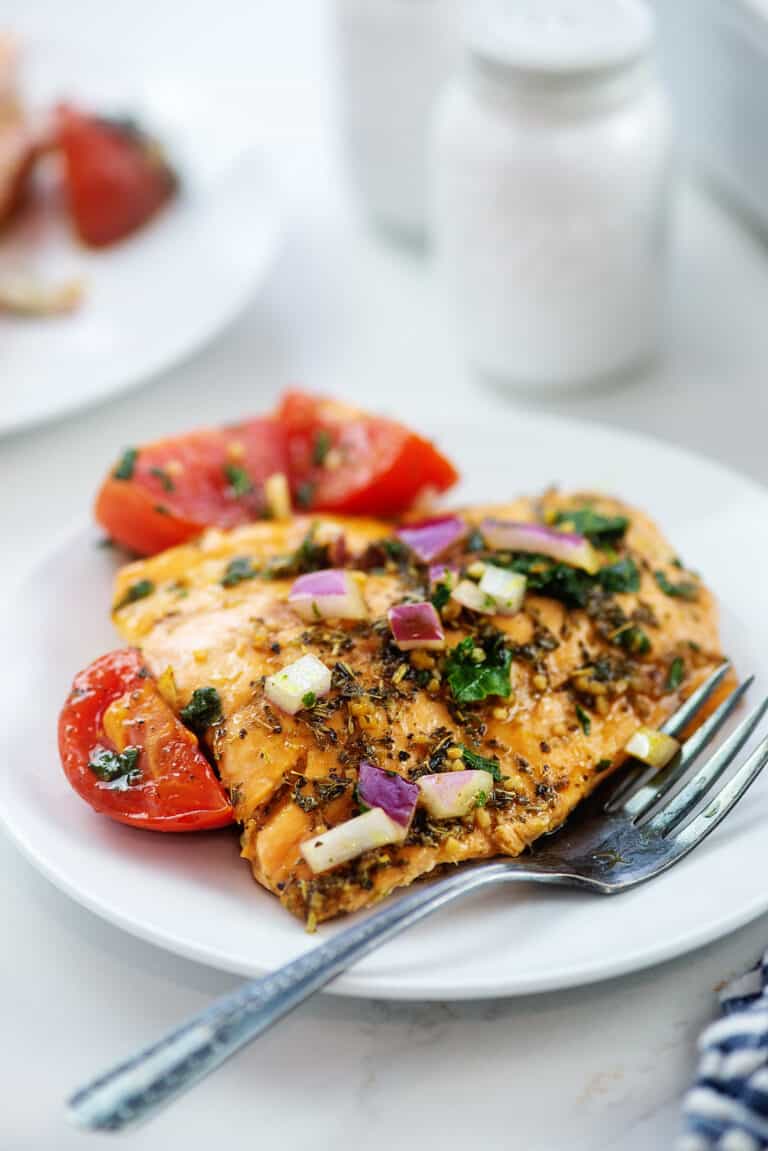 Seafood is something that we're always trying to enjoy more in our diet and we all especially love salmon.
We've got quite a few salmon recipes here, including these keto salmon patties (served with our favorite tartar sauce recipe!) and Tuscan salmon.
This time around, we took our favorite Bruschetta Chicken and turned it into a seafood dish that my family will not stop asking for! You may never see another salmon recipe from me, because every time I buy it they ask for this one! 😉
You'll love how fresh and flavorful this is, all while being really easy and quick to whip up. I love dinners like this, because they make me feel like a star!
Ingredients:
Salmon Filets – We always recommend wild salmon, if you can find it.
Olive Oil
Balsamic Vinegar – Be careful when buying balsamic and make sure you read your labels. Some balsamic vinegar is absolutely loaded with sugar. Our nutrition information is based on a balsamic vinegar with just 2 grams carbs per tablespoon. If you use a vinegar with more carbs, your nutrition information will change from what we've provided in the recipe card below.
Garlic
Italian Seasoning – This is just a blend of basil, oregano, thyme, and rosemary.
Cherry Tomatoes – We love cherry tomatoes in this recipe, because they're nice and juicy. Grape tomatoes will work in a pinch but cherry are our favorite.
Red Onion
Basil – You'll want fresh basil in this one. Roll up the leaves together and then slice. You'll have perfect little strips of basil.
How to:
Season the Salmon – We're doing a quick 10 minute marinade for the salmon. You'll just whisk together balsamic vinegar, olive oil, minced garlic, Italian seasoning, and salt. We like to mix this right in our baking dish and then add in the salmon and let it set while the oven preheats. Simple, quick, and minimal clean up. 😉
This is a really flavorful mix of ingredients. Use this to marinade salmon, chicken, pork chops, or even steak, if you like!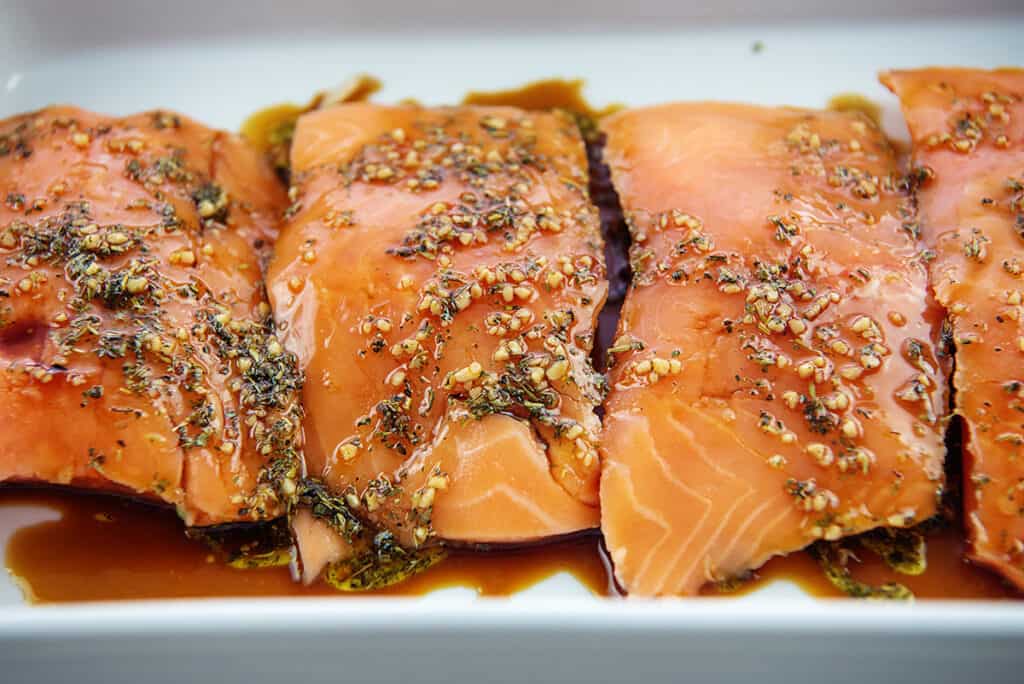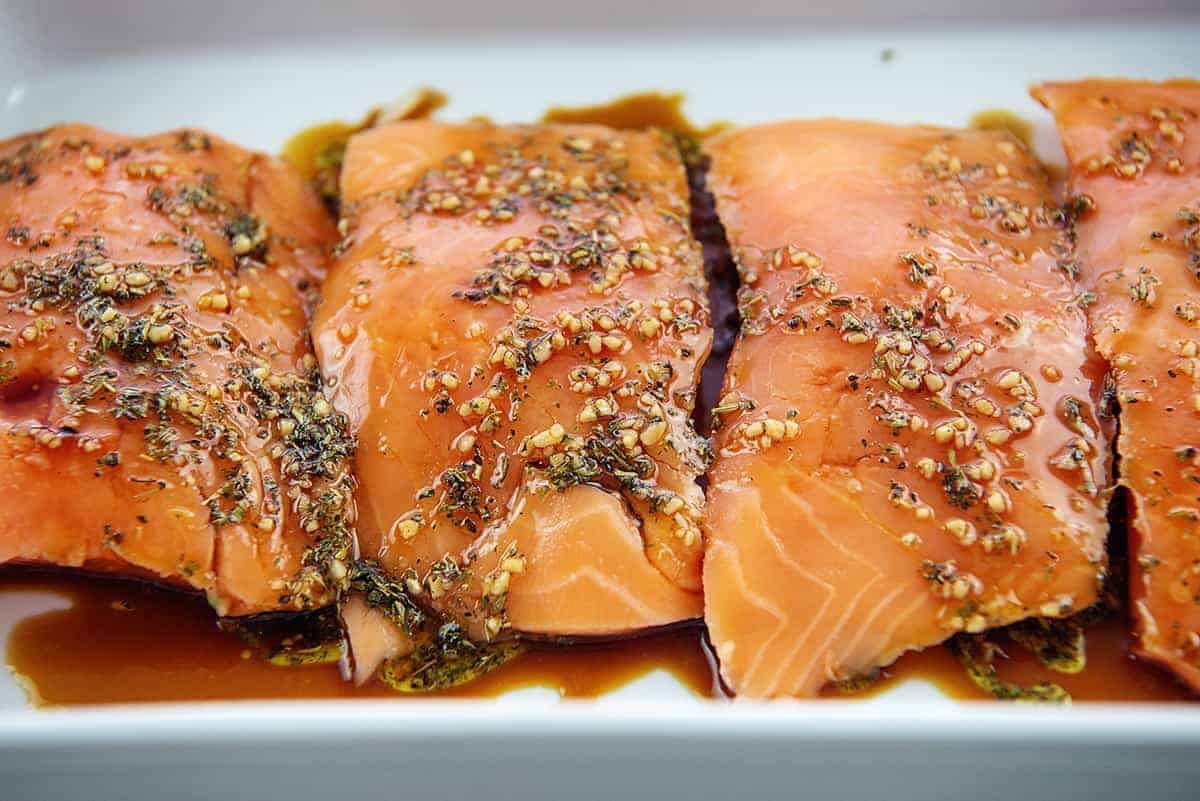 Bake the Salmon – Once your oven hits 425 degrees, pop your salmon in the oven and let it bake for about 15-20 minutes. We want the salmon to be just about cooked through – but not quite. We're adding the bruschetta mixture to the dish and baking for 5 more minutes, so don't fully cook the salmon yet or it may dry out just a bit.
Make the Bruschetta – Add the tomatoes, garlic, onion, basil, balsamic vinegar, oil, and salt to a bowl and toss to combine. This mixture adds freshness and flavor to the salmon.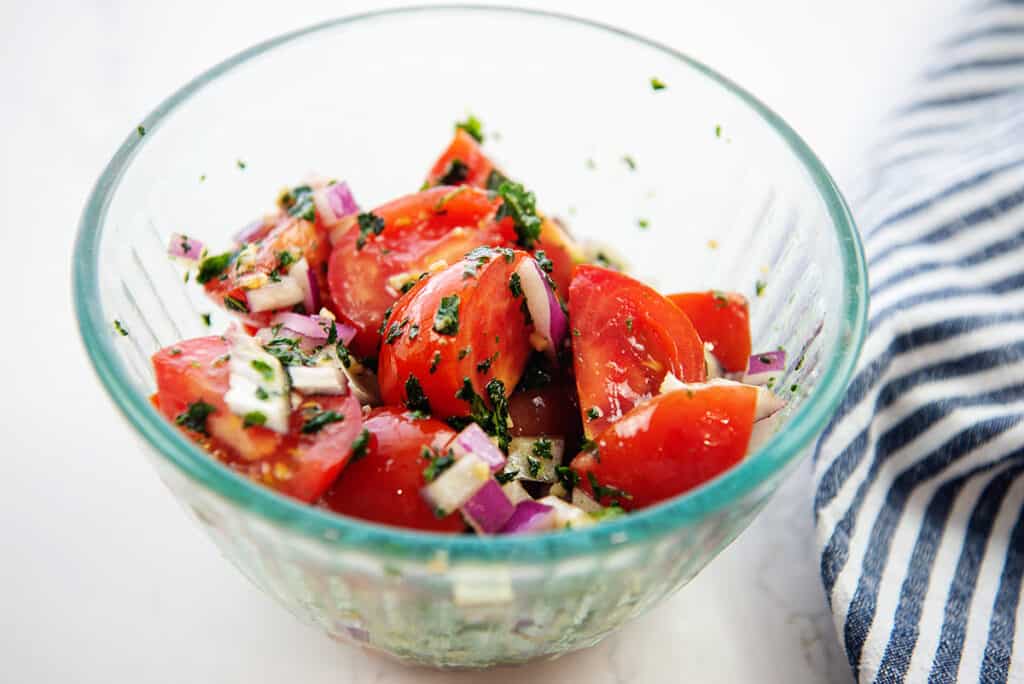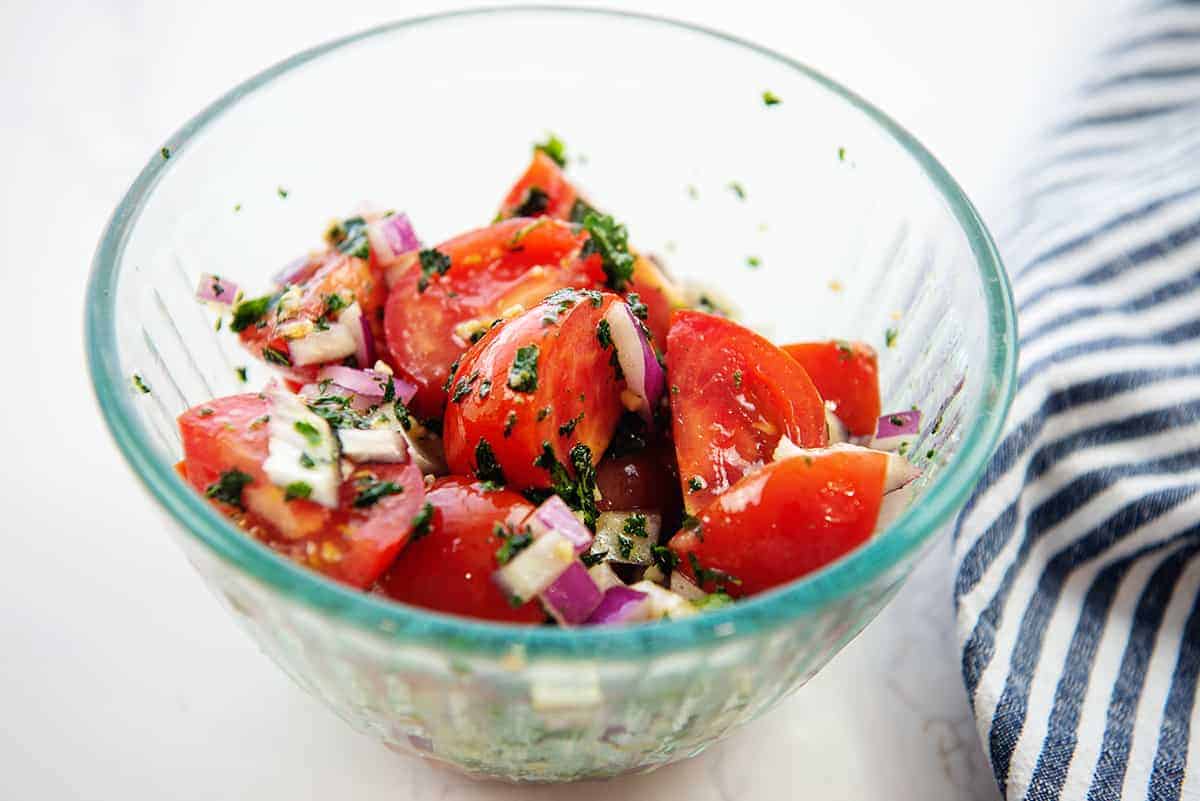 Top & Bake – Pour the tomato mixture over the salmon and finish baking for 3-5 minutes. We just want to lightly heat the tomato mixture so that the whole dish is hot. It won't take long at all.
How to tell when salmon is done:
Use a fork to gently press down on the top of the salmon. It should easily flake apart, the pink parts separating from the white.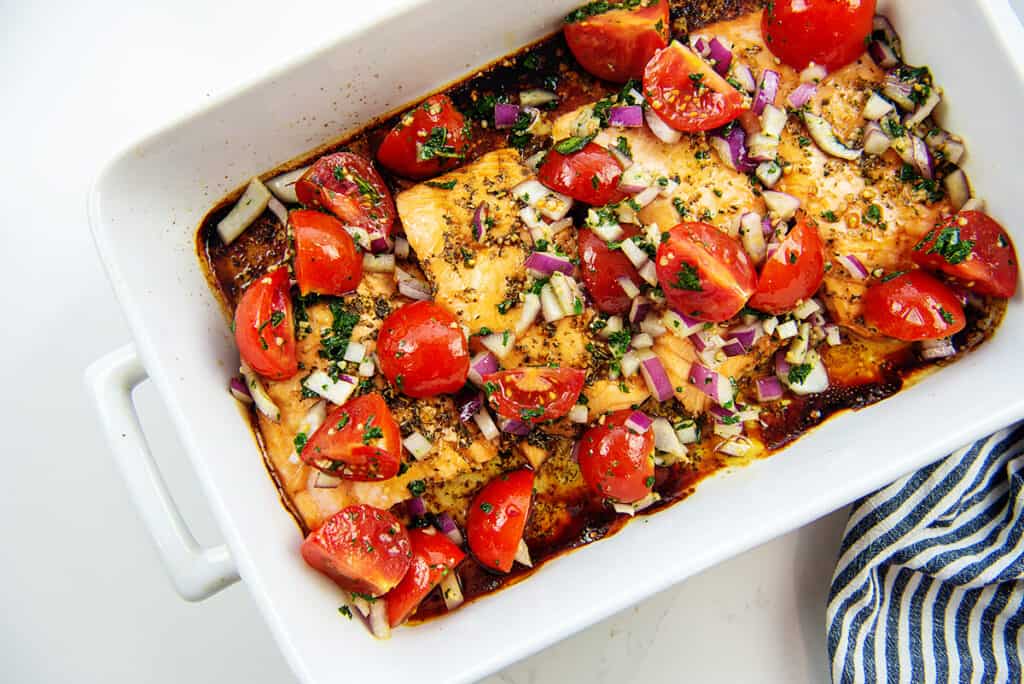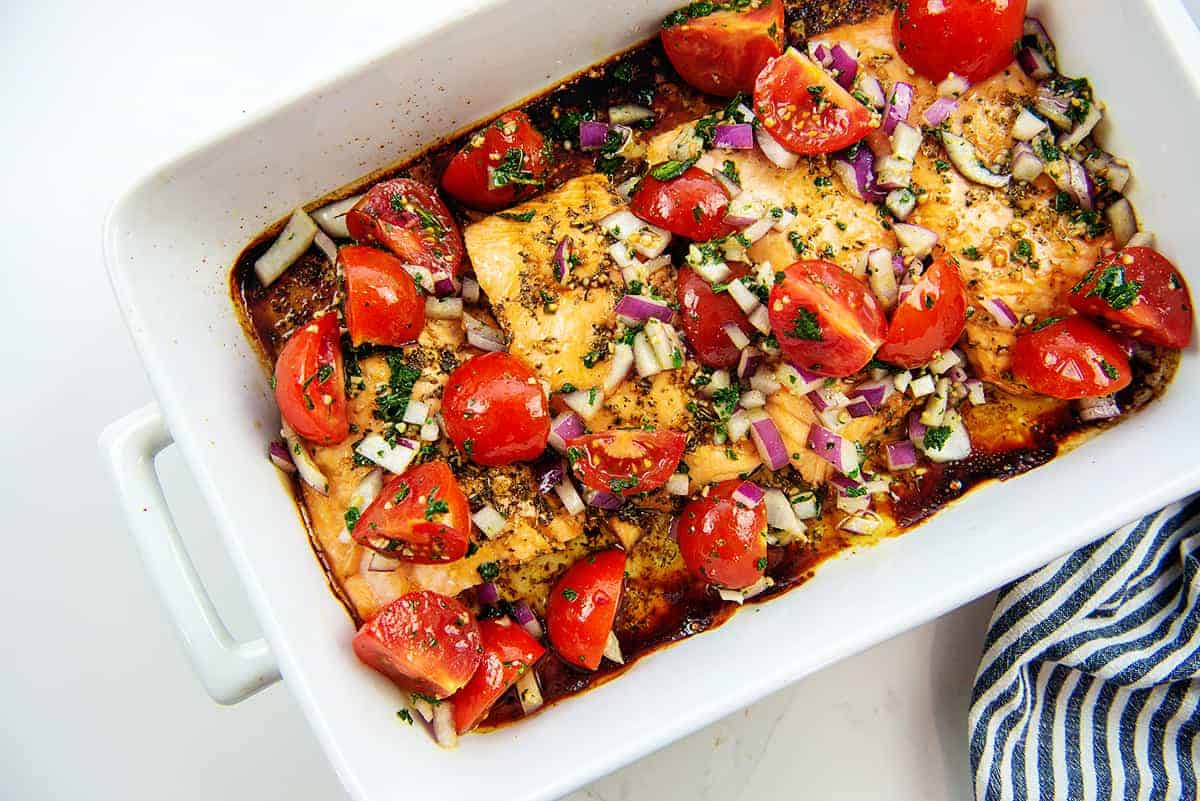 Leftovers:
We personally like this one served fresh from the oven.
You definitely can save the leftovers, tightly covered in the fridge, but they won't be as tasty reheated. The fresh veggies aren't nearly as tasty after being reheated.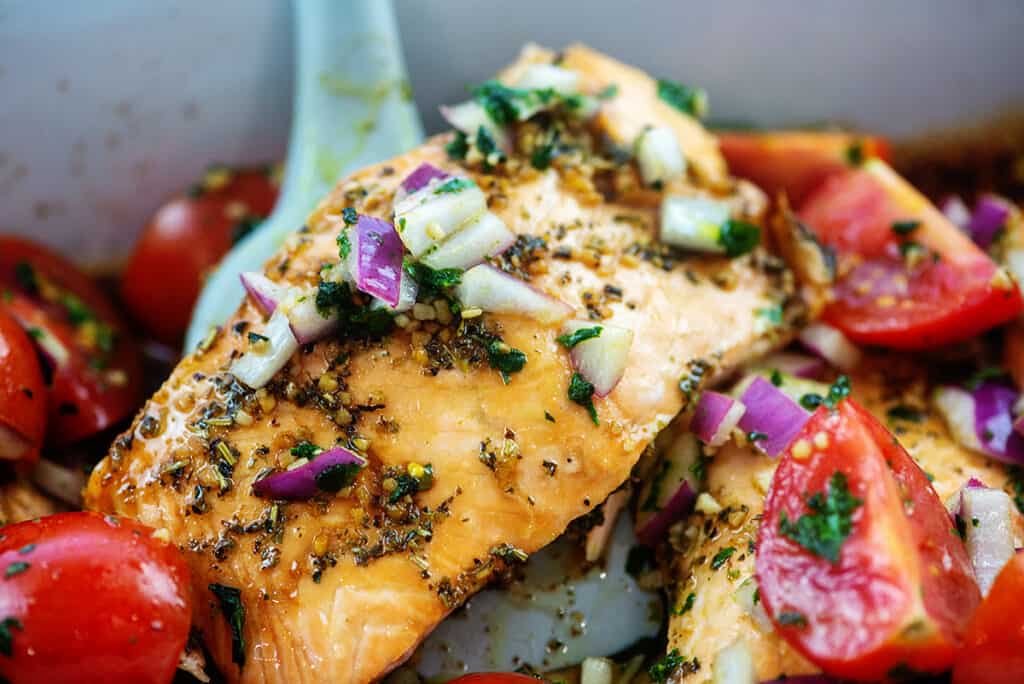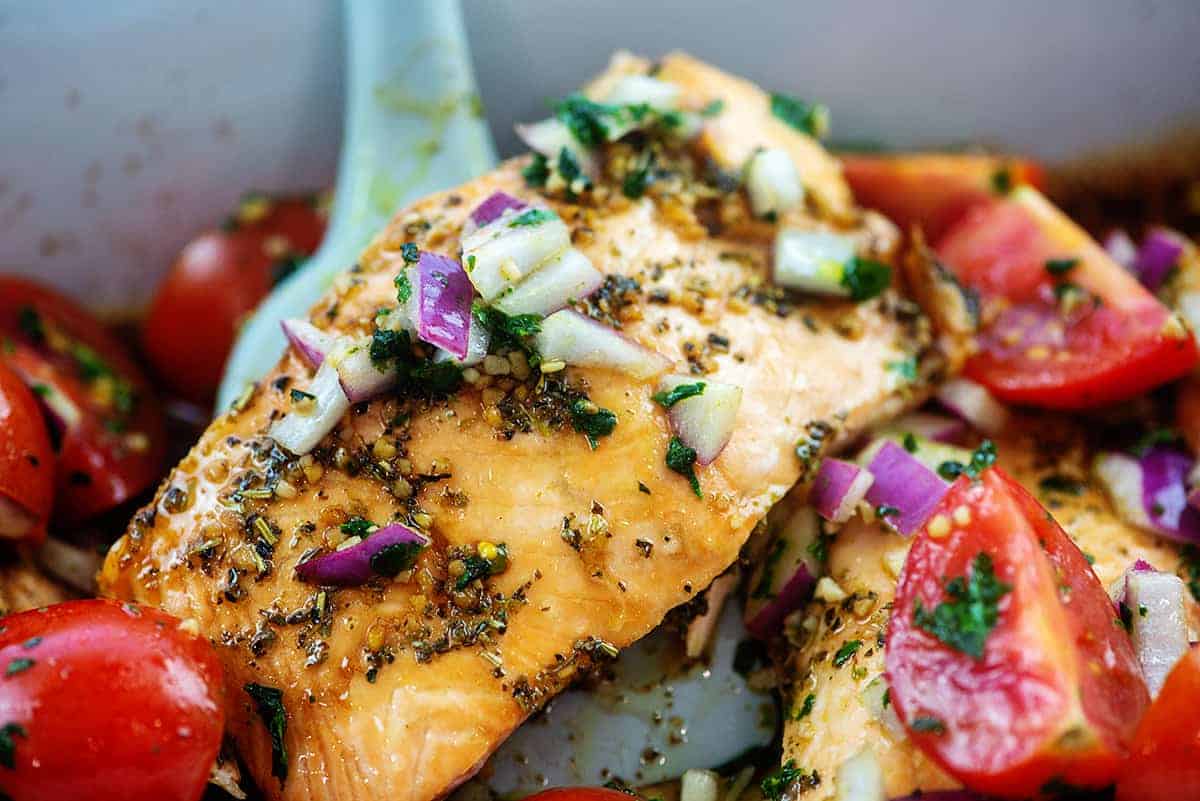 More seafood recipes: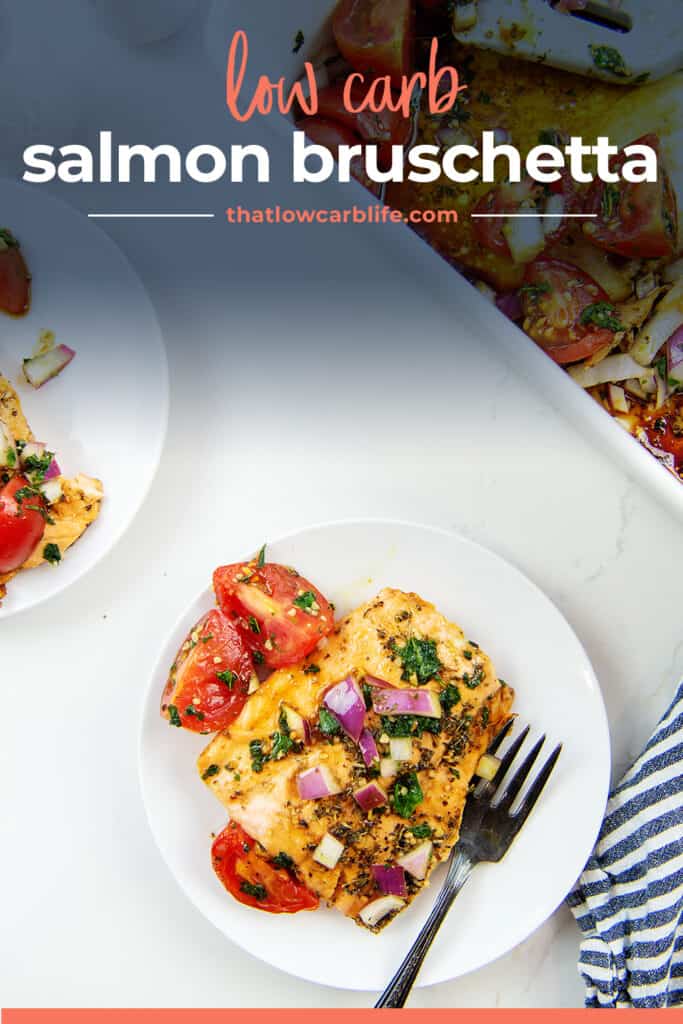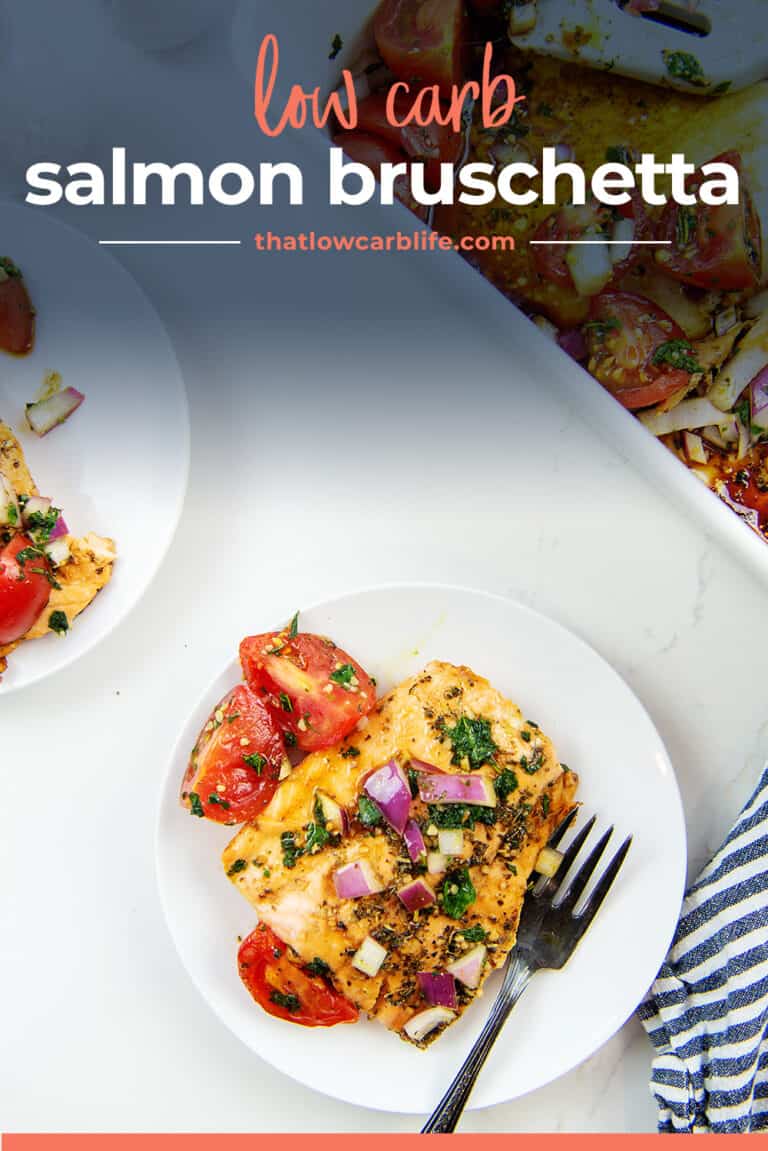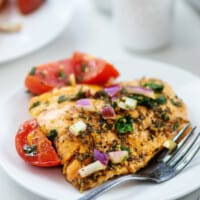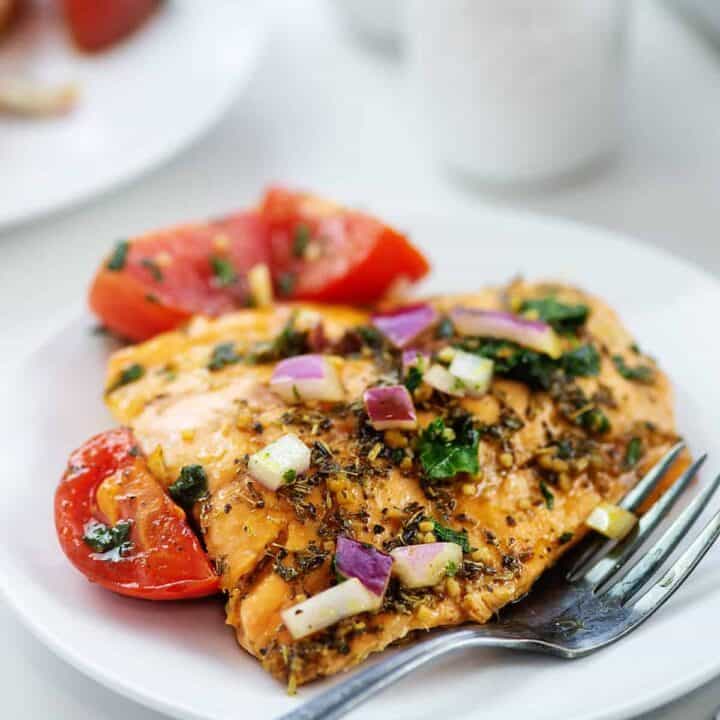 Salmon Bruschetta
Simple, fresh, and flavorful! This salmon bruschetta makes the perfect summer dinner, with fresh tomatoes and basil.
Ingredients
For the salmon:
4 salmon filets
1 tablespoons olive oil
2 tablespoons balsamic vinegar
2 cloves garlic, minced
1 teaspoon Italian seasoning
½ teaspoon salt
For the bruschetta:
1 ½ cups cherry tomatoes, halved
3 cloves garlic, minced
½ small red onion, chopped
1 teaspoon balsamic vinegar
1 teaspoon olive oil
½ cup chopped basil
½ teaspoon salt
Instructions
Add the salmon to a 9x13 baking dish.
Add the oil, balsamic vinegar, garlic, Italian seasoning, and salt to a small bowl and whisk to combine. Pour over the salmon and turn to coat.
Let salmon set for 10 minutes while the oven heats to 425 degrees.
Place salmon in the oven and bake for 15-20 minutes or until salmon is nearly cooked through.
While the salmon is baking, add all of the ingredients for the bruschetta to a bowl and toss to combine.
Remove salmon from the oven and pour the bruschetta over the top. Return to the oven for 5 minutes to warm the tomatoes and finish cooking the salmon.
Notes
The nutrition information was calculated using a balsamic vinegar with 2 carbs per tablespoon.
Nutrition Information:
Yield: 4
Serving Size: 1
Amount Per Serving:
Calories: 536
Total Fat: 33g
Saturated Fat: 6g
Trans Fat: 0g
Unsaturated Fat: 24g
Cholesterol: 143mg
Sodium: 673mg
Carbohydrates: 6g
Net Carbohydrates: 5g
Fiber: 1g
Sugar: 3g
Protein: 51g
All information and tools presented and written within this site are intended for informational purposes only. This information is provided as a courtesy and there is no guarantee that the information is accurate.