Better than any restaurant, these Keto Crab Cakes are easily made at home with plenty of lump crab and only a small amount of filler. Crisp and flavorful, perfect served with a squeeze of lemon or a side of tartar sauce.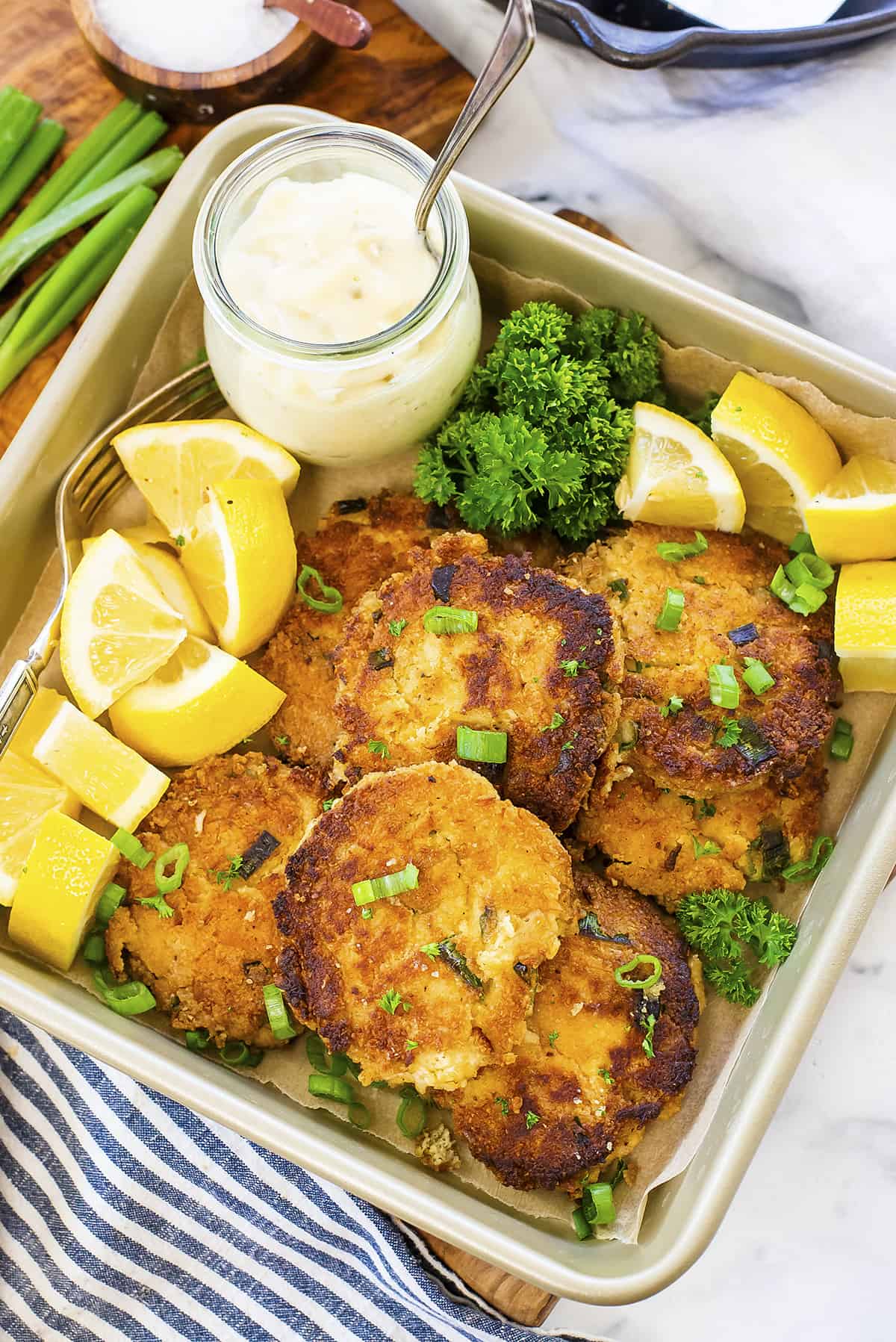 Keto crab cakes are easier than you think! Loaded with lump crab and seasoned perfectly, these crab cakes rival any restaurant version you may have tried.
If you liked our keto salmon patties, you'll love these!
We serve these with fresh lemon wedges and homemade tartar sauce. Of course, you can use store bought tartar sauce, but our homemade sauce is so much better, fresher, and you know exactly what's in it!
What type of crab to use for crab cakes?
There are many different types of crab, but when it comes to crab cakes, we prefer lump crab meat.
Lump crab meat comes from the body of the crab, is off-white in color, and is sturdy enough to hold together when mixing with a fork.
The best, freshest crab you can afford is going to make a big difference in the outcome of these crab cakes.
While any crab meat will work in the end, it won't provide the best flavor.
We recommend buying canned or frozen lump crab meat out of the shell for the best taste, texture, and ease of use.
Ingredient Notes:
This post contains affiliate links. As an Amazon associate and member of other affiliate programs, I earn from qualifying purchases.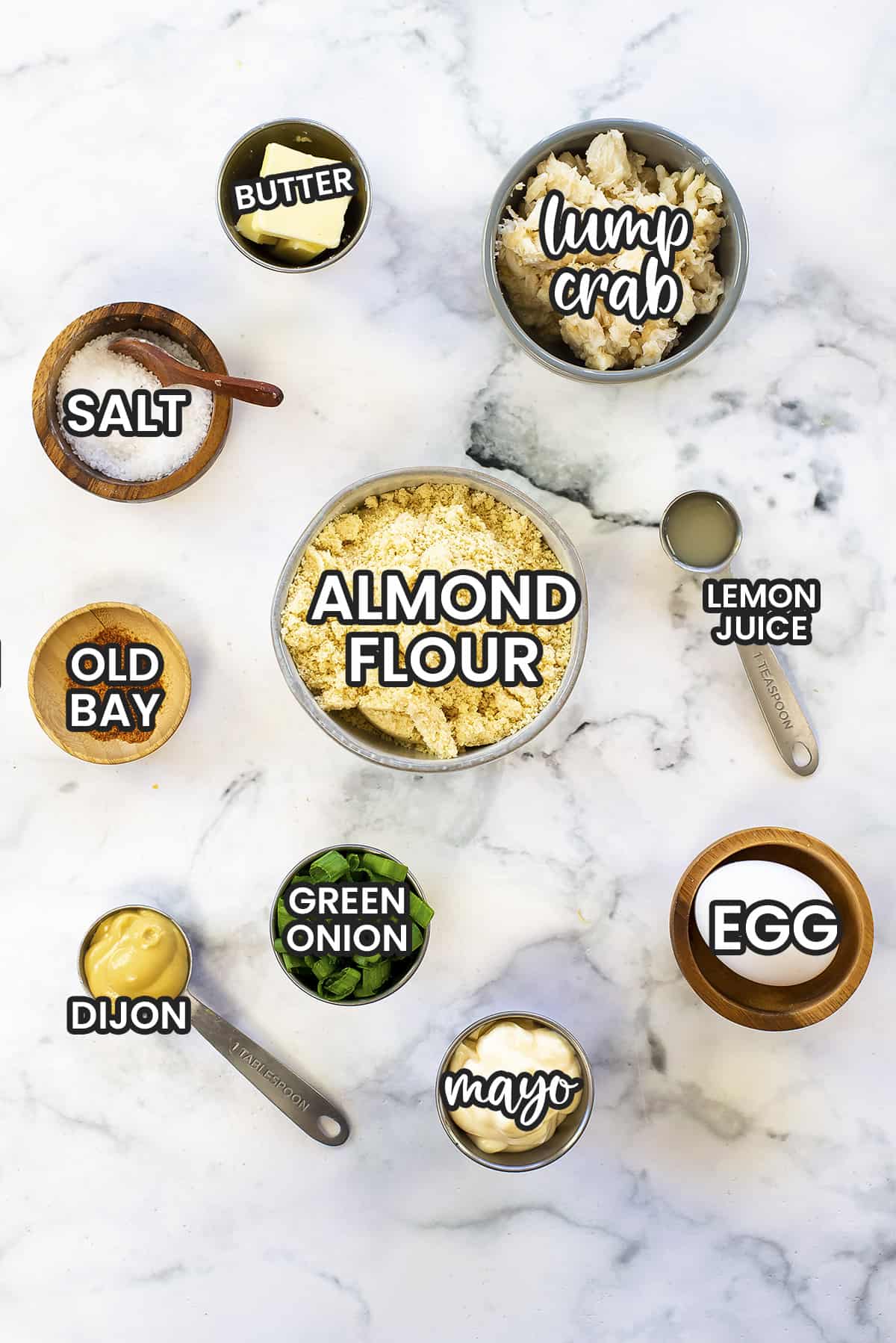 Lump Crab Meat – Canned or frozen as mentioned above!
Mayonnaise – This will add a bit of creamy, tangy flavor while also helping to keep the crab cakes moist. It also works as a binding for the almond flour.
Green Onion – Some green onion will add a bit flavor and a little bit of crunchy texture to these keto crab cakes. Chives would also work.
Dijon Mustard – It'll add a sharp tangy flavor and just a bit of spiciness to the crab cakes. It'll also help as a binding.
Egg – Egg helps holds things together.
Old Bay Seasoning – Old Bay has a very distinct flavor that works perfect on seafood. Cajun seasoning would also work here. Use whichever you prefer.
Lemon Juice – We like freshly squeezed lemon juice but you can use the bottled kind for this too!
Almond Flour – Traditional crab cakes call for bread or cracker crumbs. We're using almond flour instead to make these low carb crab cakes. I have not tested this recipe with coconut flour.
Butter and Oil – For frying our keto crab cakes! Not to worry, we're shallow frying so the mess is minimal and clean up is easy.
Shop Keto Ingredients
We use Thrive Market for a lot of our specialty ingredients and keto snacks or products. Their prices tend to be cheaper than the local stores and I love that you can so easily sort products by diet.
Like Costco, this is a membership site, but we find that it's more than worth it based on the amount we save over the regular grocery store.
They have monthly or yearly plans. Check it out here.
How To Make Crab Cakes: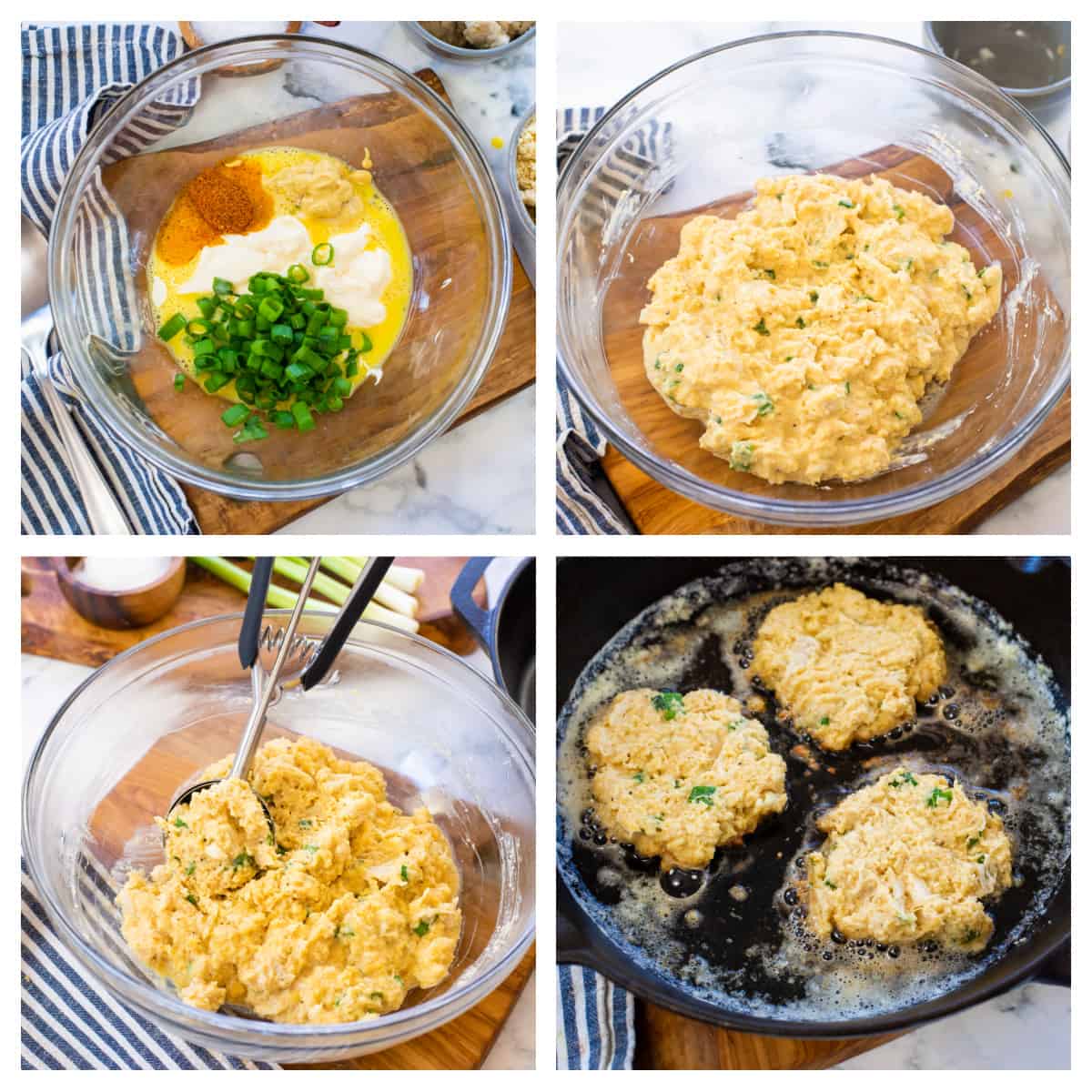 Mix – To get started you'll need to add the mayonnaise, chopped green onion, Dijon mustard, egg, Old Bay seasoning, lemon juice, and salt to a medium sized mixing bowl. Mix those up together until well combined! Add the crab and almond flour to the bowl and use a rubber spatula to fold the crab cake mixture until just combined.
Chill – After combining the ingredients, cover the bowl and place it in your refrigerator to chill for 30 minutes. This will help the mixture set and come together.
Scoop – After chilling the crab cakes, start heating a large cast iron skillet over medium heat with enough butter or oil to lightly coat the bottom of the pan. When the oil has heated, use a large cookie scoop to drop evenly sized balls of the crab cake mix into the skillet. Leave a couple inches between each one for flattening. You will need to work in batches!
Flatten – Use a thin, flat spatula to gently press down on the mixture to flatten them into patties.
Fry – Each of the keto crab cake patties should take about 3 minutes to cook per side or until they are golden brown! Repeat with the remaining mixture until all the crab cakes have finished frying.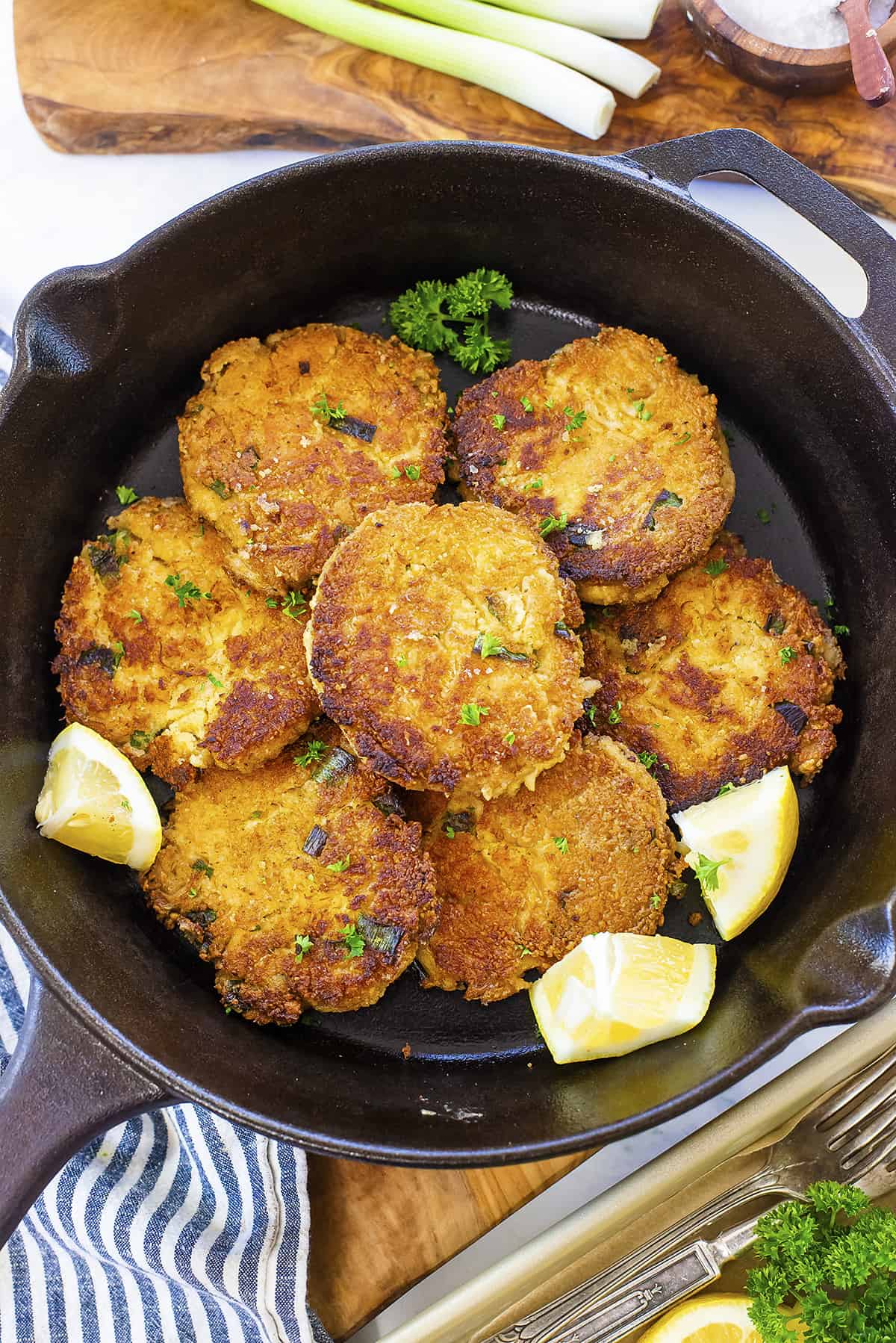 Baking Vs. Frying Crab Cakes:
We prefer crab cakes that are fried versus baked. That crispy, buttery exterior just makes us happy.
This recipe would likely work in the oven, though we haven't tested it.
If we were to try, we'd bake at 450 for around 15 minutes or until the crab cakes are nicely golden all around.
The method in these air fryer crab cakes would likely work well for this recipe too!
Tips & Tricks:
Chill – Chill the mixture for 30 minutes in the refrigerator before cooking. This will help your crab cakes hold together better. If you skip this step, they may fall apart while cooking and that's frustrating for everyone.
Scoop – Use a large cookie scoop to make perfectly portioned crab cakes. We use our cookie scoops for so many things, ranging from keto cookie dough to keto meatballs.
Spatula – Use a thin, flat spatula to get under the crab cakes and quickly flip them. If they fall apart, just press them back together with the spatula. They may not be pretty, but they'll still be delicious.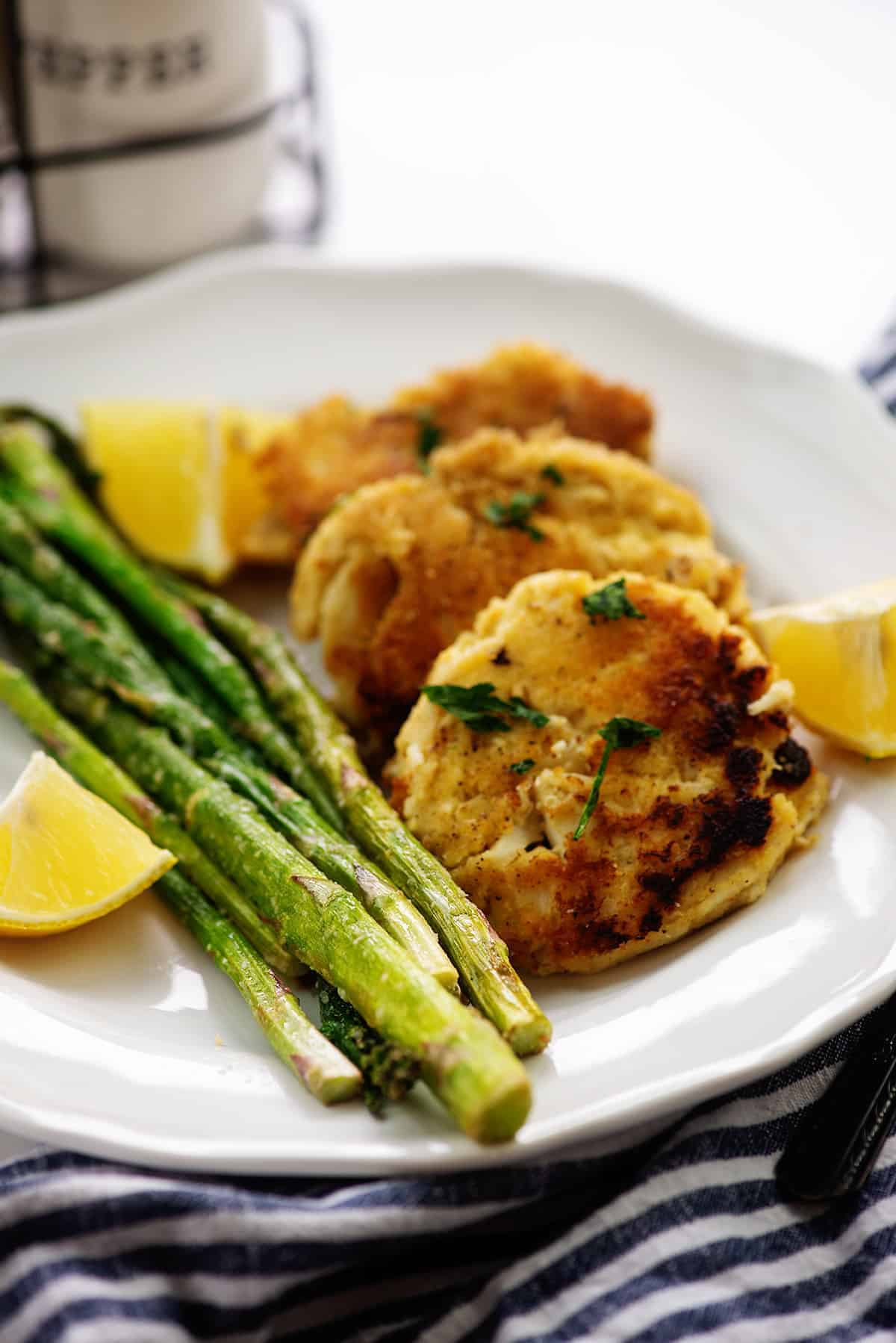 What To Serve With Crab Cakes:
If you're wondering what goes with crab cakes we served these with our keto asparagus. A little lemon squeezed over both the crab cakes and the asparagus is absolutely delicious.
Other favorite sides include keto cheddar bay biscuits, cauliflower mac and cheese, and sautéed broccoli.
FAQs:
How long to cook crab cakes?
We pan fry our keto crab cakes for about 3 minutes per side or until they are a nice golden brown color! If you are baking your crab cakes it'll take about 15 minutes at 450 degrees.
Can you make crab cakes ahead of time?
Yes, this is a great recipe for making ahead since you need to chill the mixture for a bit anyways. Just follow all the steps up to refrigerating and then prepare when ready, up to 24 hours in advance.
How to store crab cakes?
These keto crab cakes should store well in the fridge in an airtight container for about two days. You can also freeze them for up to a couple of months.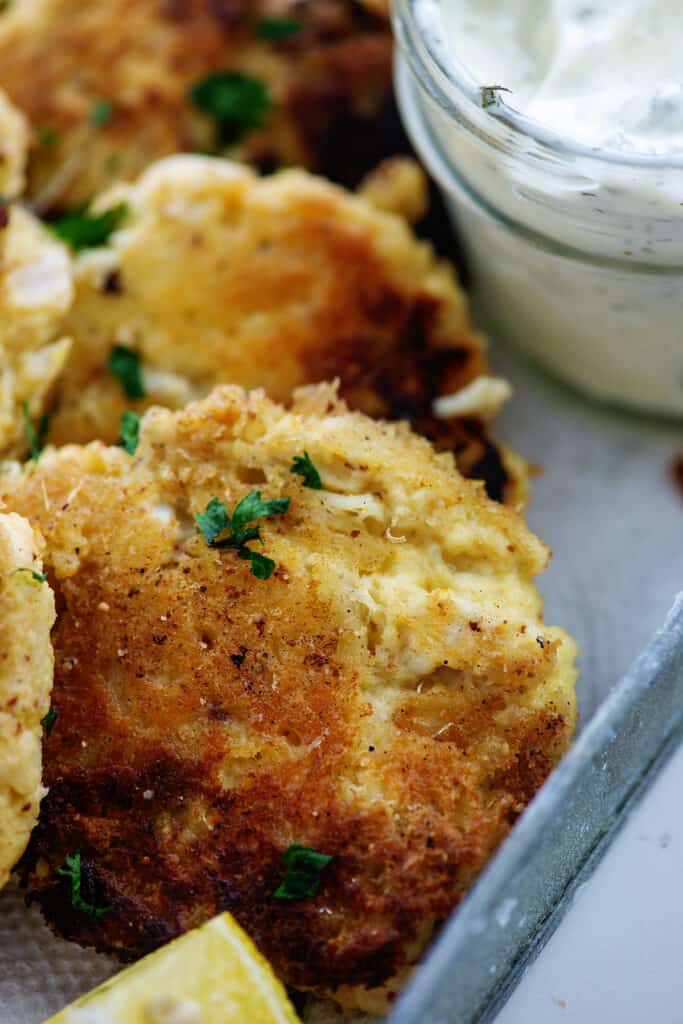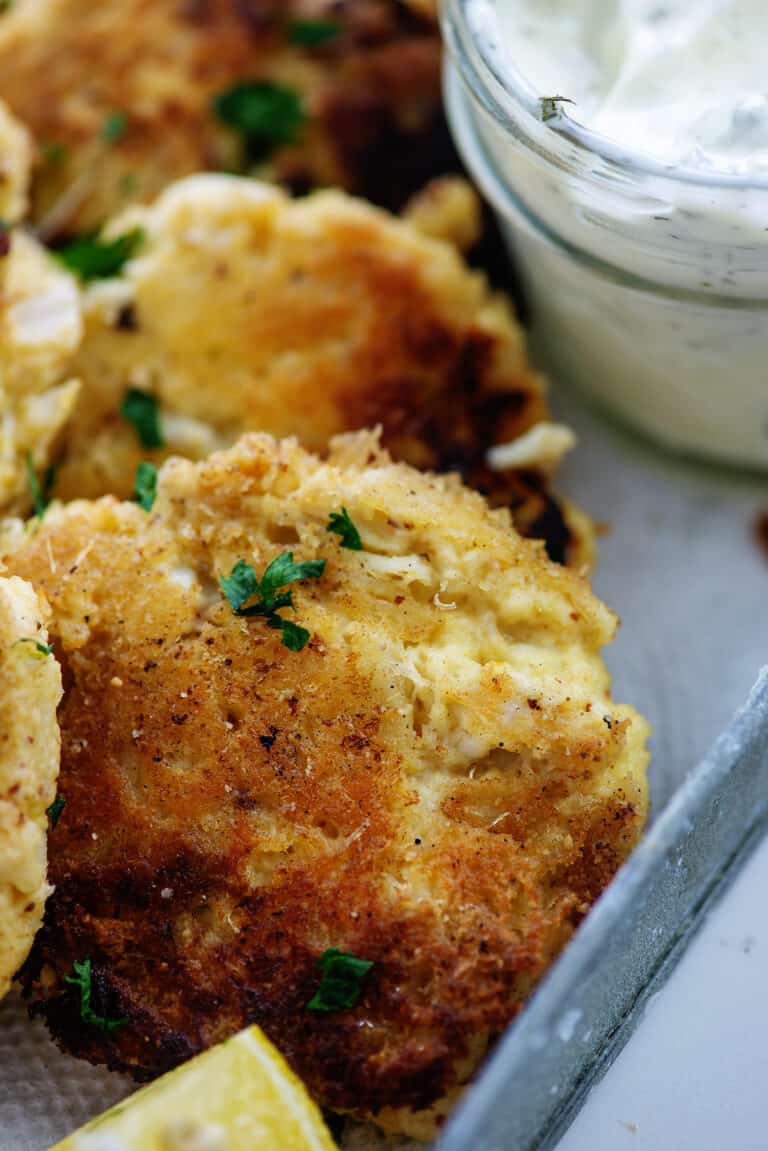 More Keto Seafood Recipes: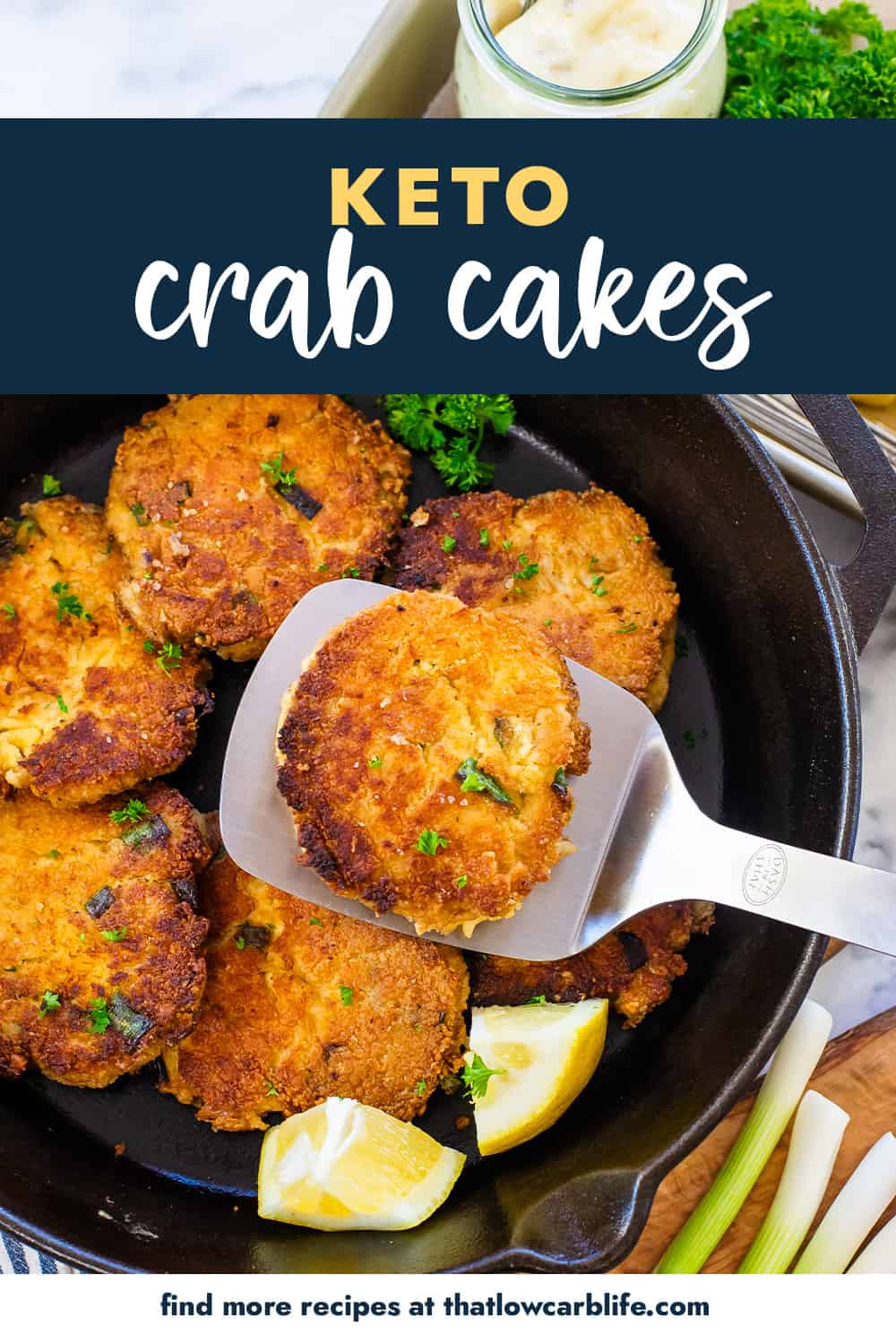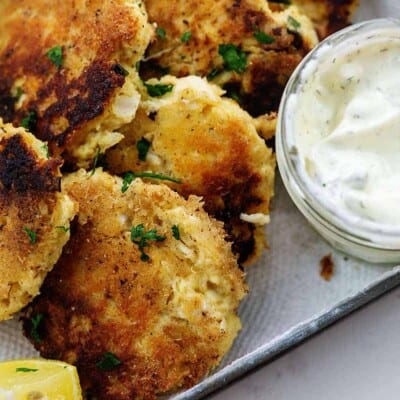 Keto Crab Cakes
Simple, homemade crab cakes made keto friendly! These pack in loads of lump crab meat, the perfect blend of seasonings, and just enough filler to hold it all together.
Prep10 minutes
Cook6 minutes
Chill Time30 minutes
Total46 minutes
Ingredients
¼ cup mayonnaise
¼ cup chopped green onion
1 tablespoon Dijon mustard
1 large egg
1 teaspoon Old Bay seasoning
1 teaspoon lemon juice
½ teaspoon salt
1 cup almond flour
1 pound lump crab meat
Butter or oil for frying
Instructions
Add the mayonnaise, green onion, mustard, egg, Old Bay, lemon juice, and salt to a medium mixing bowl. Mix well to combine.

Add the crab meat and almond flour and use a rubber spatula to fold the mixture together until just combined.

Cover bowl and place in the refrigerator for 30 minutes to allow the mixture to come together.

Heat a large cast iron skillet over medium heat.

Add enough butter or oil to lightly coat the bottom of the pan.

Use a large cookie scoop to drop the crab mixture onto the pan, leaving a couple of inches space between each. Gently press the mixture down to flatten slightly using a thin, flat spatula.

Fry the patties for 3 minutes per side or until golden brown.

Repeat with remaining mixture until all the crab cakes are fried.
Tips & Notes:
Refrigerating the mixture helps the crab cakes hold together better when cooking. If the break apart during flipping, use your spatula to gently press them back together.
Nutrition Information:
Serving: 3crab cakes| Calories: 156kcal (8%)| Carbohydrates: 3g (1%)| Protein: 10g (20%)| Fat: 12g (18%)| Saturated Fat: 2g (13%)| Polyunsaturated Fat: 9g| Cholesterol: 62mg (21%)| Sodium: 399mg (17%)| Fiber: 1g (4%)| Sugar: 1g (1%)| Net Carbs: 2g (4%)