GARLIC PARMESAN ASPARAGUS roasts in a hot oven in just minutes and it turns out so tender and flavorful! The squeeze of lemon finishes it off just perfectly.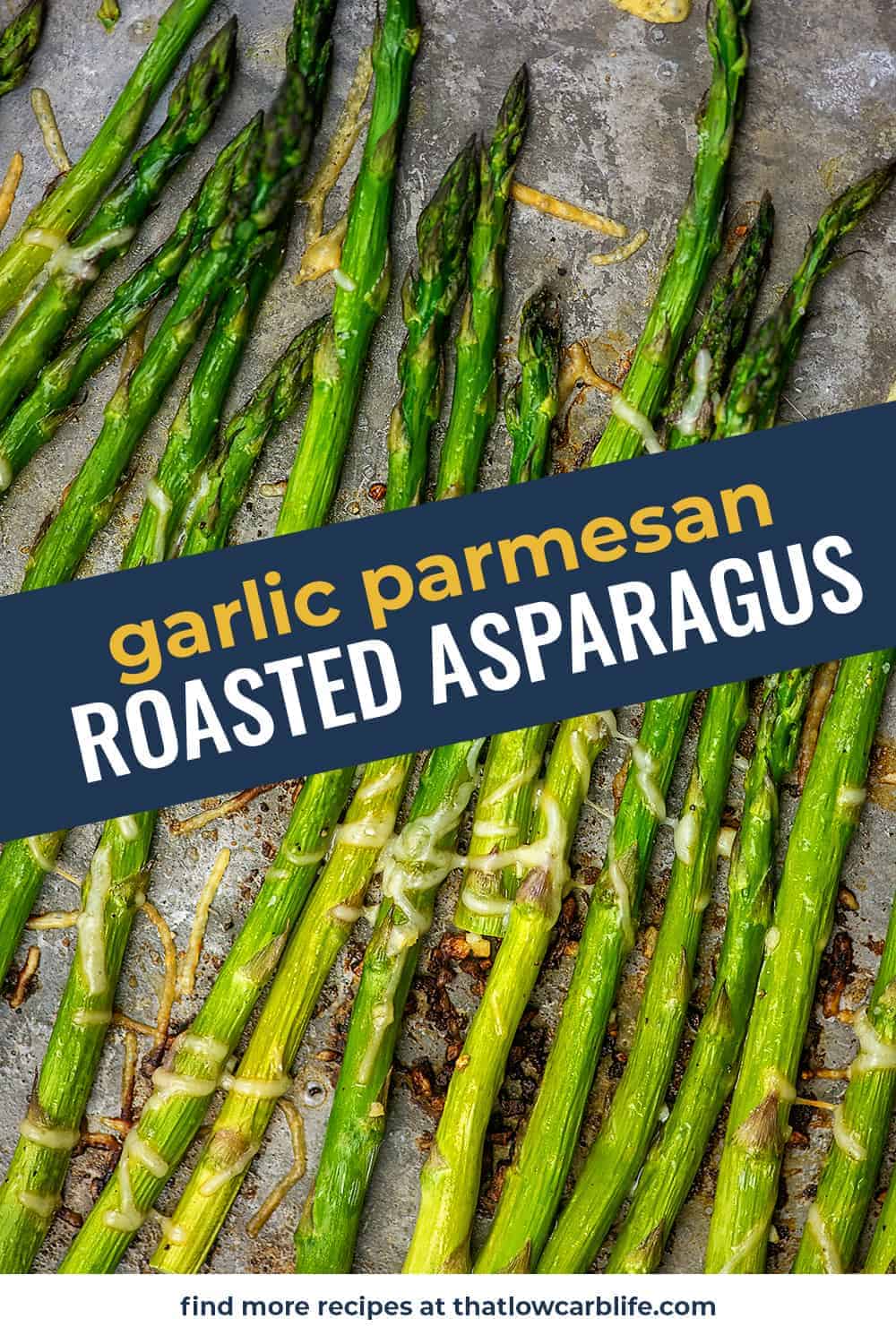 Well, that's it.
It's official.
I love asparagus.
It's taken me 30-plus years to learn to love it, but here we are and I'm kind of suddenly obsessed.
I'd mentioned that I was experimenting with different ways of eating this healthy green veggie and I'm so glad I kept trying. (I feel like I'm trying to convince my kids to try their veggies here. But really! If you keep trying that gross veggie you hate, you'll eventually find a way you love it! Don't give up!)
Another veggie success story? Brussels sprouts! These Brussels sprouts and bacon will turn you into a believer too!

This oven roasted asparagus makes a great side dish to all kinds of low carb meals, like my keto meatloaf, stuffed chicken breast, and baked chicken legs.
This is just about the simplest asparagus recipe out there, but let's go through some details so you guys get it just right…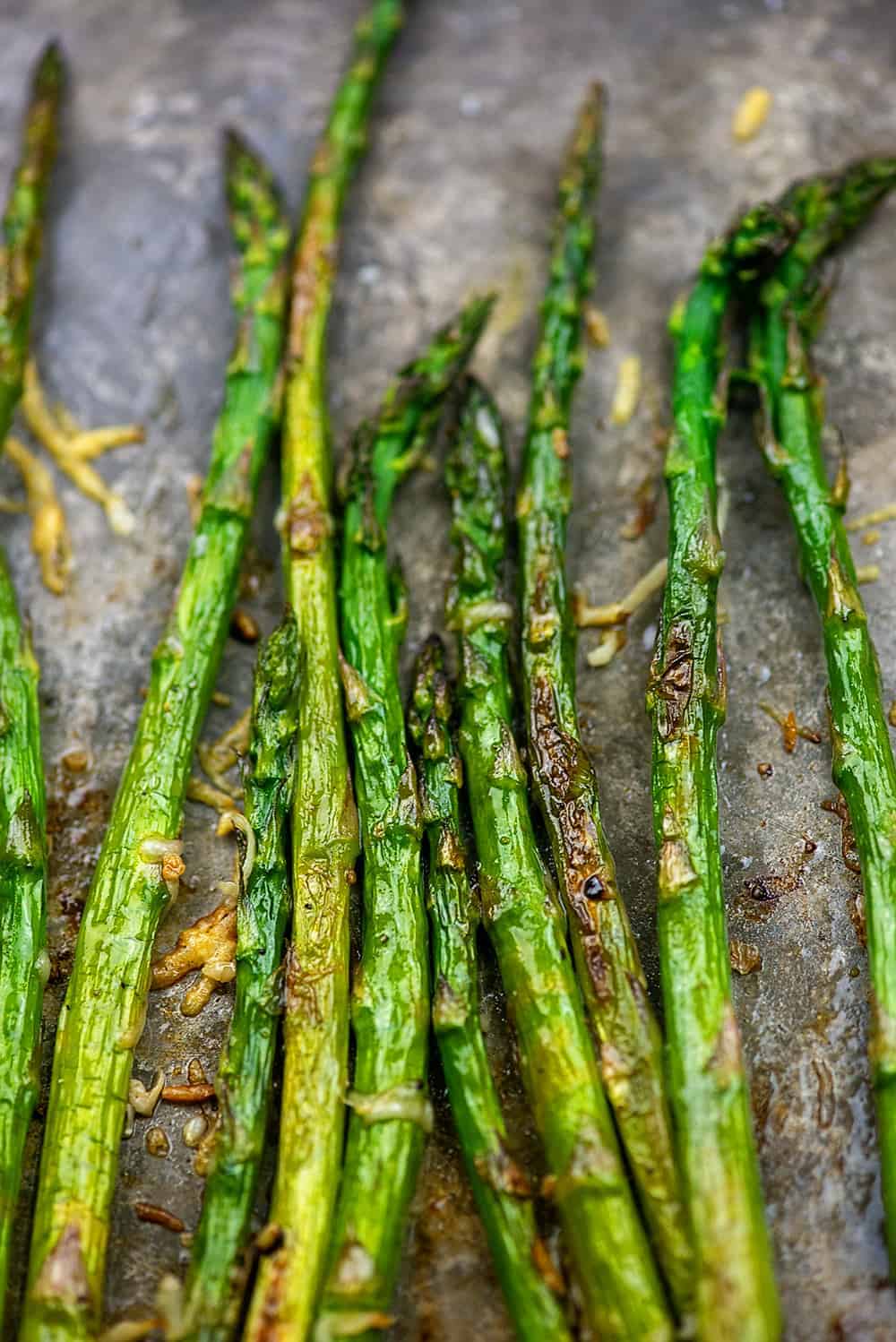 How to:
You're basically just going to toss together asparagus, oil, minced garlic, Parmesan, and salt and pepper.
Toss that on a baking sheet and pop it in a hot oven.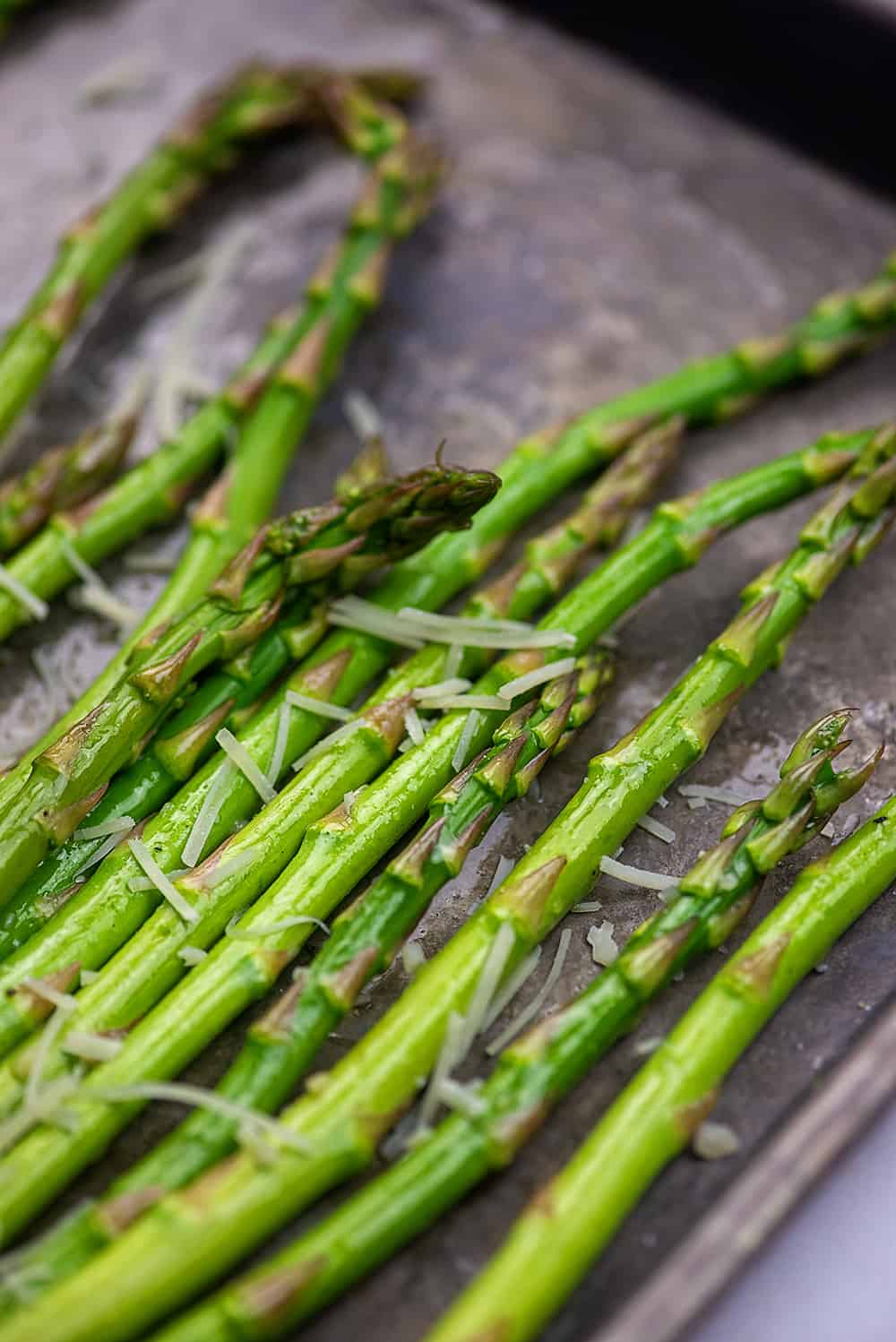 When the asparagus is finished roasting, you'll squeeze a half of a lemon over it.
Why lemon? It brightens up the asparagus just beautifully and gives it this fresh pop of flavor. It's the perfect contrast to the roasty, toasty goodness.
How long to roast asparagus:
I like to roast my veggies in a 425 degree oven. This allows the natural sugars in the vegetables to caramelize a bit and really gives it that roasted flavor.
Asparagus roasts at 425 degrees in 13-15 minutes, depending on how tender you'd like it.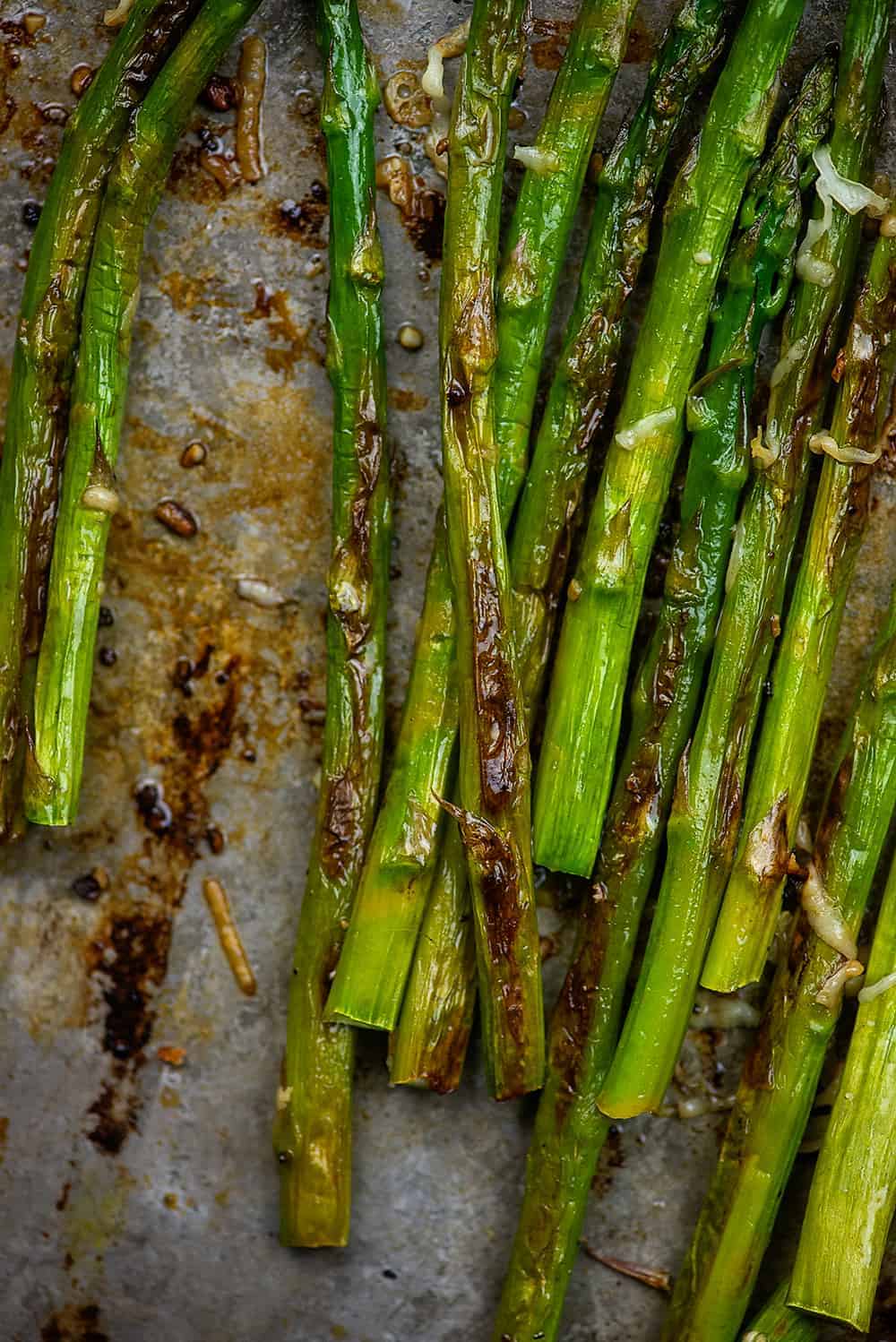 Make it a meal:
Serve this garlic Parmesan asparagus with my crispy baked chicken thighs. Add in a side of keto coleslaw or cauliflower mac and cheese to round things off.
Complete your meal with this keto chocolate mousse.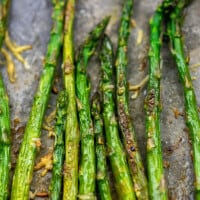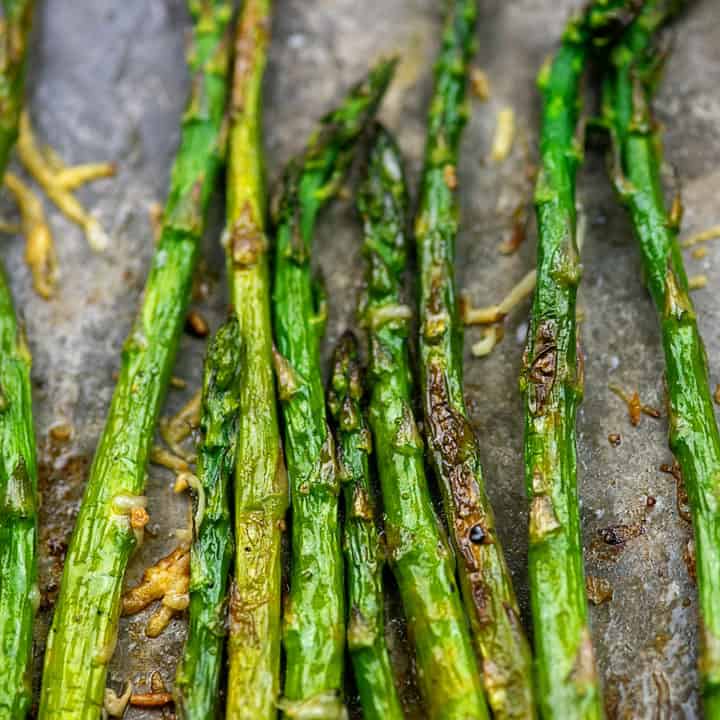 Garlic Parmesan Asparagus
This asparagus comes out so tender and flavorful thanks to the garlic and Parmesan. It's finished off with a squeeze of lemon to brighten the flavors up.
Ingredients
1 pound asparagus, trimmed
2 tablespoons olive oil
2 tablespoons shredded Parmesan cheese
2 cloves garlic, minced
½ teaspoon salt
¼ teaspoon cracked pepper
1 tablespoon fresh lemon juice
Instructions
Preheat oven to 425 degrees. Spray a baking sheet with nonstick spray.
Add everything but the lemon juice to a mixing bowl and toss to coat.
Spread asparagus onto the prepared baking sheet and bake for 13-15 minutes or until tender.
Drizzle with lemon juice before serving.
Recommended Products
As an Amazon Associate and member of other affiliate programs, I earn from qualifying purchases.
Nutrition Information:
Yield: 4
Serving Size: 1
Amount Per Serving:
Calories: 98
Total Fat: 8g
Saturated Fat: 1g
Trans Fat: 0g
Unsaturated Fat: 6g
Cholesterol: 2mg
Sodium: 323mg
Carbohydrates: 6g
Net Carbohydrates: 4g
Fiber: 2g
Sugar: 2g
Protein: 4g
All information and tools presented and written within this site are intended for informational purposes only. This information is provided as a courtesy and there is no guarantee that the information is accurate.