These roasted radishes are quick and easy to prepare, making a great low carb side dish that can easily take the place of potatoes. Our roasted radishes mellow out nicely and turn out tender and juicy in the oven.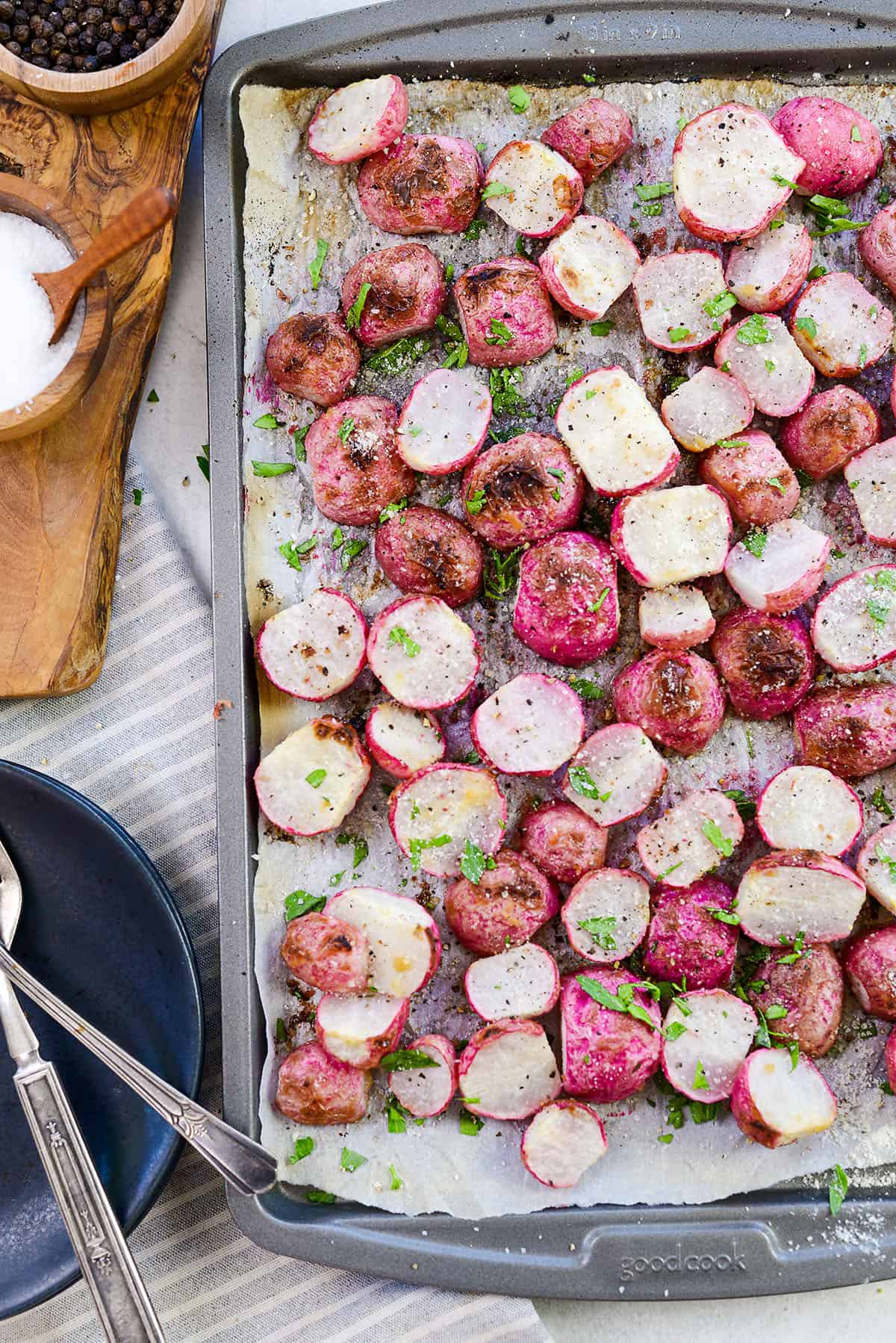 Every time I share a recipe for radishes, I get a lot of confused people who have never heard of cooking radishes.
I get it – they seem like a thing you just eat raw, maybe sliced over salad or pickled on a taco. But let me tell you – cooked radishes are basically a completely different vegetable compared to raw!
Our fried radishes and loaded radishes are already super popular, so we thought we'd share yet another way to enjoy them. Enter these roasted radishes!
These make a great side dish with just about anything you'd otherwise serve with potatoes. Try them next to our keto meatloaf sometime. So good!
What Do Roasted Radishes Taste Like?
Roasted radishes taste a lot different than a raw radish, that's for sure! The radishes mellow out and lose almost all of that spicy bite. When you roast radishes the texture will change from crispy and crunchy to nice and tender!
They're not starchy like a potato, but more juicy with a little pop to each bite. They do make a good replacement for potatoes as a low carb side, especially when you load them up with butter and garlic.
These roasted radishes are definitely worth trying, whether you're looking to cut carbs or just want to expand your palate with more vegetables.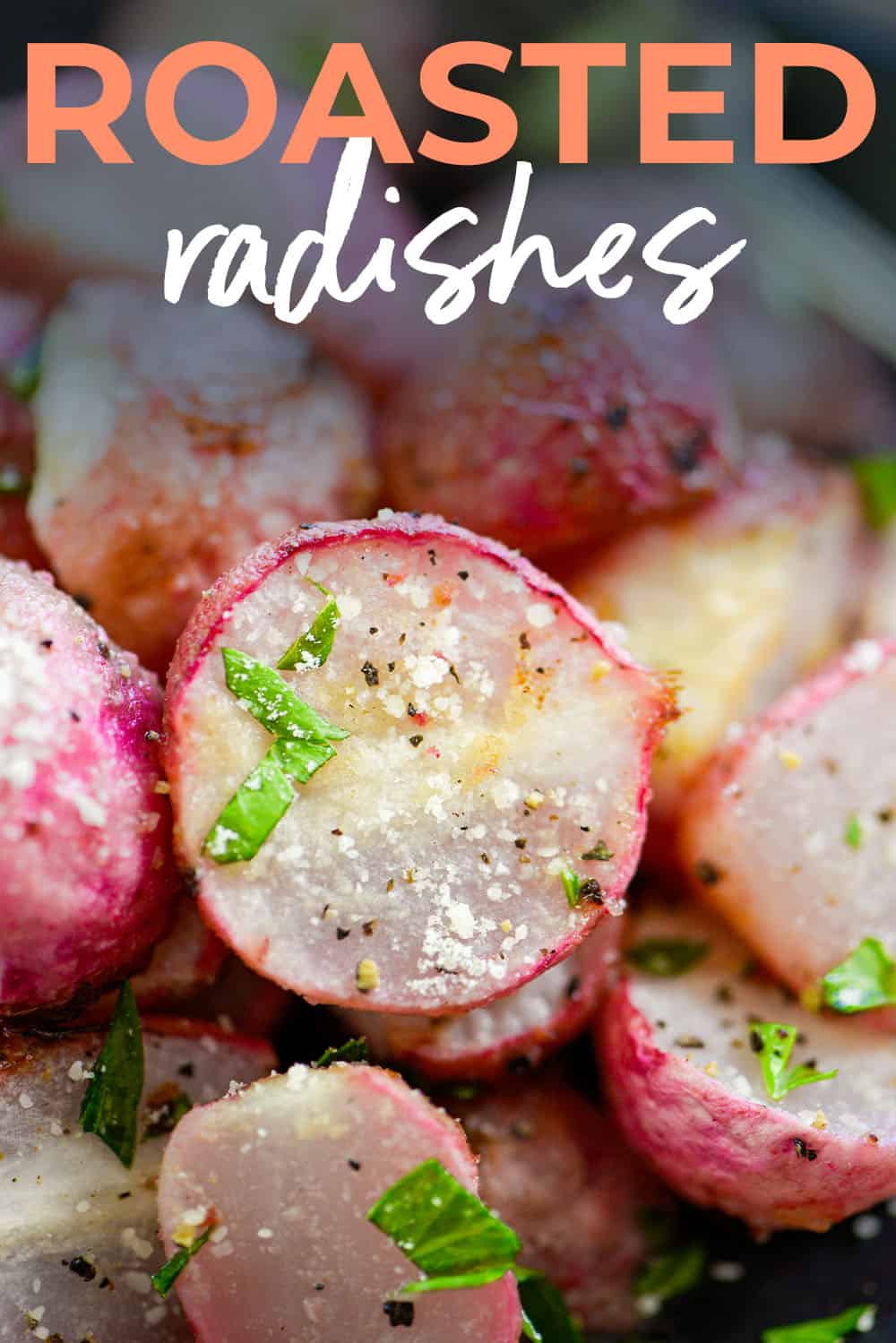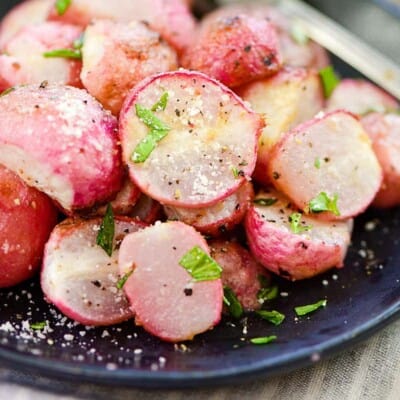 Roasted Radishes
These roasted radishes make a great side dish for just about any meal. They look a lot like potatoes and have a more mild taste than raw radishes, but the texture is more juicy than starchy. These are a must try!
Prep10 minutes
Cook30 minutes
Total40 minutes
Ingredients
1 pound fresh radishes
2 tablespoons butter melted
1 teaspoon garlic powder
1 teaspoon onion powder
2 tablespoons grated Parmesan cheese
Parsley for garnish
Salt and pepper to taste
Instructions
Preheat oven to 425 degrees.

Wash and trim the ends from the radishes. Cut the radishes in half and place in a large bowl.

Toss with the melted butter, garlic powder, and onion powder to coat.

Place radishes on a rimmed baking sheet in a single layer and roast for 25-30 minutes, stirring halfway through cooking, until radishes are browned and tender.

Sprinkle with parmesan cheese, parsley, and salt and pepper before serving.
Tips & Notes:
Roasting radishes takes a lot of the 'bite' out of the radishes – they're much more mellow than raw radishes. Any blend of seasonings will work well here. Dry ranch seasoning is very popular and cajun seasoning is also tasty!
Nutrition Information:
Serving: 1| Calories: 86kcal (4%)| Carbohydrates: 5g (2%)| Protein: 2g (4%)| Fat: 7g (11%)| Saturated Fat: 4g (25%)| Polyunsaturated Fat: 2g| Cholesterol: 18mg (6%)| Sodium: 216mg (9%)| Fiber: 2g (8%)| Sugar: 2g (2%)| Net Carbs: 3g (6%)
Ingredients for Roasted Radishes Recipe:
Radishes – You'll need a pound of fresh radishes, halved. You can either buy a bunch of radishes with the greens left on or you'll find them already trimmed in packaging at some stores.
Butter – We like the flavor of butter on our roasted radishes, but olive oil or avocado oil will also work.
Seasoning – Garlic powder and onion powder will go on the radishes before roasting them, with some salt and pepper to taste before serving.
Grated Parmesan Cheese – We like to sprinkle this on top of the radishes with some parsley just before serving!
Why We Love Roasted Radishes:
It's not quite the same as potatoes, but these roasted radishes make for a good low carb substitute!
These are quick and easy to prepare and you can serve them up as a side to just about anything.
Raw radishes have a peppery bite to them that really mellows out once cooked. They're basically two different foods!
How To Roast Radishes: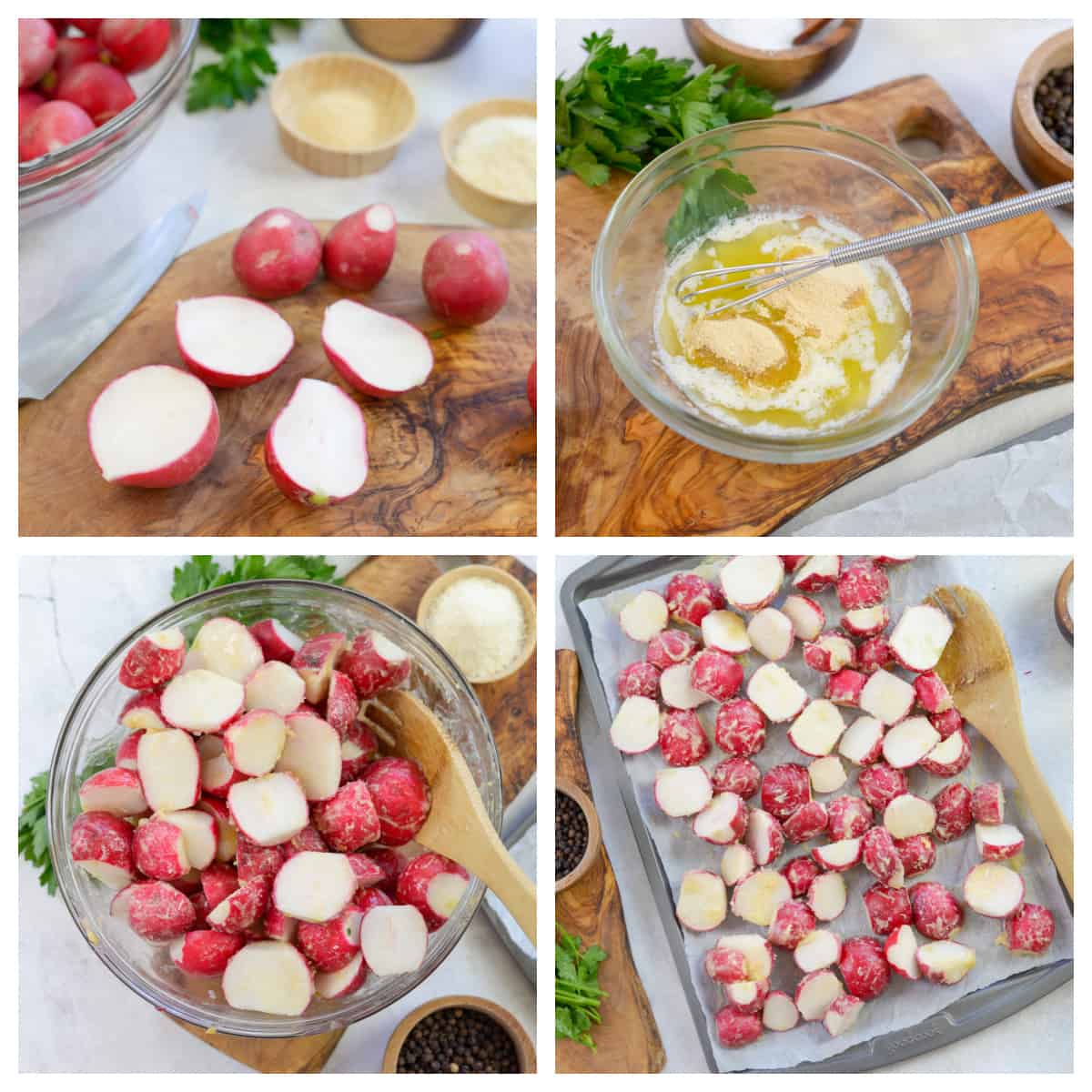 Slice – Cut the radishes into halves. If there are any extra large ones, quarter them. We want them all a similar size so they cook evenly.
Season – Combine the melted butter, garlic powder, and onion powder.
Combine – Pour the butter over the radishes and toss to coat.
Roast – Bake for 25-30 minutes or until they are browned and tender. Sprinkle with Parmesan, parsley, salt, and pepper and then serve.
Helpful Tip!
There's no reason you can't switch up the seasoning on these roasted radishes! Maybe you like it spicy? Add some cayenne pepper or Cajun seasoning! Dry ranch seasoning makes a great flavor! Pretty much any mix of spices and seasonings you like will work here.
What to Serve with Roasted Radishes:
Baked radishes work well as a low carb side to replace potatoes, so you can serve them with just about anything you'd serve with potatoes. Meat is always a good choice! I've included a few suggestions below if you're searching for the main dish to serve with these: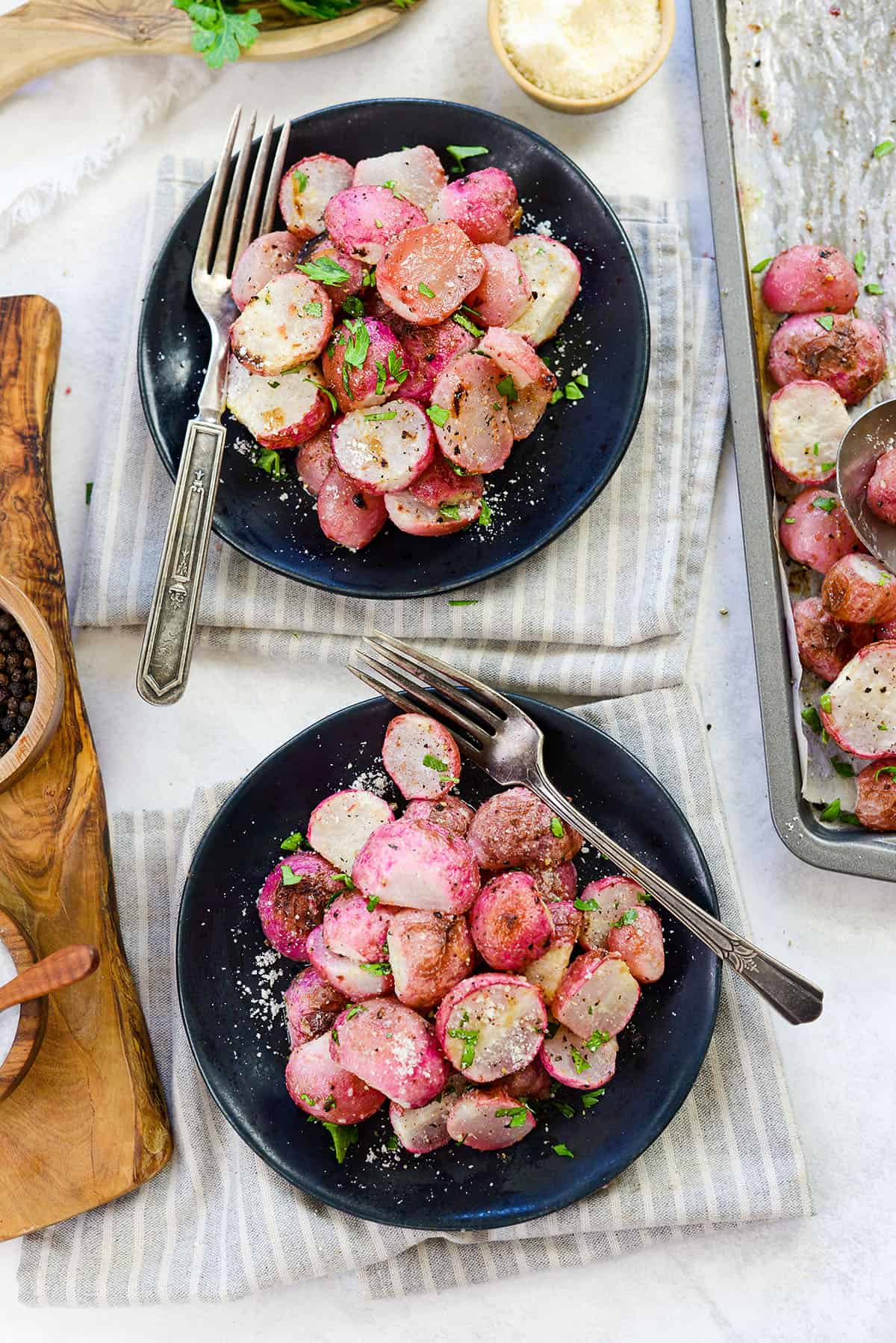 FAQ's:
How to store roasted radishes?
You can keep leftover roasted radishes stored in an airtight container in the refrigerator for about 3 to 5 days.
Can you freeze radishes?
These roasted radishes can be frozen in a freezer safe container for up to a few months! The texture will change a bit after freezing and thawing but they are still good.
Can I make radishes in the air fryer?
Yes you can! Check out my air fryer radishes recipe. It's mostly the same ingredients, just cooked differently.
Do radishes get milder when cooked?
Raw radishes are crispy, crunchy, and peppery with a bit of a kick to them. Roasting, boiling, or otherwise cooking radishes mellows them out and brings out their natural sweetness. They're much milder once cooked.
MORE ROASTED VEGGIE RECIPES!