This ROASTED ACORN SQUASH is brushed with a cinnamon maple butter before going in the oven. It turns out so tender and makes a great side dish during the fall and winter months.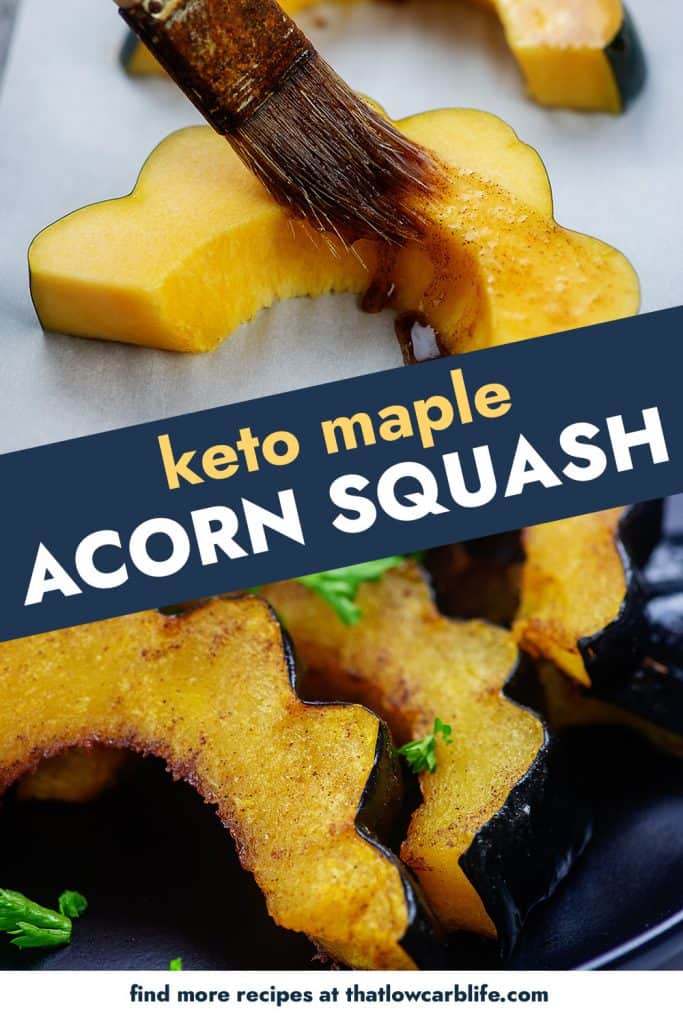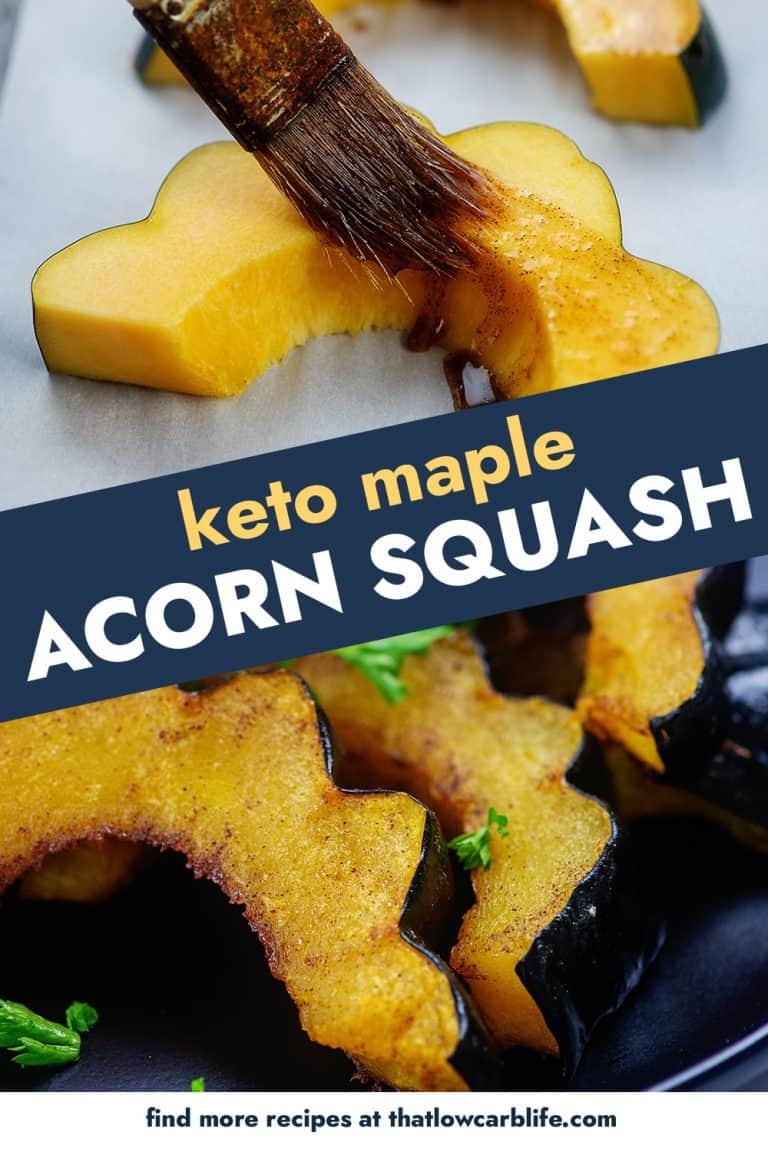 I just had my first experience with acorn squash a month or so ago, which honestly is just so silly of me.
I mean, I LOVE squash. Why did I wait so long to try acorn squash?
I don't know, but now I'm making up for lost time! It's a new favorite in my house, that's for sure!
This is so good that it will make an appearance on our Thanksgiving table this year. <— That's saying something serious because I don't mess around when it comes to Thanksgiving!
What does acorn squash taste like?
Acorn squash has a nutty, sweet flavor. We find it to be VERY similar to a sweet potato when roasted, both in taste and texture.
It pairs well with both sweet (maple and cinnamon!) and savory (garlic, rosemary, cayenne) seasonings, but today we're going the maple cinnamon route.
How to:
Cut your squash in half from root to tip and scoop out the seeds on the inside.
Lay the squash with the cut side down and cut 1-inch thick slices running opposite of the lines of the squash.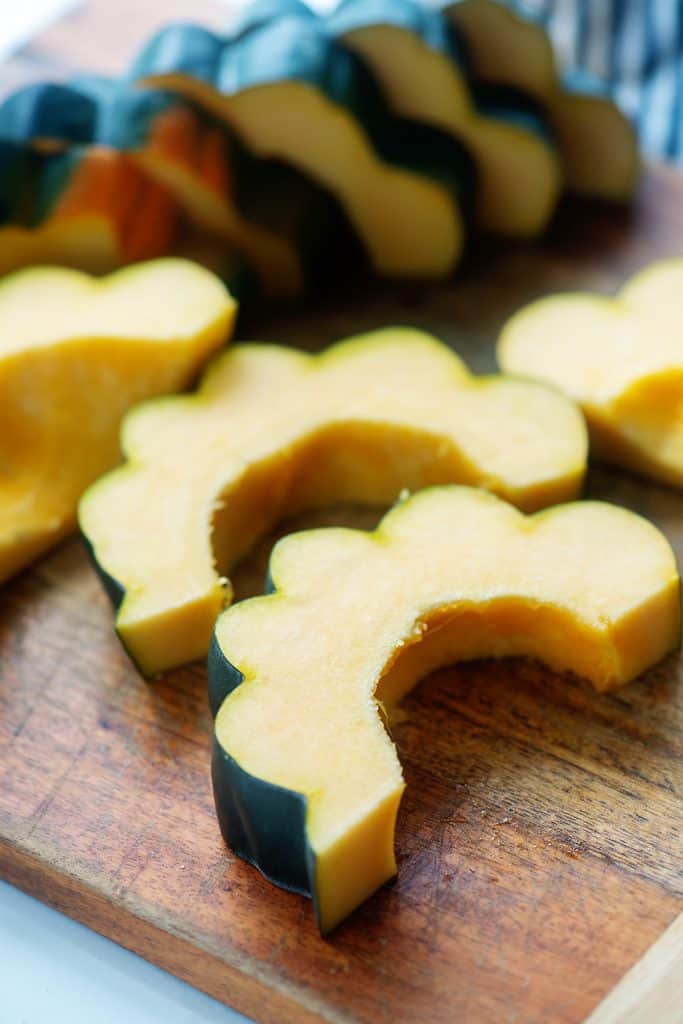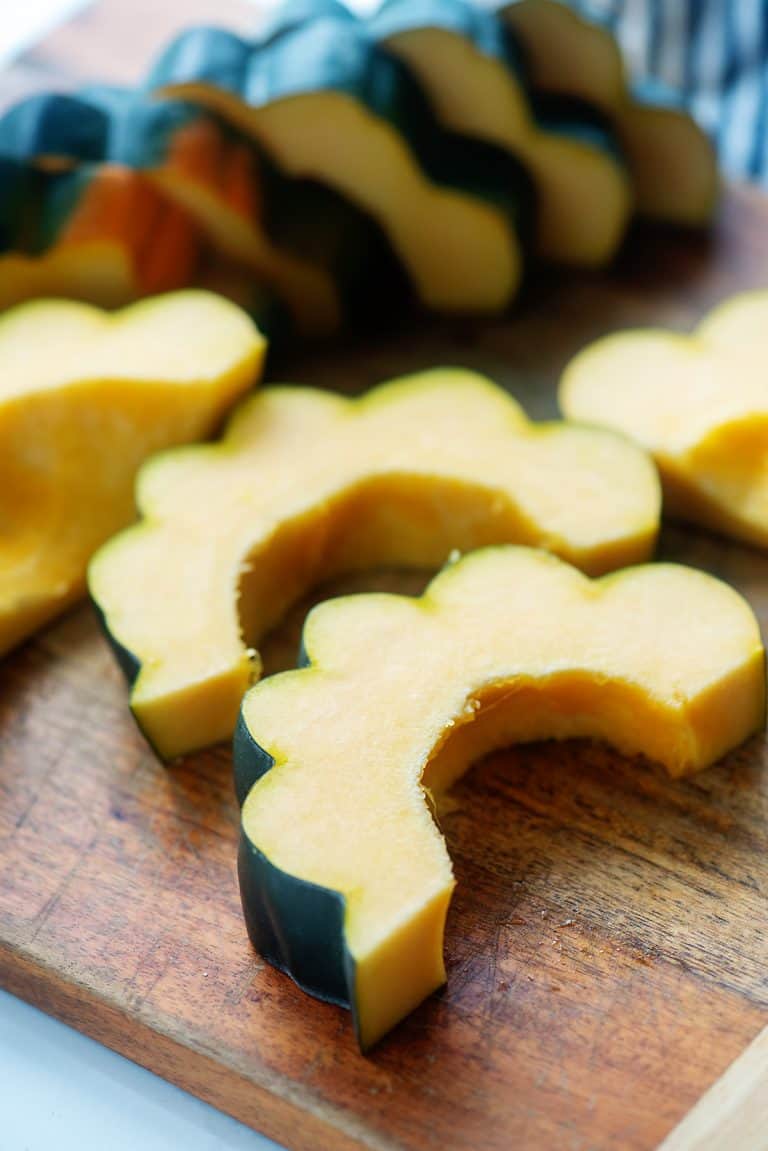 You'll end up with pretty slices of squash with a ruffled, scalloped edge.
Brush the squash with your maple cinnamon butter and roast until tender!
We use and love Lakanto Maple Flavored Syrup here. It's keto friendly (made with erythritol!) and the flavor is great. Use code THATLOWCARBLIFE for 20% off your order at their site.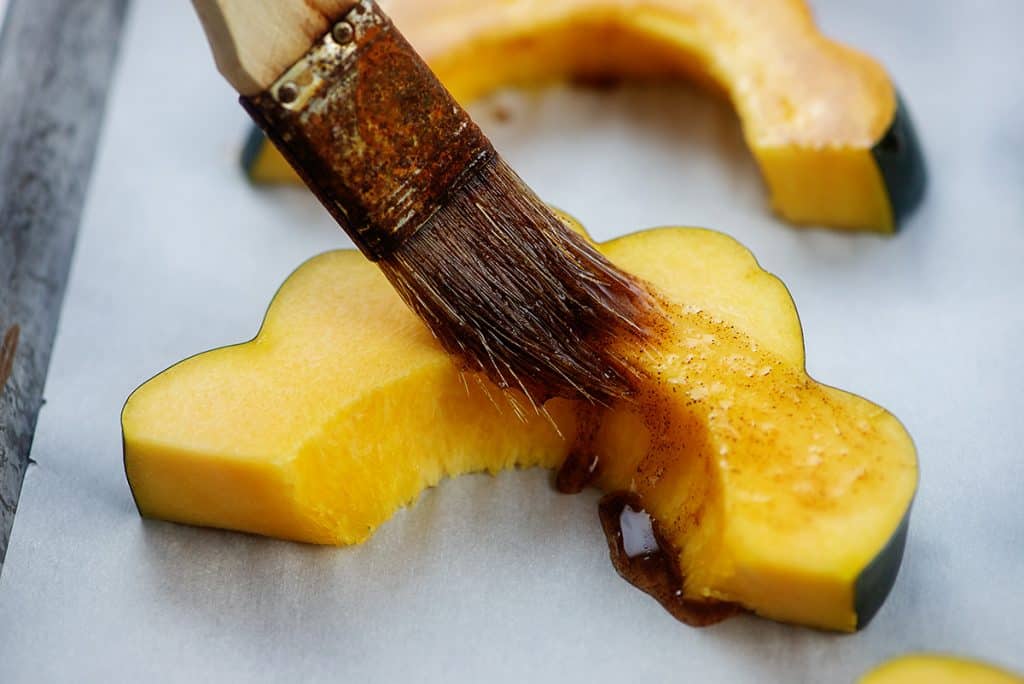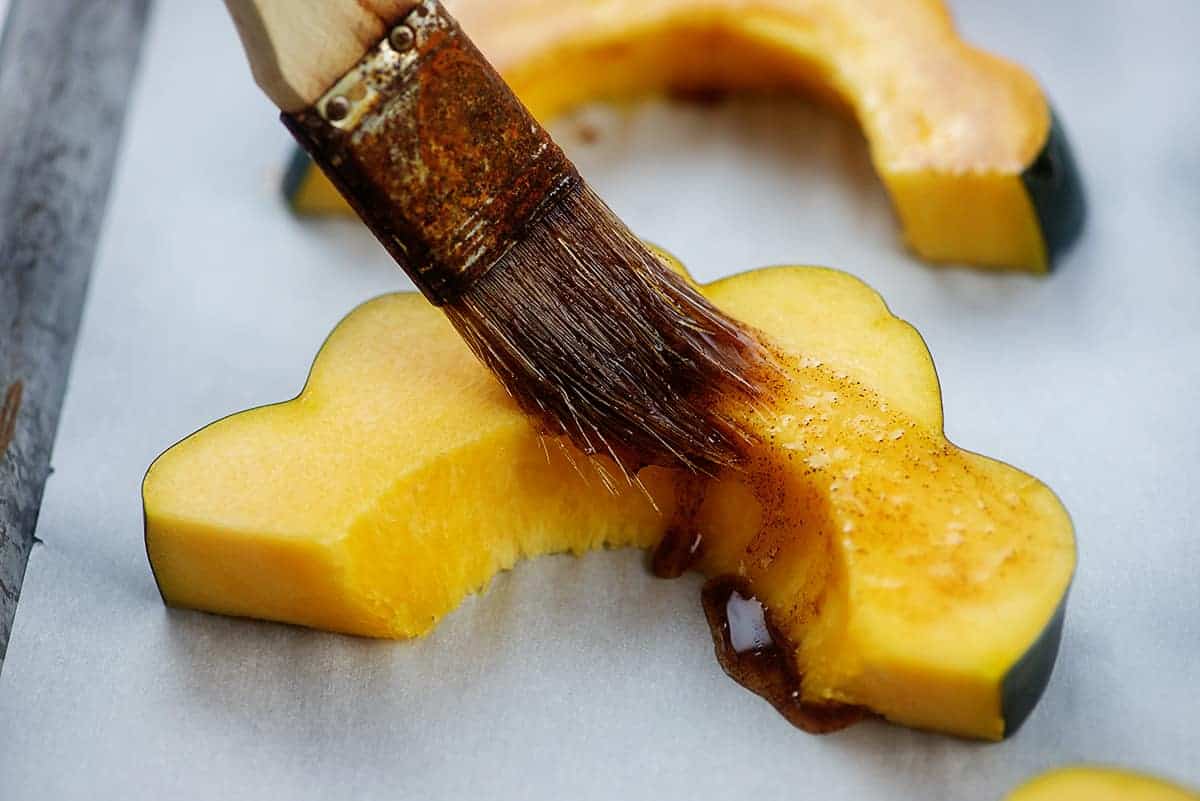 This roasted acorn squash pairs perfectly with any fall dinner.
I may or not be known for eating the leftovers straight from the fridge. They're just that good!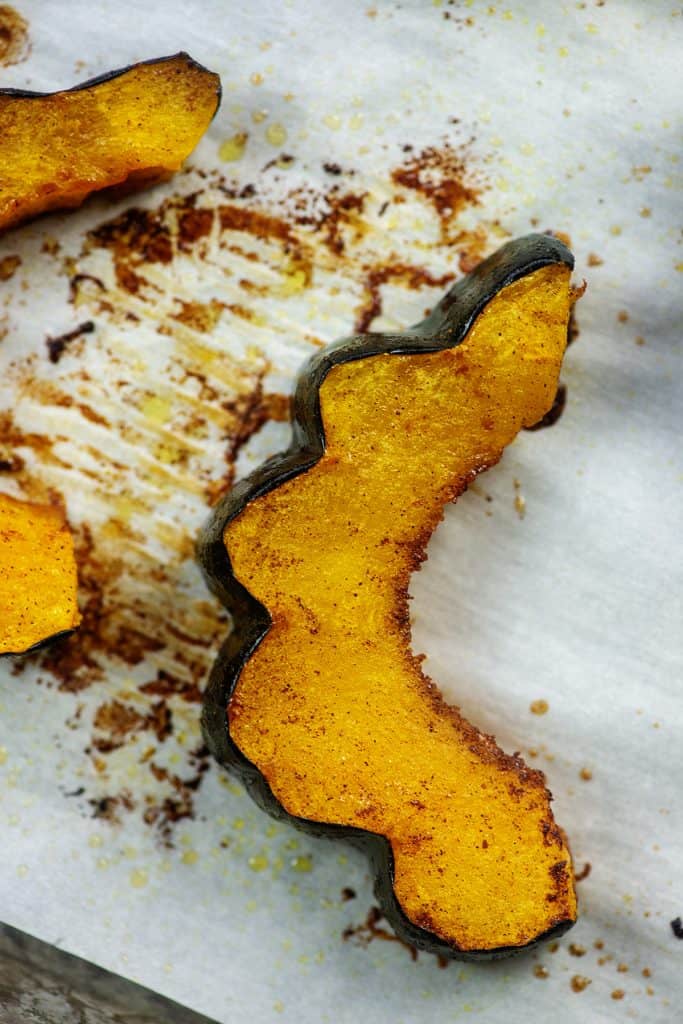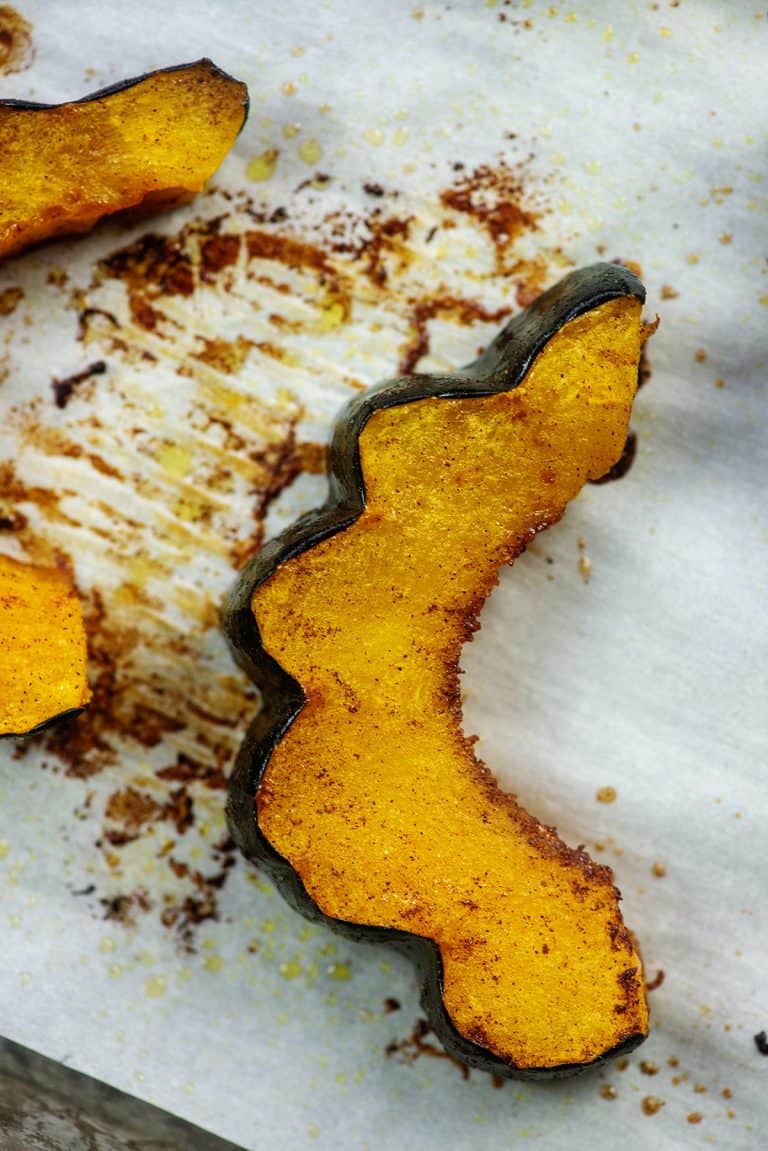 How long does acorn squash last?
Stored at room temperature an acorn squash will last for around two months. Go ahead and stock up!
After roasting, this recipe should last in the fridge for 4-5 days.
Do you eat the skin of an acorn squash?
Absolutely! You wouldn't want to it eat raw, but once it's been roasted, it's perectly healthy to eat.
Our family is pretty split on it – half of us like the skin and half of us just peel it away. It slips off easily.
Give it a try and see what you think.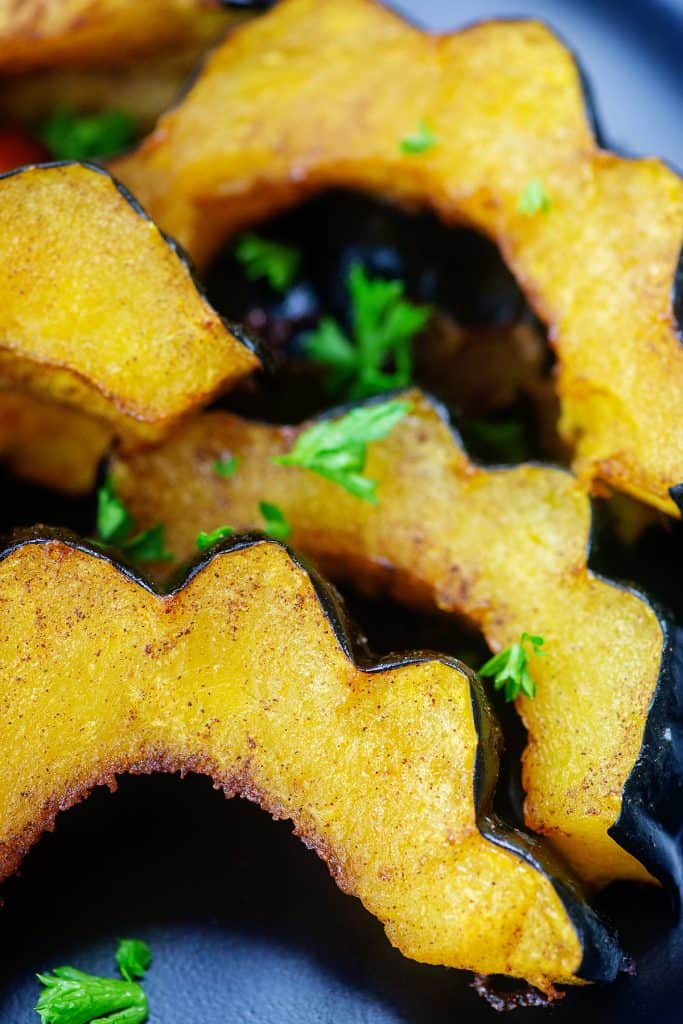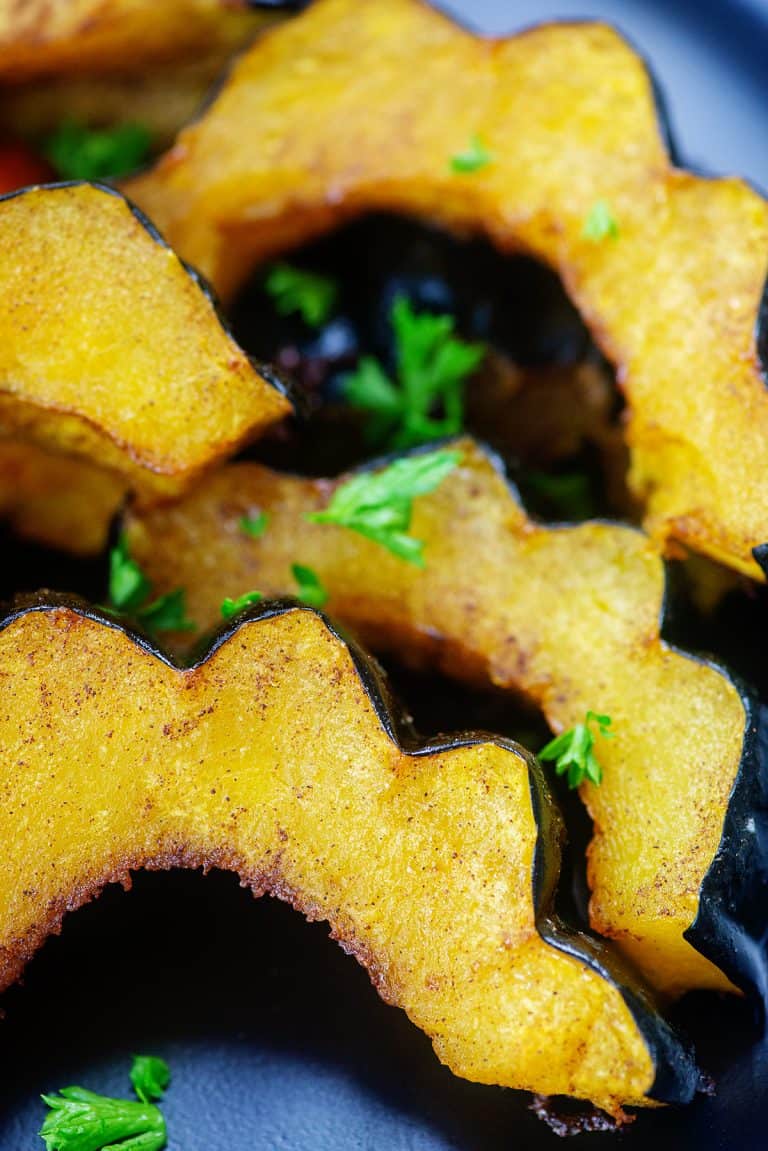 More low carb squash recipes:
What to serve with acorn squash: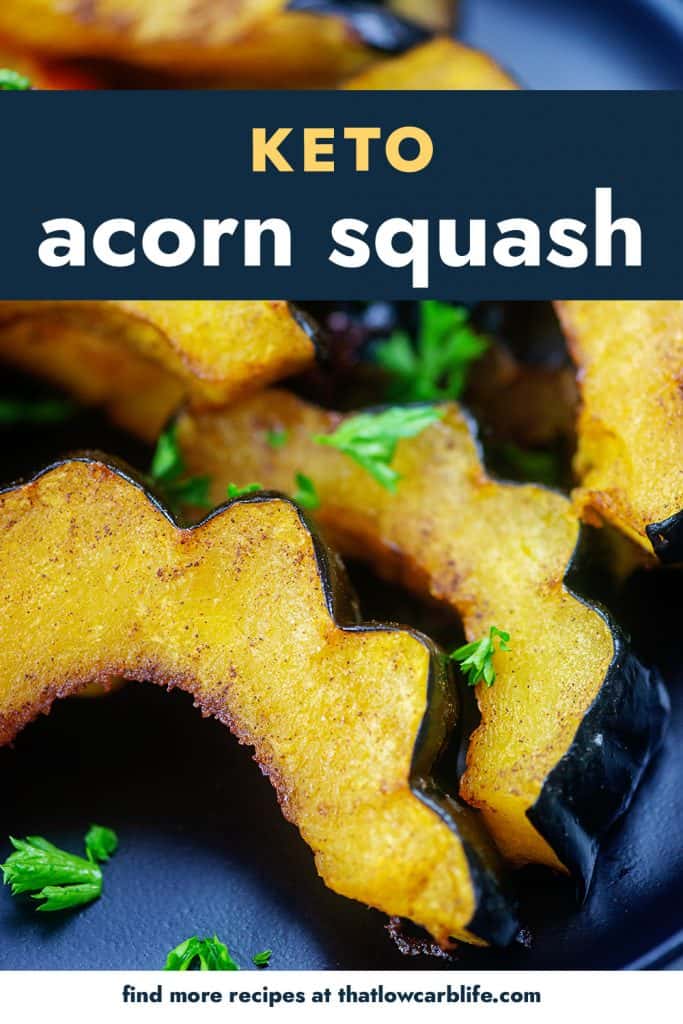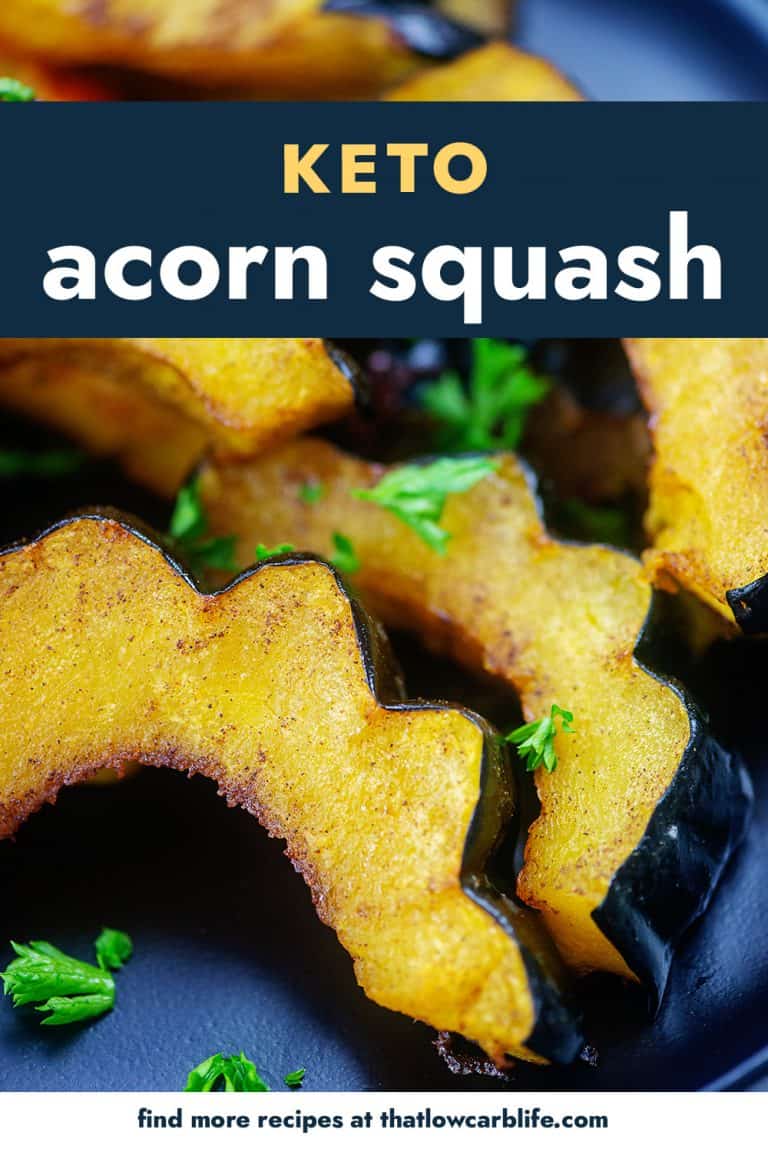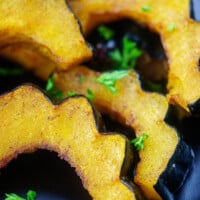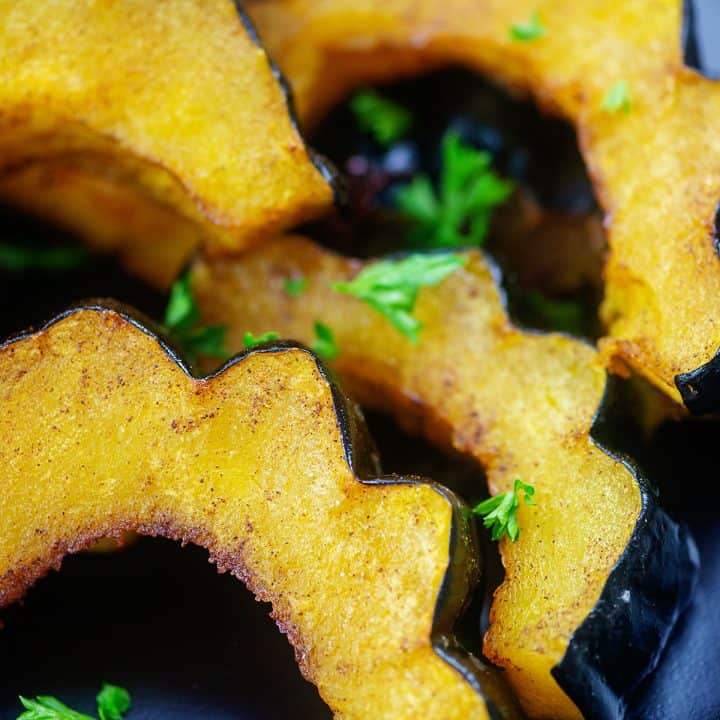 Maple Roasted Acorn Squash
This roasted acorn squash is my favorite swap for sweet potatoes. It has a similar taste and texture and it's so simple to prepare. We brush this with an easy keto maple butter to sweeten it up before baking.
Ingredients
1 medium acorn squash
2 tablespoons butter, melted
½ teaspoon cinnamon
½ teaspoon salt
Instructions
Preheat oven to 375 degrees. Line a baking sheet with parchment paper.
Cut the acorn squash in half and scoop out the seeds. Lay the squash on the flat side and cut into 1 inch wide slices. Arrange squash on the prepared baking sheet.
Whisk together the maple syrup substitute, butter, cinnamon, and salt and brush over both sides of the squash.
Roast for 30 minutes and then flip the squash over. Continue roasting for 20 minutes more or until the squash is fork tender.
Notes
We use and recommend Lakanto Maple Flavored Syrup. Use code THATLOWCARBLIFE for 20% off your order at Lakanto.com.
Nutrition Information:
Yield: 4
Amount Per Serving:
Calories: 107
Total Fat: 6g
Saturated Fat: 4g
Trans Fat: 0g
Unsaturated Fat: 2g
Cholesterol: 15mg
Sodium: 312mg
Carbohydrates: 12g
Net Carbohydrates: 10g
Fiber: 2g
Sugar: 0g
Protein: 1g
All information and tools presented and written within this site are intended for informational purposes only. This information is provided as a courtesy and there is no guarantee that the information is accurate.