These KETO ZUCCHINI FRIES are lightly coated in a mixture of Parmesan and almond flour and then air-fried until they're nice and crunchy on the outside. We serve these up with ranch dressing for dipping.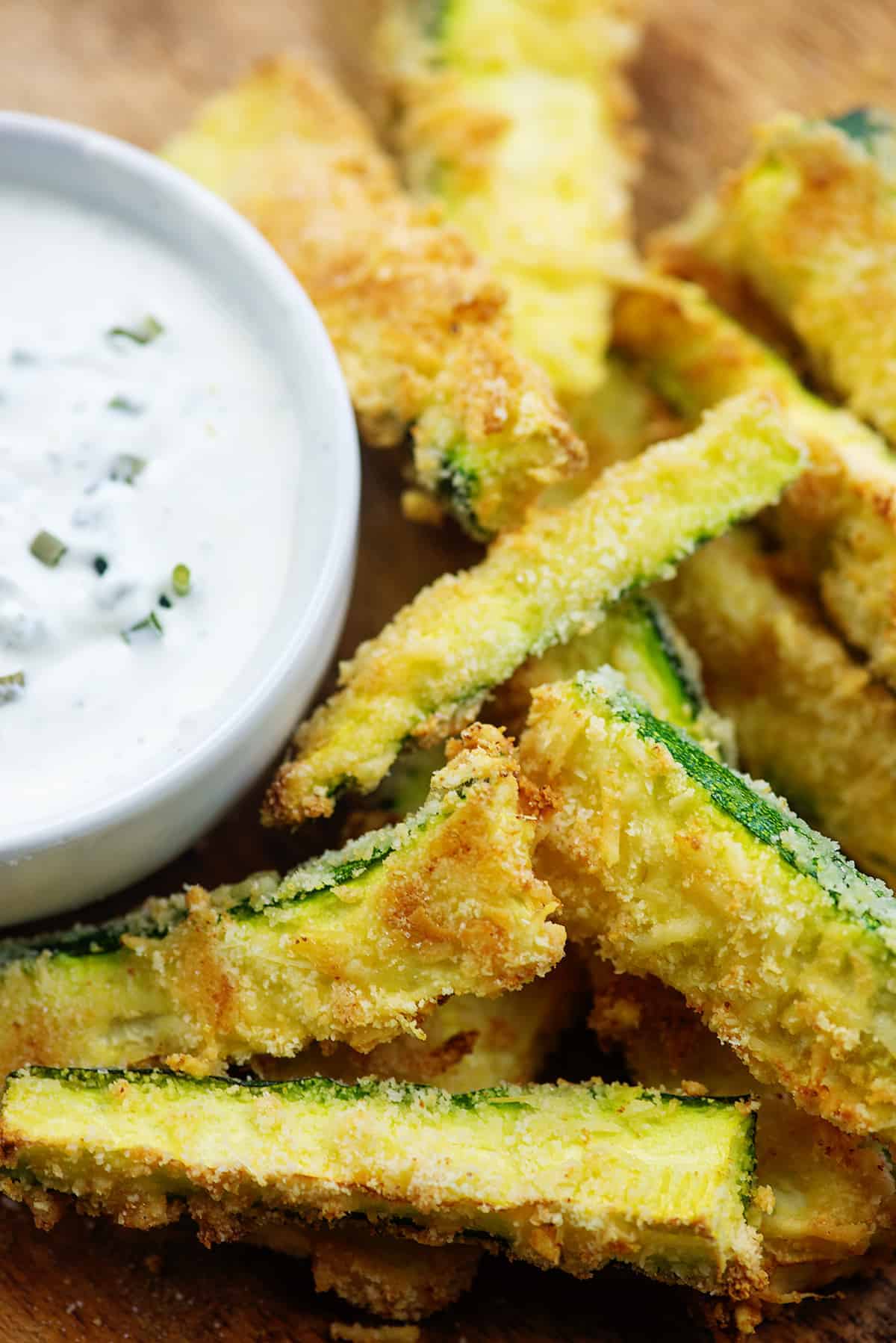 I'm not sure if this is true world wide, but in America, fries are just a whole thing.
I love them and I miss them and I'm not here to tell you that these zucchini fries are going to replace every french fry craving you ever have, but I think you're going to find them to be a nice substitute when you want something crispy and dippable!
I mean, it's zucchini, not a potato, but oh man. These zucchini fries are seriously so good and perfect when your garden is bursting with zucchini!
I know how you all feel about deep frying. It's scary and stinky and you hate dealing with the leftover oil. That's why we cooked these keto zucchini fries in the air fryer. Not to worry, they're still nice and crispy on the outside!
Be sure to whip up keto ranch dressing to dip these in. It's the best! Of course, they'd also be good in our keto thousand island dressing or just a bit of ketchup.
Ingredient Notes: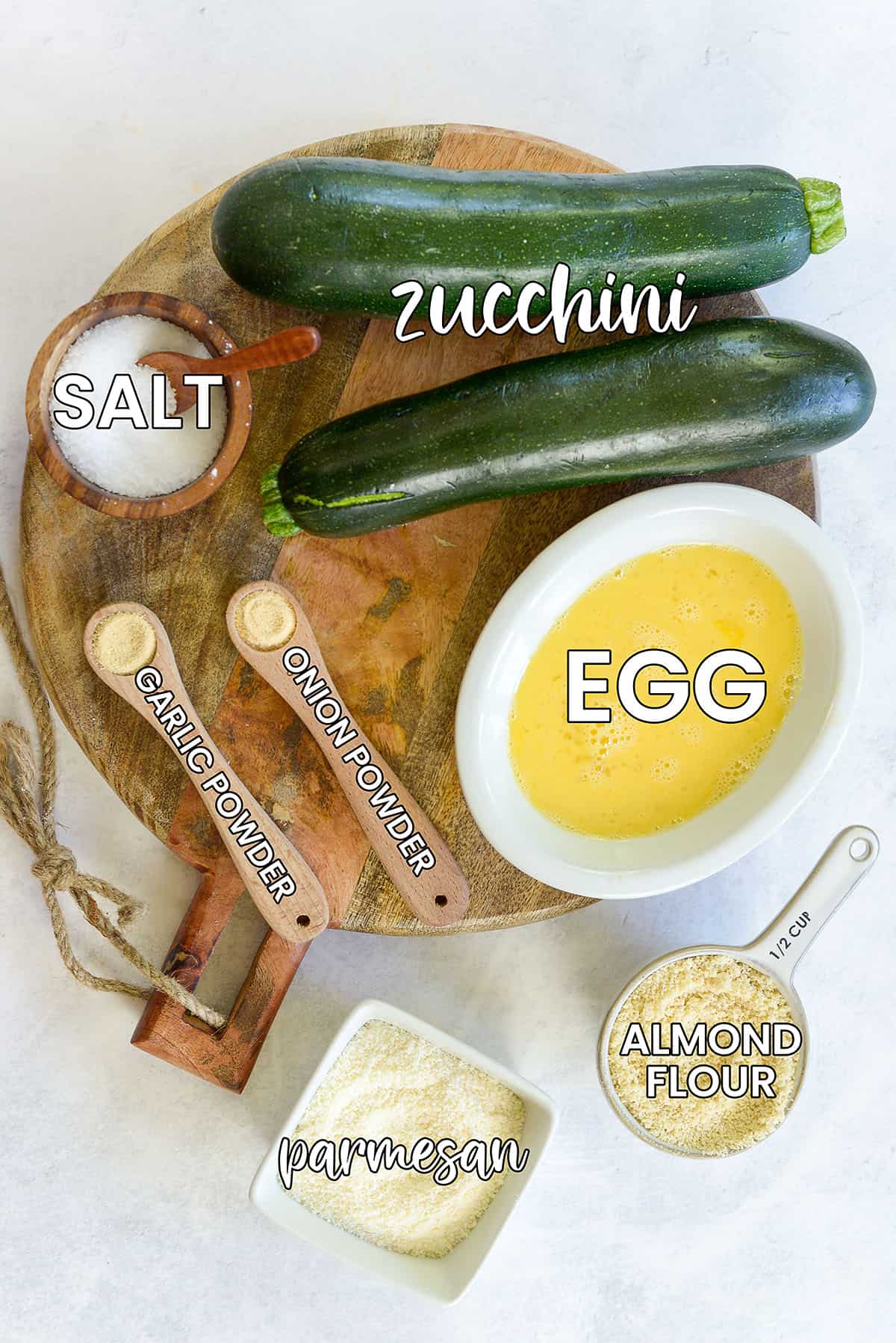 Zucchini – Cut your zucchini into strips, like fries.
Almond Flour – Our zucchini fries are going to need some low carb breading. It'll add the crunchy fried flavor just like a normal breading will. Almond flour works perfectly for this.
Parmesan – Along with the almond flouer you'll mix in some powdered Parmesan cheese. This helps the breading get crispy and adds flavor.
Avocado Oil Spray – We love to use avocado oil in lots of dishes, and it works great in this air fryer recipe!
Egg – It's going to help bind the almond flour breading to the zucchini fries!
Seasoning – Just a simple mix of salt, garlic powder, and onion powder.
Shop Keto Ingredients
We use Thrive Market for a lot of our specialty ingredients and keto snacks or products. Their prices tend to be cheaper than the local stores and I love that you can so easily sort products by diet.
Like Costco, this is a membership site, but we find that it's more than worth it based on the amount we save over the regular grocery store.
They have monthly or yearly plans. Check it out here.
Why We Love This Recipe:
The air fryer makes just about any recipe so much easier with less mess than deep frying. And it's healthier!
This recipe is a great way to enjoy zucchini, and with the flavorful low carb breading it gets fried until it's perfectly golden brown and crispy!
While these definitely aren't french fries, they are perfect for eating with your hands and dipping in sauce and they're crispy. A pretty good substitute, if you ask me!
How To Make Zucchini Fries: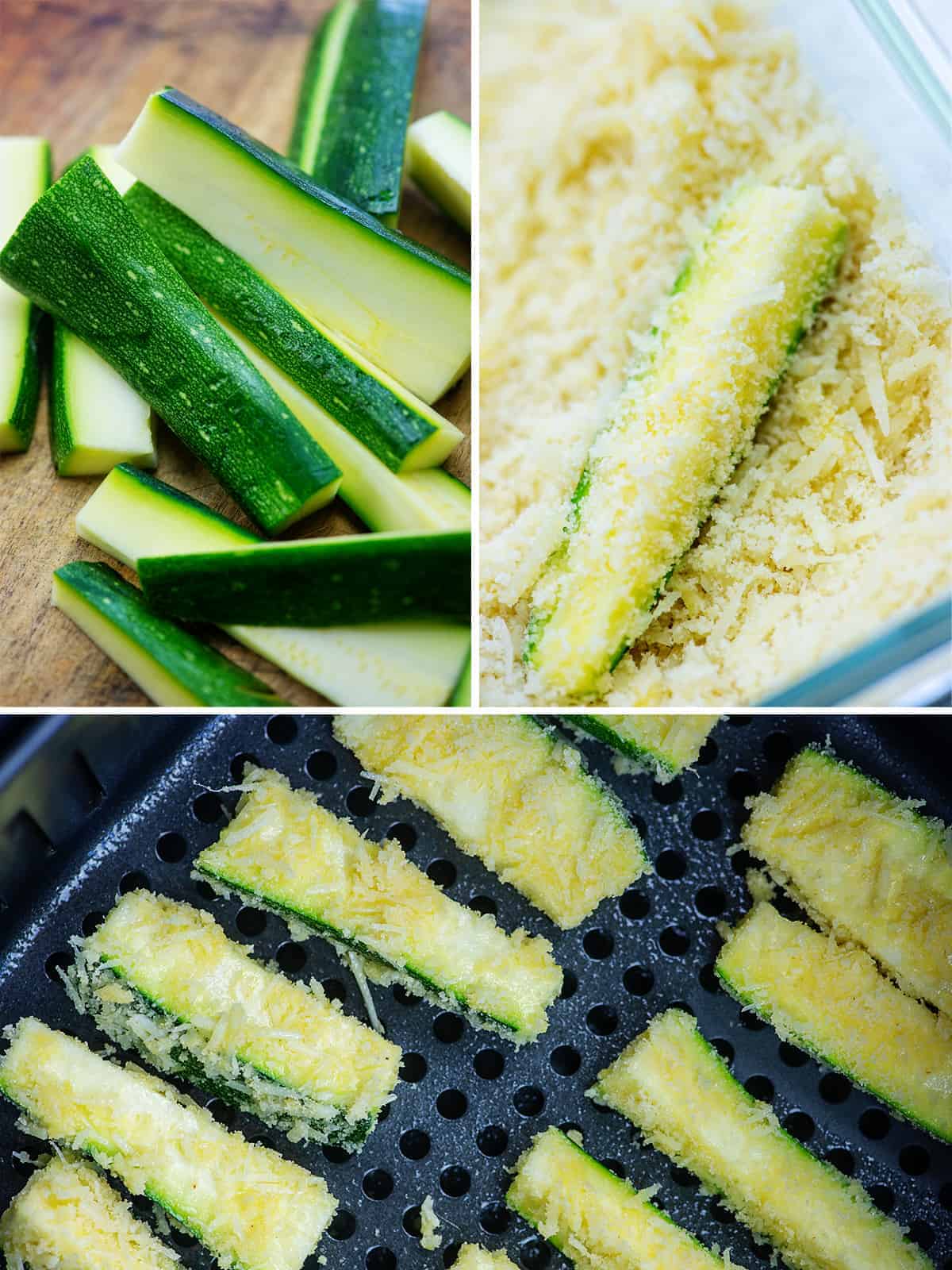 Prepare – To begin you'll need to slice the zucchini into 1/2″ strips that are about 4″ long. Try to keep them evenly sized so that they all finish cooking about the same time.
Breading – Add the almond flour, Parmesan cheese, and seasonings to a small bowl and mix those together. In a separate bowl, crack the egg. Start dipping each of the zucchini strips first into the egg, and then rolling it in the low carb breading!
Air Fry – When the zucchini fries are ready to go you can place them in your air fryer basket and spritz them liberally with the avocado oil. These air fryer zucchini fries will come out of the air fryer perfectly crispy and flavorful!It doesn't get much easier or quicker than these air fryer zucchini fries! And bonus: My kids love them too! I think they'll eat anything they can eat with their hands and dunk in ranch. 😉

These are a fairly new side for us – we used to make this keto fried zucchini all the time. This one is just a bit easier since it's air fried instead of fried in oil.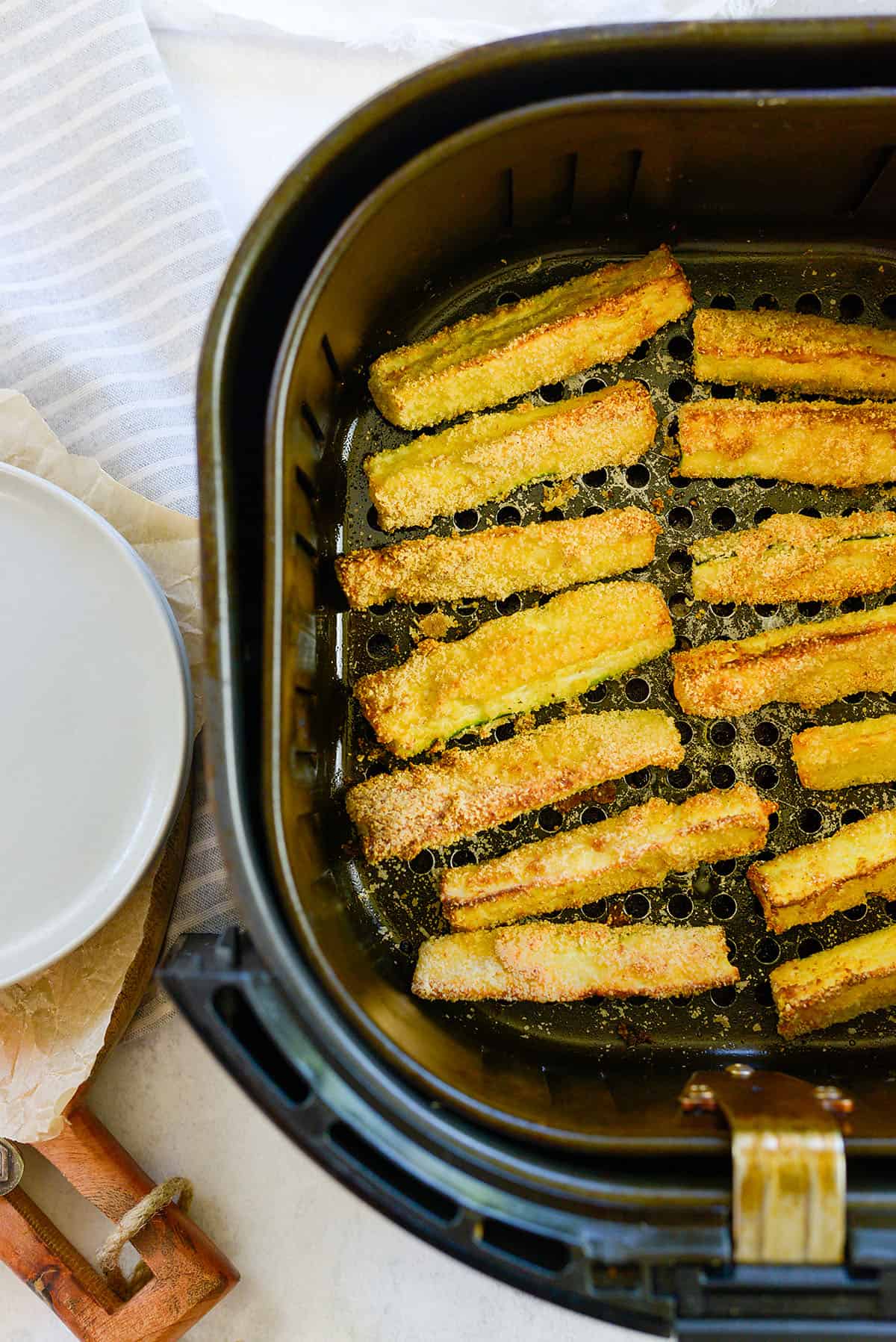 Air Fryer Recommendations:
We have quite a few air fryers in our house.
Our favorite is currently the Cosori Air Fryer. It's a nice size for a family of four and can fit a fair amount of food in it. It heats evenly and consistently and it's not as loud as a lot of the air fryers we've tested. Highly recommend!
One of our other air fryers is the Breville Smart Oven. It's not super budget friendly, but we like it because it doubles (triples, quadruples?) as a toaster, air fryer, toaster oven, dehydrator and more. It has 13 different cooking functions, but we mostly use it as a toaster, toaster oven, and air fryer.
We do find ourselves using the Cosori most often, but the Breville is very popular too!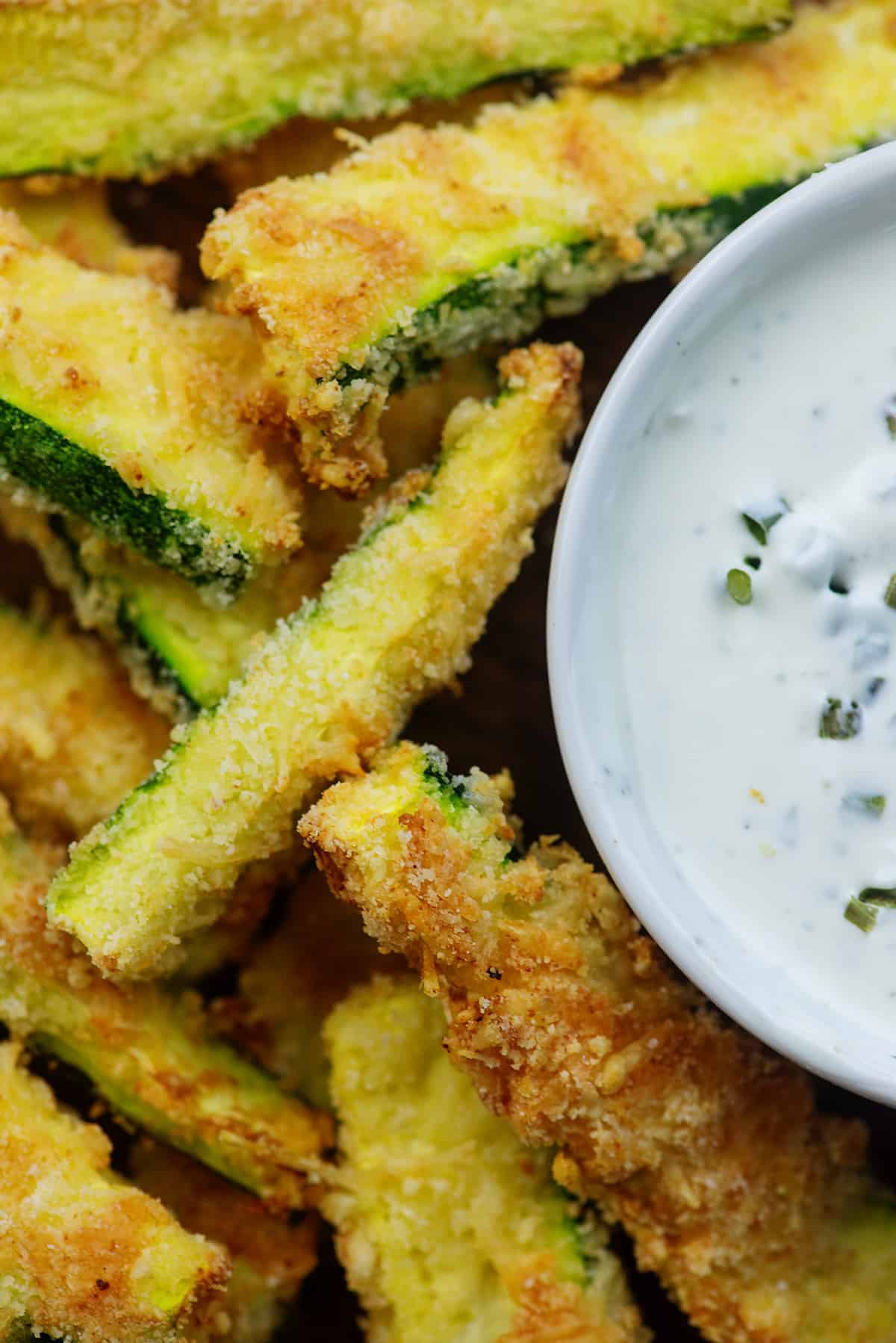 Dipping Suggestions:
These zucchini fries are perfect for dipping in all sorts of sauces! Here are a few good choices: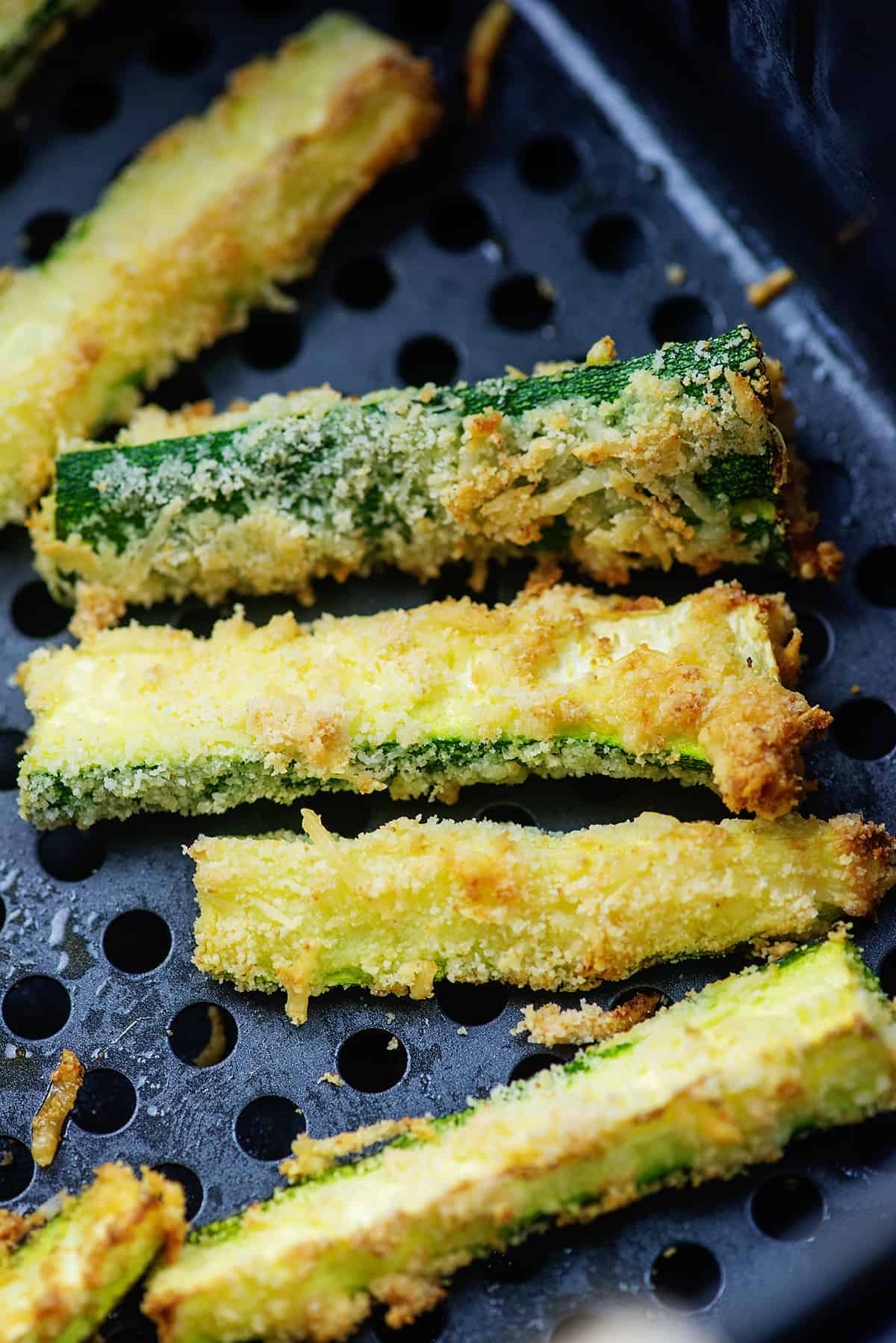 FAQs:
Can I bake zucchini fries?
This recipe was made for the air fryer and I have not tried baking them, but I think it would work okay. You may need to up the heat to 425 degrees and keep an eye on it until it has turned golden brown and crispy.
Can I use coconut flour?
I've only tried making this with almond flour but I think that coconut flour would also work pretty well!
How to store zucchini fries?
These zucchini fries are best enjoyed immediately after air frying while they are still hot, but you could refrigerate them for 2 to 3 days. I'm not sure how well the keto breading will hold up after reheating.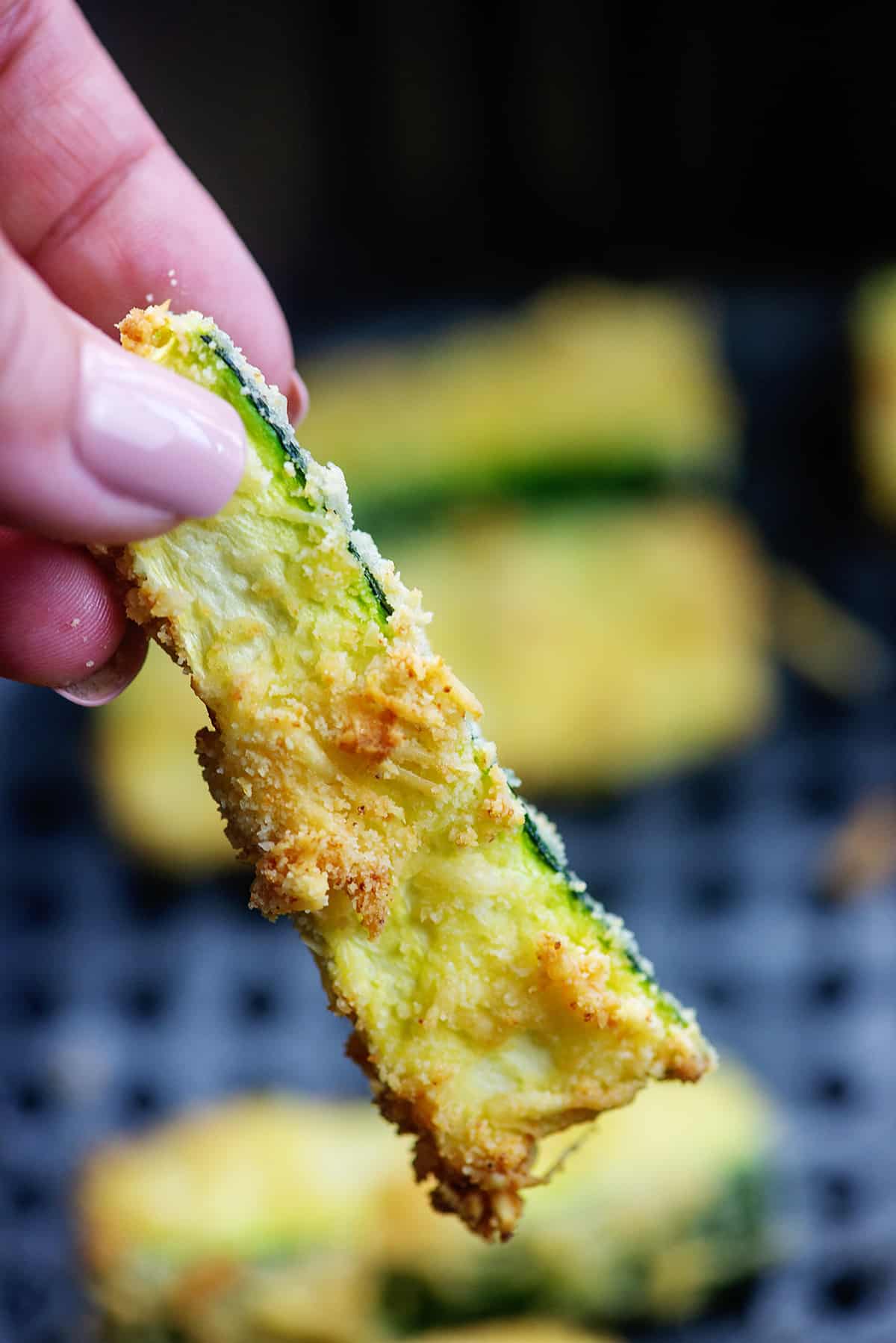 More Keto Air Fryer Recipes: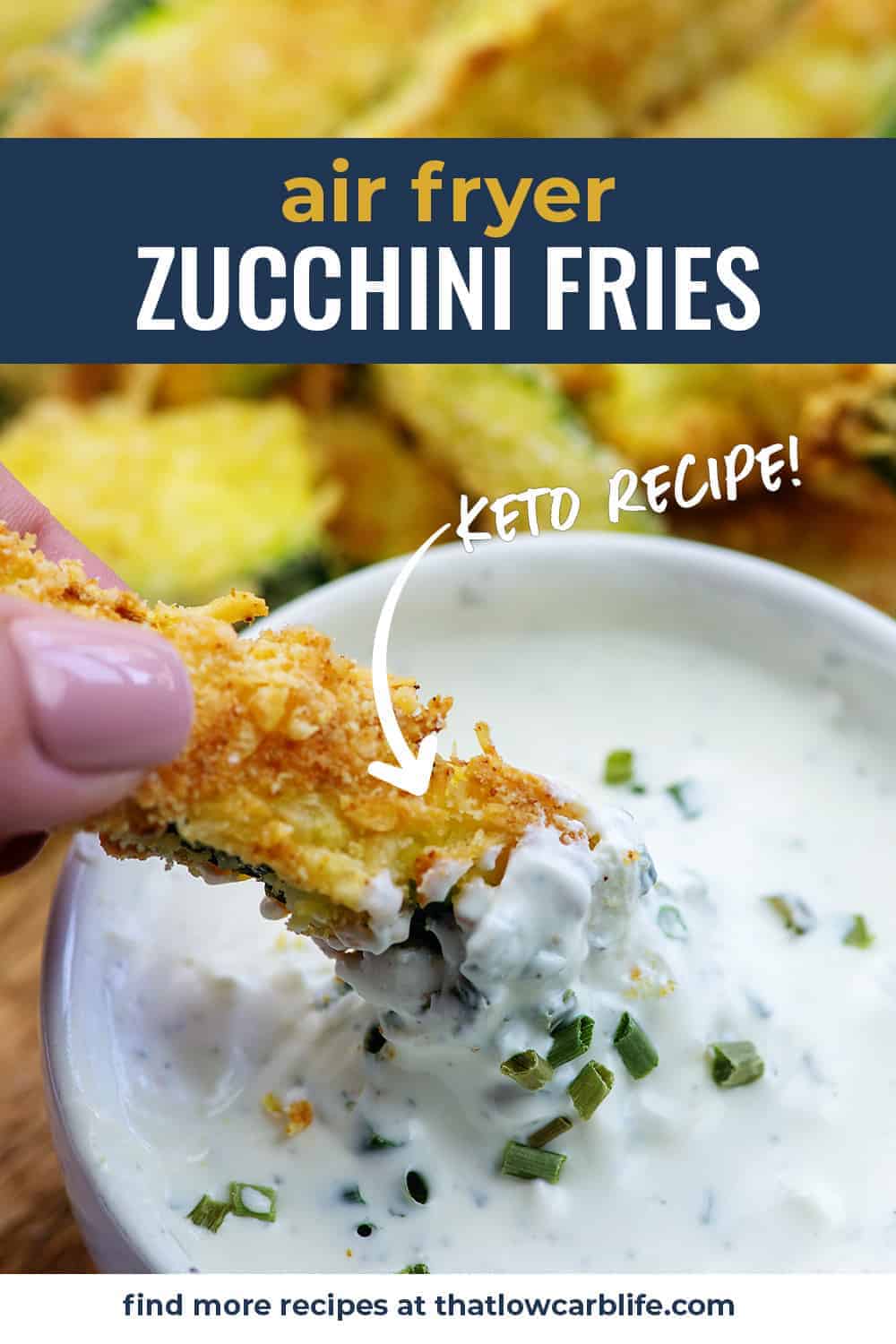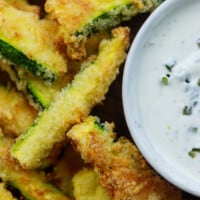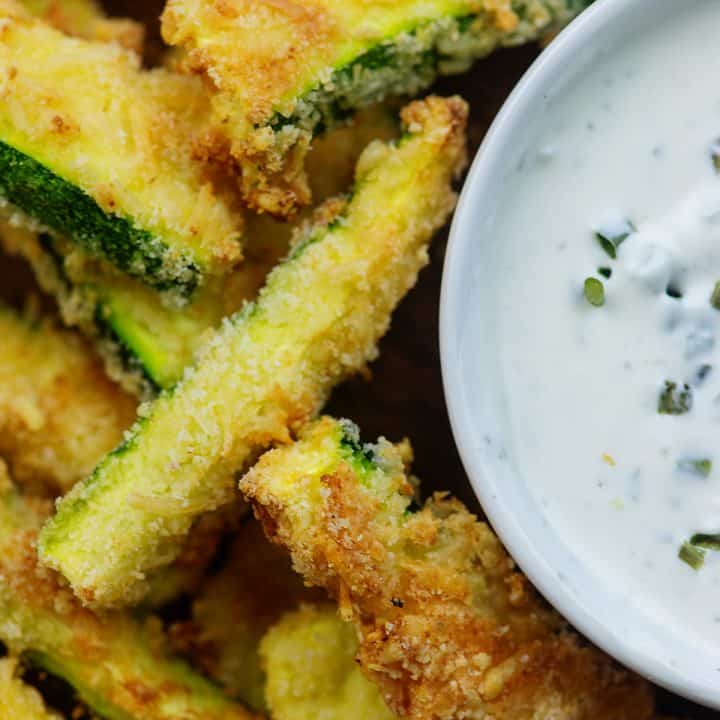 Keto Zucchini Fries
These zucchini fries get so crispy in the air fryer in just 10 minutes. We love to dunk them in ranch dressing.
Ingredients
2 medium zucchini
1 large egg, beaten
½ cup grated Parmesan cheese, see note
½ teaspoon garlic powder
½ teaspoon onion powder
½ teaspoon salt
Instructions
Slice the zucchini into strips about ½ inch thick and 3-4 inches long, depending on the length of your zucchini. Pat dry.
Add the egg to a shallow bowl and whisk until smooth.
Add the almond flour, Parmesan, garlic powder, onion powder, and salt to a second shallow bowl and stir to combine.
Dip the zucchini first into the egg and then into the almond flour mixture. Press the flour mixture onto the zucchini to help it stick.
Place the zucchini in a single layer in an air fryer basket and spritz liberally with oil spray.
Air fry at 400 degrees for about 10 minutes or until crispy and browned.
Notes
We prefer to use actual shredded Parmesan cheese, but the powdery kind in the green can should also work.
Recommended Products
As an Amazon Associate and member of other affiliate programs, I earn from qualifying purchases.
Nutrition Information:
Yield: 4
Serving Size: 1
Amount Per Serving:
Calories: 201
Total Fat: 16g
Saturated Fat: 3g
Trans Fat: 0g
Unsaturated Fat: 11g
Cholesterol: 57mg
Sodium: 511mg
Carbohydrates: 7g
Net Carbohydrates: 4g
Fiber: 3g
Sugar: 3g
Protein: 9g
All information and tools presented and written within this site are intended for informational purposes only. This information is provided as a courtesy and there is no guarantee that the information is accurate.