KETO JALAPENO POPPERS make a great appetizer that even the carb-lovers will devour! I'm including instructions for making these extra quick in your air-fryer, but they're delicious in the oven too! Either way, you need this low carb snack in your life! This post contains affiliate links. As an Amazon associate I earn from qualifying purchases.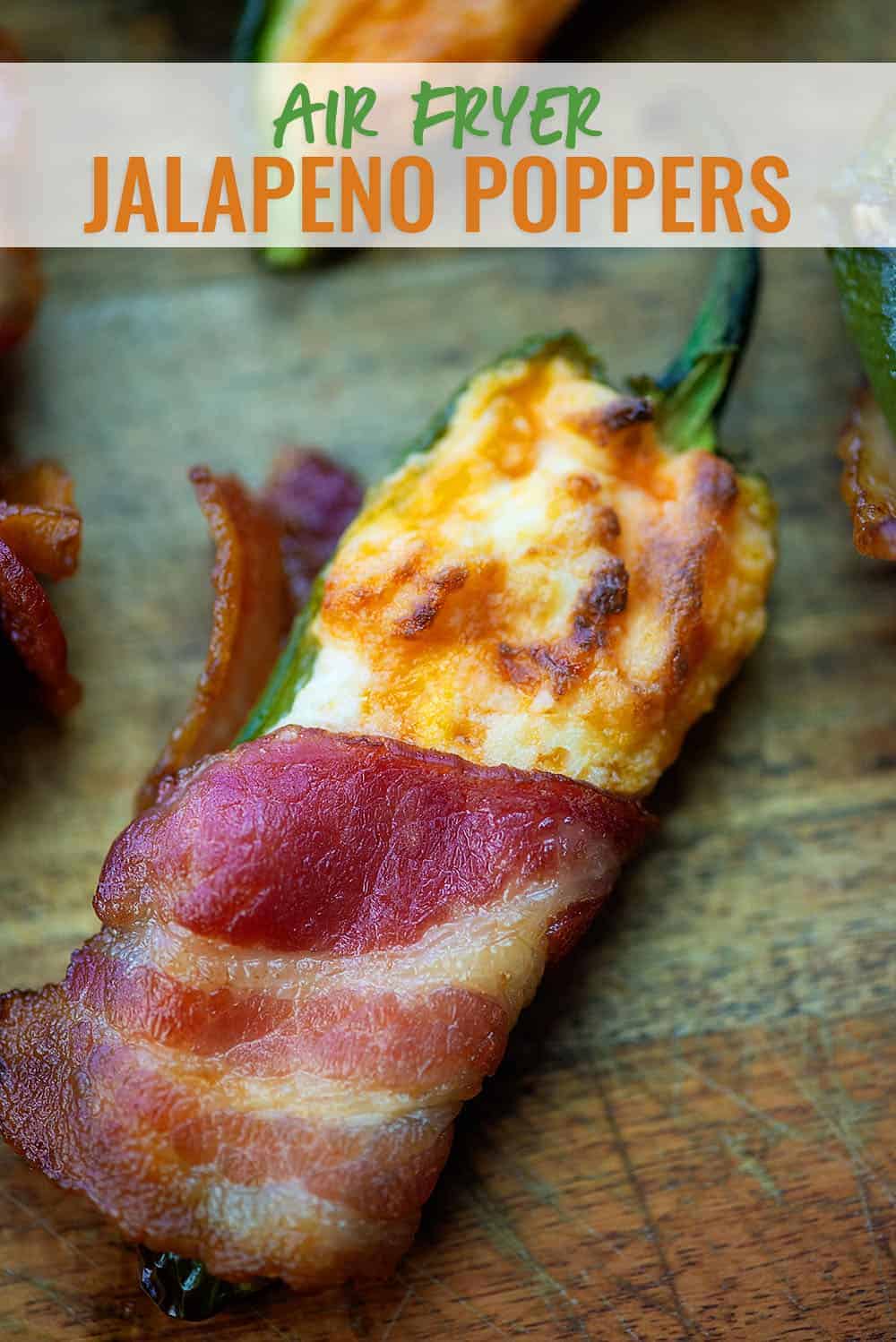 Don't tell Chad I said this, but he's a bit of a wimp when it comes to spicy foods.
The kids and I will be happily munching away on something and he'll be breathing fire and questioning all of his life choices.
Over the years, though, he's slowly been building up a tolerance to spicy food and he's finally starting to even enjoy it a bit. Thank goodness, because I love spice and add a little hot sauce or jalapeno or Tony's to just about everything. 😉
I've even gotten away with serving up my buffalo chicken meatballs lately and he hasn't cried about it once! Miracles do happen!

These bacon wrapped jalapeno poppers are something that I've made for years, but I thought I'd share them here now that he's a little more into spicy food – and I'm sharing how to make them in the air fryer too!
We love these – they're the perfect mix of cheesy, spicy, salty, crunchy, creamy…all the good things!
How to make jalapeno poppers:
This recipe is beyond simple!
First, wash some jalapenos and slice them in half. Scoop out the seeds and membranes with a spoon.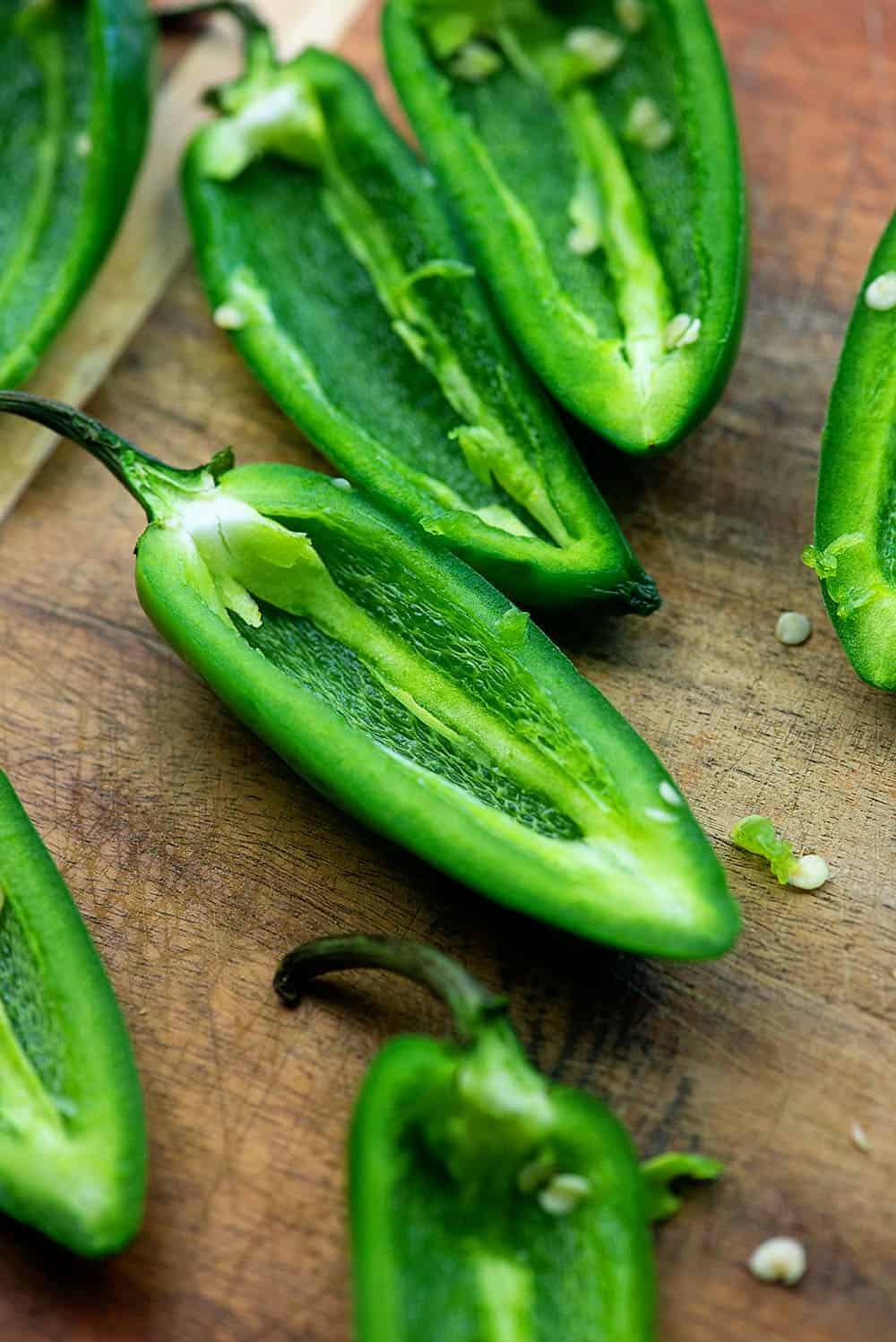 Pro Tip: Wear gloves when working with jalapenos!
The oils from the jalapenos stick to your skin and can burn it. And if you touch your eyes afterwards, well, let me just say that you DON'T want to do that. Ouch.
Here are some food safe gloves you can grab from Amazon.
If I'm just working with a few jalapenos, I go quick and triple wash my hands. If I'm working with a larger batch, I grab the gloves. It's safer to just wear gloves every time, but I hate the way they feel so I live on the edge. 😉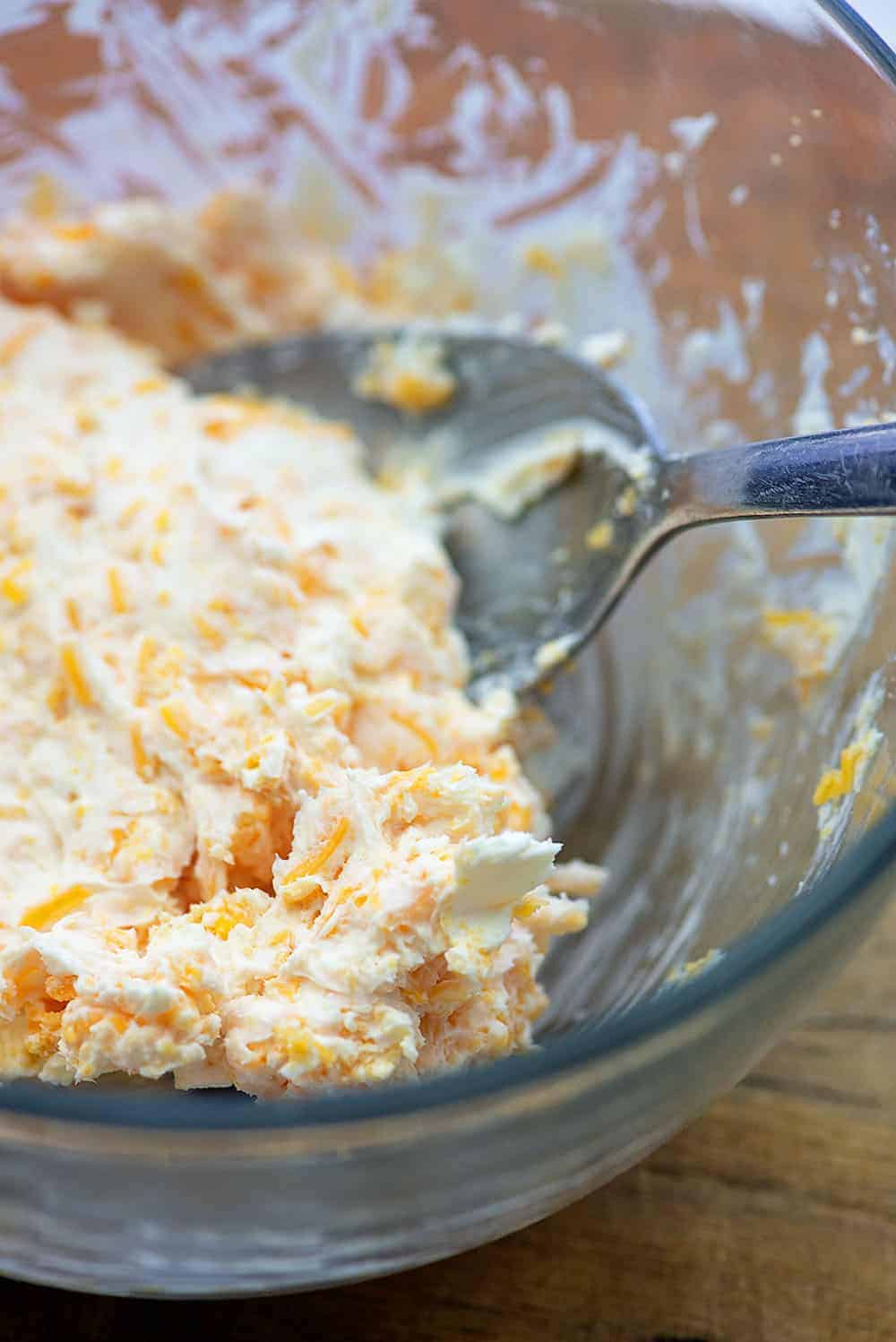 Once your jalapenos are ready for stuffing, mix up that cheesy filling.
You'll need cream cheese, cheddar, garlic powder, and onion powder. Just stir it all together until smooth and creamy and then spoon it into the jalapeno halves.
These are bacon-wrapped jalapeno poppers, so you're going to need: BACON!
Slice your bacon slices in half and wrap each half around a pepper.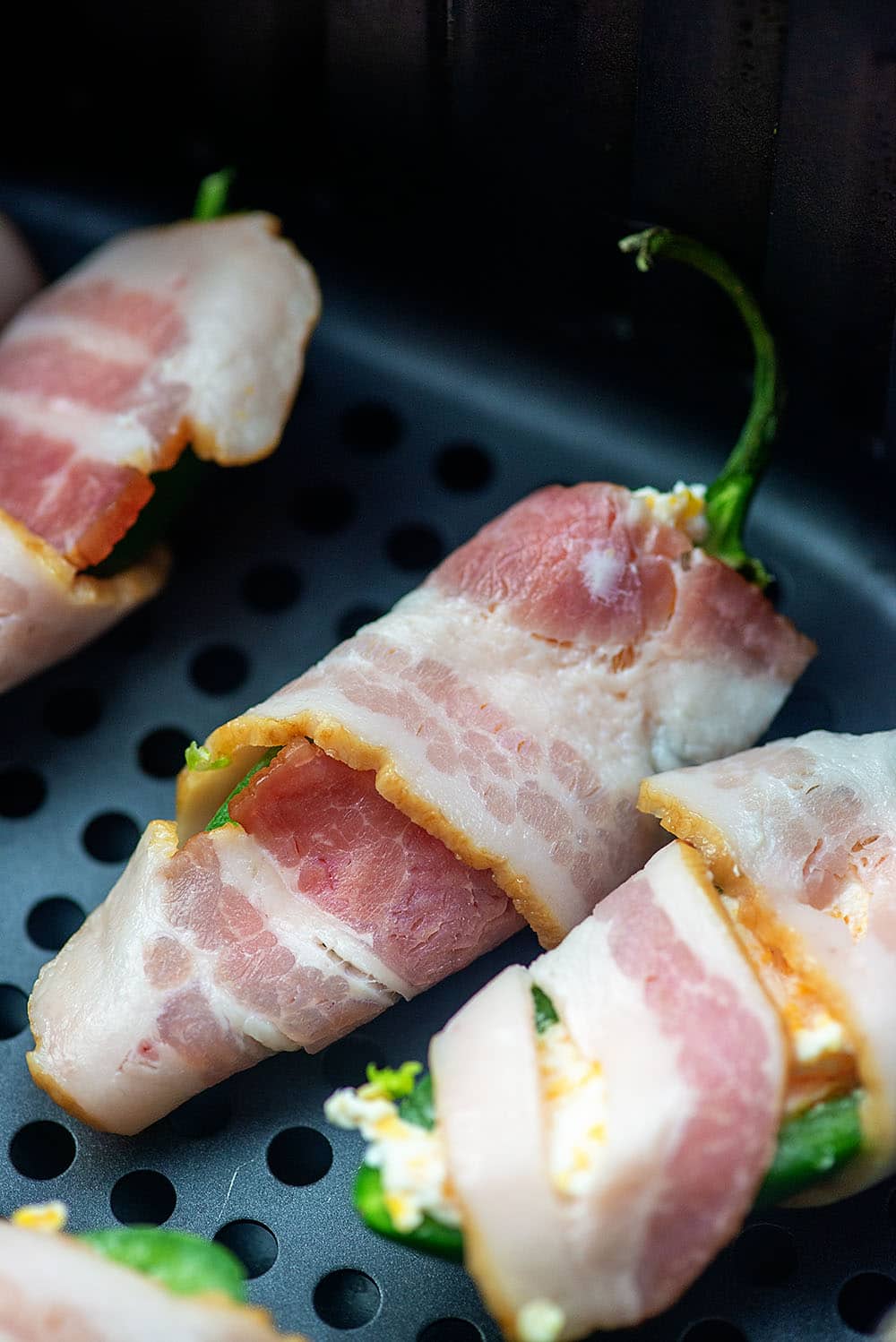 Air Fryer Jalapeno Poppers:
I love using my air fryer to make this recipe. I have and love the OMORC Air Fryer XL. It's 5.8 quarts which means that it's large enough to hold plenty of food. Some of those air fryers are tiny (which is fine for small households!), but I wanted a bigger one for my family of four.
To make these in the air fryer, you'll want to place them in the basket leaving an inch or so of space around each popper.
Air fry at 390 degrees for 10 minutes, or until the bacon is as crisp as you'd like.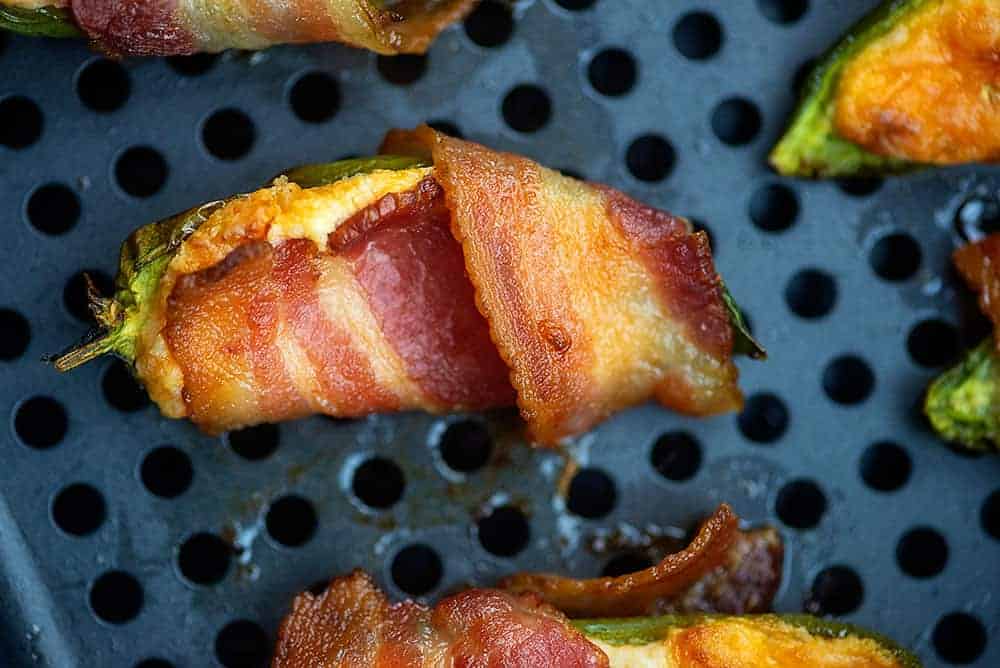 Baked Jalapeno Poppers:
No air fryer? No problem!
Place your keto jalapeno poppers on a rimmed baking sheet and bake at 400 degrees for 15 minutes or until the bacon is crisp.
Easy peasy!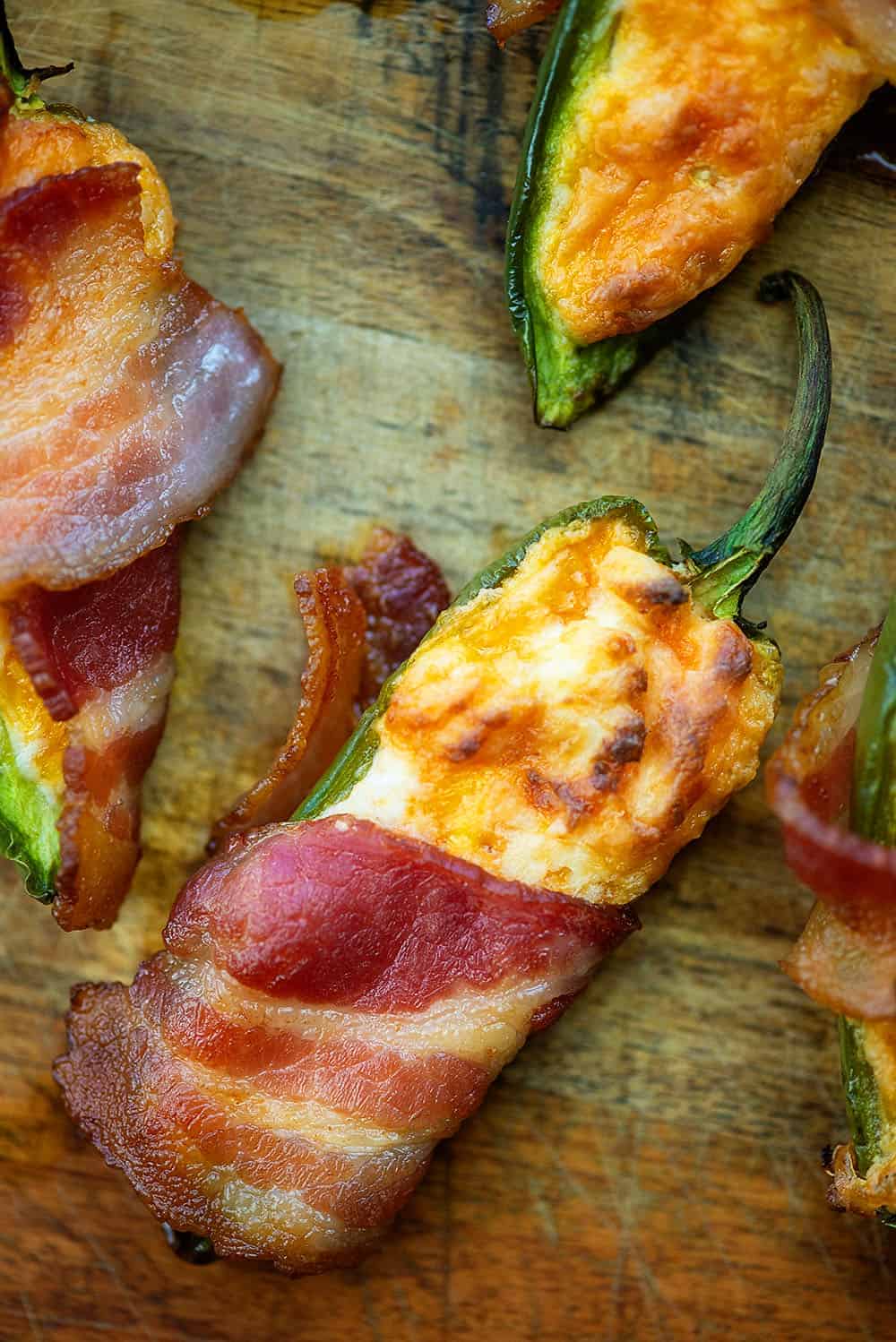 Are jalapeno poppers spicy?
This is a tricky one to answer because some jalapenos are hotter than others and you won't know how spicy they really are until you bite into them.
That said, most of the 'heat' lives in the seeds and membranes of the pepper and you'll be scraping all of that out before filling with the cheese.
The cream cheese and cheddar filling also helps to cut the spice of the pepper. Cut the heat even more by dipping them in my keto ranch dressing!
These homemade jalapeno poppers do have a bit of a kick to them, but nothing too extreme. For more heat, add some minced jalapeno to the cream cheese filling.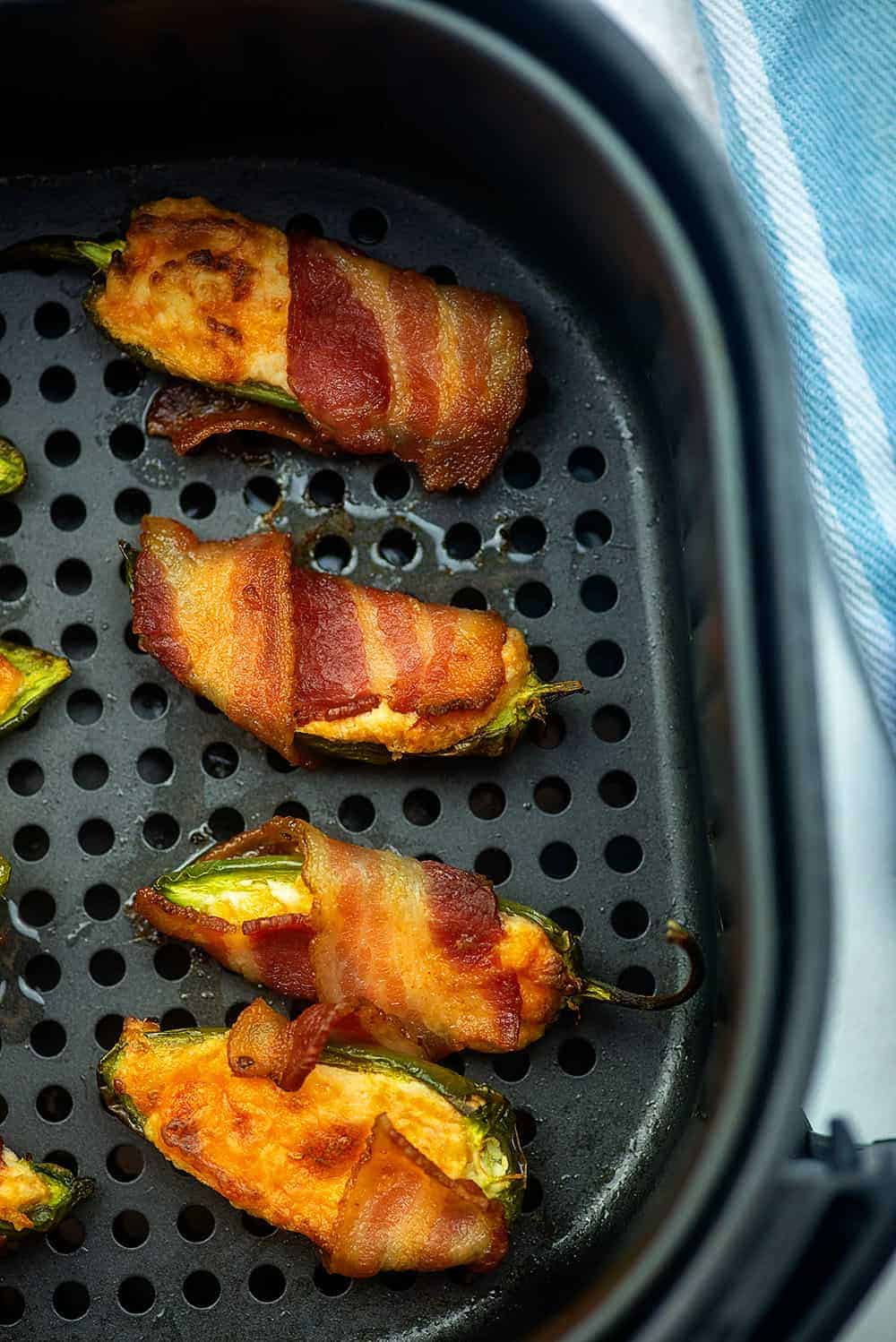 More low carb snacks to try:
We're always coming up with new low carb snacks to share with our friends and family – most of whom love carbs. 😉 Some of our favorites to serve up at football games or other parties are these crock pot chicken wings, keto deviled eggs, and keto meatballs.
We also love making a cheese or veggie board and filling it with things like cheese, cucumbers, pickles, veggie dip, broccoli, deli meat, and low carb crackers.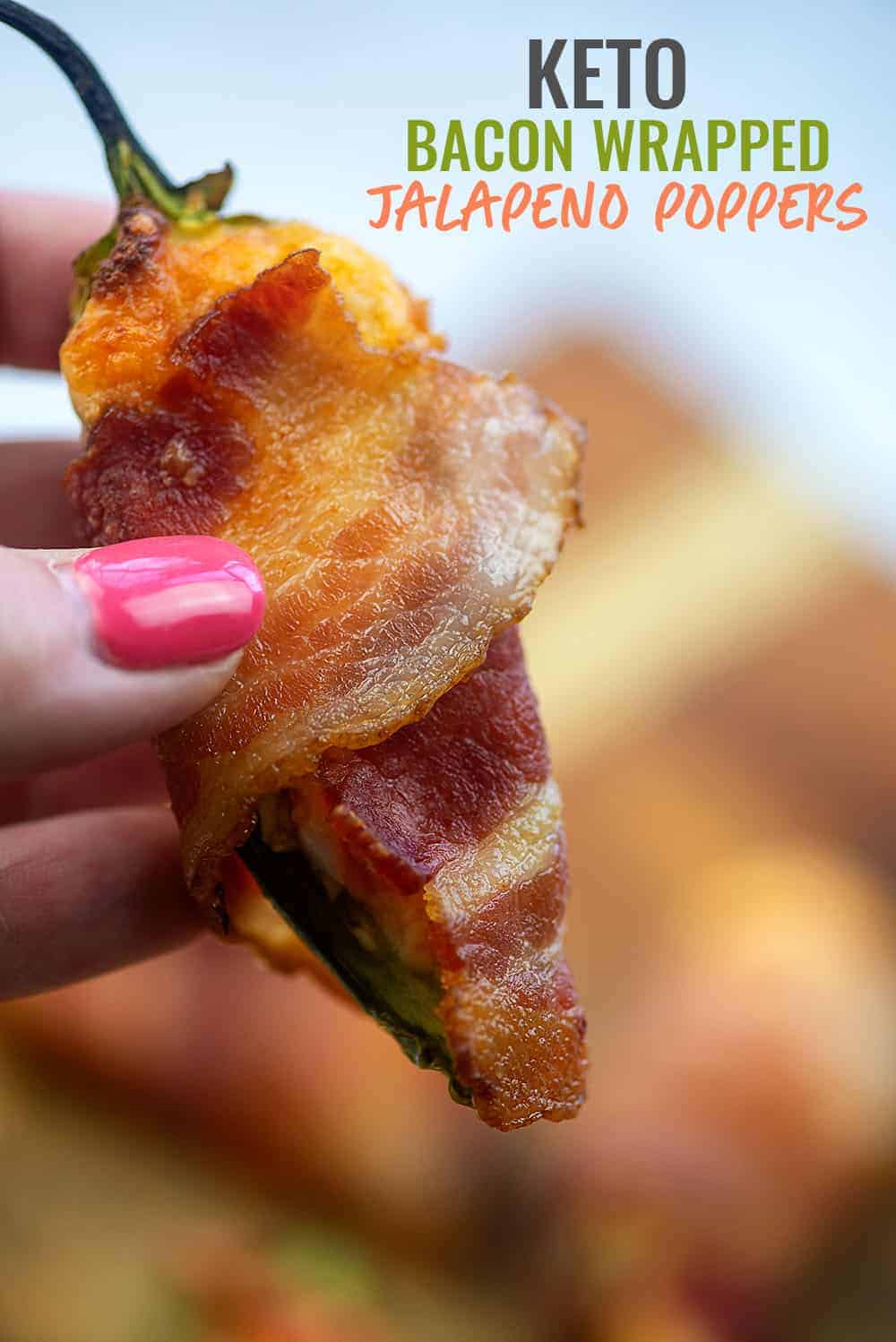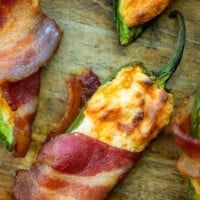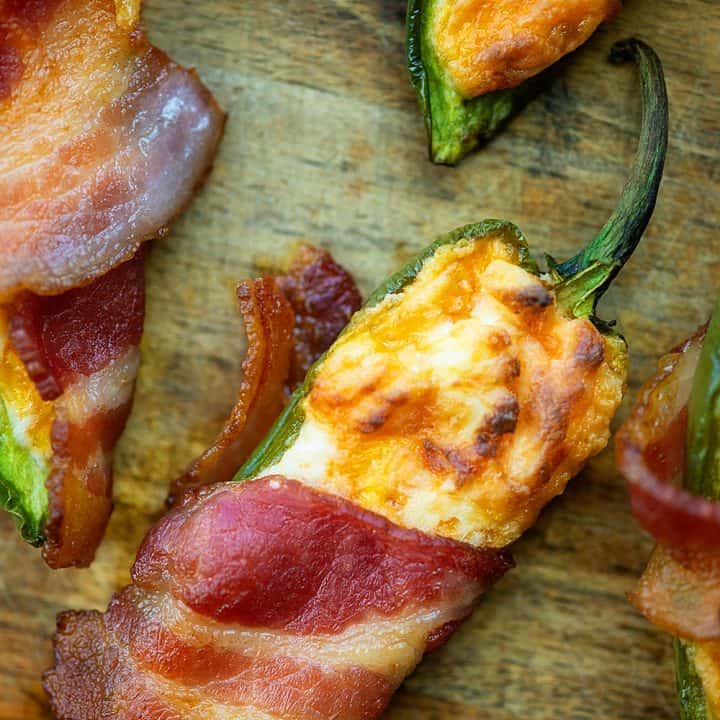 Keto Jalapeno Poppers
These bacon wrapped jalapeno poppers are so quick and simple - pop them in the air fryer or oven to make the perfect keto snack with just the right kick.
Ingredients
4 jalapenos
3 ounces cream cheese, softened
1/2 cup shredded cheddar
½ teaspoon garlic powder
¼ teaspoon onion powder
4 slices bacon
Instructions
Slice jalapenos in half length-wise. Carefully scrape out the seeds and membranes with a spoon and discard. See note.
Add the cream cheese, cheddar, garlic powder, and onion powder to a small bowl and stir well to combine.
Spoon the cheese evenly between the jalapenos.
Cut the bacon slices in half and wrap each jalapeno with a half slice of bacon.
Air Fryer Method:
Turn air fryer to 390 degrees and let heat for 2 minutes.
Carefully add the jalapenos to the basket of the air fryer in a single layer with space between each. Work in batches if your air fryer will not fit all 8 halves at once.
Air fry for 10 minutes or until bacon is as crisp as you'd like.
Oven Method:
Preheat oven to 400 degrees.
Place prepared jalapenos on a rimmed baking sheet and bake for 15 minutes or until bacon is as crisp as you'd like.

Notes
When working with jalapenos, it's always best to wear gloves so the oils from the peppers do not burn your skin. If you don't have gloves, wash your hands well immediately after handling the peppers.
Recommended Products
As an Amazon Associate and member of other affiliate programs, I earn from qualifying purchases.
Nutrition Information:
Yield: 8
Serving Size: 1 popper
Amount Per Serving:
Calories: 96
Total Fat: 8g
Saturated Fat: 4g
Trans Fat: 0g
Unsaturated Fat: 3g
Cholesterol: 23mg
Sodium: 177mg
Carbohydrates: 1g
Net Carbohydrates: 1g
Fiber: 0g
Sugar: 1g
Sugar Alcohols: 0g
Protein: 4g
All information and tools presented and written within this site are intended for informational purposes only. This information is provided as a courtesy and there is no guarantee that the information is accurate.