These ROASTED GREEN BEANS are tossed in Parmesan and seasonings to give them a crisp coating that gives way to perfectly tender roasted green beans. Roasted veggies are such an easy side dish and these are no exception.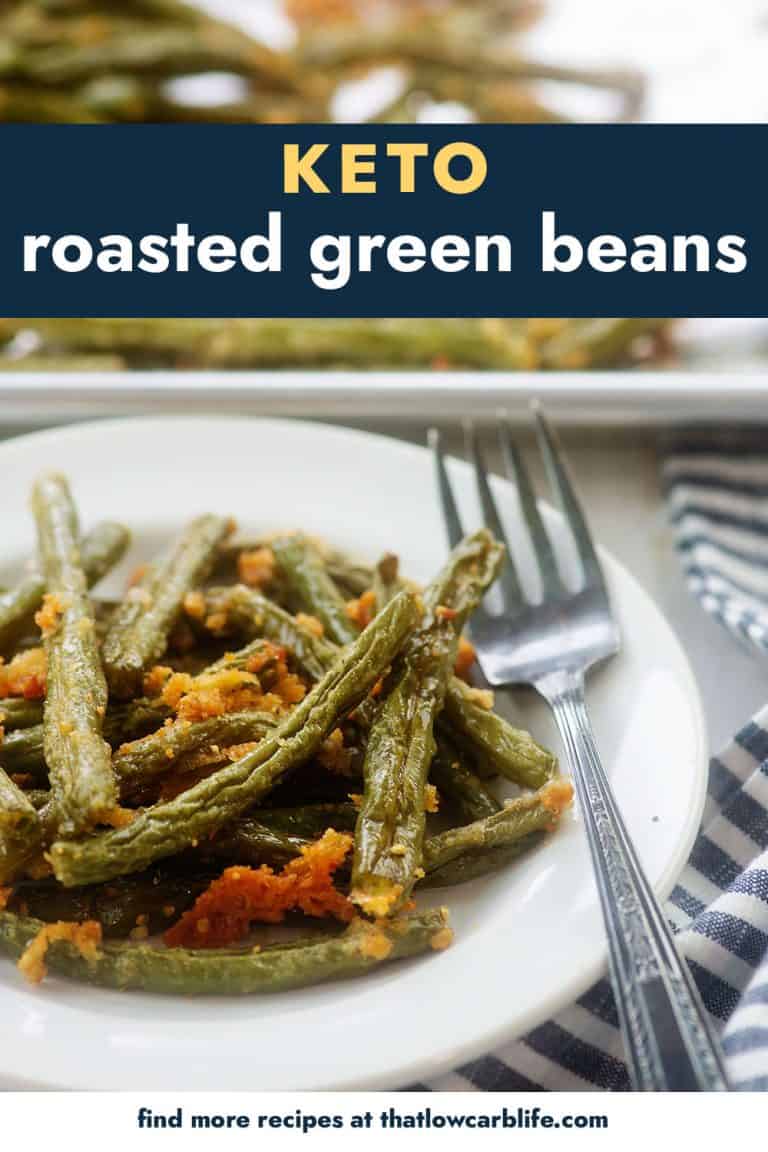 I still remember the first time I roasted a vegetable. It was broccoli, which probably comes as no surprise to anyone that's followed along for any amount of time. I'm obsessed with broccoli. 😉
Anyway, I had seen the method somewhere and gave it a try and my world was transformed. Vegetables take on such a different flavor when they're roasted.
They don't even compare to steamed (or ew…boiled) vegetables.
That same leap happens between fresh and frozen veggies. If you think you hate vegetables, be sure that you've had them cooked from fresh and not frozen. They're entirely different things, I swear.
These roasted green beans are beyond simple and the seasonings and Parmesan give them great flavor and texture.
The Parmesan crisps up to give these a breaded texture. I've been known to eat them like french fries and serve them with garlic aioli as a dipping sauce!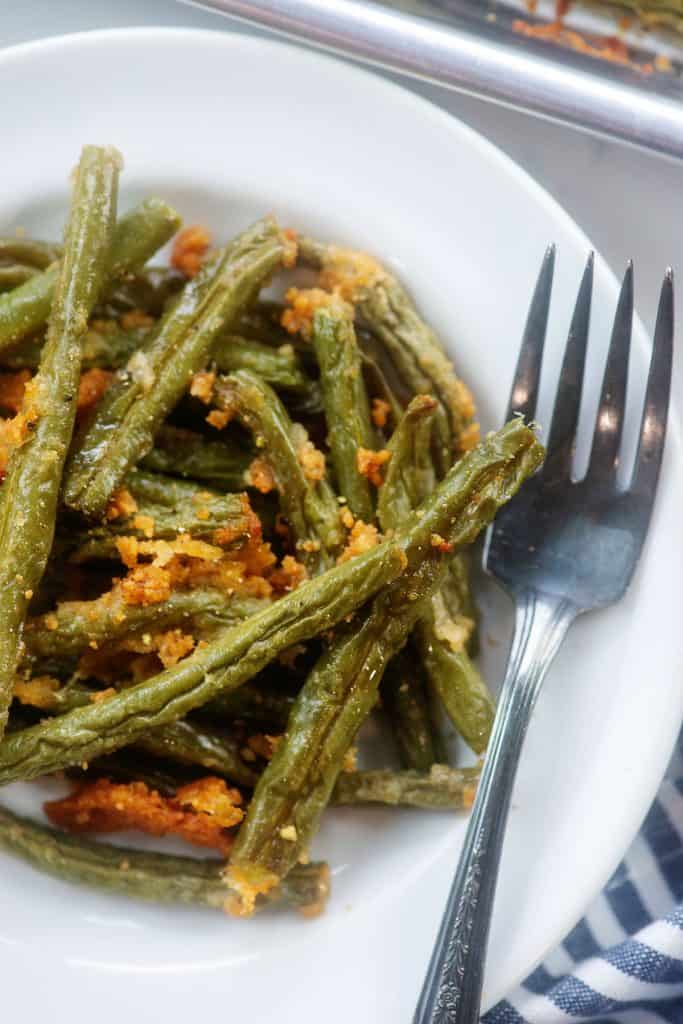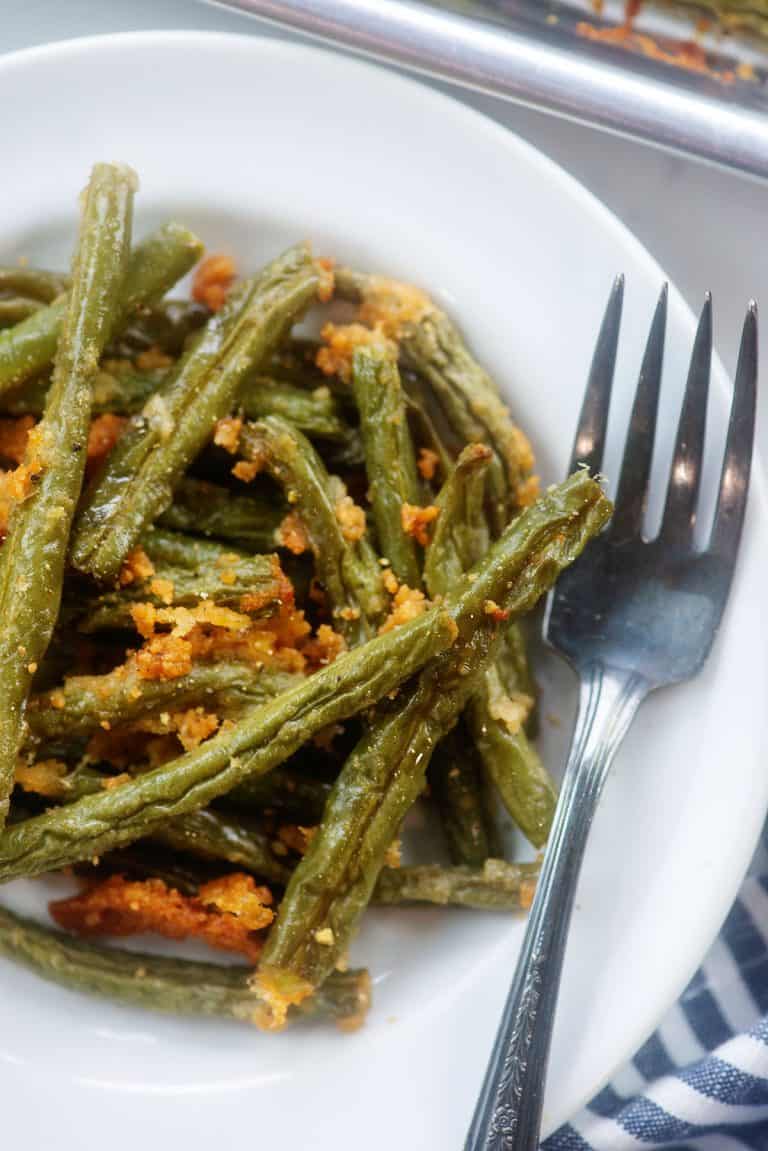 How to roast green beans:
The method for roasting vegetables is really the same for all veggies. Toss with a bit of oil and seasonings, spread onto a baking dish, and roast at 425 degrees until tender.
For these green beans, you'll want to toss the beans in a bit of avocado or olive oil and then add in some grated Parmesan (we like the powdery kind here), garlic powder, onion powder, and salt and pepper.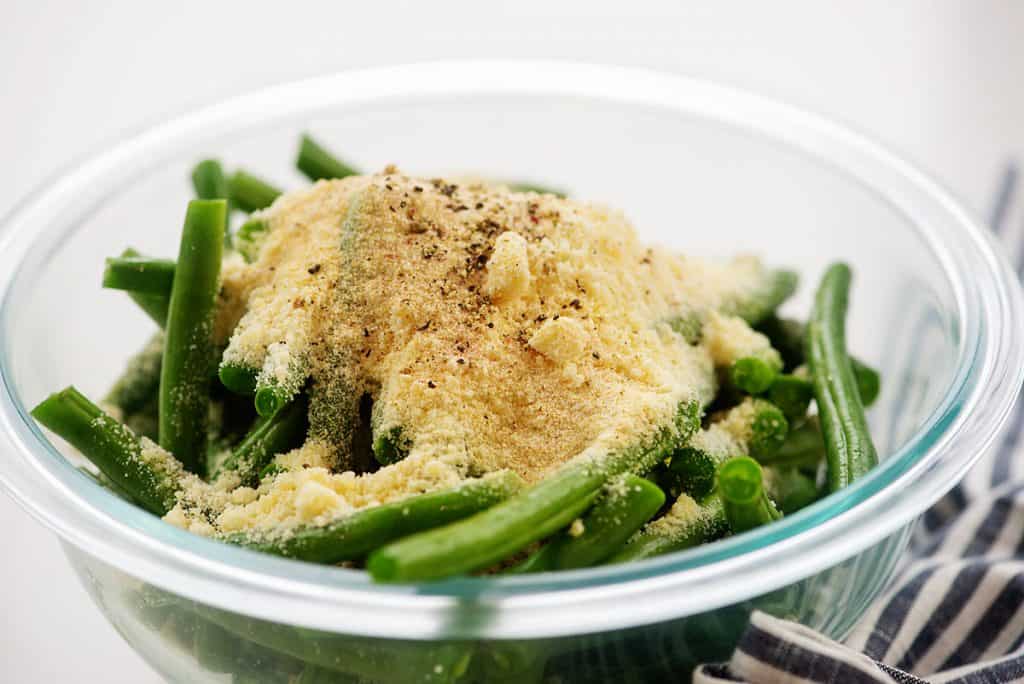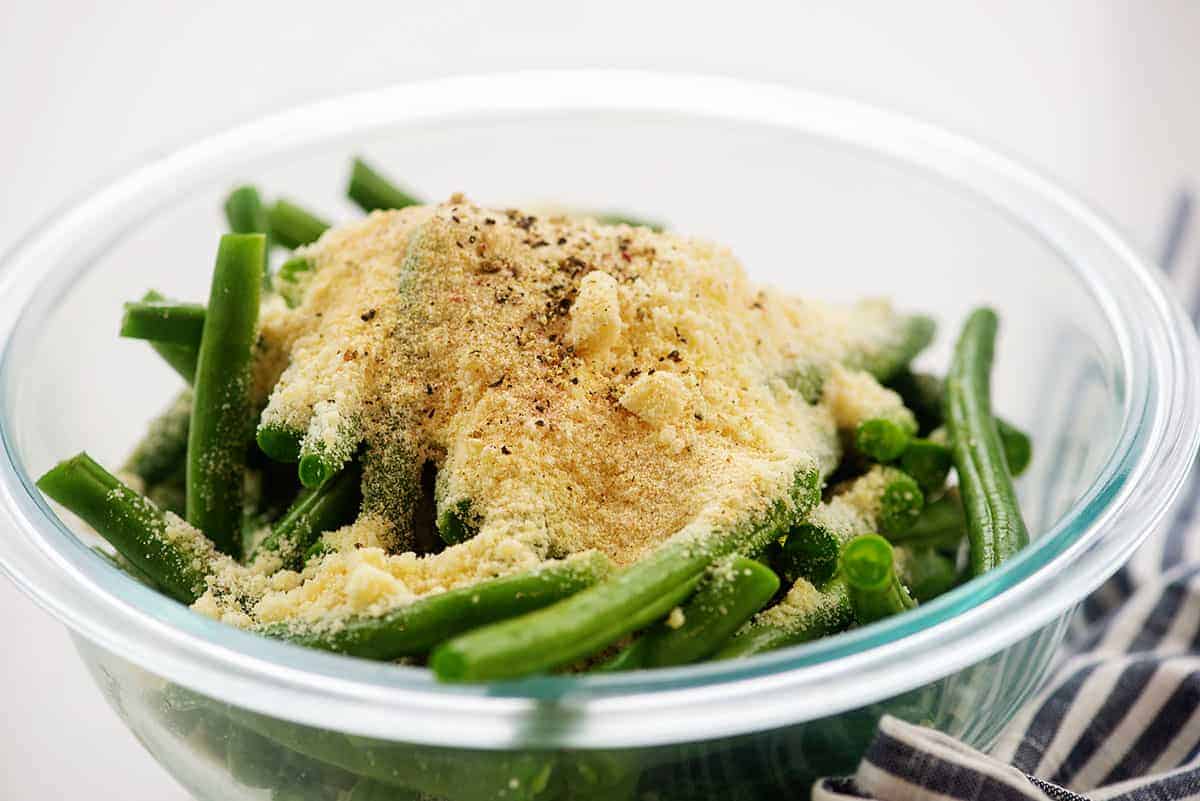 Stir all that together to coat the green beans and then spread them out on a baking sheet.
You could likely use shredded Parmesan cheese here as well, but we like the way the powdery kind coats the beans better.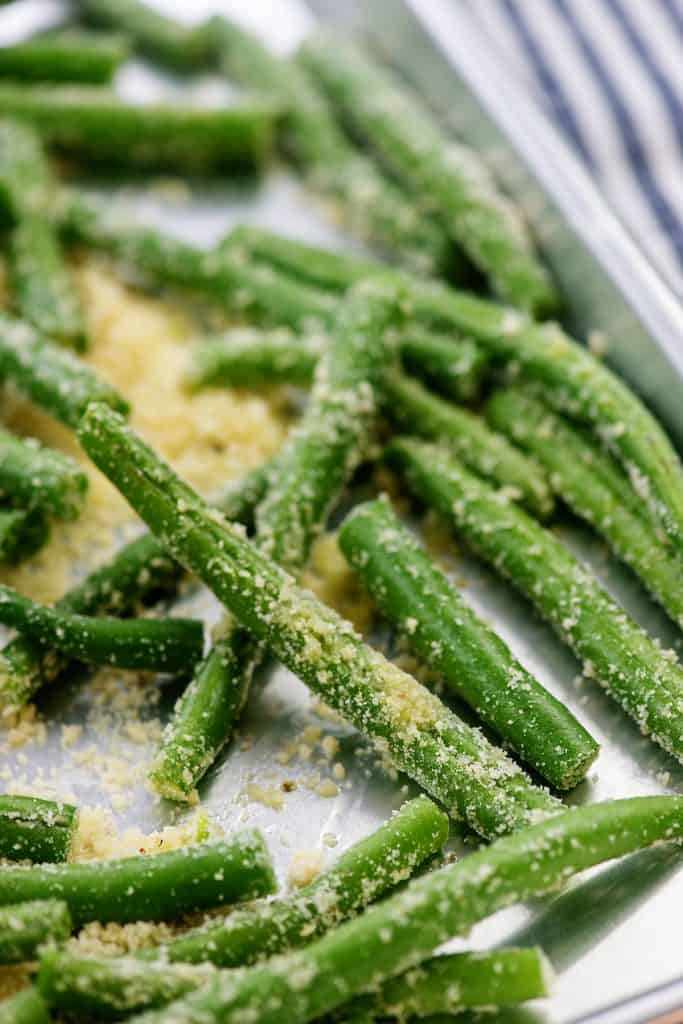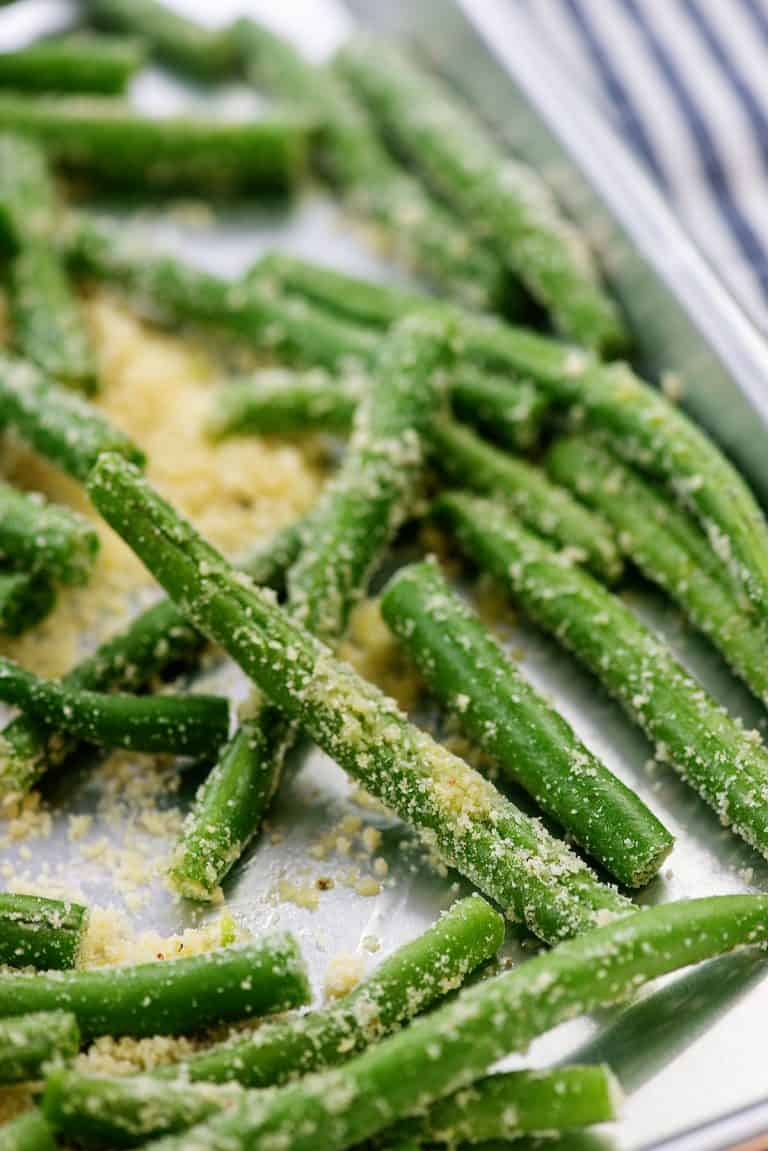 Roast for about 25 minutes, stirring halfway through, or until the veggies are as tender as you'd like.
My green beans sat for a few minutes waiting on me to take their beauty shots, so they're a bit shriveled up looking. They still taste great, but they do start to shrivel more if you let them sit around while you fuss with your camera settings. 😉
We love this recipe because it's so quick and simple and really versatile. You could mix up the seasonings, skip the Parmesan, use your favorite flavored oil, add some other veggies to the mix, or even throw in some sliced sausage to roast alongside the beans!
The sky is the limit here.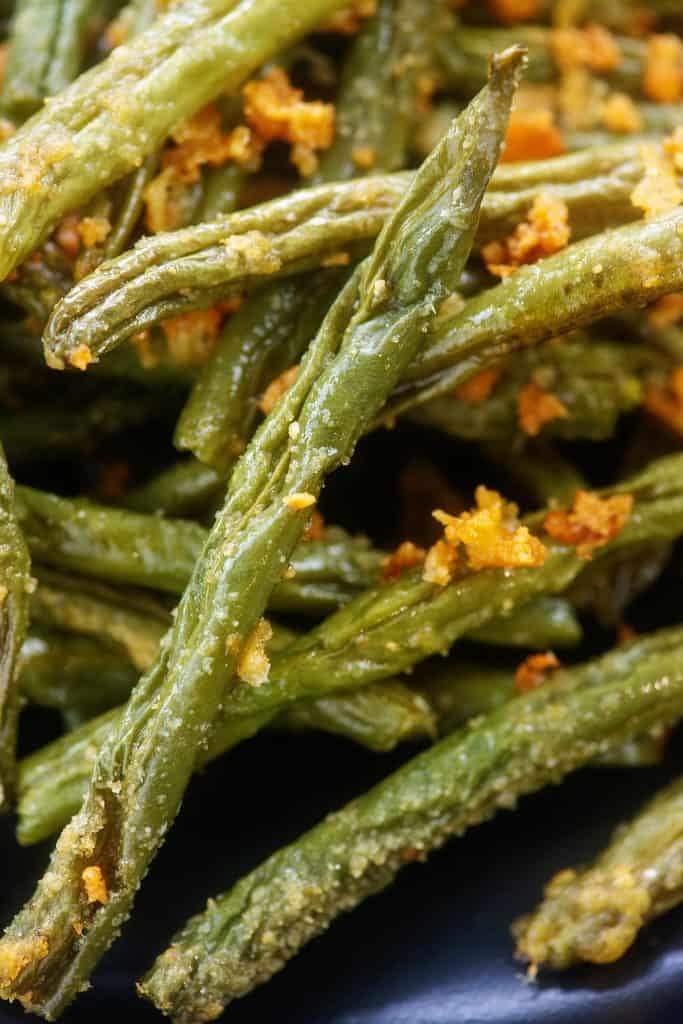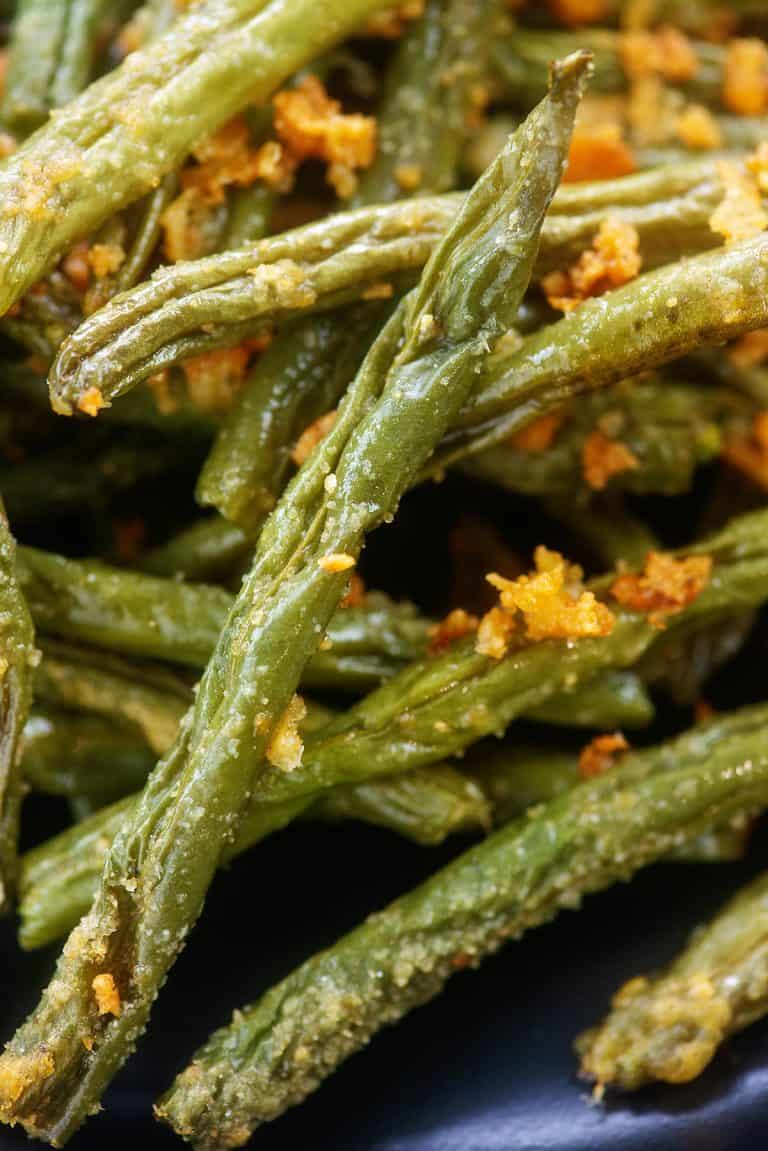 What temperature is best for roasting vegetables?
425 degrees is the magic number.
A nice hot oven allows the natural sugars in the vegetables to caramelize a bit and their natural sweetness comes out more, really transforming the taste.
What oil should I use to roast vegetables?
Olive oil or avocado oil are our preferred choices.
We mostly use avocado oil for cooking and EVOO for things like salad dressings.
We buy both from Thrive Market, a membership store similar to Costco, where you can shop online at great prices. Thrive has many membership options available and we find that it easily pays for itself.
Plus, I love that you can sort by diet. They're keto selection is top notch!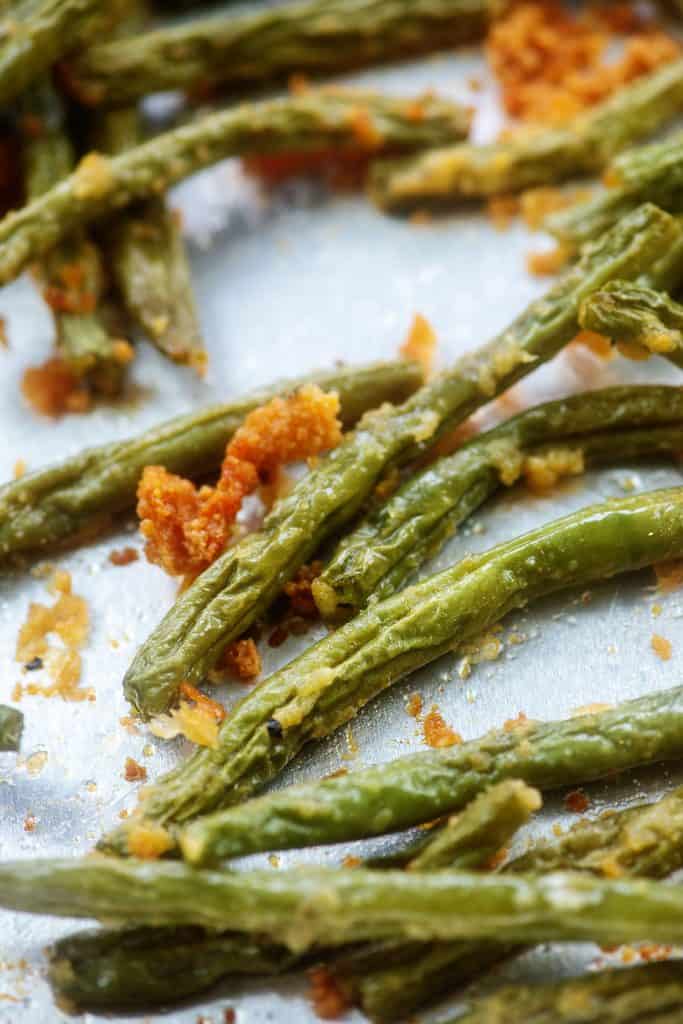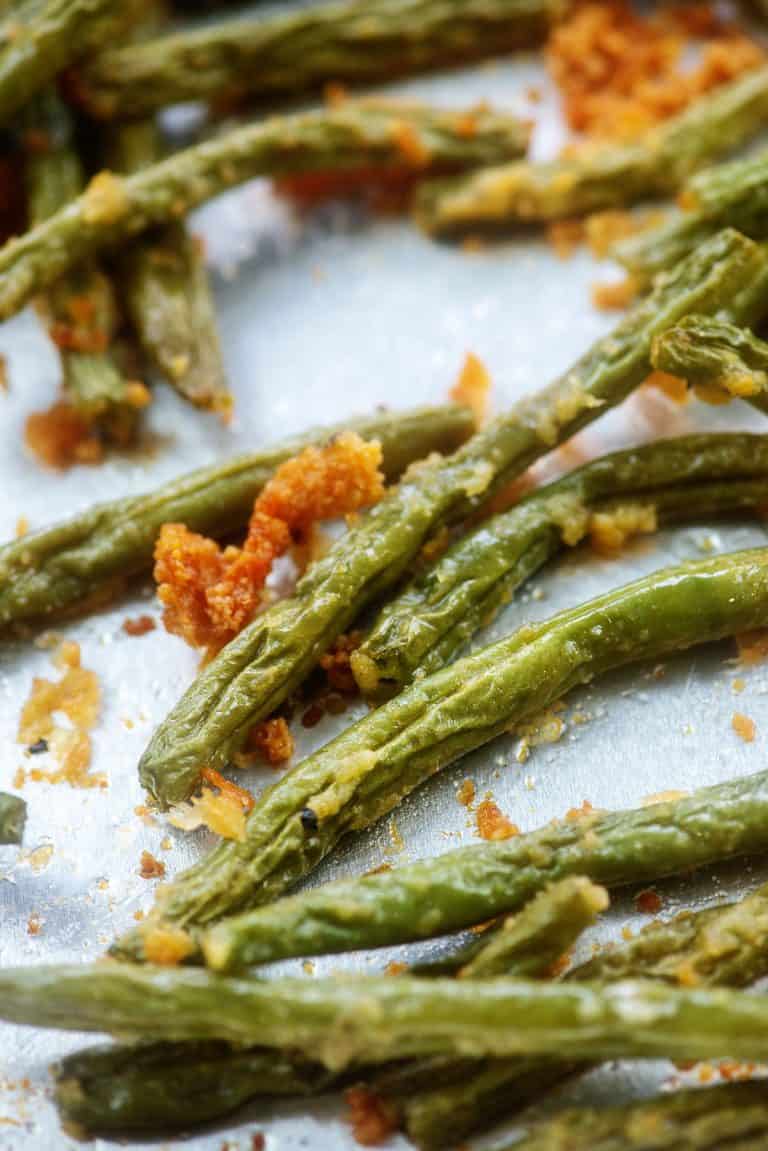 Low Carb Side Dishes:
I love keeping dinner fresh and exciting with all kinds of interesting and easy side dishes that my whole family loves!
Check out my eBook 15 Low Carb Side Dishes and get instant ad-free access to 15 of our favorite sides!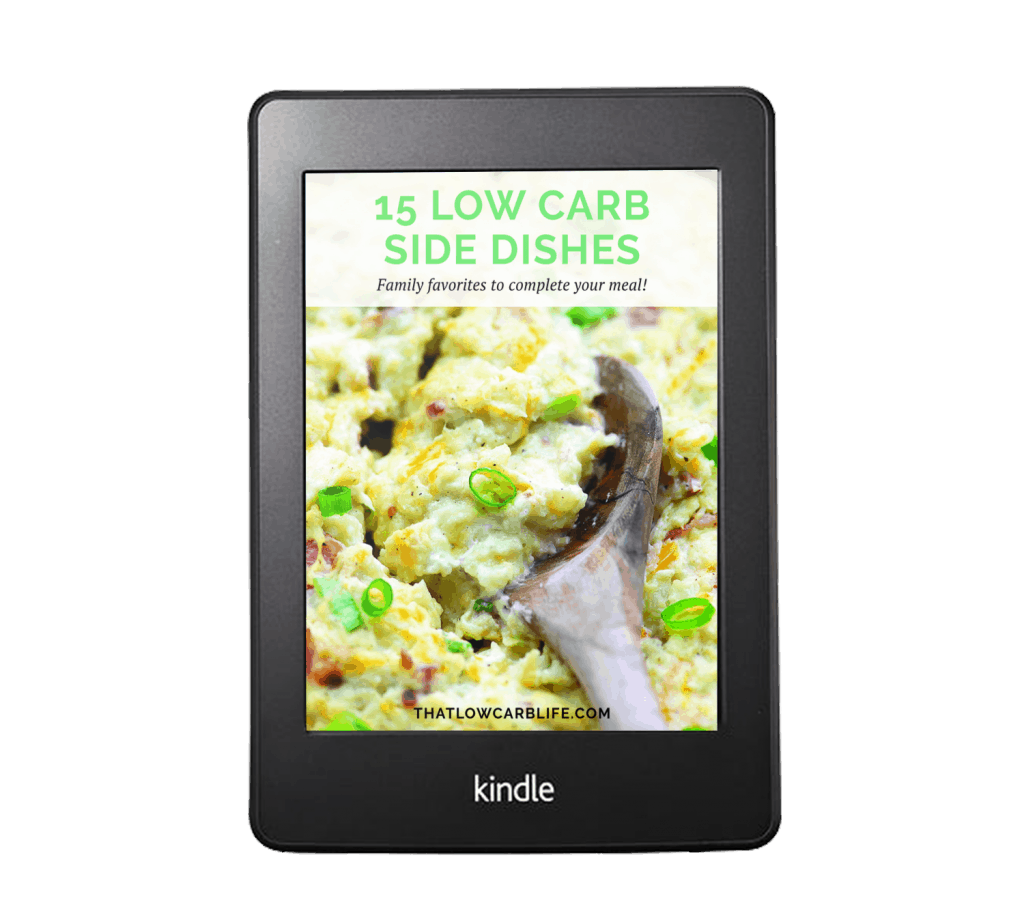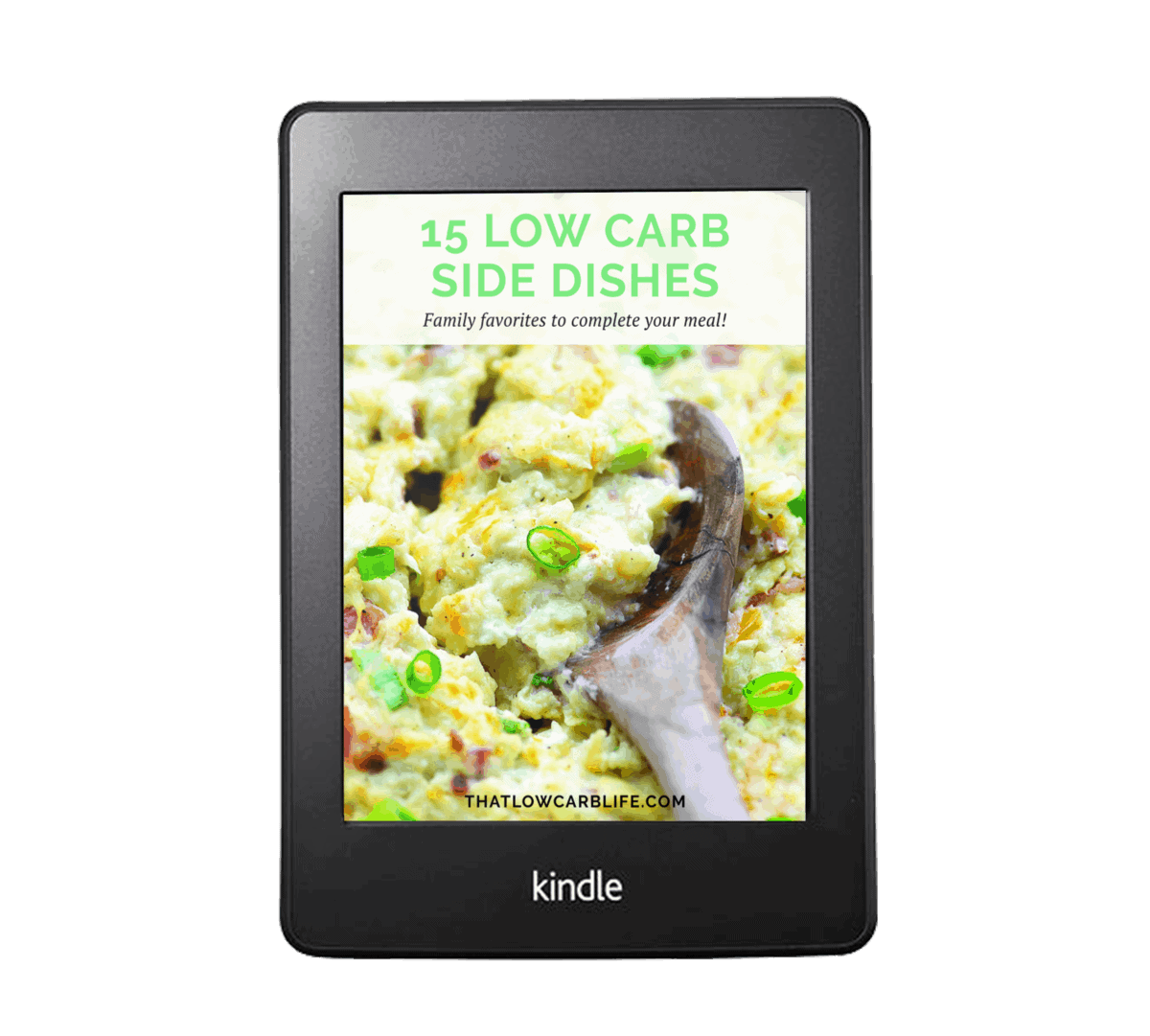 What to serve with roasted green beans: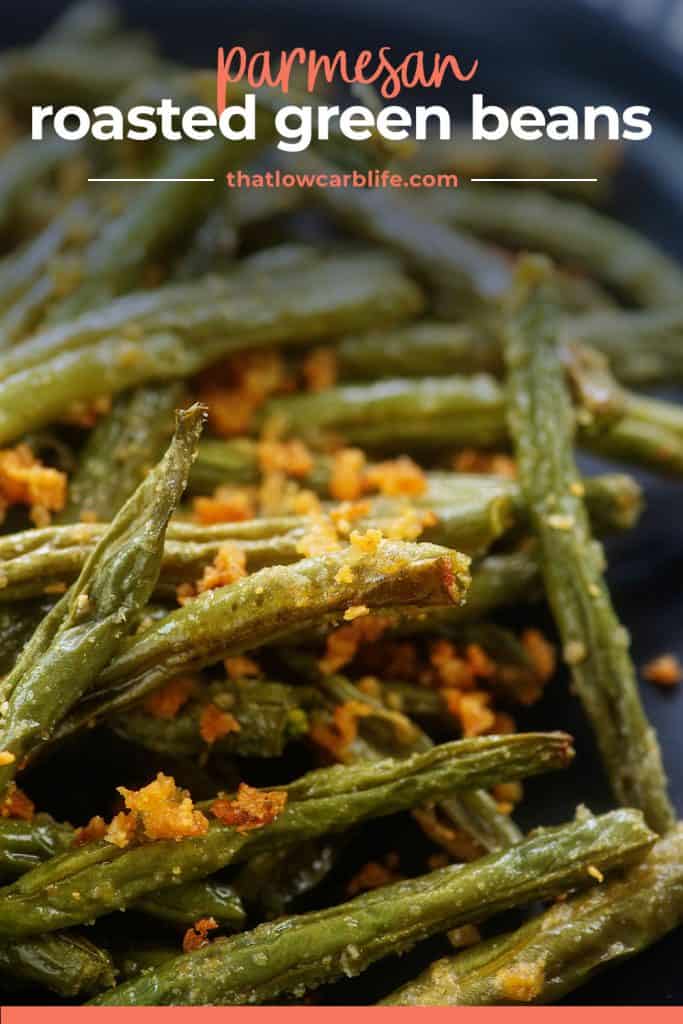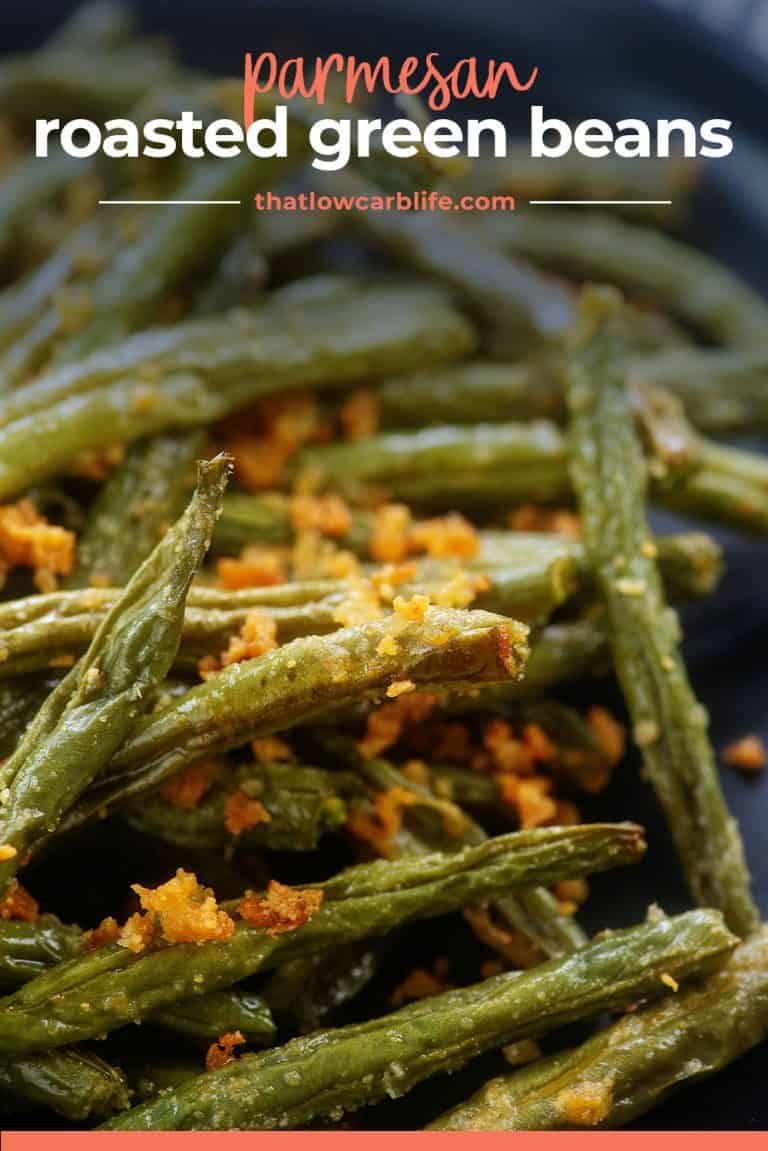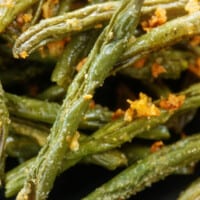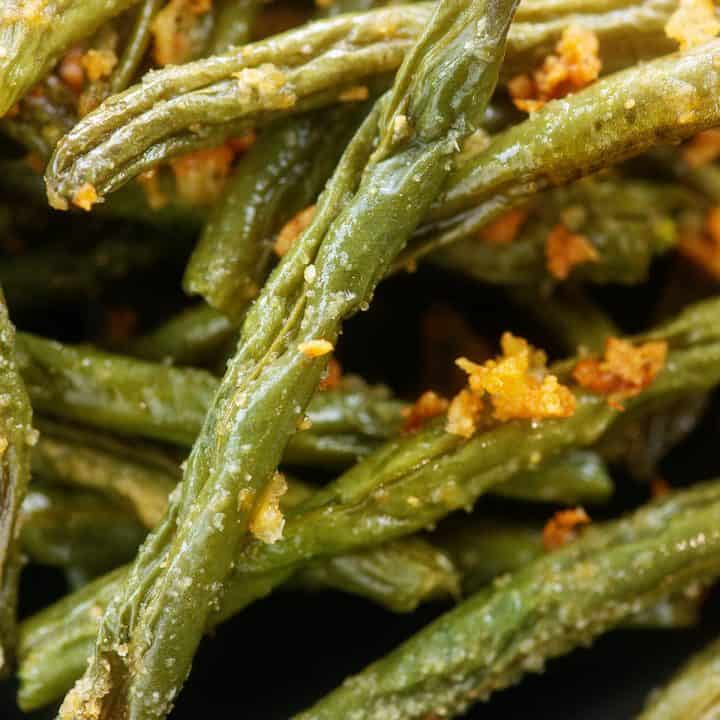 Parmesan Roasted Green Beans
These roasted green beans are tossed in Parmesan to give them a crunchy coating. Quick, simple, and these green beans are great with just about any main dish. We make them often.
Ingredients
1 pound fresh green beans, trimmed
1 tablespoon avocado oil
½ cup grated Parmesan
1 teaspoon garlic powder
1 teaspoon onion powder
½ teaspoon salt
½ teaspoon cracked pepper
Instructions
Preheat oven to 425 degrees.
Add the beans and oil to a large bowl and toss to coat.
Add the Parmesan, garlic powder, onion powder, salt, and pepper to a small bowl and stir to combine.
Pour the Parmesan mixture over the green beans and stir to coat.
Spread the green beans in an even layer in a large baking sheet, being careful not to overcrowd the pan.
Bake for 25 minutes or until beans are as tender as you'd like, flipping halfway through.
Serve hot.
Notes
We prefer to use avocado oil in cooking, but you can use any oil you have on hand.
We use the powdered Parmesan cheese in this recipe, but shredded would also work. The coating just won't be quite as consistent.
Recommended Products
As an Amazon Associate and member of other affiliate programs, I earn from qualifying purchases.
Nutrition Information:
Yield: 4
Amount Per Serving:
Calories: 123
Total Fat: 7g
Saturated Fat: 2g
Trans Fat: 0g
Unsaturated Fat: 4g
Cholesterol: 11mg
Sodium: 498mg
Carbohydrates: 11g
Net Carbohydrates: 8g
Fiber: 3g
Sugar: 4g
Protein: 6g
All information and tools presented and written within this site are intended for informational purposes only. This information is provided as a courtesy and there is no guarantee that the information is accurate.