These low carb fried deviled eggs have a crunchy coating over the creamy deviled egg filling! Deviled eggs are the perfect low carb snack and this really takes them over the top!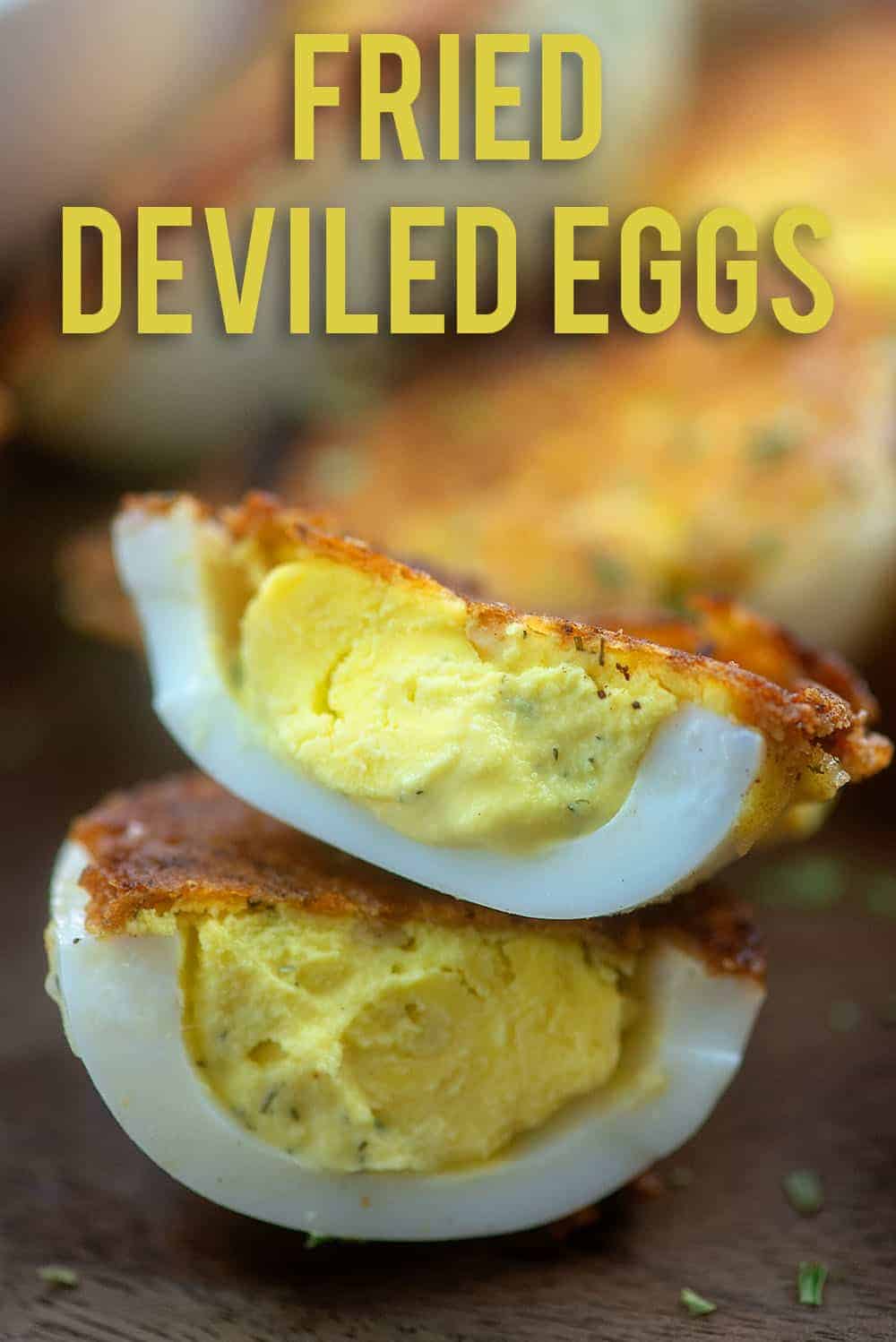 There are loads of recipes out there for deep fried deviled eggs that have the whites coated in bread crumbs and then deep fried. I'm sure those are delicious, but I'm sharing a low carb twist on the deep fried deviled egg with you today. You're going to love it.
Someone in my Facebook support group (you should join us! – it's free!) posted a photo of her deviled eggs cooked this way and I knew I had to experiment myself!
I could eat deviled eggs every day of my life and never tire of them. Especially my keto deviled eggs that are stuffed with cheddar and bacon.
Add a crunchy coating and OH YES. So good! These fried deviled eggs quickly became a favorite.
We eat hard boiled eggs regularly on keto, whether it's in the form of these fried deviled eggs or our deviled egg salad. Either way, I'm pretty sure they're the perfect low carb food!
How to Hard Boil Eggs:
This post contains affiliate links. As an Amazon associate and member of other affiliate programs, I earn from qualifying purchases.
Instant Pot Method: We use an Instant Pot for perfectly cooked eggs that peel like a dream. Just add the to the liner with one cup of water and cook on high pressure for 5 minutes.
Do a natural release for 5 minutes and then open the valve. Transfer the egg to an ice bath for 5 more minutes to stop the cooking.
Stove Top Method: Place the eggs in a sauce pan and add enough cold water to cover the eggs with 1 inch of water.
Place over medium heat and bring to a boil.
As soon as the water is boiling, remove from the heat and cover with a lid.
Air Fryer Method: Yes, you can make "boiled" eggs in the air fryer! It's really pretty simple. Check out this easy guide on how to air fry boiled eggs!
Ingredient Notes:
Boiled Eggs – You're going to need six boiled eggs for this recipe.
Deviled Egg Filling – You'll mix mayonnaise, yellow mustard, vinegar, dill, and salt with the egg yolks. This all gets mashed together to make the filling.
Parmesan – Before frying the deviled eggs you'll top them with some shredded Parmesan cheese!
Butter & Avocado Spray – For frying!
Why We Love This Recipe:
Everyone loves deviled eggs, but this puts a fun little twist on them!
The combo textures (firm egg whites, creamy filling, and crispy Parmesan) make for the perfect snack!
We always have eggs on hand, so these are easy to make any time the urge strikes!
How To Make Deviled Eggs: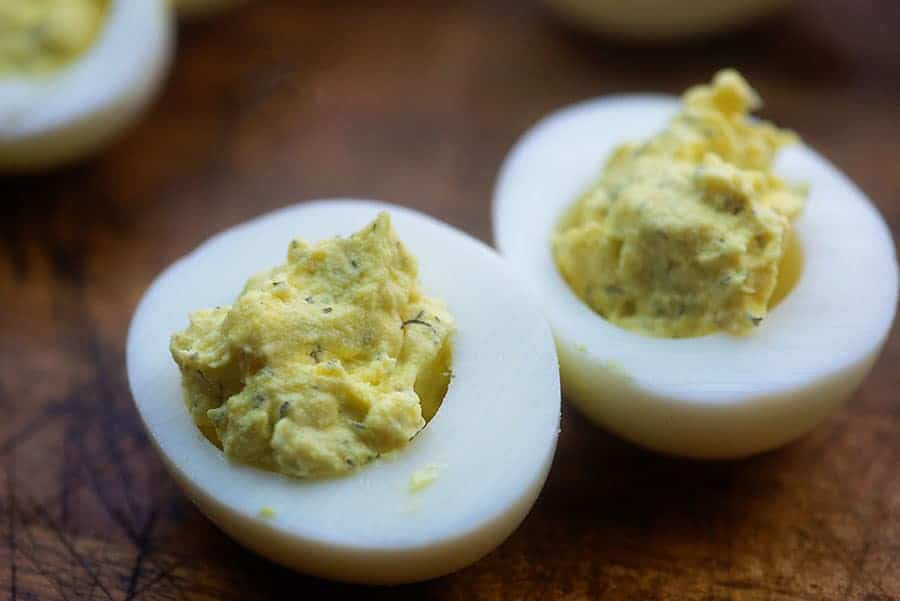 Boiled Eggs – Peel your eggs, sice in half, and pop the yolks into a mixing bowl. Set the whites aside.
Filling – Add the mayo, mustard, dill, and salt to the yolks and mash it up with a fork until it's mostly smooth. Spoon or pipe the mixture into the egg whites. Lightly spray the deviled eggs with the avocado oil (or Pam, if that's what you have) to help the Parmesan stick.
Parmesan – Sprinkle some shredded Parmesan on a plate and then start gently smashing the tops of the eggs with the filling into the shredded Parmesan cheese.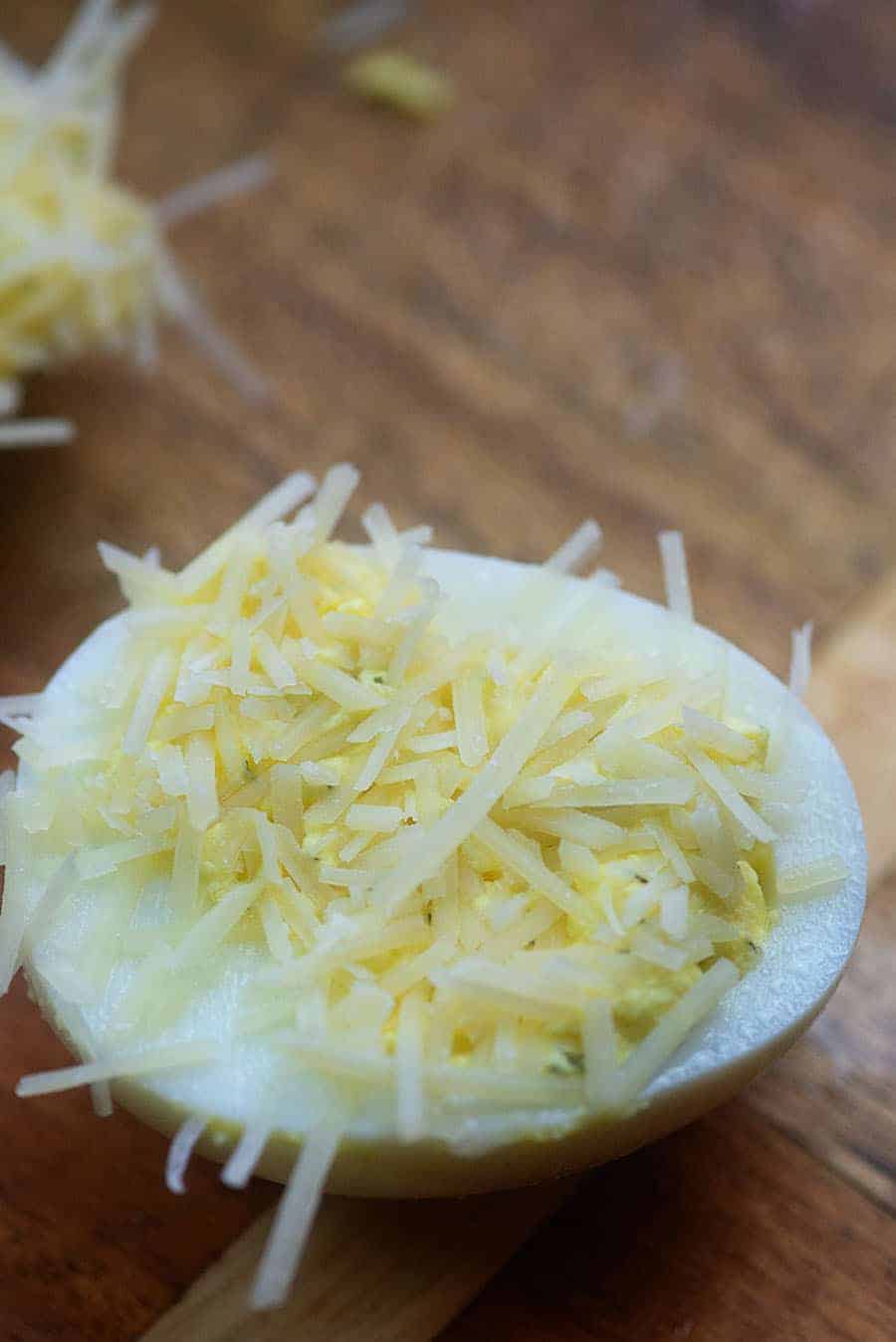 Fry – Heat up a skillet over medium heat and add in a tablespoon of butter. Once the butter is melted and hot, add your eggs to the skillet, cheese side facing down. Cook until the cheese is golden brown and crisp. Only takes a minute or two!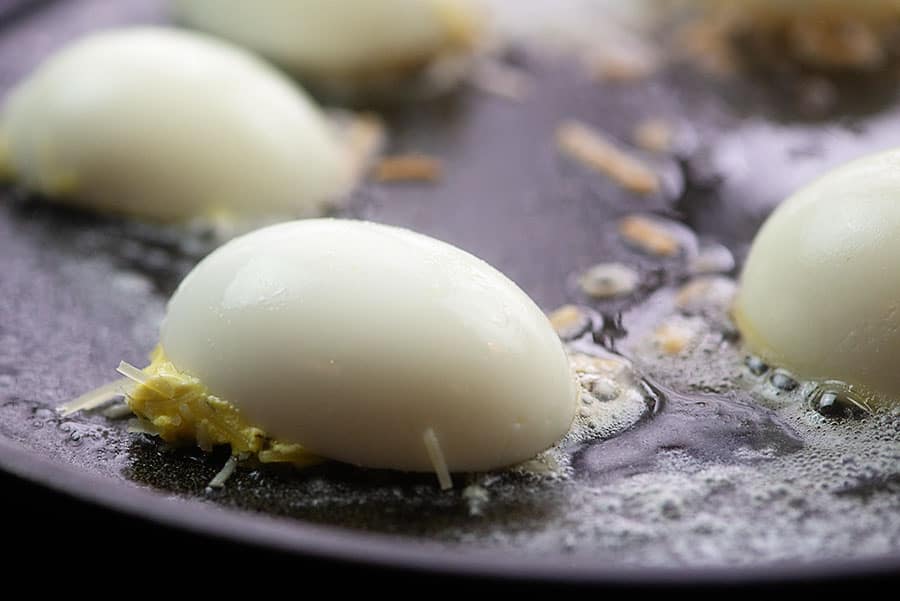 Serve – That's it, friends! You can eat these as they are, or you can whip up a simple little dip of mayo and stone ground mustard. The eggs are already deviled so the dip isn't really necessary, but I never turn down dip.
I think you'll love these eggs, especially if you already like those Parmesan cheese 'crackers'. They have the same vibe going on.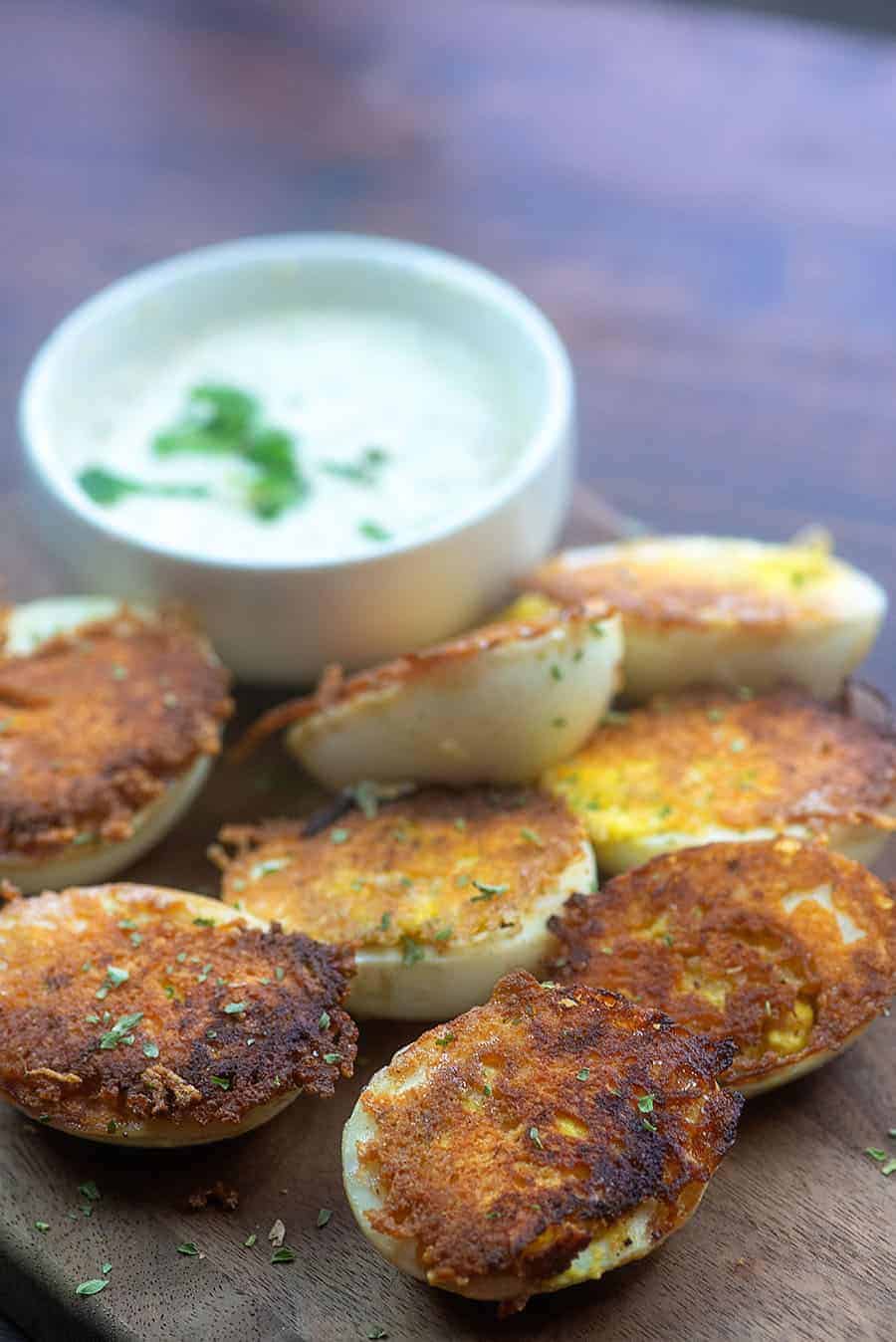 FAQs:
How long do deviled eggs last?
Deviled eggs will last in the fridge for about 2-3 days. These are best served fresh as the crispy coating will go soggy after being refrigerated.
Why do you use avocado oil spray?
The avocado oil spray helps the Parmesan stick to the egg whites so that you have a nice even layer of crispy cheese over the eggs after frying. You can use any oil spray you like, such as Pam. We're just partial to avocado oil spray and think it's a nice, healthy option.
More Keto Egg Recipes: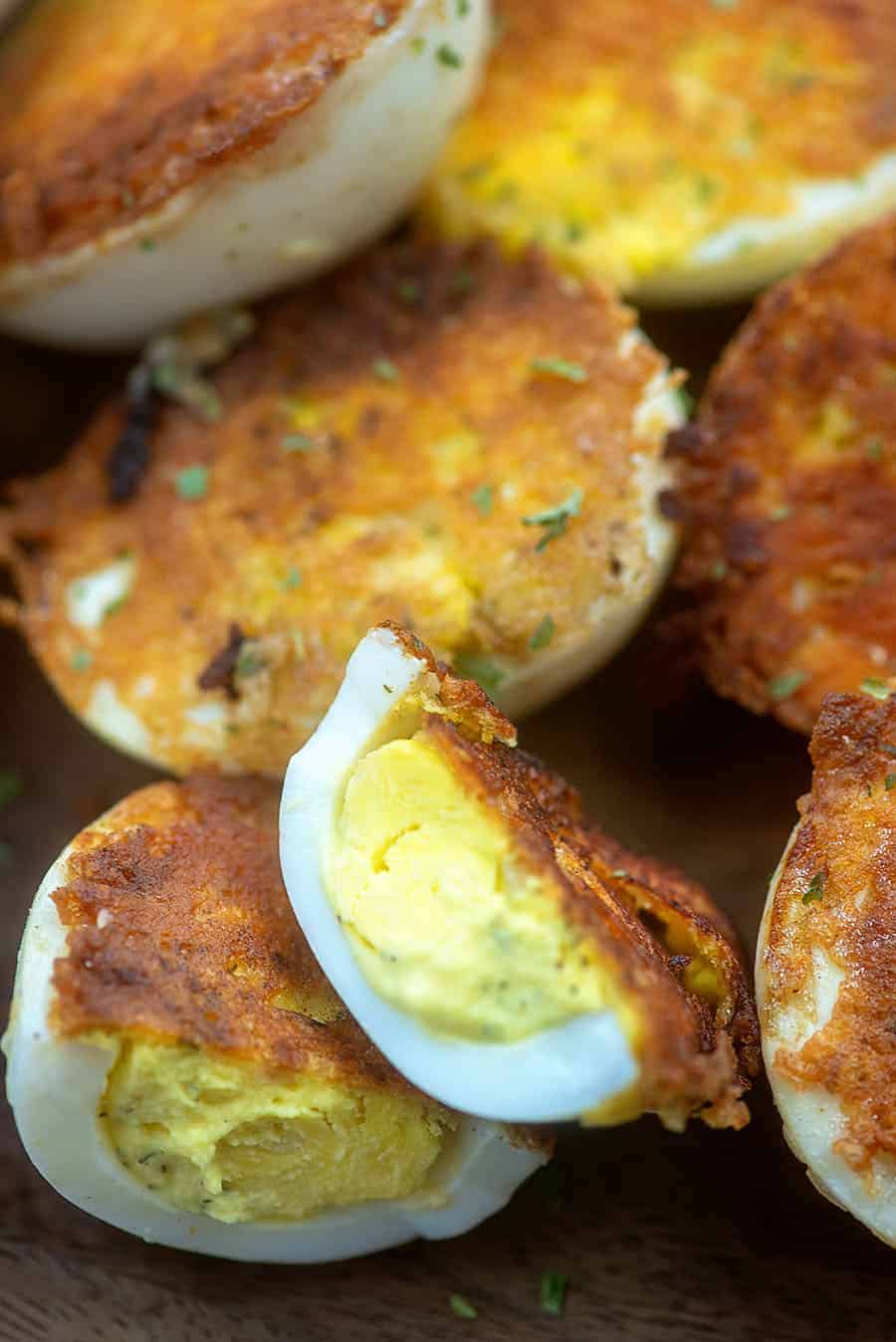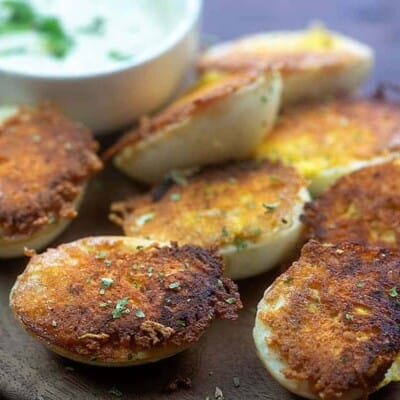 Fried Deviled Eggs
Deviled eggs with a crispy, crunchy cheese coating!
Prep10 minutes
Cook3 minutes
Total13 minutes
Ingredients
6 boiled eggs
1/4 cup mayonnaise
2 teaspoons yellow mustard
1 teaspoon white vinegar
1/2 teaspoon dill
1/8 teaspoon salt
Avocado spray
1 cup shredded Parmesan
2 tablespoons butter
Instructions
Slice the eggs in half and remove the yolks to a small bowl. Set whites aside.

Add the mayonnaise, mustard, vinegar, dill, and salt to the bowl with the yolks and stir well to combine, mashing the yolks as you stir. When the mixture is mostly smooth, spoon it evenly into the egg whites. Spray the deviled eggs lightly with avocado spray or any non-stick cooking spray.

Place the Parmesan on a plate and press the tops of the eggs into the Parmesan to coat.

Heat a large skillet over medium heat and add one tablespoon of butter. Once the butter has melted and coated the pan, add half of the eggs, cheese side down, to the skillet and cook for 3 minutes or until the cheese is golden and crisp. Carefully remove the eggs to a serving tray.

Add the remaining tablespoon of butter to the skillet and fry the remaining eggs.

Serve immediately.
Tips & Notes:
To make a dip for the eggs, add 1/4 cup of mayonnaise and 2 tablespoons of stone ground mustard to a small bowl and whisk to combine.
Nutrition Information:
Serving: 1egg| Calories: 134kcal (7%)| Carbohydrates: 2g (1%)| Protein: 6g (12%)| Fat: 12g (18%)| Saturated Fat: 4g (25%)| Polyunsaturated Fat: 7g| Cholesterol: 105mg (35%)| Sodium: 220mg (10%)| Fiber: 1g (4%)| Net Carbs: 1g (2%)