These HORSERADISH DEVILED EGGS are a nice twist on a classic and they're super easy to prepare. If you like the bite of horseradish, you'll love these creamy deviled eggs!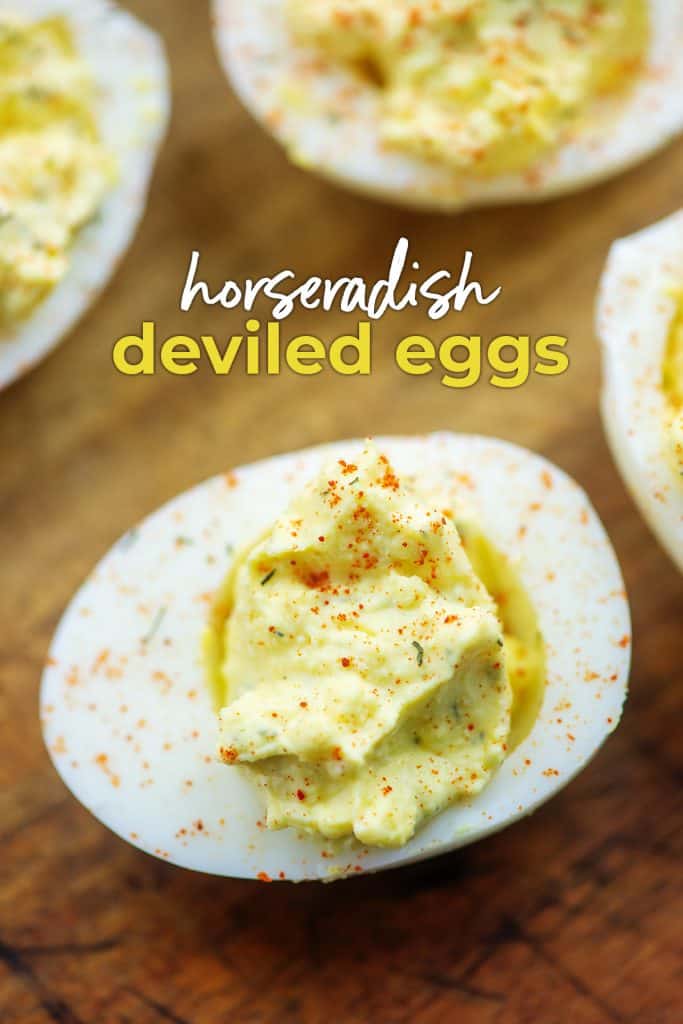 Deviled eggs are a whole thing around my house.
It's pretty rare that we don't have a dish of deviled eggs in the fridge to grab for snacking or to serve alongside dinner.
I mean, they're basically the perfect keto snack!
We get tired of eating the same eggs day after day, so I've come up with A LOT of variations – keep scrolling to the bottom! I'll link all of my deviled egg recipes for you. 🙂
Horseradish is something that I like in moderation every now and then. It's perfect in a bloody mary, I absolutely must have it with my Arby's chaffle, and it's delicious with prime rib.
I don't use it in a ton of other ways though, so I thought it was fun to experiment and out came these horseradish deviled eggs!
How to:
Boil your eggs and slice them in half. Pop the yolks out into a small bowl and set the whites aside.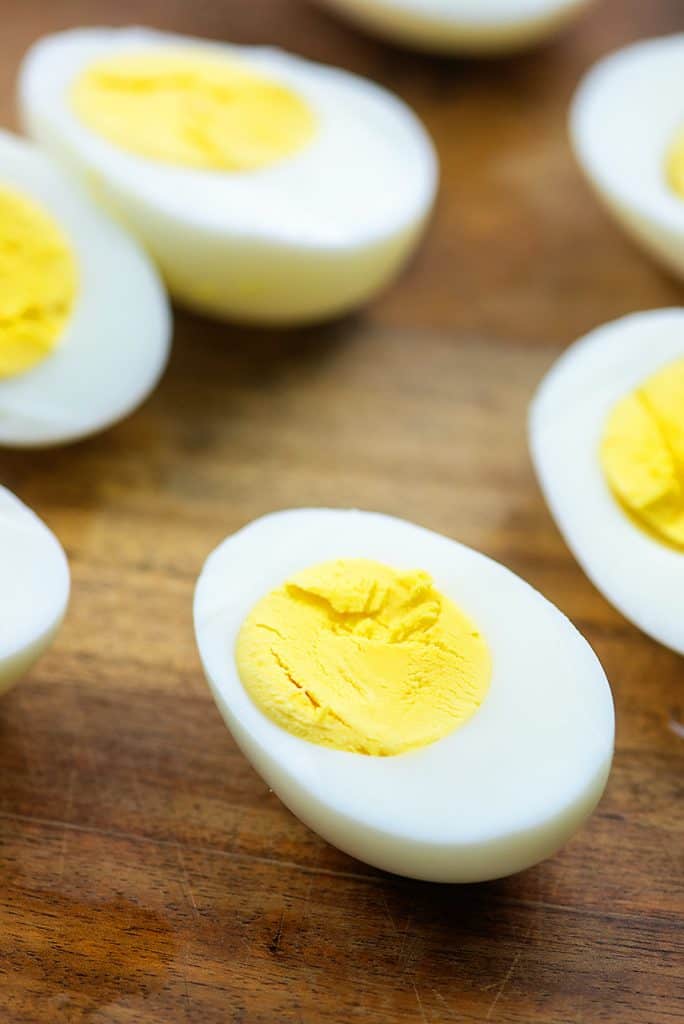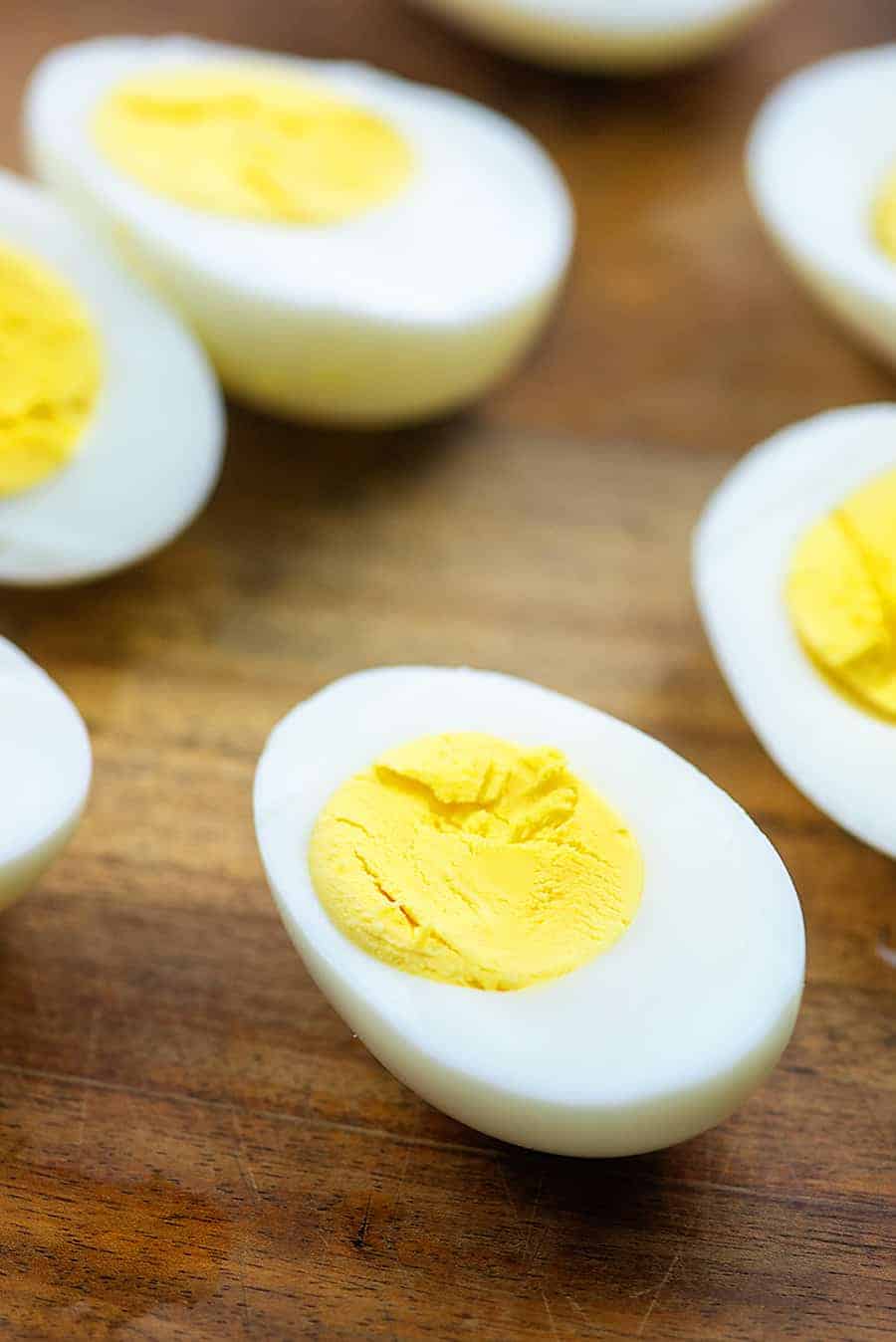 Add the mayonnaise, prepared horseradish, mustard, dill, and salt to the bowl with the yolks and use a fork to mash the mixture together.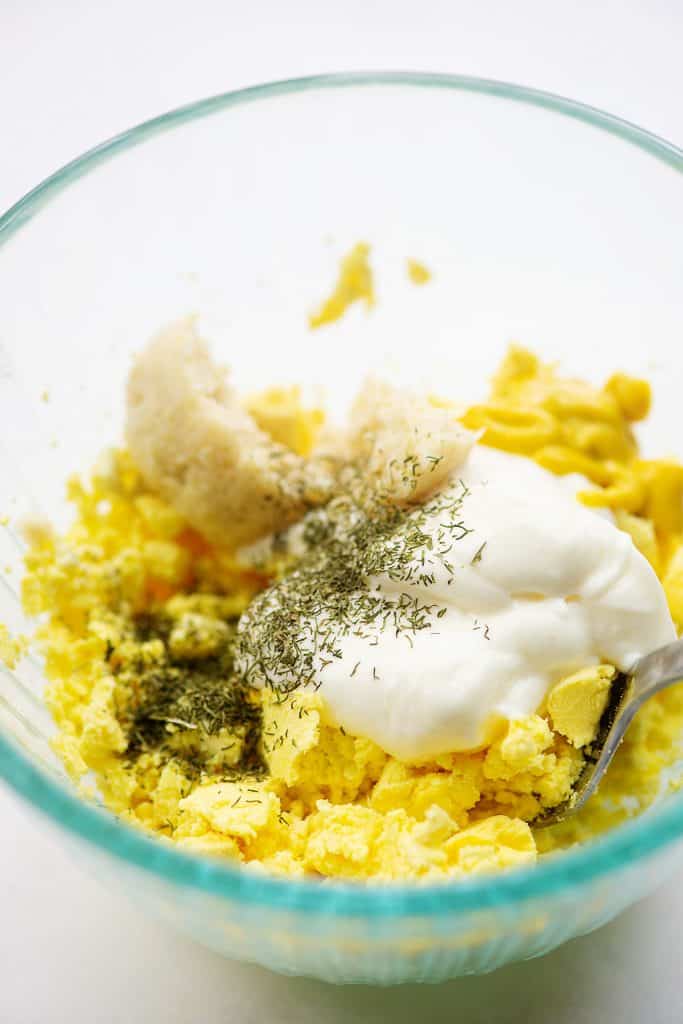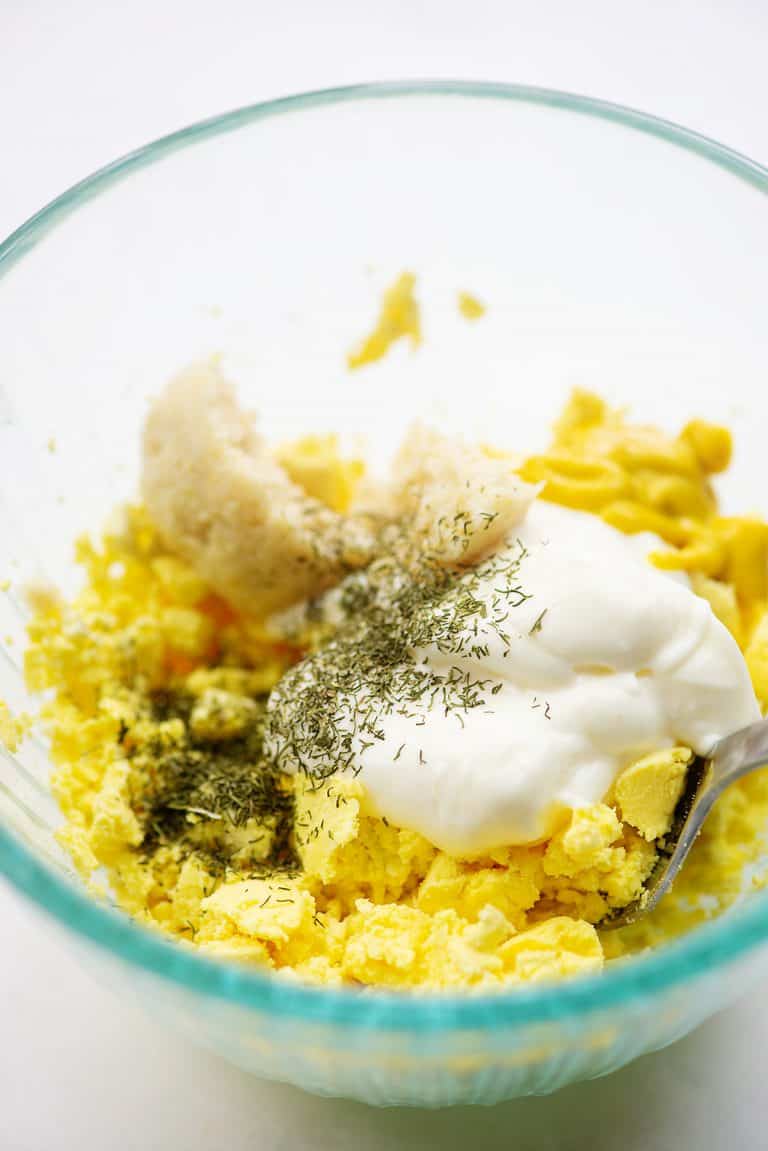 We like our filling to be nice and creamy, so we just mash away with the fork until we have a smooth texture.
Spoon or pipe the filling evenly between the egg whites.
We almost always garnish our deviled eggs with a sprinkle of paprika and extra dill.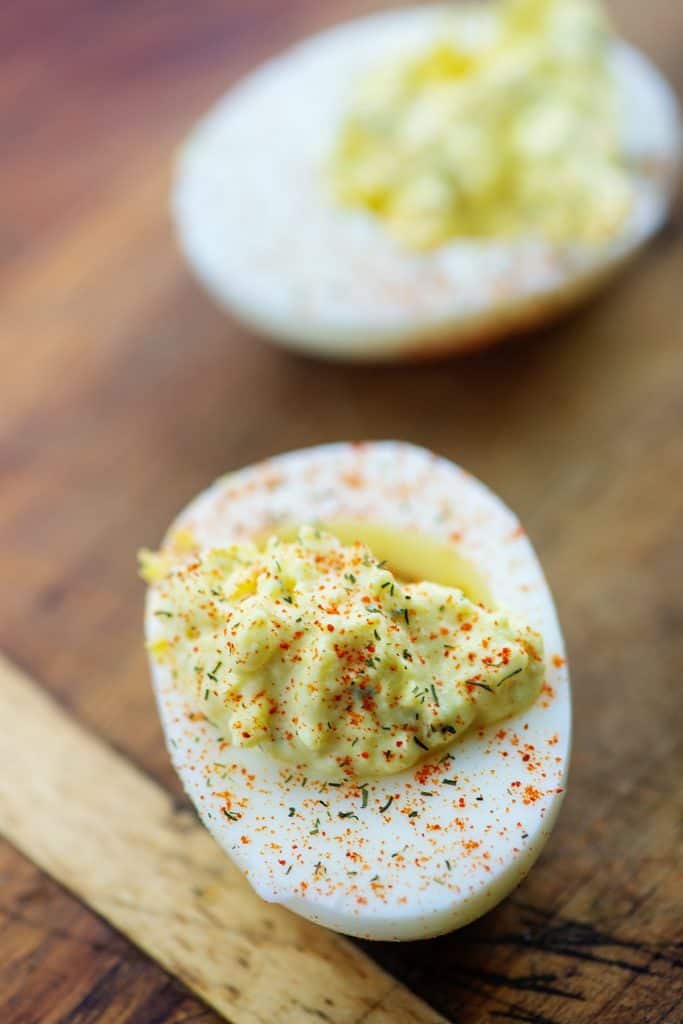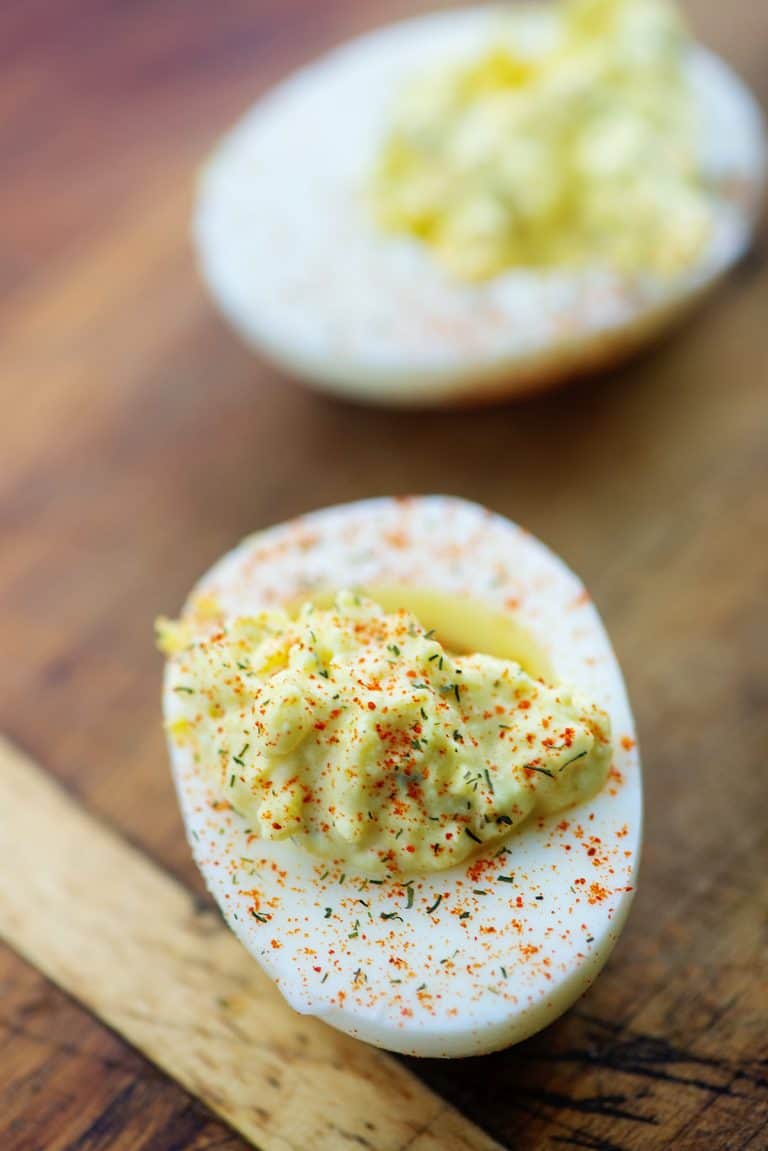 The bold taste of horseradish really makes these eggs flavorful and unique. I think you'll love this recipe!
How to boil eggs:
There are a couple of methods for cooking your eggs to make deviled eggs.
Stove Top Method: Place the eggs in a sauce pan and cover with 1 inch of cold water. Bring to a boil, turn off the heat, and cover the pan. Let the eggs sit for 15 minutes, drain the water, and cool.
Instant Pot Method: Place the eggs in an Instant Pot with 1 cup of water. Cook on high pressure for 5 minutes. Release the pressure after 5 minutes and place the eggs in an ice bath to cool down.
The Instant Pot method is my favorite method because it's quick, easy, and the eggs peel like a dream. The shells just slip right off.
If you're using the stove top method, use older eggs – they'll peel easier than fresh eggs.
More deviled egg recipes: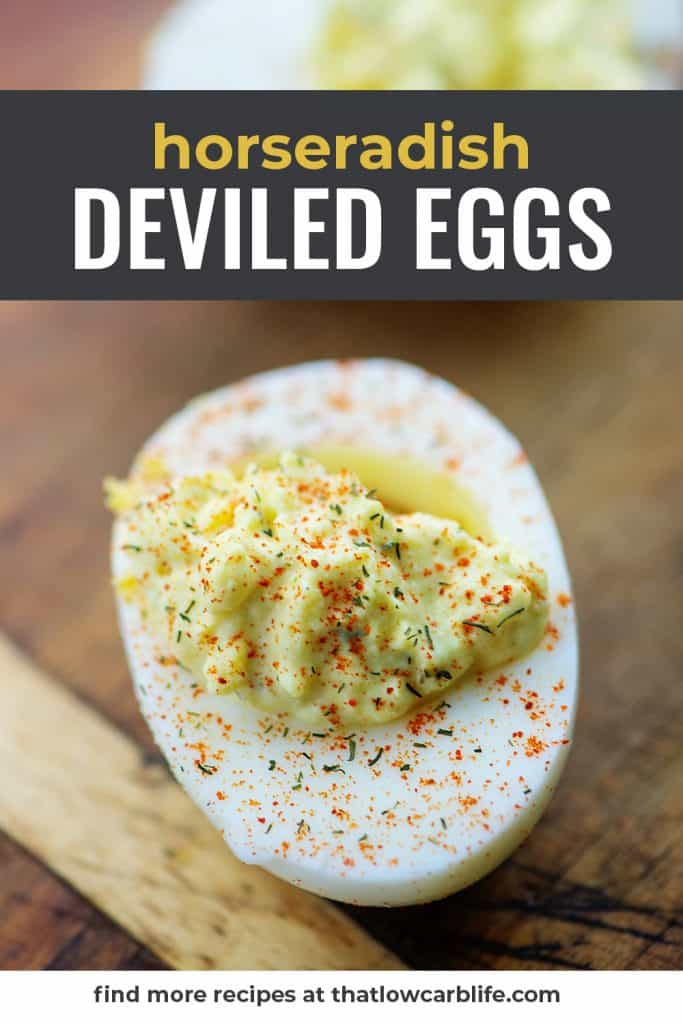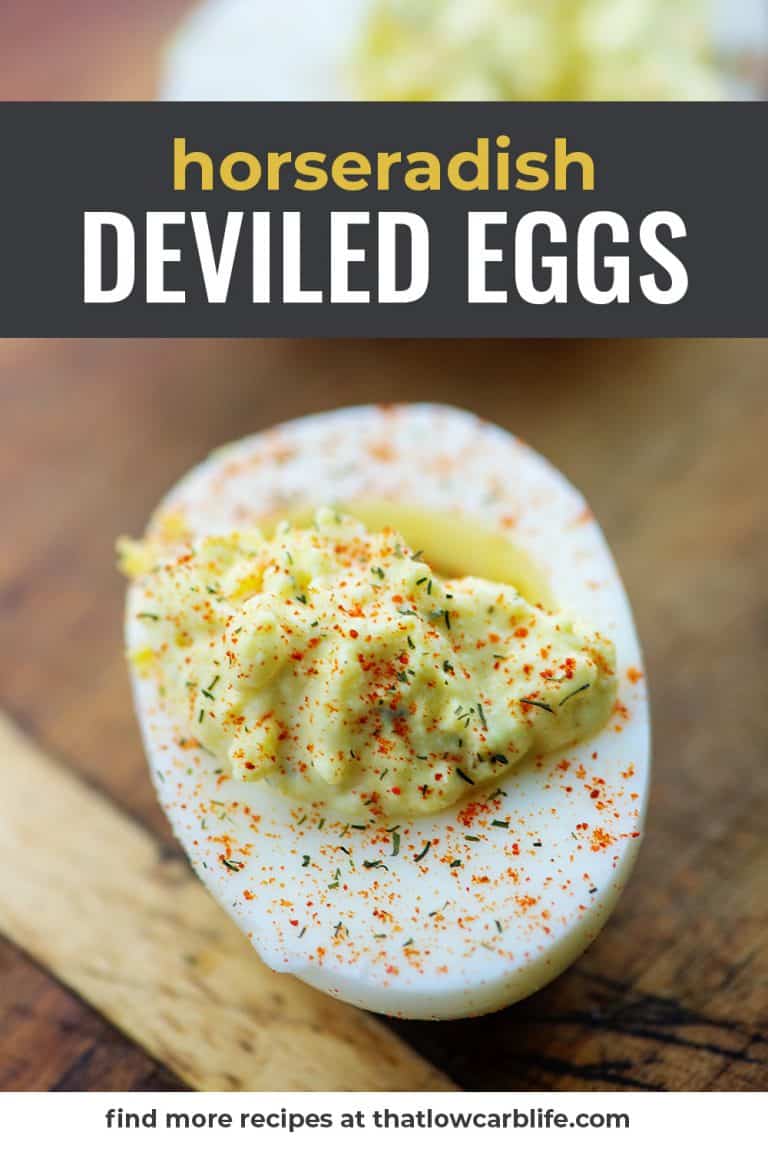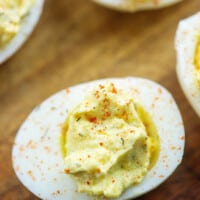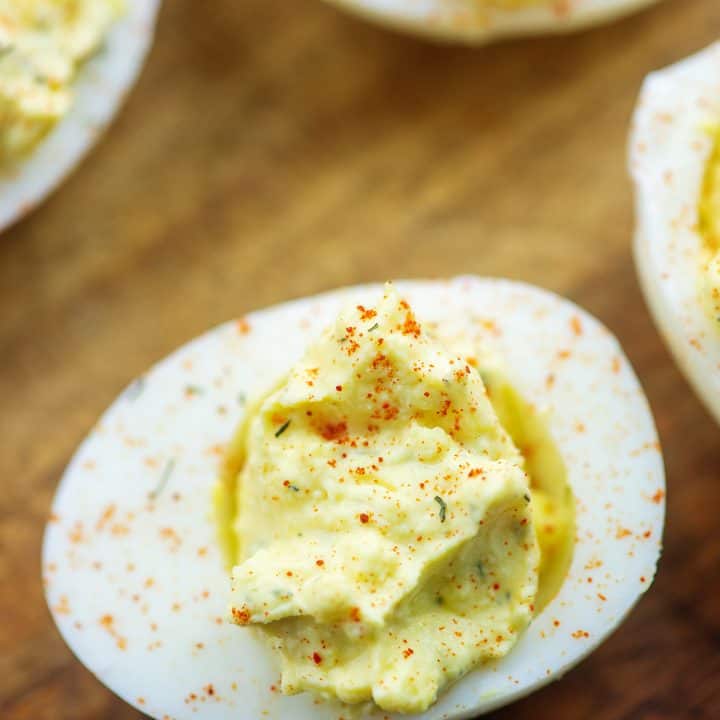 Horseradish Deviled Eggs
These deviled eggs get a punch of flavor thanks to the horseradish. They're always a hit with friends and family and they make a great low carb snack.
Ingredients
6 hard boiled eggs
¼ cup mayonnaise
1 tablespoon prepared horseradish
1 teaspoon prepared yellow mustard
1 teaspoon fresh dill
½ teaspoon salt
Paprika, for garnish
Instructions
Slice the eggs in half length-wise and pop the yolks out into a small bowl. Set the egg whites aside.
Add the mayonnaise, horseradish, mustard, dill, and salt to the yolks and use a fork to mash the mixture together until smooth and creamy. Taste and add additional horseradish or salt, if desired.
Spoon or pipe the filling into the egg whites.
Sprinkle with paprika before serving.
Notes
Deviled eggs will last in the fridge for up to 4 days.
Nutrition Information:
Yield: 12
Serving Size: 1
Amount Per Serving:
Calories: 71
Total Fat: 6g
Saturated Fat: 1g
Trans Fat: 0g
Unsaturated Fat: 4g
Cholesterol: 95mg
Sodium: 158mg
Carbohydrates: 1g
Net Carbohydrates: 1g
Fiber: 0g
Sugar: 0g
Protein: 3g
All information and tools presented and written within this site are intended for informational purposes only. This information is provided as a courtesy and there is no guarantee that the information is accurate.