Simple deviled eggs with a fun addition – green olives! The salty punch of the olive pairs so well with the creamy mayo in this deviled egg recipe!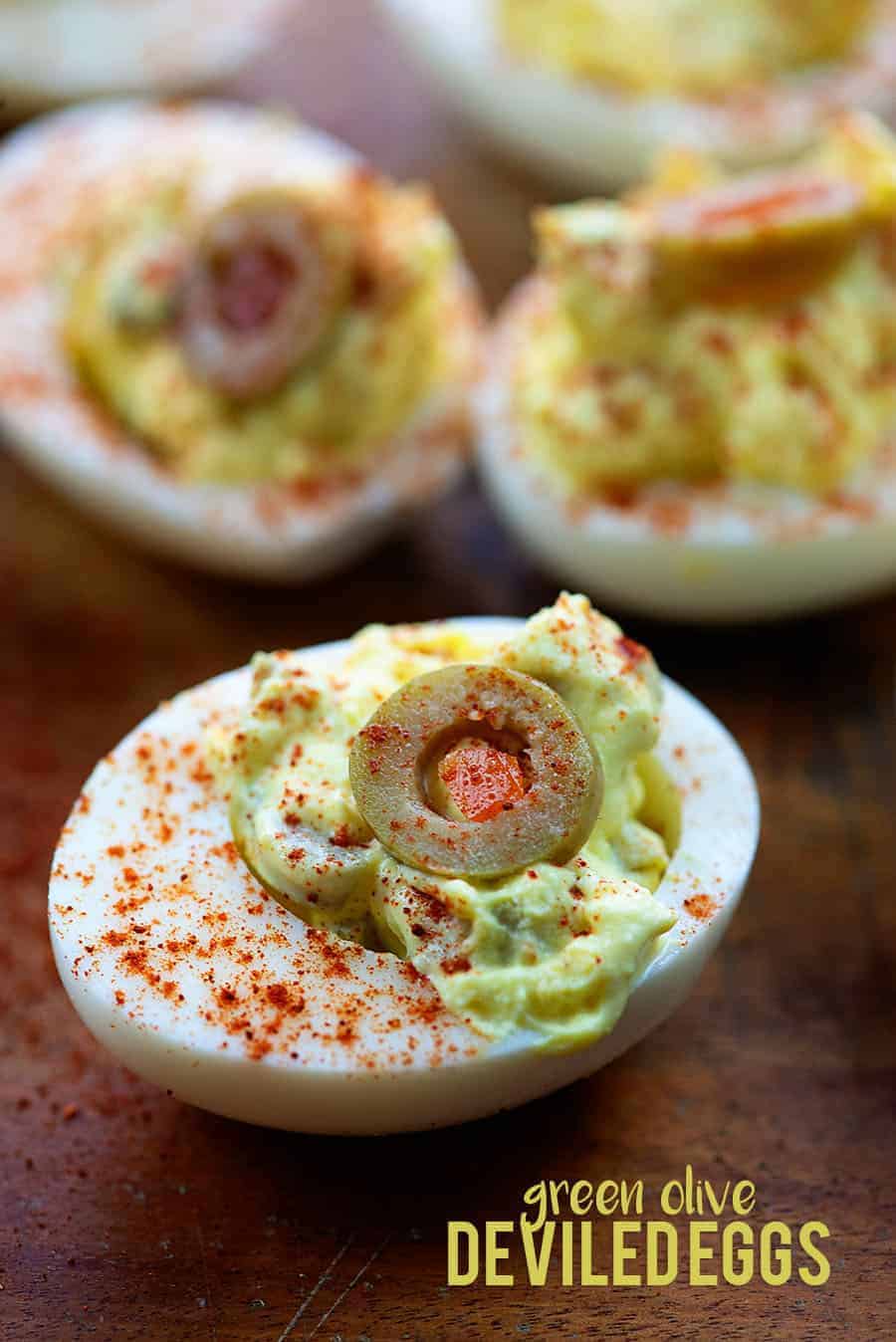 There is one thing that I pretty much always have in my refrigerator.
Eggs.
Well…cheese, too.
Also, bacon.
Okay, fine. I keep my fridge stocked pretty well, but eggs, cheese, and bacon are definitely the staples.
I like to have a bowl full of hard boiled eggs hanging out in the fridge at all times. I can grab one for a quick snack or I can turn them into deviled eggs with bacon or avocado egg salad.
Lately, I've been craving green olives so I figured I'd better chop 'em up and stick them in some easy deviled eggs.
Green olives, like pickles, make a great low carb snack. They're so full of flavor and the salt really helps curb any other cravings you might be having. The next time you want a sweet, try eating a couple pickles or olives. I bet your sweet craving disappears!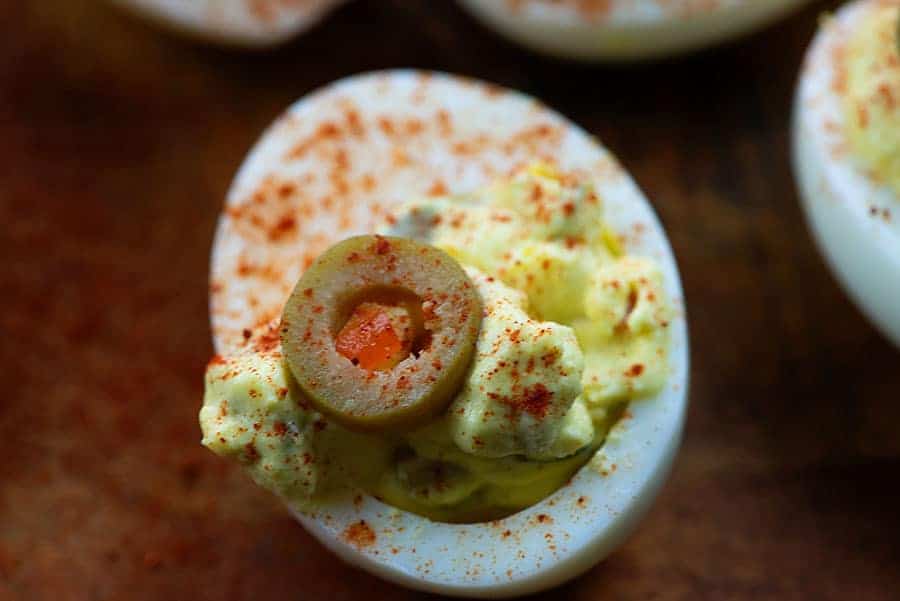 How to make hard boiled eggs:
Stovetop Method:
Start by adding eggs to an empty pot. Fill with just enough water to cover the eggs by one inch.
Bring the water to a boil, remove from the heat, and cover the pan. Let sit 15 minutes.
After 15 minutes, remove the eggs to an ice bath to cool down.
This method produces perfectly cooked eggs, but they'll often be hard to peel if you're eggs are really fresh.
There are all kinds of tricks out there about adding baking soda to the water, etc. but I've found the best way to ensure eggs peel is easily is to just use older eggs OR to use the Instant Pot.
I much prefer boiling my eggs in my Instant Pot. Any pressure cooker will work fine for this method.
Instant Pot Hard Boiled Eggs:
Instant Pot boiled eggs are my favorite, because they're really simple to make and they peel so easily. The shell slips right off the eggs.
This is the Instant Pot (affiliate link) I use and I love it!
To start, add 1 cup of water to your pressure cooker and stick in as many eggs as you'd like – just be sure to only fill with a single layer of eggs.
There is no need to use your trivet. Just place your eggs directly into the water.
Close the lid, set your vent to sealing, and cook on high pressure for 5 minutes.
Let the pressure release naturally for 5 minutes and then transfer your eggs to an ice bath to cool down.
Easy peasy!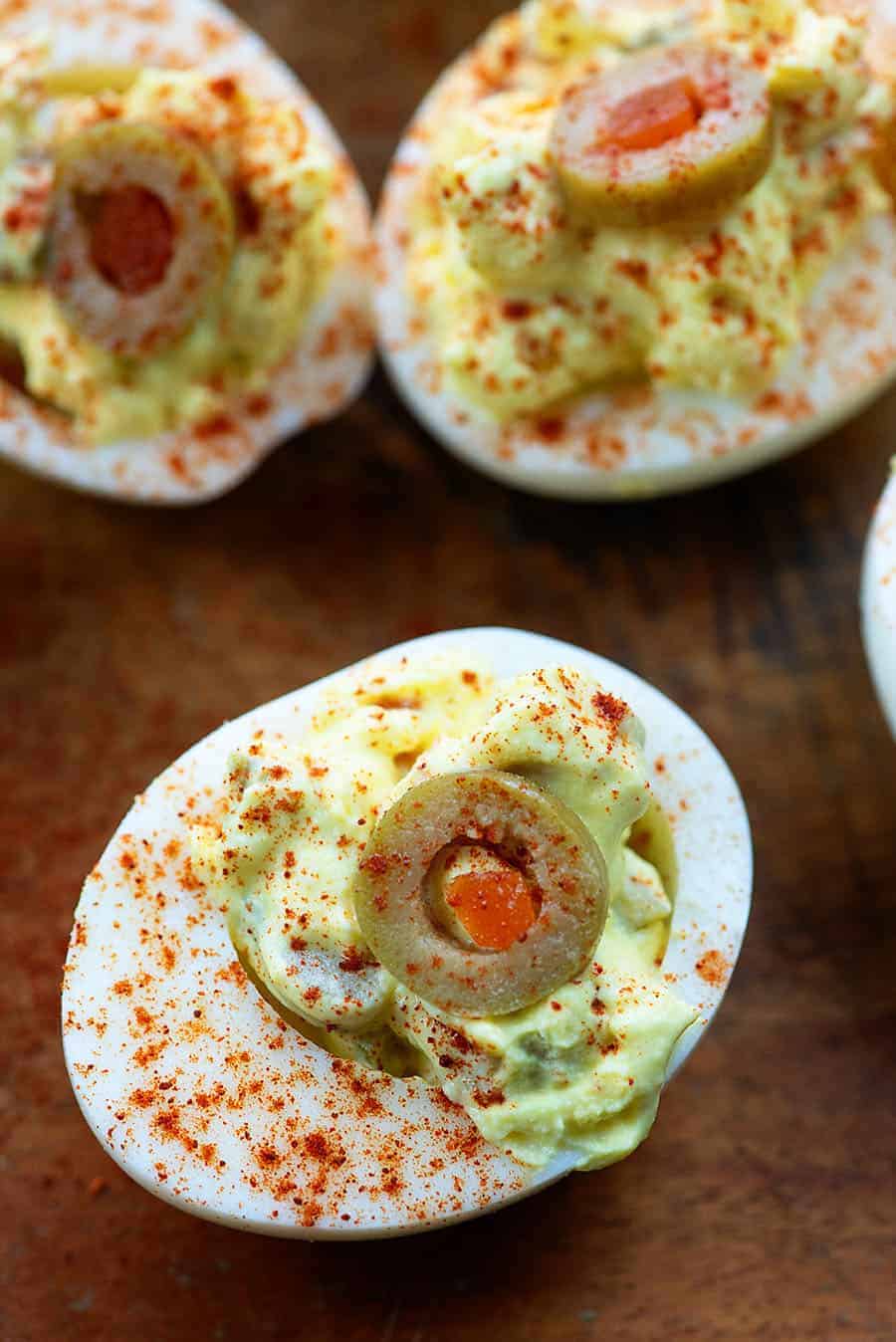 How to make deviled eggs:
Once your eggs have cooled, slice them in half and pop the yolks out of the whites and into a small bowl.
Mash the yolks with a fork.
Add your mayonnaise, a little bit of olive brine, and some chopped olives to the yolks and stir well to combine.
Taste the mixture and add salt if desired. I generally don't, as green olives tend to be salty enough on their own.
Spoon the mixture into the egg whites and sprinkle the tops with paprika.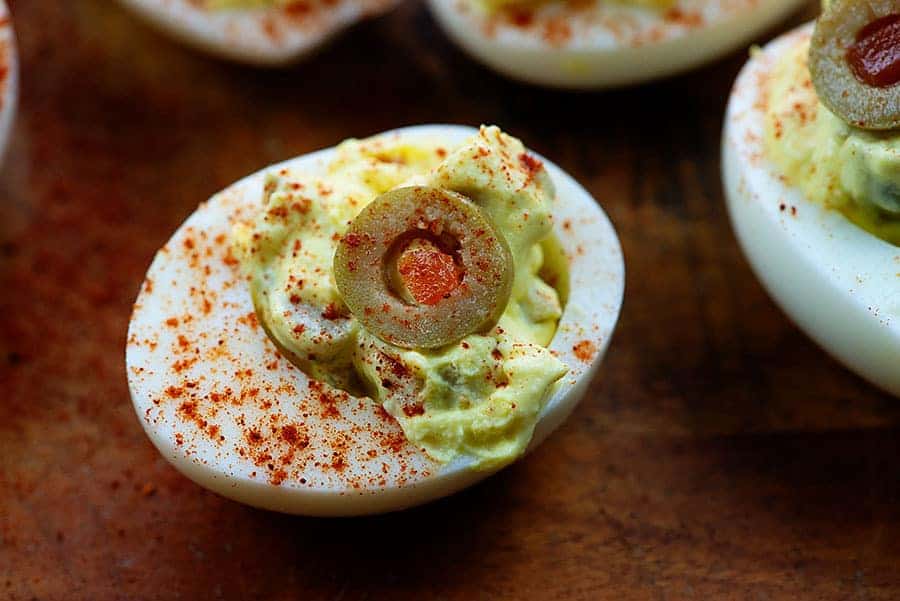 How long do deviled eggs keep in the refrigerator?
Eggs last for quite some time in the fridge, but once you boil and peel them, you really need to eat them within 3-4 days.
Store them in a shallow dish, tightly covered. Alternately, this deviled egg tray (affiliate link) makes storing and transporting eggs a breeze. I use it all the time!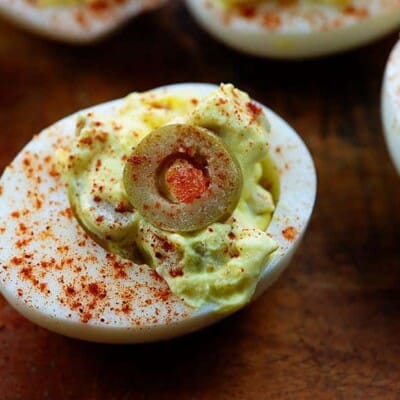 Green Olive Deviled Eggs
These deviled eggs are so flavorful thanks to the addition of green olives! If you enjoy olives, you have to try this recipe!
Prep5 minutes
Total5 minutes
Ingredients
6 large boiled eggs
3 tablespoons mayonnaise
1 tablespoon olive brine
1/4 cup chopped green olives
1/4 teaspoon paprika
Instructions
Slice the eggs in half lengthwise. Scoop the yolks out into a small bowl and mash with a fork. Set whites aside.

Add the mayonnaise, olive brine, and chopped olives to the yolks and stir well to combine.

Spoon the yolk mixture into the whites of the eggs. Sprinkle with paprika.

Store, tightly covered, in the refrigerator for 3-4 days.
Tips & Notes:
Making hard boiled eggs in the Instant Pot is the easiest method I've found! Cook on high pressure with 1 cup of water for 5 minutes, natural release for 5 minutes, and then place eggs in an ice bath for 5 minutes. The eggs peel so easily!
Nutrition Information:
Serving: 1egg| Calories: 70kcal (4%)| Carbohydrates: 1g| Protein: 3g (6%)| Fat: 6g (9%)| Saturated Fat: 1g (6%)| Polyunsaturated Fat: 4g| Cholesterol: 95mg (32%)| Sodium: 132mg (6%)| Net Carbs: 1g (2%)