These LOADED DEVILED EGGS have all of the best parts of a loaded baked potato stuffed inside an egg white! Bacon, sour cream, chives, and the best part…these are keto friendly and the whole family will love these.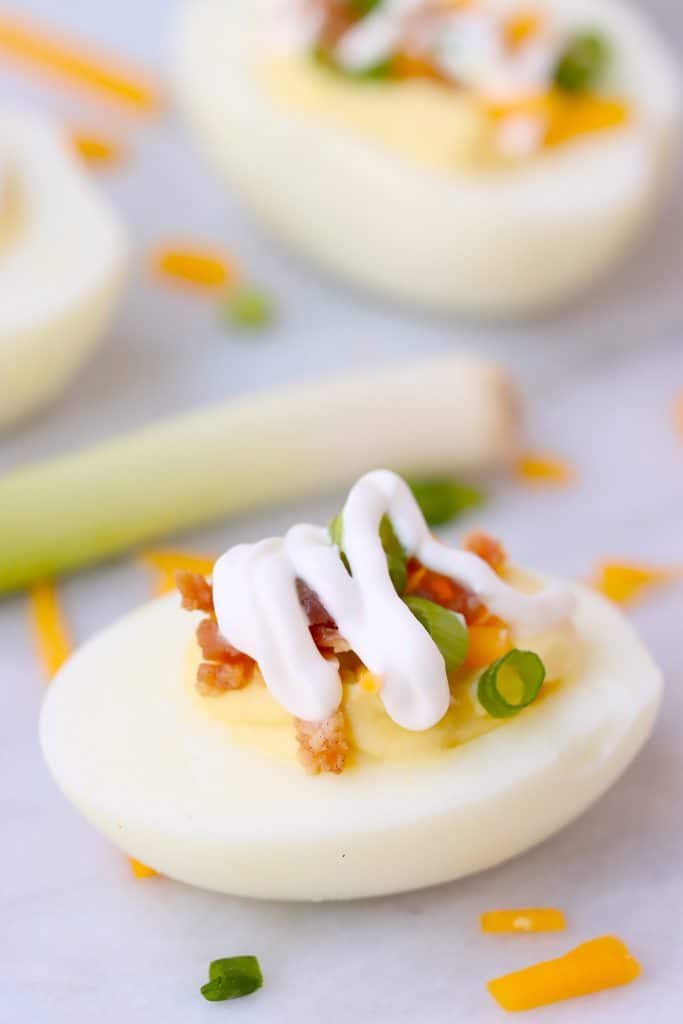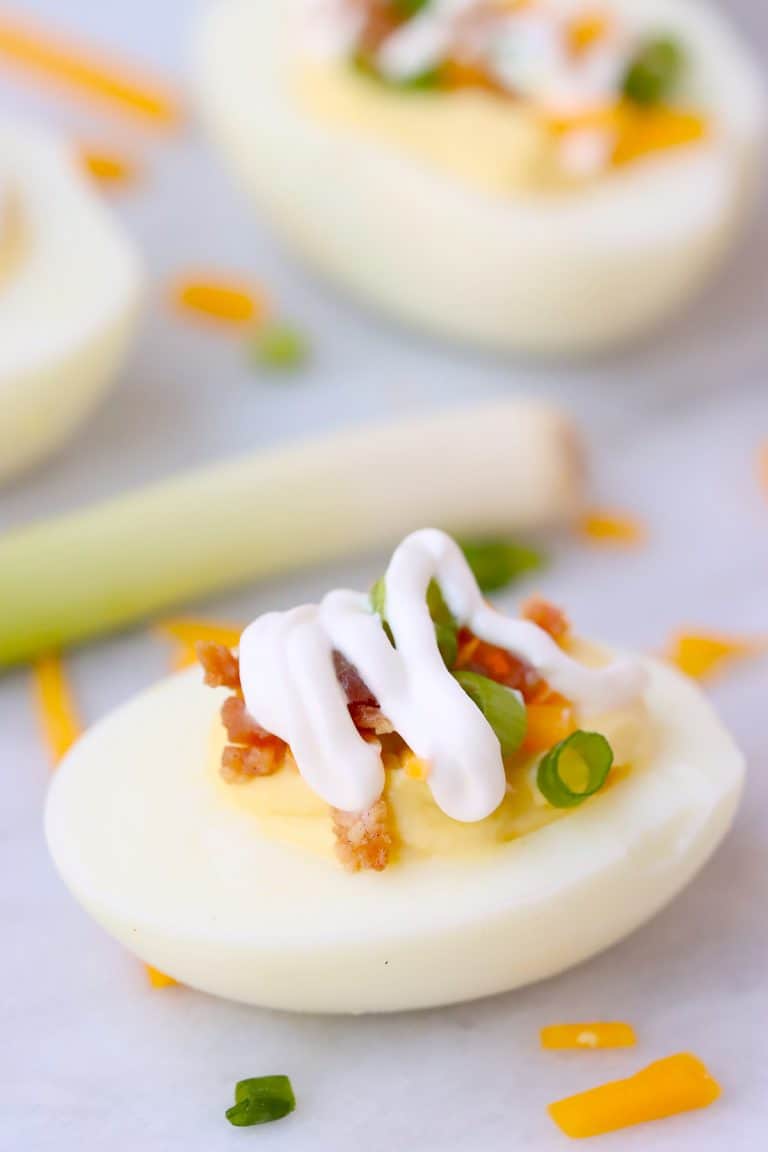 If you've been around here for long, you probably have picked up on my obsession with deviled eggs.
I mean, they really are the perfect low carb snack – they're full of protein and fat, they're naturally low carb, they keep you full, and they're easy to make!
Just when I think I've run out of deviled egg creations, a new idea pops up.
I'm honestly surprised it took me so long to think up this creation! Loaded anything is my favorite – we do loaded broccoli, loaded cauliflower bake, and loaded zucchini skins every chance we get.
Normally, I like my deviled eggs to be really creamy and add a good amount of mayo to get that texture.
This time around, we skimped a bit on the sour cream to make the texture a bit drier. <– Sounds like a bad thing, but it was intentional!
Think about a baked potato…they're not really runny or wet or super moist. They are starchy. We think the drier texture of the egg yolk mixture resembles a baked potato much more accurately than a wetter, creamier filling.
That said, feel free to add extra sour cream to reach your perfect level of deviled egg goodness! You really can't mess up a deviled egg. 🙂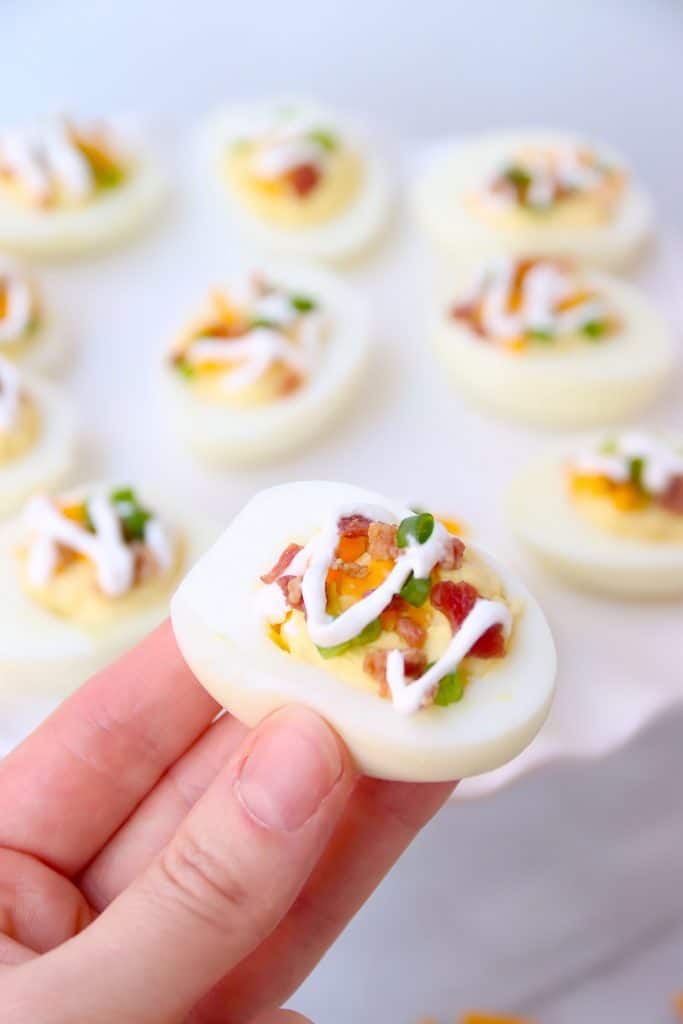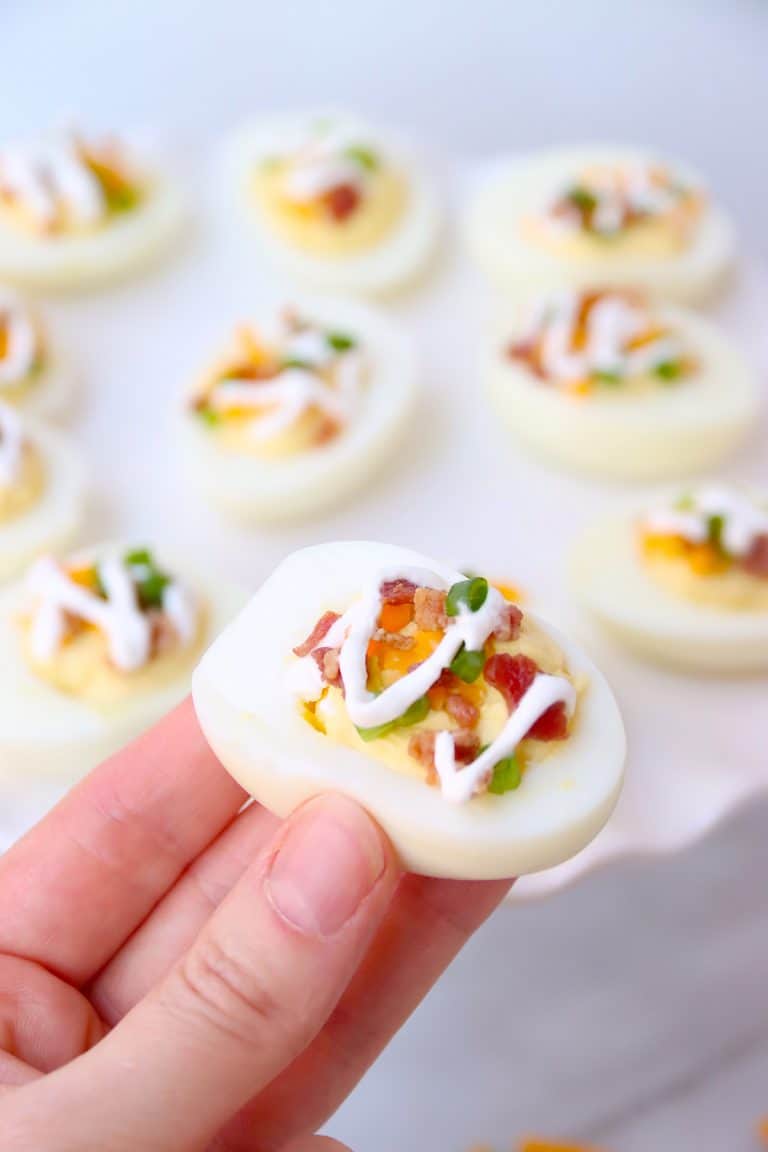 How to boil eggs:
Instant Pot Method: We use an Instant Pot for perfectly cooked eggs that peel like a dream. Just add the to the liner with one cup of water and cook on high pressure for 5 minutes.
Do a natural release for 5 minutes and then open the valve. Transfer the egg to an ice bath for 5 more minutes to stop the cooking.
Stove Top Method: Place the eggs in a sauce pan and add enough cold water to cover the eggs with 1 inch of water.
Place over medium heat and bring to a boil.
As soon as the water is boiling, remove from the heat and cover with a lid.
Let the eggs set for 14 minutes and then transfer to an ice bath to stop the cooking.
This method is easy enough, but you do have to pay to attention so that the eggs don't overcook. You'll also want to use older eggs as they peel easier than fresh eggs.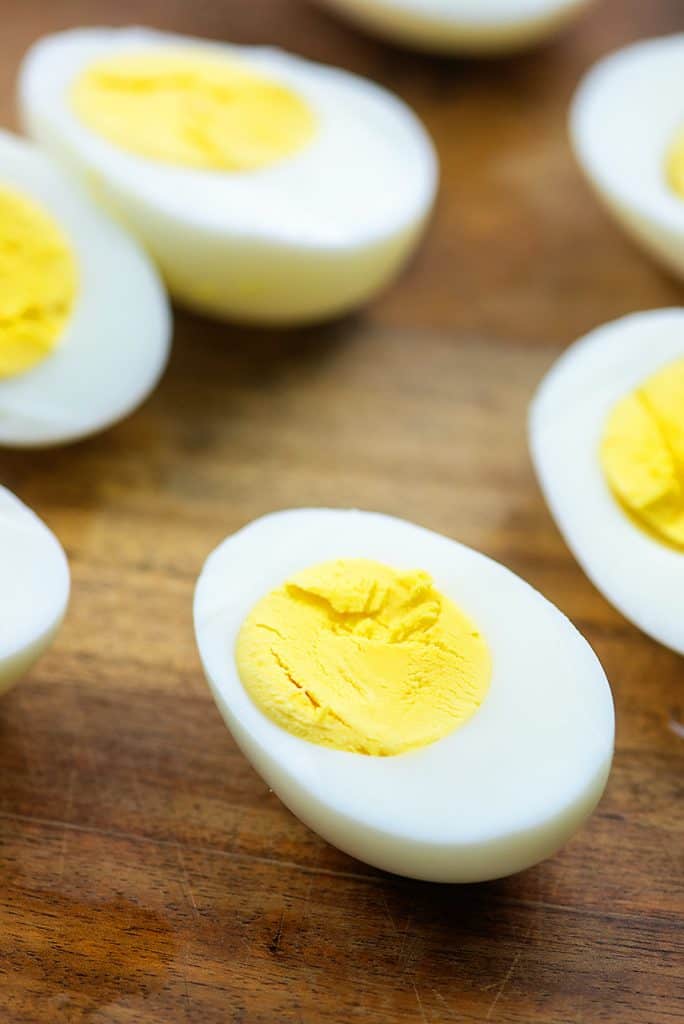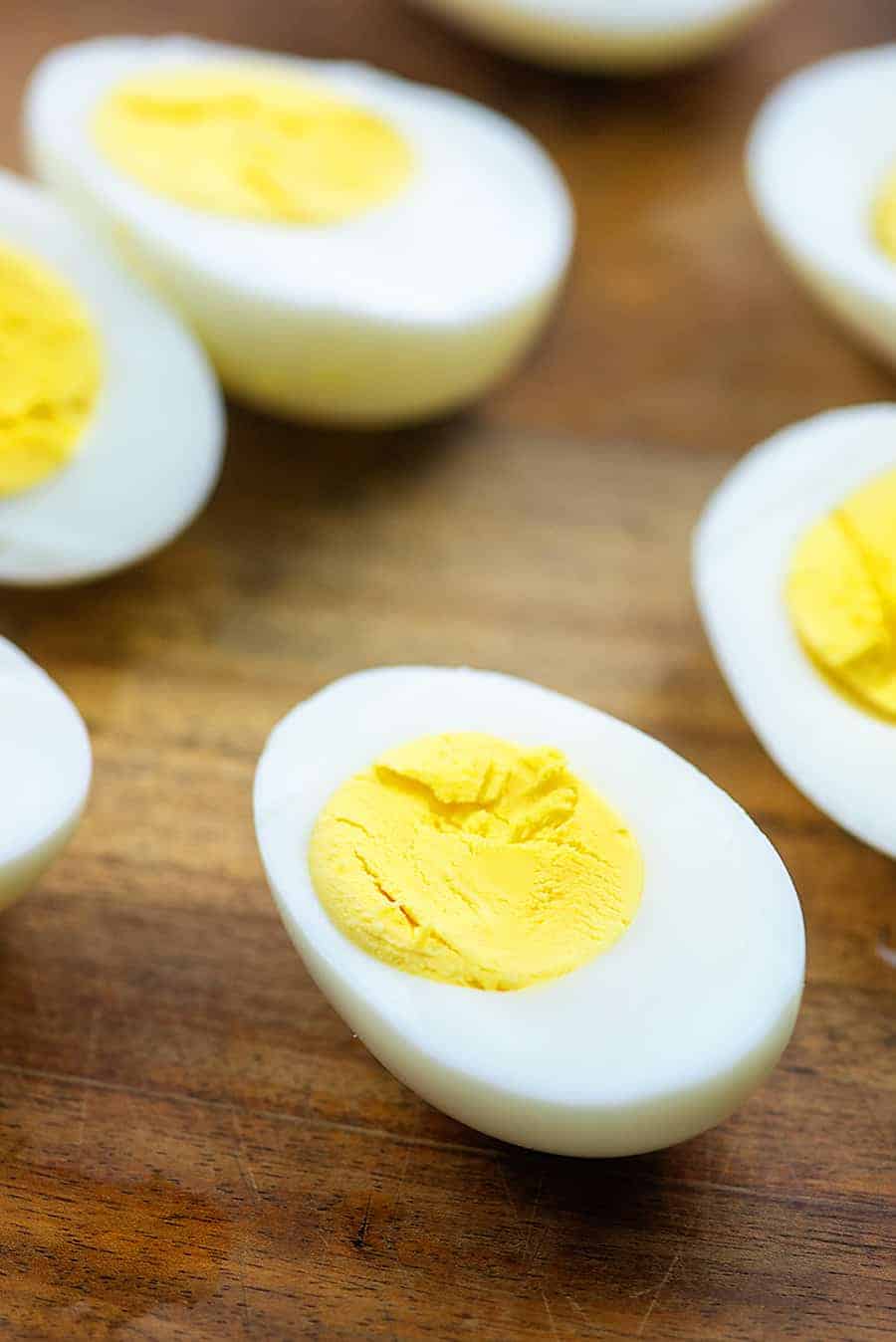 Ingredients:
Boiled Eggs: See above for cooking instructions or just buy the pre-cooked boiled eggs from the store. Either works!
Sour Cream: Add more to make a creamier egg, if that's your preference.
Chives: You may swap in finely chopped green onions, if that's what you have on hand.
Cheddar: Freshly shredded is best, but pre-shredded works as well.
Bacon: Fried and crumbled!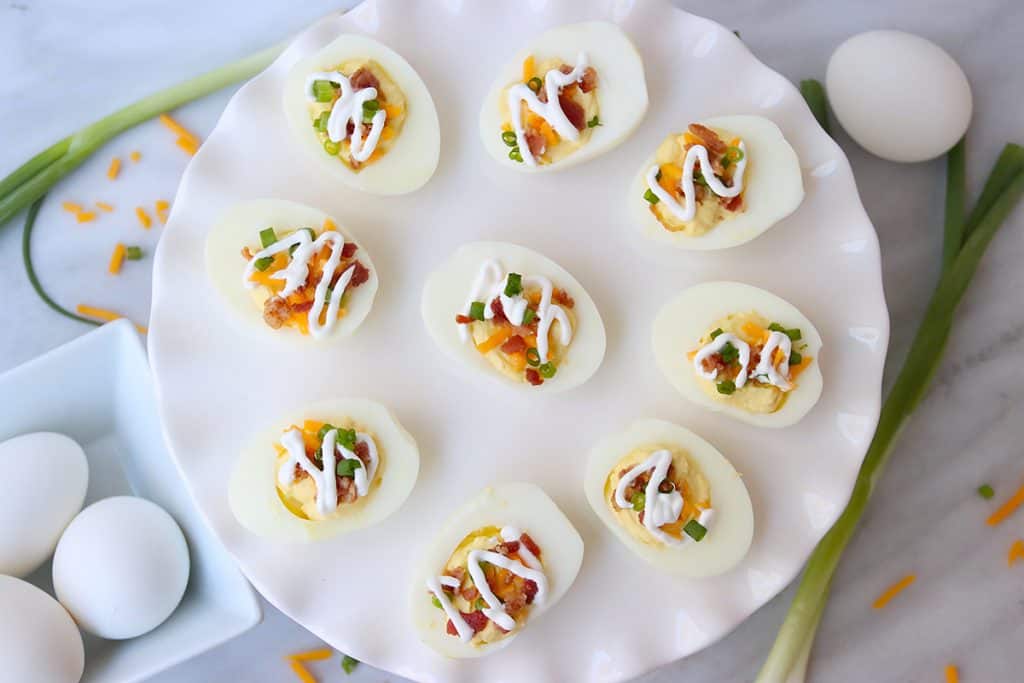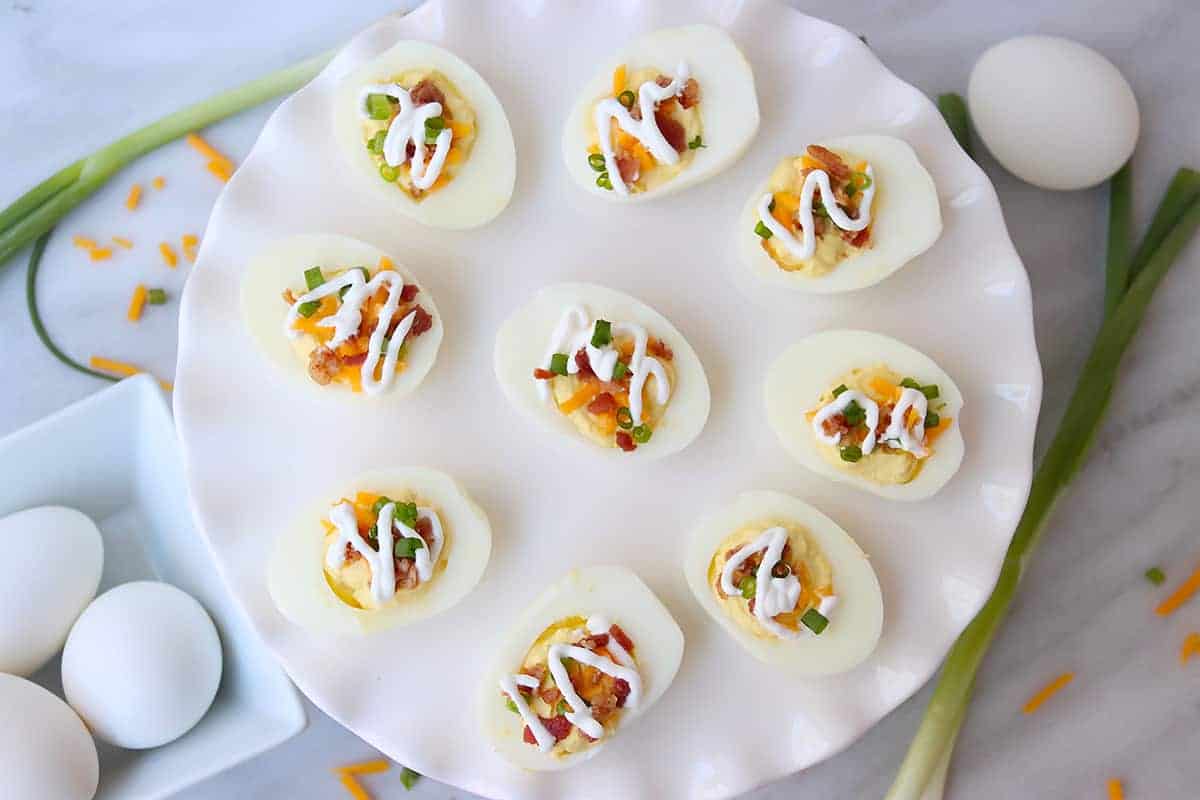 How long do deviled eggs last?
Deviled eggs are best within 3-4 days, according to the USDA.
Hard boiled eggs can be kept in the fridge for up to one week.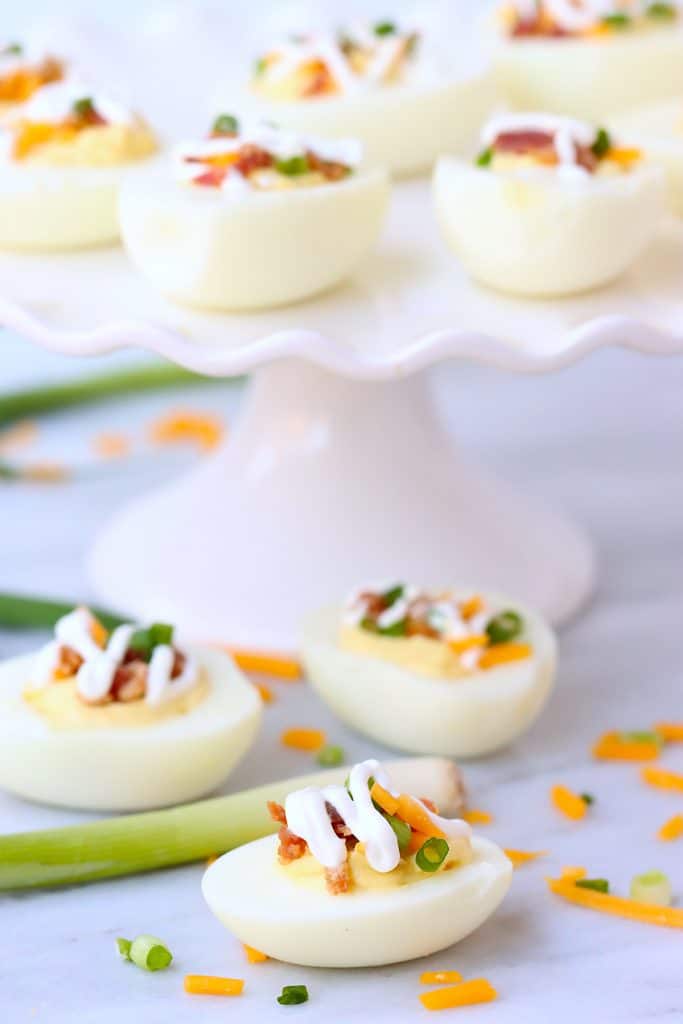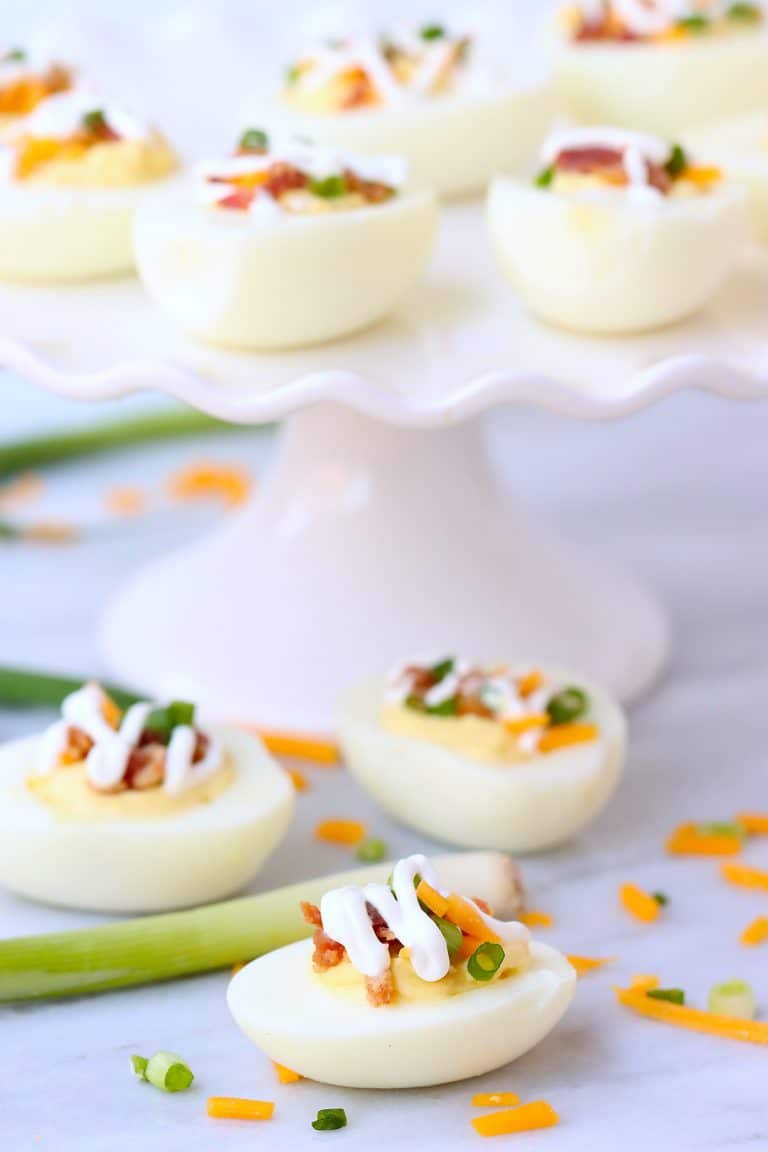 More deviled egg recipes:
Want even more deviled egg recipes? I've got you covered! Check out my round up of 27 of the best keto deviled eggs!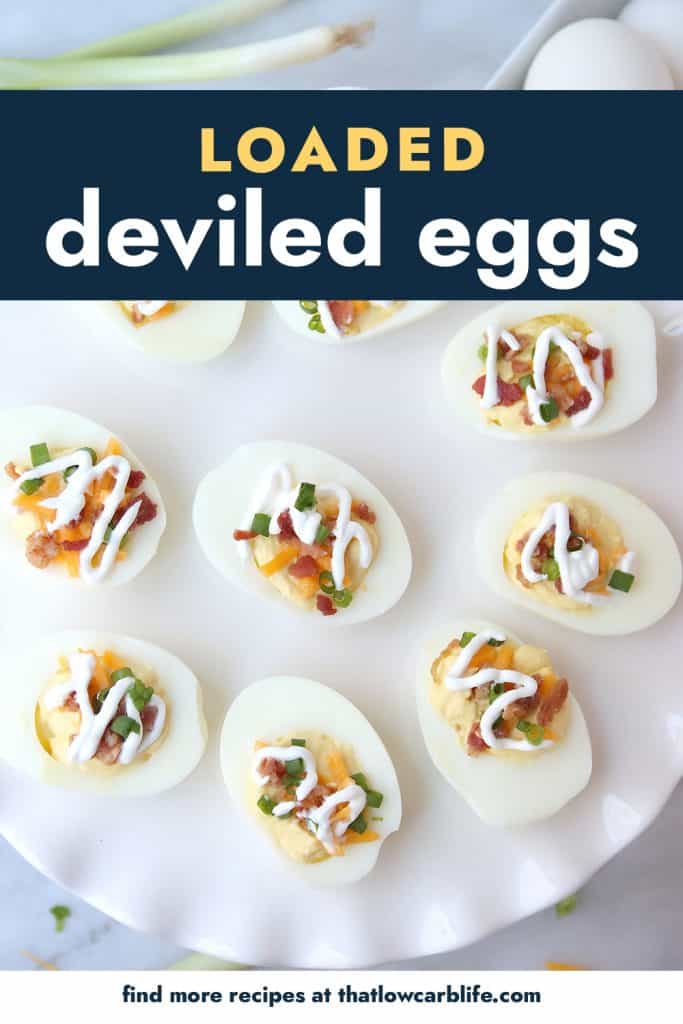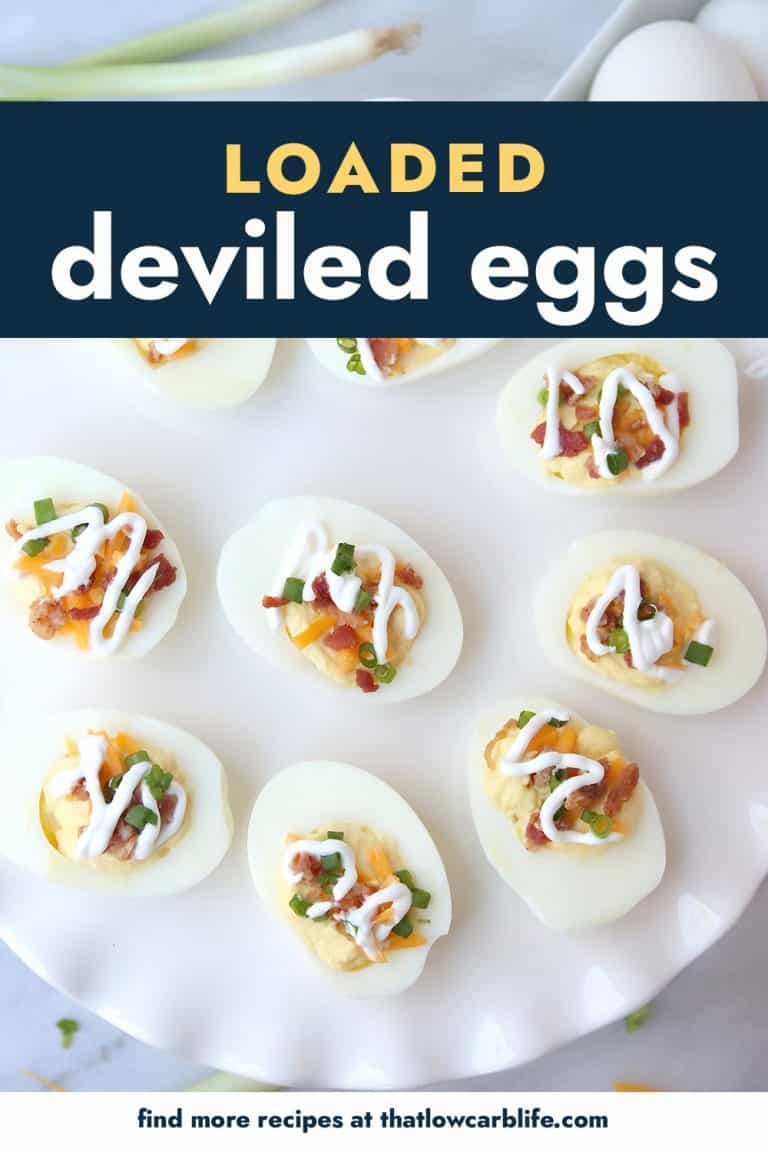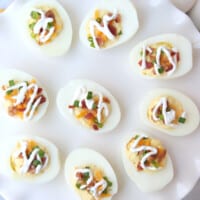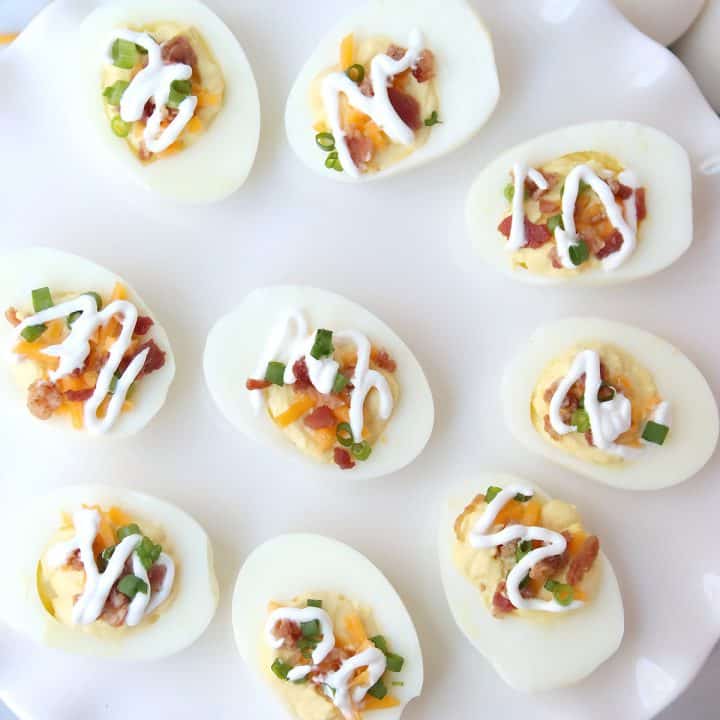 Loaded Deviled Eggs
These loaded deviled eggs are the perfect keto snack. Made with sour cream, cheddar, bacon, and chives. They have all the same flavor of a loaded baked potato without all of the carbs.
Ingredients
6 large eggs, boiled and peeled
1/3 cup sour cream
1 teaspoon fresh chopped chives, plus more for garnish
1/2 teaspoon salt
1/2 teaspoon pepper
1/2 cup grated cheddar cheese
4 slices bacon, cooked and crumbled
Instructions
Slice the hard boiled eggs in half and place yolks in a small mixing bowl. Set aside whites.
Add the sour cream, chives, salt, and pepper to the mixing bowl with the yolks and stir well to combine.
Stir in the grated cheddar and crumbled bacon.
Spoon the filling into each of the egg whites.
Sprinkle with additional chives or bacon crumbles, as desired.
Notes
See blog post for Instant Pot and stove top methods of boiling eggs easily.
Add additional sour cream for a creamier consistency, if desired.
Recommended Products
As an Amazon Associate and member of other affiliate programs, I earn from qualifying purchases.
Nutrition Information:
Yield: 12
Serving Size: 1
Amount Per Serving:
Calories: 88
Total Fat: 7g
Saturated Fat: 3g
Trans Fat: 0g
Unsaturated Fat: 3g
Cholesterol: 105mg
Sodium: 216mg
Carbohydrates: 1g
Net Carbohydrates: 1g
Fiber: 0g
Sugar: 1g
Protein: 6g
All information and tools presented and written within this site are intended for informational purposes only. This information is provided as a courtesy and there is no guarantee that the information is accurate.