These LOADED ZUCCHINI SKINS are the keto version of one of my favorite appetizers! They make a great snack and are every bit as delicious as the original!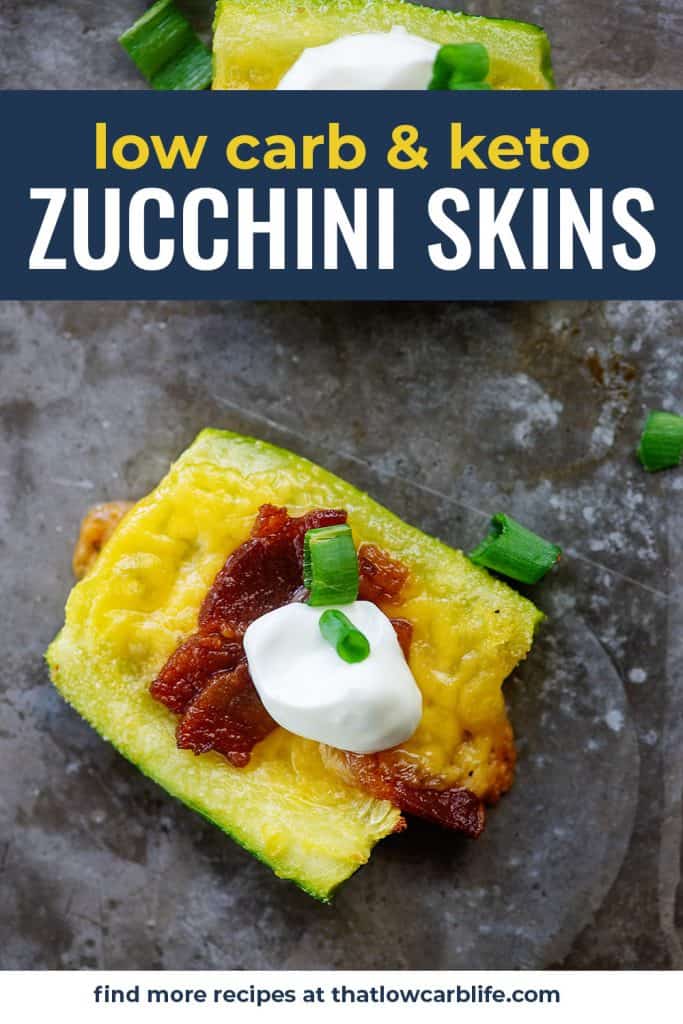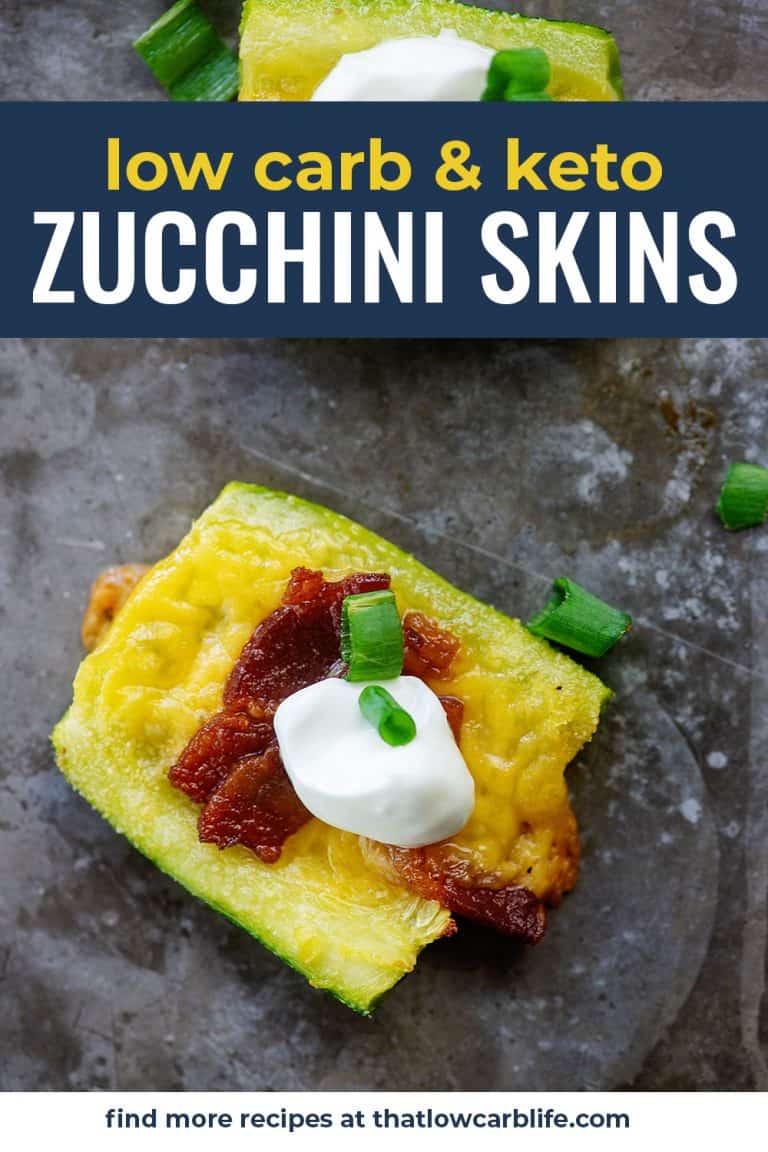 Cauliflower and zucchini seem to be the staple veggies in a low carb lifestyle and I think that's because they're both so versatile.
I mean, you can do some fun stuff with zuchcini!
I've turned it into fries (keto zucchini fries!), noodles (chicken zoodle soup!), and even pizza (zucchini pizza boats)!
These loaded zucchini skins are definitely a new favorite way to enjoy that veggie, though!
These are super quick and easy, ready in less than 30 minutes, and EVERYONE loves them!
How to:
Start by slicing a zucchini in half lenghthwise and then in thirds. Scoop the seeds out with a spoon.
Season the zucchinni with a little oil, garlic powder, onion powder, and salt.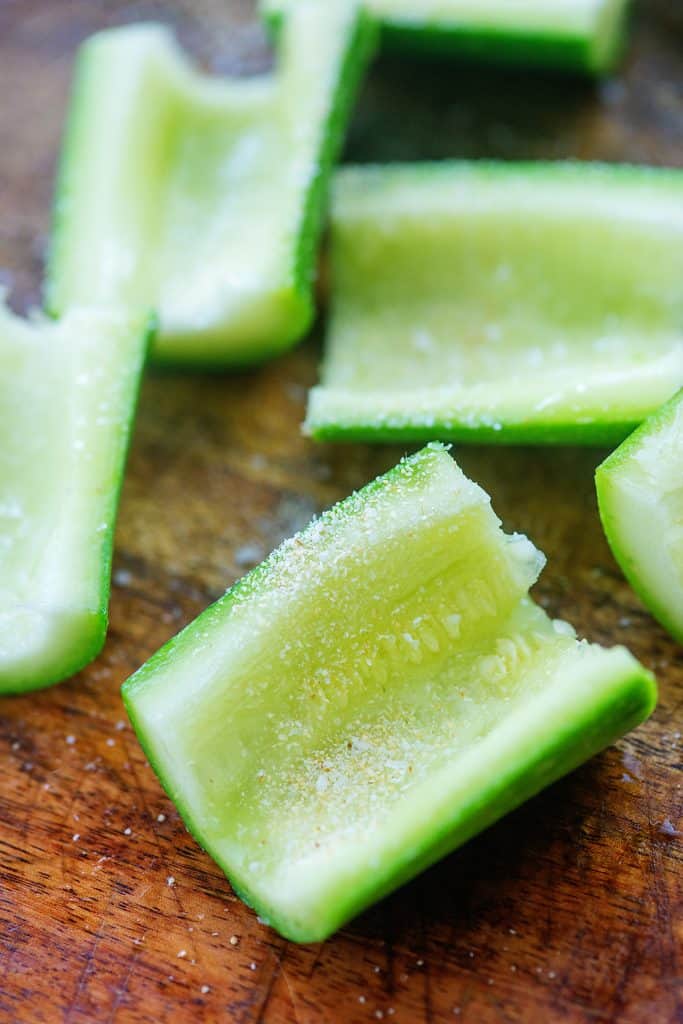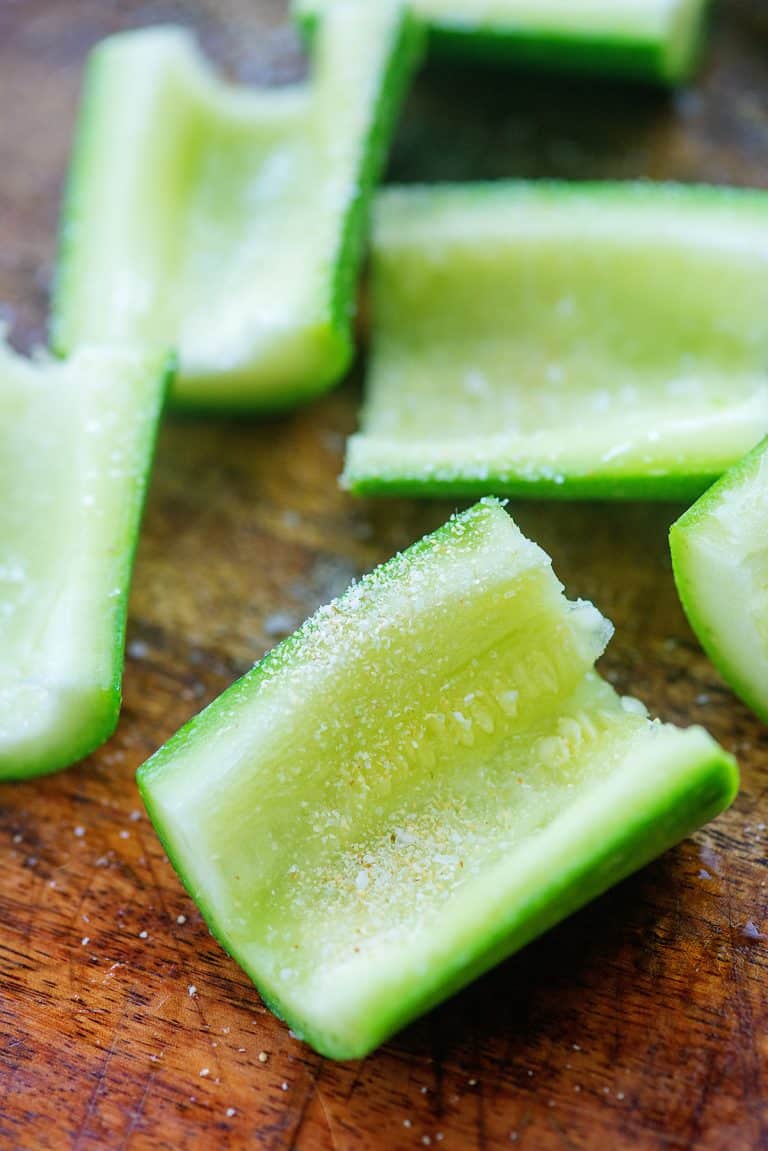 Bake these for 5 minutes at 400 degrees to let them soften up a bit.
Top the zucchini skins with shredded cheddar and bacon and then return to the oven for 10 minutes.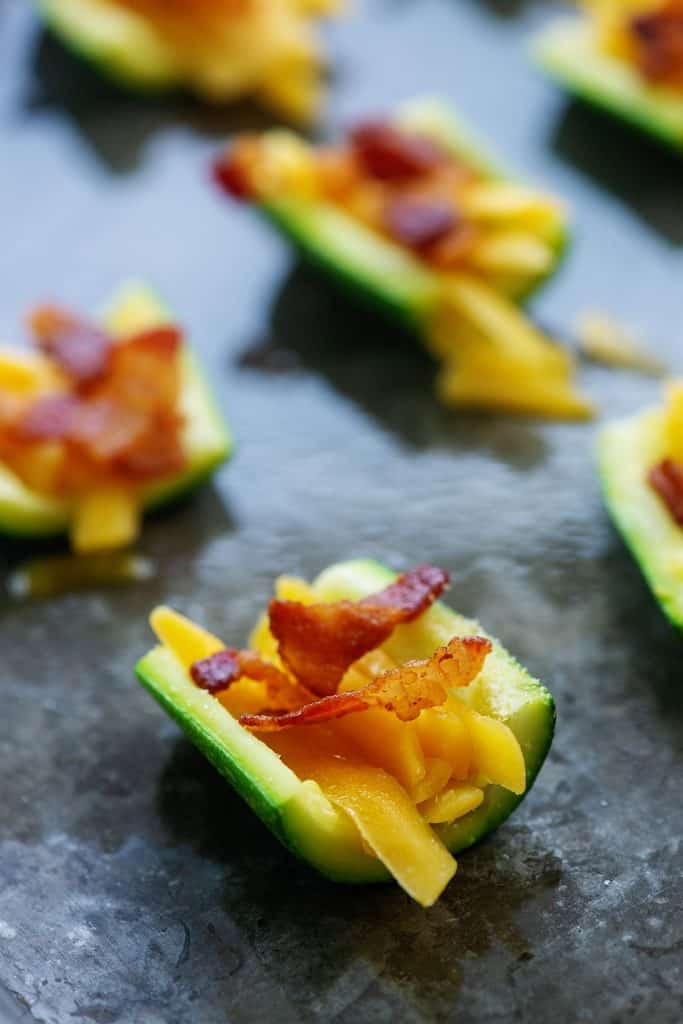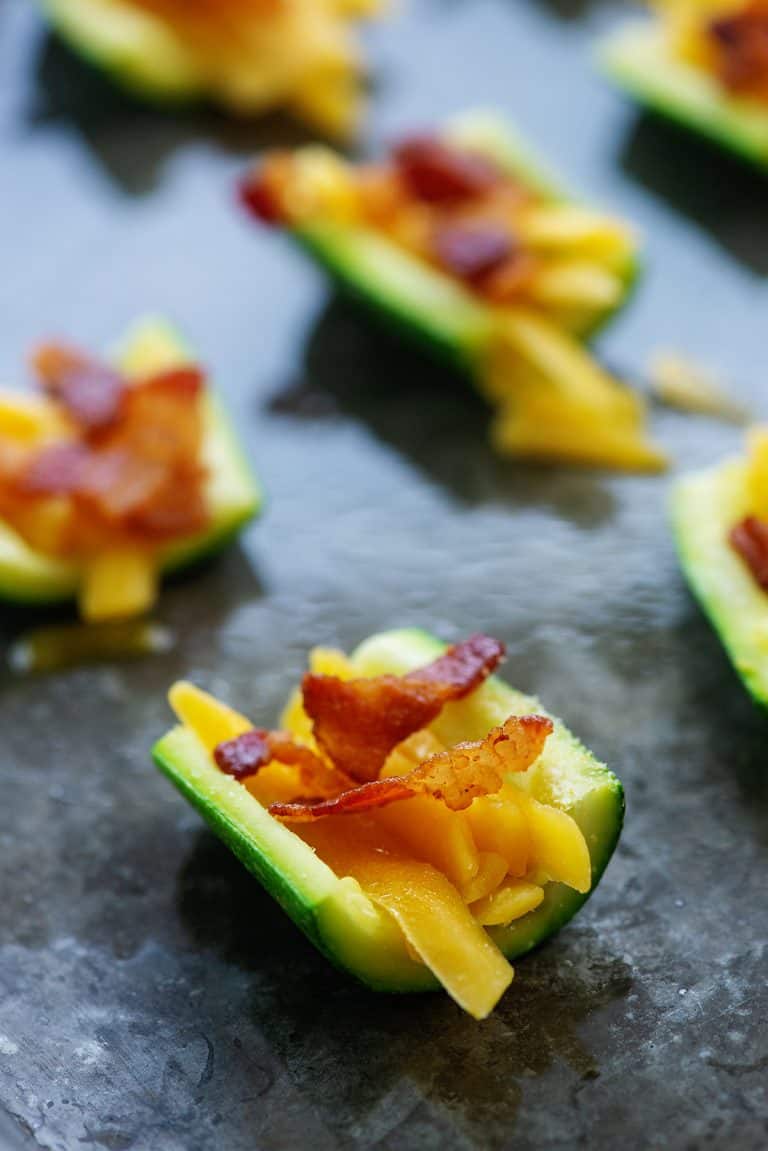 We like to dollop the tiniest bit of sour cream on each zucchini skin and then sprinkle on green onions or chives.
You could also skip the sour cream and dip the skins in my keto ranch dressing – it's seriously the best ranch ever!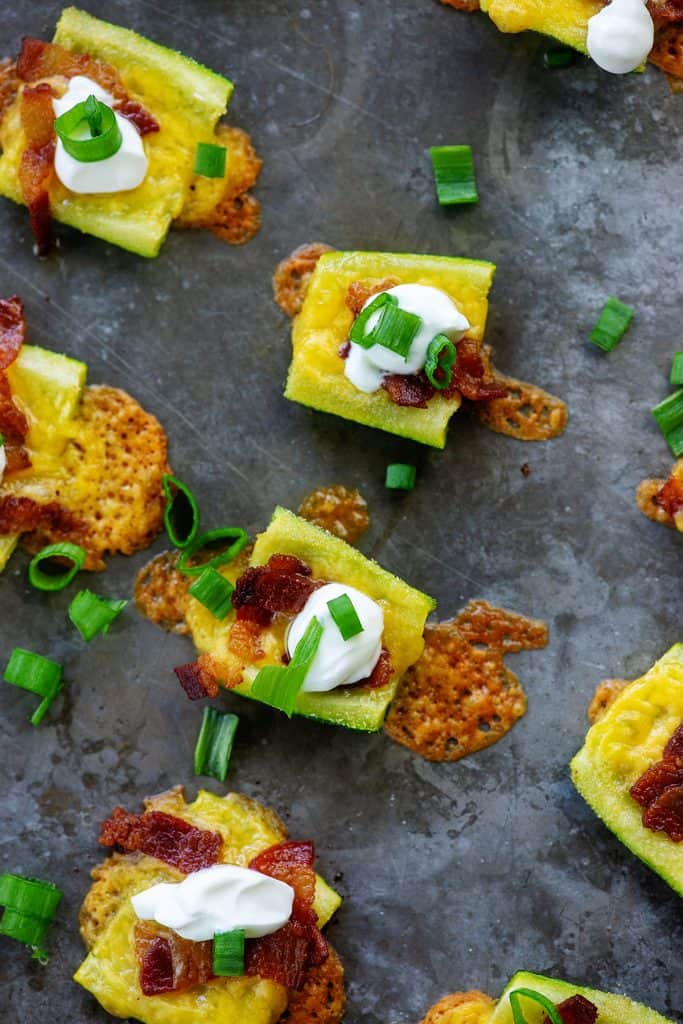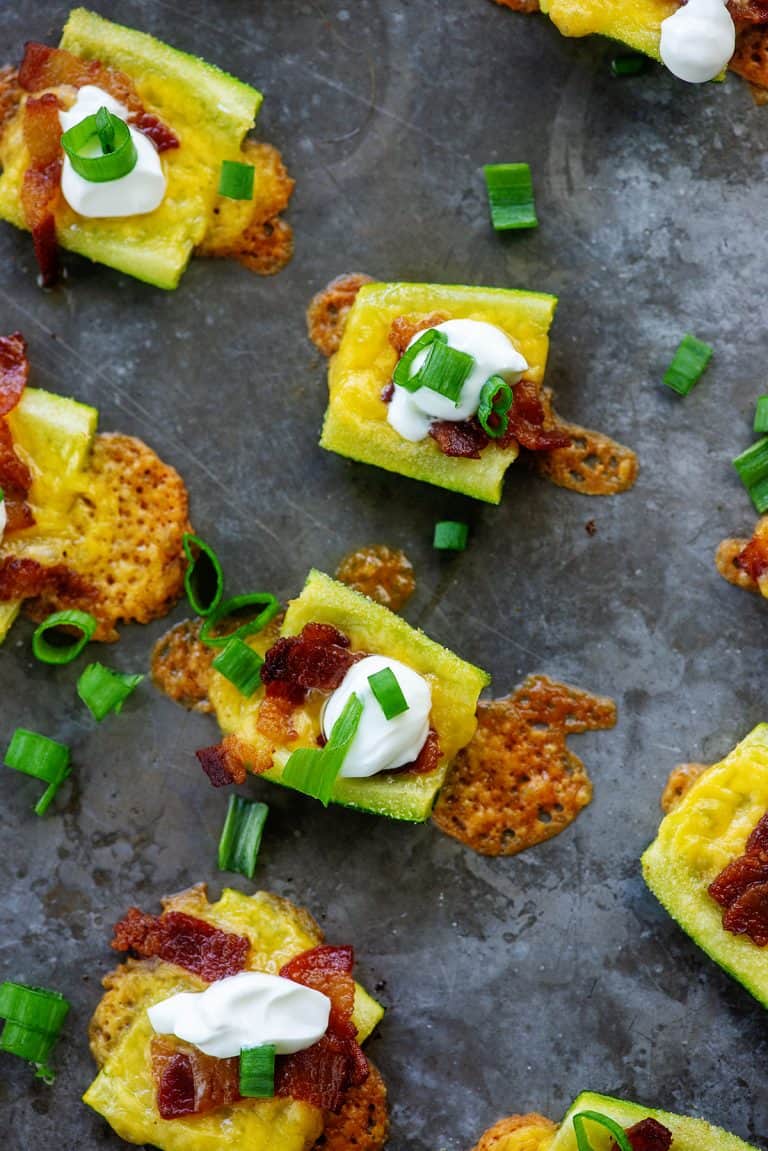 Tips and Tricks:
If you're using larger zucchini, cut them accordingly. Each piece should be about 2 inches wide, so they're about 2 bites each.
For perfect bacon crumbles, dice your bacon before frying! Fry it up in a hot skillet and then use a slotted spoon to remove the pieces to a paper towel lined plate to drain.
We prefer these the day they are made. They'd last in the fridge for a few days, but they do release liquid and won't taste as good as fresh.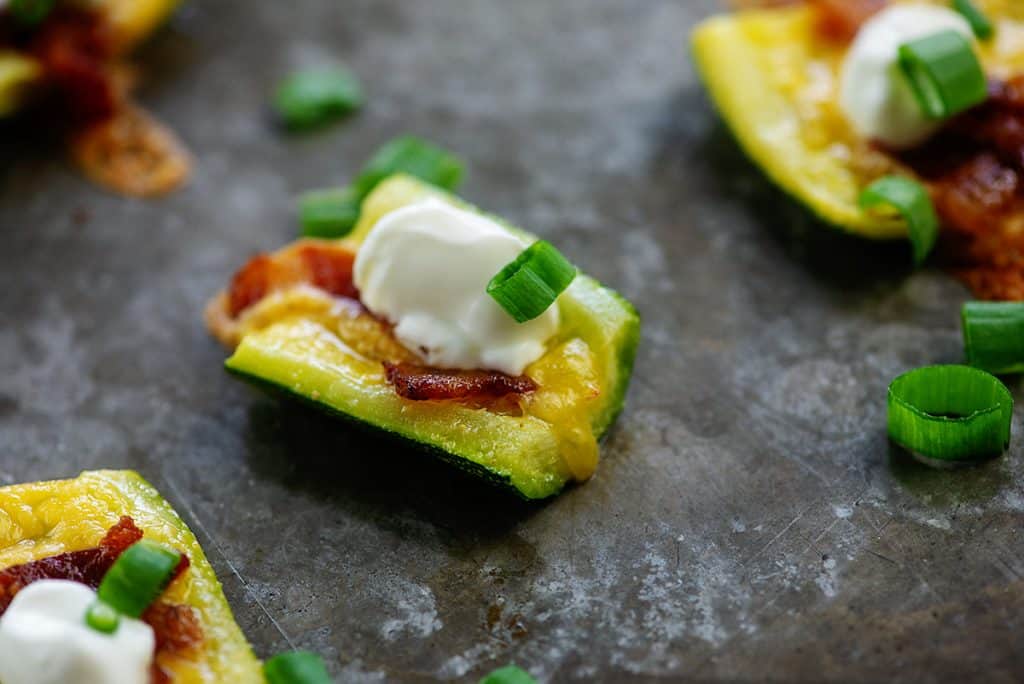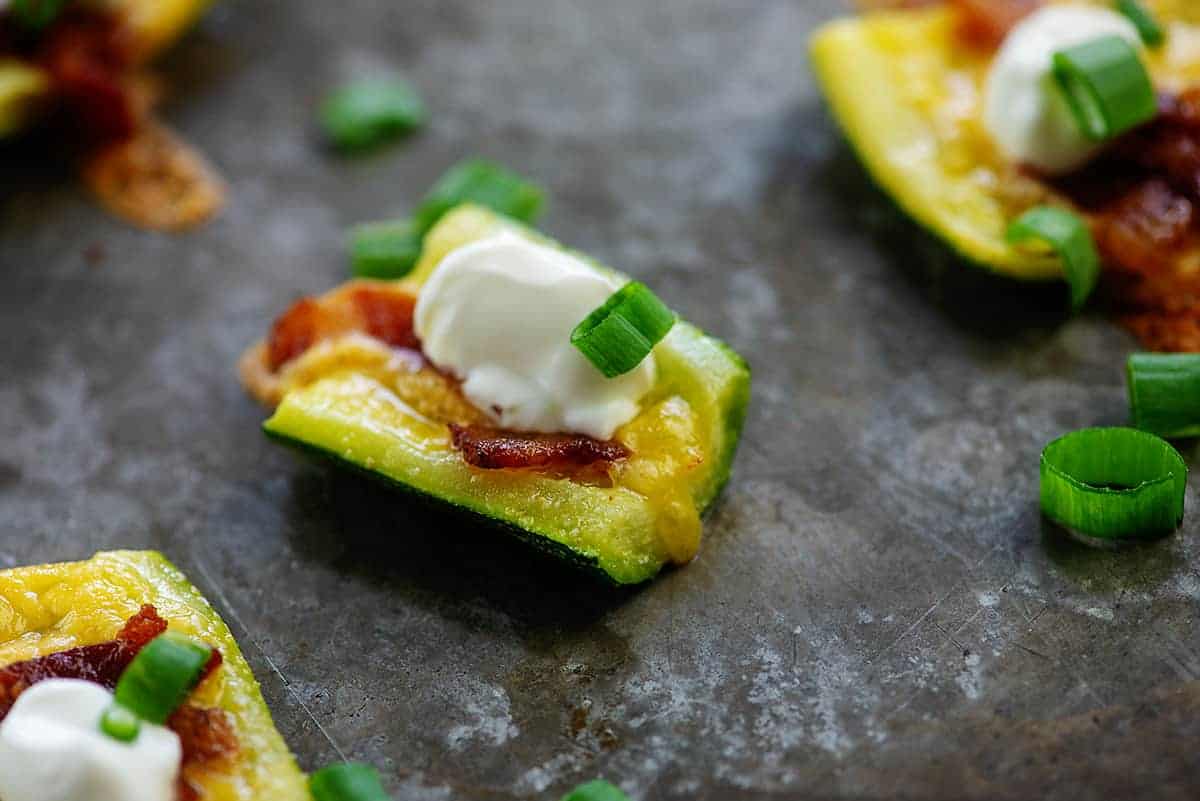 More low carb snacks: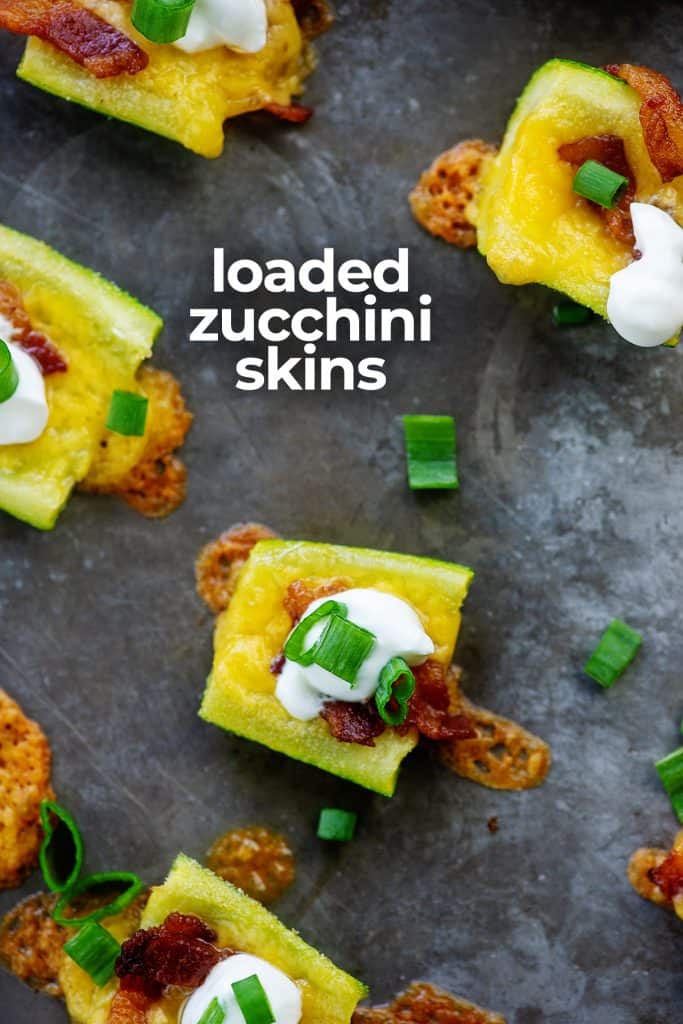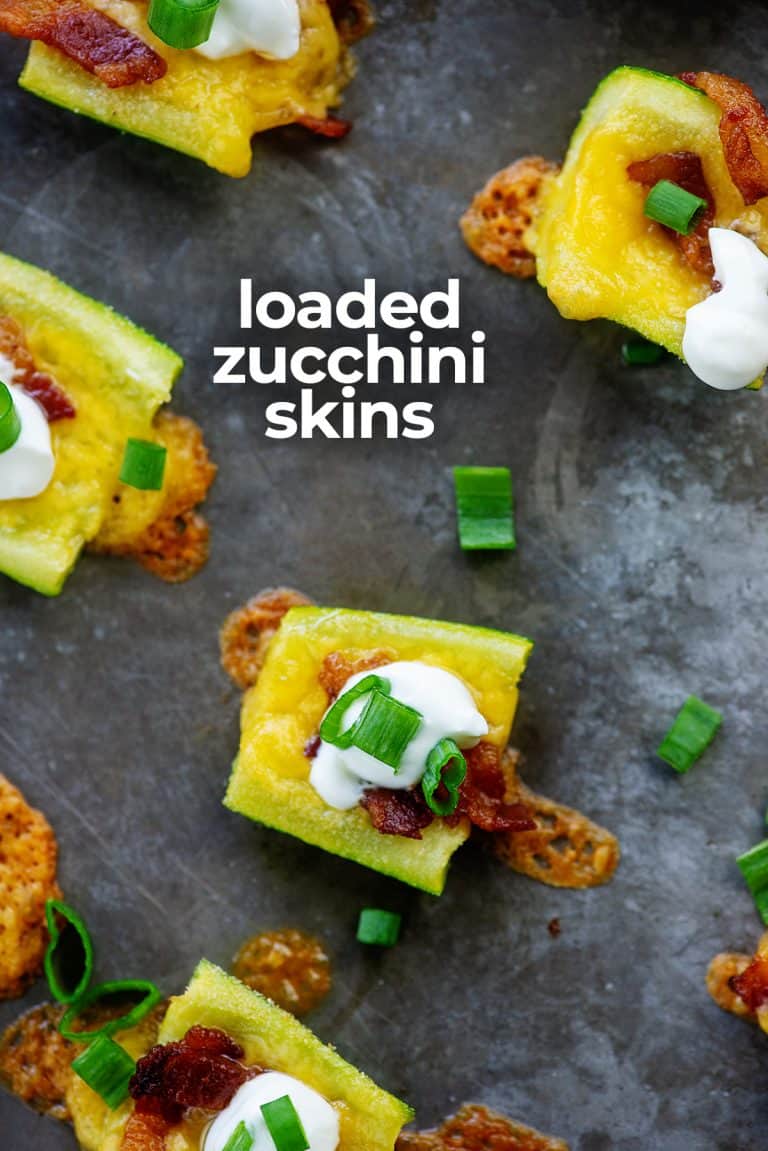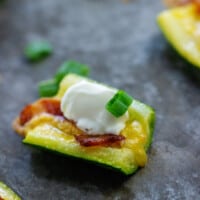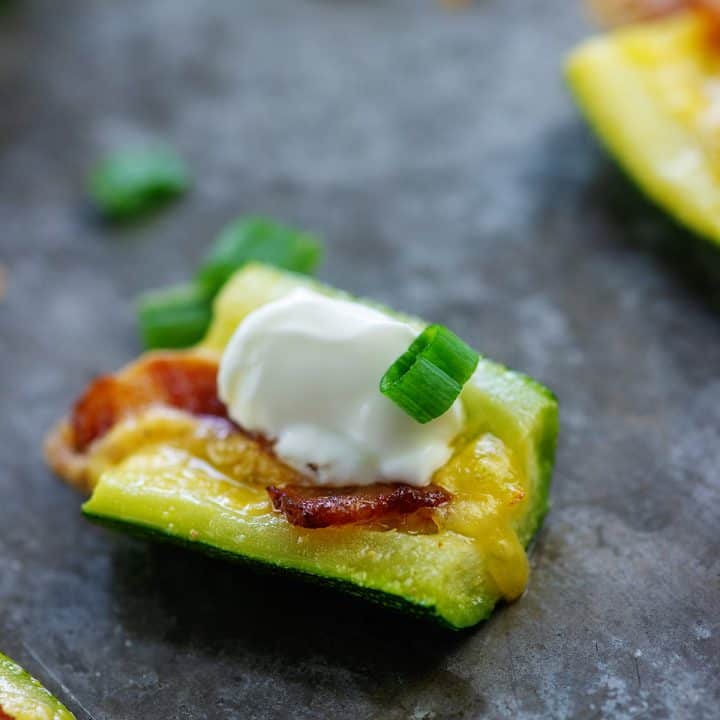 Loaded Zucchini Skins
Who needs potato skins when you can make these low carb zucchini skins instead? They're perfect with a little dollop of sour cream on top or dunked in ranch dressing.
Ingredients
2 medium zucchini
1 teaspoon olive oil
½ teaspoon garlic powder
½ teaspoon onion powder
½ teaspoon salt
1/2 cup shredded cheddar
4 slices bacon, fried and diced
1/2 cup sour cream
2 tablespoons chopped green onions
Instructions
Preheat oven to 350 degrees. Spray a baking dish with nonstick spray.
Slice the zucchini in half length-wise and then cut into thirds. Use a spoon to scoop the seeds out of each piece of zucchini. Discard seeds and place zucchini skins on a baking dish.
Drizzle the zucchini with oil.
Combine the garlic powder, onion powder, and salt, and sprinkle over the zucchini skins.
Bake for 5 minutes.
Remove the zucchini from the oven and top with the cheddar and bacon. Return to the oven for 10 minutes.
Use a small teaspoon to dollop sour cream over the zucchini skins. Sprinkle with green onions.
Serve immediately.
Notes
Skip the sour cream and drizzle a little ranch dressing on top for a tasty twist.
Nutrition Information:
Yield: 12
Serving Size: 1
Amount Per Serving:
Calories: 66
Total Fat: 5g
Saturated Fat: 2g
Trans Fat: 0g
Unsaturated Fat: 2g
Cholesterol: 14mg
Sodium: 188mg
Carbohydrates: 1g
Net Carbohydrates: 1g
Fiber: 0g
Sugar: 1g
Protein: 3g
All information and tools presented and written within this site are intended for informational purposes only. This information is provided as a courtesy and there is no guarantee that the information is accurate.