This KETO GREEN SMOOTHIE is packed with vitamins, nutrients, and healthy fats to keep you satisfied until your next meal. Simple and sweet, it's the perfect keto breakfast.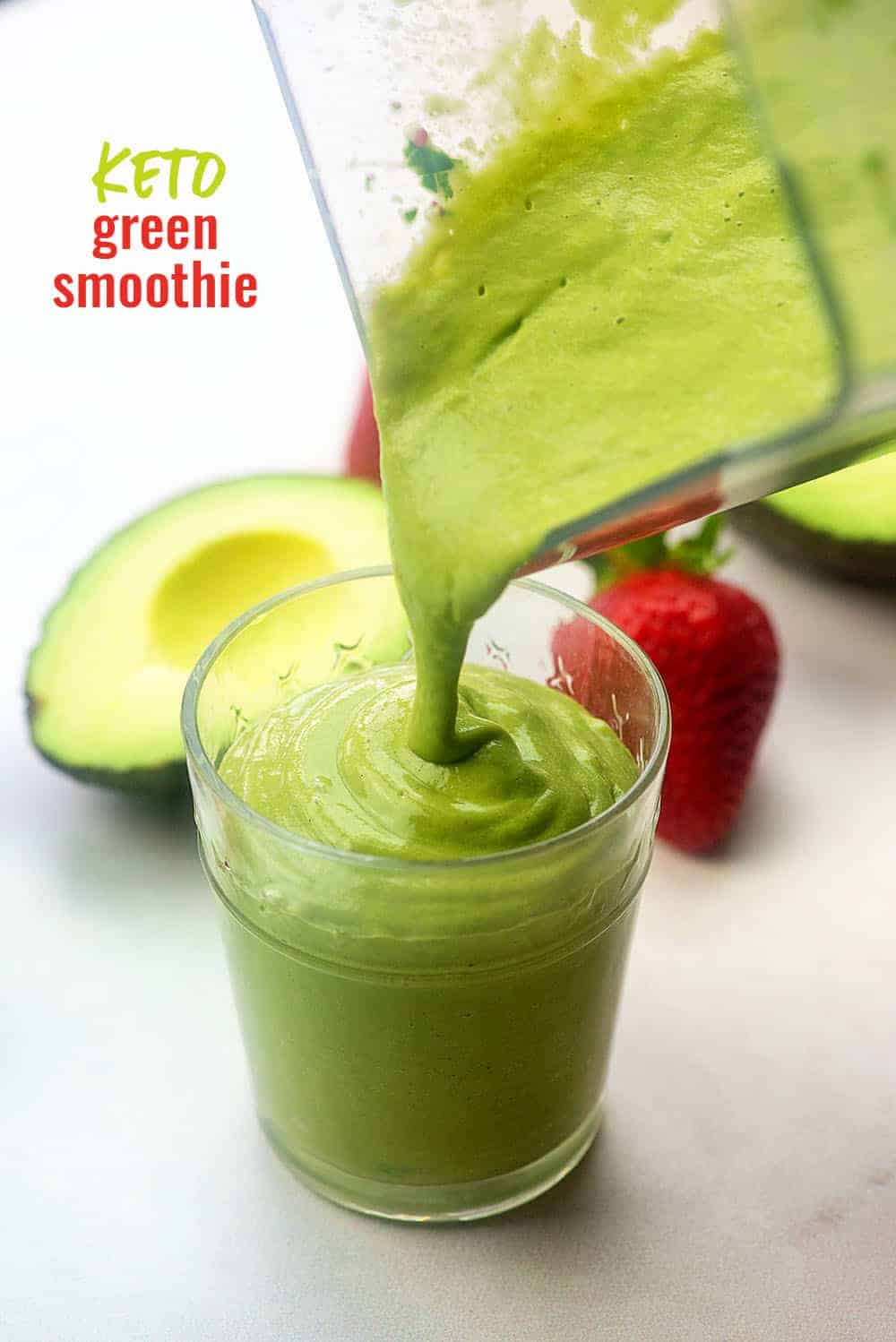 Truth time: I've never been much of a smoothie person.
I would just rather chew my food than drink it. I think the act of chewing helps signal that I've eaten a meal and I don't get that from drinking a smoothie.
My family, on the other hand, absolutely loves smoothies.
We have a fancy high-powered blender because my daughter makes smoothies allllll the time. Meanwhile, I'm over here eating bacon and eggs. 😉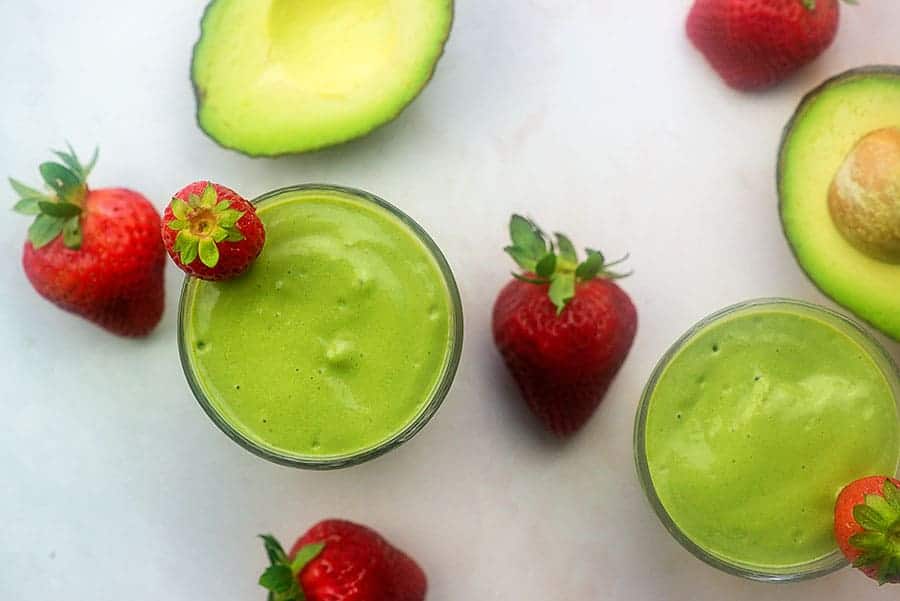 Enter this avocado smoothie. I'll eat anything if you throw an avocado at it and this is no exception!
The healthy fats from the avocado make this so filling!
Keto Breakfasts eBook:
This keto green smoothie recipe was created while I was working on my latest eBook, Keto Breakfasts.
It's actually the cover of the book!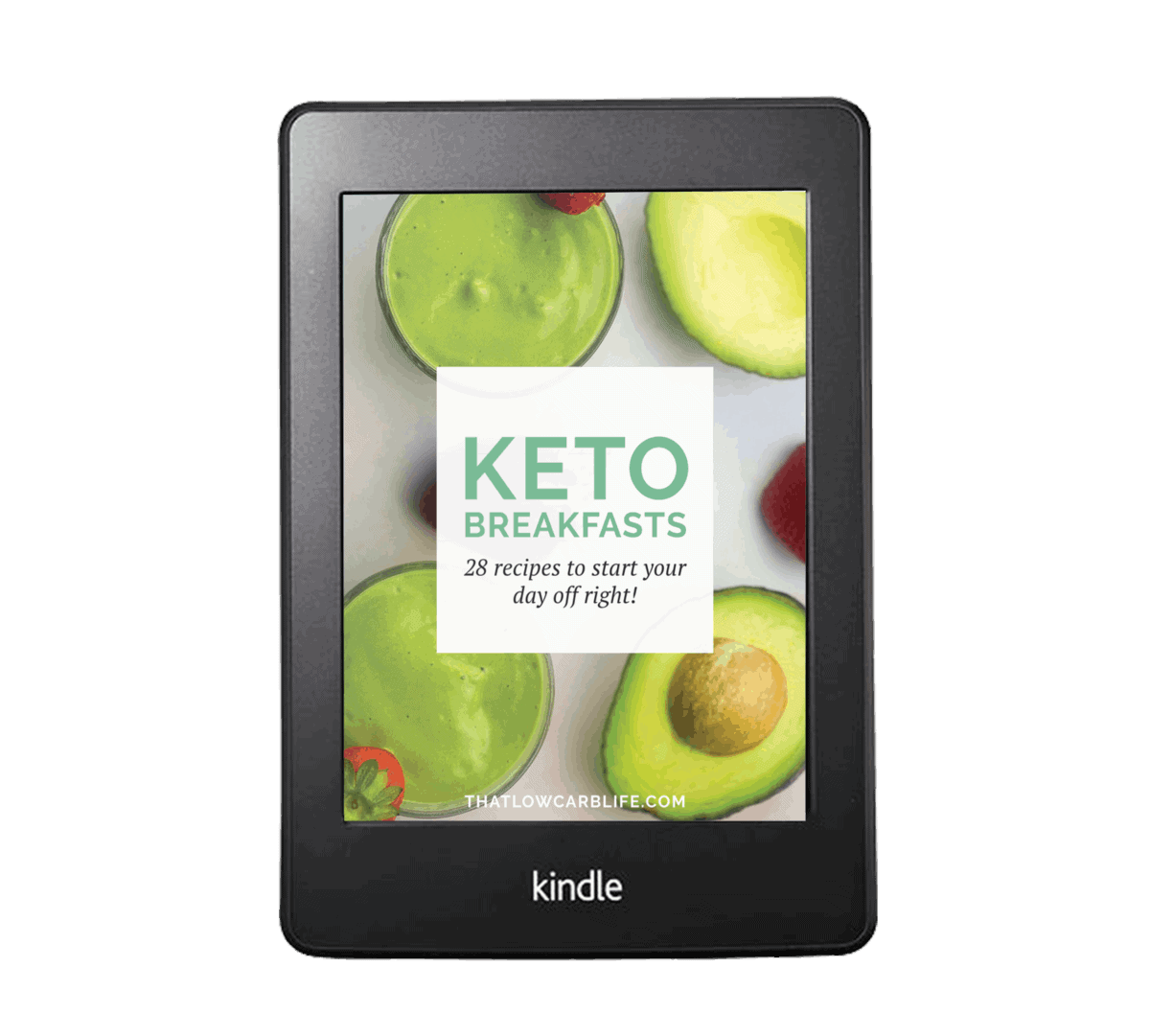 I'm sharing this recipe with you here today, but in the book you'll find tons of other recipes that aren't on the blog.
Recipes include:
Blueberry Coconut Pancakes
Pumpkin Noatmeal
Egg in a Hole
Smoked Sausage Hash
There are 28 recipes in total with chapters ranging from on the go breakfasts, to re-imagined classics, to breakfast sides!
Avocado smoothie:
This post contains affiliate links. As an Amazon Associate, I earn from qualifying purchases.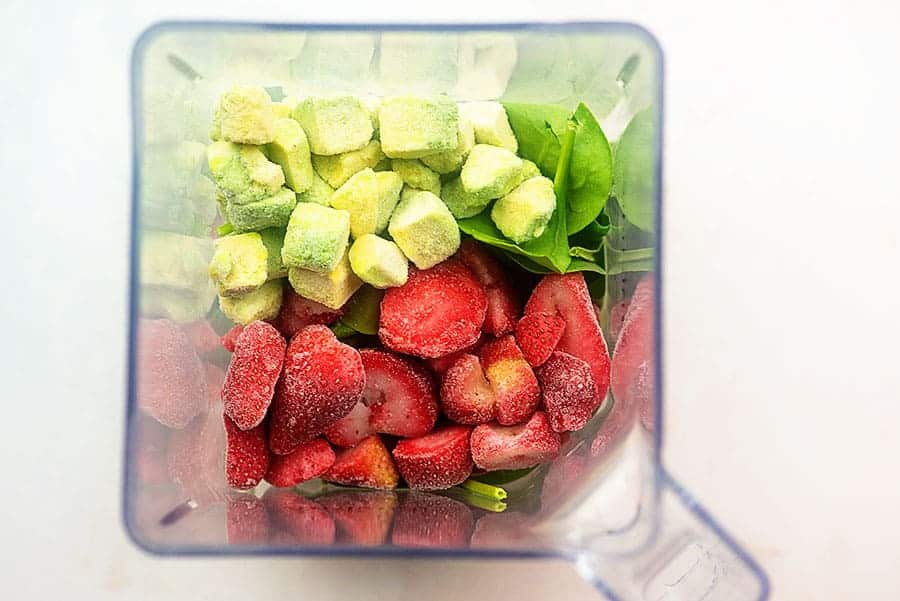 This avocado smoothie recipe starts out with just a handful of ingredients: spinach, strawberries, avocado, hemp seeds, your choice of milk (we use almond), and a touch of sweetener.
Any blender should be able to handle this smoothie, but we have a Blendtec and love it. This NutriBullet has almost 15k reviews and looks like a winner at a much lower price point.
You really just toss everything into your blender and let it work it's magic.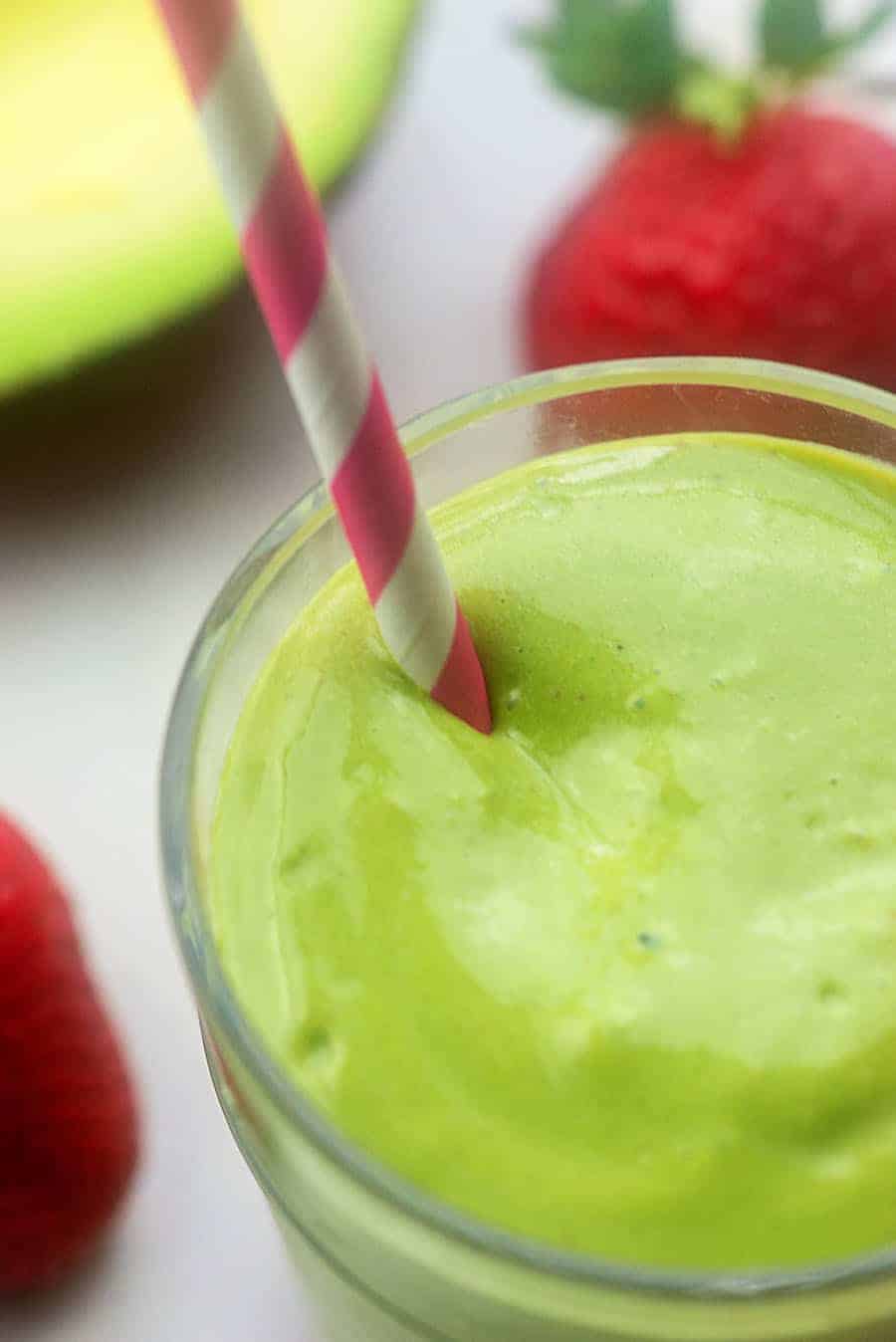 Ingredient swaps:
Hemp seeds are optional here, but we love the nutrients they add. You could use flax seed instead, if you prefer. Both of these are used in my keto oatmeal so be sure to grab some!
Strawberries could be replaced with blueberries, raspberries, or blackberries, but the nutrition info and flavor will change a bit. They're all delicious options though!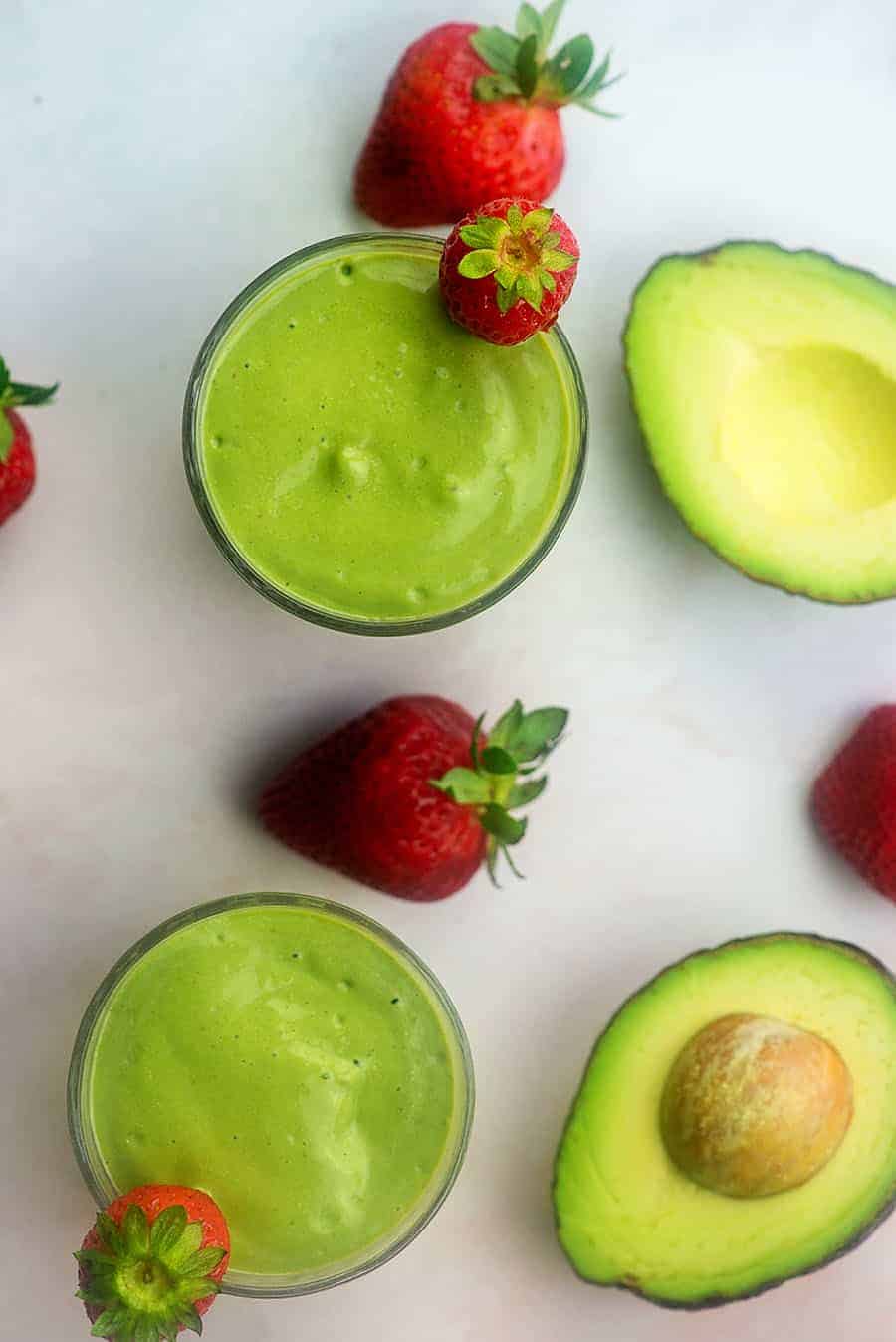 Frozen avocado can be purchased in most well-stocked grocers. It comes in small chunks and is perfect for smoothies. You could chop and freeze your own avocado as well.
The sweetener I use is Lakanto Liquid Monkfruit Sweetener. I love that you only need a drop or two and there is no funky aftertaste. Use my coupon code THATLOWCARBLIFE for 20% off your entire order at Lakanto. (We also use their golden sweetener, powdered sweetener, and chocolate chips regularly in my house!)
The sweetener isn't strictly necessary, but we prefer a bit more sweetness to our smoothies so it's a must for us. You could also use liquid stevia if that's what you have on hand.
More low carb breakfast recipes:
Breakfast Pizza: We usually make this for brinner, but it's good in the morning too!
Chaffles: The low carb craze people are raving about!
Keto Breakfat Casserole: Packed with so much goodness!
Low Carb Bagels: You won't believe how easy these are!
Frittata Muffins: I use bacon and broccoli, but these are easy to change up.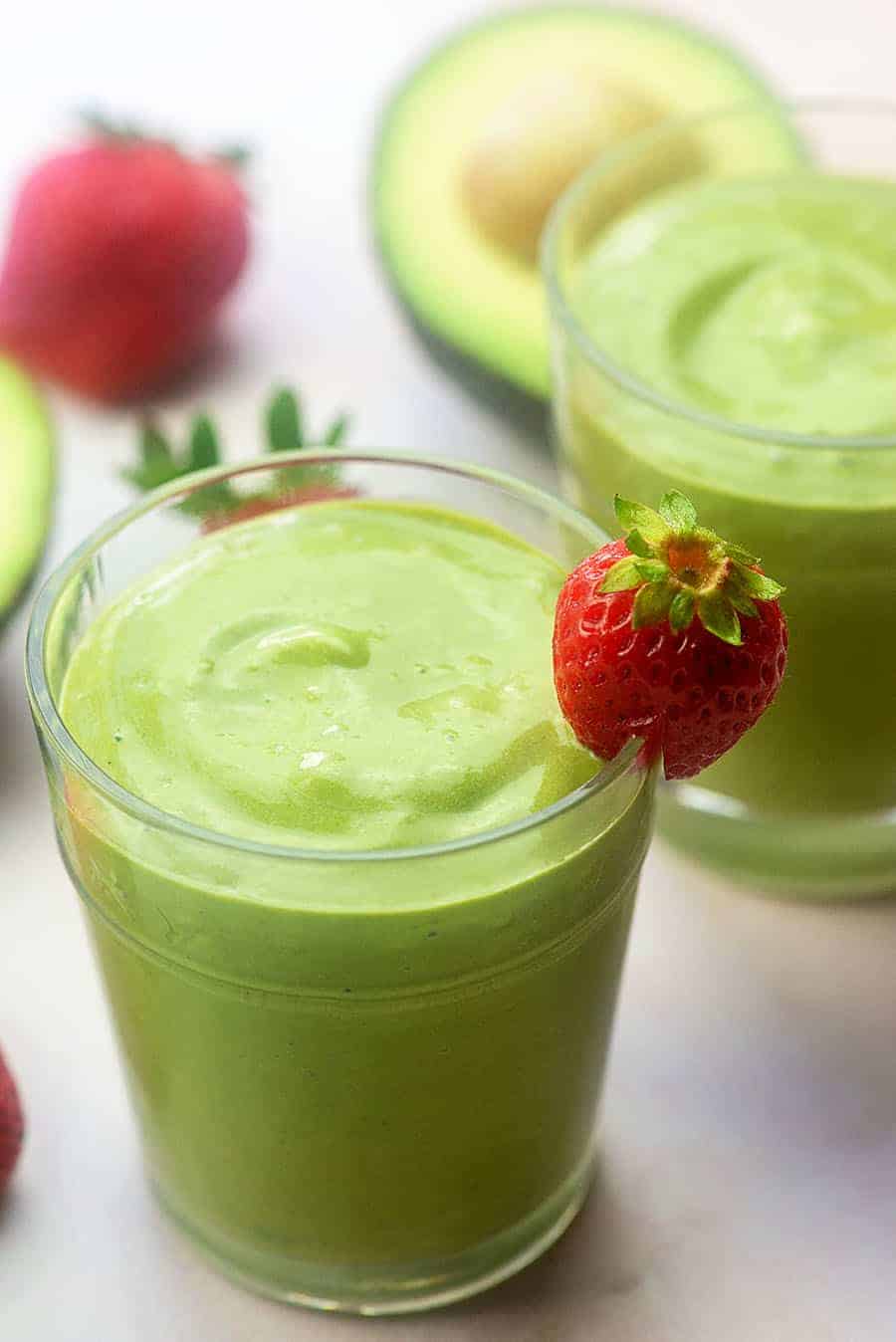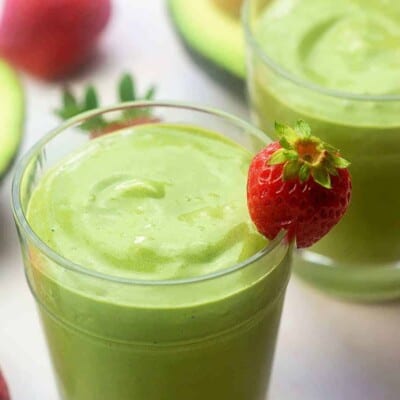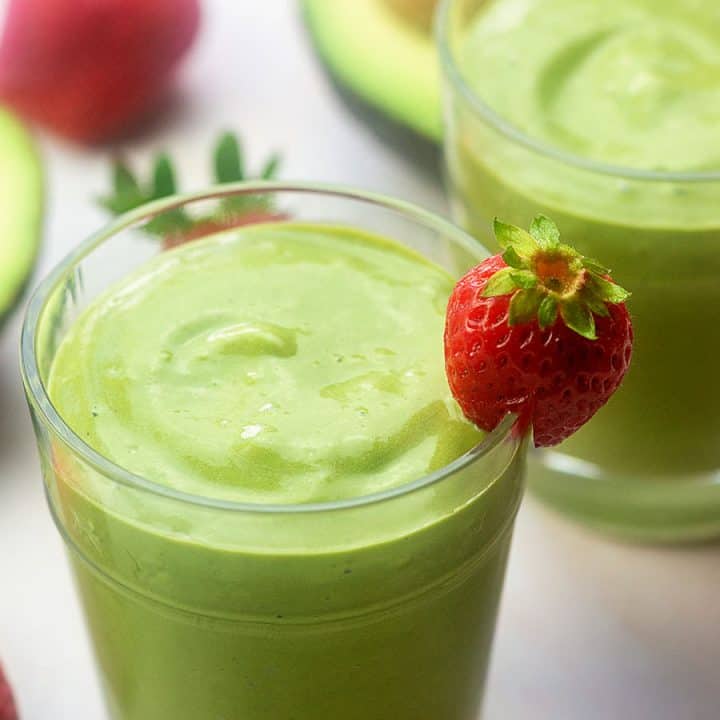 Keto Green Smoothie
Packed with nutrients and healthy fats, this green smoothie is subtly sweet and perfect for taking breakfast on the go.
Prep5 minutes
Additional Time5 minutes
Total10 minutes
Ingredients
2 cups baby spinach
1 1/2 cup unsweetened almond milk
1 cup frozen strawberry slices
½ cup frozen avocado chunks
2 tablespoons hemp seeds
3 drops Lakanto Monkfruit Extract see note
Instructions
Add all ingredients to a blender and blend until smooth.

Divide between two glasses and drink immediately.
Tips & Notes:
Note: The Lakanto Monkfruit Extract is not strictly necessary, though the smoothie will have just a hint of sweetness from the strawberries without it. If you prefer a sweeter smoothie, adding a few drops of monkfruit extract sweetens it up nicely. Adjust as necessary to sweeten to your liking.
Nutrition Information:
Serving: 1| Calories: 148kcal (7%)| Carbohydrates: 10g (3%)| Protein: 6g (12%)| Fat: 10g (15%)| Saturated Fat: 2g (13%)| Polyunsaturated Fat: 11g| Sodium: 172mg (7%)| Fiber: 5g (21%)| Net Carbs: 5g (10%)