This Keto Oatmeal is the low carb alternative to traditional oatmeal! It's made with hemp hearts instead of oats for a hearty, filling, breakfast that is the perfect way to start your day with just 6 net carbs per serving!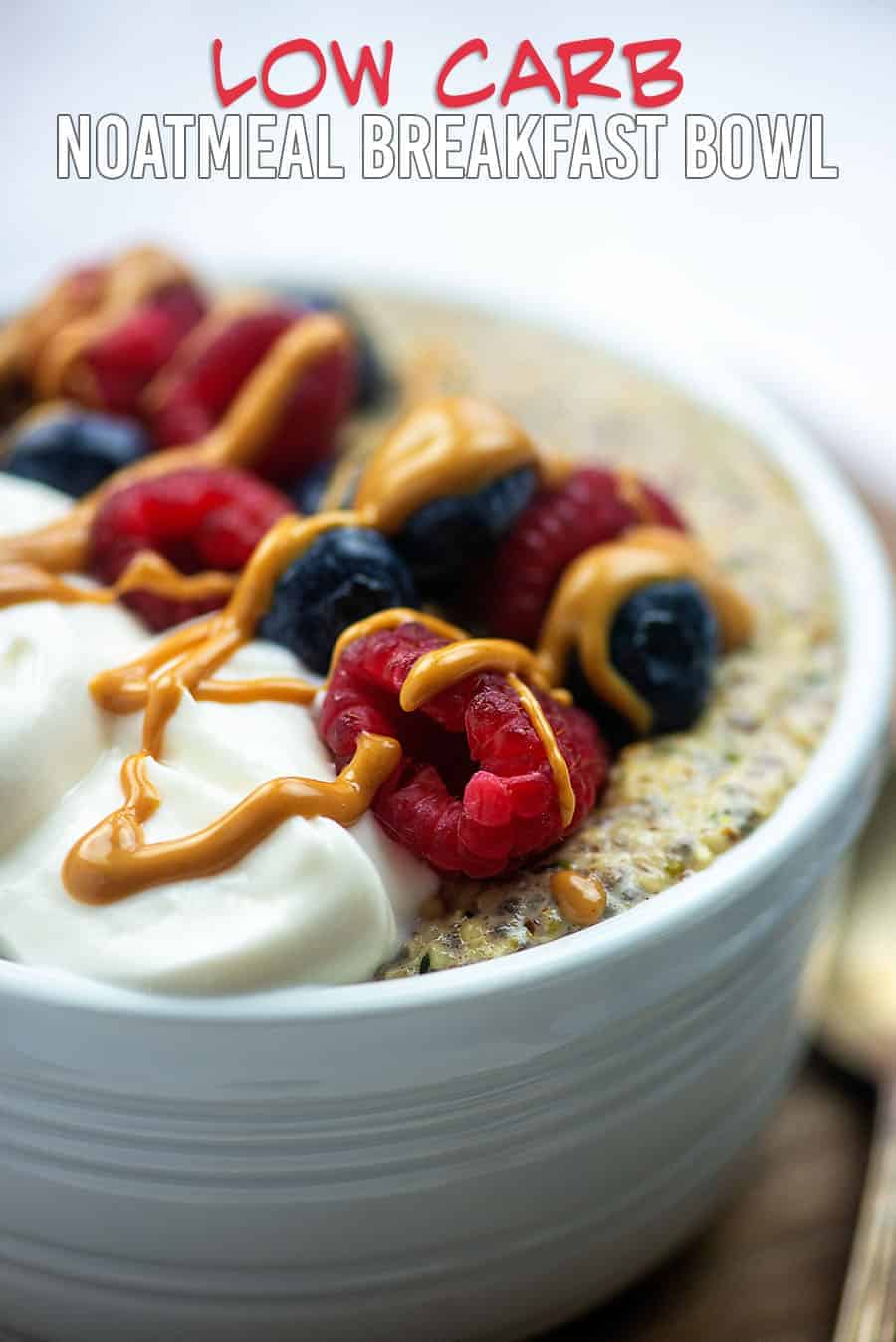 I can't tell you how many times I get asked if oatmeal is low carb.
Unfortunately, the answer is no. Oats are a a grain and they're not low carb.
But, not to worry! I've been experimenting with hemp hearts to create a low carb oatmeal alternative and I've nailed it, you guys!
This 'noatmeal' is a new fan favorite in our house. My kids love it, Chad asks for it just about every day, and I've been having a blast trying out all my different topping ideas!
But today? Today I'm sharing my FAVORITE way to enjoy this keto oatmeal recipe!
Want to give this a warm and cozy Fall twist? Try our keto pumpkin noatmeal.

Ingredient Notes:
This post contains affiliate links. As an Amazon associate and member of other affiliate programs, I earn from qualifying purchases.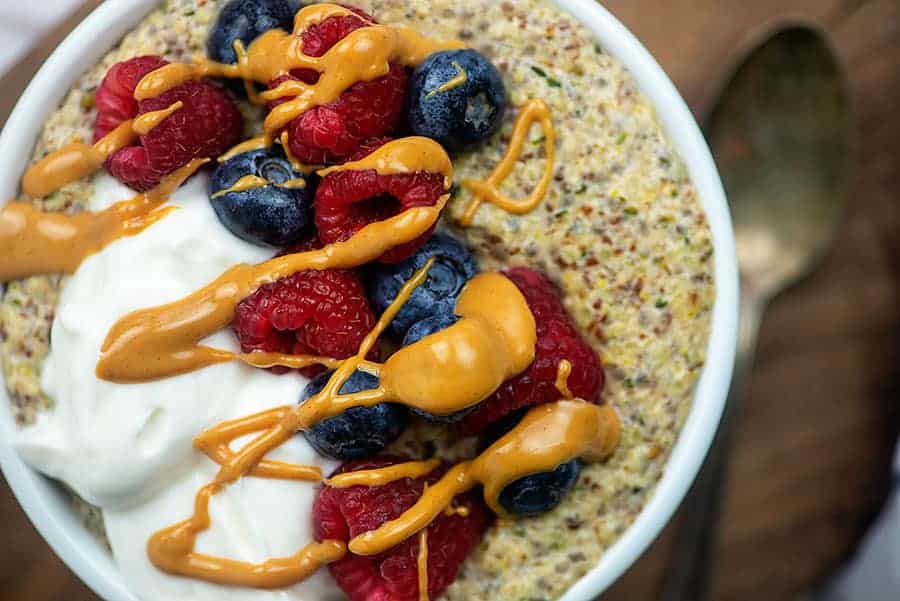 Hemp Hearts – You'll want to use shelled hemp hearts. They have a slightly nutty taste and are a superfood that is packed full of nutritious good stuff. They also just happen to have a soft oatmeal like texture which makes them perfect for this recipe!
Flaxseed Meal – This is another ingredient that works well as a substitute or addition to regular oatmeal. It's full of fiber and omega-3s.
Chia Seeds – Chia is yet another superfood like the hemp hearts and flaxseed that takes on an oatmeal like consistency when liquid is added to it.
Sweetener – This golden monk fruit sweetener is the perfect alternative to brown sugar!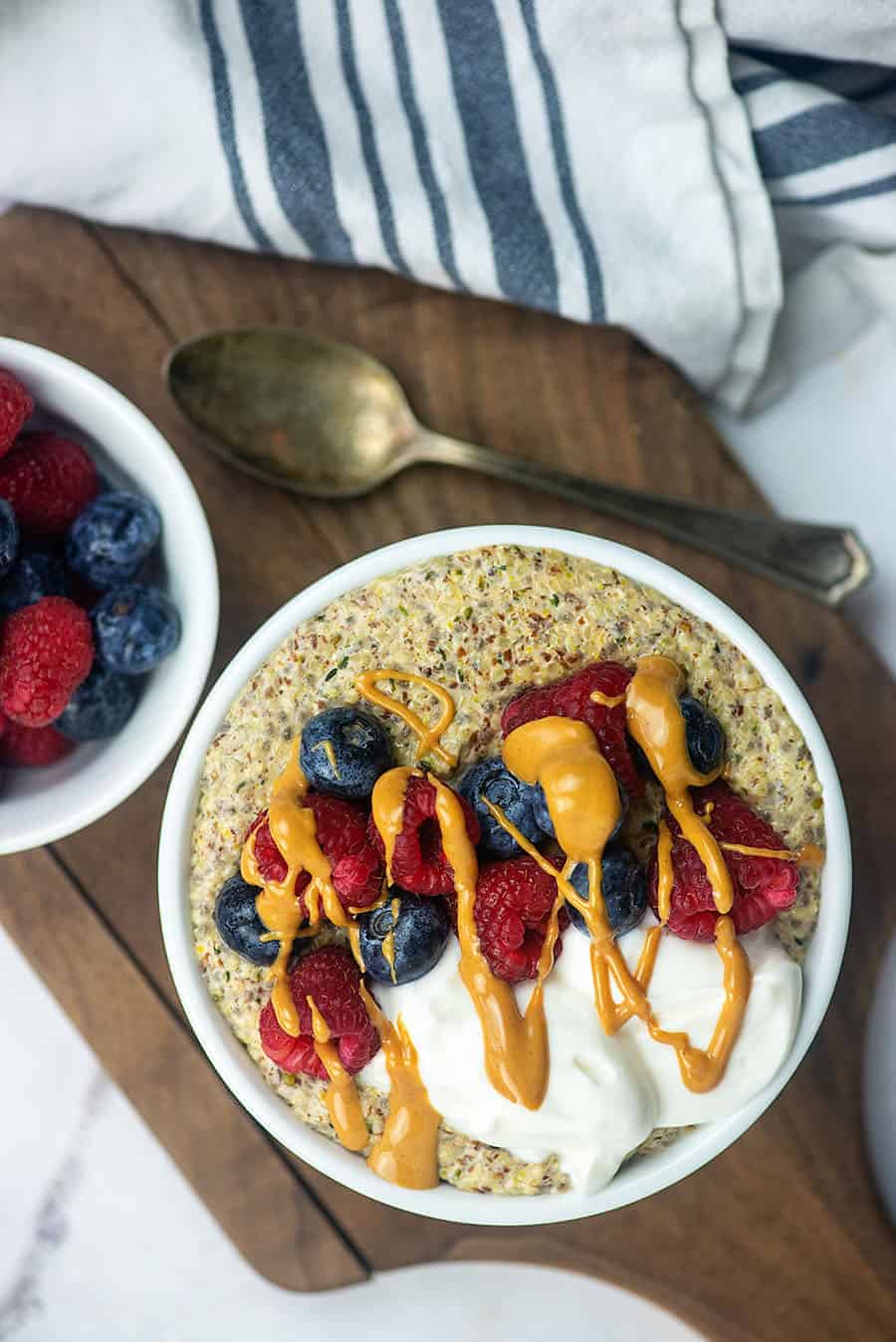 How To:
Prepare the Noatmeal – If you're wondering how to make noatmeal, it's pretty similar to how you would make traditional oatmeal and also just as easy to prepare! You can get started by adding all of the non-topping ingredients including the hemp hearts, flaxseed, and chia to a sauce pan.
Cook until thickened: Some of these ingredients like the chia seeds won't take on an oatmeal like texture until you've added liquid. That's what the water and heavy cream (or dairy-free milk of your choice) is for. When you've added those in with the brown sugar substitute and cinnamon give it a good stir to combine and let it continue to cook until it has thickened.
Adjust as needed: The low carb oatmeal may look thinner than you'd like, but it does thicken a bit more after you take it off the heat. You can always use more or less liquid to get the consistency that you prefer. All that's left now is to add some toppings. I've got some good suggestions below!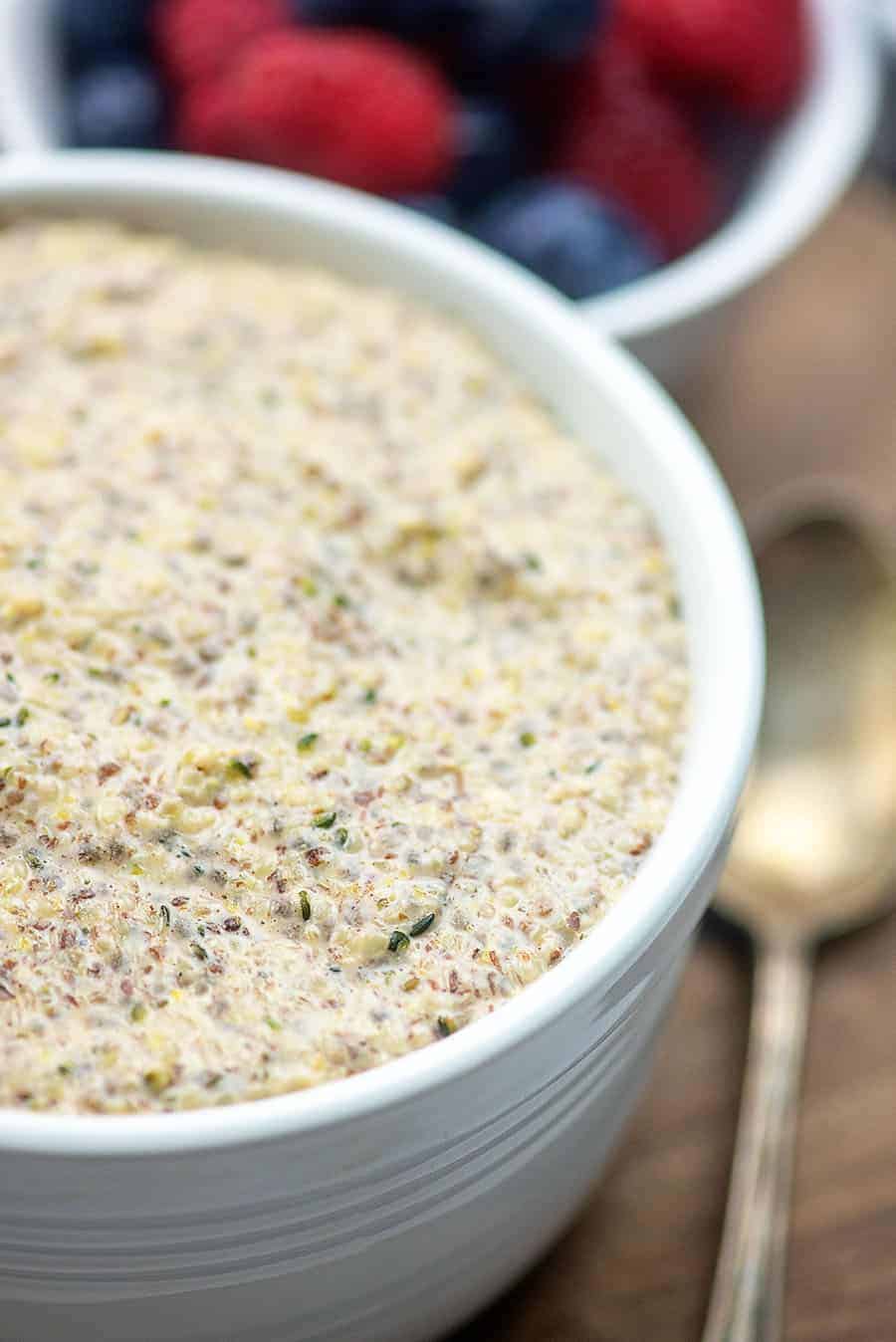 Keto Oatmeal Toppings:
You can really dress up your keto oatmeal any way you would traditional oatmeal, but my favorite toppings are below!
Blueberries
Raspberries
Greek Yogurt
We absolutely love the combination of fruit and almond butter over the noatmeal paired with the creamy tang of Greek yogurt.
This breakfast packs a punch and keeps me full until lunch time with no problem.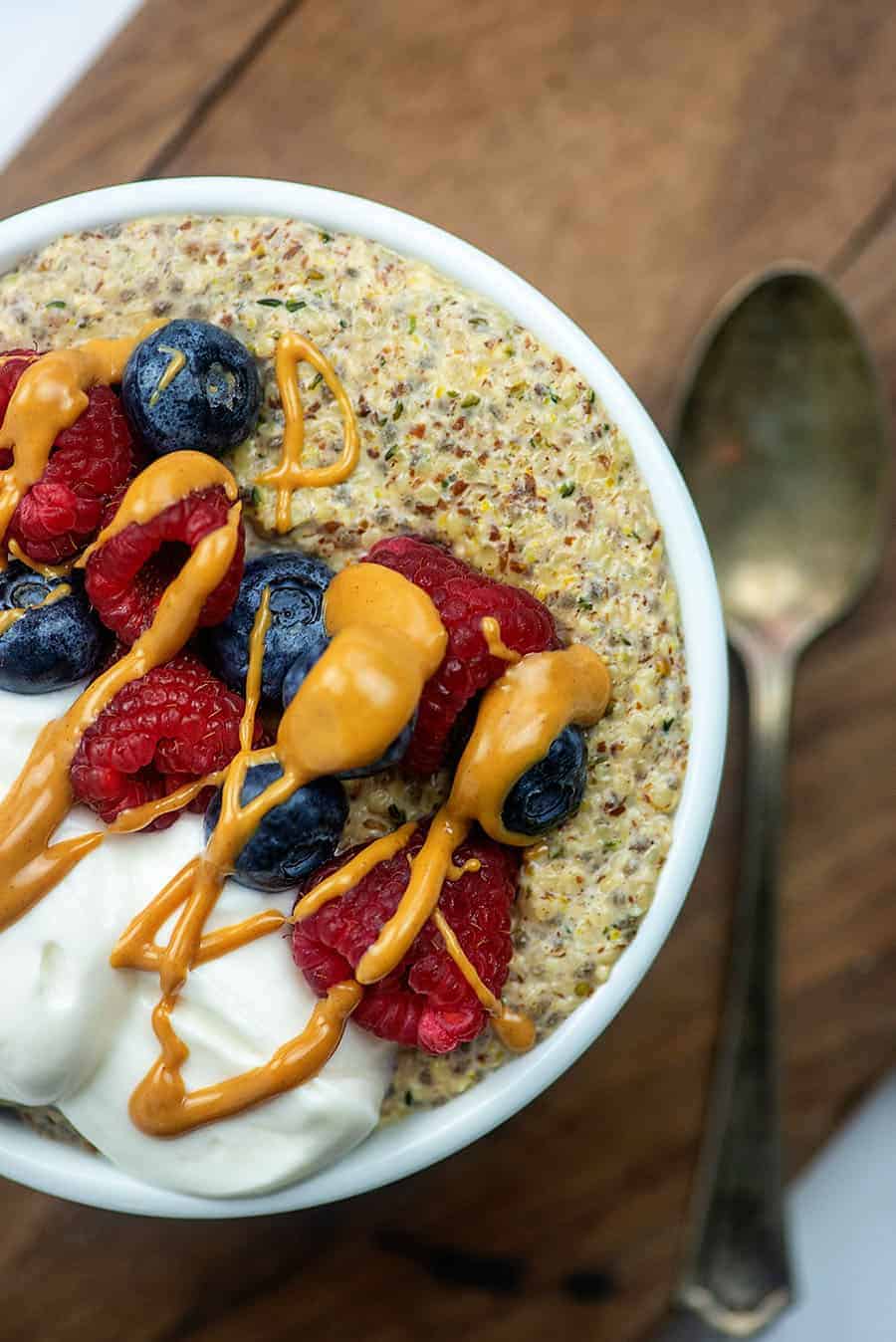 FAQs:
What are hemp hearts?
Hemp hearts (or hemp seeds) are the seed of the hemp plant. Hemp hearts are considered a superfood and are a great addition to your diet. Not to worry…they won't cause you to fail a drug test or make you feel like you've taken drugs, though the shells can contain trace amounts of THC (less than .03%).

Hemp hearts are a great source of protein, high in fat and fiber, and packed with vitamins and minerals.

They're also heart-healthy!
Is oatmeal keto?
Sadly no, regular oats are not very low carb friendly since they are a grain. But the substitutes in this recipe end up with a pretty similar taste and texture!
What is noatmeal?
It's pretty much what it sounds like… oatmeal with no oats! Just lots of good oatmeal like ingredients that are even more nutritious than the real deal.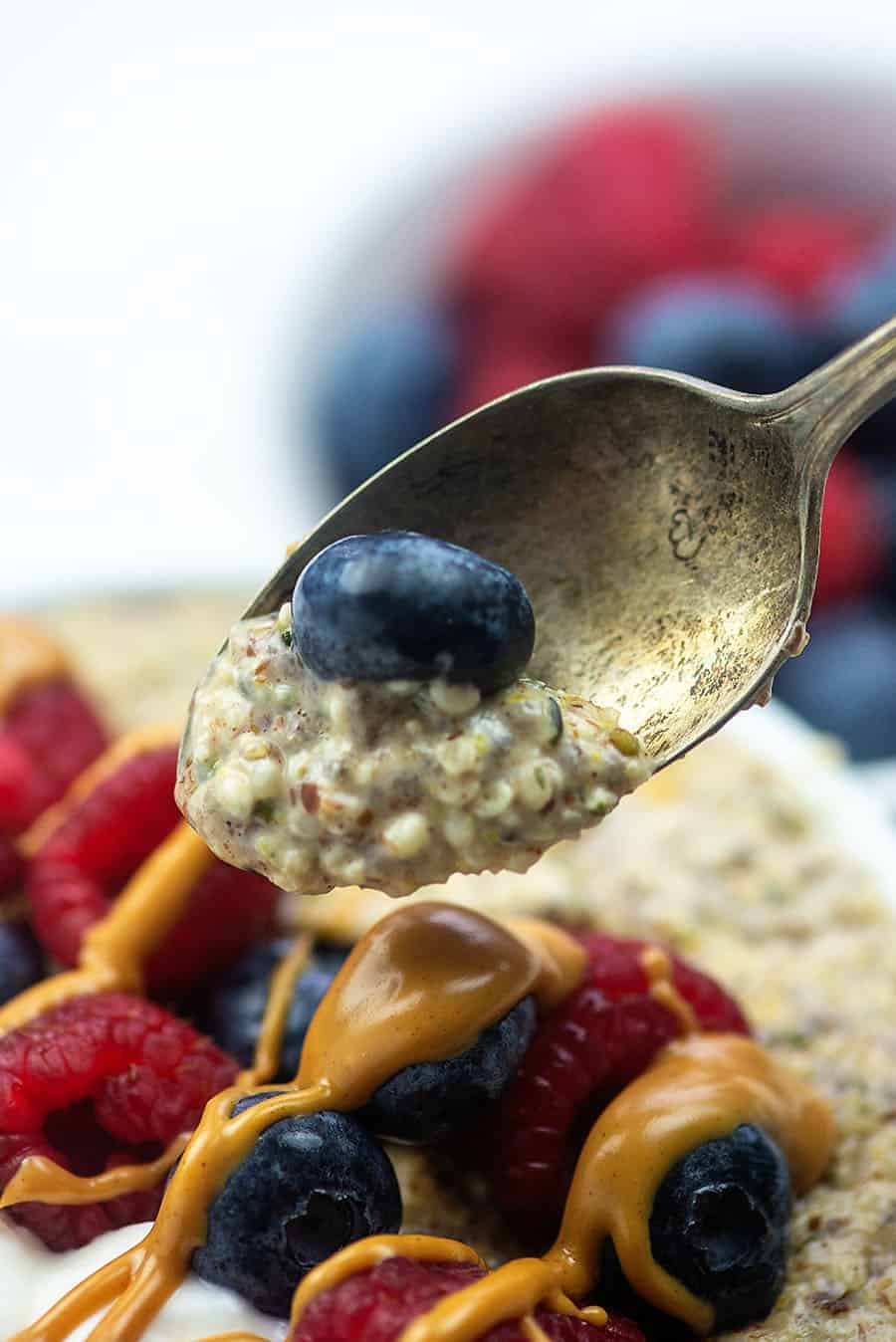 More low carb breakfast recipes: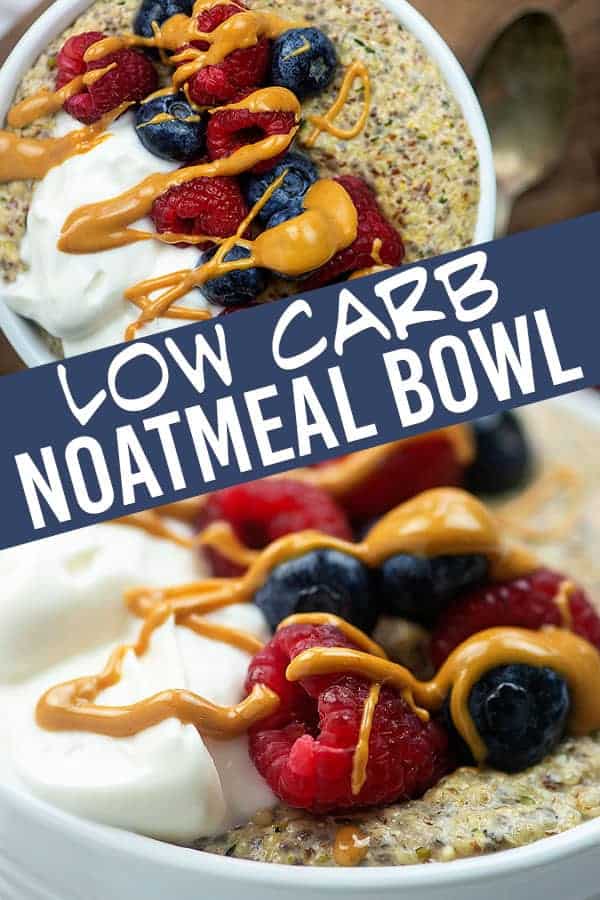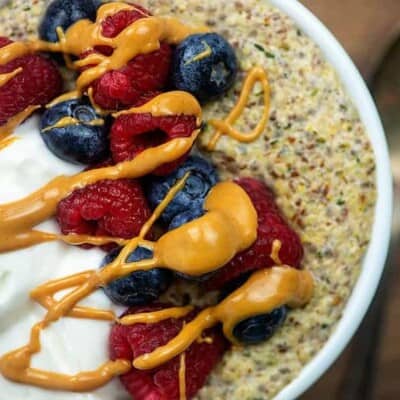 Keto Oatmeal Breakfast Bowl
Grain free, hearty, and so filling! This low carb 'noatmeal' is a great low carb breakfast. This recipe has 6 net carbs after deducting the fiber and sugar alcohols.
Prep5 minutes
Cook5 minutes
Total10 minutes
Instructions
Add the water, hemp hearts, cream, flax, chia seeds, brown sugar substitute, cinnamon, vanilla, and salt to a small saucepan over medium heat.

Bring to a low boil, stirring constantly, until thickened, about 3 minutes.

Remove from the heat and divide between two bowls.

Top each bowl the Greek yogurt, berries, and a drizzle of almond butter.
Tips & Notes:
The nutrition information includes the toppings called for in the ingredients list.
Nutrition Information:
Serving: 1bowl| Calories: 421kcal (21%)| Carbohydrates: 22g (7%)| Protein: 18g (36%)| Fat: 34g (52%)| Saturated Fat: 6g (38%)| Cholesterol: 22mg (7%)| Sodium: 88mg (4%)| Fiber: 10g (42%)| Sugar: 2g (2%)| Net Carbs: 12g (24%)