This keto breakfast hash recipe is made with savory smoked sausage and sautéed peppers and onions. We top it all off with fried eggs!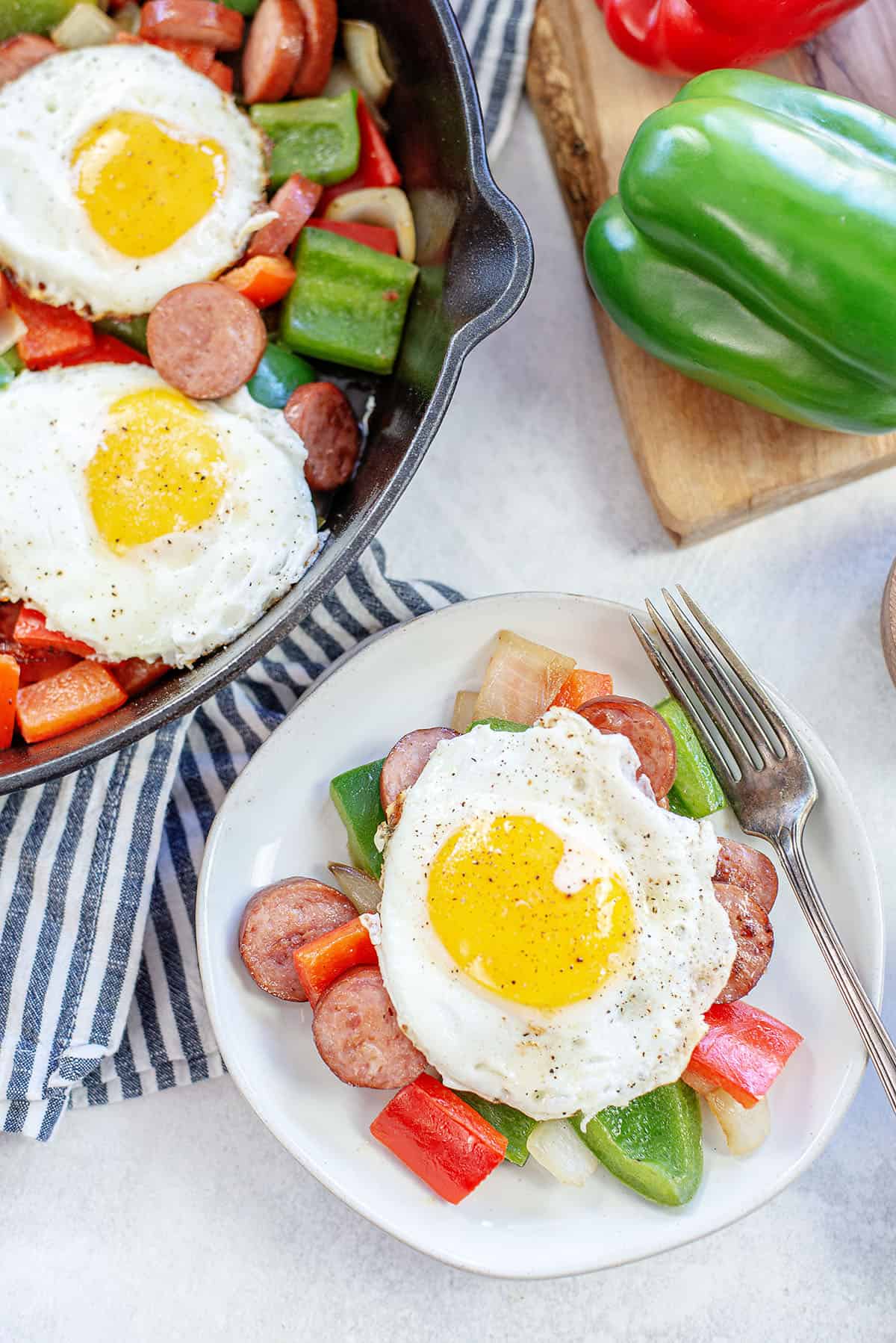 It probably comes as no surprise that bacon is our go to breakfast protein – I mean, what's not to love about crispy fried bacon?
But, I absolutely HATE cooking bacon. We often do air fryer bacon, but I'm also just trying to branch out and incorporate other proteins into our breakfast rotation and that's where this smoked sausage hash comes into play!
I'm all about working veggies into my breakfast, whether that's in the form of breakfast stuffed peppers, keto broccoli quiche, or a side of roasted turnips.
Why We Love This Recipe:
Packed with veggies so your day is off to a good start.
Easy to customize with different veggies or protein.
Protein packed and very filling.
Easy to make ahead and reheat.
Ingredient Notes: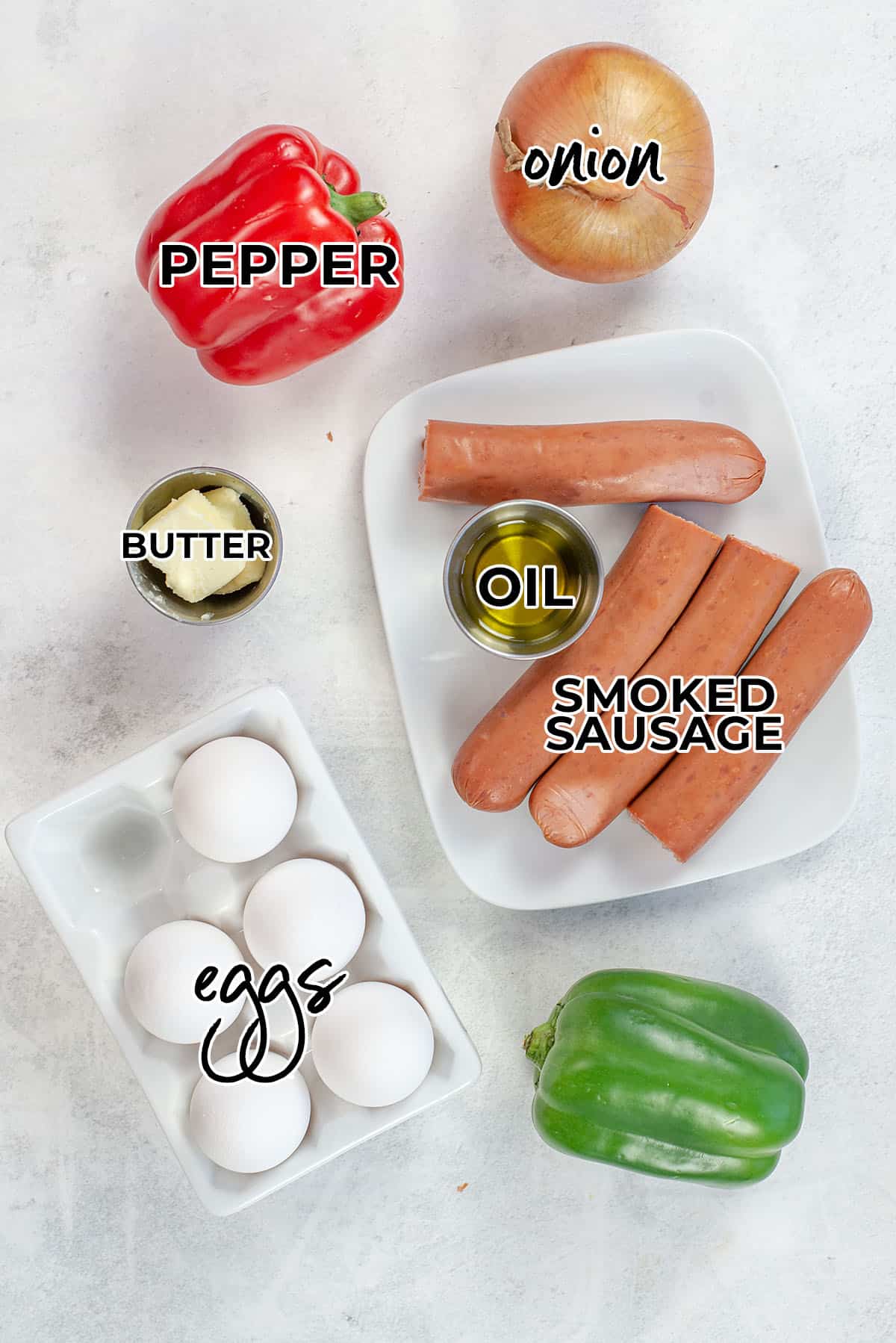 Smoked Sausage – Be sure to look for a smoked sausage with just 2 net carbs per 2 ounce servings. If you're using one with more carbs, just adjust the nutrition information accordingly.
Eggs – We top this breakfast hash with sunny side up eggs and let the yolks run down and flavor the veggies. You can cook your eggs to whatever doneness you prefer.
Peppers & Onion – We prefer red peppers, but will sometimes do a mix of each. Use whichever you like best.
How To:
Sausage – Slice into rounds and the sear in a hot skillet with a little butter. Set aside, but leave the grease in the pan.
Veggies – Saute your peppers and onions until tender crisp.
Eggs – Fry the eggs while the veggies cook. like my eggs sunny side up in this keto breakfast hash recipe but you can cook them however you prefer. See below for some tips on how to make the perfect sunny side up eggs!
Assemble – Once the eggs have finished cooking and the vegetables are tender-crisp you can return the cooked smoked sausage to the skillet and finally top it all off with the fried eggs!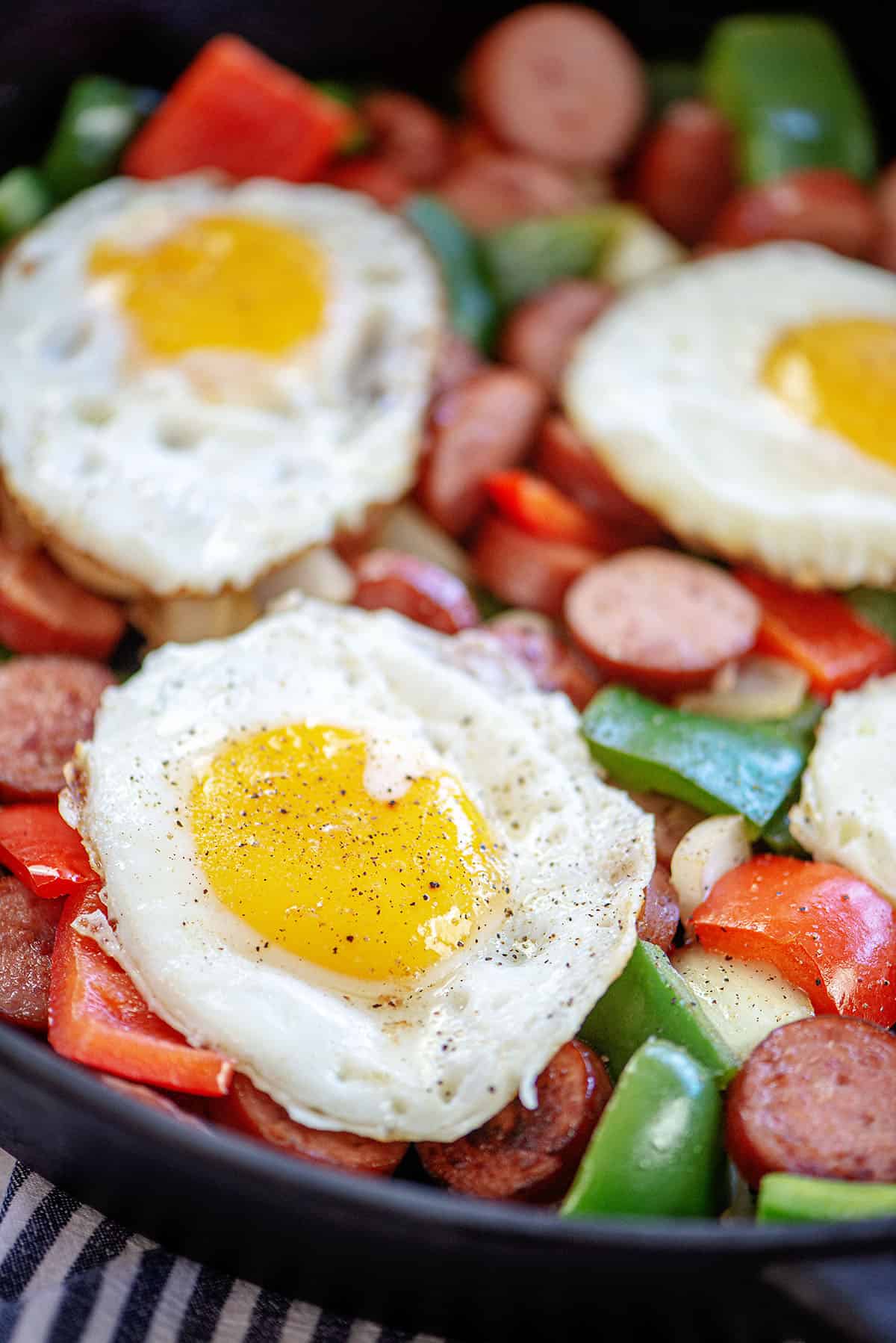 Helpful Tip!
The best way to prepare eggs sunny side up is to heat enough oil to liberally cover the bottom of your skillet. Carefully crack an egg into a small dish and then slide it into the hot oil. Cook until the whites are no longer translucent and then spoon the hot oil over the top of the egg onto the yolk, about every 30 seconds, until the egg whites have fully set.
FAQ's:
What is breakfast hash?
Technically most breakfast hash recipes are a mix of meat, potatoes, and fried onions. We're cutting out the potatoes and ading in peppers. You could also call this a keto breakfast skillet.
How to store breakfast hash?
Store this tightly covered in the fridge for up to 5 days. Reheat in the microwave when ready to serve. For best results, make the eggs fresh on the day you'd like to eat them and just serve the freshly cooked egg over the reheated hash.
Keto Breakfast eBook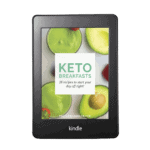 Looking for more keto breakfast ideas and not sure where to start? We created an eBook with over 25 breakfast recipes to start your day off on the right foot! Most of the recipes have less than 5 net carbs per serving, all of them are easy enough for busy mornings, and every recipe comes with the full nutrition information so you can make informed choices.
More Low Carb Breakfast Recipes: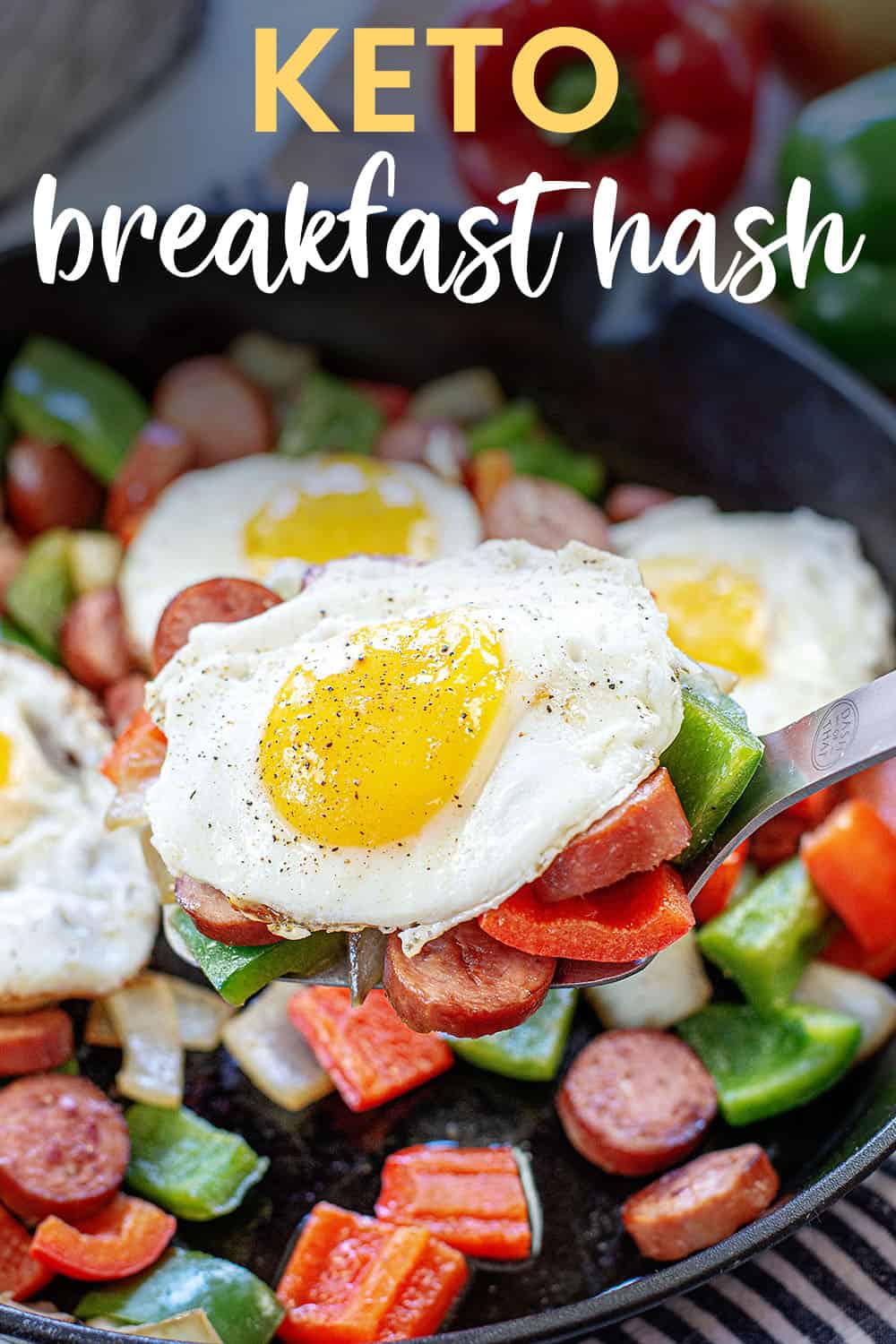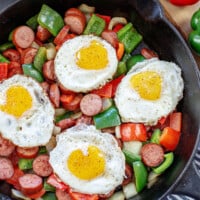 Keto Breakfast Hash
We love starting our day off with veggies and this is a simple way to pack them in! We're using smoked sausage as our protein in this recipe, but the dish is also delicious with crumbled breakfast sausage and diced ham.
Ingredients
8 ounces smoked sausage
2 bell peppers, any color
1 medium onion
2 tablespoons butter
4 large eggs
Oil, as needed
Instructions
Slice t th sausage into thin rounds. Dice the peppers and onions.
Heat a large skillet over medium heat. Add 1 tablespoon of the butter, melt, and swirl to coat the bottom of the skillet.
Add the sausage to the skillet with the butter. Cook until browned on both sides, stirring and flipping occasionally, about 5 minutes.
When the sausage has browned, remove it to a paper towel lined plate. Add the remaining tablespoon of butter to the pan, melt, and swirl to coat.
Add the vegetables to the pan and cook, stirring occasionally, until softened but still somewhat crisp, about 10 minutes.
While the vegetables are cooking, heat a small non-stick skillet over medium heat.
To make your eggs sunny side up, add enough oil to cover the bottom of the skillet generously. When the oil is hot, carefully crack an egg into the skillet. Cook until the whites are no longer translucent and spoon hot oil over the yolk. Continue cooking until the whites are completely set, spooning more oil over the yolk every 30 seconds or so. Repeat with remaining eggs. Alternately, fry the eggs over-easy, over-hard, or over-medium as you prefer.
When the vegetables are tender-crisp, add the sausage back to the pan and stir. Top with the fried eggs.
Notes
This dish is perfect with a variety of vegetables (asparagus, radishes, broccoli, etc.) or another type of protein, such as crumbled breakfast sausage or diced ham.
When making ahead, we like to prepare the sausage and veggie portion and store in the fridge. While that is reheating in the microwave, we fry the eggs fresh. You can reheat eggs in the microwave, but it's not our favorite.
Shredded cheese sprinkled over the top is always a tasty addition.
Nutrition Information:
Yield: 4
Serving Size: 1
Amount Per Serving:
Calories: 346
Total Fat: 25g
Saturated Fat: 11g
Trans Fat: 0g
Unsaturated Fat: 16g
Cholesterol: 236mg
Sodium: 611mg
Carbohydrates: 8g
Net Carbohydrates: 7g
Fiber: 1g
Sugar: 3g
Protein: 14g
All information and tools presented and written within this site are intended for informational purposes only. This information is provided as a courtesy and there is no guarantee that the information is accurate.