These KETO BLUEBERRY PANCAKES are nice and fluffy, just like a traditional pancake! They're made with coconut flour to keep them keto friendly and each pancake is studded with juicy blueberries.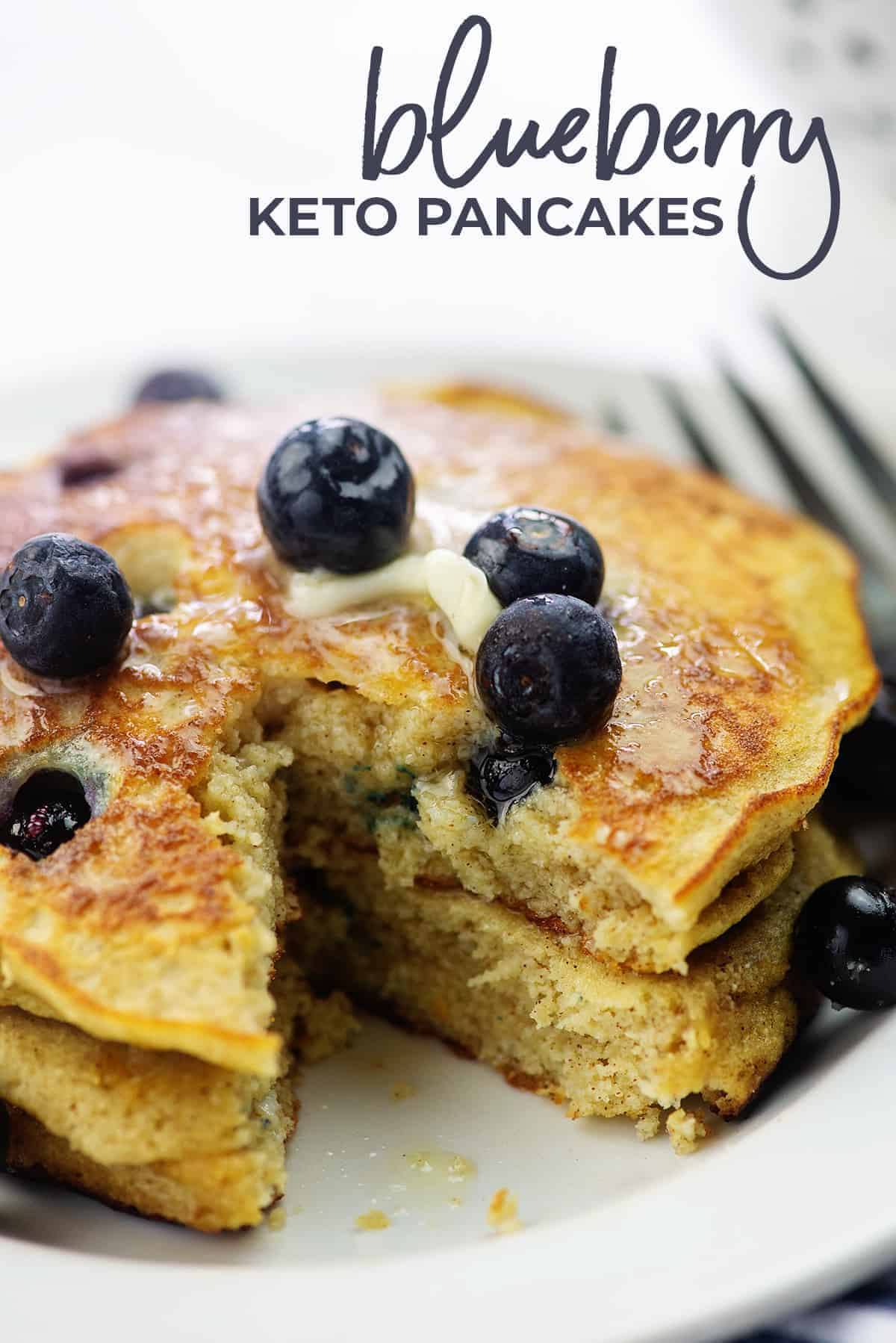 Anytime I ask readers what they struggle with most about sticking to a low carb or keto diet, it's BREAKFAST.
We all start out excited for all the bacon, but a few weeks in and it's like, no. No more bacon, thank you.
I've said it a million times, but the key to being successful (in my opinion) is variety! Skip the bacon and eggs today and make these keto blueberry pancakes instead!
This recipe comes from my ebook, Keto Breakfasts. It's packed with over 25 low carb breakfast recipes. Click the link above for more information and to get your copy!
These coconut flour pancakes cook up thick and fluffy, much like a traditional pancake. The kids love them as much as I do!
(Not in the mood for pancakes? Try a chaffle instead!)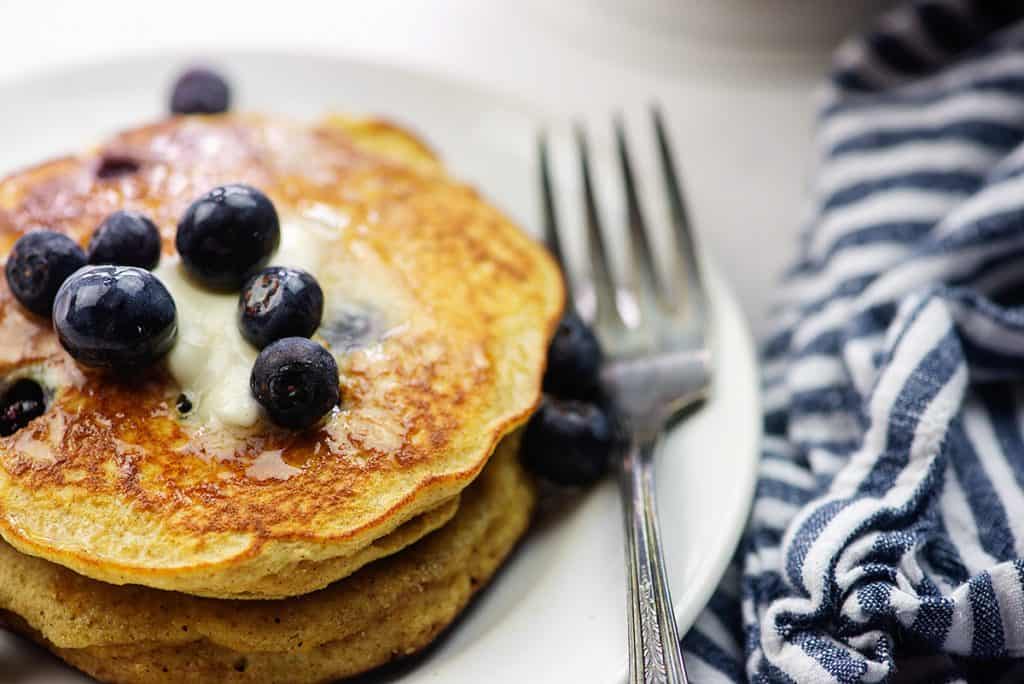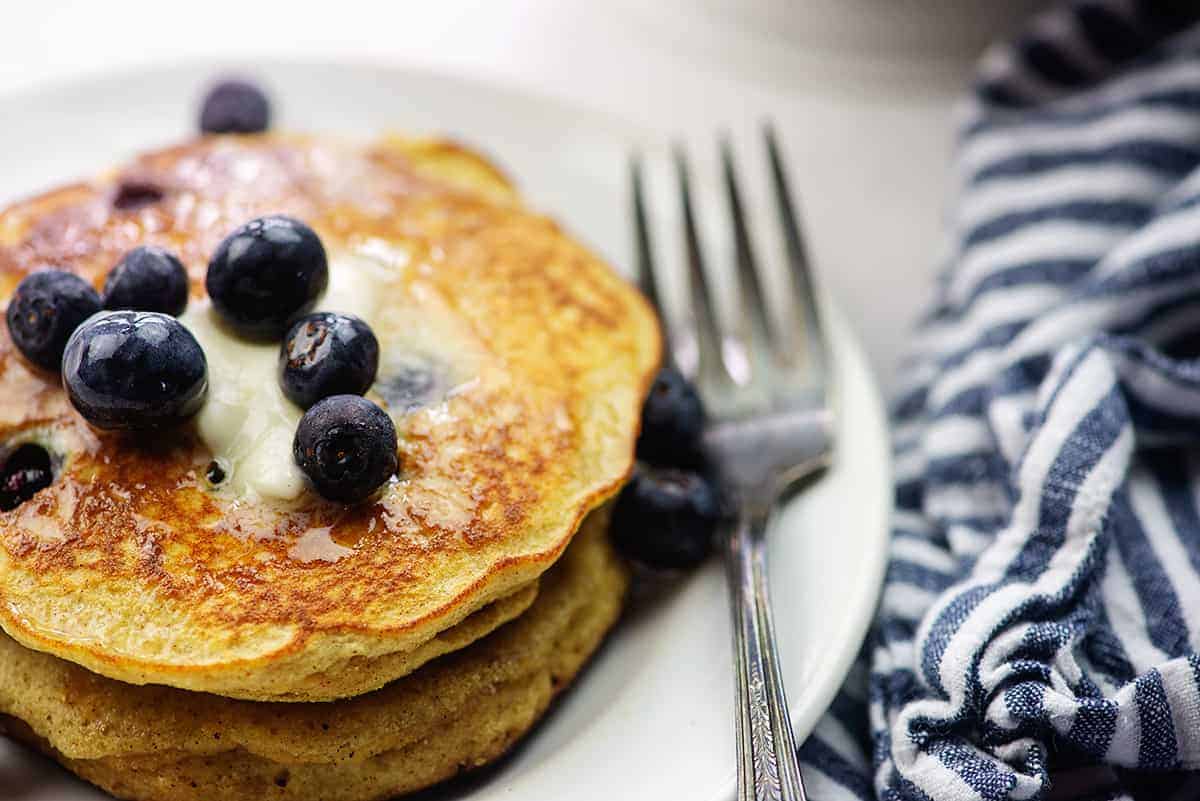 How to:
This post contains affiliate links. As an Amazon Associate and member of other affiliate programs, I earn from qualifying links.
This keto pancake recipe is super simple – no need to bust out the blender like many recipes call for.
Just whisk together some coconut flour, eggs, melted coconut oil, sugar free syrup (see my notes below about which brand I recommend!), vanilla, baking powder, cinnamon, and salt.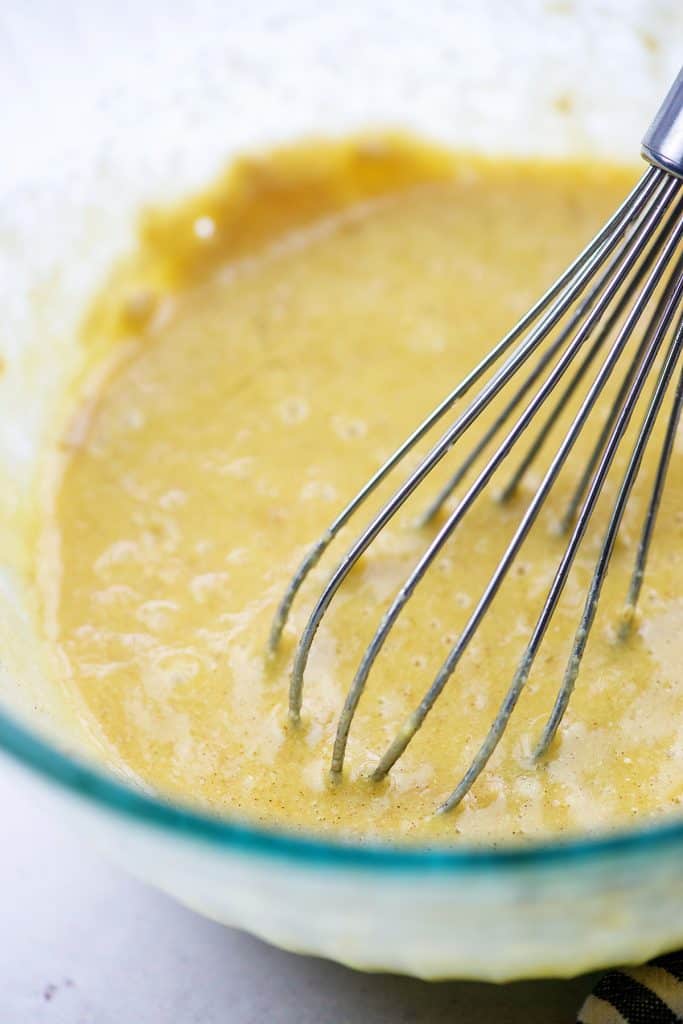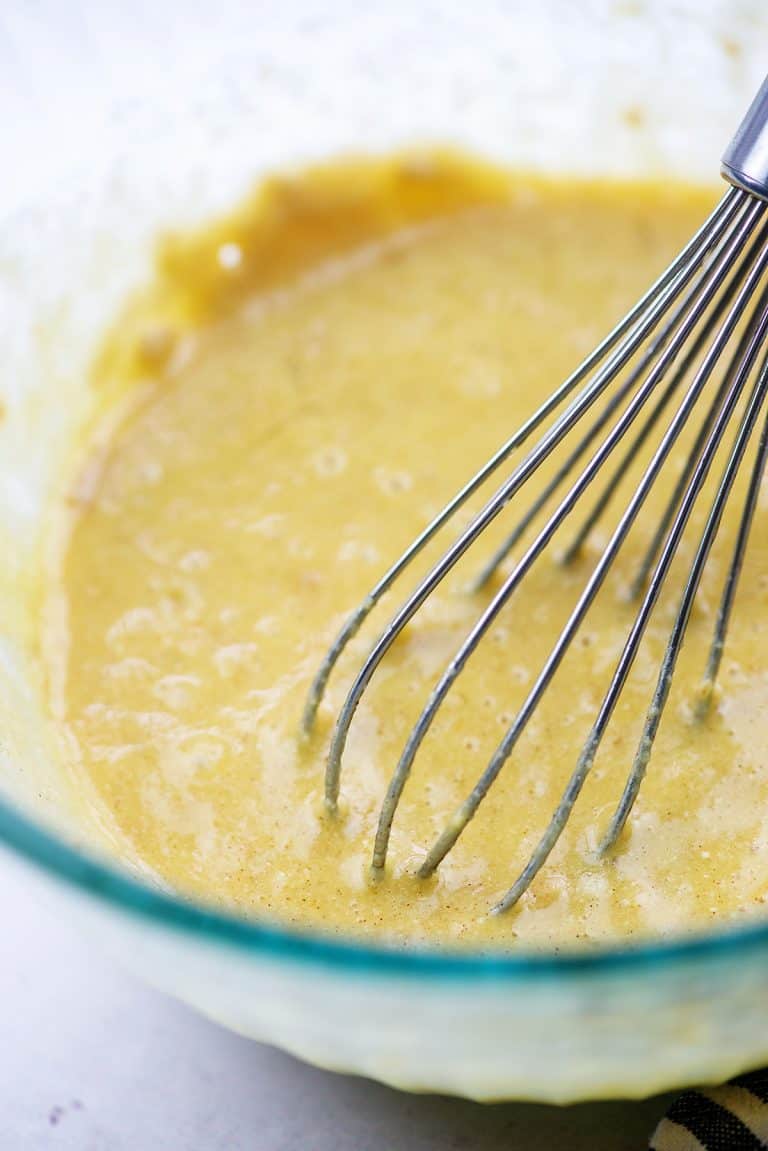 Use a 1/4 cup measure to pour the batter onto a greased skillet or griddle.
We recently got a Blackstone griddle and it's a game changer. We can cook multiple packs of bacon, eggs, and pancakes all at once. It's amazing – and we use it for steak, chicken, veggies, and more!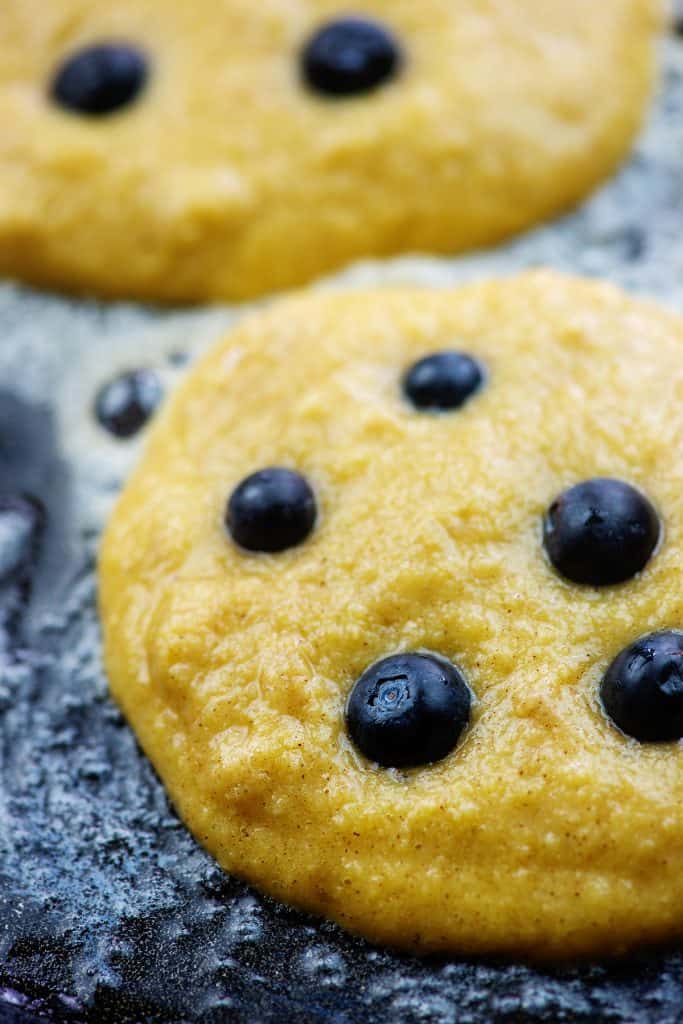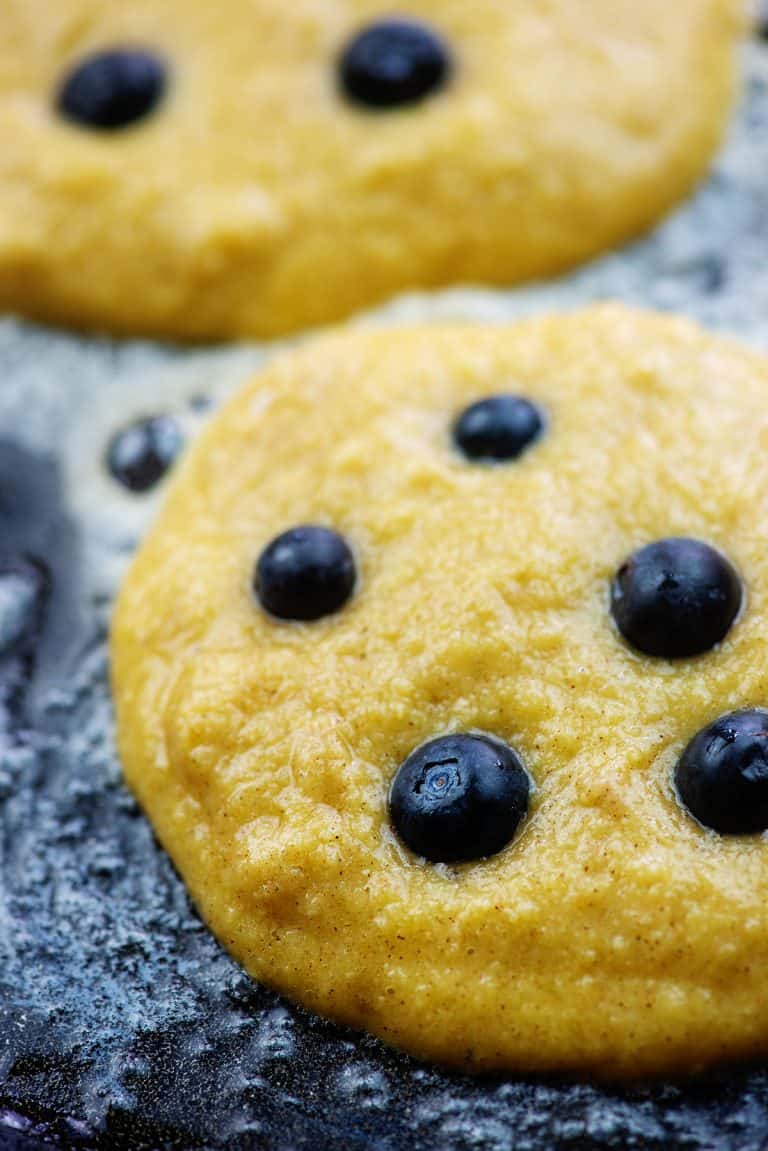 Place a few blueberries over the pancakes and cook until you see bubbles forming.
Flip and cook until golden and puffy.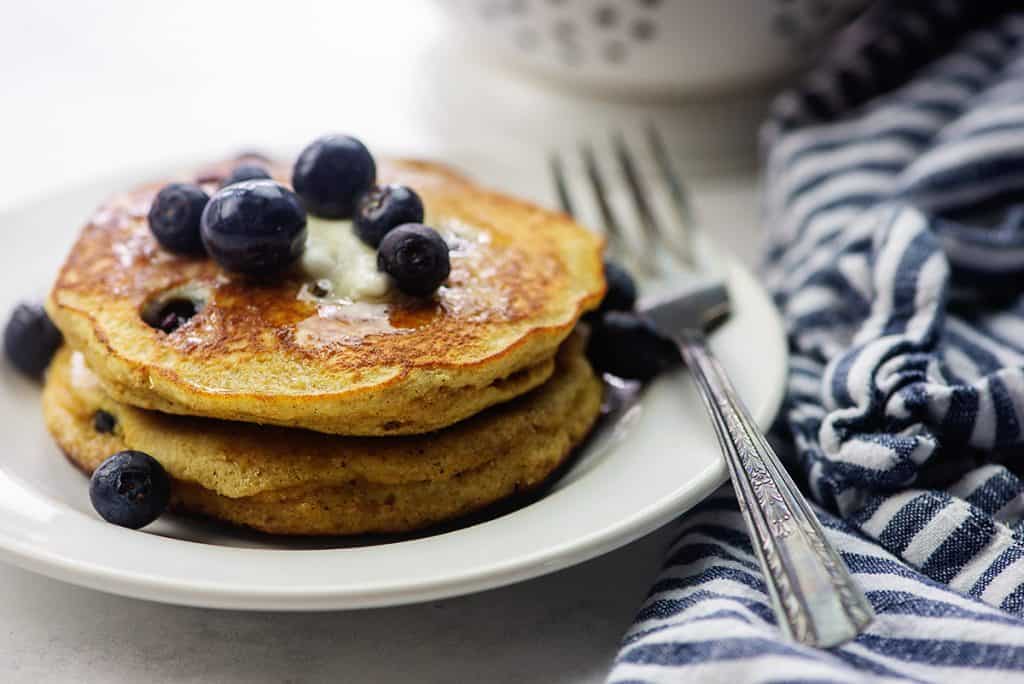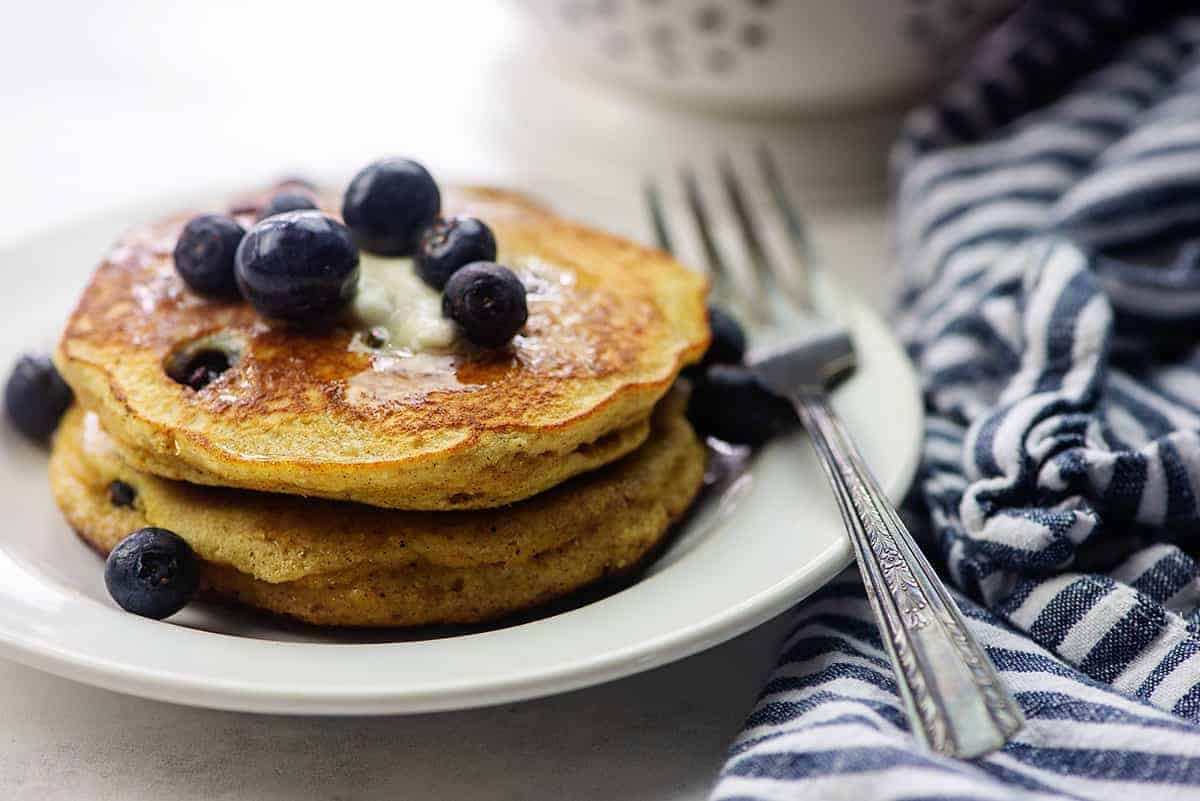 Keto Friendly Syrup:
There are two sugar free, keto-friendly syrups on the market that I really love – you can't go wrong with either.
The first one is Lakanto Maple Flavored Syrup. I love the flavor of this one. You can use my code THATLOWCARBLIFE for 20% off your entire order at Lakanto.com. <— I use Lakanto almost exclusively as a sweetener. It's my favorite, so be sure to grab some!
The other one that I use is by ChocZero. I actually prefer this one, because it's a thicker, stickier liquid like real syrup. The flavor is fab on this one too. You can use my code THATLOWCARBLIFE for 10% off your entire order at Choczero.com. <– Grab some Keto Bark, it's outrageous.
I've tried a couple of other syrups, but I like these two because they're made with natural sweeteners, they're keto friendly, and the flavor is great without a funky aftertaste. 🙂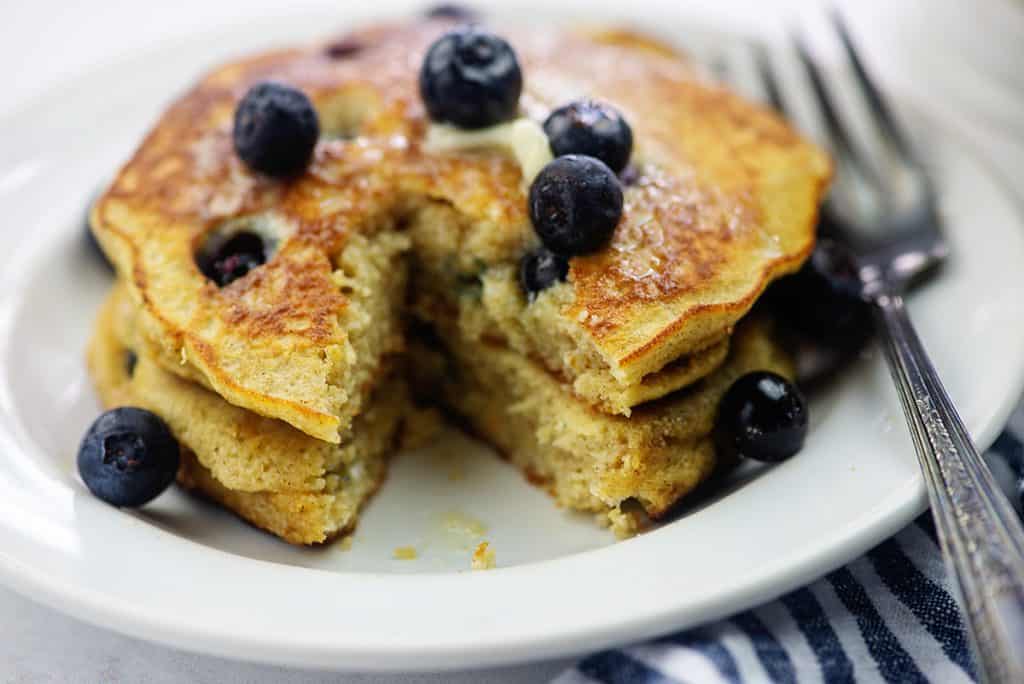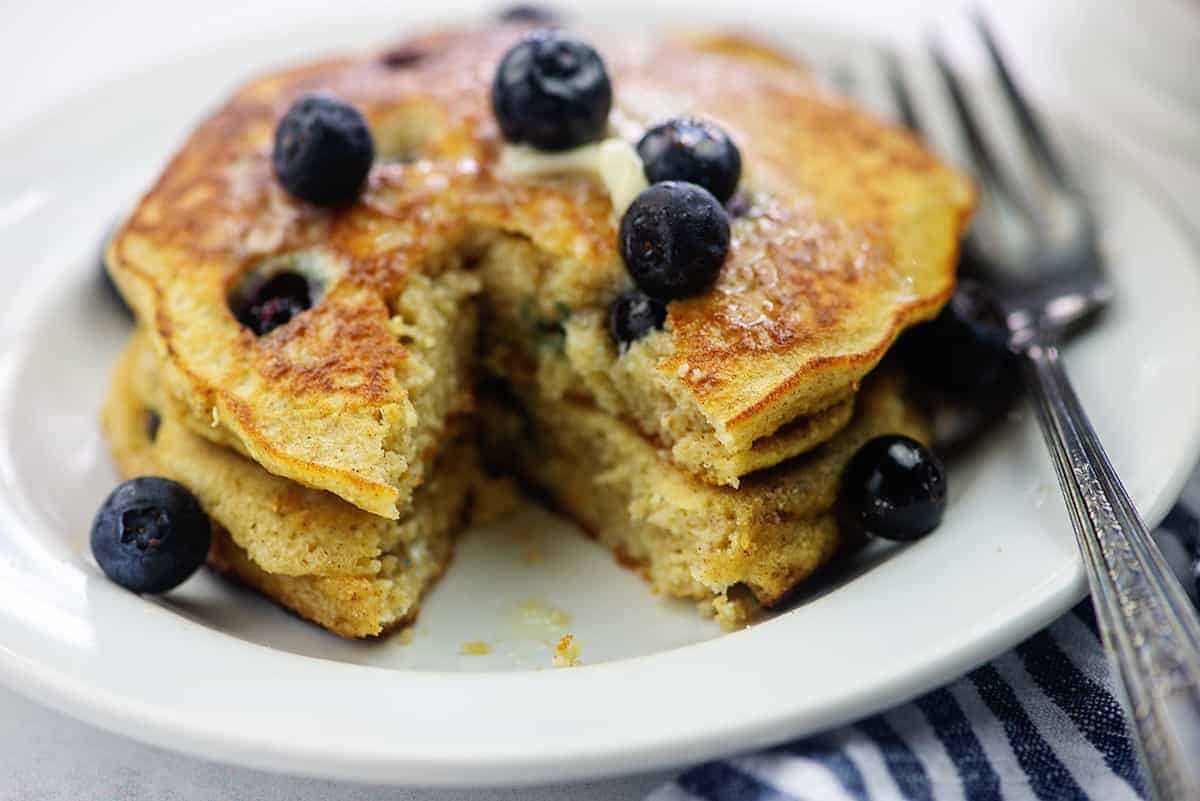 More low carb breakfast recipes: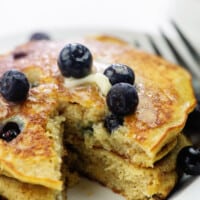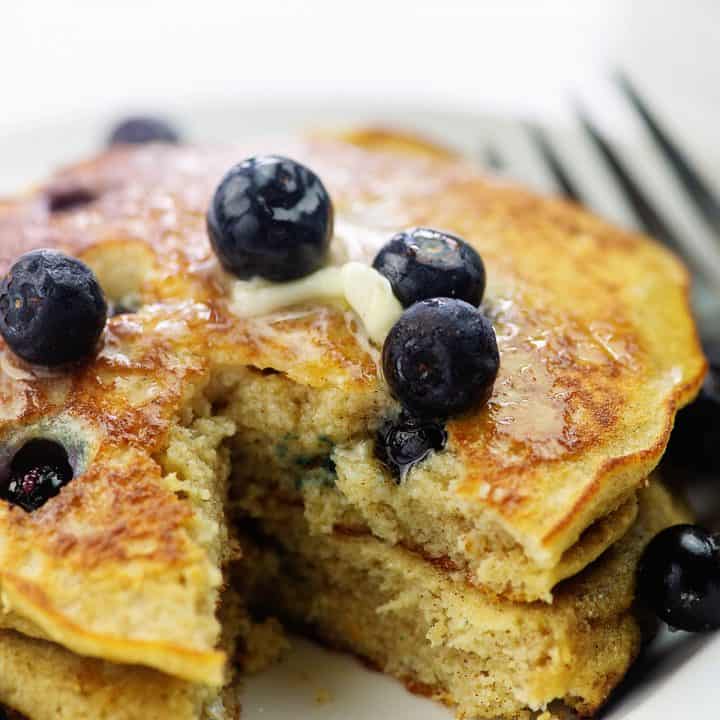 Keto Blueberry Pancakes
These blueberry pancakes cook up thick and fluffy like a traditional pancake, but they're made with coconut flour to keep them low carb.
Ingredients
3 large eggs
2 teaspoons vanilla
3/4 teaspoon baking powder
½ teaspoon cinnamon
Pinch of salt
¼ cup blueberries
1 tablespoon butter, for the griddle
Butter and syrup, for serving
Instructions
Heat a large skillet or griddle over medium heat.
Whisk together the coconut flour, eggs, coconut oil, maple syrup substitute, baking powder, vanilla, cinnamon, and salt in a small mixing bowl until smooth and well combined.
Melt the butter on the griddle and use a 1/4 cup measure to scoop out 4 pancakes onto the griddle. Arrange blueberries evenly between the pancakes by pressing them into the batter on the griddle. When bubbles form and pop on the pancakes, carefully flip and continue cooking until golden brown, about 3 minutes per side.
Divide pancakes between 2 plates, top with butter and syrup.
Notes
We like to top our pancakes with extra blueberries, but this is not accounted for in the nutrition information.
Nutrition Information:
Yield: 2
Serving Size: 2 pancakes
Amount Per Serving:
Calories: 314
Total Fat: 23g
Sodium: 240mg
Carbohydrates: 17g
Net Carbohydrates: 5g
Fiber: 7g
Sugar Alcohols: 5g
Protein: 12g
All information and tools presented and written within this site are intended for informational purposes only. This information is provided as a courtesy and there is no guarantee that the information is accurate.