This Keto Blueberry Cobbler is loaded with sweet, juicy blueberries and topped with a rich, buttery topping. Perfect with a scoop of your favorite low carb vanilla ice cream on top!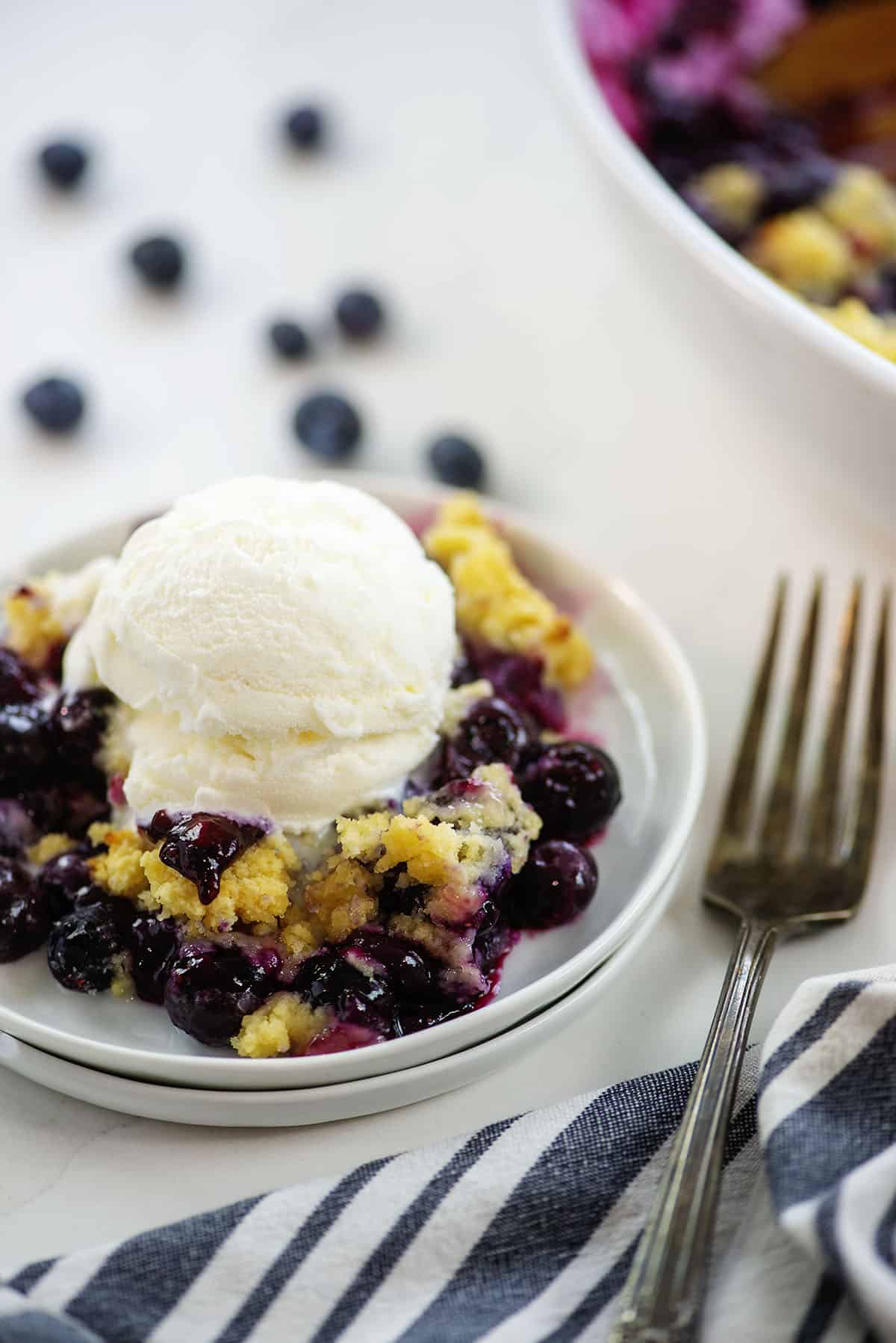 Would you just look at those vibrant, juicy blueberries bursting around that buttery topping? Can you believe that decadent little treat is low carb? Me neither, but I did the math over and over again and yeah…it's low carb, keto friendly, and perfect for a summer night!
Now, yes, I know that I JUST shared a recipe for Keto Berry Crisp and here I am with a similar-ish recipe…more berries, another delicious topping…but fresh berries are just in abundance right now and I didn't want to hold back on you guys. You needed both of these recipes and you need them both ASAP!
I'm actually not a huge fan of blueberries when they're plain. Bake them into something sweet, though, and you better watch out. I'll devour the whole thing if we're not all careful. The blueberries in this just bake up so sweet and I love the way the berries burst and thicken in the oven.
Of course, that buttery topping doesn't hurt things either. It's so simple to whip up and just makes the perfect biscuit-y topping. All around dessert perfection, if you ask me!
Filling Ingredients:
This post contains affiliate links. As an Amazon associate and member of other affiliate programs, I earn from qualifying purchases.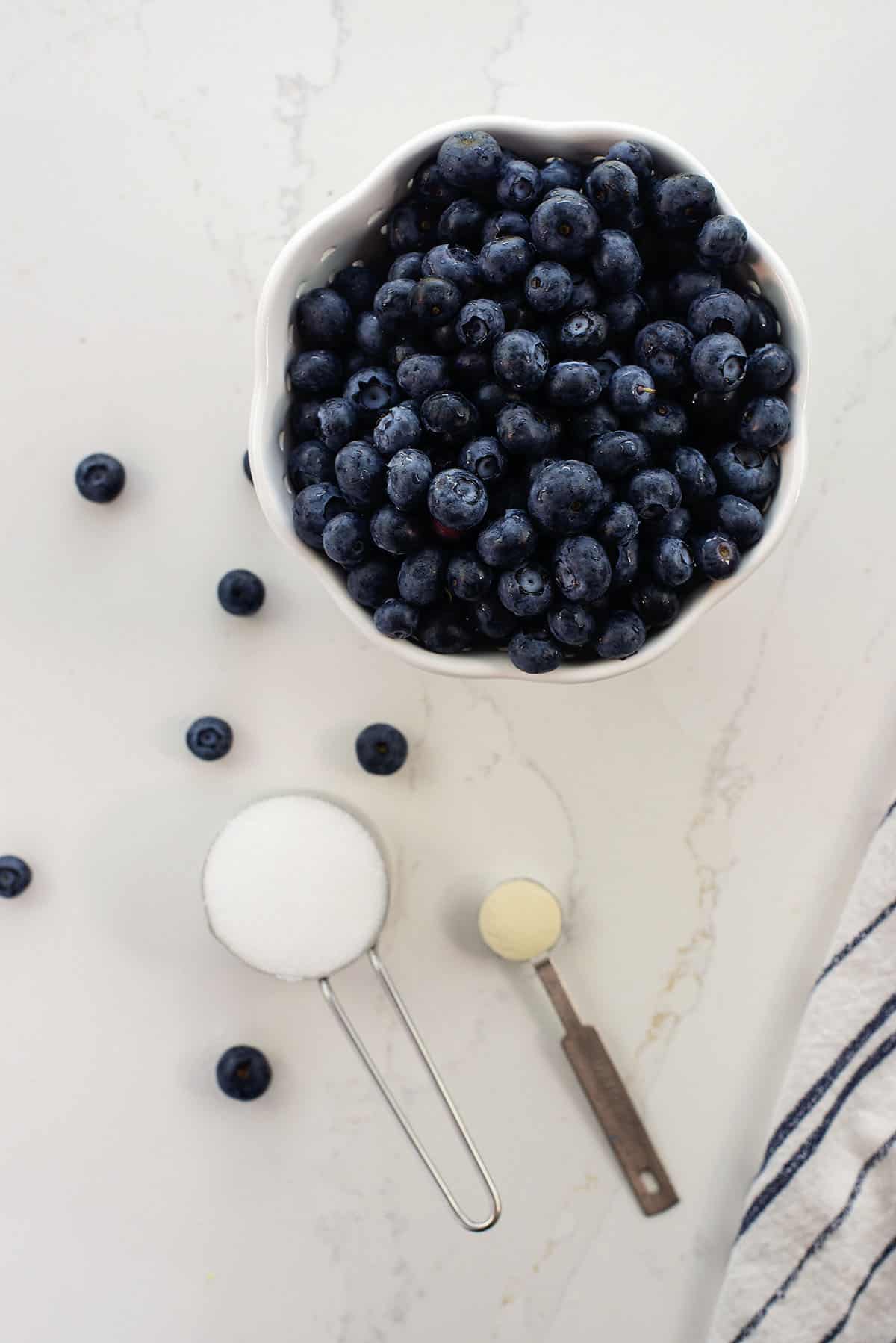 Blueberries – We've only tested this recipe using fresh blueberries. While frozen berries would likely work, I haven't tested it myself.
Sweetener – We use and love Lakanto products. We're using their original sweetener in this recipe. It bakes and tastes like real sugar with no impact on blood glucose, so it can be counted as ZERO net carbs! Use code THATLOWCARBLIFE for 20% off your order at Lakanto.
Xanthan Gum – Blueberries release a lot of juice and moisture as they cook. The xanthan gum works as a low carb and gluten free thickening agent that'll help to keep the blueberry cobbler from becoming soupy. You only need a teensy bit, but it does make a difference!
Topping Ingredients: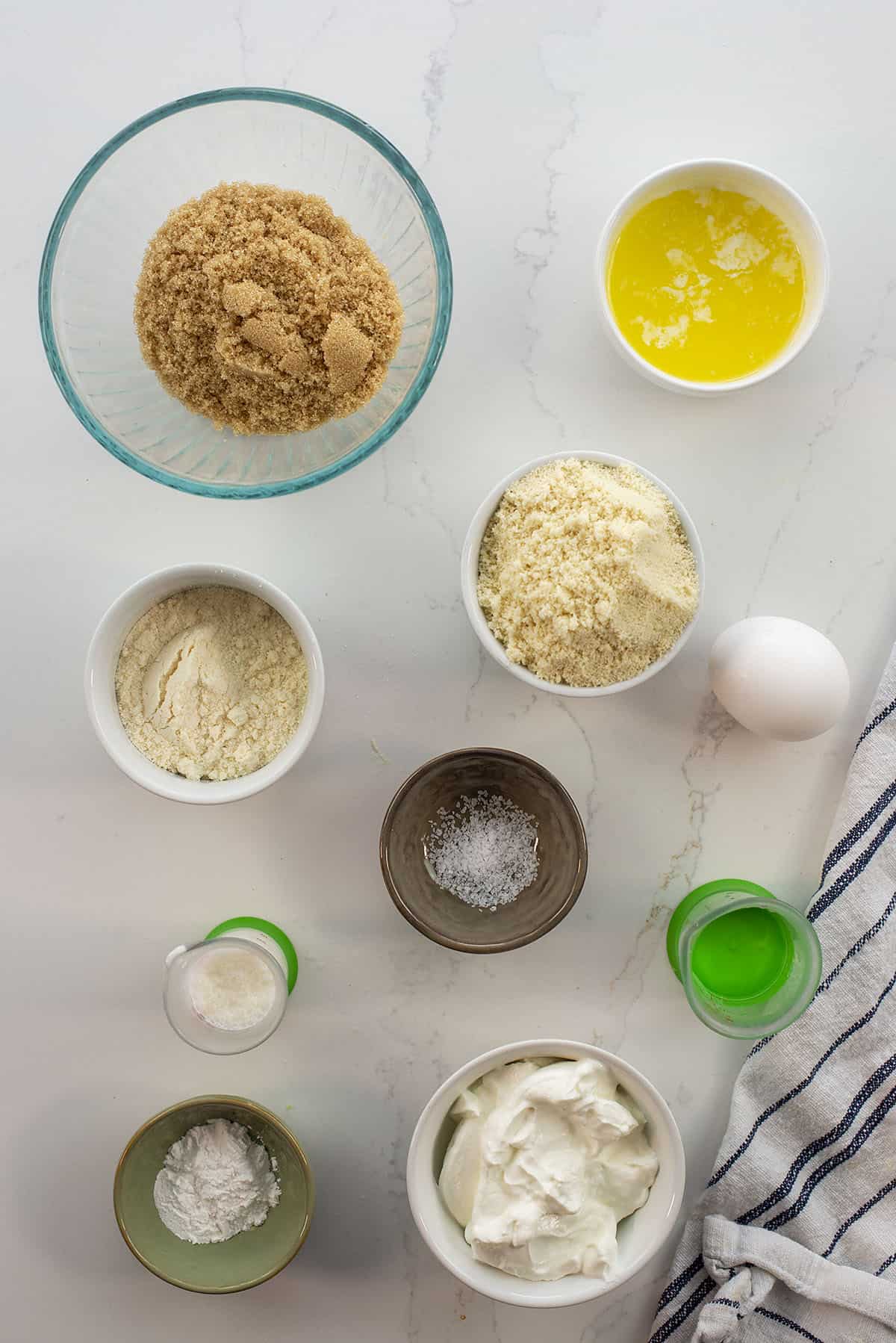 Almond Flour – Rich, buttery, and low carb. I love baking with almond flour.
Coconut Flour – The coconut flour helps to soak up the moisture and give this topping the texture we're looking for. I haven't tested this recipe using all almond flour OR all coconut flour. Adjustments would be made for either as both flours behave differently.
Brown Sweetener – We love Lakanto's Brown Sugar Replacement. It's all natural, made with a mix of monkfruit and erythritol, and it has zero impact on blood glucose. Use code THATLOWCARBLIFE for 20% off your order!
Baking Powder & Salt
Wet Ingredients – Along with all those dry ingredients you'll also mix in some sour cream, egg, almond milk, and melted butter. These ingredients are going to help bind the keto cobbler dough together and keep it from drying out.
PSST…Do these ingredients look familiar? This is a riff on our sour cream biscuit recipe! They make a great cobbler topping! 😉
Shop Keto Ingredients
We use Thrive Market for a lot of our specialty ingredients and keto snacks or products. Their prices tend to be cheaper than the local stores and I love that you can so easily sort products by diet.
Like Costco, this is a membership site, but we find that it's more than worth it based on the amount we save over the regular grocery store.
They have monthly or yearly plans. Check it out here.
Why We Love This Recipe:
Both the filling and the topping stir together by hand in seconds. So simple!
This is one of those desserts that is already naturally pretty sweet, so you can add sweetener to taste – helps avoid any aftertaste that some people have with low carb sweeteners!
Perfect with a big scoop of your favorite sugar free vanilla, but just as tasty on it's own or with just a little drizzle of heavy cream.
How To Make Keto Blueberry Cobbler: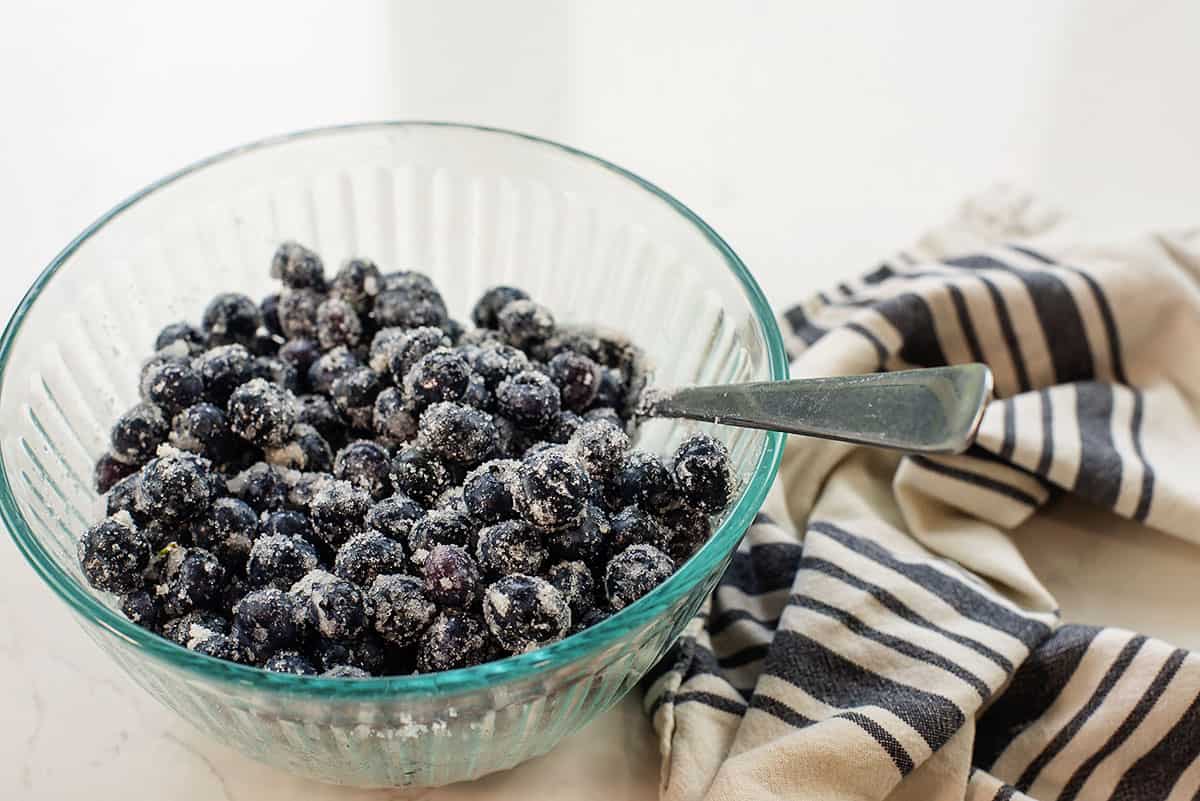 Blueberry Filling – To get started you'll prepare the blueberries by rinsing and patting them dry and then adding them to a bowl. Sprinkle the sweetener and xanthan gum over the berries and stir gently to coat. Place in a 9×9 baking dish.
Topping – Add all of the topping ingredients to a bowl and stir with a fork or spoon to combine. Let the mixture set for a couple of minutes to thicken up a bit and then drop spoonfuls of the dough over the top of the berries.
Bake – Pop this in a hot oven and bake for about 30 minutes. The biscuit topping should start to get golden around the edges and the berries should be thick and bubbly.
Serve – You'll want to let this cobbler cool for at least 20 minutes before serving, but it is definitely best served while it's still warm. It's even better if you top if off with some of my homemade keto whipped cream or try it with a big scoop of low carb vanilla ice cream!
Helpful Tip!
Taste your blueberries before adding the sweetener. If they seem very sweet on their own, use less sweetener. You may not need the full amount.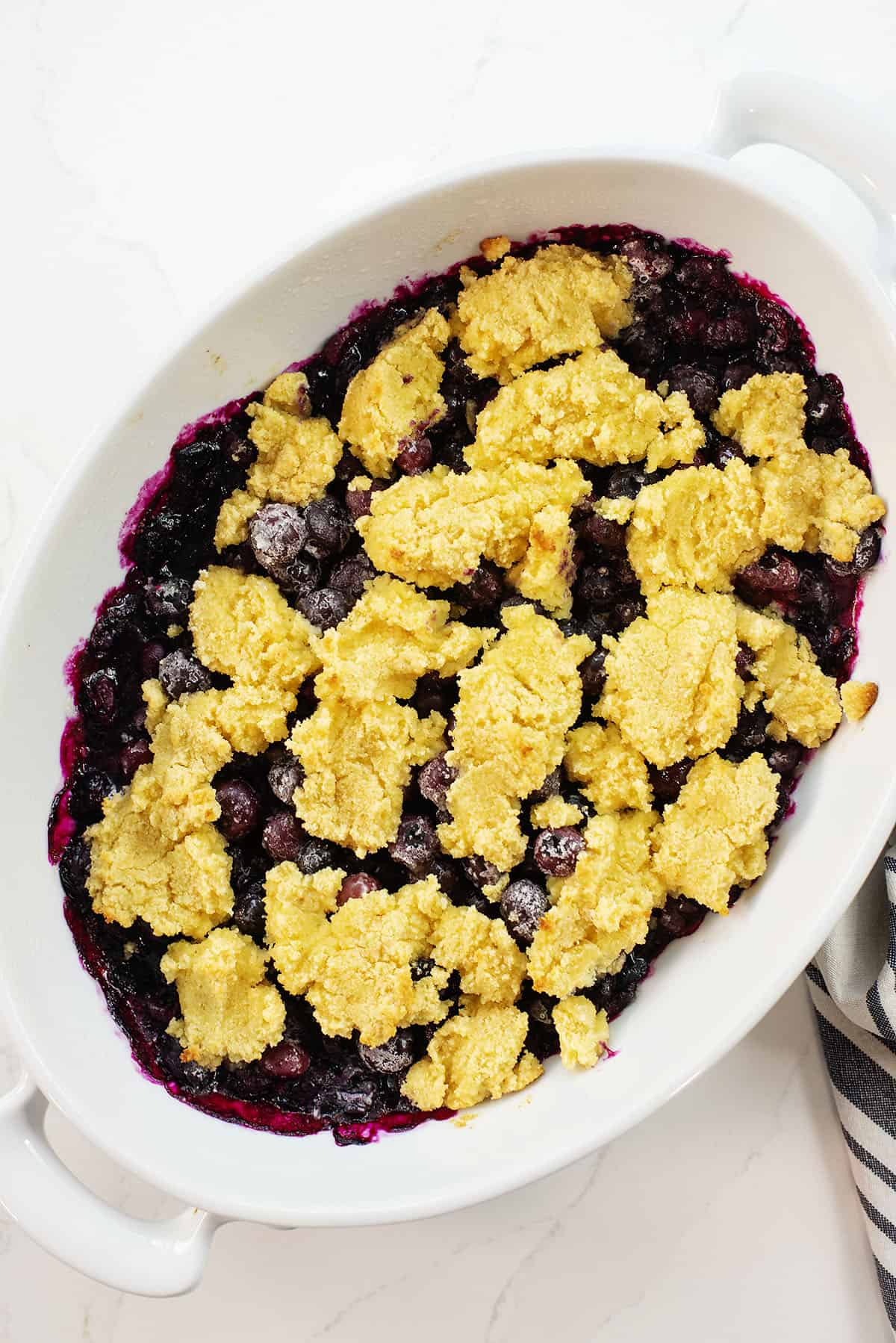 Carb Count:
This keto blueberry cobbler has 8 net carbs per serving, which might be higher than you'd expect for a keto dessert. It IS on the high end, but that's because blueberries are just high in natural sugars and carbs. We kept everything else in the dessert as low carb as possible to make up for that, but at the end of the day, this has a higher carb count than most (all?) of our other keto desserts.
We think the higher carb count is worth it on days when we've planned ahead and avoided other excess carbs.
FAQ's:
Does blueberry cobbler need to be refrigerated?
Yes! After baking you'll want to keep any leftovers stored in the refrigerator, covered, for up to 3 to 4 days.
Can I use frozen blueberries?
We've only tested this recipe using fresh berries, but frozen would likely work.
What is cobbler?
A cobbler is pretty much any baked dish with a fruit filling and crumbly or biscuit like topping!
More Fruit Dessert Recipes: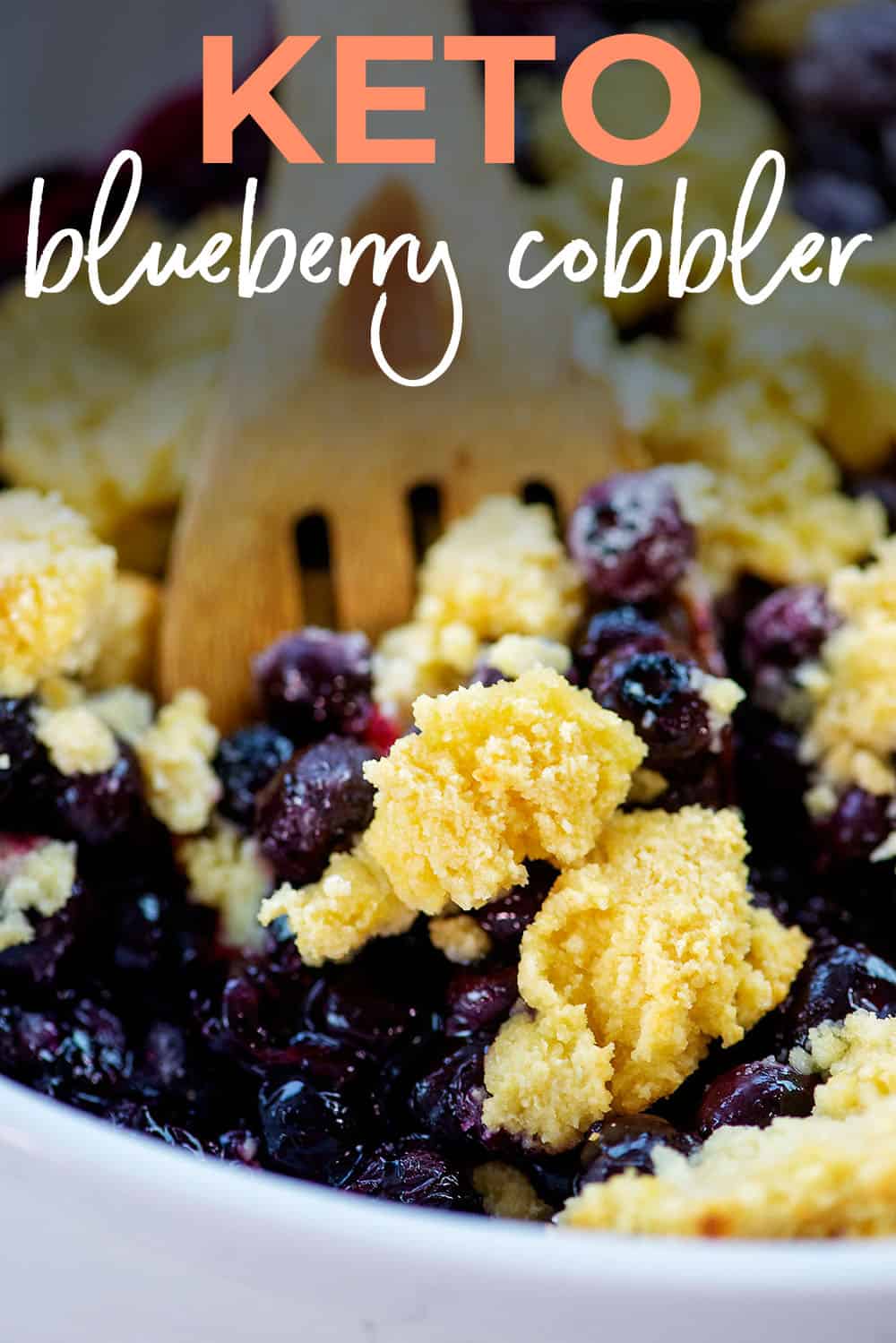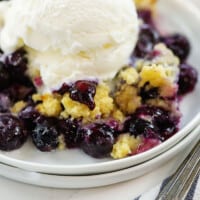 Keto Blueberry Cobbler
This keto blueberry cobbler is packed with fresh berries that bake up thick and bubbly. The buttery topping is made of almond flour and coconut flour, mixed together in just one bowl, and pairs perfectly with the sweet berries.
Ingredients
For the Filling:
For the Topping:
1 teaspoon baking powder
1/4 teaspoon salt
1/4 cup sour cream
1 egg yolk
3 tablespoons almond milk
1 tablespoon melted butter
Instructions
To make the filling:
Rinse and pat dry the blueberries. Add to a mixing bowl.
Mix together the sweetener and xanthan gum and sprinkle over the berries. Stir gently to combine.
Place berries in a greased 9x9 baking dish or a 10 inch cast iron skillet.
To make the topping:
Preheat the oven to 325 degrees.
Add all of the ingredients to a mixing bowl and stir with a spoon to combine. Let mixture set for 2-3 minutes to thicken up.
Drop spoonfuls of the dough over the berries.
To bake:
Bake for 30 minutes or until the berries are bubbly and the top is golden brown.
Let sit for at least 20 minutes before serving.
Notes
Some berries are sweeter than others. Start with 1-2 tablespoons of sweetener and then add more as needed to reach the sweetness you prefer.
This recipe does require both the almond flour and coconut flour. The two flours work differently and both are needed. I have not tested this recipe without both.
We did not measure the serving size by volume - we just divided this into 8 portions. They are fairly small portions and the carb count is a bit higher than our other dessert recipes, solely because blueberries have a lot of natural sugars in them. We love fresh blueberry cobbler in the summer and make room for this in our carb count. It may not be a good fit for everyone.
Nutrition Information:
Yield: 8
Serving Size: 1
Amount Per Serving:
Calories: 106
Total Fat: 6g
Saturated Fat: 2g
Trans Fat: 0g
Unsaturated Fat: 4g
Cholesterol: 31mg
Sodium: 144mg
Carbohydrates: 11g
Net Carbohydrates: 8g
Fiber: 3g
Sugar: 6g
Protein: 3g
All information and tools presented and written within this site are intended for informational purposes only. This information is provided as a courtesy and there is no guarantee that the information is accurate.