This cheesy Keto Broccoli Quiche is an easy and filling dish packed full of eggs, cheddar cheese, and broccoli! And with no crust, it's low carb, keto, and so darn easy to make!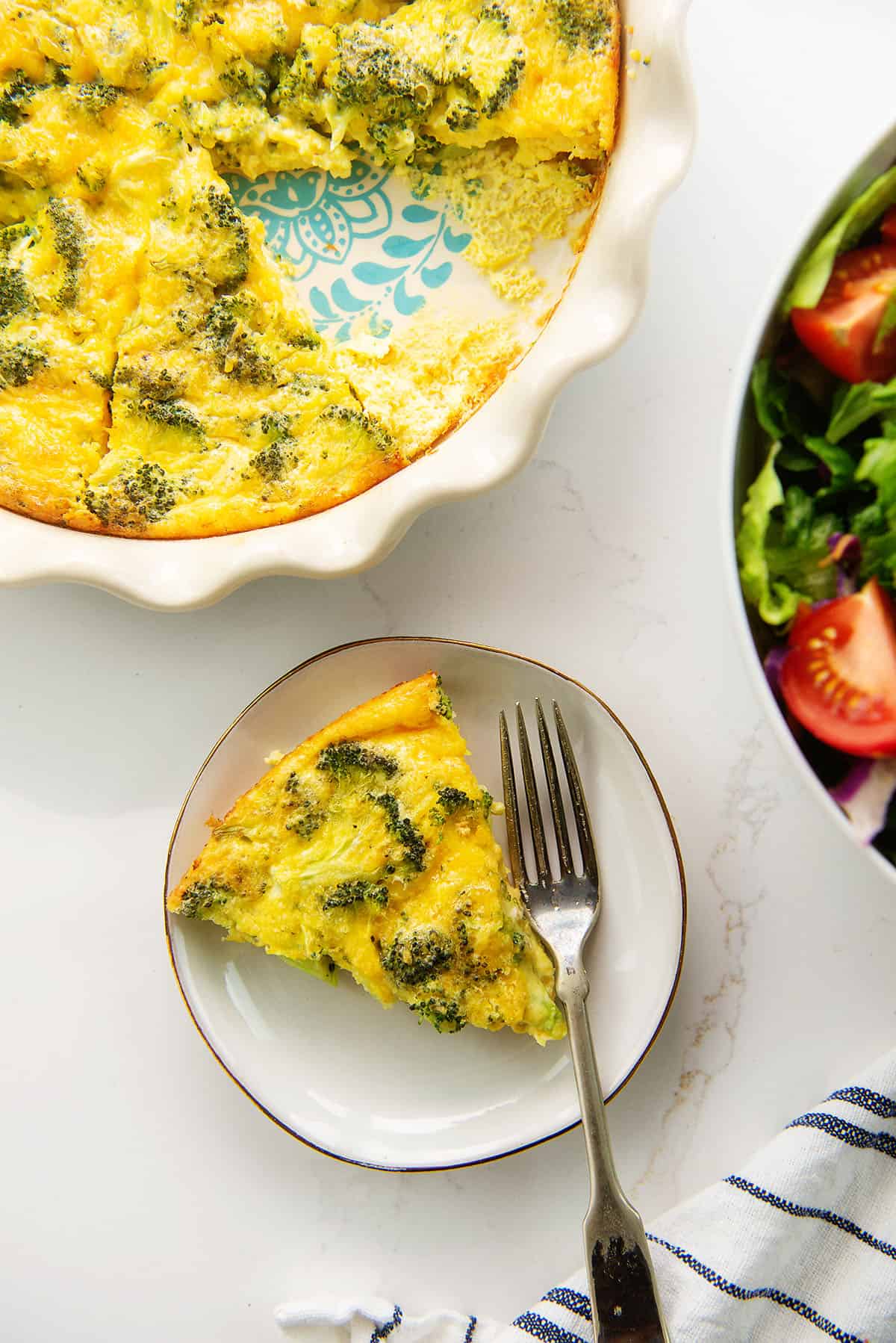 Is it just me or is breakfast the hardest part of the day when you're following a low carb or keto lifestyle?
I mean, bacon and eggs are the obvious answer, but after a couple of weeks you just get BORED!
I still eat all the bacon and eggs, but I've learned to mix it up a bit. Instead of scrambled eggs, we do chaffles or my breakfast casserole with ham or we make this keto broccoli quiche!
Yes, broccoli – for breakfast! Y'all know how I love my broccoli! 😉
We love this quiche because it's just as simple as scrambling eggs but it's just something a little different!
We like to make this for brunch alongside some fresh berries and a green salad. Delicious!
Need More Breakfast Recipes?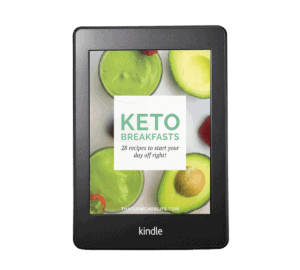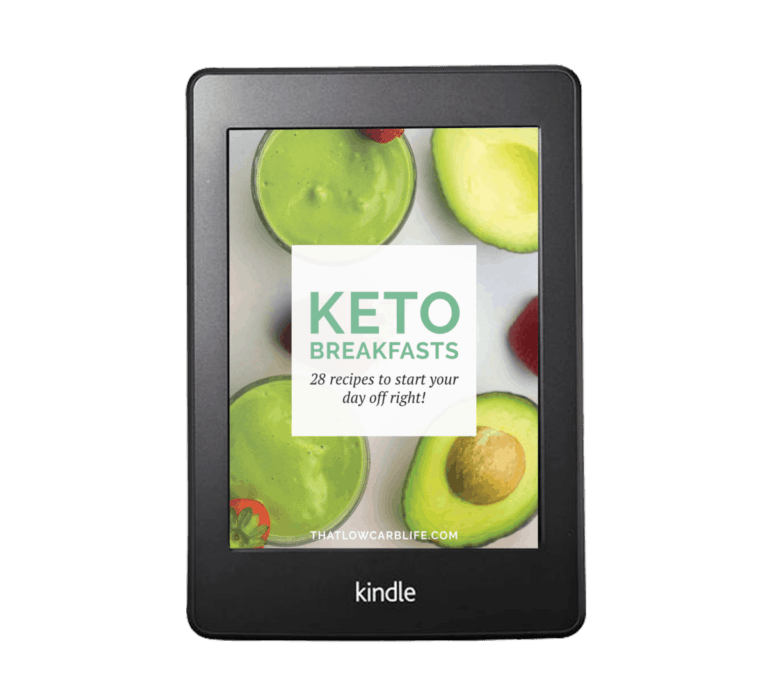 We know breakfast can be tough and that's why we created our Keto Breakfasts eBook! Over 25 low carb and keto recipes, most of them never before seen on the blog and with less than 5 grams carbs per serving! This book makes breakfast exciting AND easy!
Ingredient Notes: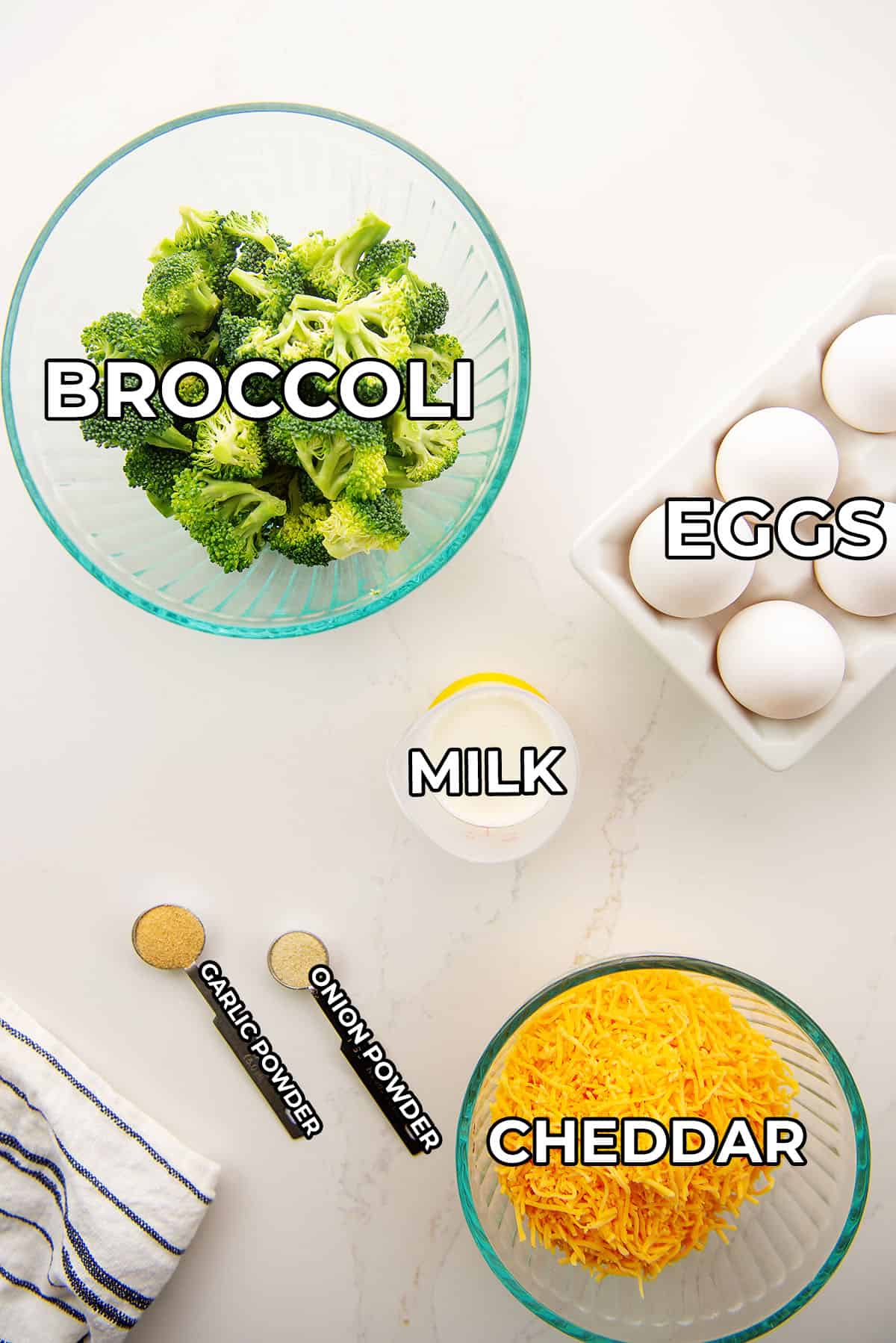 Broccoli – You'll want to use fresh broccoli florets that have been chopped into small pieces. The larger chunks will not cook at the same rate as the eggs so make sure they are well chopped.
Eggs – As with any good quiche recipe you'll need lots of eggs! Eight large ones, to be exact. They'll get baked up with the heavy cream, broccoli and cheese to make this crustless keto broccoli quiche.
Cheese – You'll add plenty of shredded cheddar cheese to the broccoli quiche which will get mixed up with the eggs and baked until it is perfectly golden brown! You could also use swiss, Monterey jack, or gruyere cheese!
Seasoning – Just some basics – salt, pepper, garlic powder, and onion powder!
Why We Love This Recipe:
All that egg and cheese make this dish so perfectly filling!
No crust means this quiche is super easy and keto friendly!
It really couldn't be any easier to make, just some quick mixing and 30 minutes in the oven.
How To:
Eggs – You'll start this Keto broccoli quiche recipe off by whisking together the eggs and the heavy cream! It really is a very simple recipe, just a little mixing and it bakes up in no time. The eggs and heavy cream are what make this a quiche recipe despite being crustless. The eggs bake up perfectly with the cheese and broccoli and makes for a perfectly filling dish!
Mix – Once you've combined the eggs and cream you can add in all of the remaining ingredients including the shredded cheese and the seasonings! Mix them together well and then you can pour the broccoli quiche mixture into a greased 9-inch pie plate.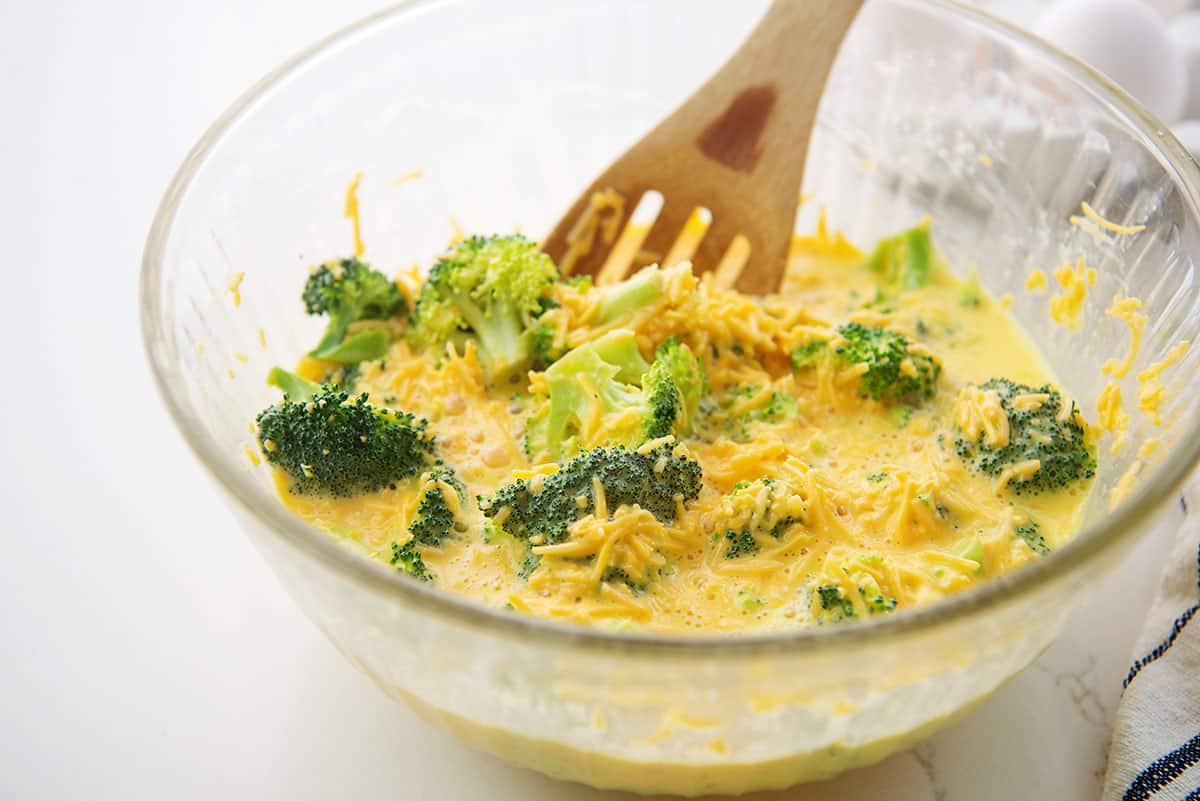 Bake – All that's left to do is add the pie plate to the oven and start baking the Keto broccoli quiche! It'll take about 30 minutes for the top of the crustless quiche to bake into a golden brown color around the edges and for the center to set. Let it cool for ten minutes after baking so that the cheese and egg can further set before slicing and serving!
Helpful Tip!
We love the texture of the brococli when you start with chopped fresh broccoli, but if you'd like it to be super tender and soft, go ahead and steam it first before adding to the quiche.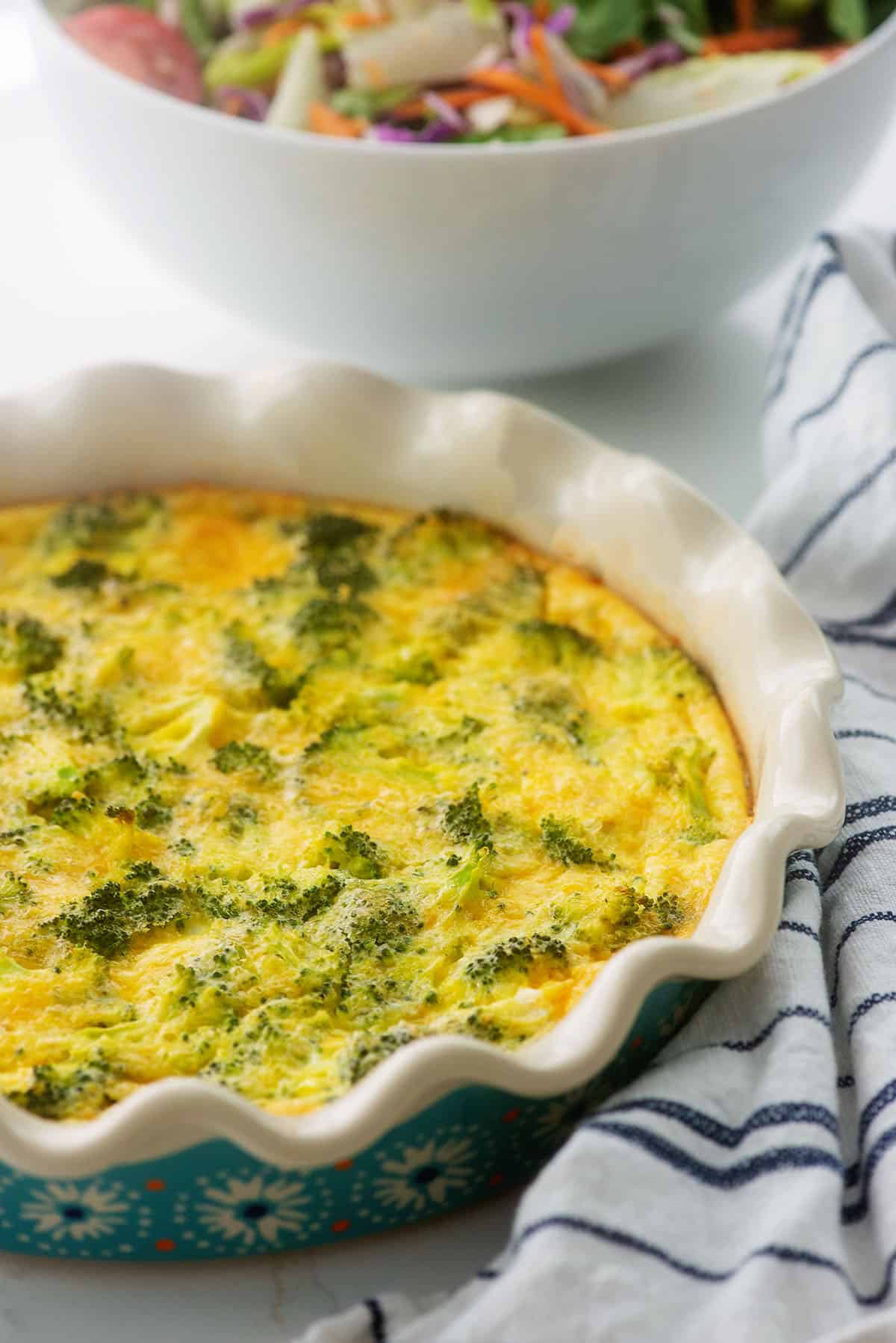 FAQ's:
What is quiche?
A quiche is generally made with a crust, and it contains an egg custard mixed with a variety of other ingredients like broccoli, cheese, meat, and other vegetables. In this case we're making a crustless quiche!
Is this a quiche or a frittata?
Technically a frittata is a crustless quiche, but a frittata doesn't usually contain heavy cream and it's generally prepared in a skillet while a quiche is baked. So we're just going to call this a crustless Keto broccoli quiche!
Can you freeze quiche?
Yes! You can prepare it ahead of time and freeze it before baking, or you can freeze leftovers after baking. It should last about 2 to 3 months if well sealed.
Can I use frozen broccoli?
I've only tried this quiche recipe with fresh broccoli but I am pretty sure that this would turn out just fine with frozen broccoli. You'd likely need to thaw it first.
More Low Carb & Keto Broccoli Recipes!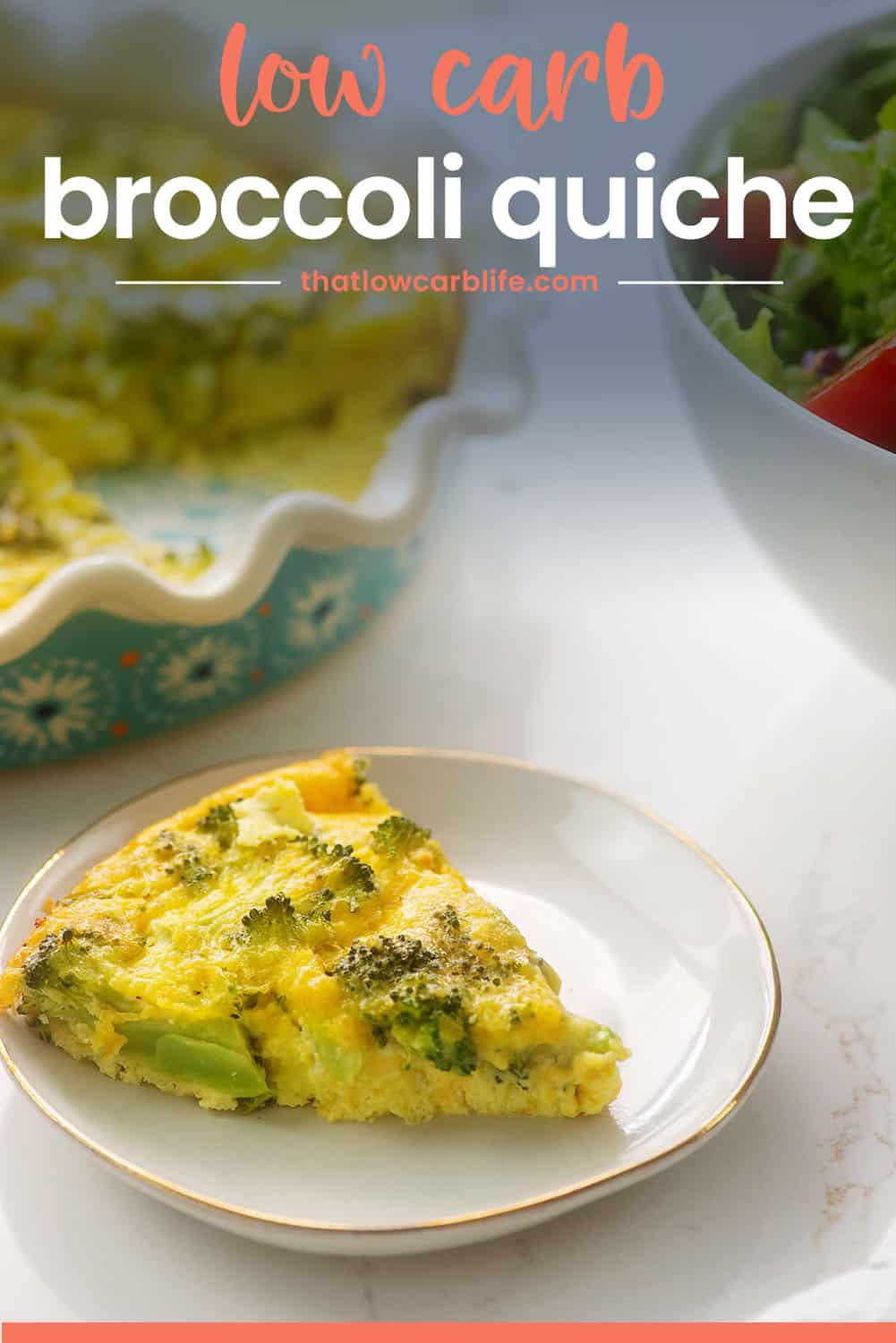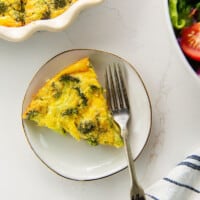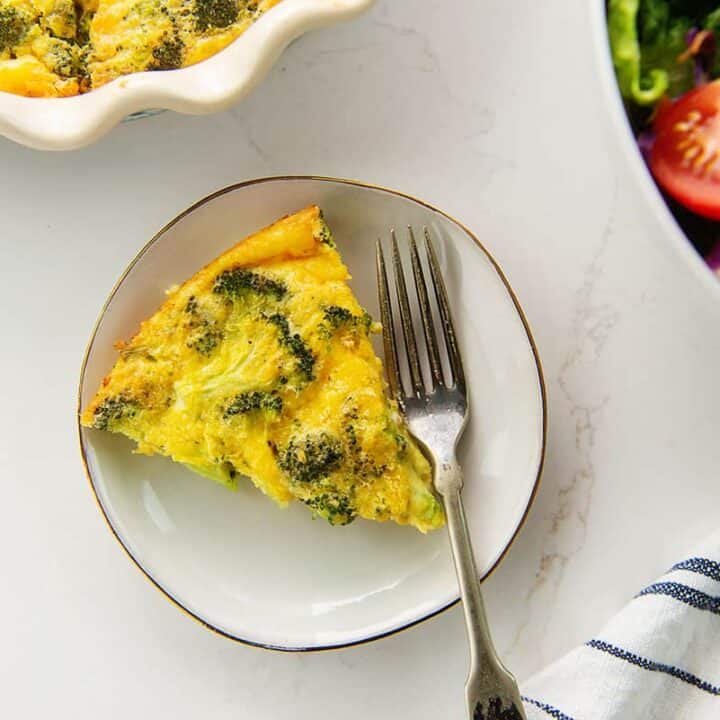 Keto Broccoli Quiche
This crustless quiche is made with fresh broccoli and cheddar for a hearty, satisfying breakfast or brunch.
Ingredients
8 large eggs
⅓ cup heavy whipping cream
2 cups chopped fresh broccoli florets
1 ½ cups shredded cheddar
1 teaspoon salt
1 teaspoon garlic powder
½ teaspoon onion powder
½ teaspoon cracked pepper
Instructions
Preheat oven to 350 degrees.
Add the eggs to a mixing bowl along with the heavy cream and whisk well to combine.
Stir in the remaining ingredients.
Pour mixture into a greased 9-inch pie plate.
Bake for 30 minutes or until golden brown around the edges and the center is fully set.
Let cool for 10 minutes before slicing and serving.
Notes
Make sure to chop the broccoli into small pieces so that it cooks quickly in the oven. Large chunks of broccoli will not cook at the same rate as the eggs. For even more tender broccoli, steam for 5 minutes before adding to the egg mixture.
Nutrition Information:
Yield: 8
Serving Size: 1
Amount Per Serving:
Calories: 206
Total Fat: 16g
Saturated Fat: 8g
Trans Fat: 0g
Unsaturated Fat: 6g
Cholesterol: 218mg
Sodium: 493mg
Carbohydrates: 5g
Net Carbohydrates: 4g
Fiber: 1g
Sugar: 1g
Protein: 12g
All information and tools presented and written within this site are intended for informational purposes only. This information is provided as a courtesy and there is no guarantee that the information is accurate.