These Cauliflower Breadsticks are easy, cheesy, and made with healthy veggies instead of wheat. The perfect alternative to bread, they're gluten free and absolutely delicious!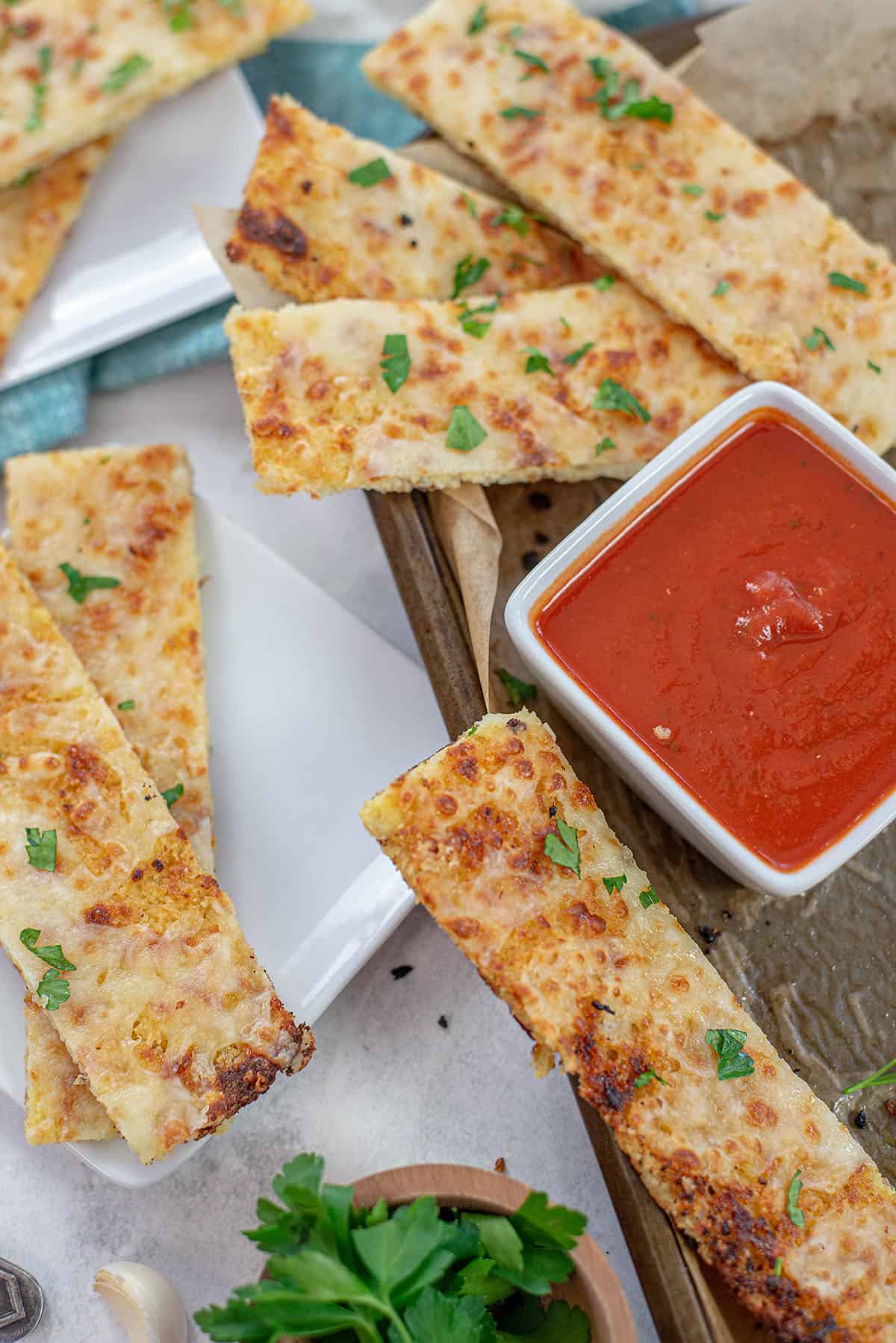 I never expected to grow up and replace my beloved bread with cauliflower, but here I am.
10 year old me is horrified, but *ahem* 39 year old me is quite proud of myself.
These cauliflower breadsticks are never going to taste exactly like 'real' bread, but they hit the spot, make me feel good about what I'm eating and feeding my family, and they're definitely still delicious!
Brushed with a bit of garlic butter and sprinkled with cheese, these are perfect for dipping in marinara and serving up alongside some low carb Italian favorites, like our keto lasagna, keto meatball casserole, or for serving with a bowl of our keto cabbage soup. These also go great with our Bruschetta Chicken!
This recipe is a riff on our keto cauliflower pizza crust, so you know it's good!
Ingredient Notes:
This post contains affiliate links. As an Amazon associate and member of other affiliate programs, I earn from qualifying purchases.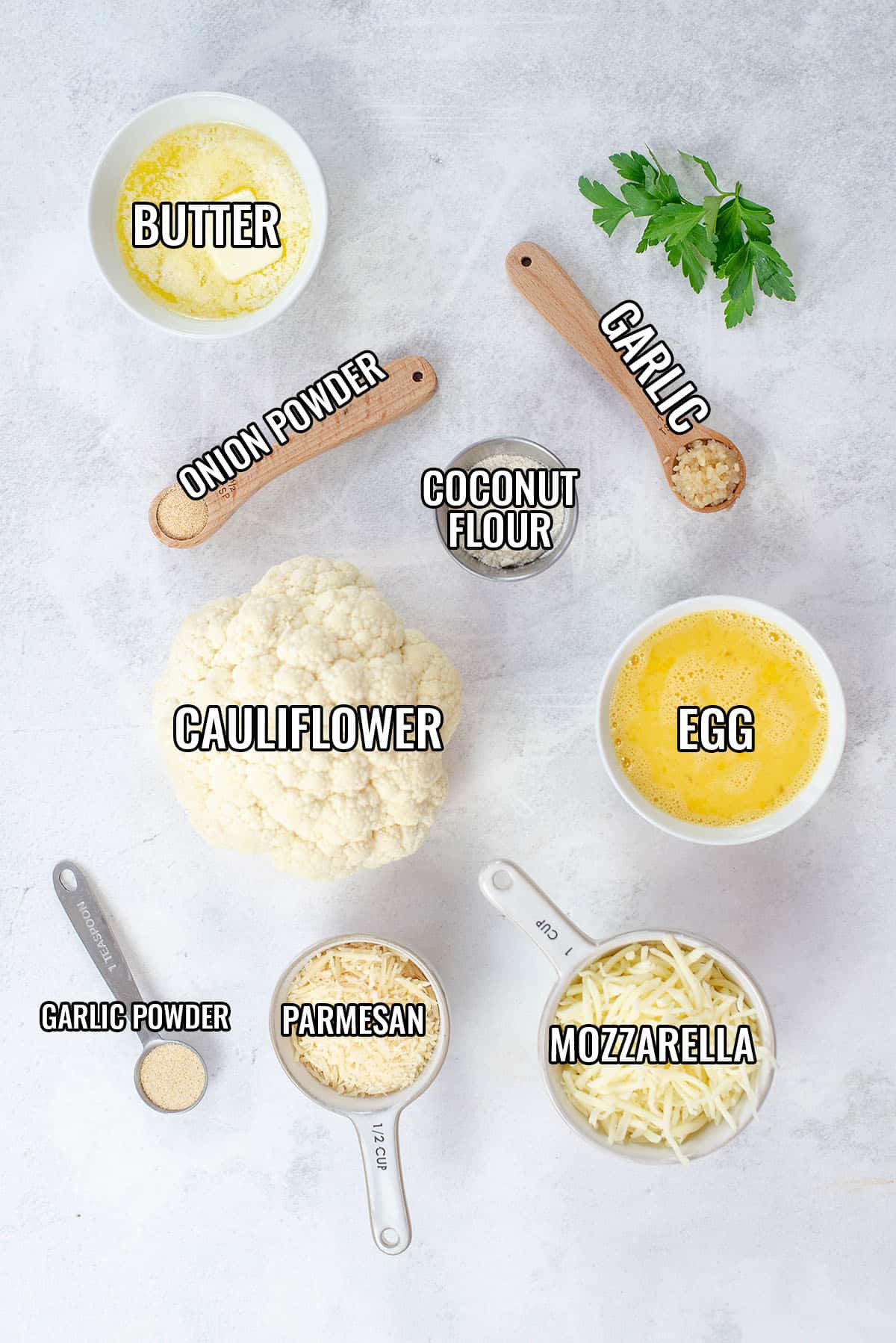 Cauliflower – Fresh (not frozen) riced cauliflower will work best in this recipe, but frozen does work so long as you really squeeze out excess moisture.
Coconut Flour – These DO NOT taste like coconut. We like coconut flour here because a little goes a long way and it really soaks up any excess moisture from the cauliflower. Coconut flour is like a sponge when it comes to liquid. We have not tested this with other flours.
Topping Ingredients – In my opinion every good breadstick recipe has a cheesy, garlic buttery topping! So that's what we'll use. Melted butter, minced garlic, garlic powder, onion powder, and shredded mozzarella cheese makes the perfect topping for our keto cauliflower breadsticks!
Shop Keto Ingredients
We use Thrive Market for a lot of our specialty ingredients and keto snacks or products. Their prices tend to be cheaper than the local stores and I love that you can so easily sort products by diet.
Like Costco, this is a membership site, but we find that it's more than worth it based on the amount we save over the regular grocery store.
They have monthly or yearly plans. Check it out here.
Special Tools Needed:
We find it easiest to make cauliflower rice using a food processor. If you don't have one, a sharp knife will do but you'll want to keep chopping the cauliflower until it is in small rice like pieces.
We use and love this food processor. We use it often to make riced cauliflower as well as shred blocks of cheese in seconds. It's a real workhorse in our kitchen and we highly recommend it.
How To Make Keto Cauliflower Breadsticks:
Cauliflower – First up you'll need to prepare the cauliflower rice. To make your own fresh riced cauliflower you'll need a food processor. Toss in the cauliflower florets and process until they are in small rice like pieces.
Steam – Now to soften up the cauliflower rice! You can steam it, or you can also microwave or boil it until it is very tender. When finished let it cool for 20 minutes and then you'll need to get all the moisture out. Place the cauliflower in the center of a tea towel and squeeze all that liquid out. It should look dry when finished.
Dough – You can now transfer the riced cauliflower to a mixing bowl and add in all the other breadstick ingredients like the cheese, egg, coconut flour, and seasoning. Stir all that up until it is well combined into a dough that should mostly hold shape.
Topping – When the dough is ready you can start mixing together the garlic butter topping. Add the melted butter to a small bowl with the garlic, onion powder, and garlic powder and stir until combined. It's a simple buttery topping that everyone can enjoy!
Assemble – On a parchment lined sheet pan press the dough out to form a 10×6 inch rectangle with about a 1/4 inch thickness. You can now start brushing all that buttery garlic sauce over the top of the keto breadstick dough!
Bake – Your keto cauliflower breadsticks are now ready to bake! Pop the sheet into the oven and bake for uncovered for about 20 minutes or until the dough is golden brown. You can now briefly remove it from the oven and top it with even more cheese! Put it back in the oven for another 5 minutes to melt the cheese, or place it under a broiler if to brown the cheese.
Serve – Let these keto cauliflower breadsticks cool for a few minutes before slicing and serving them hot! They'll go perfectly with a nice side salad and some of my homemade Italian dressing!
Helpful Tip!
It's important to get all the moisture out of the steamed cauliflower rice! It'll have a lot in it and we don't want soggy breadsticks, so use a cloth or towel to squeeze all the water you possibly can out of the cooked cauliflower rice! It should look dry and like mashed cauliflower when done.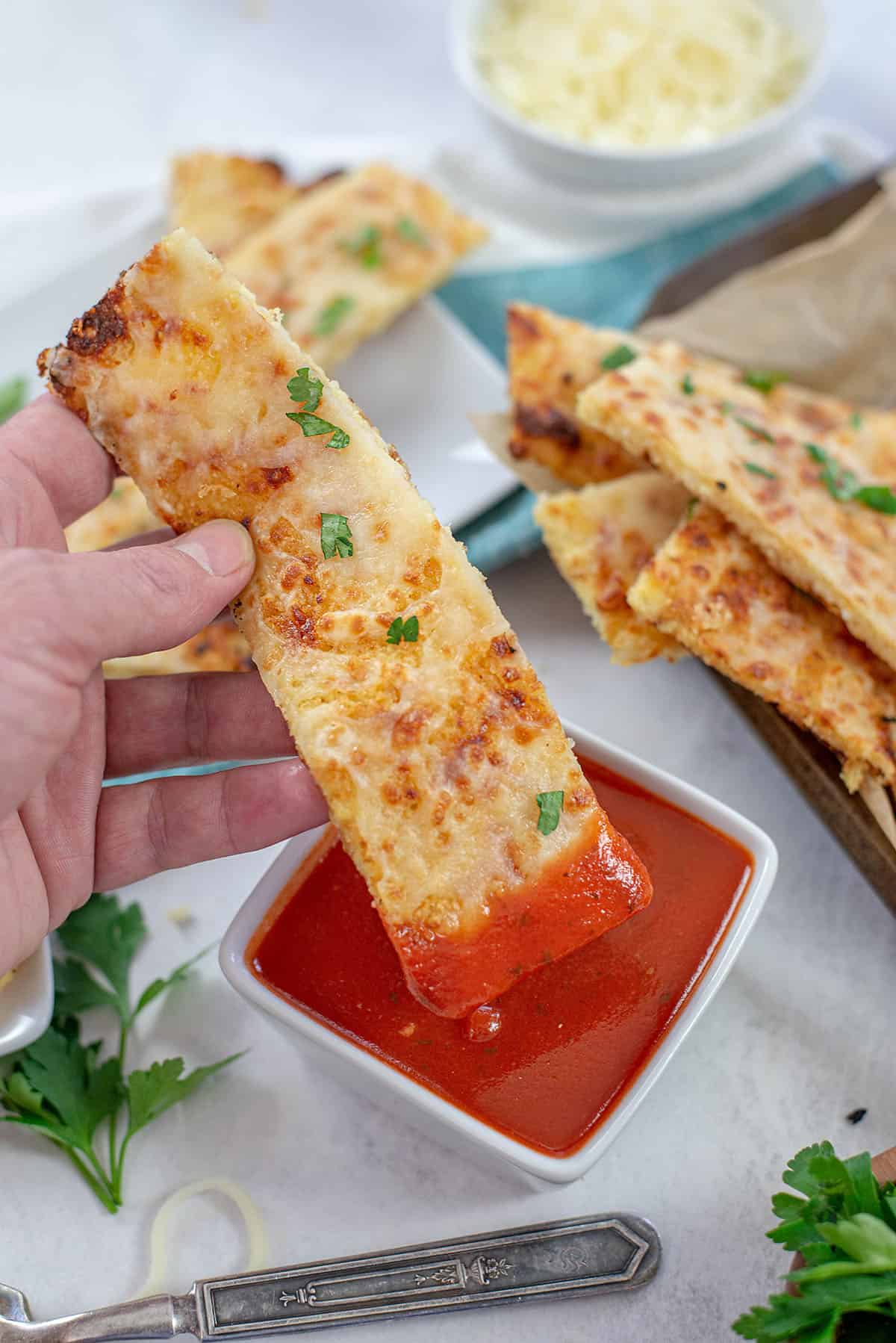 Why We Love This Recipe:
When you just really need something to serve alongside your Italian dinner or with a bowl of soup, these cauliflower breadsticks are something you can feel good about. They're made with vegetables instead of wheat, but still have the vibe of a breadstick. That cheesy garlic butter topping doesn't hurt, either.
FAQ's:
How to store keto breadsticks?
These should last up to 4 days in the refrigerator if you keep them well sealed. You can reheat them in the oven for best results.
What can I serve with cauliflower breadsticks?
These are delicious to serve alongside our fathead pizza, with a hot bowl of soup, or next to your favorite pasta replacement.
More Low Carb Italian Recipes: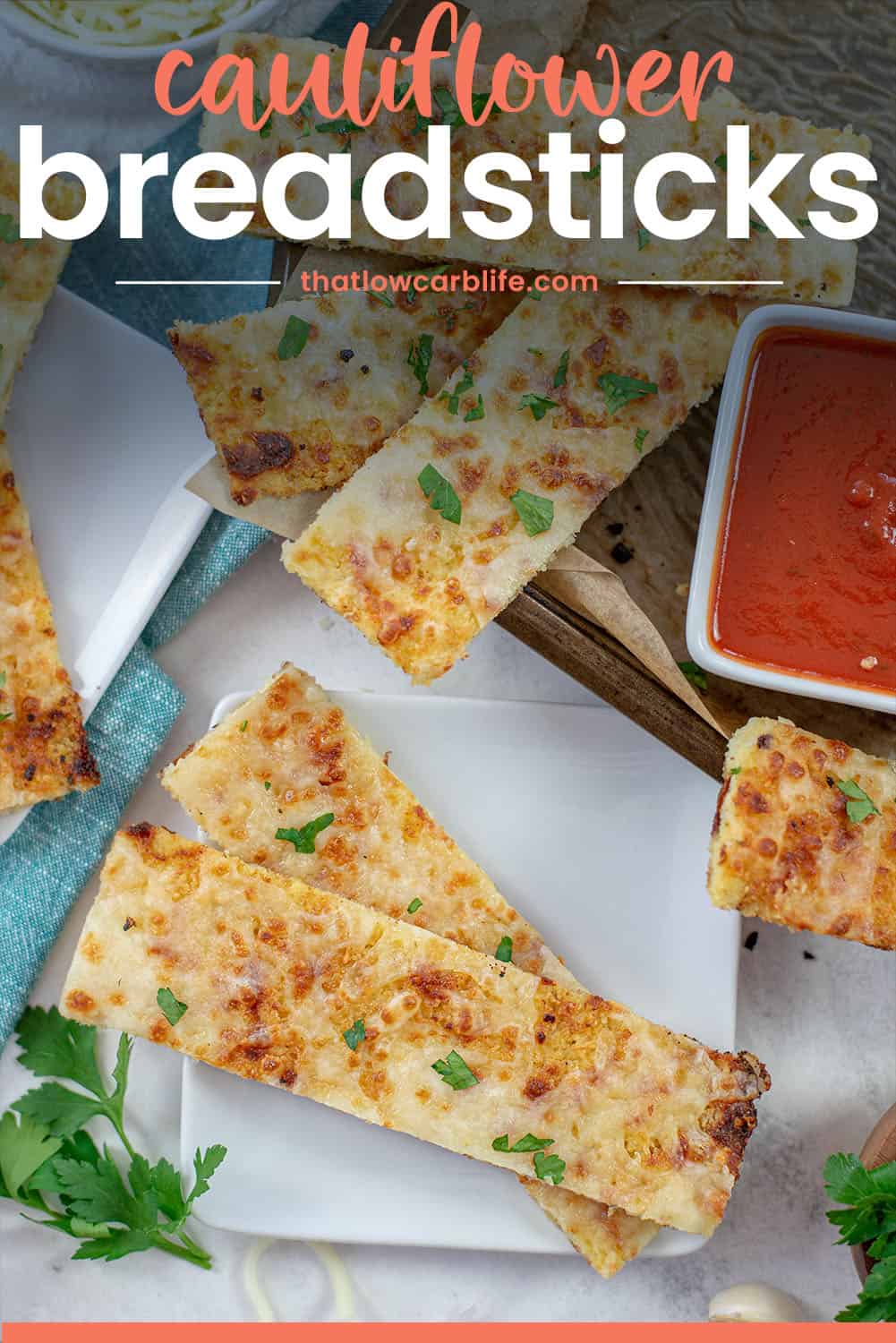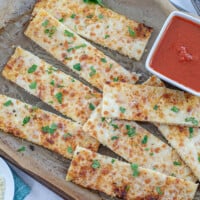 Cauliflower Breadsticks
These cauliflower breadsticks are simple to whip up using fresh cauliflower. They're brushed with garlic butter and topped with mozzarella for a delicious cheesy breadstick that's gluten free, low carb, and easy to whip up.
Ingredients
For the breadsticks:
1 medium head cauliflower
½ cup shredded mozzarella
¼ cup grated Parmesan cheese
2 large eggs, beaten
2 tablespoons coconut flour
1/2 teaspoon garlic powder
For topping:
3 tablespoons melted butter
2 cloves minced garlic
1 teaspoon onion powder
½ teaspoon garlic powder
1 cup shredded mozzarella
Parsley or basil, for garnish
Instructions
Chop the cauliflower into florets and add to the bowl of a food processor. Process until you have small rice like pieces.
Steam, boil, or microwave cauliflower until very tender, about 5 minutes.
Let the cauliflower cool for 20 minutes and then dump into a clean tea towel. While cauliflower is cooling, preheat oven to 400 degrees. Fold the towel up over the cauliflower and squeeze out any excess moisture. Keep squeezing until no liquid is left in the cauliflower. See notes.
Transfer cauliflower to a mixing bowl and add the remaining ingredients for the crust. Stir well to combine.
Line a sheet pan with parchment paper and press the dough out to form a 10x6 inch rectangle about ¼ inch thick.
Stir together the butter, garlic, onion powder, and garlic powder to make the topping. Brush it over the top of the breadsticks.
Bake for 20 minutes or until the dough is golden brown.
Remove from the oven and top with the cheese and bake for 5 minutes to melt the cheese. Broil to brown the cheese on top, if preferred.
Sprinkle with parsley and allow to cool 5 minutes.
Slice into 8 breadsticks and serve.
Notes
Removing as much liquid from the cauliflower as possible is very important or your breadsticks will not turn out properly. Keep squeezing out the moisture until the cauliflower looks dry.
Nutrition Information:
Yield: 8
Serving Size: 1 breadstick
Amount Per Serving:
Calories: 148
Total Fat: 10g
Saturated Fat: 6g
Trans Fat: 0g
Unsaturated Fat: 3g
Cholesterol: 71mg
Sodium: 231mg
Carbohydrates: 6g
Net Carbohydrates: 4g
Fiber: 2g
Sugar: 2g
Protein: 8g
All information and tools presented and written within this site are intended for informational purposes only. This information is provided as a courtesy and there is no guarantee that the information is accurate.