Our Keto Tuna Salad is ready in no time with a creamy mayo based dressing, fresh veggies, and canned tuna. Perfect for serving in lettuce wraps or stuffing mini sweet peppers.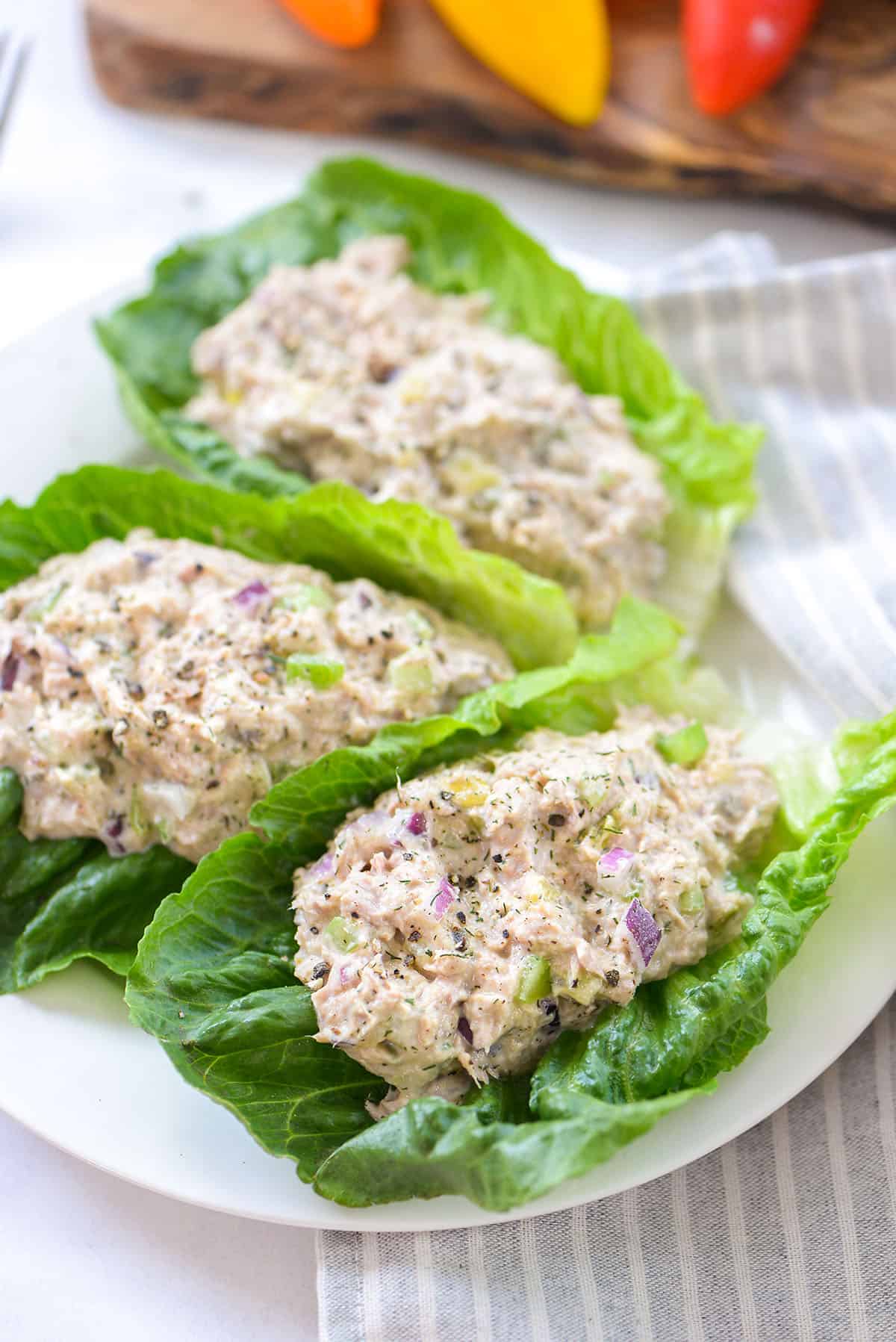 Let me tell you a little secret – our keto tuna salad is just like my mama used to make. It wasn't created to fit a low carb diet and doesn't have any funky ingredients or ingredient swaps. It's just a good old tuna salad that happens to be naturally low carb!
I love recipes like that and it seems like you guys do too. Some of my most popular recipes (hello, spinach stuffed chicken) are just naturally low carb, not anything that I had to work at to get it to fit our low carb life.
This keto tuna salad just tastes like what I grew up eating – canned tuna, extra creamy thanks to the mayo, crunch from the celery and onions, and a bit of tang from the dill pickles. Perfect tuna salad, if you ask me!
We shared our avocado tuna salad not long ago, so be sure to check that one out too!
The trick comes in how you serve it. Basically, just skip the bread. 😉 Don't worry, I'll give you plenty of serving ideas below. Let's get into it!
Ingredient Notes:
This post contains affiliate links. As an Amazon associate and member of other affiliate programs, I earn from qualifying purchases.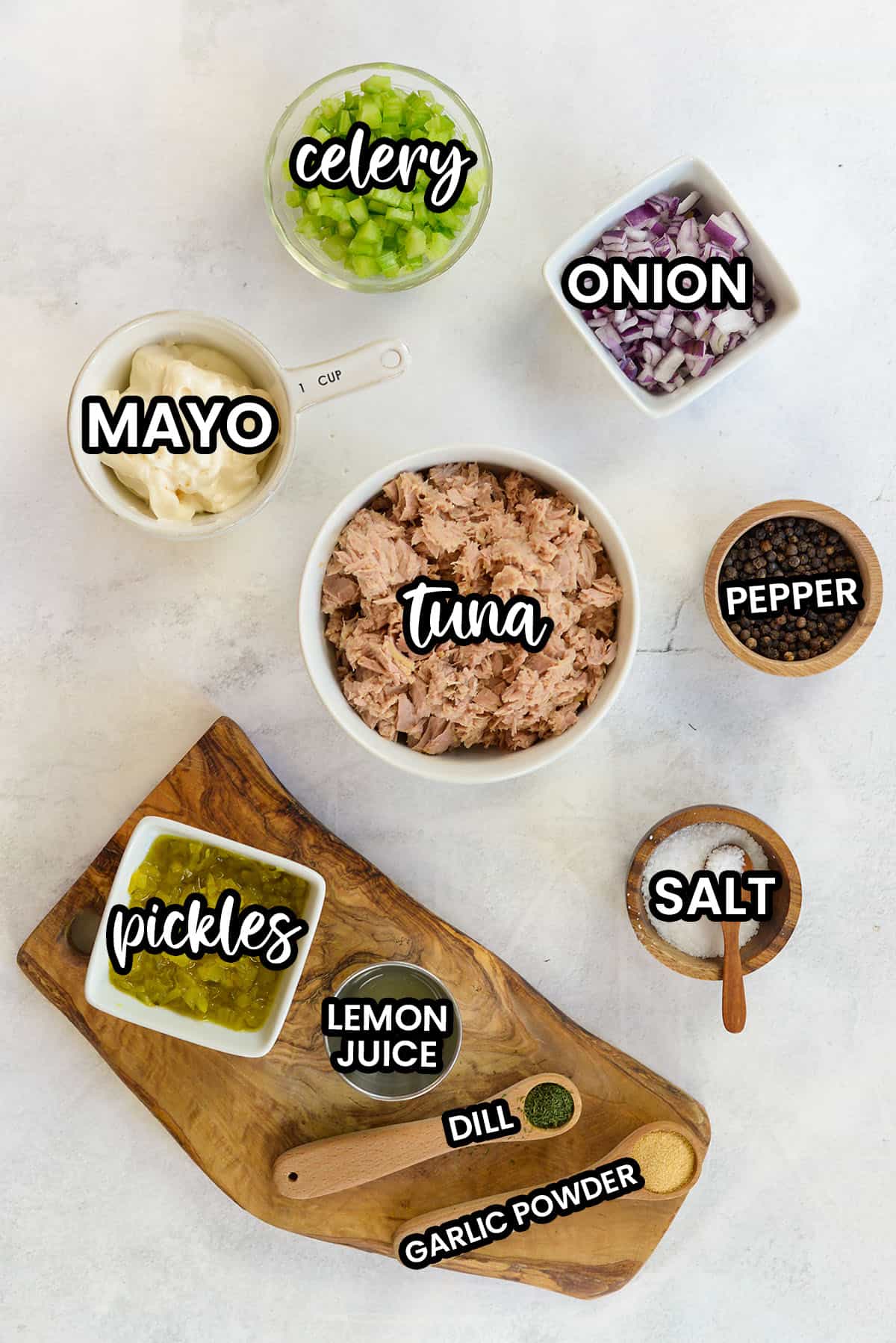 Tuna – We're keeping it simple and using canned tuna for this keto tuna salad recipe. You can use either solid white or chunk light tuna in a can.
Veggies – Some minced red onion along with a single minced celery rib will add crunchy textures! You'll also add in some dill relish or finely chopped pickles for lots of flavor in this keto tuna salad recipe.
Dressing – This tuna salad dressing is a mix of mayonnaise, lemon juice, dried dill, garlic powder, and salt. You can make this less creamy by using less mayo, if you like.
Lemon Juice – We prefer fresh squeezed but you can certainly use a bottle from the store too! Check out this handy lemon lime squeezer for easy fresh squeezed juice!
Like it Sweet?
I'm not a huge fan of sweet tuna salad, but you can always add a couple tablespoons of your favorite sweetener to the dressing, if that's how you like it! We use and love Lakanto Monkfruit Sweetener. Use code THATLOWCARBLIFE for 20% off your order at Lakanto.com.
Why We Love This Recipe:
It's a quick and easy cold salad recipe that you can prepare in just a few minutes!
This tuna salad is perfect with a lettuce wrap!
Tastes just like mama used to make and takes ya right back to childhood.
Easy to make ahead and eat all week.
How To: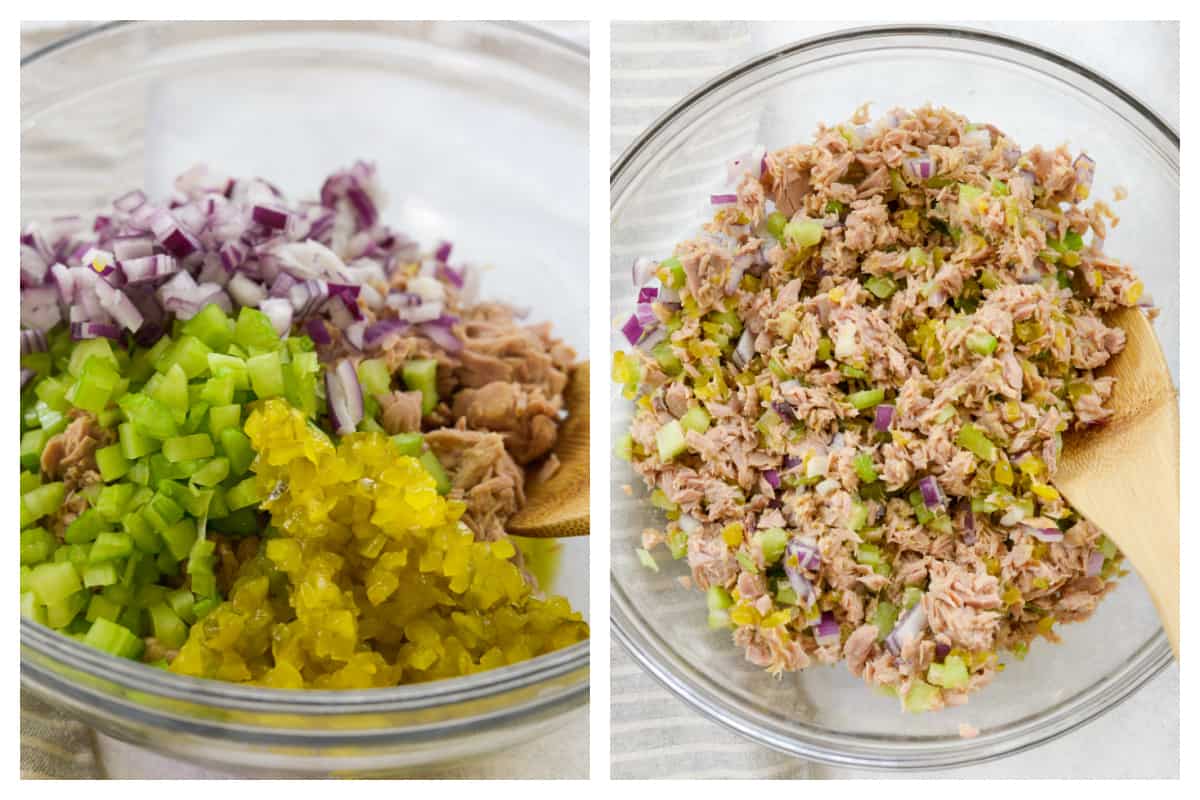 Tuna – To get started you can drain the canned tuna and add it to a mixing bowl along with the minced celery, onion, and dill relish! Stir all that up until it is well combined.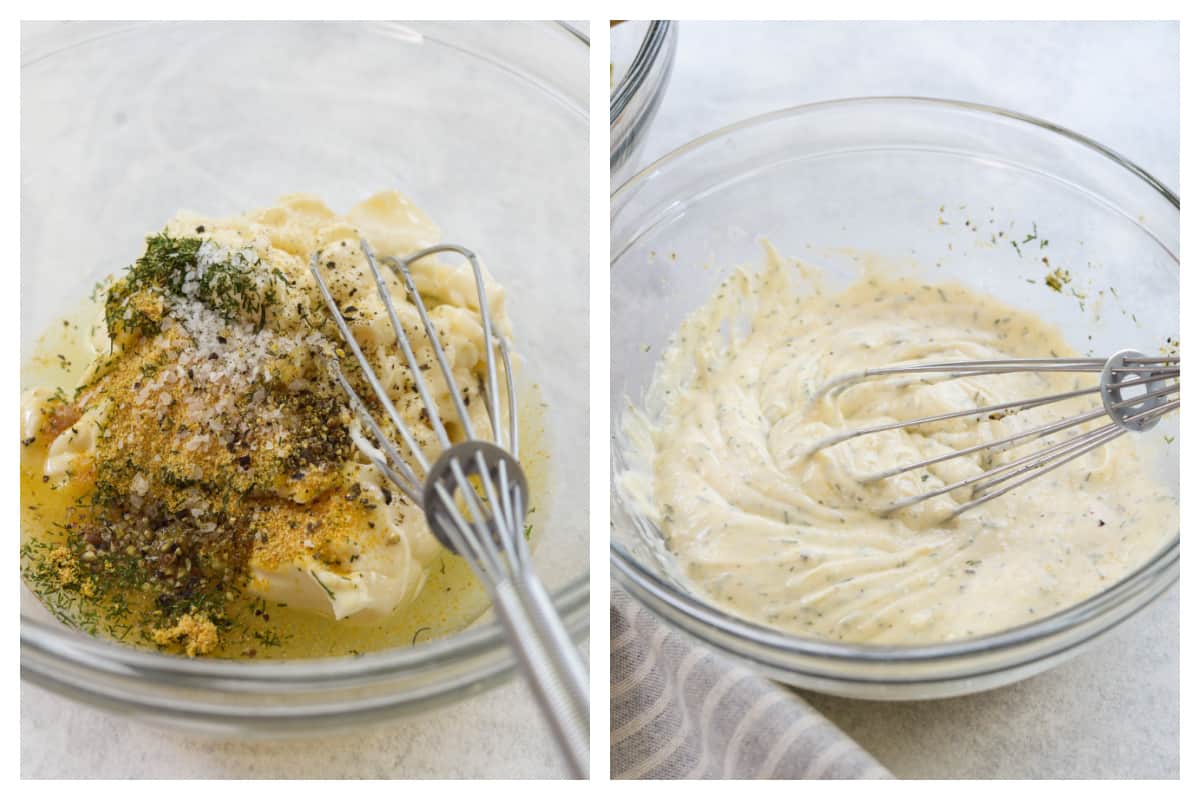 Dressing – The tuna salad dressing is a quick and easy mix of some mayonnaise, fresh squeezed lemon juice, garlic powder, dried dill, salt and pepper. Just add all that to a bowl and whisk it together until it's combined into the dressing.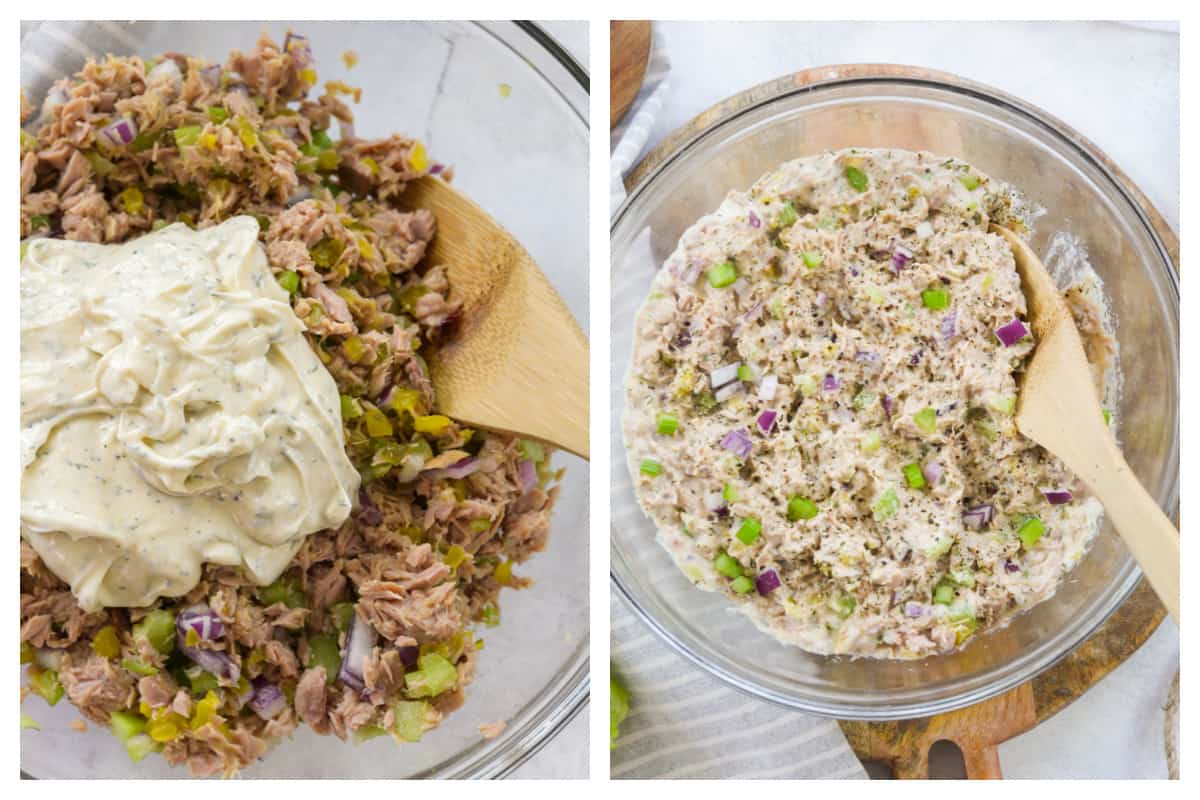 Combine – You can now pour the dressing over the tuna salad mixture in the bowl and stir it together until it is all well combined. Taste and add more salt and pepper if you think it needs it!
Serve – You can either serve this keto tuna salad immediately or cover the bowl and refrigerate it for a couple hours if you like it cold. Chilling it will also give the dressing and other flavors some time to soak in! We like our keto tuna salad in a lettuce wrap or stuffed in some mini sweet peppers!
Helpful Tip!
Not a fan of mayo? Swap all or half of it from Greek yogurt. You'll get a bit more protein in the salad and the flavors work well.
Serving Suggestions: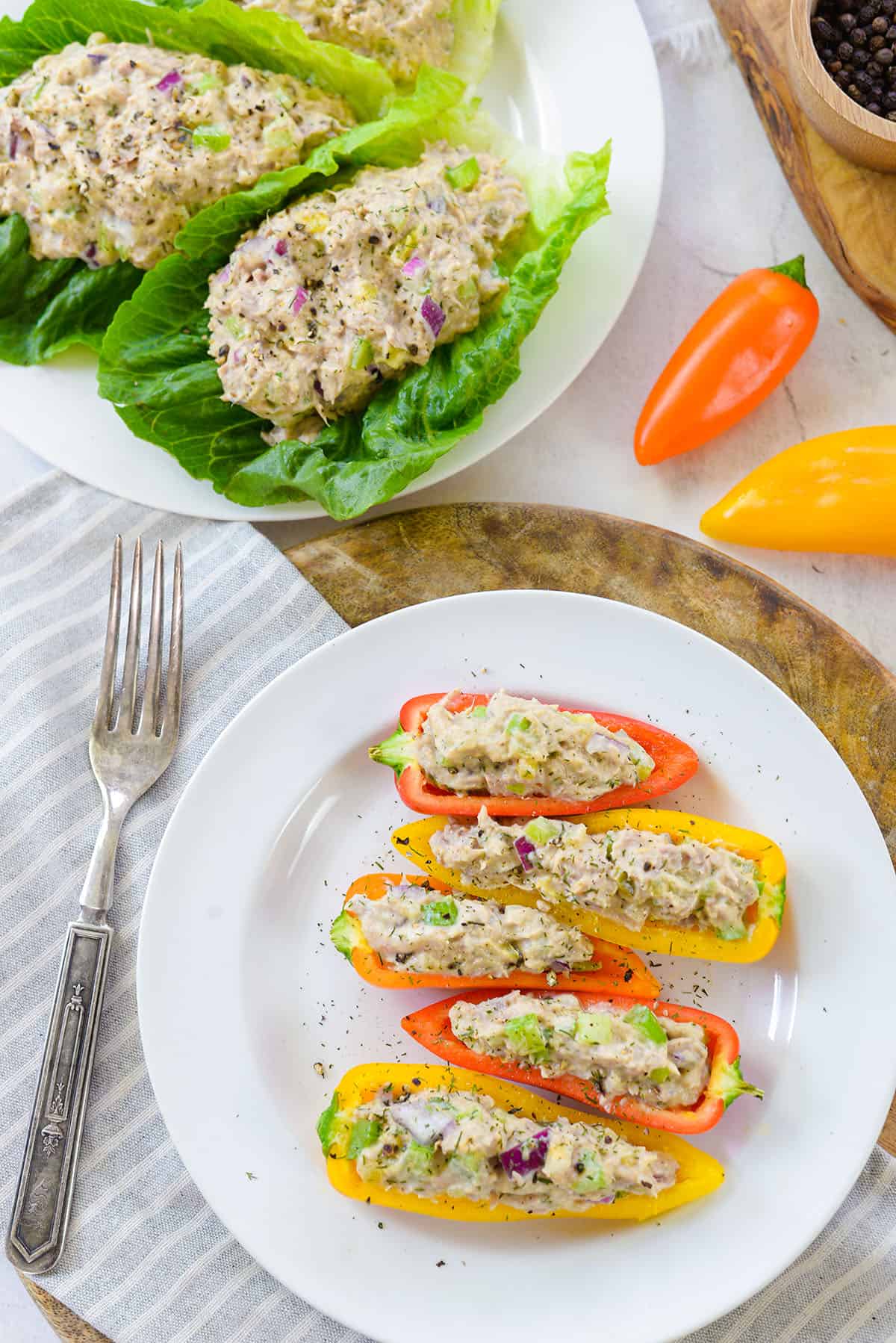 When people think of tuna salad, they immediately tend to think of sandwiches, but it's easy to get creative and serve this up in a low carb friendly way!
We love filling mini sweet peppers with tuna salad. They make a quick lunch and kids love them too.
A lettuce wrap or low carb tortilla make a nice vehicle for tuna salad as well.
And, of course, chaffles make the perfect bun. We use them as the bread for our dill pickle egg salad.
You could also hollow out a tomato and fill it with this keto tuna salad, much like we did with our Jalapeno Popper Chicken Salad.
FAQ's:
How to make tuna salad without mayo?
You can substitute the mayo with Greek yogurt and it'll be just as creamy and tasty!
How to store tuna salad?
This keto tuna salad will stay fresh in the refrigerator for 3 to 5 days if well covered.
More Keto Cold Salad Recipes: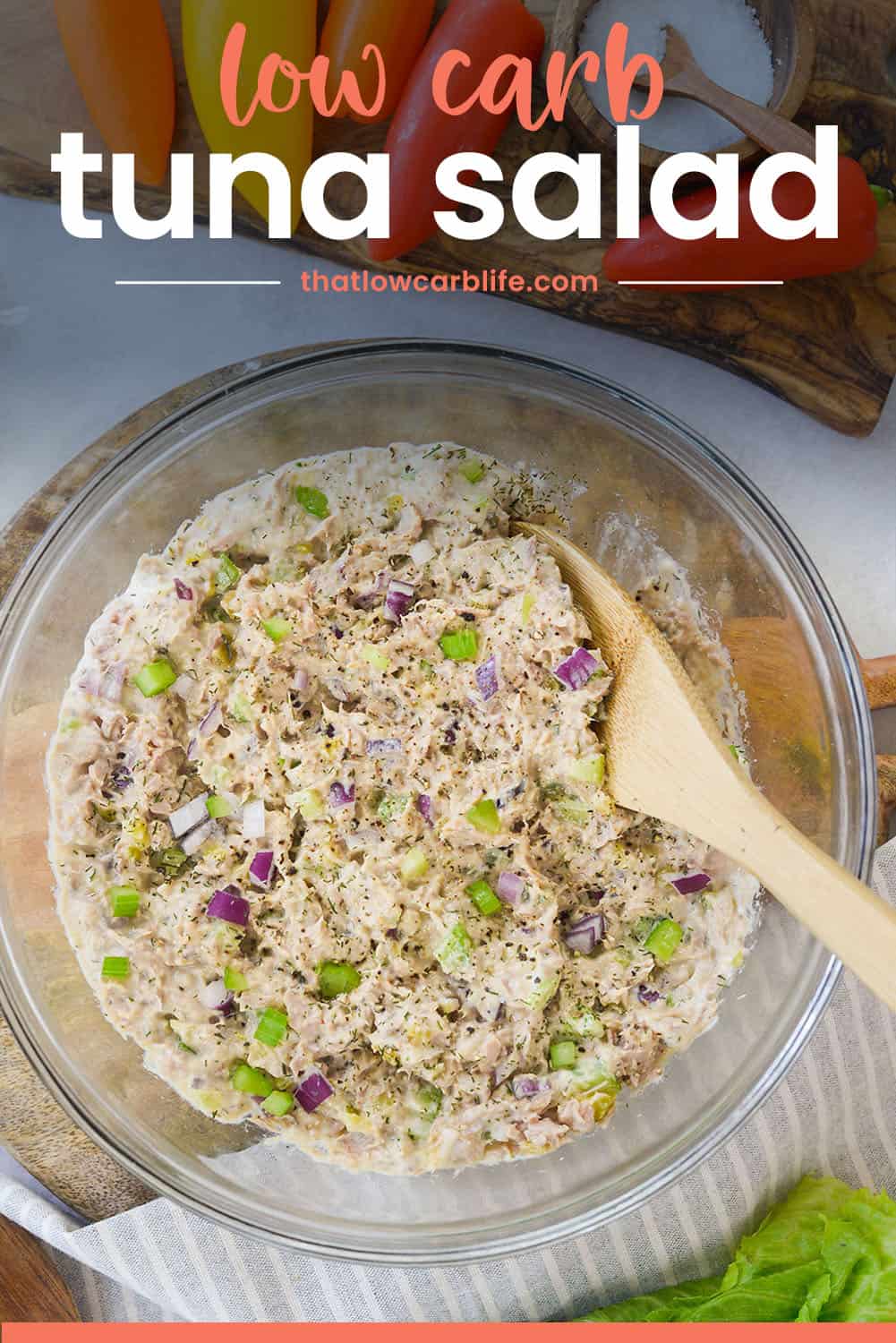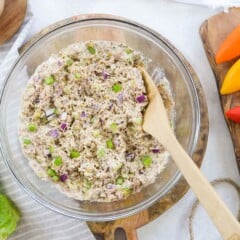 Keto Tuna Salad
Our keto tuna salad is the same recipe my mom made when I was a kid! These days we serve it in lettuce wraps or stuffed into mini sweet peppers instead of white bread. It's one of our favorite lunches and is easy to make ahead.
Ingredients
20 ounces canned tuna, packed in water
1 rib celery, minced
3 tablespoons minced red onion
3 tablespoons dill relish
¾ cup mayonnaise, see notes
1 tablespoon fresh lemon juice
1 teaspoon garlic powder
1/2 teaspoon dried dill
Salt and pepper, to taste
Instructions
Drain the tuna well and place in a large bowl with the celery, red onion, and dill relish. Stir to combine.
Add the mayonnaise, lemon juice, garlic powder, dill, and salt and pepper to a small bowl and whisk to combine.
Pour the dressing over the tuna and stir well.
Taste and additional salt and pepper or mayonnaise to reach the taste and consistency you prefer.
Serve immediately or cover and refrigerate for 3 to 5 days.
Notes
You may use more or less mayo depending on how creamy you like your tuna salad.
Greek yogurt can be substituted for the mayonnaise for those that don't like mayo or just want extra protein.
Serve in a lettuce wrap, stuffed in mini sweet peppers, on a chaffle, or with our keto hamburger buns.
Nutrition Information:
Yield: 6
Serving Size: 1
Amount Per Serving:
Calories: 316
Total Fat: 23g
Saturated Fat: 4g
Trans Fat: 0g
Unsaturated Fat: 19g
Cholesterol: 51mg
Sodium: 649mg
Carbohydrates: 2g
Net Carbohydrates: 2g
Fiber: 0g
Sugar: 1g
Protein: 23g
All information and tools presented and written within this site are intended for informational purposes only. This information is provided as a courtesy and there is no guarantee that the information is accurate.