These Instant Pot chicken wings are tender and juicy in no time and when you finish them off under a broiler they have perfectly crispy skin! We like to toss these wings in homemade buffalo sauce before serving.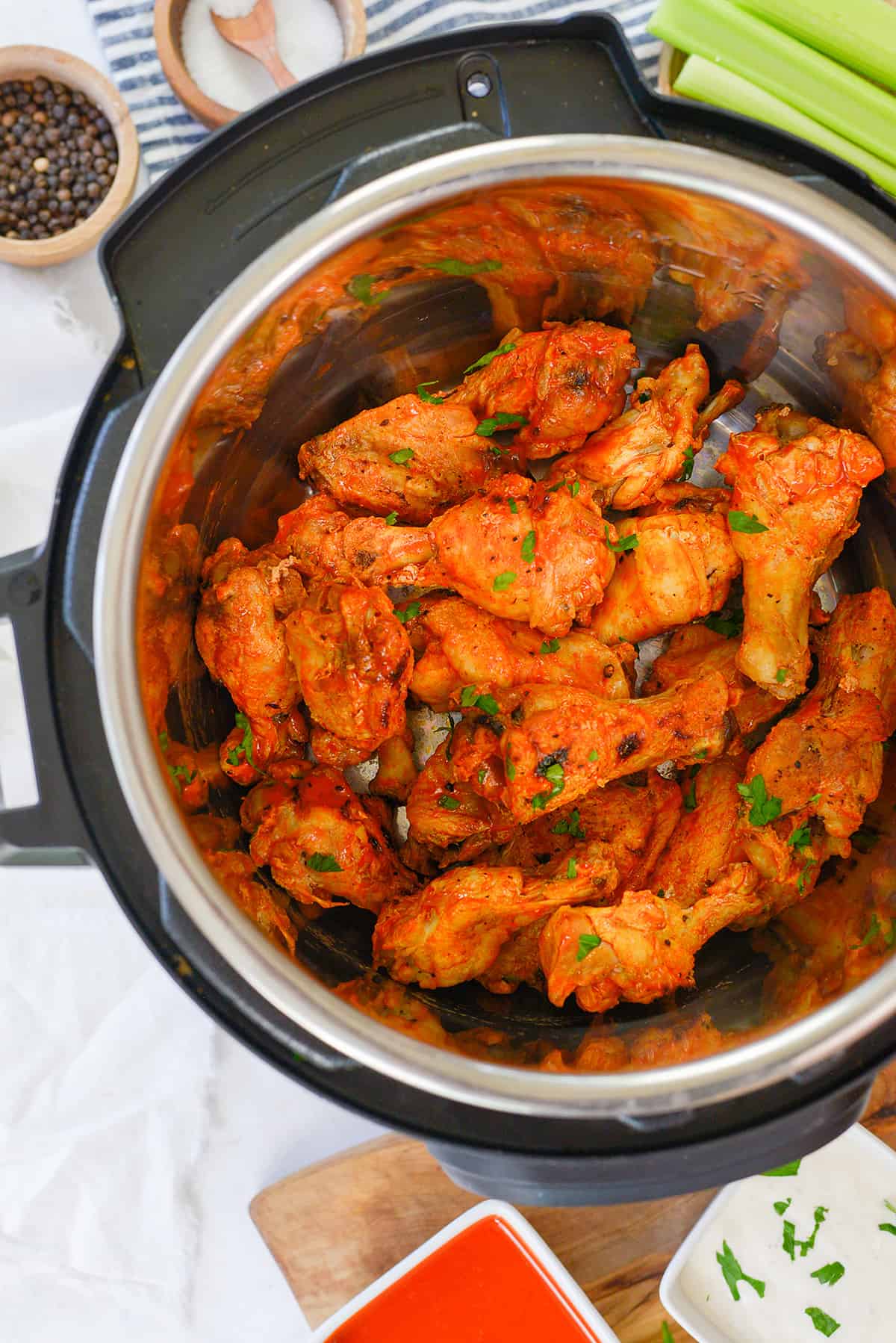 We're back with yet another chicken wing recipe. Honestly, at this point you're probably starting to think I have a problem.
And you're right. I do. I have a chicken wing addiction! 😉
These Instant Pot Chicken Wings are so simple. Toss them in the pot, cook on high pressure for 12 minutes, then broil them to crisp up the skin, and toss them in our homemade buffalo sauce.
These are perfect for football season, because they're simple to make, football fans tend to love them, and they're naturally low carb so you can feed a crowd without any complaints!
We always serve these with our keto ranch dressing or keto blue cheese dressing. I'm a ranch girl myself, but I know people have some serious feelings about which is the correct choice, so I'll just leave that up to you!
No instant pot? Try our crispy baked chicken wings instead!
Ingredient Notes:
This post contains affiliate links. As an Amazon associate and member of other affiliate programs, I earn from qualifying purchases.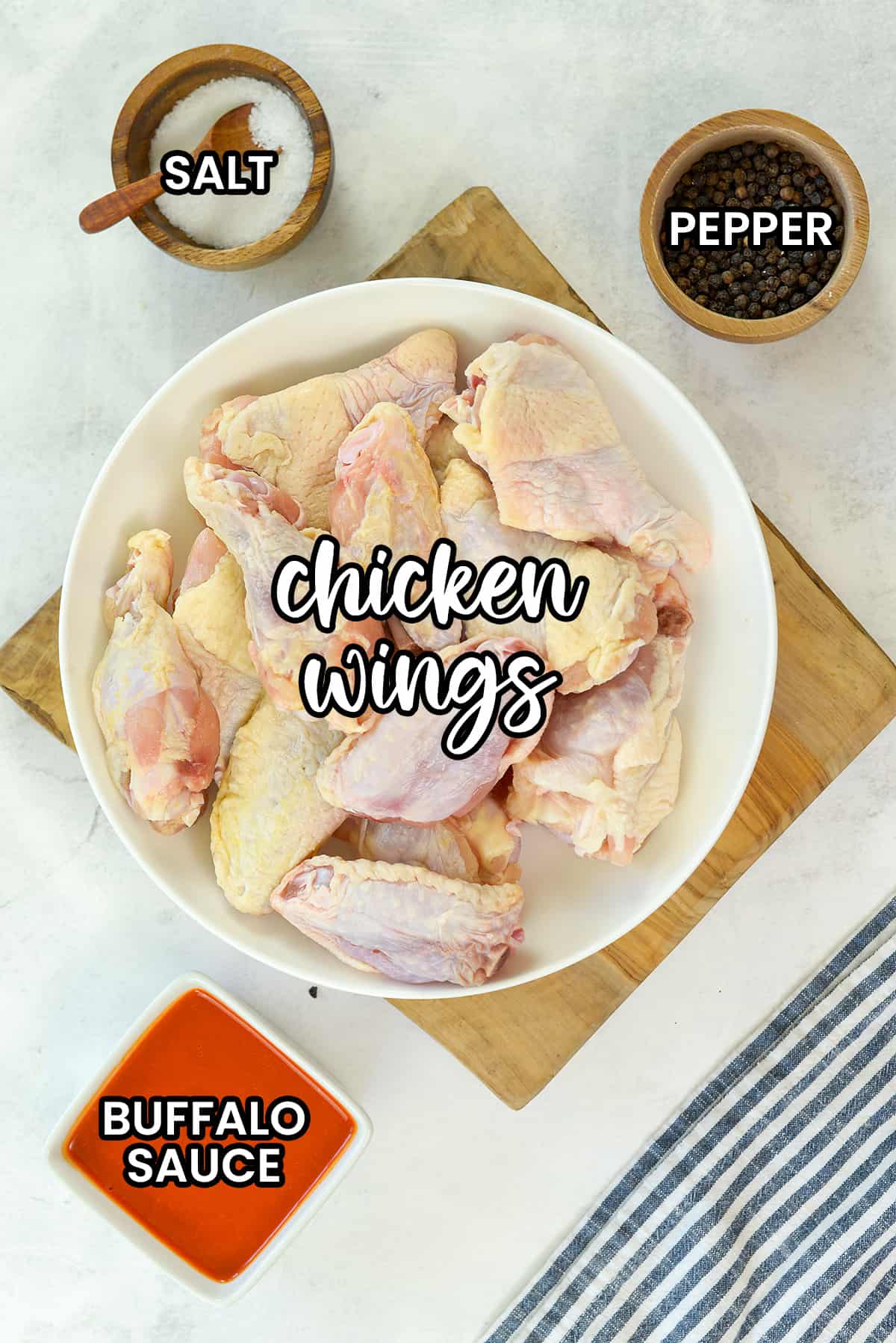 Chicken Wings – You'll need fresh or frozen and thawed chicken wing pieces. We like to use both the drums and the flats which is generally how they come in the package.
Buffalo Sauce – Try out my homemade buffalo sauce recipe! It's great for saucing up these wings. Or grab a bottle of your favorite sauce from the store. Any kind should work as long as it is low carb.
Salt & Pepper – For seasoning.
Why We Love This Recipe:
The Instant Pot makes cooking the chicken a super quick and easy! The wings come out perfectly tender and juicy.
Finishing the chicken wings off under the broiler before adding the sauce will make for perfectly crispy chicken skin!
The sauce options are endless. Use your favorite sugar free BBQ sauce, some garlic parmesan sauce, or whatever your heart desires!
Our Favorite Instant Pot!
We really love our Instant Pot. It's perfect for everything from creamy soup recipes to making a whole weeks worth of boiled eggs! They cook so quickly and the shells just slip right off with no effort at all. This 6 quart Instant Pot is out favorite and we'd highly recommend it.
How To Make Instant Pot Wings: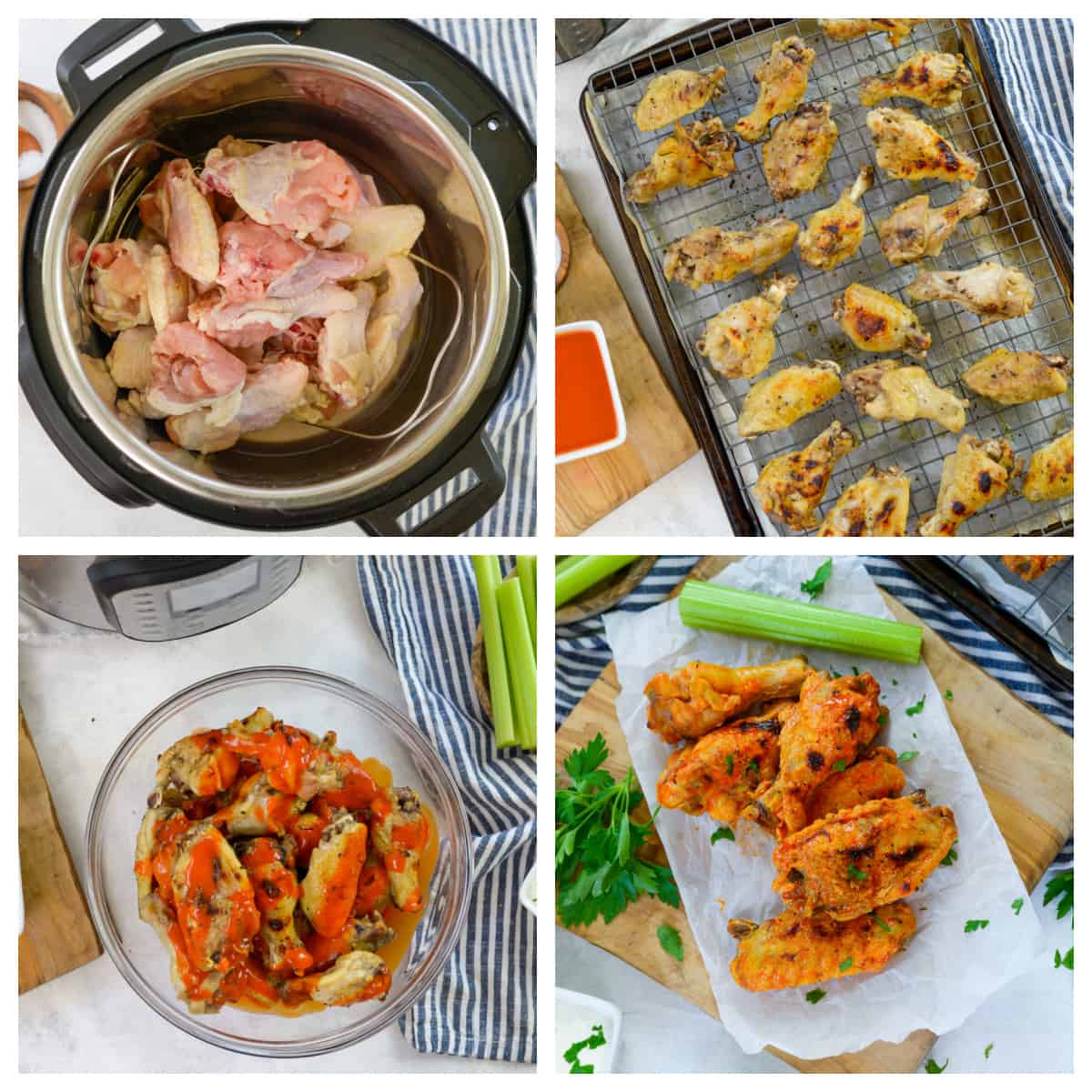 Prepare – To begin you'll need to add the steamer or rack insert into your Instant Pot along with a cup of water. Season the chicken wings with the salt and pepper and then place those into the Instant Pot. Pressure cook for 12 minute and then natural release for 5 minutes.
Broil – These chicken wings will be perfectly tender after pressure cooking but we also want crispy skin! To do that, you'll remove the chicken wings to a wire rack or cooling sheet over a baking sheet and then place them under the broiler for about 3 to 4 minutes. It won't take long, so keep an eye on it and remove the wings when they are as browned and crispy as you like!
Sauce – To finish off these Instant Pot buffalo chicken wings you'll toss them in the buffalo sauce! Add the wings to a bowl and pour the buffalo sauce over the top. Toss or stir to coat the wings in the sauce. You can use more or less sauce to your liking.
Serve – We like to serve these Instant Pot wings with some of my favorite keto ranch dressing or keto blue cheese dressing for dipping! They're also pretty great when served up with some celery sticks and sweet peppers.
Helpful Tip!
When using the Instant Pot, a natural release means that you let the pressure release on it's own until it's either fully released and the pin drops or for the length of time called for. This recipe calls for a 5 minute natural release, so after 5 minutes are up, you'll carefully turn the vent to release the remaining pressure.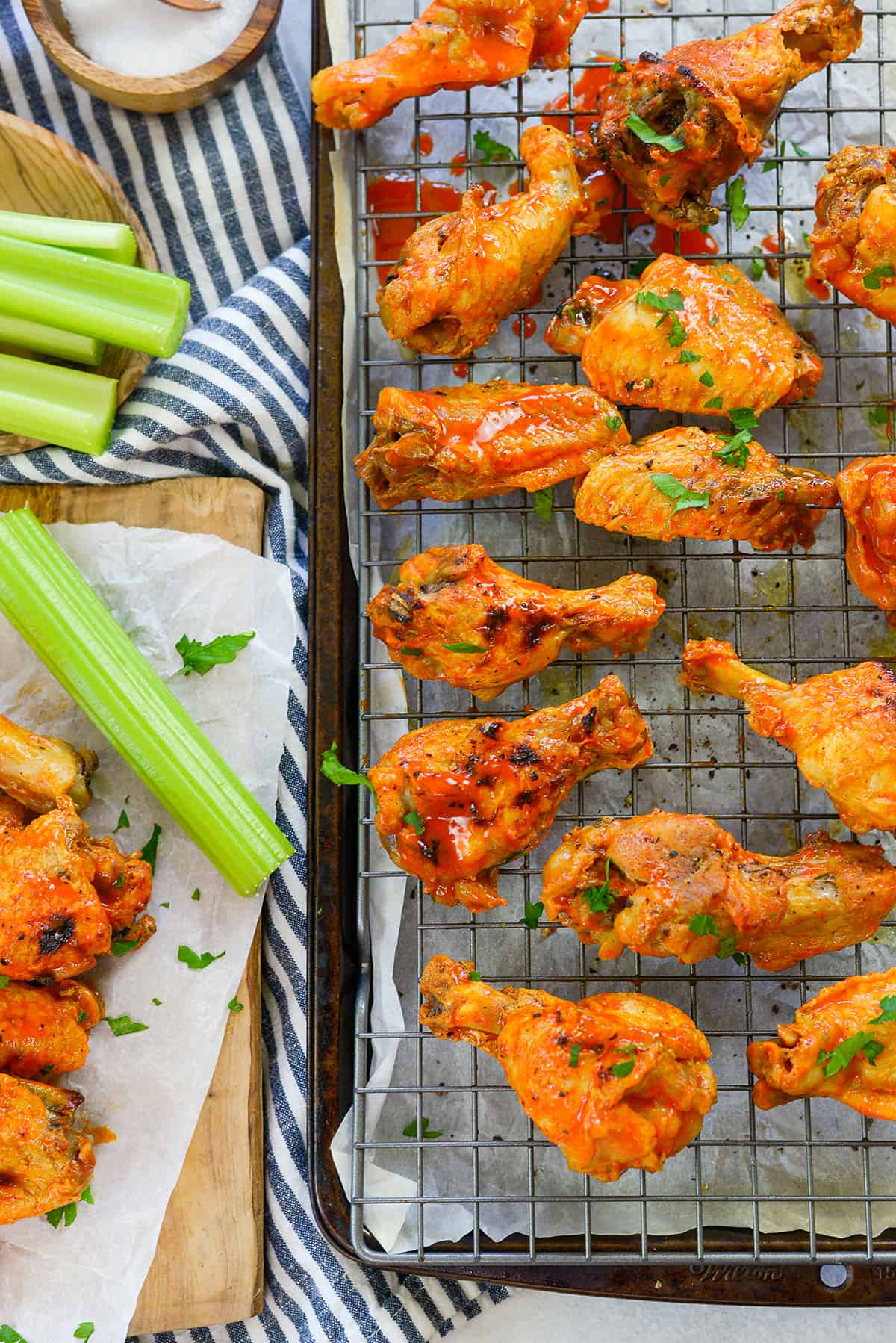 FAQ's:
How to store chicken wings?
You can keep these buffalo chicken wings in the refrigerator for at least 2 to 3 days. If you know you'll have leftovers I'd recommend holding off on adding the sauce until after you've reheated and are ready to eat. It'll store better without the sauce. Reheat in an air fryer or a hot oven for the best texture. Reheating in the microwave will cause the skin to lose it's crispness.
How to make slow cooker chicken wings?
This is an Instant Pot recipe, but I've also got a great crock pot chicken wing recipe that you can check out! It's fairly similar, slow cook the wings and then broil the skin to crispy perfection!
Do I need to thaw chicken wings?
If you have frozen chicken wings and don't have the time to thaw them, you can go ahead and just add them to the Instant Pot frozen for the same amount of time. It will take longer for the pot to come to pressure, but the cook time will be the same.
More Chicken Wing Recipes: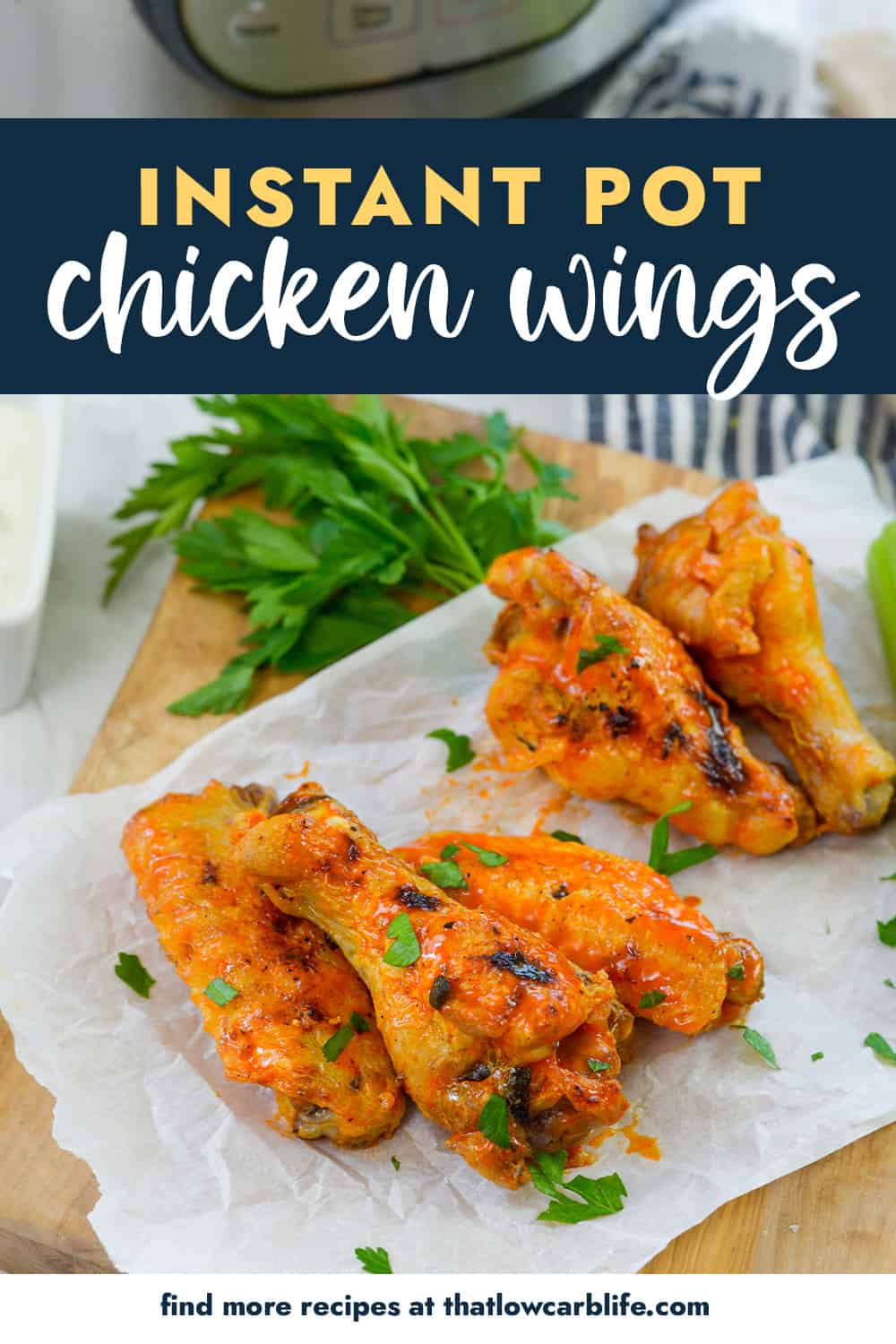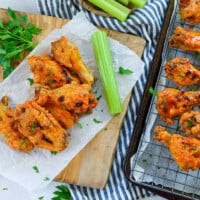 Instant Pot Chicken Wings
These chicken wings turn out so tender from the pressure cooker. You'll want to broil them for just a couple of minutes to crisp up the skin and then toss them in whatever sauce you like.
Time to Pressure 15 minutes
Ingredients
2 pounds fresh or frozen chicken wing pieces, see notes
1 teaspoon salt
1 teaspoon cracked pepper
Instructions
Add the steamer or rack insert to the Instant Pot along with 1 cup of water.
Season the chicken wings with salt and pepper and place in the Instant Pot.
Cover, set the vent to sealing, and pressure cook on high for 12 minutes.
Let steam release naturally for 5 minutes and then do a quick release.
Place a wire rack or cooling sheet over a baking sheet and remove the wings to the rack.
Place the wings under the broiler for 3-4 minutes or until as browned and crisp as you'd like.
Add the wings to a bowl and pour the buffalo sauce over the top and toss or stir to coat.
Serve wings with ranch or blue cheese for dipping.
Notes
You may use either fresh or frozen chicken wing pieces. The cook time will stay the same, however the time it takes the pot to come to pressure will be less for fresh wings and longer for frozen wings. The pot will make the adjustment for you - just set to 12 minutes and cook.
There are 10-12 wings per pound.
Nutrition Information:
Yield: 4
Serving Size: 6 wings
Amount Per Serving:
Calories: 470
Total Fat: 35g
Cholesterol: 160mg
Sodium: 1632mg
Carbohydrates: 0g
Net Carbohydrates: 0g
Fiber: 0g
Sugar: 0g
Protein: 38g
All information and tools presented and written within this site are intended for informational purposes only. This information is provided as a courtesy and there is no guarantee that the information is accurate.