These dry rub chicken wings are prepared with an easy homemade dry rub seasoning that tastes incredible on perfectly crispy chicken wings – and there's no frying needed! These are baked in the oven for minimal prep and clean up!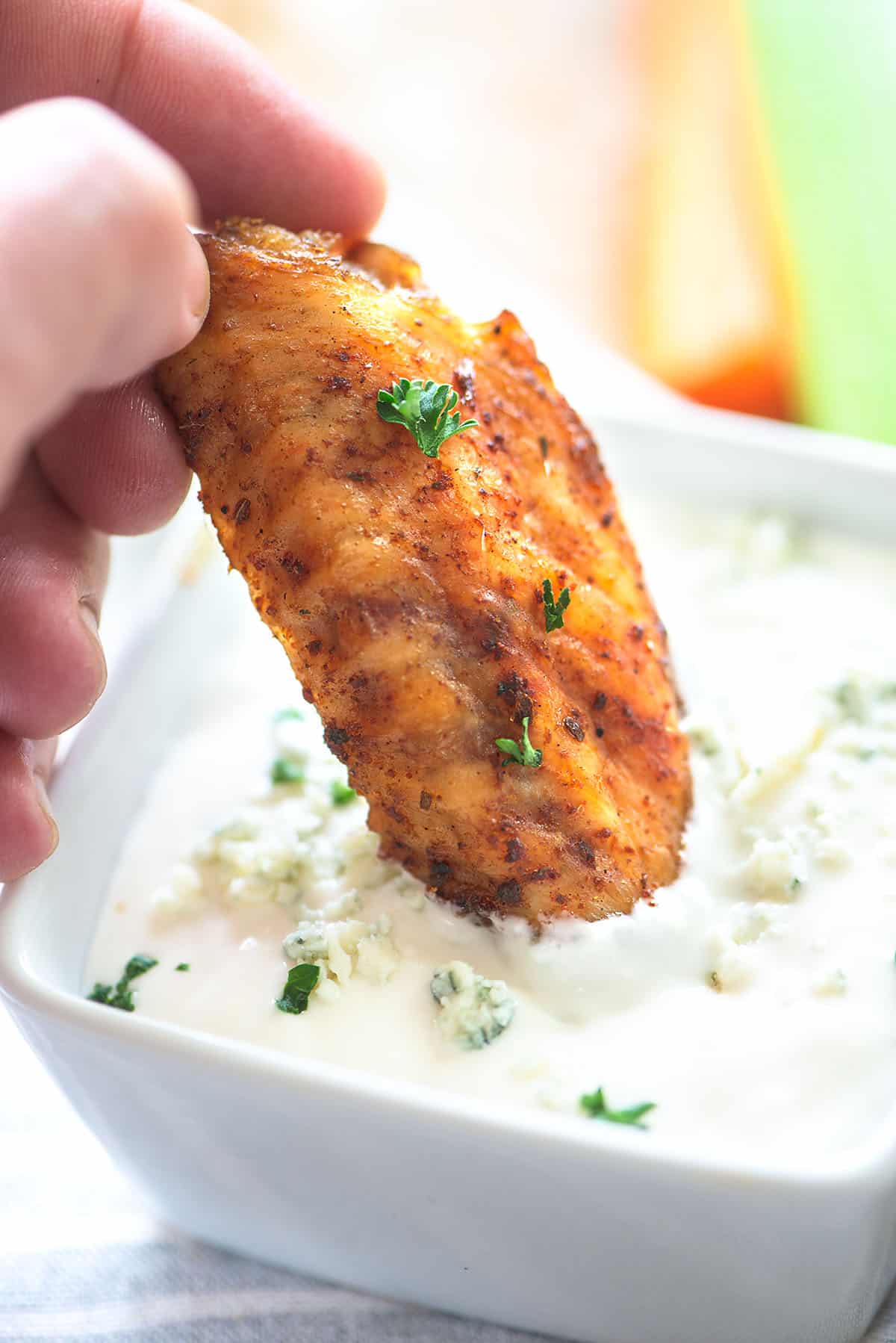 Yep – here I am, with yet another chicken wing recipe! I can't seem to help myself, I'm on a kick!
These dry rub chicken wings are so crispy and flavorful and the dry rub is seriously simple to whip up, but it packs in so much goodness!
If you're also on a chicken wing kick, be sure to check out our baked chicken wings with our homemade buffalo sauce and keto blue cheese dressing!
My husband loves wings too, but he usually prefers them with a dry rub, instead of a sauce. We created this dry rub for him and he's pretty into it. It adds so much flavor and it uses spices that we keep in our kitchen already. Love that!
Ingredient Notes:
This post contains affiliate links. As an Amazon associate and member of other affiliate programs, I earn from qualifying purchases.
Chicken Wings – Fresh or frozen and thawed will work just fine! We're using the sectioned chicken wings which come as flats and drumettes. This recipe will also work on full sized wings, but cook time will vary a bit.
Dry Rub Seasoning Mix: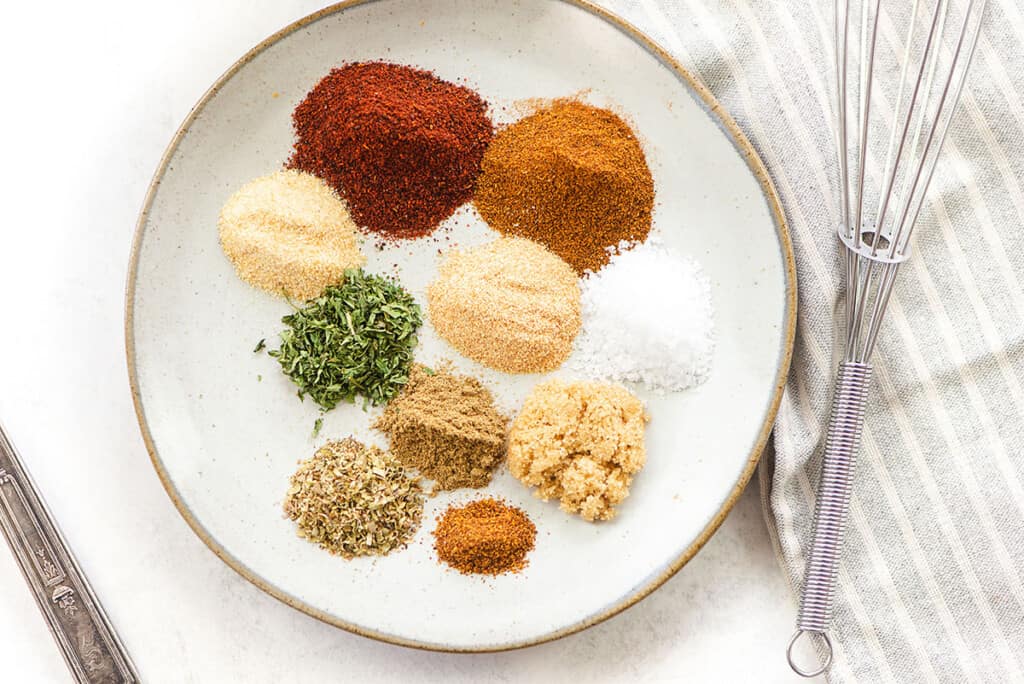 Brown Sugar Substitute – We love Lakanto Golden Monkfruit Sweetener as a replacement for brown sugar and highly recommend it! Add to your Thrive order or order direct from Lakanto.com and use code THATLOWCARBLIFE for 20% off your order!
Cayenne – You can add more or less of this to the dry rub seasoning mix depending on how spicy you like it!
Shop Keto Ingredients
We use Thrive Market for a lot of our specialty ingredients and keto snacks or products. Their prices tend to be cheaper than the local stores and I love that you can so easily sort products by diet.
Like Costco, this is a membership site, but we find that it's more than worth it based on the amount we save over the regular grocery store.
They have monthly or yearly plans. Check it out here.
Why We Love This Recipe:
The simple dry rub stirs together quickly and it uses spices we always have on hand.
The chicken bakes up juicy inside and crispy outside.
No deep frying – just bake the chicken wings in a hot oven!
This recipe makes a great dinner, snack, or appetizer!
How To:
Chicken – Add the chicken wings to a large bowl, pat dry, and drizzle on a bit of oil.
Dry Rub – To get started you'll mix together the dry rub seasoning for these baked chicken wings! Add all of the dry rub ingredients to a small bowl and stir it together until it is well combined.
Season – Sprinkle on all that seasoning! Use your hands to coat each piece of chicken in the dry rub. Try to get them fully coated in as much rub as possible!
Bake – After seasoning place a wire rack over a baking sheet and spritz with oil. Finally, start arranging the chicken wings onto the rack and then add it to the oven to begin baking. You'll want to flip the baked chicken wings over about halfway through.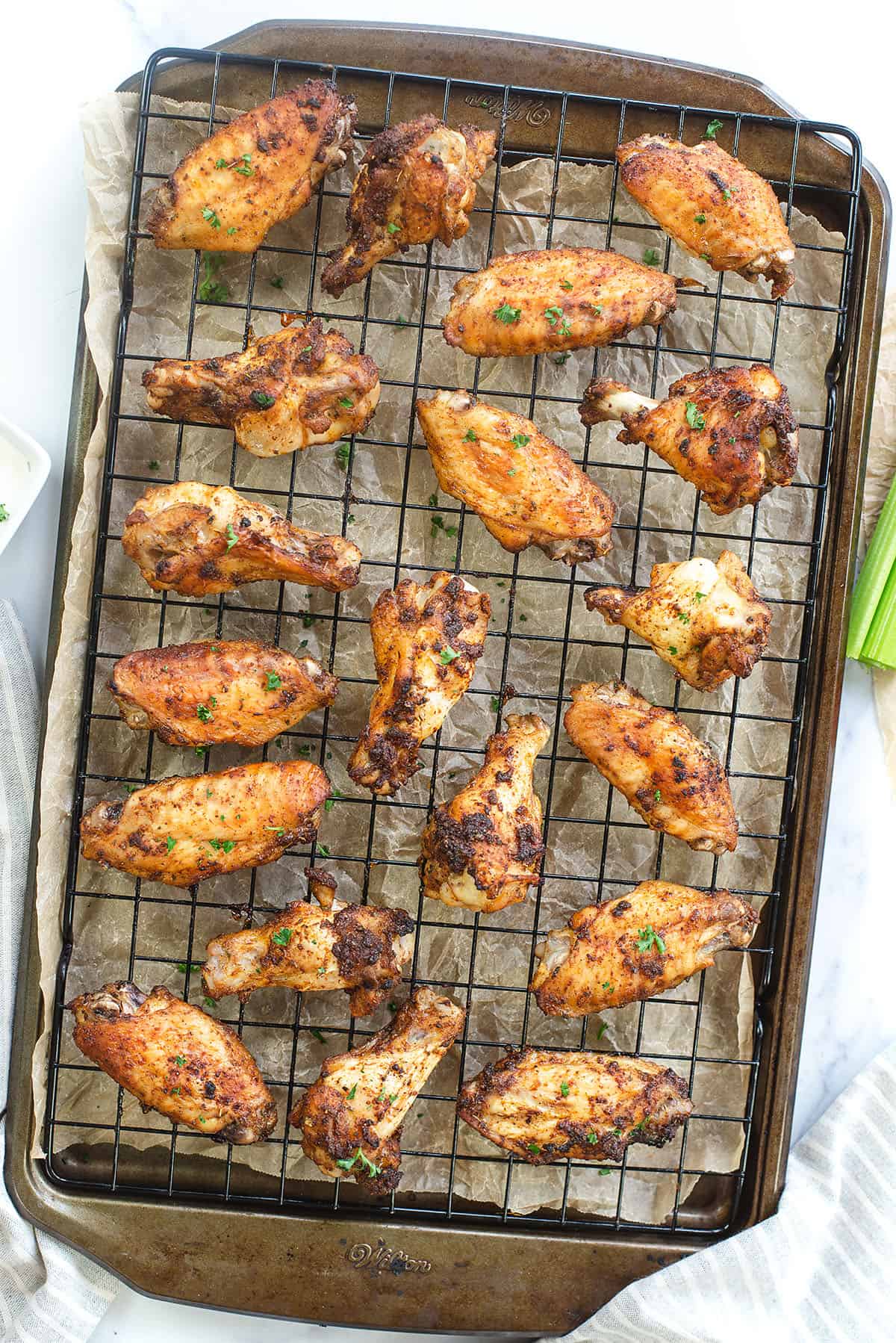 Helpful Tip!
Be sure to use a paper towel to remove as much moisture as possible from the wings before seasoning and baking them so that you can get perfectly crispy chicken skin!
Air Fried Chicken Wings:
Baking isn't your only option with these dry rub chicken wings! They'll crisp up perfectly in an air fryer too. Just follow all the same steps for preparing the dry rub and then air fryer instead of bake. Using the air fryer is best for making about 10 wings at a time, depending on the size you have.
Set air fryer to 400 degrees and cook wings in a single layer for 30 minutes, flipping halfway through cooking.
This is our go to air fryer frozen wings recipe!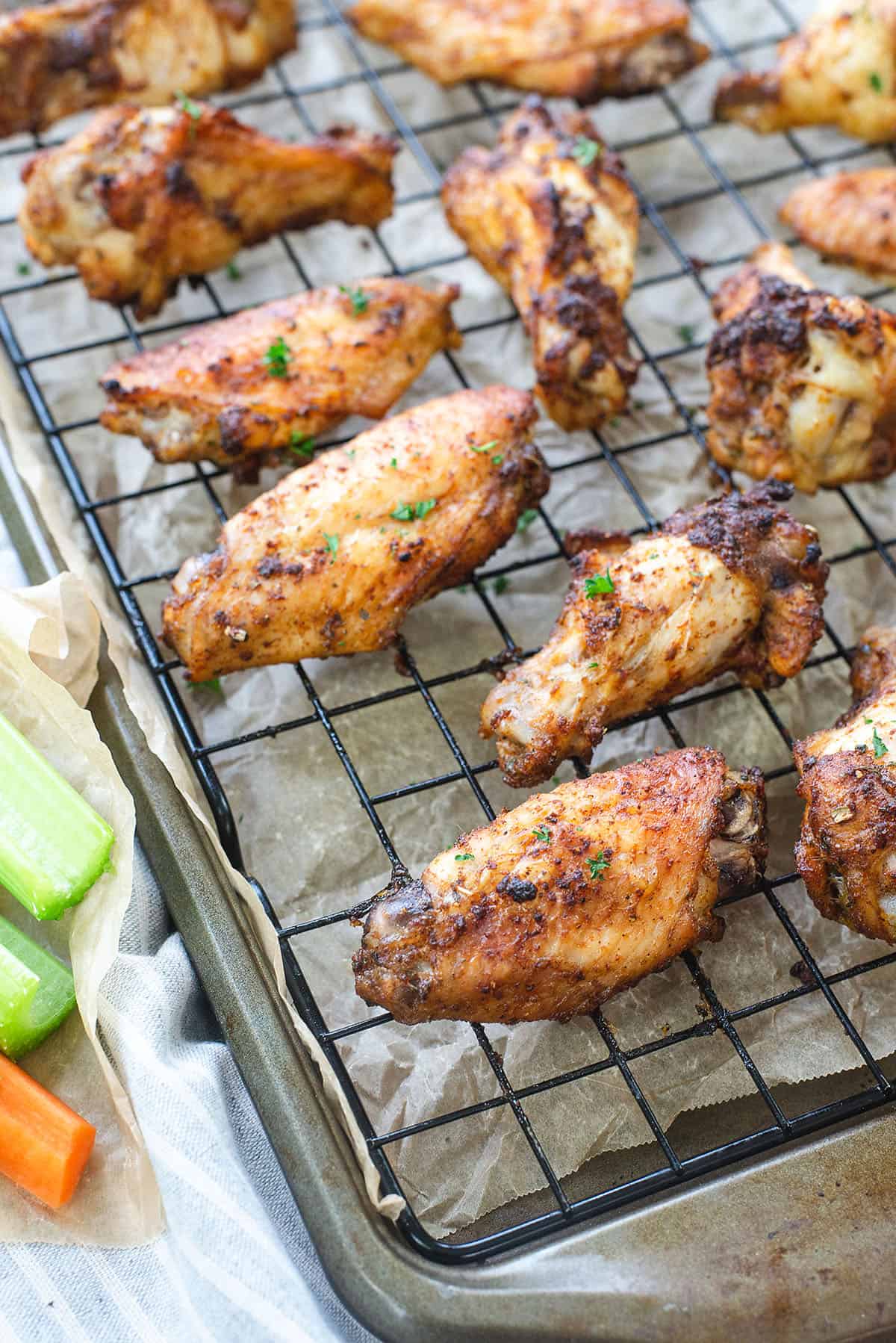 FAQ's:
How to make slow cooker chicken wings?
You could make these wings in a slow cooker and finish them off in a hot oven to crisp up the skin, but I'm not sure that the dry rub would stick to it all that well for the duration. I can definitely recommend this slow cooker chicken wing recipe though!
How to store baked chicken wings?
You can keep these chicken wings in the refrigerator for at least 3 to 4 days. Reheat in an air fryer or a hot oven for the best texture. Reheating in the microwave will cause the skin to lose it's crispness.
More Low Carb Snacks & Apps!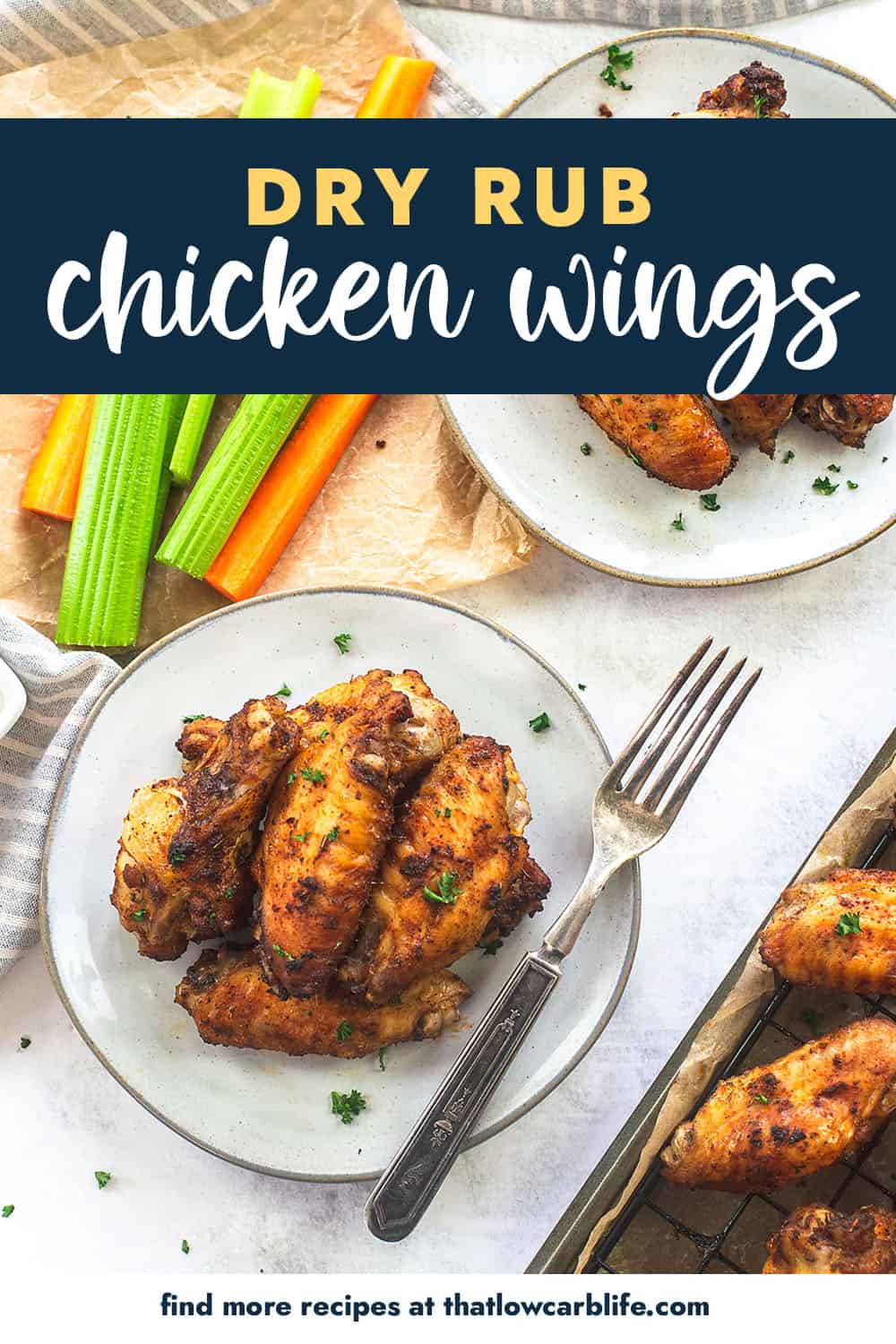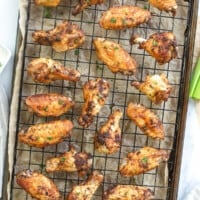 Dry Rub Chicken Wings
These crispy baked chicken wings are coated in a flavorful dry rub that adds loads of big flavor! We like to serve these with ranch or blue cheese for dipping.
Ingredients
4 pounds chicken wing sections, fresh or frozen and thawed
1 tablespoon olive oil
2 teaspoons chili powder
1 ½ teaspoons paprika
1 ½ teaspoons salt
1 teaspoon brown sugar substitute
1 teaspoon garlic powder
1 teaspoon onion powder
½ teaspoon cumin
½ teaspoon oregano
½ teaspoon dried parsley
¼ teaspoon cayenne, more to taste
Instructions
Preheat oven to 425 degrees. Place a wire rack over a baking sheet and spritz with oil spray.
Add the chicken wing sections to a large bowl and drizzle with oil. Toss to coat.
Add all of the seasonings to a small bowl and stir together to combine.
Sprinkle the dry rub over the chicken and use your hands to massage the seasoning into the chicken, making sure to coat each piece really well.
Arrange wings on the wire rack, leaving a bit of space between each piece for air to flow.
Bake for 40 minutes, flipping the wings halfway through cooking.
Serve hot with ranch or blue cheese for dipping.
Notes
We love this combination of spices to make the perfect dry rub for chicken wings, but you can definitely swap things around and use what you have on hand. Cayenne is optional, but we like a bit of spice on our wings.
This rub would work well on other chicken parts as well, such as drumsticks, thighs, or breasts.
Nutrition Information:
Yield: 4
Amount Per Serving:
Calories: 922
Total Fat: 68g
Sodium: 1503mg
Carbohydrates: 2g
Net Carbohydrates: 1g
Fiber: 1g
Protein: 77g